How to Choose The Perfect Carat Size For Your Diamond Ring
Have you finally found the perfect engagement ring for your loved one, but now you are left thinking "what carat size should it be?" Don't worry, this thought is one from many. Today we're going to discuss how to choose the perfect carat size for your diamond engagement ring as well as the ins and outs of a typical diamond.

Before we go into the details of finding the perfect carat, we wanted to touch base a little bit on what the average size of a diamond is. There are many of misconceptions out there about diamond sizes so we wanted to clear a few things up.
Related: What's the Best Diamond Shape For Your Hand?
The size of a diamond
So you found the ring you want for yourself or the ring you want to get your partner. Now you just need to know which size diamond to put in the center of it. Well, this could be a bit tricky depending on the style of ring you're going for.
While the size of a diamond can vary immensely there is an average weight. The average carat weight of a typical diamond in the U.S. is just over 1 carat. It's roughly 1.08 carats.  
Now many people tend to ask this question when they're shopping for a ring and go with the average weight. But some people do like to go bigger or smaller depending on their own personal taste. 
There are diamonds in engagement rings that weigh in at 30 carats and there are some with diamonds that weight in at just .05 carats. Figuring out the perfect carat size for your diamond starts by knowing the average weight and determining the carat on the scale is right for you.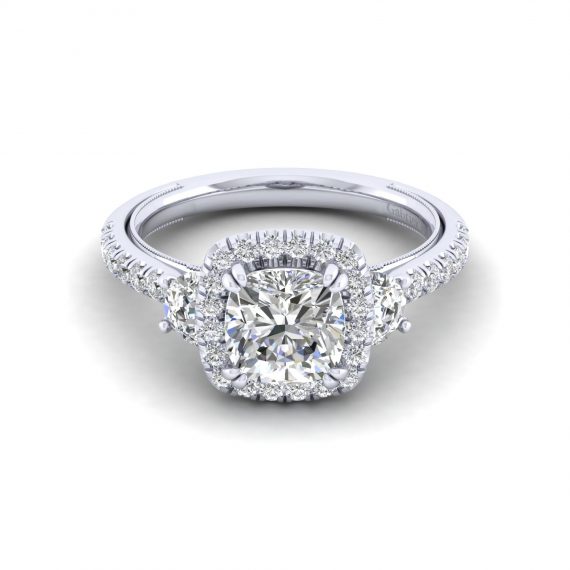 Related: The Average Weight of a Diamond Engagement Ring
When it comes to picking out the perfect size diamond for your engagement ring, one thing to keep in mind is there really is no such thing as the perfect carat. Everyone's idea of perfect is different so there's no way to determine the ultimate size for a diamond in your ring.
But there are some things to keep in mind when shopping for your version of the perfect diamond that will ultimately help you make the right decision. When you begin picking out a carat for your diamond you'll want to keep in mind things like your budget, style, and lifestyle.
Your lifestyle. One of the biggest considerations to take into account when picking out the perfect carat for your diamond is your lifestyle. Do you really need a 20-carat ring if you're into surfing or swimming? Probably not. So think about it before you make your final decision.
Your budget. Another thing you'll need to consider is your budget. Ultimately the more the carat weight, the more it will cost. So if you want a big diamond and can't afford it, you may want to think about downsizing to a smaller version of your perfect carat.
Your style. Are you someone who dresses to impress? If so you definitely want your diamond to match your style. But if your somewhat of a minimalist, you probably don't want a diamond that's too elaborate. We all love to look at big glamorous rings but when it comes down to it you really need to think if this is something that fits you or not.

Related: How to Measure The Size of a Ring
Diamond Education Center
Are you having trouble picking out the perfect quality diamond? Learn more about diamonds in our education center. For more information on diamonds and the 4 C's, ask one of our diamond advisers. Our diamond advisers can answer any questions you may have, and search for diamonds that meet your specific criteria. 
Here at Raymond Lee Jewelers, we believe that behind every great diamond there is a smart buyer. We also believe that picking out the perfect carat is an art that aids in picking out the best engagement ring for you or for your partner. So what are you waiting for? Talk to one of our expert service advisors today and find the carat that works for you.
Areas we serve
We are located in southern Florida in the city of Boca Raton. We proudly serve Boca Raton and the surrounding following areas: Palm Beach, Fort Lauderdale, Miami, Broward, and Miami-Dade. Stop by the store and talk to one of our experts about finding the perfect engagement ring today. 
For more information you can also chat online, or email one of our diamond advisers at in**@di******************.com. Or feel free to visit us at 2801 N Federal Hwy, Boca Raton, FL 33431. Our hours of operation are Monday through Friday 11am-7pm, Saturday 10am-5pm, and Sunday 12pm-5pm.