Custom Engagement Ring Feature – Diamonds by Raymond Lee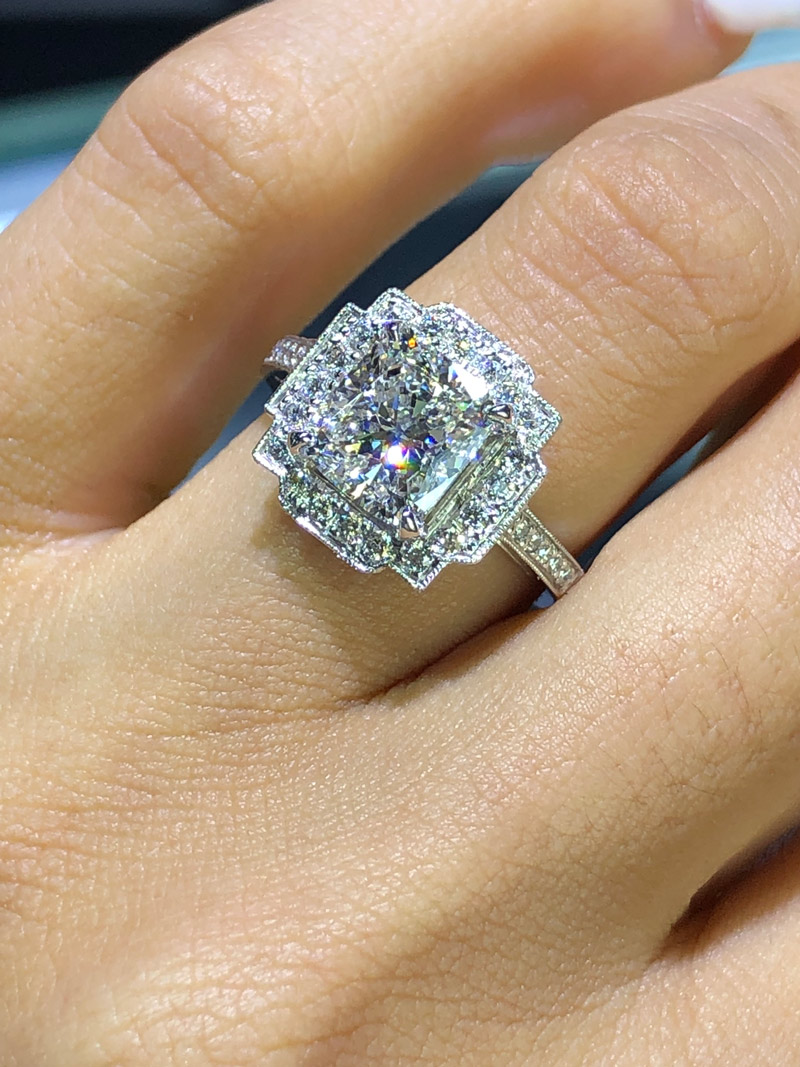 Having trouble finding your ideal engagement ring? The best way to get the perfect engagement ring might just be to create one. There's no reason for resolving to purchase a mass-produced engagement ring that doesn't reflect your personality and vision when you can easily customize a ring. It doesn't have to break the bank either. You can get a custom engagement ring made for a similar price as an off-the-shelf designer ring. 
In this article, we feature a gorgeous custom diamond engagement ring that we recently created for a client. Our intention here is to offer some inspiration for those who are in the market for a diamond engagement ring.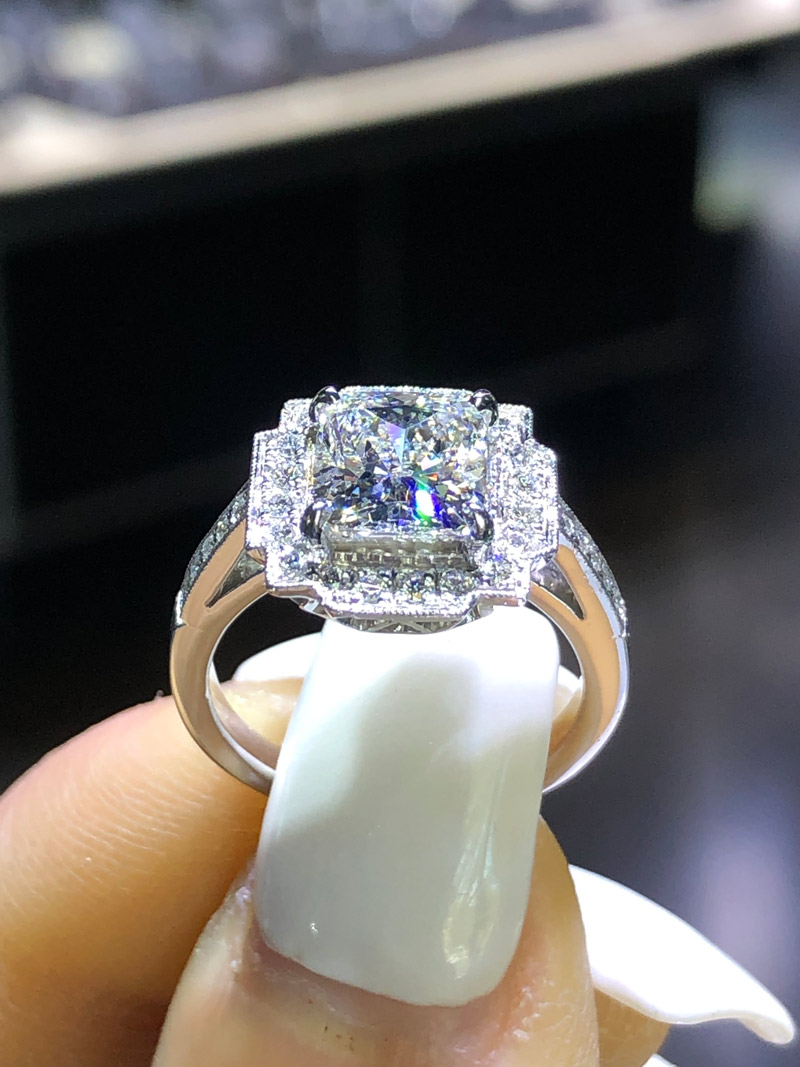 Backstory
A client of ours was on the hunt for an engagement ring, so she dropped by our store – Diamonds by Raymond Lee in Boca Raton – to check out our wide selection of engagement rings.
She found an existing ring at our showroom that she really liked. However, she didn't want that ring, she wanted a brand new one (that's never been worn), using the same design but with one essential modification – she wanted to use a different centerpiece. 
The ring on the left was the diamond engagement ring she drew inspiration from and the one on the right is her new custom engagement ring that we made for her. As you can see, the structure and detailing is the same, but her vision of a new centerpiece really took the ring's overall look to the next level.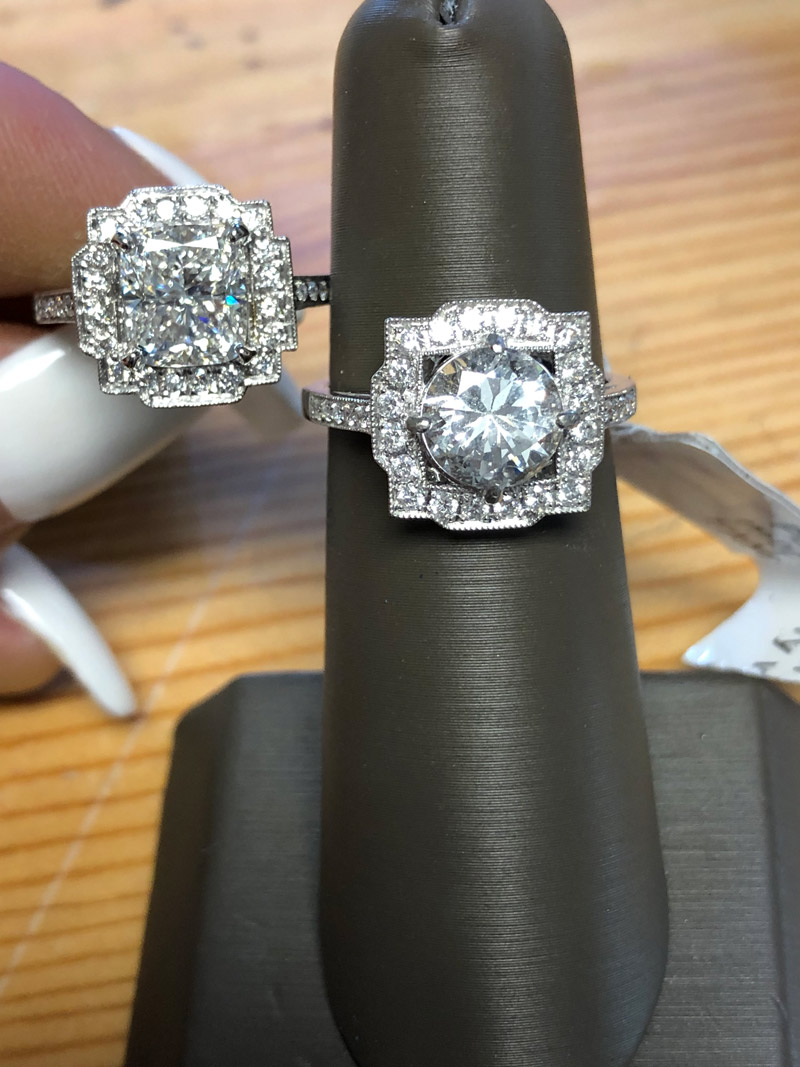 Simple Changes Can Make A World Of Difference
She really liked the detailing, structure and diamonds accents of the ring she found at our showroom, but she thought the overall look would be much better with a different kind of centerpiece diamond cut.
As you can see there is some empty space at the center of the original ring. By using a cushion cut diamond centerpiece, that space would be proportionally filled, making the ring look fuller and more lavish. She was so right, and ultimately, with the help of Diamonds by Raymond Lee, she achieved her idea of the perfect engagement ring.
A major point of her story that we want to share is…when it comes to modifying and customizing rings, sometimes a simple change, like a new centerstone, is all that is needed.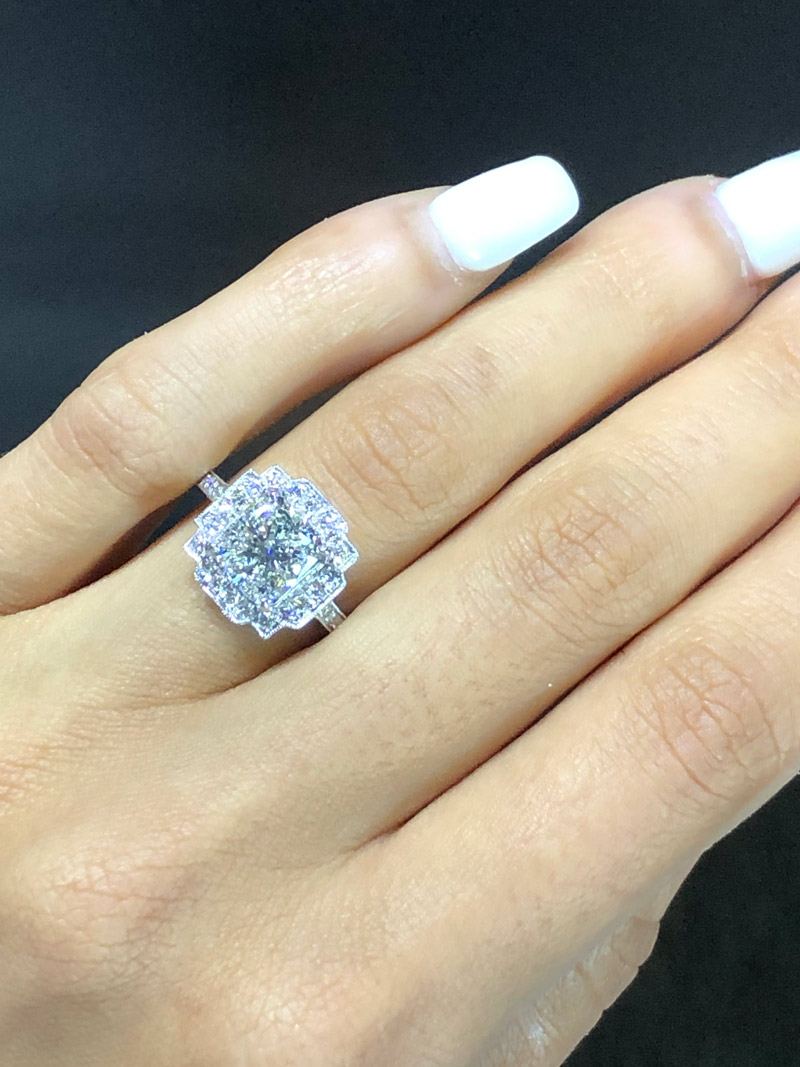 Here are some ideas for simple and easy changes that can make a huge difference:
Replacing the ring's centerstone with a gemstone. Colored stones are an excellent way to express personality, show uniqueness, and completely change the ring's overall appearance.
Use gemstone accents rather than diamonds. Gemstone accents look incredible with a diamond centerpiece. It gives it a fresh, colorful look. Plus, colored stone engagement rings are super trendy.
Use a different kind of precious metal, such as yellow gold (instead of platinum), which is very popular with modern brides.
In general, designing a custom ring doesn't have to be overly complex.
Although you can create an engagement ring design completely from scratch, taking inspiration from an existing ring makes perfect sense. In fact, almost every new designer ring on the market took inspiration from rings of the past.
The process is much simpler when you find an existing ring (or two) and create a brand new one based on the elements that you like from that ring, modifying it as you see fit.
If you see a ring you love at Diamonds by Raymond Lee's Showroom, but certain aspects of it aren't right for you, you can ask us about modifying it or creating a brand new ring based on that design.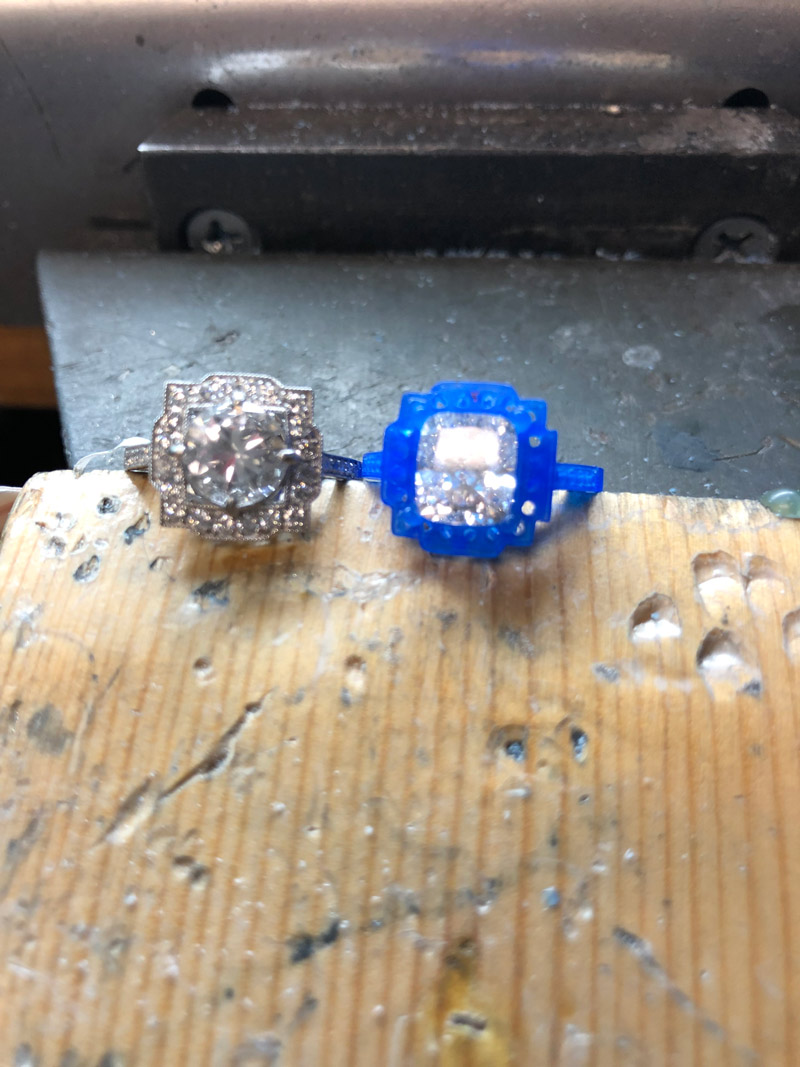 Here are a few reasons why it makes sense to create a custom ring based on an existing ring:
It was smart for our client to shop around and pull inspiration before creating her custom ring. These are three reasons why…
1. A Simpler More Efficient & Cost-Effective Process
As the overall design was set thanks to the existing ring, we had a big jump start in creating her custom diamond engagement ring. All we had to do was consult with her about certain changes. This makes for a much quicker turnaround than designing a ring from scratch. In regards to the cost of creating a custom engagement ring, the simpler the process, the less time it takes. Therefore, the final cost will be less.
2. Better Understanding of How You Will Feel About the End Result
The fact that the custom ring was going to be very similar to the existing ring, she already knew that she was going to like the final piece. There would be no surprises when everything was said and done. She was simply making her own upgrades to something she already could try on and get a feel for.
It's like going to a dealership to buy a sports car and telling them you want a brand new production of a particular model but with certain upgrades. On the other hand, designing a car completely from scratch would require a lot more risk regarding satisfaction with the final product. This is exactly how it is with jewelry, albeit jewelry is a much more plausible thing to make from scratch.
3. Similar Designer Style Without the Designer Name and Cost Associated With it
Let's say you love a ring from a high-end designer, you could easily pull inspiration from said ring, or a couple of different rings, then add your own twist. This way you have a similar high-end look at a good price. Non-branded rings can offer a stunning look just like a designer ring can. Furthermore, you can choose the material and diamond grade, which means you can create a ring that meets your budget requirement.
4. You love the ring but it's been previously owned
You may find a vintage ring that you adore, but you don't like that it has a history with someone else. A jeweler can create a ring using the vintage ring as inspiration. This way you will have an engagement ring that's never been worn, and the history moving forward will be yours alone.
Moreover, a ring that is newly made is going to have a freshness as a whole that shines as bright as the most beautifully cut diamond. Using a mold of an existing ring that you love but creating it brand new allows the metal to shine in a way that only a fresh precious metal could.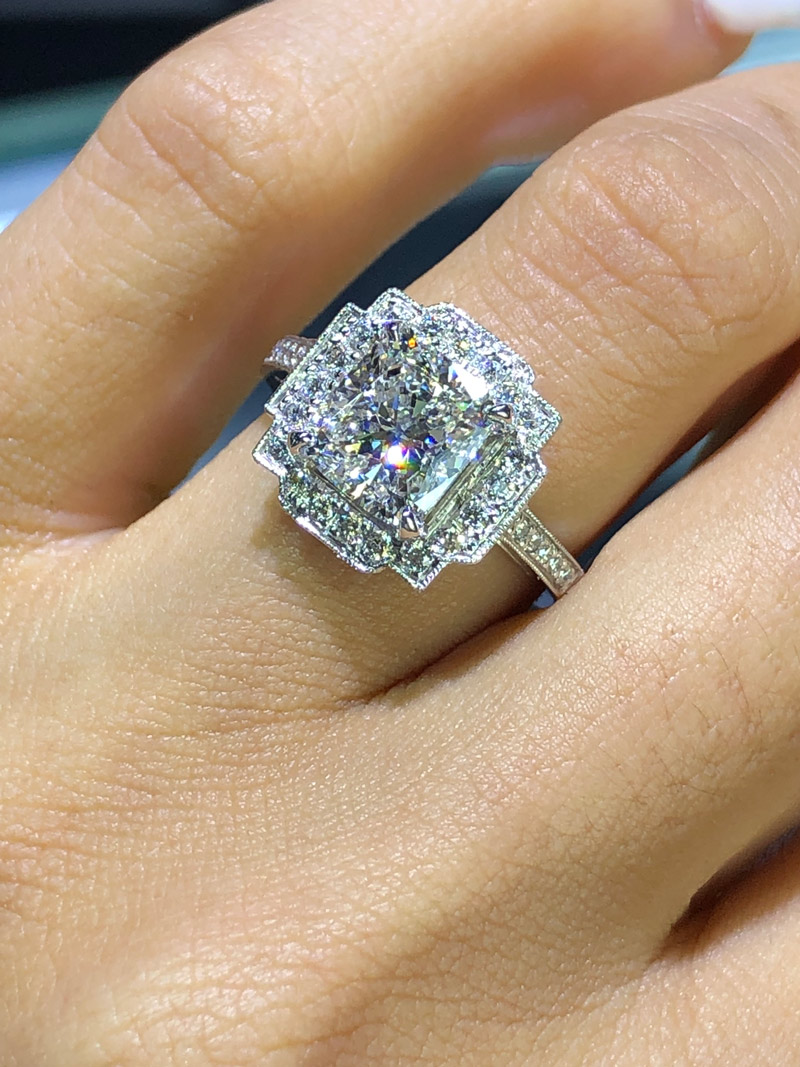 The Custom Ring Design Process For The Ring Featured In This Article
Here is the process for how we created this particular client's custom engagement ring:
Step 1: Consultation
As our client chose to base her custom ring on an existing design from our showroom, we began by discussing the changes she wanted to make. Once we understood the changes, we gave her a price for completing the project.
Our client chose to use a cushion cut diamond because it would make for a fuller look as a centerpiece than the original round brilliant did. This would require different placement of the prong setting, however, everything else would remain the same.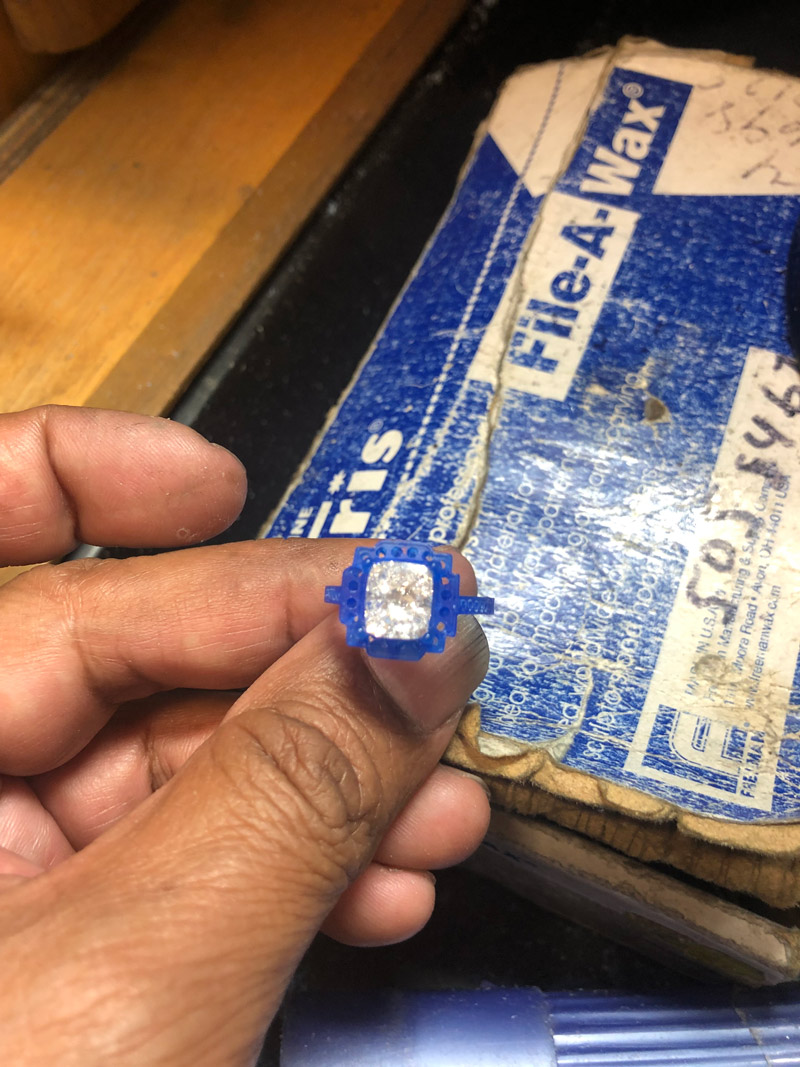 Step 2: Digital Design & Step 3: 3D Modeling
As we were using the exact same structure and detailing of the original ring, we were able to bypass our usual steps 2 and 3.
Step 2: Wax Model
We use the original ring to create a wax mold. You can see the cushion-cut diamond is already in center of the wax mold.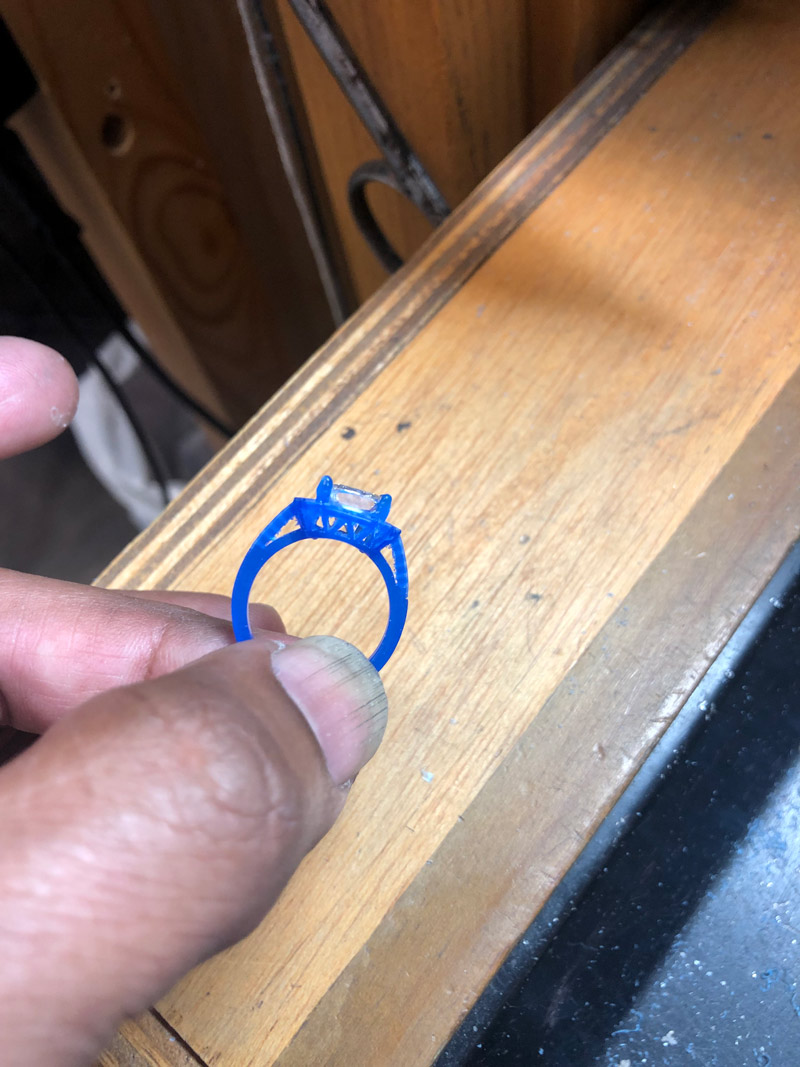 Step 3: Raw Materials
From here we inject molten metal into the wax mold, which creates the ring by burning out the model.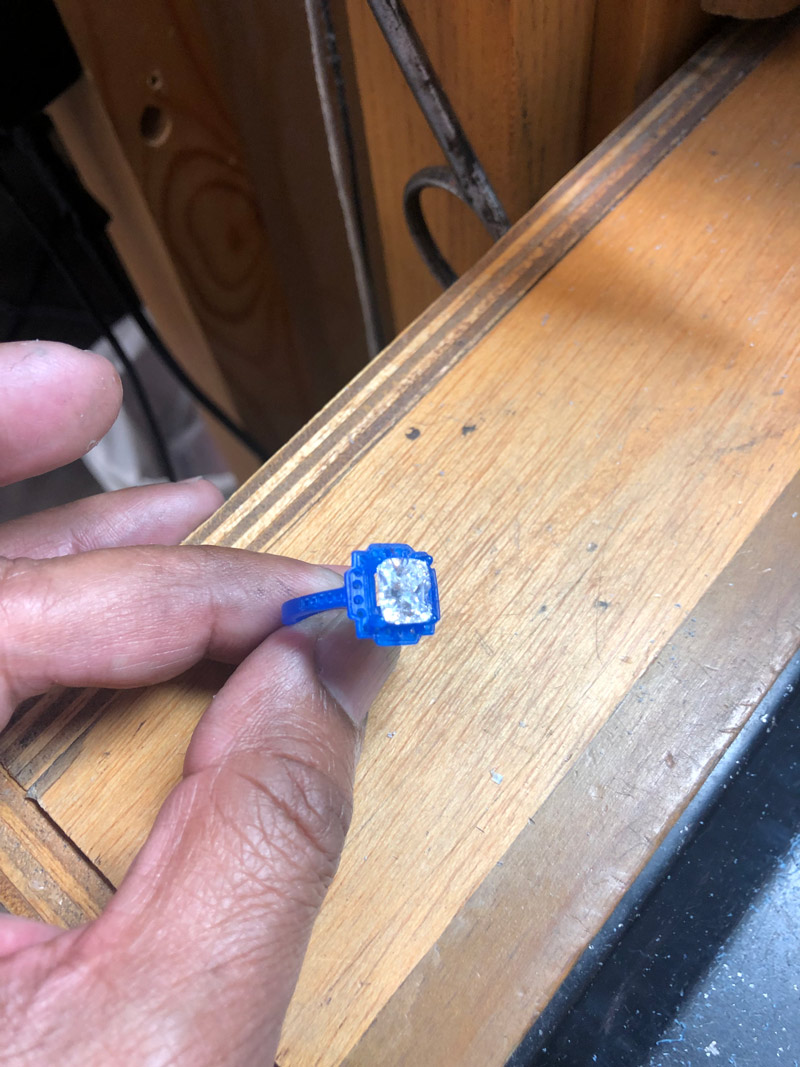 Step 4: Finishing Touches
Once we remove the rough casting from the mold, we polish the piece and set the cushion cut diamond in place. The final touches we make at the end ensure her diamond engagement ring will look stunning and new for many, many years to come.
Here we have both the original ring and her custom ring side by side. We have to say, her plan for creating the same engagement but with a cushion cut diamond centerpiece was flawless. It looks absolutely incredible.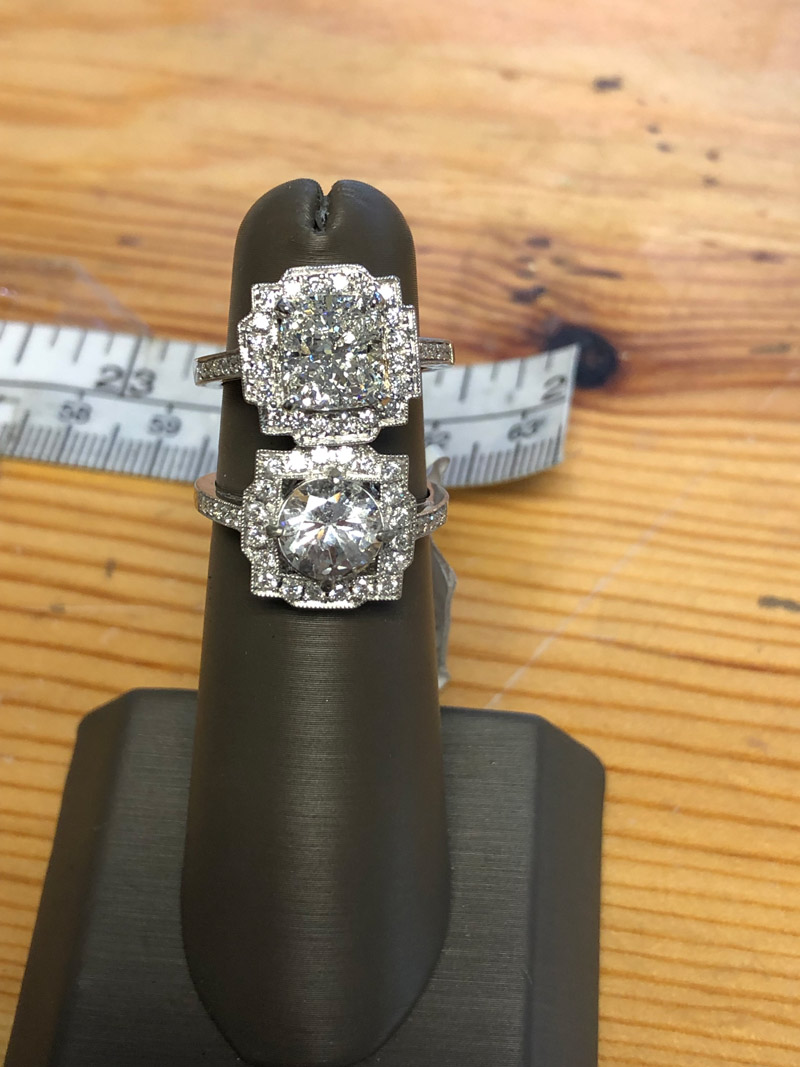 Why Choose Custom Jewelry Design (from scratch or not)?
You can add symbolic meaning to your engagement ring (such as a birthstone or certain gemstone).
It's a great way to stand out from the crowd and express creativity. You can show your personality through a custom engagement ring which an off-the-shelf engagement ring simply can't compete with. This is a timeless, long lasting item so it makes sense to express yourself. It's like a tattoo, you most likely wouldn't just choose from the book at the tattoo shop. You would look for inspiration to create something unique and of your very own.
A custom engagement ring will allow you to get exactly what you want and imagine, which is quite difficult if you are only looking to mass-produced engagement rings.
You can take a precious stone or jewelry piece that you have inherited and repurpose/remodel it. Truth be told, in many cases, people don't like the design of their grandmother's ring, but they do love what it represents. So, you can take the diamond out of it and reuse the precious metal, creating a design that you love with all of its history still intact.
No matter what your reason is for wanting a custom engagement ring, Diamonds by Raymond Lee can assist you in making your dream ring come true. Our world-class designers and expert ring makers here in Boca Raton make the entire process a fun and exciting experience. You will be involved and in charge of the final say every step of the way. Our goal is always to achieve 100% customer satisfaction by creating your exact vision of a perfect engagement ring.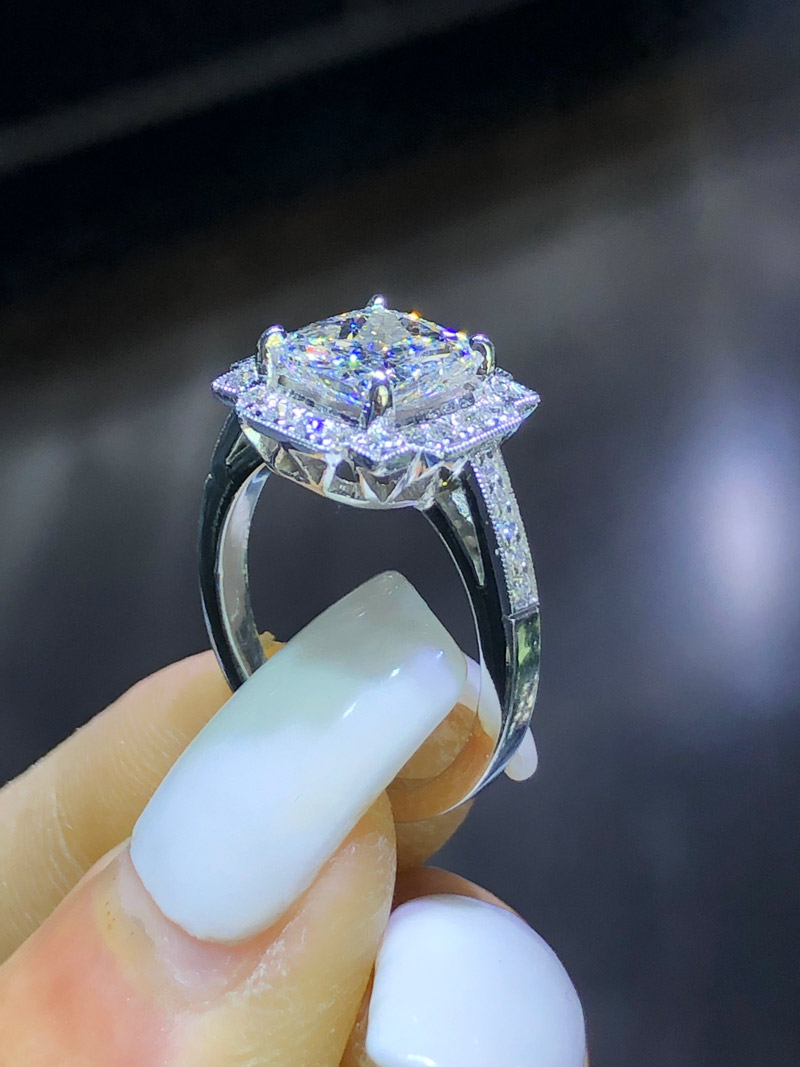 Who makes custom engagement rings in Boca Raton? Diamonds by Raymond Lee!
At Diamonds by Raymond Lee, you can create a custom engagement ring, or any jewelry for that matter, with an extremely quick turnaround.
Take inspiration from one of our existing jewelry pieces in our showroom, bring us in a picture of a ring you saw and love, or simply tell us everything about the ring you dream of and we can sketch it out for you. There are many ways that you can communicate your ideas to our designers. So don't be afraid to share any and all your thoughts and ideas. We do custom ring designs from the most complex to the simplest iterations.
We take pride in each and every custom engagement ring. An engagement ring is a piece of jewelry that is worn day in and day out and is meant to last a lifetime. So, we always aim to go above and beyond expectations. We want you to love your piece in the decades to come as much as you love it at first site.
Have a Loose Stone and Want to Find the Perfect Custom Engagement Ring Setting?
Come into our showroom and try on the wide selection of engagement rings we offer. We can consult with you on which ring would look perfect for your loose stone.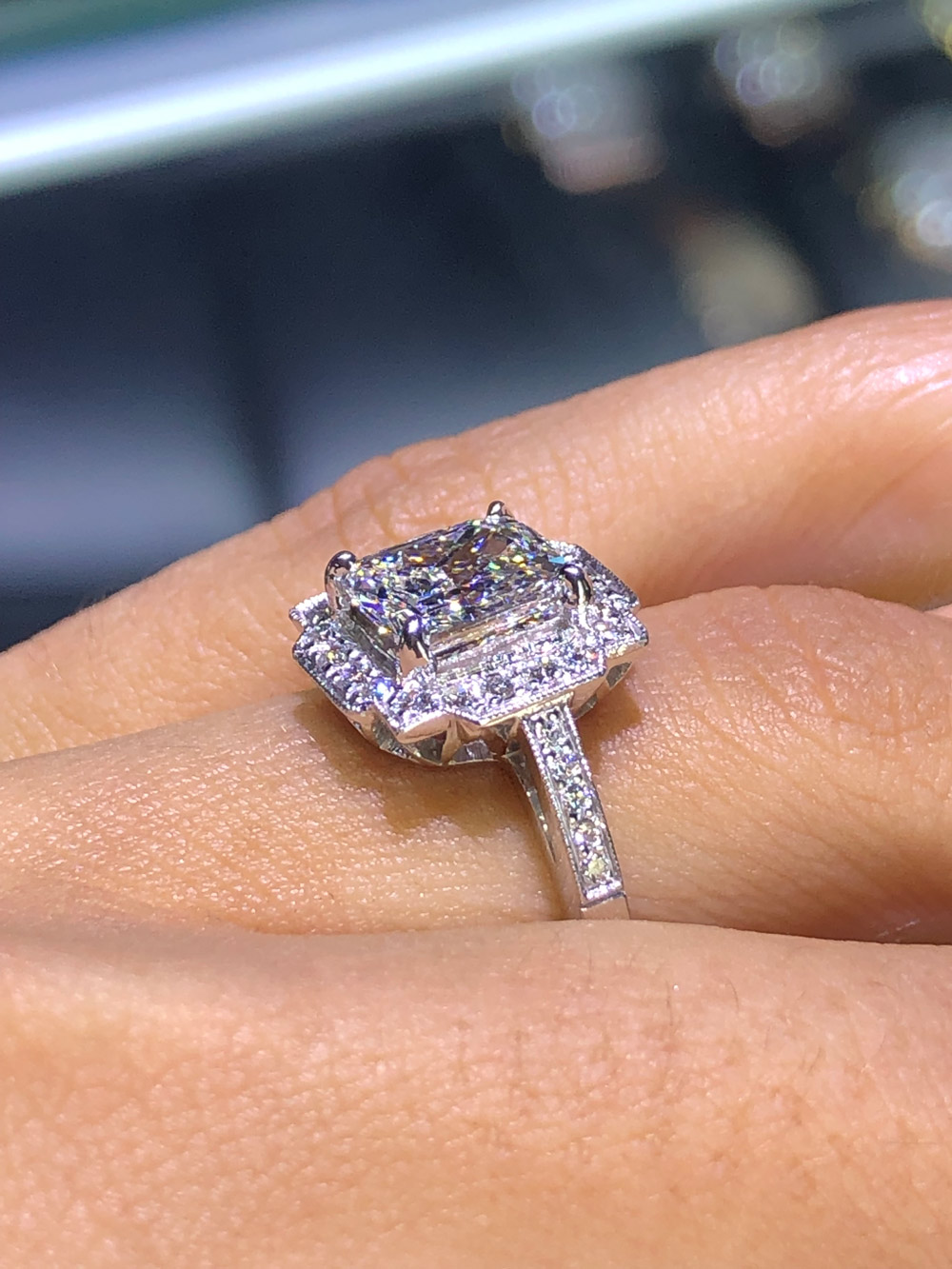 More about Diamonds by Raymond Lee
Diamonds by Raymond Lee (and our flagship store Raymond Lee Jewelers) has been serving Boca Raton and South Florida's insatiable need for diamonds for over 30 years. Our team of diamond advisers dedicates themselves to assisting you in selecting the perfect engagement ring. We aim to provide unparalleled customer support and satisfaction. Our A+ BBB rating can vouch for this.
We are Sunny Florida's best engagement ring retailer since 2016.
Our vision has always been to forge a unique, professional, and intimate vibe. We provide a shopping experience that works for all generations. We especially know what the modern jewelry buyer wants; and we keep traditions that never fade intact, such as sensibility, artistry, and craftsmanship.
If you want to custom make an engagement ring…or even more, a whole engagement ring and wedding band stack for your special day, please contact us today with any and all questions you may have. You can also simply pop into our store any time we are open. We look forward to hearing from you.
Diamonds by Raymond Lee is located in East Boca Raton.
2801 N Federal Hwy, Boca Raton, FL 33431
This is our newest showroom and is the place were custom engagement ring dreams come true.
Hours of Operation:
Monday – Friday 10 AM – 6 PM
Saturday 10 AM – 5 PM
Closed Sunday
Phone: 561-750-7808