6 Things to Help You Choose the Perfect Engagement Ring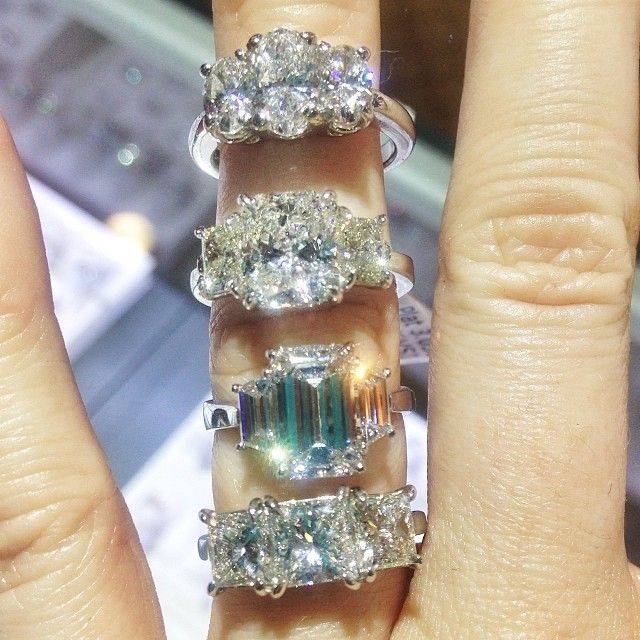 We've shared before the best metals for your engagement ring to make your diamond look the best. This in addition to our engagement ring cheat sheet means that this week is quickly becoming all about helping you choose just the right ring. Of course, as you well know if you read our blog regularly, the most important step of engagement ring shopping is customer education. But before you get down to brass tacks and start investigating diamond qualities, characteristics and price factors, you need to know what you want, right? So we've rounded up a few helpful graphics, articles, websites and quizzes to help you choose your ideal engagement ring shape, style, and budget.
Various types of band styles (especially in platinum)
This info graphic was designed by Pure Platinum, so yes, the emphasis is on that particular metal. However, the same shaped apply to a) other metals like gold in its various colors and b) engagement rings too – not just wedding bands. The terminology and examples are a great visual reference though for you to use to really get specific about what you want your ring to look like.
Carat Size Guide
This is an easy visual reference that looks pretty accurate (with the exception of the 10 carat, in our opinion.) However, it's very hard to gauge based on an image alone, especially a computer generated one, without knowing the cut grade of the diamond (are these shallow cuts? Do these diamonds have good spread? These are valid questions that apply to real life diamonds.) However, it is a nice representation of the difference a diamond's shape can have on its size appearance. The round, the most popular shape, looks significantly bigger than the princess cut, the next most popular shape.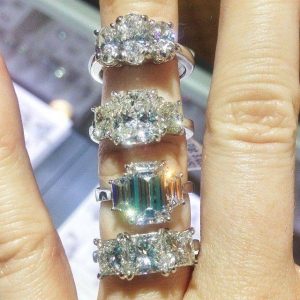 Here is another example of the difference that a shape can make in a diamond's apparent size. Different diamond shapes can make a stone appear larger than it is. These all appear similar on the hand but are wildly different carat weights, you can read more about this shot here. And for reference, the next few shots are on a ring size 5.75-6.
If you're still up in the air as to what shape best suits your personality, we think this is a fun quiz. (We got the marquise halo, which was definitely a surprise, so take it a few times for fun and a better sample size 😉
However, if you know what shape you want, chances are good it's the ever classic, always lovely, round brilliant. Here are two more visual guides for you:
These diamonds? Same size. Your setting is muy importante.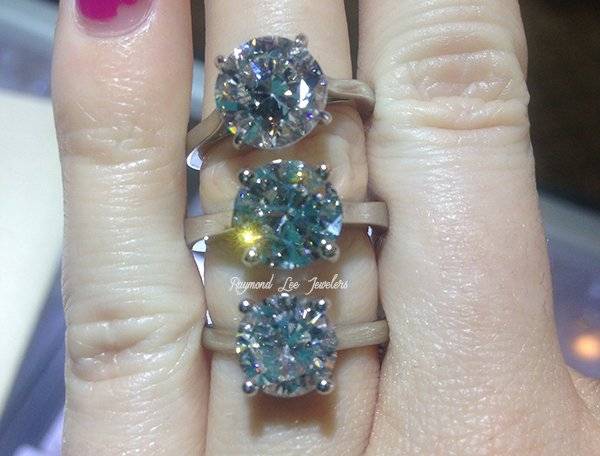 These diamonds are all different sizes – but they might not be as close in weight as you'd expect.