New vs Old Style: Yellow Gold Rolex Submariner 116618 Sunburst Blue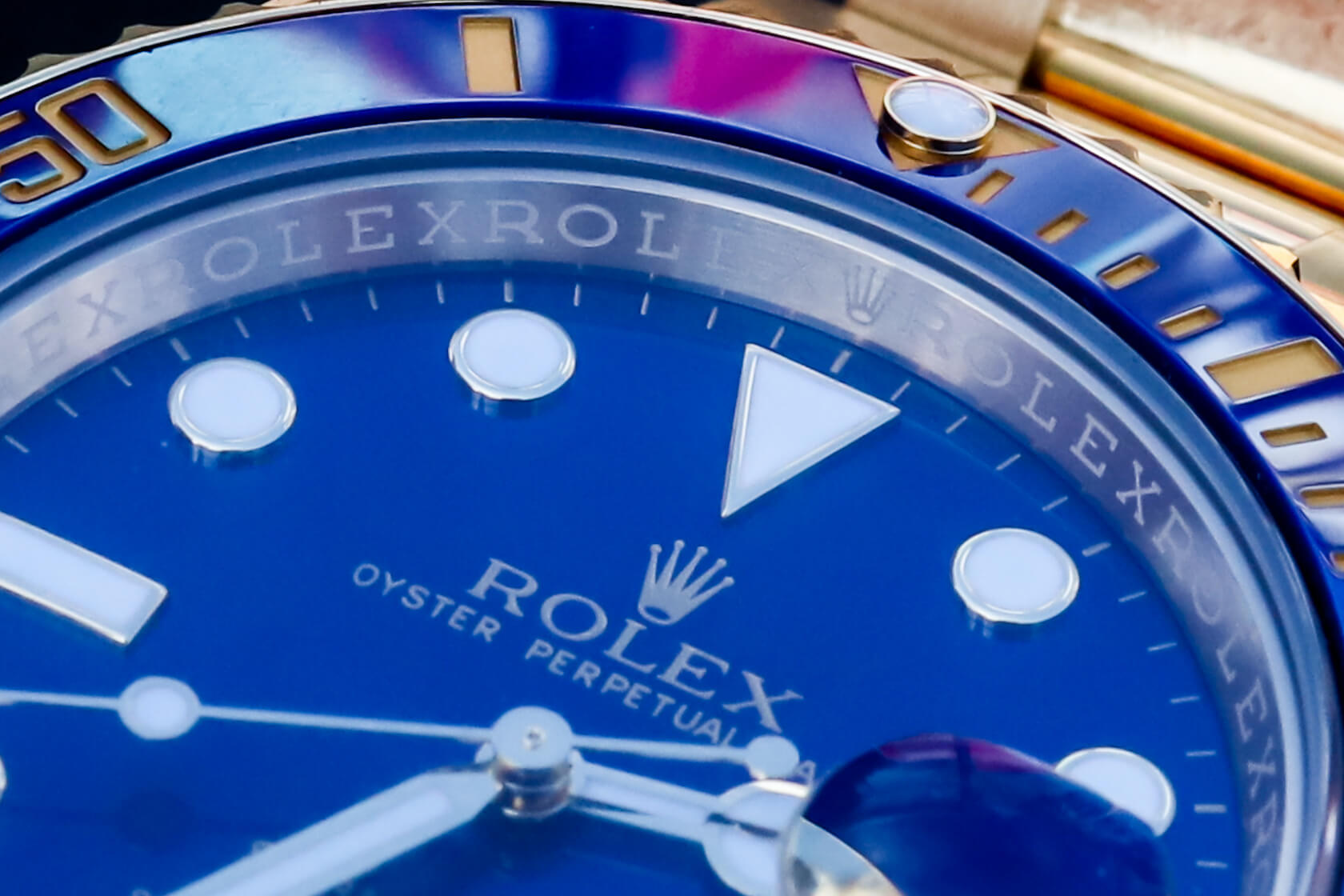 Presenting the new style yellow gold Rolex Submariner 116618 sunburst blue dial watch and a comparison with the old style YG Submariner ref. 16618. This is everything you need to know about the Yellow Gold Rolex Submariner.
Not only is the Rolex Submariner one of the most iconic timepieces in the entire Rolex catalog, but it is also one of the most iconic watches in the world. Introduced in 1953, the Rolex Submariner collection was designed to be the most superior diver's watch ever made, and that's exactly what it became, plus much more…
Professional scuba divers weren't the only ones that took a strong liking to the Rolex Submariner. Upon its release, the reception was overwhelmingly powerful across the board. Athletes, Hollywood celebrities, musicians, and affluent business professionals from all hemispheres of the globe greatly coveted the Submariner. It instantly became the watch for boardroom professionals, a status symbol of success, and the only diving they were doing was desk diving…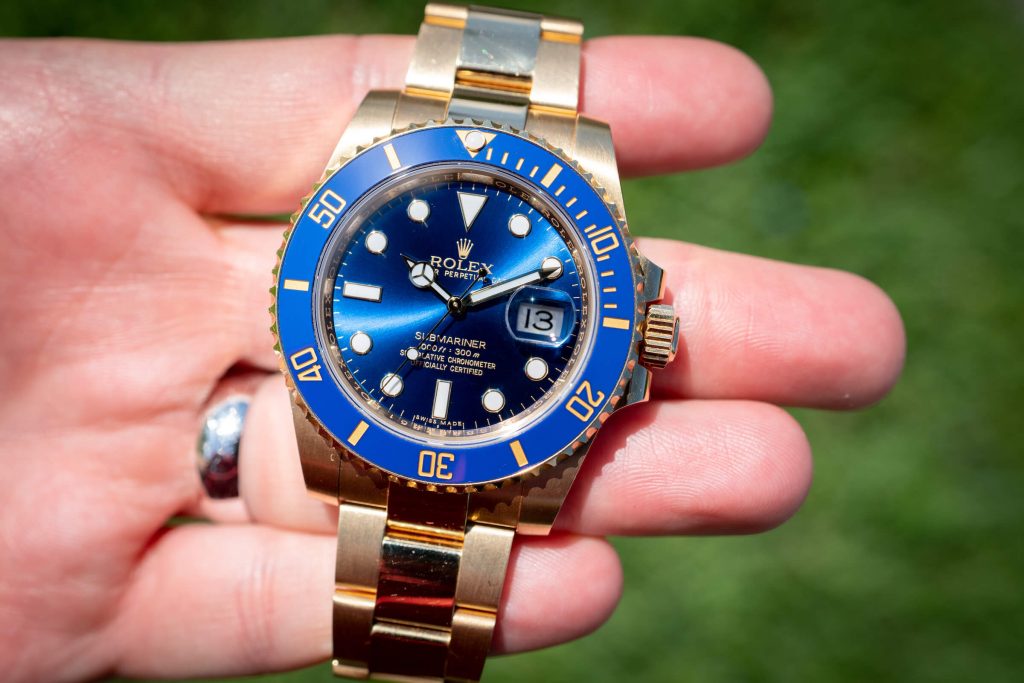 The Rolex Submariner is a true classic in the realm of horology and a watch with perennial popularity. In fact, It is so popular that the Rolex Submariner is a household name with nearly one-hundred percent recognition.
Over its 8 decades of existence, it has remained in the spotlight of popular culture. We've seen it in movies like James Bond, Jaws, Titanic, and many more; on the wrist of athletes like Roger Feder, Tiger Woods, Russel Wilson, and David Beckham; and countless celebrities, like Tom Hardy, Jason Statham, Brad Pitt, and Mark Wahlberg, have been paparaizzied while wearing their Submariners. As a matter of fact, Mark Wahlberg owns the exact watch we are featuring today, a new style yellow gold blue dial Rolex Submariner, reference 116618. 
So, while the Submariner is a pure diver's watch at heart, and that is still its unique selling point, the market has transformed its image into that of an emblematic all-round classic luxury watch. A status symbol and a true icon of fashion.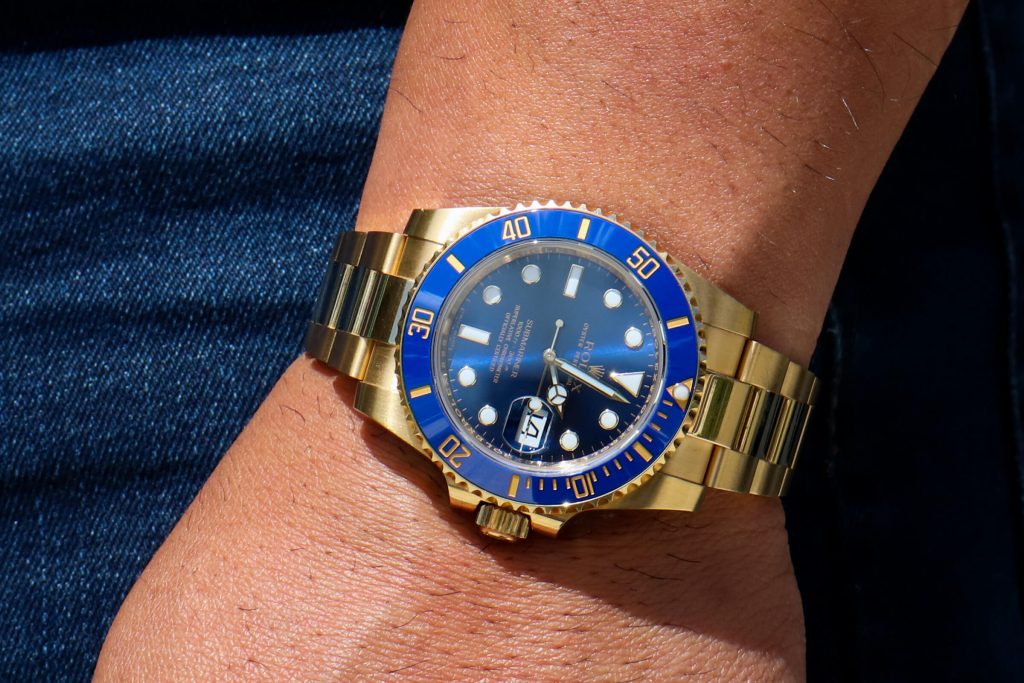 Rolex Submariner Functions
The Rolex Submariner has two main functions that make it the truly special watch that it is.
First, it has a high level of water resistance thanks to the impermeable Oyster case and triplock winding crown. It is water resistant at 300 meters (or 1,000 feet). This is more than enough for professional divers and recreational divers. To give you some context, recreational divers can only go down to 40 meters, and anything below 60 meters is considered a deep dive.
Note: The Sea-Dweller and the Deepsea collection are Rolex's ultra-water-resistant divers watches, with one model maintaining waterproofness down to 12,800 feet!
Its second function involves its rotatable bezel. The bezel has minute indicators on it, allowing divers to accurately measure the amount of time they've been submerged underwater, as well as their decompression periods. One of the special aspects of the Submariner's bezel is that it can only rotate counter-clockwise, rather than bidirectionally. Rolex did this as it eliminates the chance of the bezel accidentally rotating in a direction that makes the remaining dive time longer. Thus, the only mistake a diver can make is to shorten their dive time, which, obviously, has no life threatening implications.
Now, while the vast majority of Rolex Submariner owners are not divers and will never actually use it for its diving function, it still gives the watch a very cool story. It's a watch created to withstand harsh diving environments. And one with history that dates back to the 1950s. On top of that, the design is stunning, sporty and opulent. Therefore, the watch's universal function is to be the ultimate luxury sports watch.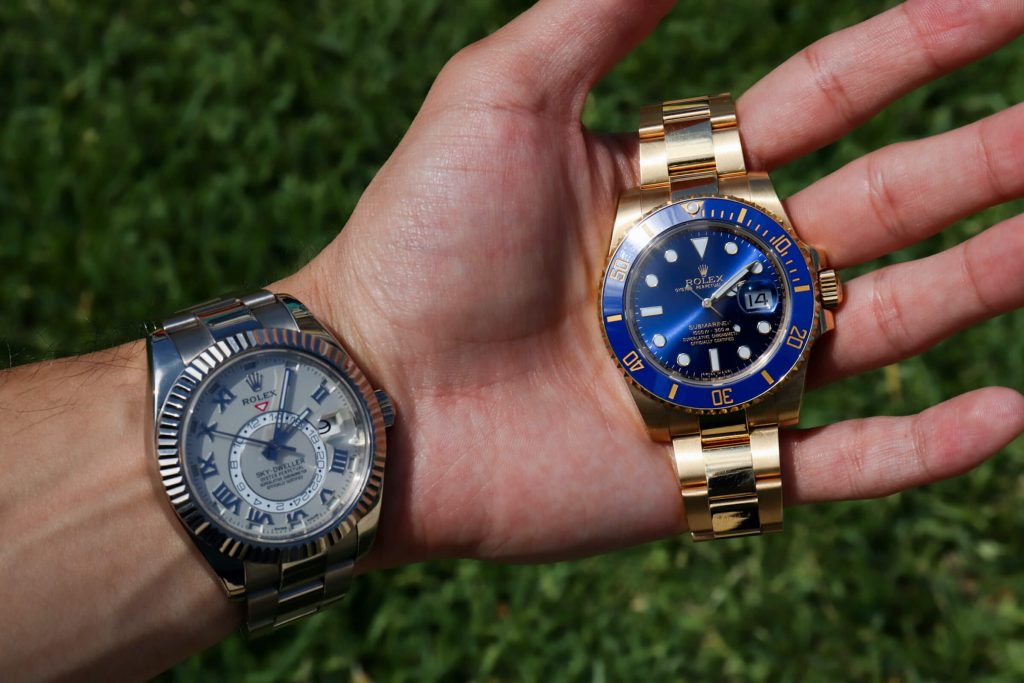 Rolex Submariner Metals
The Rolex Submariner comes in 4 metal types, stainless steel, white gold, two tone (Yellow Rolesor), and yellow gold. The two tone version is called Yellow Rolesor, which means it uses both gold and steel. 
Rolex makes their metal alloys in-house. Their steel is their own concoction of 904L stainless steel, and their golds, which are 18 karat, are made in Rolex's personal foundry. 
The feature of today is a yellow gold Rolex Submariner. More specifically, the new style blue dial and blue bezel Rolex Submariner 116618.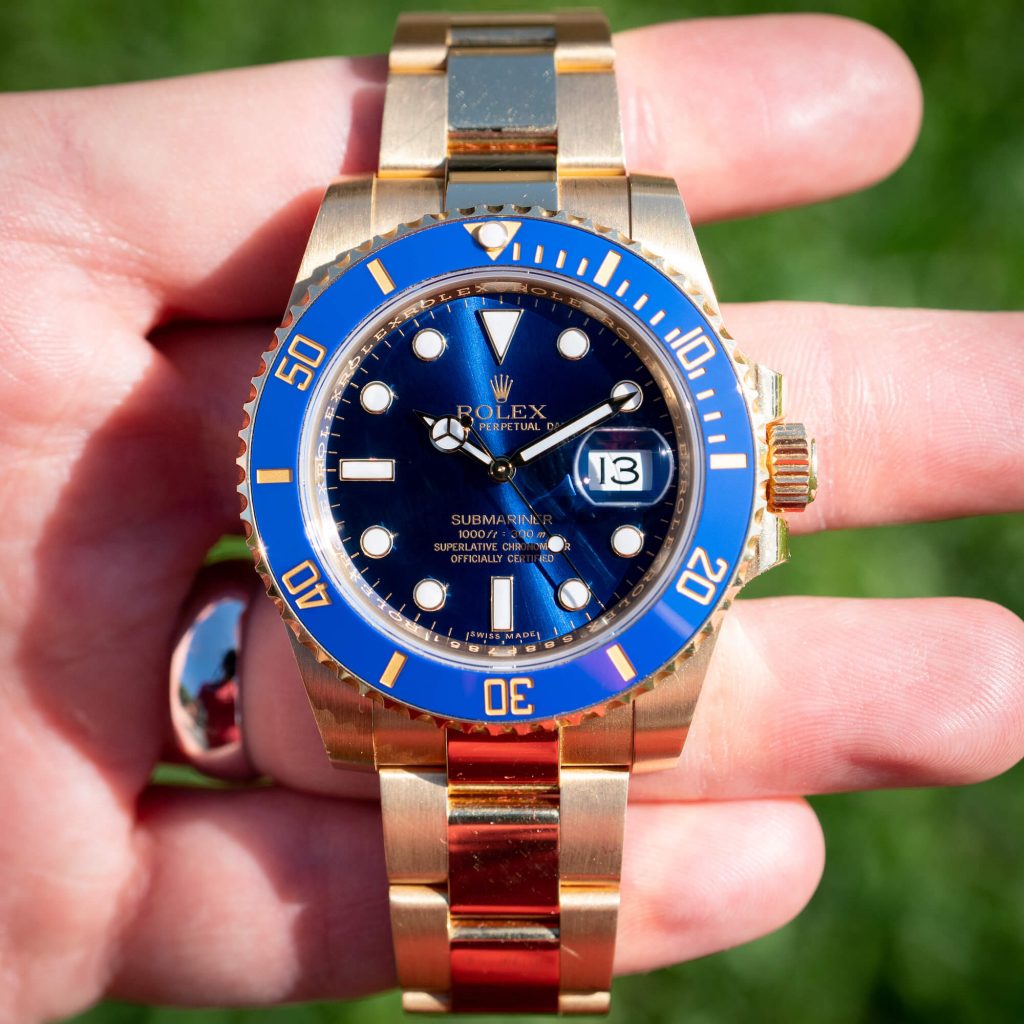 Solid 18K Yellow Gold Submariner
Since Rolex's inception, they've been committed to nothing but pure excellence. They operate an exclusive foundry, completely in-house. Thus, they create all of their own metal alloys. They've spent countless years developing and perfecting their 18 karat gold alloys. They use nothing but the purest metals, all assiduously inspected at their own laboratory using state-of-the-art equipment. Their attention to quality is peerless. It is said to be one of the best gold alloys ever made. Their gold offers incredible durability and longevity in its luster. It will not fade and the finishing is simply exquisite. 
Now, yellow gold may seem like a strange choice for a sports diving watch. However, being that gold is a metal that is a lot softer than steel, it is actually more corrosion resistant. So, in fact, it makes perfect sense for a divers watch.
Nevertheless, as mentioned, most people who have Submariners don't use it for diving. They buy a Sub because they want a watch that doubles as a luxury sports watch and a dress watch. The material, design, and overall size is what makes it so versatile in style. What better functionality could you ask for than versatility?
The full yellow gold Submariner makes for a gorgeous dress watch, complementing any suit and tie to perfection. It also makes for a spectacular sports watch for those who aren't afraid to stand out. Wear this with a white t-shirt and some blue jeans and you will be making a silent statement that declares three things, "I appreciate horological history, I have style, and I've got spending power".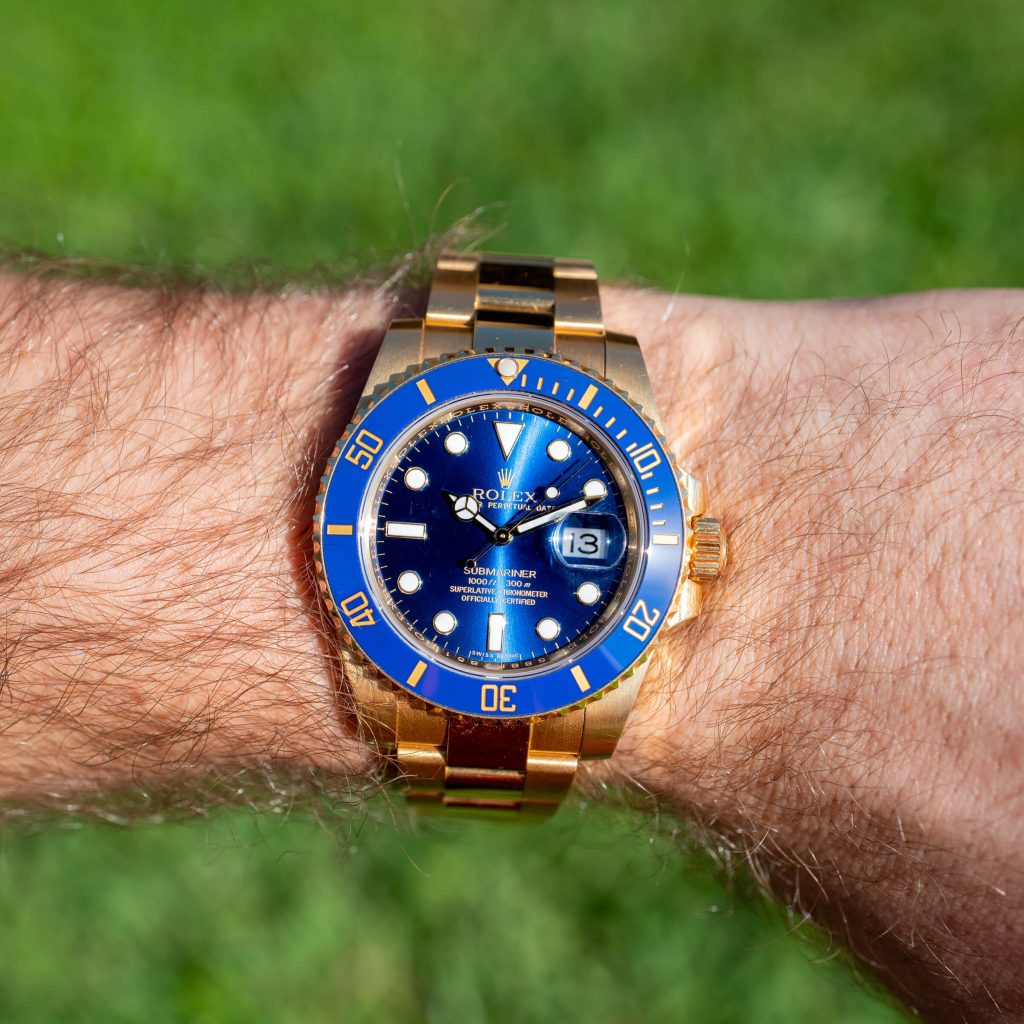 Yellow Gold Rolex Submariner History
The first yellow gold Rolex Submariner was introduced in 1969. It was the Rolex Submariner 1680/8. It came with either a black nipple dial and black bezel or a blue nipple dial and blue bezel. Colors schemes that have stuck with the yellow gold Submariners to this day. 
The next yellow gold Submariner was reference 16808, with the same dial and bezel configurations. The later versions started using lume filled indices, rather than the "nipple" style hour markers.
The first two toned Yellow Rolesor appeared in the mid-1980s.
Rolex 16618 was released in the 1980s and it was the longest running reference of the yellow gold Sub. It was discontinued in 2010 for the newest and current Yellow Gold Submariner, reference 116618 (the watch we have recently acquired at Diamonds By Raymond Lee in pre-owned like-new condition). 
There were 4 major design changes from the late-production Rolex 16618 to new Submariner reference 116618, which we are about to discuss.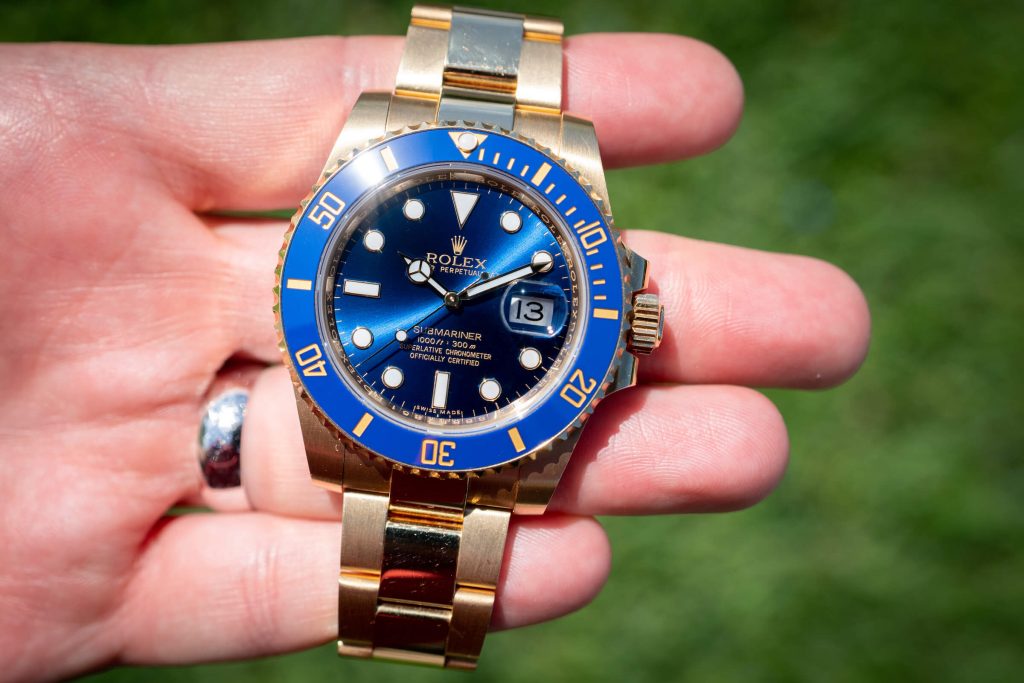 Improvements on the New Style Submariner (ref. 16618 VS 116618)
The yellow gold Submariner 16618 was in production for around 20 long years, until it was replaced by its predecessor, reference 116618. The release of the new reference came with an introduction of a few new "improvements" and updates, which related to the bezel, dial, case and bracelet. 
Cerachrom Bezel
The new style yellow gold Submariner, reference 116618 has a Cerachrom bezel rather than the aluminum bezel that preceded it.

Cerachrom is a Rolex patented term for a ceramic insert. While the aluminum bezel is cool because it's "vintage", the Cerachom bezel offers many advantages. It makes the watch more robust as the bezel is scratch, dent and fade proof. It also offers a glossier, more eye-catching appearance, which can be a positive or negative thing depending on your preference. Nevertheless, the durability it provides is surely a major benefit, making the Cerachrom bezel far superior to the aluminum bezel of the past.
New Style Case
The Submariner 16618 and 116618 are both 40mm Oyster cases. So, they are technically the same size. However, the new Rolex Submariner 116618 has a slightly different shape so it wears larger.
The new style Submariner case has a square finish along the lugs and crown guards, giving it a bulkier, more robust and masculine appearance. 
In the modern age, larger is better in most people's minds. In fact, the reception for this change was chiefly positive.
Maxi Dial
The dial was updated on the reference 116618 to a "Maxi Dial". The new style Maxi dial has larger lume plots, which gives the Rolex Submariner a much more dynamic, modern look. Moreover, the Chromalight luminescence fill offers better legibility, with blue light that can last up to 8 hours in the dark. That's two times the amount of the previous luminescence on the YG Rolex Submariner 16618. 
Glidelock Bracelet
Perhaps the most appreciated improvement of them all, according to the Rolex collector community is the extremely innovative, patented Glidelock system. 
The Glidelock bracelet allows for easy and rapid adjustment of the length of the bracelet. There's absolutely no need for tools to make the watch fit perfectly! For divers, this is especially useful, as they can easily adjust the bracelet so it fits comfortably over a diving suit. 
The Glidelock system can adjust by 20mm in total, using minor 2mm increment.
What's more, the new style bracelet is solid yellow gold, rather than hollow links, which any Rolex pre-2000 had.
After reading this, you can ask yourself, which do you prefer, the vintage Rolex 16618 or the modern Rolex 116618?
It's all down to personal preference. If you want a modern look with more durability and functionality, the Rolex Submariner 116618 is for you.
However, if you prefer a classic look, you can still get your hands on the Rolex Submariner 16618 Cobalt blue dial. In fact, we have a Rolex 16618 for sale for $ 24,900.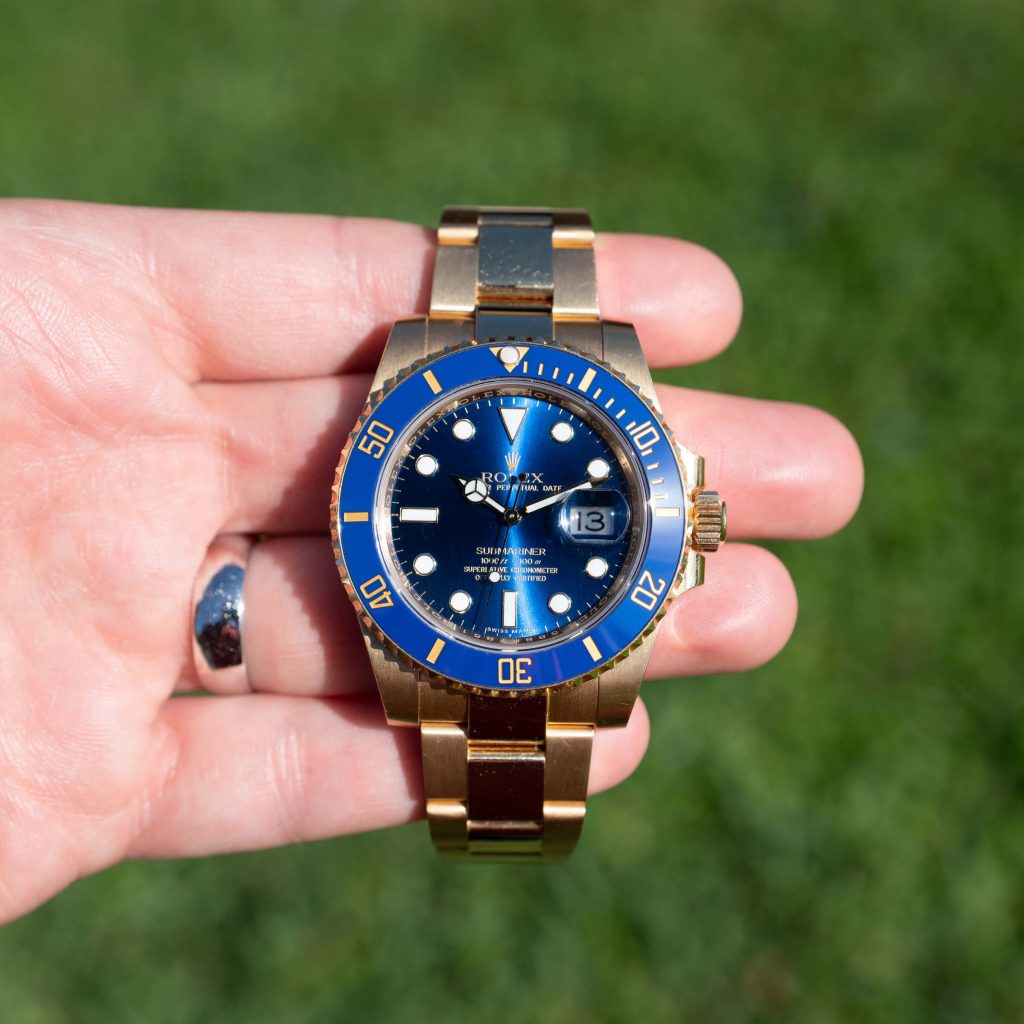 New Style: Yellow Gold Rolex Submariner 116618 Blue Dial & Blue Bezel
The blue dial, blue bezel version of the YG Submariner is easily the flashiest, most vibrant and luxurious Submariner. It is an unmistakable watch and one loved by watch collectors. It ranks as one of the three most expensive options, aimed at those with a higher budget. 
The early productions of the blue dial YG Sub 116618 used a Cobalt blue, but the latest productions are Sunburst blue dials. Our newly acquired Yellow Gold Submariner 116618 is the Sunburst blue version. 
The Cobalt blue has a flatter, more subdued appearance. The Sunburst is more desirable overall, as it has more character. It reacts to the light and it just pops. It's a dial that you can stare at in admiration. Moreover, it goes better, in our opinion, with the glossy look of the blue Cerachrom bezel. 
YG Sub Reference 116618 – CALIBER 3135 MOVEMENT
Both the 116618 and 16618 have the caliber 3135 movement. It was first introduced in 1988, and was immediately used as Rolex's main movement because of its superlative performance.
While it's an older movement, no change is need as it is incredibly accurate and precise. The caliber 3135 Rolex Perpetual movement is a certified Swiss chronometer, a designation set for high-precision watches that have successfully made it through Swiss Official Chronometer Testing Institute (COSC) tests. It has a Parachrom hairspring (another Rolex invention, of course), providing superb resistance to shock and temperature variance. The caliber 3135 has 31 jewels and a power reserve of 50 hours, so it can be taken off for the weekend then thrown back on without needing to reset the time. 
Yellow Gold Rolex Submariner 116618 Pre-Owned PRICE
This particular Submariner ref. 116618 is second-hand, in excellent condition. The price is around $30,000. If you are interested, you can contact us for pricing details.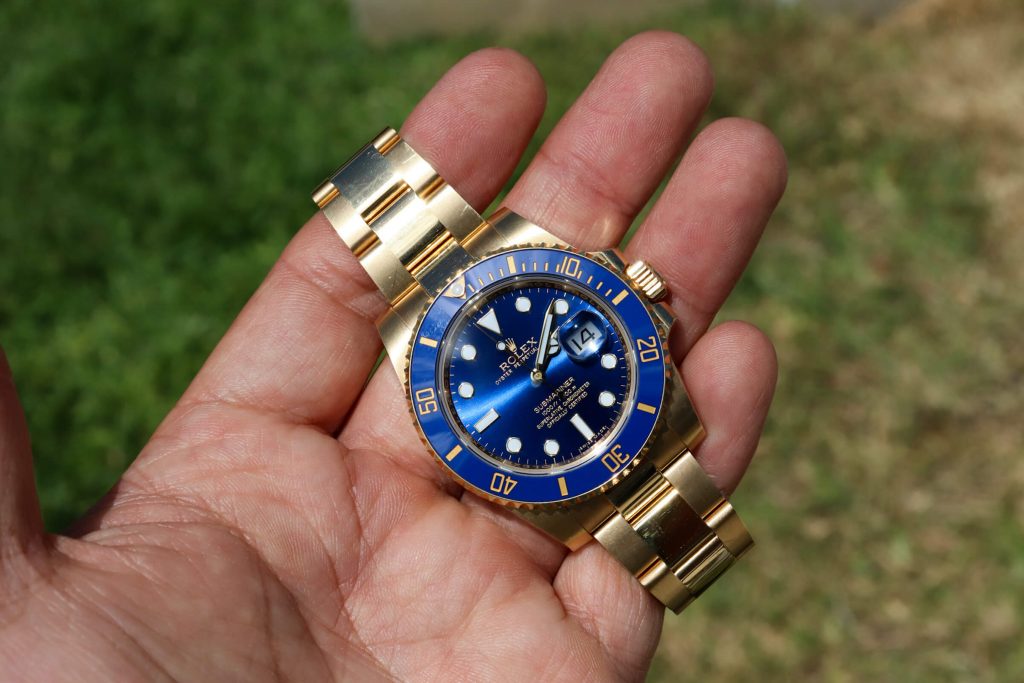 Raymond Lee Jewelers & Diamonds By Raymond Lee – Submariners For Sale in Boca Raton & Online
At Raymond Lee Jewelers and Diamonds By Raymond Lee in Boca Raton, we have a wide selection of pre-owned Rolex watches, with many Submariners to choose from.
Shop Rolex Submariner watches at Raymond Lee Jewelers
Shop Rolex Submariner watches at Diamonds By Raymond Lee
Our prices are the most competitive in the area. If you have any questions, please feel free to contact us. We can also facilitate the purchase of one of our Rolex watches online with absolutely safety and security.