Submariner Rolexes 16613 versus 16610 Special Edition Men's Watches
Submariner watches are some of the most famous and sought after men's Rolex watches. They have a rich history and powerful deep dive functionalities. It is just one of those watches that for gentlemen looking for both a statement piece and utility tool there is no better option. It is after all a Rolex.
The crowned king of men's luxury timepieces. As well as a resistant diving watch that can not only handle extreme conditions but also makes it look easy. Today we are taking a look at two very special Rolex Submariners. The Rolex Submariner 16613 and the Rolex Submariner 16610. Both of these are special edition Submariners too. The one is called the Kermit due to its green coloration. And the other is a two tone blue dial men's watch. We will review the Submariner in general. Then we'll get to details of each one of the watches.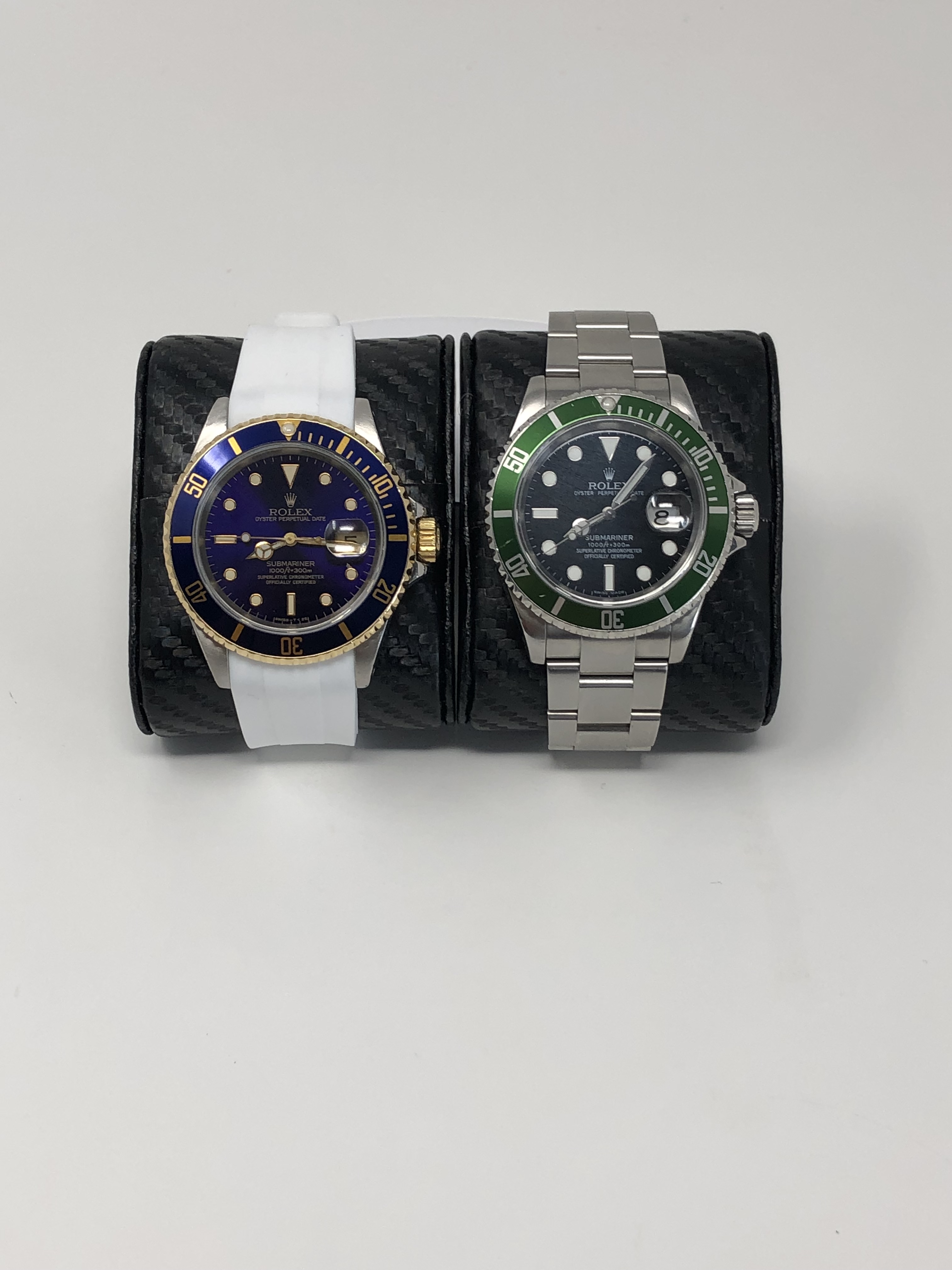 Both of these watches are absolutely incredible undoubtedly. Each one has the powerful performance of Submariner Rolex watches. They are tough under pressure, resistant to the deepest depths and stylish like no other. These are one of the Rolex ranges that truly embody the brand's bravado. They are sport watches when it comes to what they can do but easily these are dressed up gentleman's accessories no matter the occasion. Particularly as you will see with these exclusive color options for the classic Rolex Submariner rotating bezel as well as the dials.
Further the straps are all the latest hype. Particularly when we have got high quality luxury brands creating tailored rubber straps that fit fine luxury watches like Rolexes, well like a glove. It is an impressive combo of looks and abilities when it comes to the Submariner. As well as a very long history that goes deep too.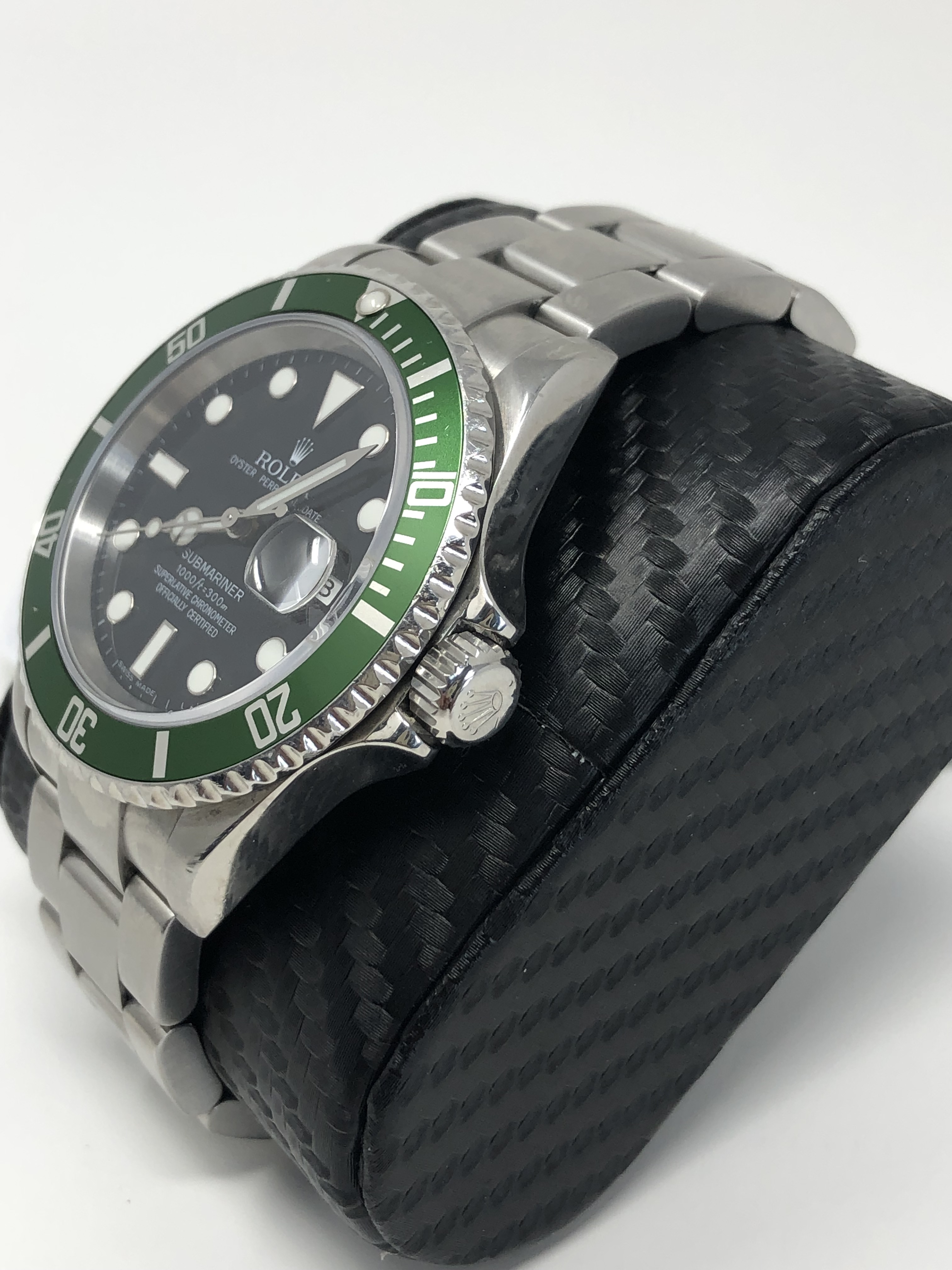 Rolex – the luxury watch brand for power, precision and personality
Rolex is arguably the most well known men's watch brand in the world. Overall they have not just broken records but also set the standards we go by today. Whether that is when it comes to depths we can reach with a wristwatch, durability of a patented metal alloy or the fine movements within a watch case. Rolex is a brand that is synonymous with men in positions of power, the President Rolex for example. It is also a brand that maintains some of the very highest quality when it comes to their fine products. It is not for trend setters but for gentlemen who live their lives day in and day out with this level of excellence. A Rolex is a marker of reaching a certain point in your life. It is a classic and capable machine from a world famous leader. A landmark brand in features for watches.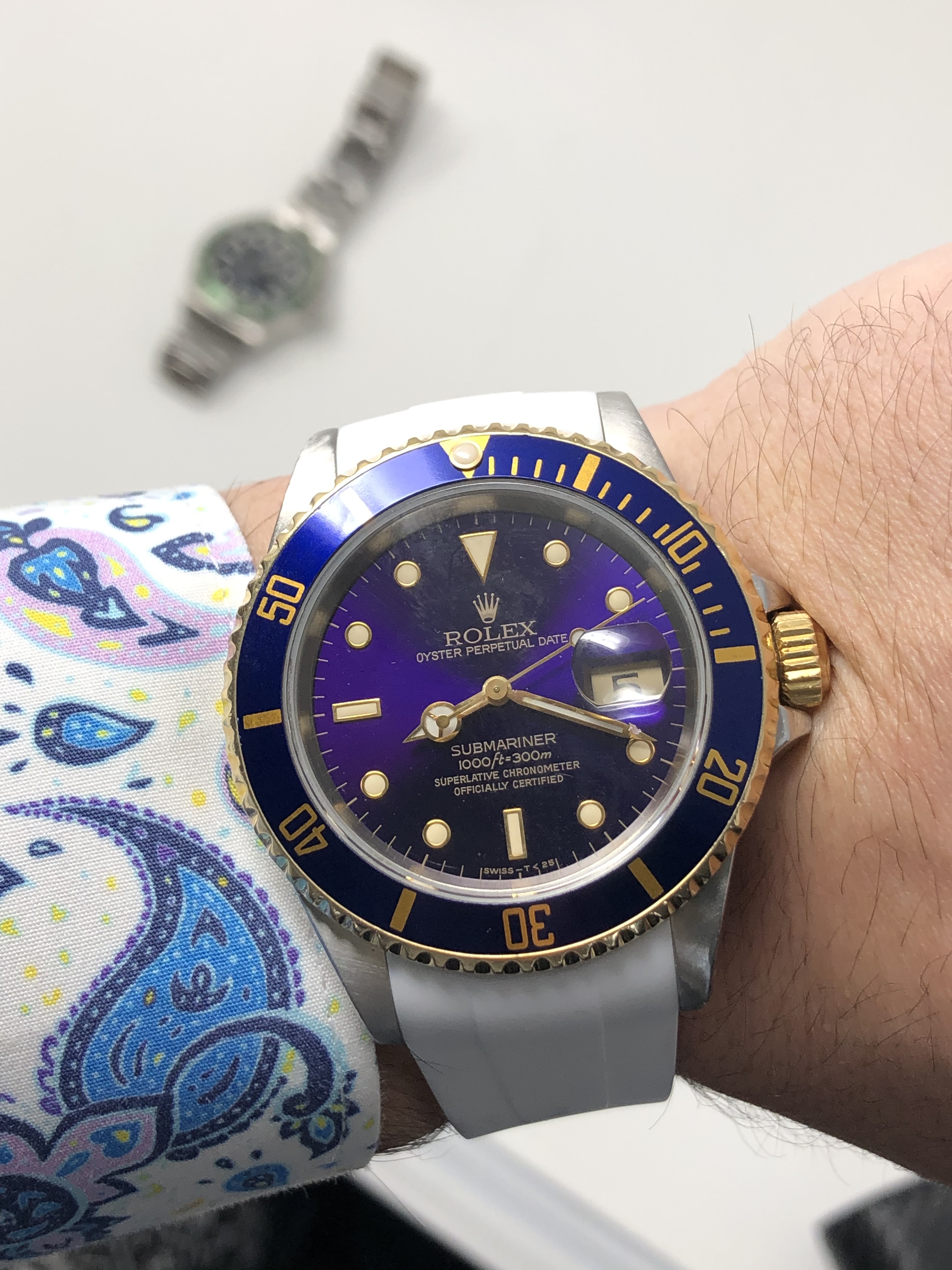 From the very beginning Rolex has always been at the cusp of innovation and acceleration. Rolex, the decidedly most well known and efficient luxury timepiece there is. They are instantly paralleled with speed, precision and unmatched performance. Renowned all around the world for its impeccable quality and inimitable design Rolex has led the craft of haute Horlogerie from the beginnings of the wristwatch making industry.
Furthermore a Swiss made machine you can be sure some of the world's best craftsmen are developing each and every piece. Rolexes are after all handcrafted and many of the machinations within your watch are placed there meticulously by an expert hand. The gold and other fine metals and materials used are the best in the world to give you a tool that will always keep you being the best too. It is no surprise really that the world's best diving watch is a Rolex.
Submariner – Rolex iconic men's luxury diving watch
Unlike any other watches that have come before it the Rolex Submariner handles not only a splash of water but also the incredibly massive pressure of the deepest depths of the sea. It is a groundbreaking watch that truly set the standard when it comes to diving. And as no surprise to anyone really it still continues to do so. It is the very first deep water wrist watch ever to be made.
The Submariner is a refined yet extremely powerful tool. It is a reference among deep diving watches and it is the one that holds the record for breaking this first initial barrier. It is not only a luxury time piece for gentlemen to dress up or sport out but also literally a survival tool. For the most pronounced divers around the world this is an item of equipment for calculating and making sure your time beneath the sea does not go beyond the limits.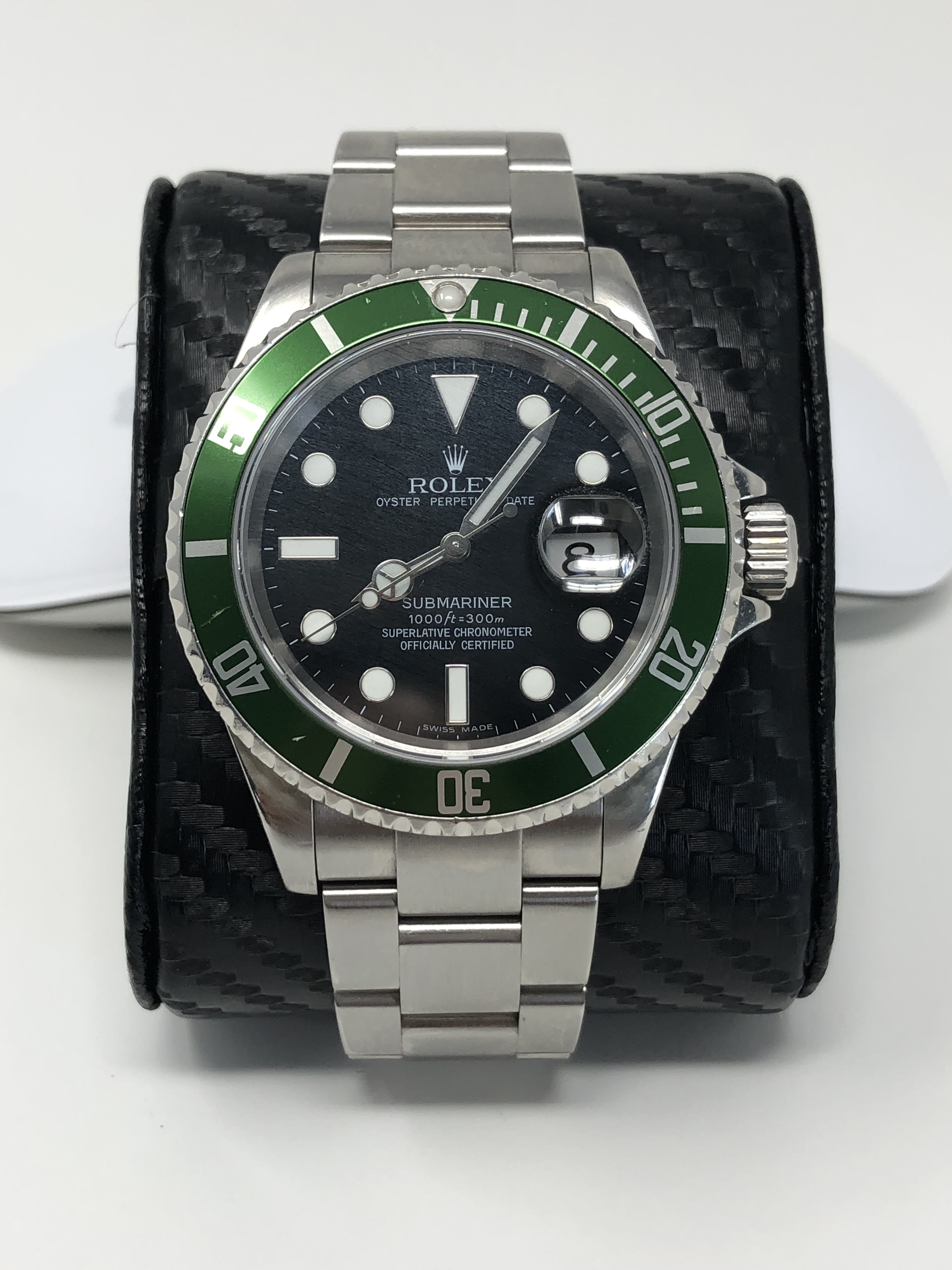 Every part of this watch was made specifically for absolute peak performance in the darkest and deepest depths of our planet's oceans. Made to emphasize precision and accuracy this watch's movements are unparalleled. Created in the 1950s it was the very first waterproof wrist watch to reach a depth of 100 meters. That is very deep. Think a bit deeper than the size of the Statue of Liberty.
That is right, the Rolex Submariner is not for those playing games. It is designed to be a true diver's watch. This piece is a cutting edge tool for diver's to survive in one of the last frontiers of mankind, the deep ocean blue. The Submariner began with a simpler 1680 version. Throughout the years they advanced and improved each new subsequent model. They are still known for their resistance and durability though.
First let us take a look at the Rolex Submariner 16613. A fine piece for the sportive, elegantly refined gentleman it is a sportier look. With luminous hour markers and hands and a 40 mm face this watch is easy to read no matter what depth you find yourself at. It is a style of watch that has been made famous over the years. Due to celebrity associations, Rolex brand sponsorships, military units and Hollywood films alike. Without a doubt these Submariners are far more than just a diving tool. They are extremely well regarded by people and collectors alike.
With its big splash debut in 1953 at Basel World setting standards and taking attention are just a part of the Submariner's usual repertoire. This classic Submariner style is fashioned up with a two tone Rolex iconic yellow gold and Oyster steel stainless steel combo. With a touch of blue.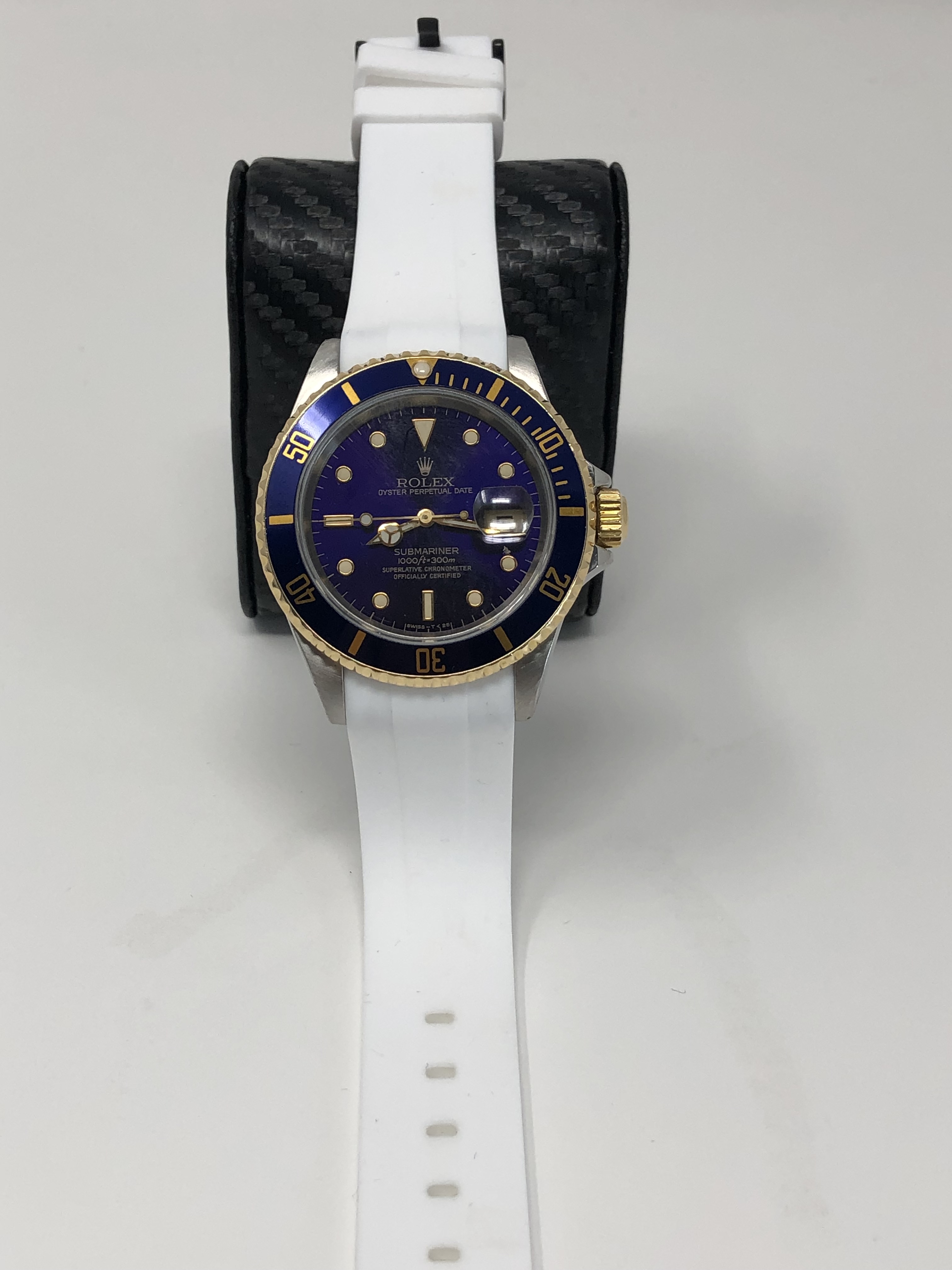 Also, this one features the Rolex developed Oyster steel case as does the 16610. This unique high technology alloy feature is actually used in the aerospace and chemical industries making it highly durable and strong. So no matter what depth you are you can count on this watch.
Now most of the 16613 Submariners feature a matching bracelet. However, this particular watch has a modern white rubber replacement strap. Let us take a look at some of the fine watch straps we have available at Diamonds by Raymond Lee. For you to show your personality and change according to your style. Whenever and however you want.
The white rubber strap
This watch has a really great modern look and feel. Even though it is a Rolex classic this Submariner has been spruced up with the blue coloration. As well as the two tone yellow gold and stainless steel combination. Further matched with a white rubber strap this watch is a modern mans look. No matter if you are planning your expedition down under the sea or just getting things done at the office.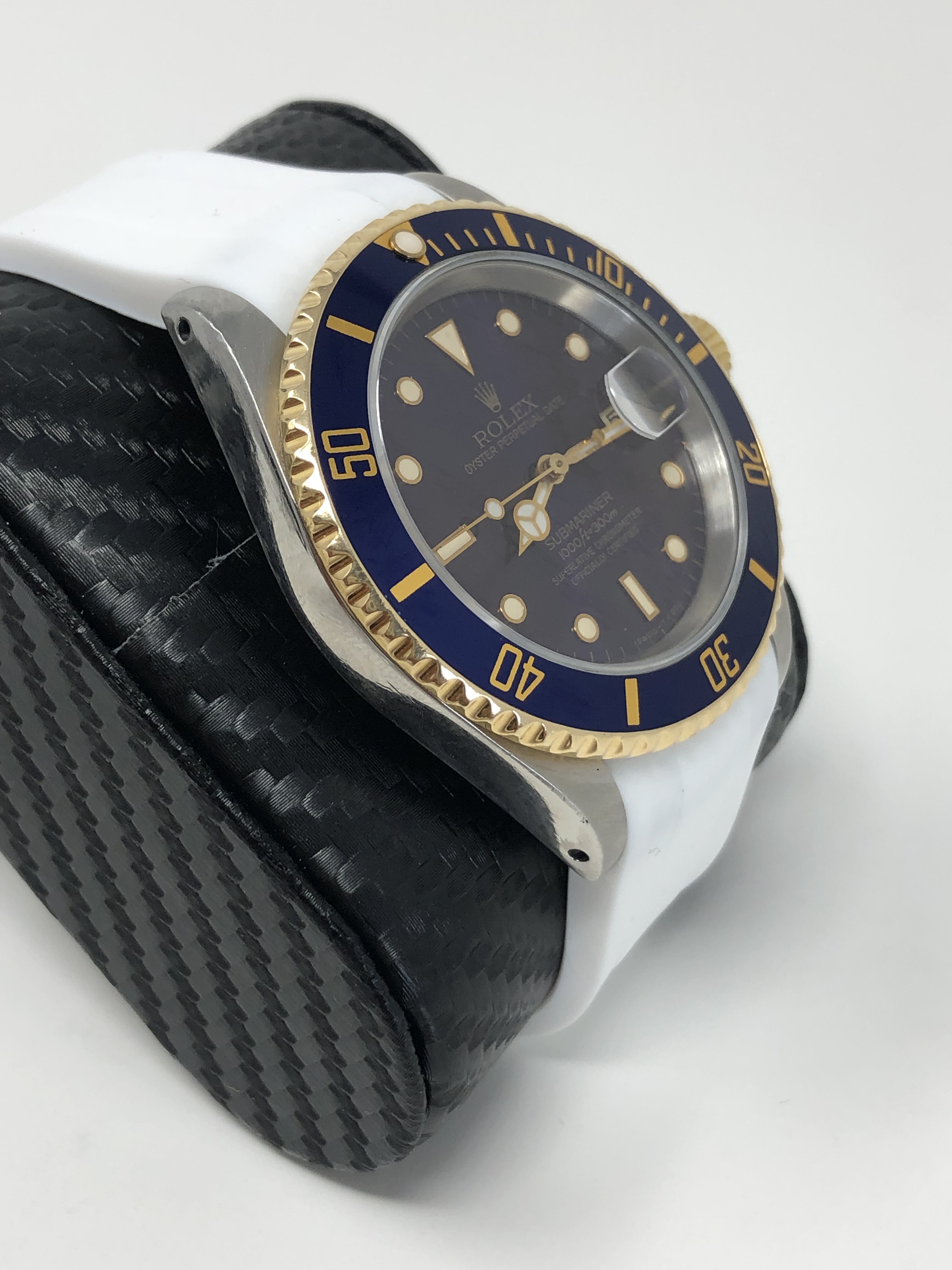 This watch with modern and personalised touches can take you from a  lunch in the city to 100 meters easily. It is resistant, adaptable and flexible. Much like the white rubber strap as well. These are becoming more and more popular amongst the luxury watch owners of today. They offer a lot more flexibility when it comes to adding a unique touch to your watch. And making a radical change while keeping your classic close and comfortable.
The strap is from Horus. They are a high quality manufacturer of luxury watch replacement rubber straps. It is the modern accessory for your luxury time pieces that we have all been waiting for. Their selection is wide ranging and made specifically to fit perfectly on luxury watches like Rolexes, Audemars Piguets and others.
Now for the Anniversary feature Submariner watch. This Rolex master piece was created specifically for the 50th Anniversary celebration of the Rolex Submariner. In 2003 it made a big splash. Still featuring all of the exclusive Rolex diving features and capabilities it had a special tone if you know what we mean. That is right the green shade that earned this watch its nickname the Kermit not to be confused with the Hulk watch a different edition. With an incredible Rolex green shade rotating bezel and a starkly contrasting black dial this watch is a looker.
Paired with Oyster steel stainless steel case and monochromatic bracelet it is a strong and masculine look. This is a very special watch indeed.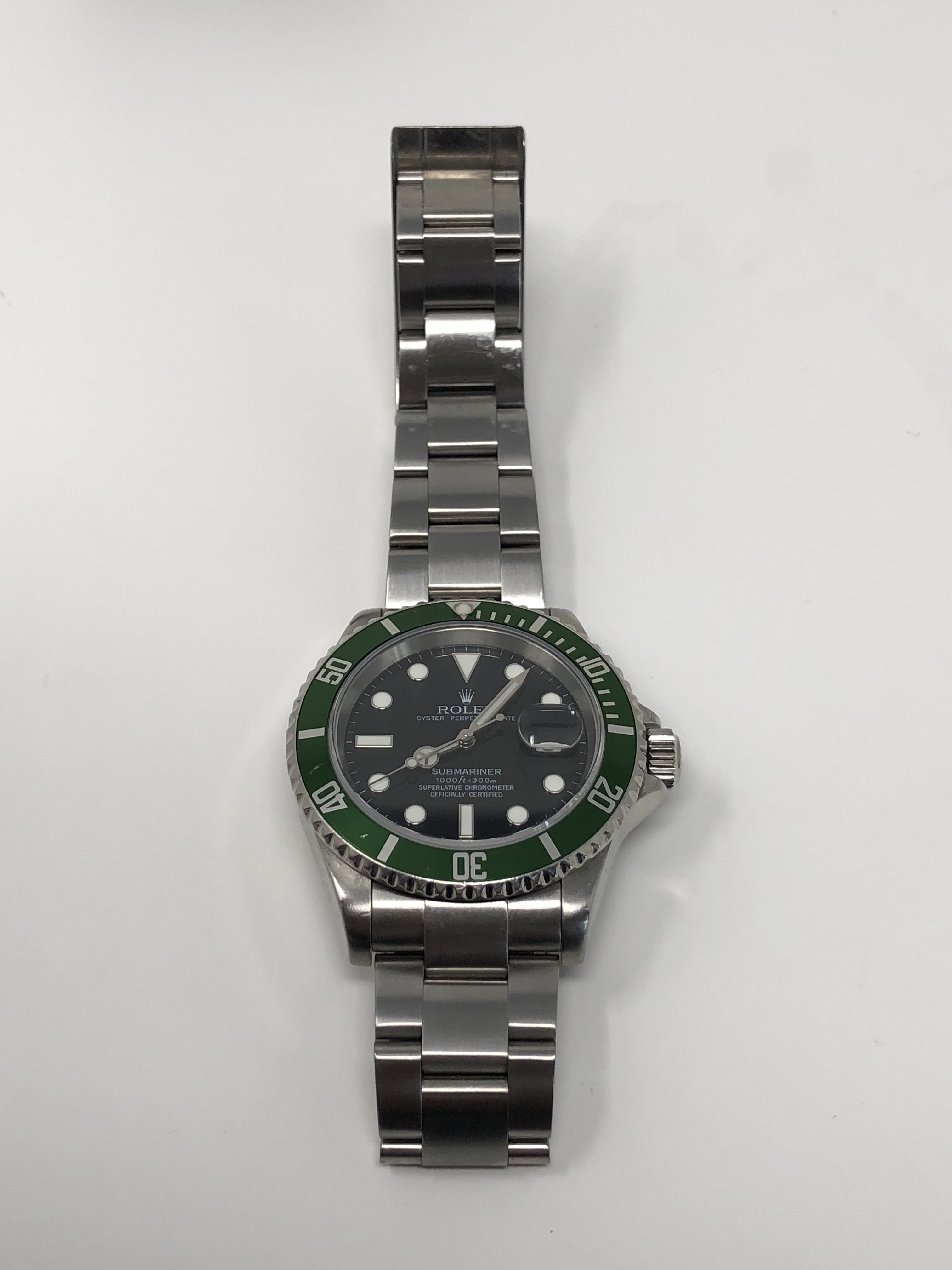 Further many collectors predict that the price of these stainless steel commemoratory watches will only increase over time. Of course depending on the maintenance and condition of the watch itself. As is always the case with watches.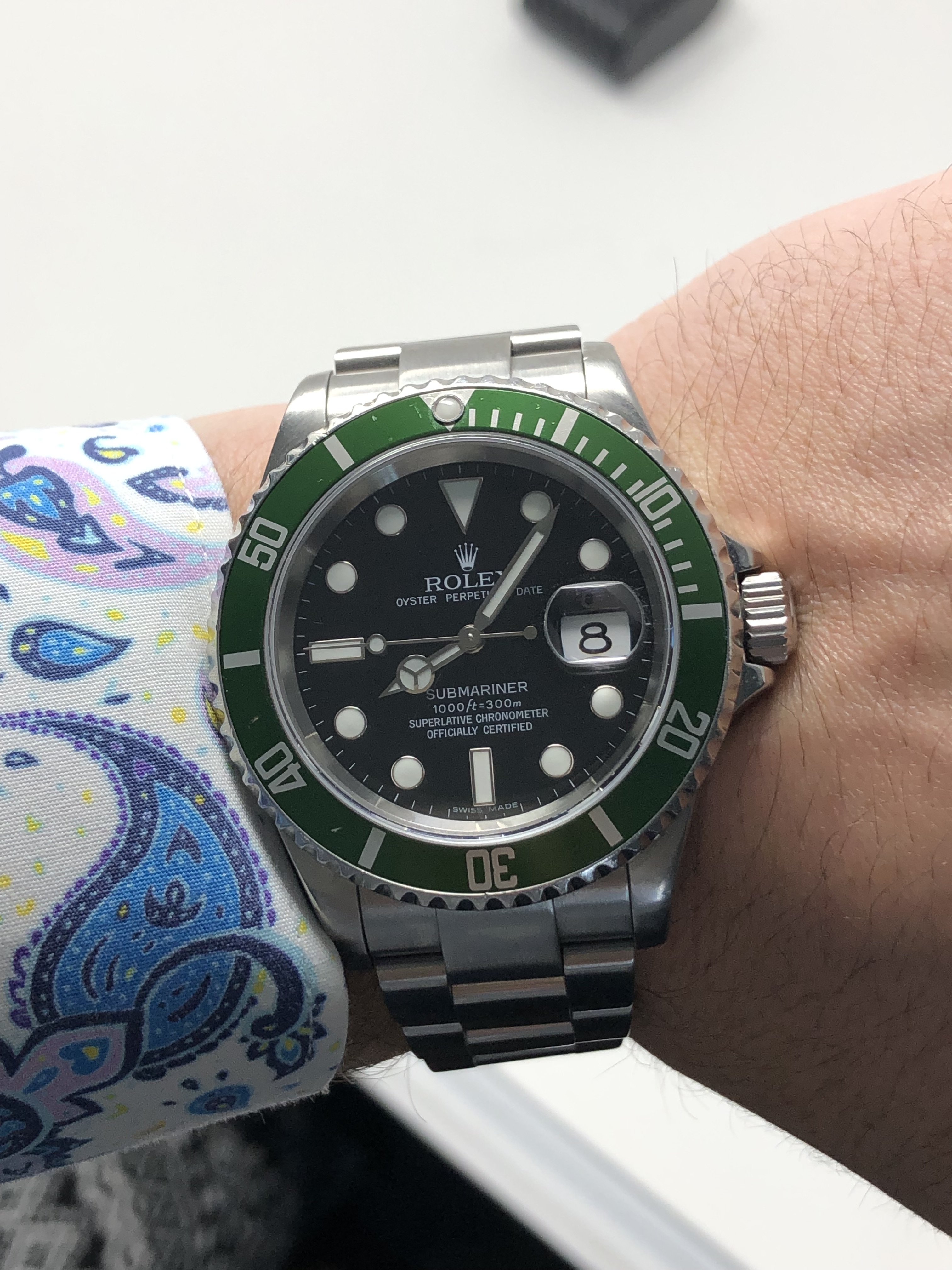 Destined to be a collectible this master piece is all of the Submariner 16610 with a touch of green. This Rolex Submariner 16610LV has a 'Maxi dial'. Which features larger hour marker than other previous Submariner editions. This is arguably the most important feature change in this anniversary edition. Right after the Rolex green LV, lunette vert, of course. Particularly because this is after all a Submariner watch.
Therefore for diving and additional visibility the larger visuals are a strong discerning factor. However for us the Kermit is foremost a collectors watch. Whether you are an avid diver or sportsman or not. It is a sportive watch granted but it is a collectors item. Therefore it can be dressed up or down. For formal attire, business or casual. The watch has in the end even been part of the 007 series. And we know how quickly Bond changes his looks.
Where to buy a Submariner?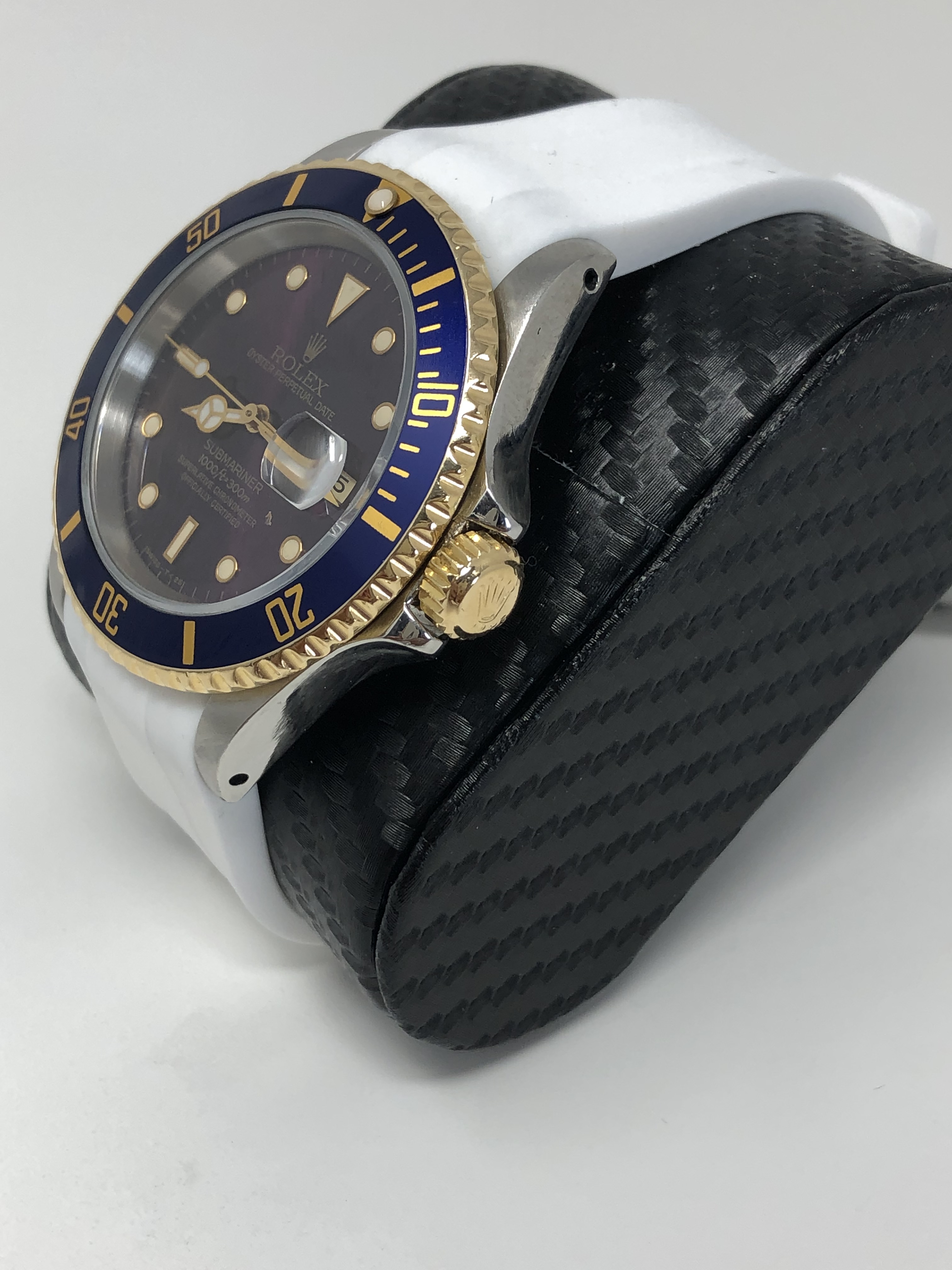 Our family has been serving the South Florida community for the last three decades. Furthermore, we intend on continuing to bring exquisite time pieces and jewelry for our clients for the next three as well. Knowledge and a commitment to superior service and quality has been passed down from one generation to another in our family. Our commitment leads us to search for and source only the finest and highest quality items available on the market. From limited edition watches produced in the hundreds to luxury collectible items we curate a collection for every gentleman.
Diamonds by Raymond Lee in South Florida
Also, our stores are where you can experience a true journey. If you are looking for a watch our watch experts and jewelry craftsmen will walk you through all of the items on the check list you should look at when purchasing a piece. We are happy to welcome you in and answer any questions.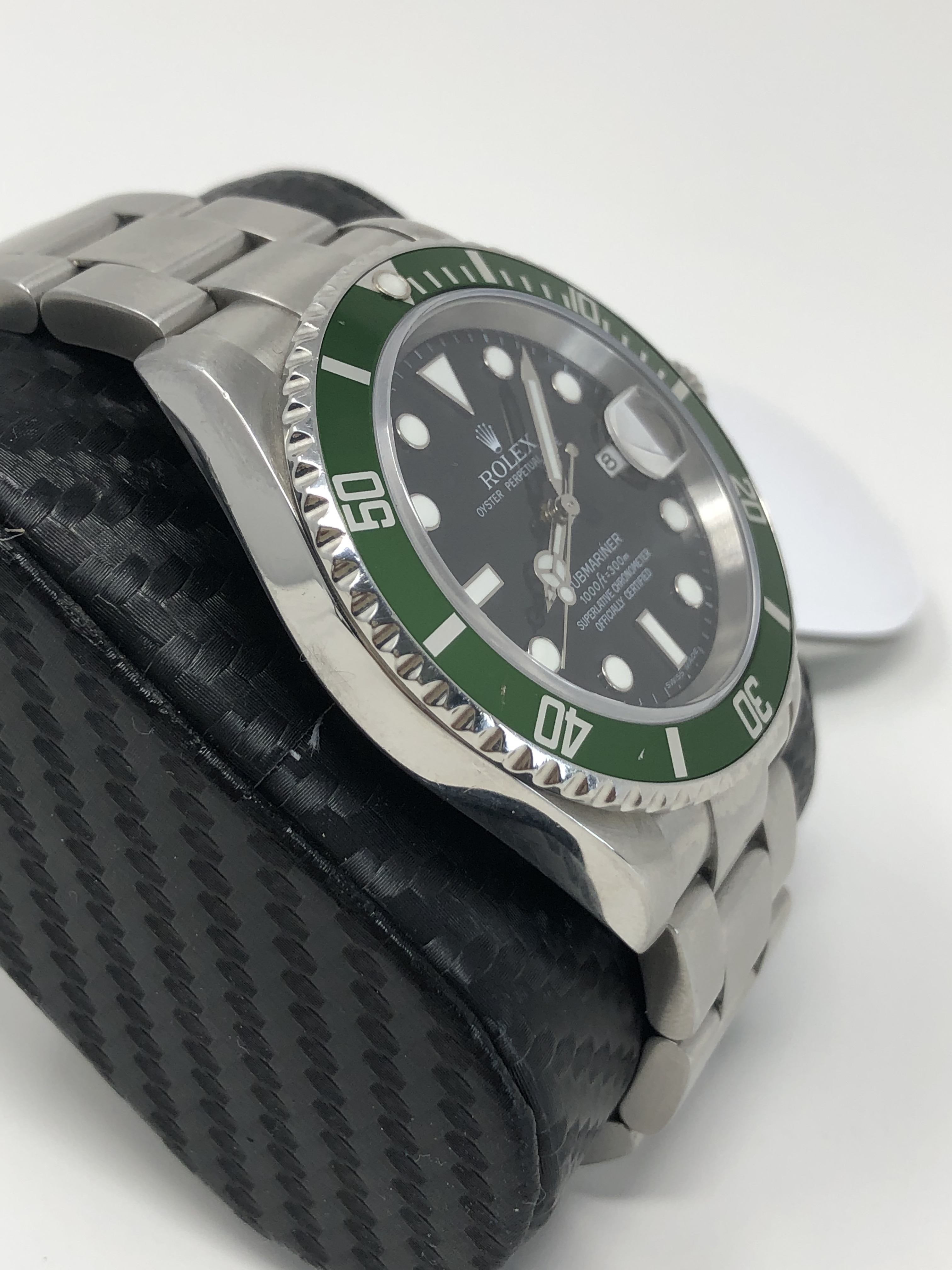 Regardless of whether it is your very first time piece or a sought after addition to your personal collection our Diamonds by Raymond Lee family is here to help you. We also offer services for the lifetime of your luxury pieces. From cleaning and maintenance to repair and customization. Our master jewelry craftsmen have the capacity to add diamonds and gem stones to pieces, service luxury watches and even repair them if there is a need. Our stores are conveniently located in South Florida to offer you ease and peace of mind.
Every single item we add to our collection is rigorously tested and inspected to ensure only the highest quality and best items make it into our customer's hands. We hope you will join us at one of our monthly events. Finally, please feel free to give us your feedback on this week's Rolex Submariner watch review below.