Most people regard the Rolex Daytona as the apex of luxury watches, both in form and function. The high performance chronograph, the shape of the 40mm case, the coaxial sub-dials positioned with perfect balance, the prominent screw down pushers and crown. It all adds to the Daytona's unrivaled charisma and mystique. It is the most iconic watch in the world. An unmistakable status symbol with timeless appeal. When you put a Rolex Daytona Cosmograph on your wrist, you are guaranteed to feel like a million bucks. It's classy, it's sharp, it's sporty, it's smart, it's luxurious…Add diamonds to the Rolex Daytona and you've just turned the luxury up to eleven. 
We have a new watch in our Rolex catalog at Diamonds By Raymond Lee. It is an Everose Rolex Daytona Cosmograph with an ivory dial, red hands, and a whole lot of round brilliant diamonds. It looks like a snowy, ice covered volcano that just erupted. This thing is hot, but so damn icy…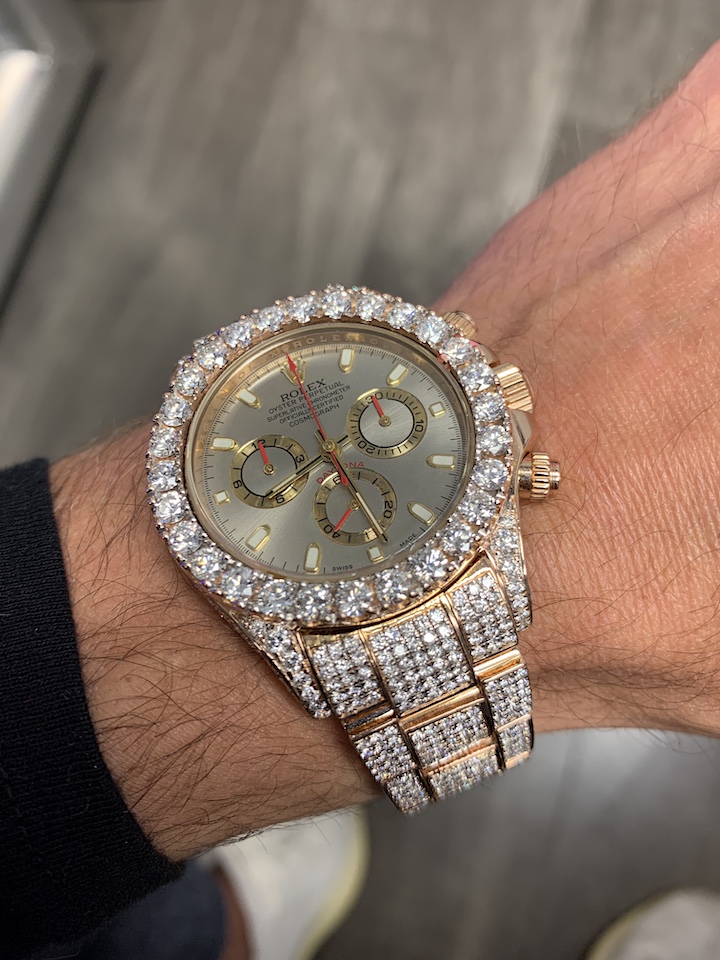 If you love diamond encrusted Rolex Daytona's, we already know you are feeling this one. The red chronograph sub dial hands on the face and the diamonds on luscious rose gold makes for such a harmonious, alluring, and downright exotic look. It's hard to take your eyes off it.
Let's bust down the details of this Rolex Daytona together, so you know exactly what you are looking at. Moreover, let's talk about how we paired it with other jewelry.
While the stainless steel Daytona still holds top rank among traditional watch collectors, the Rose Gold Daytona is the most desirable among modern watch connoisseurs. Rose gold is essentially de rigueur for luxury watch designers these days. It works flawlessly on both men and women. It offers a unique vibe. It's undeniably the most modern precious metal for luxury watches, yet it feels more vintage and classic than the rest. 
Put simply, there is no hotter metal right now than rose gold, also referred to as pink gold, and in Rolex's case, Everose.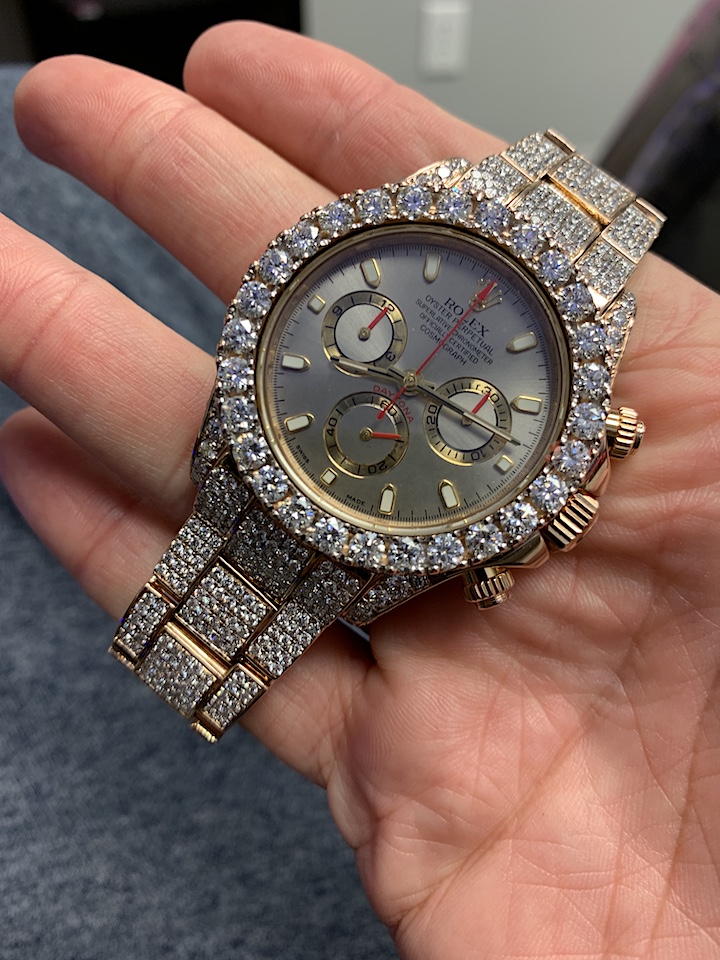 Everose
Rolex created their patented Everose gold back in 2005. It was birthed for the Daytona, but is now used on various Rolex models.
The proprietary 18k gold alloy blends pure gold (approx. 76%) with copper (as all rose golds do) and a small amount of platinum (bet we surprised you with this one). The alloy is completely unique and formulated to be better than the rest…and it undoubtedly is.
Not only does Everose gold have an unparalleled luster, but it also has longevity that can't be matched. It will keep its warm red color perpetually, unlike many rose gold alloys that lose their luster and fade over time.
We'd guess the secret ingredient for this is the platinum, but only Rolex knows exactly how they accomplished this.
As for the pinkish red tone, it's clear that Everose has a more masculine look than other rose golds. But needless to say, women covet Everose gold watches like this Daytona just as much as men.
Of course, with this particular timepiece, much of the rose gold is hidden by diamonds. However, underneath all those diamonds is solid 18 karat rose gold, and the way the rose gold shines through and around the diamonds is stunning. We love diamonds on yellow gold and white gold watches too, but the contrast of diamonds on rose gold is really hard to beat.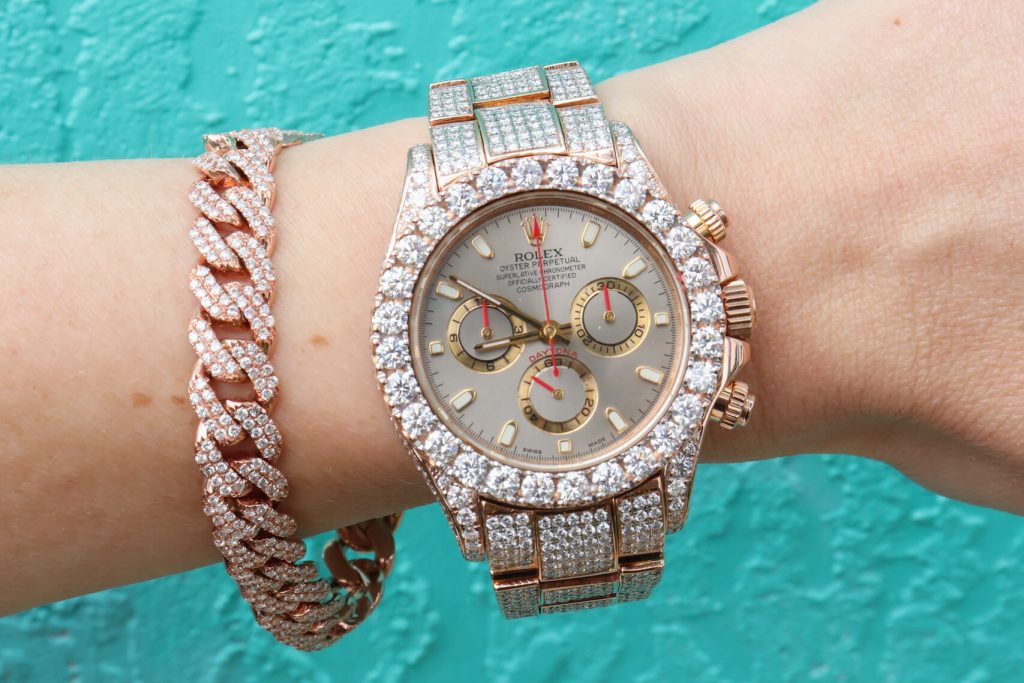 Round Brilliant Diamonds
Now, these aren't just any round brilliant diamonds. These round brilliant diamonds are absolutely superb…
For those who don't know the Daytona line like the back of their hand, then we should note, this is an aftermarket creation. Hence our little "bust down" reference at the beginning of this feature.
The round brilliants diamonds were carefully selected, as only the best of the best were purposed to be set on this Rolex Daytona. 
Moreover, the craftsmanship was just as superb. Only the most detail-oriented expert gem-setter could do work of this caliber. The Rolex had to be drilled and set with diamonds after all. Only with painstaking attention to detail could this level of workmanship be achieved. So, while there may be plenty diamond covered Rolex Daytona watches on the second hand market, you'll be hard pressed to find one with this kind of perfection. 
Classic Diamond Setting with Beautiful Contrast
The diamond setting is a classic choice – tightly set rows of diamonds. So tight in fact, that the only rose gold showing are the links, the beveled edges, the prongs on the bezel, and the crown, guard, and pushers. It's like an icier version of frosting on a cake…
The watch has gorgeous contrast, both in terms of color and diamonds. While the case, bracelet and bezel are covered in diamonds, the watch still shows its true rose gold nature. It does it in a way that is very aesthetically pleasing, as you can see in the pictures. It's incredibly eye-catching, in loud yet sophisticated way. 
As for the diamonds, the use of different sizes of round brilliants gives it wonderful definition. The bracelet uses rows of small round brilliant diamonds of the same size. The lugs have round brilliants that graduate in size, perfectly filling the space. And, the bezel has large identically sized round brilliant diamonds, about 5 times the size of the bracelet's diamonds. 
All in all, the contrast in color and diamond sizes makes this Iced Out Daytona pop from every angle, while, of course, still maintaining impeccable harmony.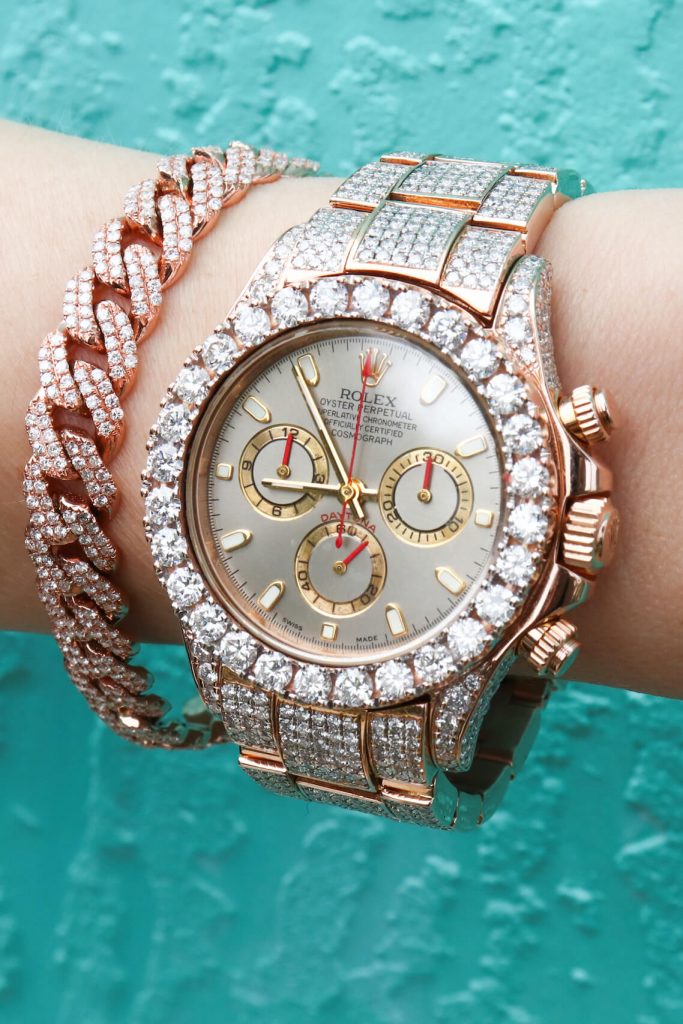 Everose Rolex Daytona Ivory Dial
The ivory dial stands out tremendously among all the ice. Keeping the dial free of diamonds allows the focus to be on the functionality and original beauty of its face. While we like iced out dials, the Rolex Daytona Cosmograph dial looks best without diamonds. Not only does it add to the contrast of the watch, but it also doesn't take away from what the Daytona is supposed to be, a watch! 
We absolutely love this dial. The monochromatic look with the brushed dial, rose gold sub chapter rings, rose gold minutes and hour hands, and rose gold hour markers (which are of course filled with a generous supply of lime for nighttime use). Then to add to the uniqueness of this Daytona, it has red hands for the long chronograph hand and sub-dials. The red hands go perfectly with the diamonds on rose gold and they pop magnificently on the ivory dial.
This is a watch that can't be missed, and clearly, it doesn't want to be.
Iced Out Rose Gold Daytona Cosmograph for Men or Women
Although this watch is a man's watch, it is undeniably unisex. A man can wear it to perfection and a women could own the oversized grandeur look just as well. As we all know, modern women appreciate exquisite mechanical watches just as much as men, and the oversized "rocking a man's watch" trend is booming. Pretty much all the women down here in South Florida contact us or come into our showroom looking for a man's watch these days. We can't blame them, there are more options and the men's line of Rolex watches are far more iconic. They have more prestige. Like this Everose Daytona, they are status symbols. They declare spending power, a strong sense of fashion, and a love for the fine, age-old craft that is horology. 
Because of this, we've modeled this Iced Out Daytona on both a man and a woman. That way you can see how it plays both sides of the coin flawlessly.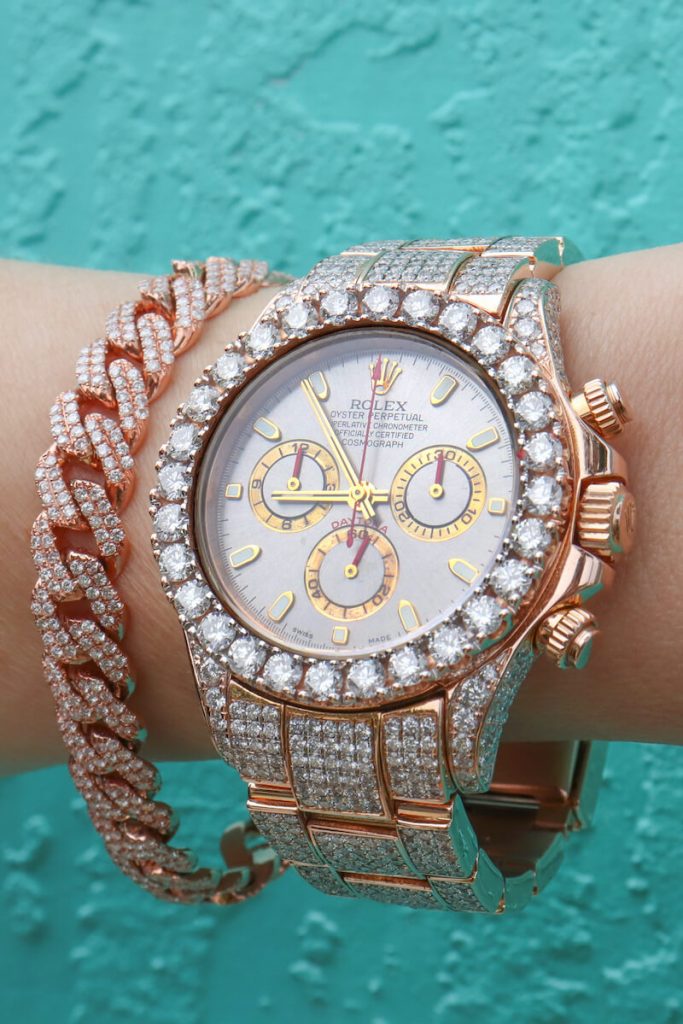 How to wear a Diamond Covered Rolex Daytona?
There are no rules. You can wear this watch anytime, anywhere. Just like any Rolex, they are versatile and made for every day, every occasion wear. It will look good with a casual outfit, albeit one of lavish manner. And it will look great dressed to the nine at a formal gathering.

For a man, you could wear this watch as a stand-alone piece. It's all you need to create a major wow-factor. This Rolex Daytona will be seen from a mile away. The pictures simply don't do it justice, and the pictures are pretty great. So that says a lot. When you see this in person, you will be assured of its imposing impressiveness. It's breathtaking, honestly. 
For women, while you can also rock this as one and done piece with any outfit, we'd love to see it paired with other jewelry, like you can see in our photographs. If you want to keep with the bust down trend going, and a Miami style, a Cuban link bracelet is an ideal partner in crime for this Iced Out Rose Gold Daytona. 
Want this Iced Out Diamond Rose Gold Rolex Daytona? Contact us for pricing.
Bust Down Cuban Link Bracelet
The Cuban link chain is a jewelry design that epitomizes high-end Miami fashion. One with pave diamonds, even more so. That's why it is also referred to as a Miami Cuban Link Chain. 
Now, while the Cuban link was originally a men's jewelry design, it is now a unisex style. Woman rock Cuban link necklaces and bracelets on boss mode.
Cuban links are a classic style. Timeless. They came to the scene in the 70s and have stuck around strongly ever since. That being said, they might never have been as popular as they are today. Even in the 90s when you'd see them in damn near every rap video.
They are back stronger than ever. They come in all different sizes and shapes. There's flat links, thicks, long, short, plain gold, pave diamond. So, there's a lot of different ways to create a unique appearance. 
Everyone with money has Cuban link chains. However, not everyone has one handcrafted and perfectly set with diamonds, like the bracelet in this feature. You need to know how to spot a perfect bust down Cuban link for that…
As with watches, rose gold is where it's at right now. So, we chose a rose gold Cuban link bracelet. Of course, it was also a smart choice as it matches the Everose gold Daytona. Nevertheless, we aren't afraid of mixing metals if need be. That's another modish move, which is why we did it with diamond rings.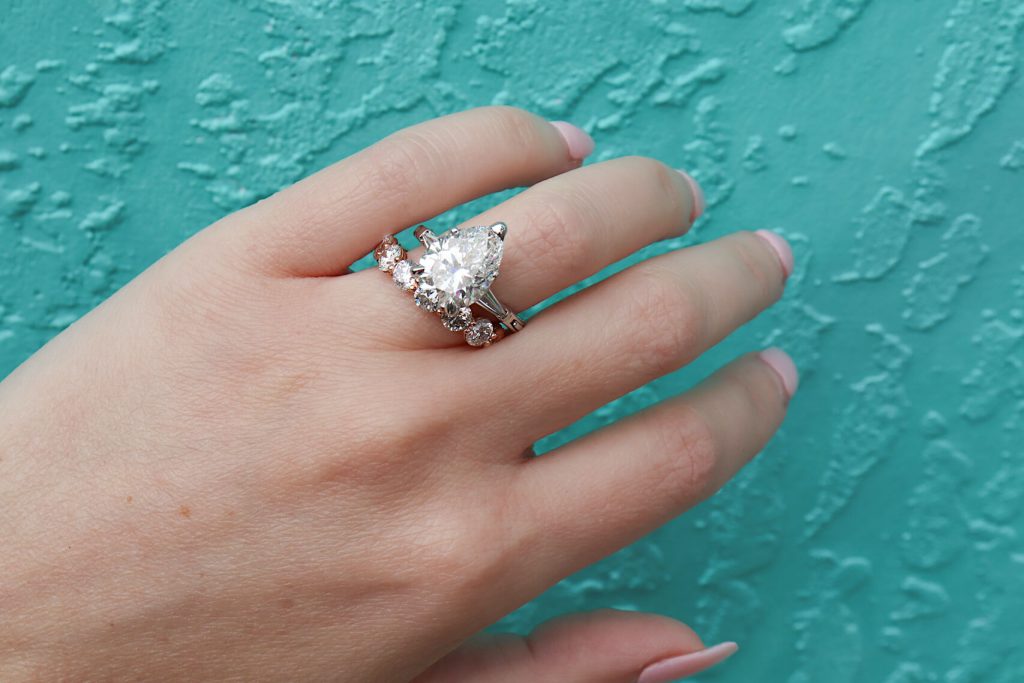 Mixed Metal Wedding Stack
The woman in this photoshoot has a wedding stack that most women can only dream of.
She has on a platinum 5 carat pear diamond engagement with tapered baguette side stones. The Pear diamond is J in color and I1 in clarity, and the baguettes are G in color and VS in clarity. This is an engagement ring that will get everyone talking. It's huge and it is almost stunning beyond belief.
Stacked with the huge pear engagement ring is a handcrafted rose gold diamond eternity ring, which is pretty massive itself. It features big round brilliant diamonds all the way around using a shared prong setting. This setting allows optimal lighting to shine through and makes it so each individual diamond is seen on its own. It is the ultimate expression of fire, brilliance and scintillation.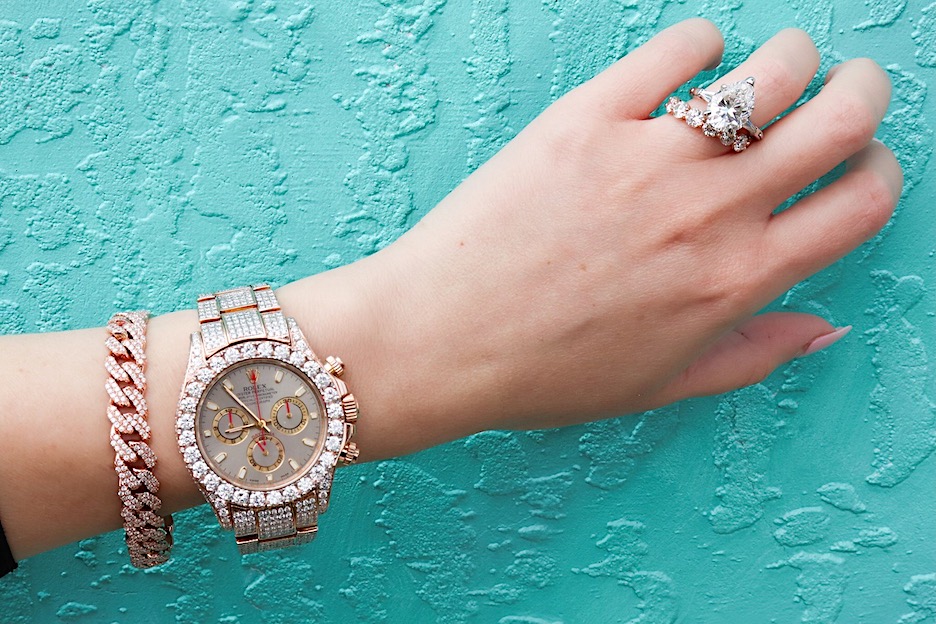 Diamonds By Raymond Lee in Boca Raton
At Diamonds By Raymond Lee, we have an exquisite, extensive collection of diamond jewelry, engagement rings, and Rolex watches. In fact, we have the largest collection of pre-owned Rolex watches in all of South Florida. We invest in pre-owned watches because they offer the best value for our customers, bar none. Each watch we sell is an investment for our customers, and one they can proudly wear on their wrist. 
Our collection of Rolex watches includes vintage and contemporary pieces. We various selections of Daytona Cosmographs, Submariners, GMT-Masters, Yachtmasters, Sky-Dwellers, Milgauss, Datejust, Day-Dates. It's a watch collectors paradise.
Rolex Watches
Cuban Links
Diamonds Jewelry
FAQ about Rolex Daytona Watches – Everything You Need To Know About The Rolex Daytona