The princess cut diamond has been a hot contender for most popular diamond shape for about a decade now. While the classic round brilliant still holds the #1 spot, and cushion cut diamonds vie for attention, the princess cut with its bright hearts and arrow facets, sharp corners, and clean modernity still captures the heart of many brides. And we can't blame them!
Related: $4000 Halo Rings
A princess cut, despite its name, is just another brilliant cut diamond. If you look at a GIA certificate for a princess cut, you'll see "square modified brilliant." However, that's where the similarities end. Its facet pattern is more of a chevron, angular look. Its face up shape is usually a square with sharp corners, and from the side looks like an inverse pyramid.
A few princess cut pro's and cons, from our breakdown of the most popular classic diamond shapes:
Princess cut diamonds:
have a high degree of brilliance
are very popular
look the best in white metal settings combined with other princess cuts or as solitaires
are very easy to match with a band (they look great with round brilliant diamond bands or channel set, or invisibly set princess cut bands)
tend to carry a lot of their weight in the bottom of the stone, so tend to look smaller than their carat weight
leave room in your budget by allowing for slightly lower color and clarity grades – you'll need the wiggle room for additional carat weight
So bargain diamonds, they're not. you can still get a great deal on a princess cut diamond by using our pro-tips. But you won't get the slightly lower price-per-carat you would with, say a pear shape or marquise, or even an oval. And when you're buying a princess cut diamond, you need to pay special attention to your mounting.
Related:Talk the Talk: Diamond Lingo
Thanks to those gorgeous, crisp corners a princess cut's sharp sides are especially vulnerable to chips, cracks and fractures. An engagement ring setting with prongs that protect the corners is your best bet. Luckily, with the largest selection of engagement rings Boca Raton has to offer, we've got plenty of inspiration for you.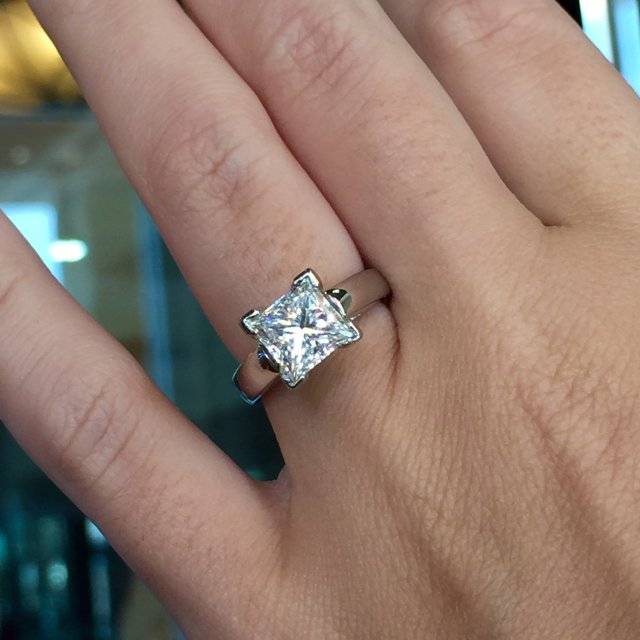 This beautiful 2 carat princess cut solitaire shows perfectly bracketed corners. It's 2.02 carats to be precise, and is GIA certified H in color and VS2 in clarity.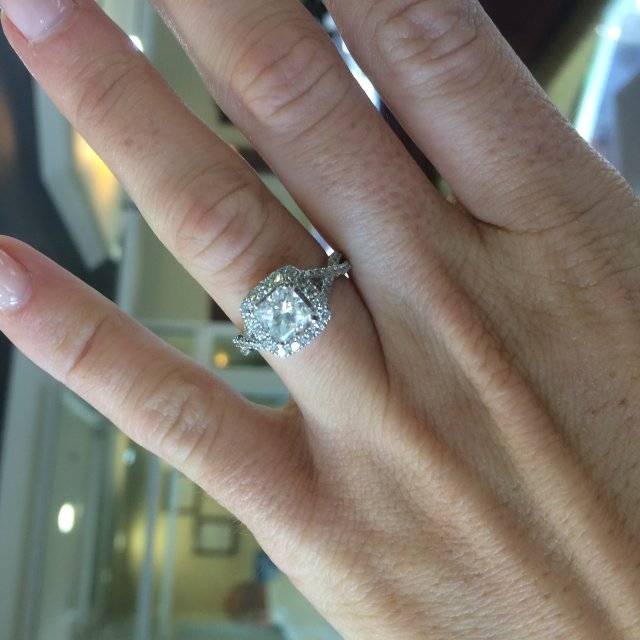 This lovely ring was featured on our Facebook page up against an intimidating Tacori Dantela beauty. Both rings have the similar styles of twisted diamond shanks with soft square diamond halo surrounds. However this one was several thousand dollars less and featured a princess cut. It's a 1.03ct Princess Cut diamond, H in color and SI3 in clarity (clarity enhanced.) We typically do not purchase clarity enhanced diamonds, but made an exception for this setting. This is a great example of how to set a less-than-perfect diamond. Rather than all eyes being on the center stone (like that show stopping solitaire above) the beautiful setting steals some of the spotlight.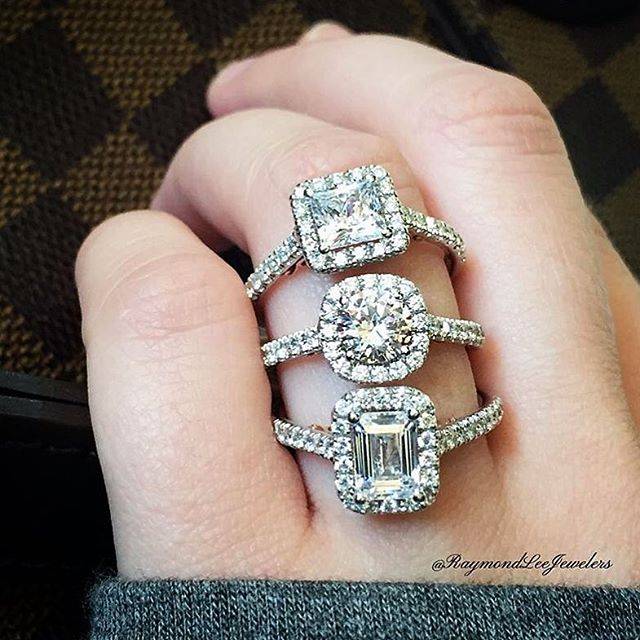 This trio of Uneek halo beauties have hidden rose gold touches in their gallery, which is one of our favorite details. That top princess cut, with its uniform accent diamonds and thin shanks is calling our name.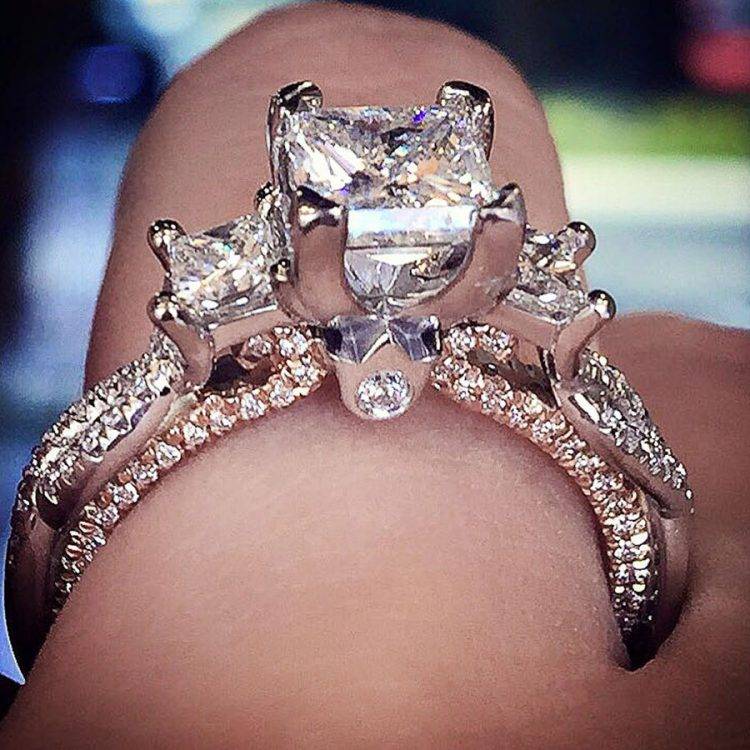 Why pick one princess cut when you can choose three? Add some diamond pave lace shanks and the diamond accented gallery scrolls, and it's clear Verragio knows what they're doing.
Related: How To Spot The Differences Between Verragio Rings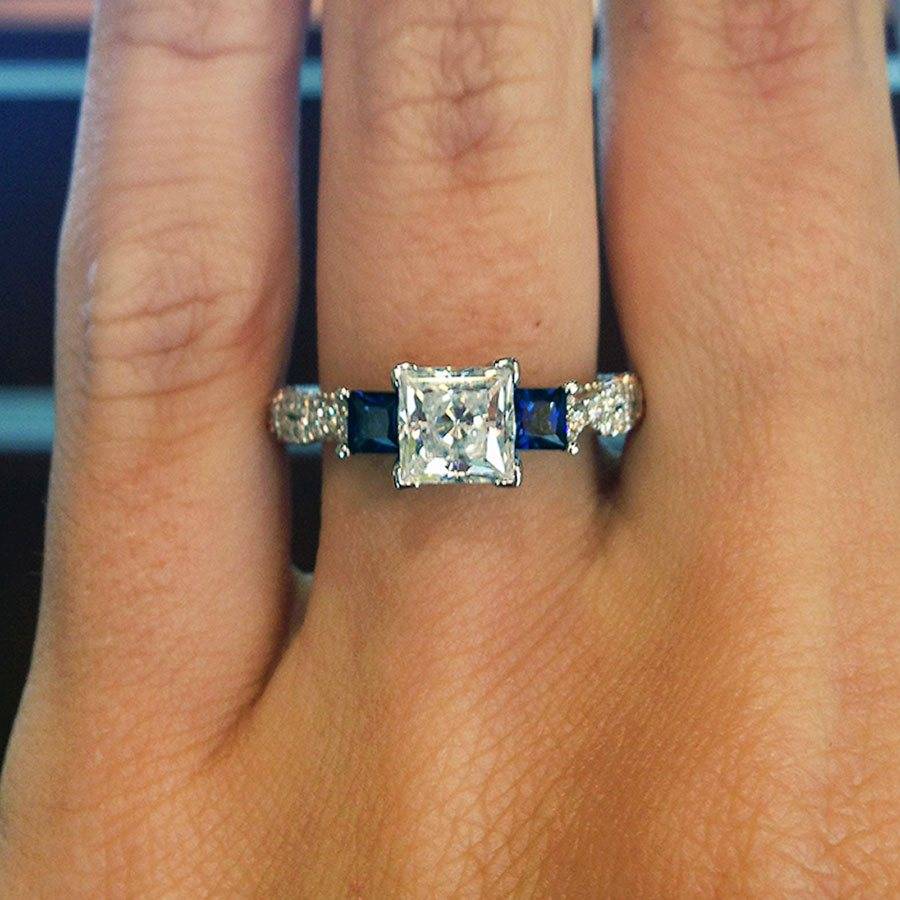 And again! This time with sapphire accent stones – we love injecting color into an engagement ring, especially with special stones like birthstones.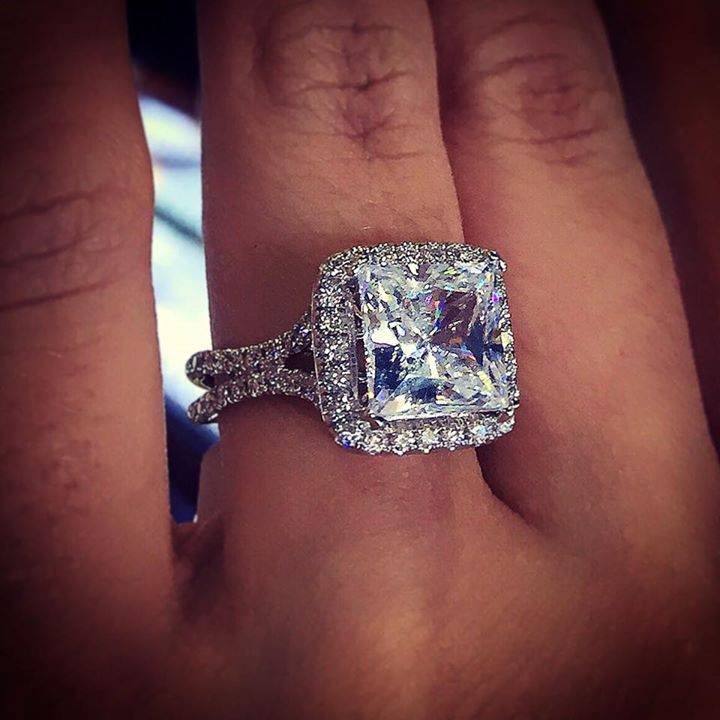 This Uneek beauty takes their usual curved split shank and contrasts it with a sharp square halo and large princess cut.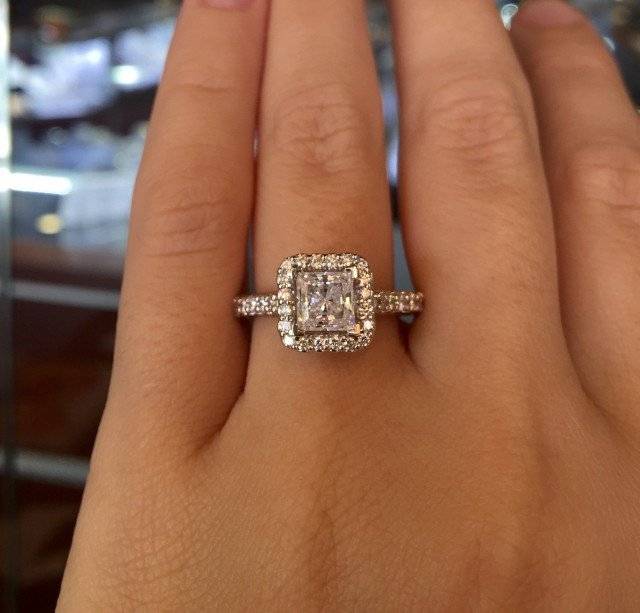 This stunner from the Verragio Classic line uses .50ctw of round brilliant diamonds to accent its princess cut setting.
Related: Verragio: Bespoke Engagement Rings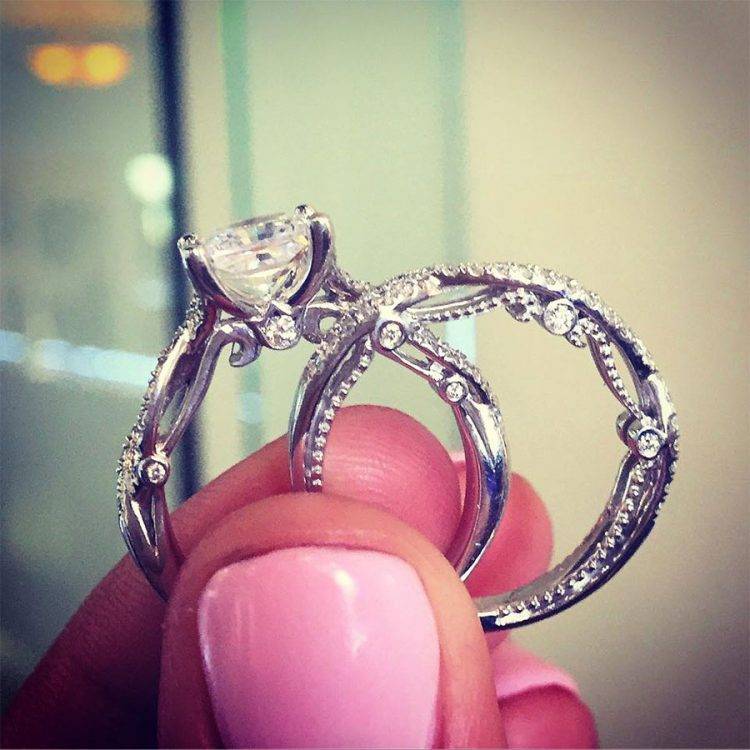 This Verragio princess cut is lovely, no doubt about it. But the magic really happens when you turn it on its side. The scalloped beadwork is sheer perfection against the sharp lines of the center stone.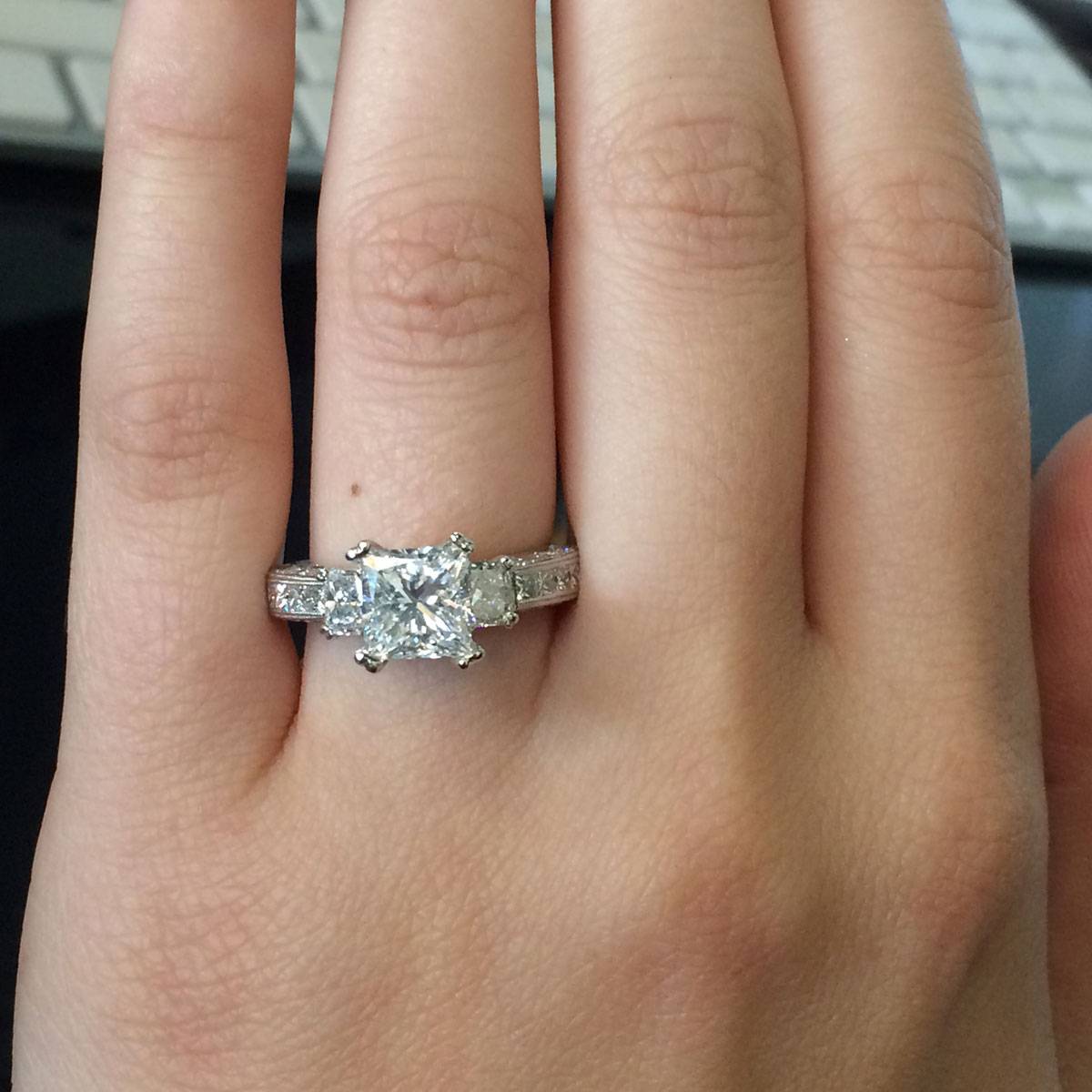 This Tacori beauty features diamonds from every angle, with princess cut accent stones on either side of the center, as well as in the shanks themselves.
Related: The Verragio Ring You Need to Know About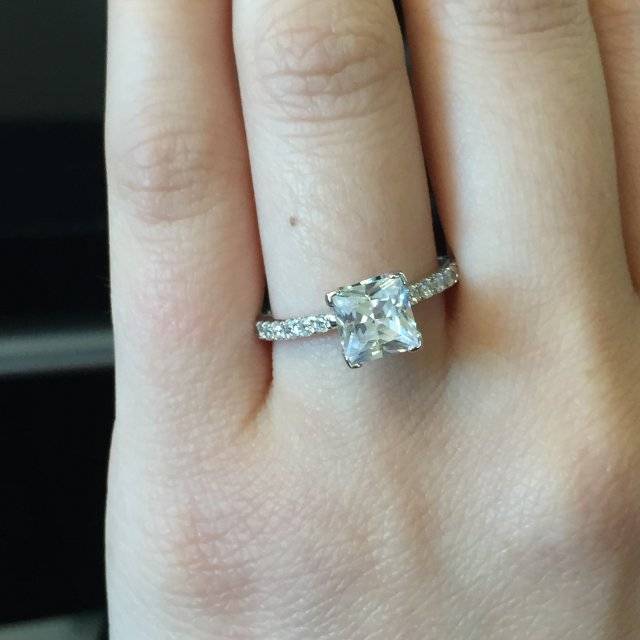 This A. Jaffe setting is incredible. It's set with a CZ placeholder for now (like 99% of our designer rings!) So this picture looks a little foggy, but click through the image to check out the detailed shots of this simple, sleek diamond solitaire. It's perfection!
Which Princess cut reigns over your heart?