Are you shopping for an engagement ring? Or perhaps just starting to browse? You've come to the right place. Not only do we sell some of the hottest designer lines, antique and estate engagement rings, but we've got some great advice to boot. At least we think so. When you first start looking through engagement rings, likely online at first, you might be overwhelmed. The options are basically limitless. Do you prefer intricate, carved platinum rigs with three stones? Or maybe a simple solitaire with just one, huge, showstopping diamond? Or maybe you favor the contemporary style of micro-pave diamonds and halo rings. We get it – it can be difficult to narrow down your favorites. And that's okay!
We recommend starting a board on Pinterest if you don't already have one (you can make it private, or share it with 1-2 of your friends) and start to pin any ring that you like. Follow our Engagement Ring board for plenty of inspiration. Don't stress if one style is completely different than what you've been drawn to in the past. Once you've pinned several (or several dozen) rings, a pattern will likely emerge. If you can't see it, one of your friends (or your guy) will probably be able to glance at it and get a feel for what style you like. If not, he wouldn't be the first guy to show us your board in the store and say "Okay, tell me what she likes." It's what we're here for.
But one thing will probably stand out immediately to anyone who looks at your favorite rings: what shape of stone you want. Even if you're torn between two shapes like round or cushion (we see it every single day) it'll be clear that you're drawn to soft curves, a larger table, and brilliant cuts. An emerald cut or the sharp lines of a princess cut, while lovely, wouldn't be your taste.
So, how do you know which diamond shape is right for you?
Let's take a look at the top 5 classic diamond shapes and break down their style, their merits, and see if any of these tickle your fancy. One quick thing: when we call something a "round brilliant cut" or a "princess cut" we're still referring to the shape, and not the diamond's Cut, which is a criteria used to grade the quality of the diamond. Slightly confusing, but today we're all about shape.
Round Brilliant Cut
Round Brilliants are the little black dress of diamonds. They will literally never go out of style. Before there were round brilliants, there were Old European cut diamonds and Rose cut diamonds – they were both round. Round Brilliants were pioneered in the early 20th century and have 57 or 58 facets. They are cut to maximize the light reflected and refracted by a diamond, and give it plenty of fire and sparkle.
You can read more about this cut in depth here (with a great video comparing it to the earlier generations of round diamonds.) Round Brilliants are gorgeous in pretty much any setting, though they really shine as solitaires, and in halo settings. A hot trend right now is setting a round brilliant diamond in a soft square halo to create a cushion-like look. The round brilliant also looks lovely as a three stone ring with smaller round brilliants on either side, and is our favorite shape to use in an eternity band.
A round brilliant diamond is:
for the woman who is always pulled together, always wants to look classic, and is drawn to timelessness
one of the sparkliest cuts (along with other brilliant cut stones in different shapes)
slightly more expensive per-carat than other shapes because it is always in demand
however, it distributes its weight well – it appears larger than some other shapes of the same carat weight
looks great in virtually any setting
easy to match with a wedding band, easy to have a fitted band designed with it
Princess Cut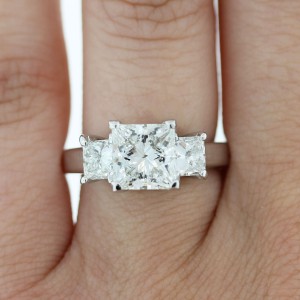 The princess cut diamond is another brilliant cut diamond. In fact, GIA certifies it as a "square modified brilliant." That being said, it's cut in a completely different pattern than other brilliants, with more of a chevron pattern. Its face up shape is a square or rectangle with precise, crisp corners. It looks like an inverted pyramid from the side, and has a gorgeous hearts & arrows pattern that sparkles just as bright as a round brilliant. Princess cuts are the second most popular diamond shape, though they've been on the scene for a shorter amount of time. Princess cuts look fabulous as a solitaire, and we're partial to the slightly elongated form when they're on their own. Otherwise we love a princess cut in a three stone setting with much smaller princess side stones, or a princess cut center with trillion diamonds on either side (triangular shaped brilliant cuts). You can mix step cut baguette diamonds with princess, but we prefer the look of all brilliant cuts rather than a mix. The woman who loves a princess cut may be a princess herself. However she also may be a no-nonsense type with sleek style who favors the gorgeous symmetry of a well cut princess diamond.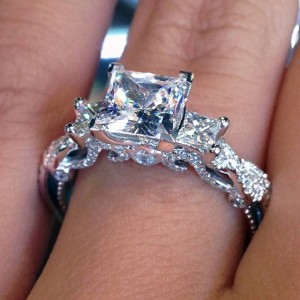 Princess cut diamonds:
have a high degree of brilliance
are very popular
look the best in white metal settings combined with other princess cuts or as solitaires
are very easy to match with a band (they look great with round brilliant diamond bands or channel set, or invisibly set princess cut bands)
tend to carry a lot of their weight in the bottom of the stone, so tend to look smaller than their carat weight
leave room in your budget by allowing for slightly lower color and clarity grades – you'll need the wiggle room for additional carat weight
Cushion Cut
Cushion Cut diamonds are the next most popular shape and they are skyrocketing to the top of our brides' wish lists. They may surpass princess cuts in popularity next year, and we can't fault anyone for loving this shape. Another brilliant cut, the cushion is more similar to a round's facet pattern, and plays with light in the same way; while it's less "brilliant" it does have more fire, making it more colorful when flashing. It also hides color well, so you can buy a lower grade. The cushion shape can be cut in a variety of ways, depending on personal taste, and the shape varies widely along the spectrum of square to rectangular. The soft, rounded corners give you the best of both worlds by creating a smooth look. The cushion is perfect for the glamour girl who loves luxury, loves all things sparkly, and is very feminine. Cushion cuts look fantastic in a variety of setting, depending on length of the stone. Both longer and more square shapes look fabulous in the cathedral setting pictured above, with trapezoid or half moon shaped diamonds on the side. Square cushion cut diamonds look breathtaking in halo settings, and fancy colored cushion cuts always take our breath away.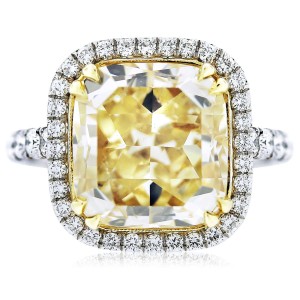 Cushion Cut Diamonds:
are highly customizable, allowing for a unique look for every bride
look fantastic in fancy yellow or white
look great in combinations of fancy yellow and white diamonds
look beautiful in white or yellow gold
can be difficult to match to a band
Oval Cut
Oh la la Ovals. These beautiful cousins of the round brilliant are a classic, and a shape you don't see very often. They've been around for ages, and remain classic without ever reaching "trend" status. Oval diamonds are for the woman who loves the traditional, but with a twist, and wants to stand out. The oval ring is the perfect option for something that's outside the norm, but will never look dated.
Ovals look fabulous in split shank settings, and gorgeous in halo settings. We love to see ovals in yellow gold and especially rose gold, but they're just as stunning in white. They're a romantic, old fashioned stone, and look like they were made for antique Victorian settings.
Oval Cut Diamonds:
tend to look larger thanks to their length
need to have a superior cut grade to avoid a dark "bow tie" effect in the center of the stone
but they do have plenty of wiggle room in the color and clarity departments, thanks to their brilliance
look beautiful in cathedral settings with ovals, half moons, and trillions
usually require a fitted wedding band
Emerald Cut
Finally, we have our emerald cut. Last but never least, the emerald cut is pure, refined luxury. There's a reason some of the world's most famous and expensive diamonds are emerald cuts. This favorite of celebrities like Elizabeth Taylor and designers like Harry Winston is for the woman with discerning taste. The emerald cut's minimal facets mean that this stone needs a diamond with fantastic clarity – you can see every little inclusion. The color should be in the near colorless or colorless range as well, for a ring that really wows. For this reason, emerald cuts look best in white gold or platinum, and mixed with other step cut diamonds, like baguettes and trapezoids.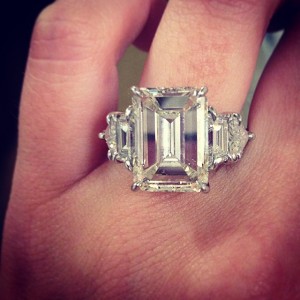 Emerald Cuts:
tend to look larger thanks to their huge table & length
can be cut shallow to appear even bigger
Emerald cuts can have 49 facets or more, but scintillate (flash) less because of the facet style
Because of this, they require a better clarity grade & color grade
Diamond shape is always a matter of preference, and we didn't even cover shapes like the Asscher, Pear or Marquise today. The 5 cuts mentioned above are by far and away the most classic, though, and you can't go wrong with any of them. If you ever have any questions, feel free to call or message us to chat – we can talk diamonds all day long!