Are you looking to buy Cartier Jewelry but you aren't sure what to get? Well, good news…here are the 5 most iconic Cartier jewelry creations that every woman should own (this should make your life a little easier). Get ready to fall in love.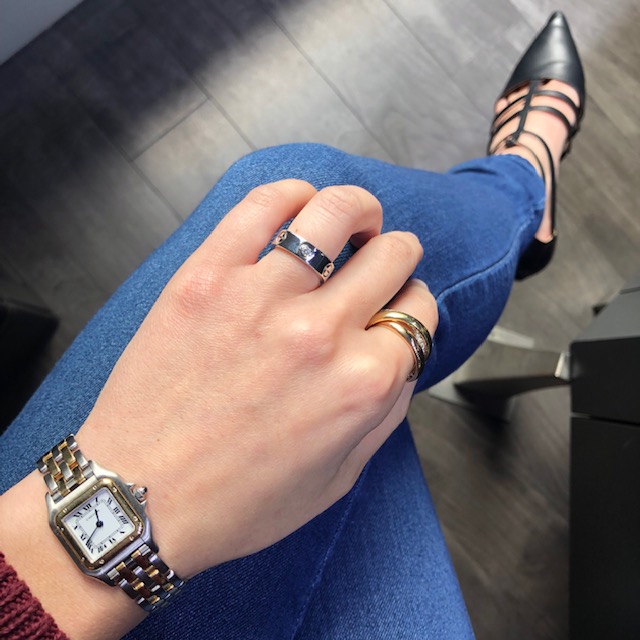 It's hard to resist the attraction of Cartier's most iconic jewelry. Since forming in 1847, Cartier has been cherished for their spirited and innovative jewelry. Cartier has been receiving tremendous love from celebrities, fashionistas, and the elites of society for over 150 years.
That's quite a long time. Consistency is key.
Cartier has created collections, pieces of jewelry, and watches that have become household names – The Love collection, Trinity collection, Tank watch, and so many more.
They stood the test of time. Never wavering from their core values, while always creating supremely coveted designs. Cartier exudes luxury, style and sophistication. Their craftsmanship and shopping experience is unparalleled.
It's hard to compete with Cartier.
All in all, Cartier has shaped the face of the jewelry industry in the most positive way, and they are one of the few jewelry brands with essentially 100% brand recognition. Globally.
They are sublimely impressive, to say the least.
In this article, we are going to take a look at 5 Cartier classics that every woman should own.
Top 5 Most Iconic Cartier Creations
1. Cartier Love Bracelet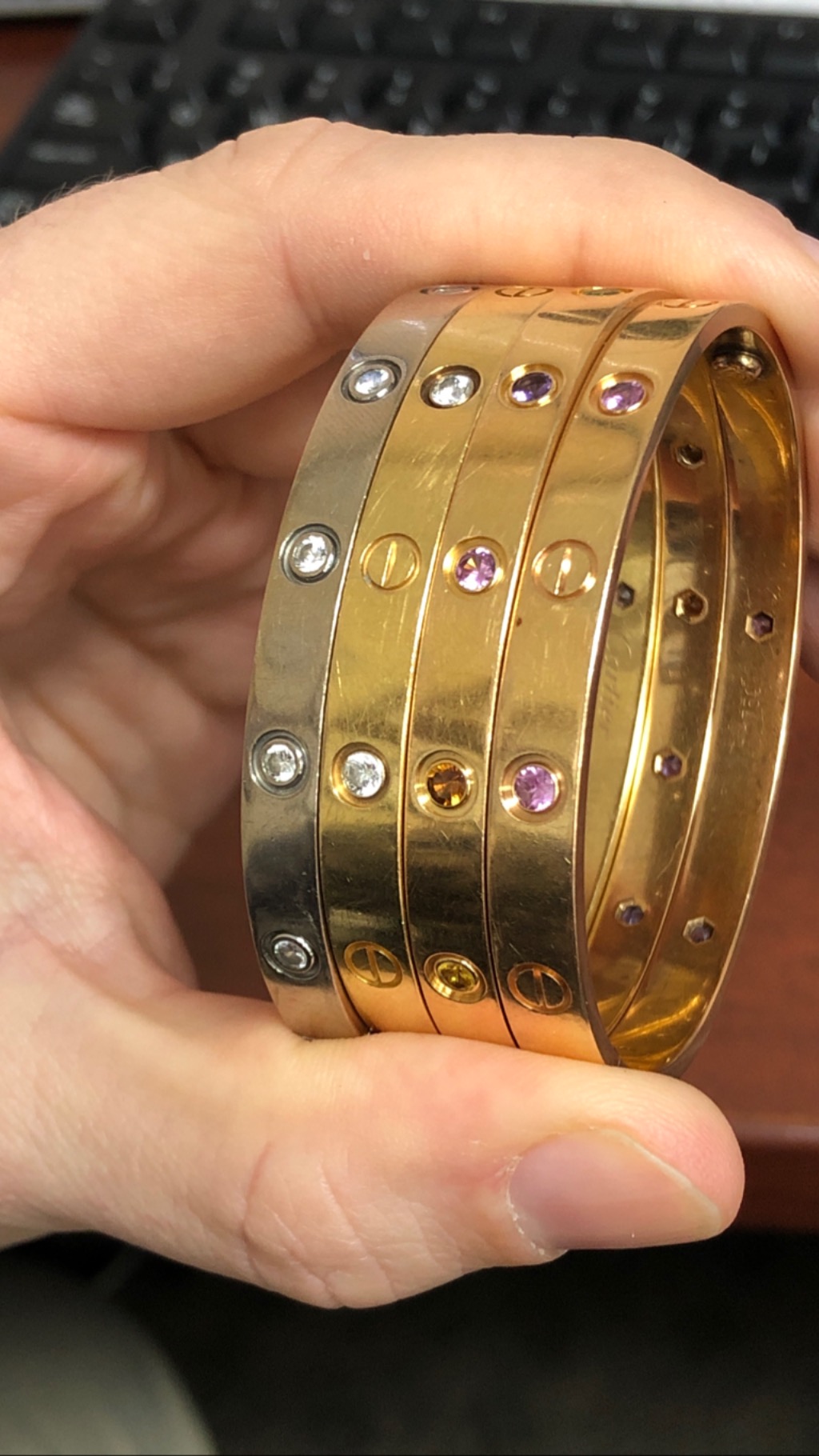 When you think of Cartier, the Love bracelet has to come to mind. It's probably the most iconic bracelet ever to exist.
The love bracelet (or bangle) was created by Aldo Cipullo in 1969. That's half a century ago this year, and what a ride it has been for the Love bracelet.
Interestingly, the first piece of jewelry Aldo ever designed for Cartier was the Love bracelet.  He surely hit a home run.
His vision behind the Love bracelet was one of elegance, romance, and most importantly, security. He wanted to create a bracelet that a man could give his loved one that symbolized everlasting commitment and love. His idea was for the bracelet to invoke a meaning of 'when you wear this bracelet, you are mine and mine only'.
So, Cipullo took inspiration from ancient cultures and the medieval chastity belt, as that was the epitome of relationshop security in ancient history.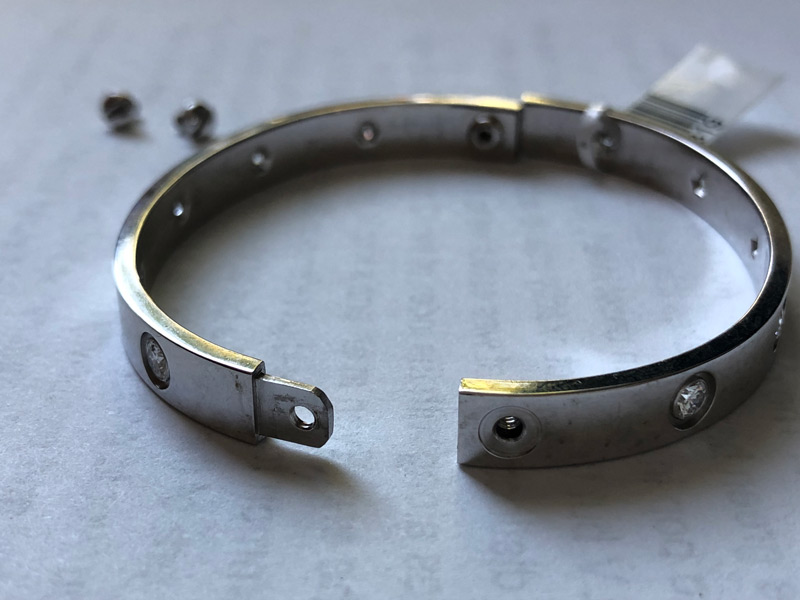 Thus, the design of the Love bracelet is sort of like a lock for the wearer's wrist. The bracelet features a screw motif with two subtle, removable screws. Unlike most bangles that slip on and off the wrist, the Love bracelet must be opened with a miniature screwdriver which opens the bracelet into two parts. The screwdriver comes with the bracelet, and traditionally, the screwdriver stays with the person giving the Love bracelet. Therefore, the giver is the only one who is able to unlock it.
Cipullo once stated that "Design has to be part of function. That's the secret of success. When you have function and design, married together, you always have a successful item."
The bracelet has an undeniable romantic and protective essence that women are naturally drawn to. Moreover, the design is classy and the quality of materials is superb…
So, all that said, we believe the first piece of Cartier jewelry that you should add to your collection is surely the Love bracelet.
It comes in numerous variations, such as:
White gold, Rose Gold, Yellow Gold Love bracelets
Diamond studded Love bracelets
Gem-studded Love bracelets (Aquamarine, Sapphire, Spinels, Amethysts)
Diamond-paved Love bracelets
Love bracelet small (it's smaller in width, and comes in all the same variations as the regular size Love bracelet)

The Love bracelet is super versatile. You can wear it all on its own or layered with different bangles, and most popularly, with more Love bracelets and a watch!
Tips for Stacking Cartier Love Bracelets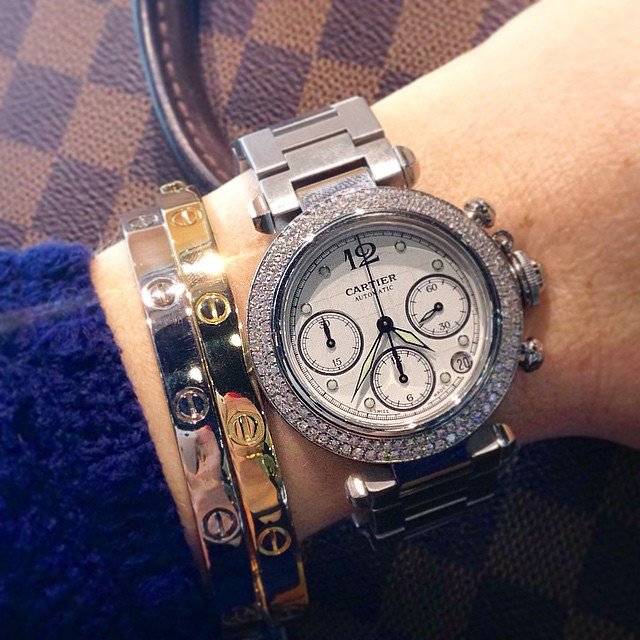 Top 5 Questions about Cartier Love Bracelets
How to Spot a Fake Cartier Love Bracelet
Guide to Choosing the Right Cartier Love Bracelet Size
2. Cartier Love Ring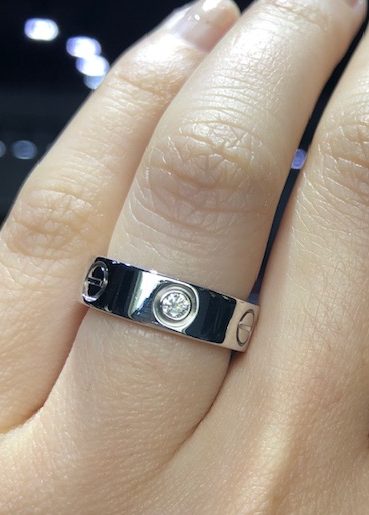 The Love ring, which was inspired by the Love bracelet, has the same handcrafted motif, sophisticated oval shape and unquestionable uniqueness. Just like the Love bracelet, the Love ring is a forever-enduring tribute to traditional, passionate romance.
The Cartier Love ring is also a favorite among the fashion world. It is the perfect band to stack as it looks incredible with more Love rings, other Cartier rings, and a diamond engagement ring.
We like to create stacks using multiple fingers. Wearing a few Cartier Love rings on multiple fingers creates such a powerful look.
Essentially, everything wonderful that we have to say about the Love bracelet applies to the Love ring. The only difference is, it is a ring and there is no lock. As with all rings, it slides on and off.
If you are looking for the best of Cartier, you will never be wrong for choosing a Love ring. This piece of jewelry from Cartier easily makes the Top 5 list.
It comes in numerous variations, such as:
White Gold, Rose Gold, Yellow Gold, and Platinum
Diamond studded
Diamond-pave
Thin or thick
And more.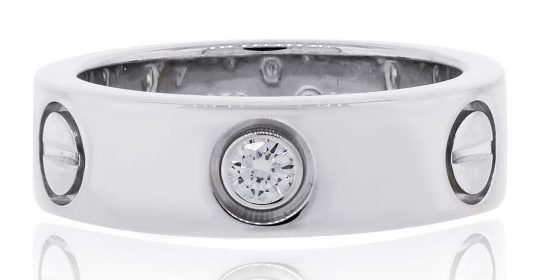 One other thing about the Love ring and bracelet that we love is, the designs are unisex. The Love bracelet and ring will look just as good on a man as it does on a woman, which really goes to show just how versatile and special the design is. You know when a man can appreciate what was originally women's jewelry, you have something great.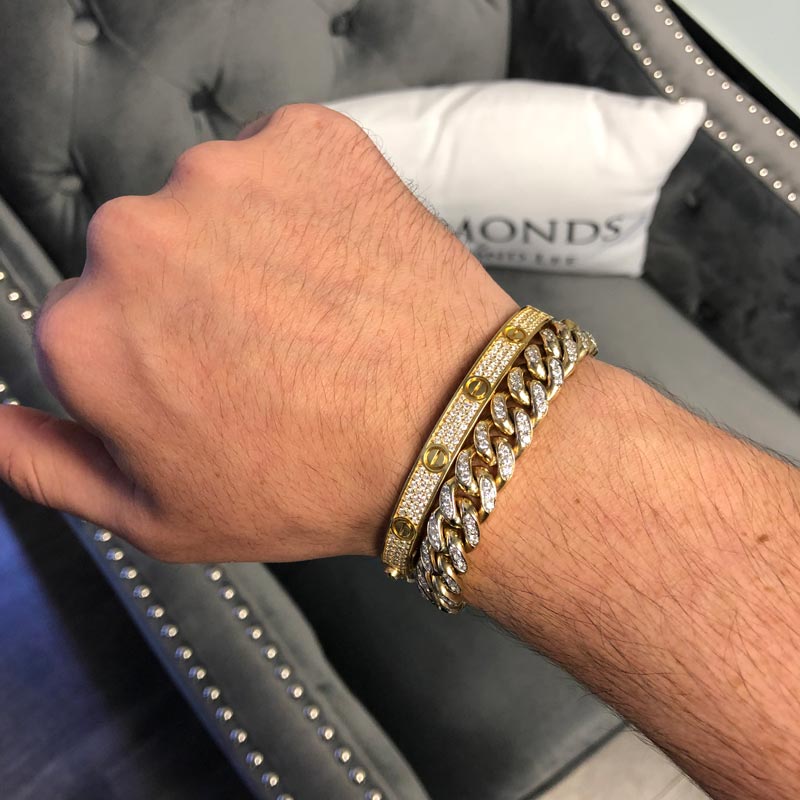 3. Cartier Trinity Ring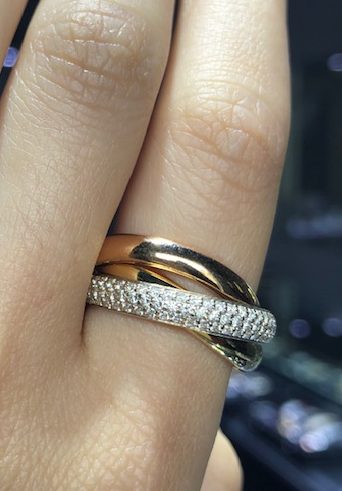 Trinity de Cartier was introduced in 1924. The collection features intertwined jewelry and has always been one of Cartier's classic collections.
Our personal favorite and one of the most popular types of jewelry from this collection is the Trinity Ring.
When it boils down to what is the most iconic piece from the Trinity Collection, the Trinity ring stands out. Bar none.
In fact, the entire collection was inspired by the Trinity ring, as that was the first Trinity creation.
The design comprises three bands – white gold, yellow gold, and pink gold bands. They are perpetually connected in a remarkably elegant embrace.
The Trinity ring was designed by the man himself, Louis Cartier, in 1924. It was made on a request that came from a famous French artist, novelist, poet and filmmaker named Jean Cocteau.
One of the most incredible things about the Trinity ring is that it remains utterly contemporary. It is the true definition of timeless.
You may be wondering, what do the three bands depict or why have three connecting bands?
Well, they represent fidelity, friendship, and love. This has made Trinity a meaningful symbol of relationships.
Nowadays, the Trinity ring comes in a variety of styles:
Trinity Ring, Classic, Trinity Ring, Small, and Trinity Wedding Band.
They also have pave-diamond Trinity rings (on one band) and Trinity rings with all pave-diamond bands. There's diamond studded trinity rings and even a Trinity Solitaire ring.
Trinity rings come in white gold, pink gold, and yellow gold or white gold and ceramic. Mixing metals is not only trendy, but it is also classic and timeless, and the Trinity collection has made this clear with almost a century of proof.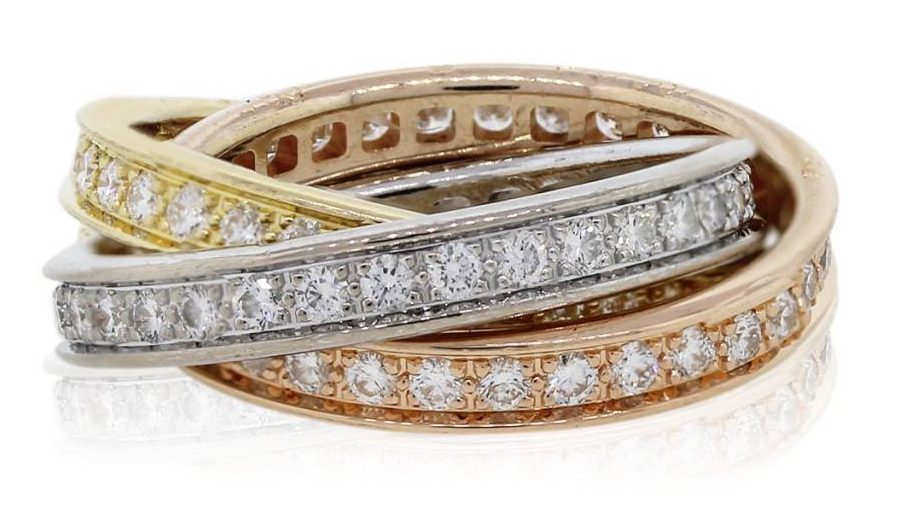 4. Cartier Tank Watch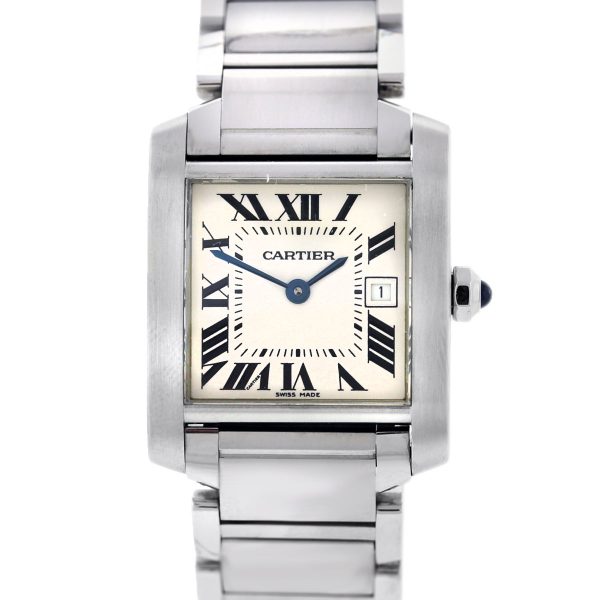 Now, not jewelry per se, but with Cartier, even their watches have a jewelry first approach.
The Cartier Tank watch is easily one of the most iconic creations by Cartier.
This one was also created by Louis Cartier. Ever since its creation (circa 1917), it has been one of the most Iconic watches – not only by Cartier – in the entire watch industry. It is a symbol of grace, sophistication, and class.
Over the years, the Carter Tank has stayed true to its original design.
Unlike many watches which have a circular shape, the Tank watch is rectangular. When it comes to rectangular watches, people think of Cartier Tank first.
The watch features a unique, clear design with crisp lines. They use Roman numerals rather than Arabic numerals, which gives the watch a luxurious, jewelry-type feel to it. Moreover, the Roman numeral design is a classic Cartier signature design.
The unique case shape, which is 34mm by 27mm (perfect size for a woman's wrist), has a beaded crown and sword-shaped hands. The colors are mostly black and white, making it easy to match any outfit. Overall, the design is immaculate.
You will find Cartier Tank watches on many celebrities, such as Angelina Jolie and Michelle Obama, as the watch has such a luxurious appeal.
It's the perfect watch for formal gatherings and casual day to day wear. Moreover, it's the perfect companion for anyone. Plus, if you are looking for some recognition, every watch enthusiast will give you some praise for wearing a Tank watch.
The Cartier Tank comes in a variety of styles at various price points. Furthermore, the Tank collection as a whole is quite affordable, when comparing other Cartier watches. So, not only is it an amazing watch, it is also an entry level way into the world of Cartier.
This is a watch that every modern woman wants and deserves. If you are looking for a watch that will immediately elevate your outfit, choose the Carter Tank.
By the way, this one could have easily landed in the number 1 position.
5. Cartier Panthere Watch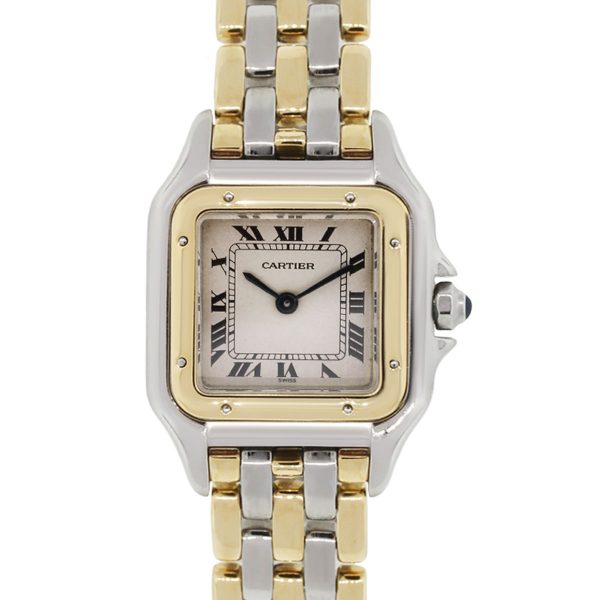 The Cartier Panthere watch was first introduced in 1983, and was in production all the way until the early 2000s, at which time it had a decade long production break.
In 2017, Cartier re-introduced the Panthere watch and it received a very warm welcome.
The watch comes in 2 different sizes, the larger being 27mm by 37mm and the smaller being 22mm by 30mm.
Both sizes have a square case, screw down bezel and linked brick-lay bracelet with a hidden folding clasp.
The dial has a railroad minute track and strong Roman numerals – again, a staple of the Cartier brand's famous and historical Tank and Santos collections. The hands are in the shape of a sword and are made from blue steel, which makes a nice contrast with the steel and gold.
The watch is powered by quartz movement, which isn't something watch aficionados like, but it means it is perfectly reliable in regards to keeping time. Anyway, this watch's focus is more on the design rather than it's horological innovations.
The Panthers de Cartier watch is available in:
Rose gold
Yellow gold
White gold diamond covered
Rose gold with a diamond bezel
White gold with a diamond bezel
White gold with diamonds and black enamel animal spots
Plain steel
A limited edition rose gold with black lacquered links
And…Two-Toned Steel and Yellow Gold (featured in the pictures of this article).
In terms of price, you can get the delightfully affordable steel model or if you are looking to spend, the full gem-set high jewelry models.
Overall, the Cartier Panthere is very elegant and delicate. It has a smooth appearance thanks to its polished bezel and satin finished case.
The case is quite thin as well making it very comfortable and easy to slide into tight sleeved shirts or cuffs.
This is an Iconic Cartier creation that, for us, easily makes the top 5. The watch is perfectly contemporary and has a very edgy look to it. If you like to be noticed, this watch will surely do you justice.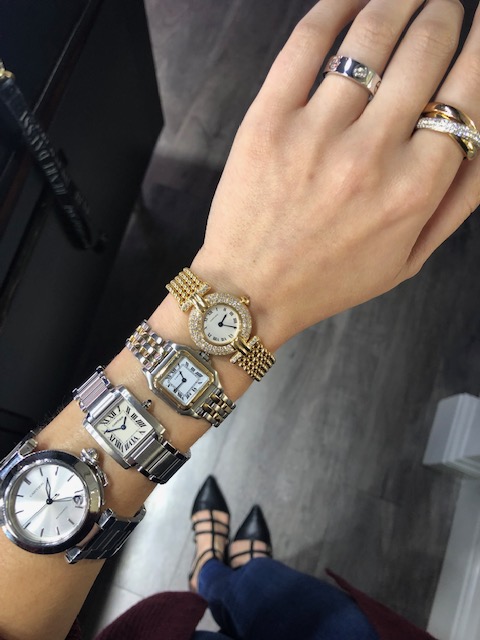 Where to Buy Cartier Jewelry & Watches
Diamonds by Raymond Lee has been serving Boca Raton and South Florida's insatiable need for diamonds and luxury jewelry for over 30 years. We have an extensive collection of Cartier Jewelry waiting for you to try on and purchase. Our team of expert advisers dedicates themselves to assisting you in selecting the perfect jewelry.
Note: We also buy Cartier Jewelry!
Our vision has always been to forge a unique, professional, and intimate vibe. We offer a shopping experience that works for all generations. We especially know what the modern jewelry buyer wants; and we keep traditions that never fade intact, such as sensibility, artistry, and craftsmanship. Furthermore, our prices are super competitive and the quality we provide is unparalleled for the price you pay.
If you live in Boca Raton, please feel free to drop by our showroom anytime! You can also shop with us online.
Diamond By Raymond Lee's Showroom in Boca Raton, Florida:
2801 N Federal Hwy, Boca Raton, FL 33431
Our hours of operation are:
Monday-Friday – 11 am to 7 pm
Saturday – 10 am to 5 pm
Sunday – 12 pm to 5 pm
Feel free to contact us if you have any questions.