20 Verragio Engagement Rings You Need to See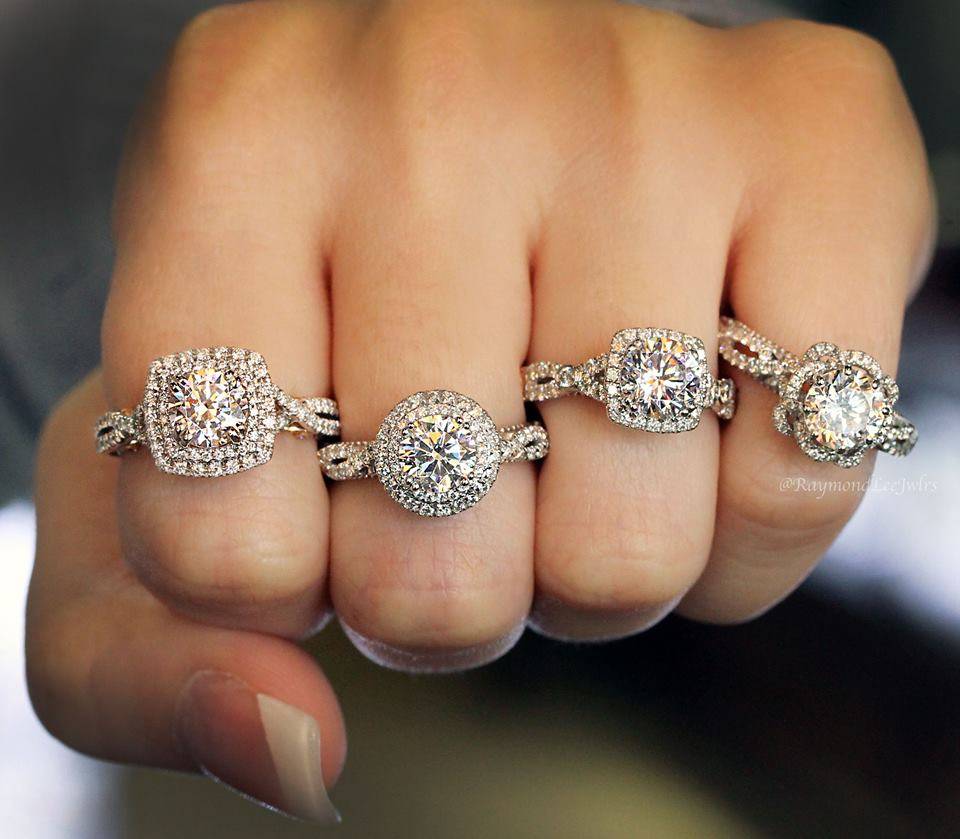 Verragio engagement rings are gorgeous, it's hard to argue anything else. But we love to give plenty of reasons to support our opinion anyway.
Every individual ring is a work of art, and every collection has a style all its own.
They're a perfect fit for rose gold.
No one nails a lace shank halo like Verragio.
Verragio rings are so easy to customize.
We really can't get enough. And neither can you! So today we've compiled 20 of our best Verragio engagement rings from over the years, with side-selfies, stacks and face-offs galore. Tell us – which one is your favorite (if you can even choose!)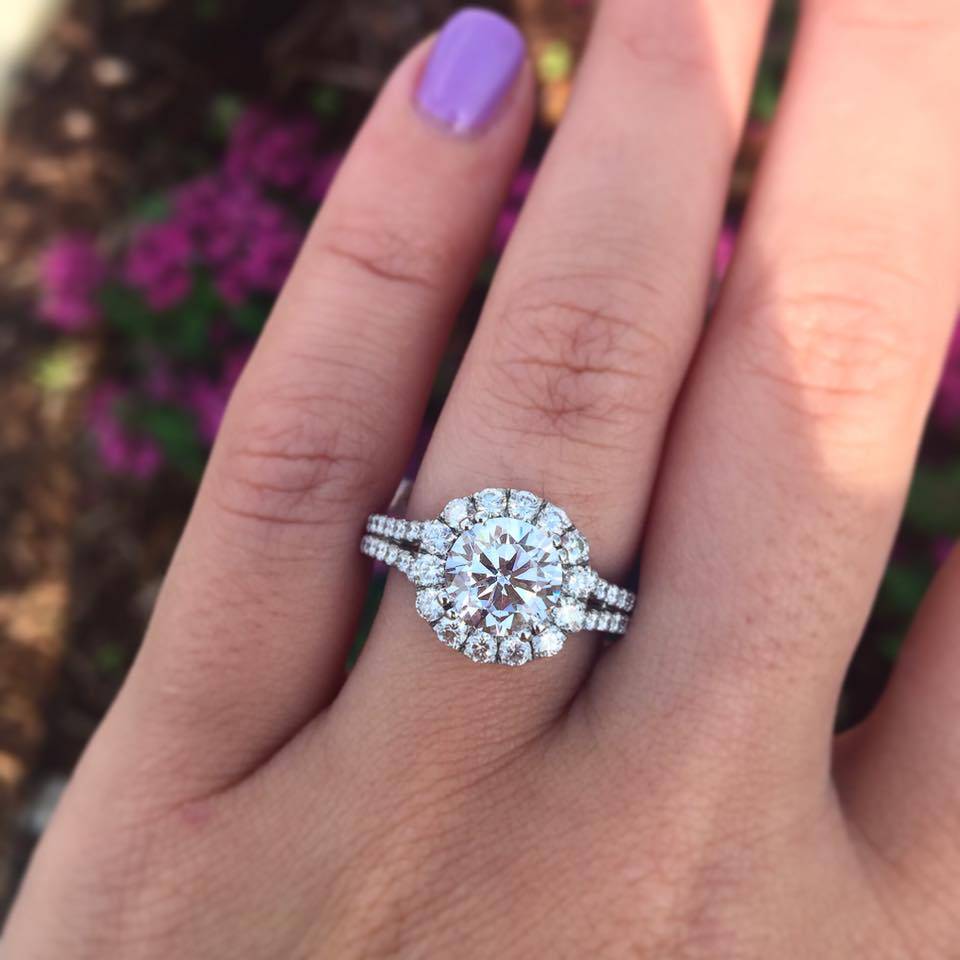 This pretty halo from the Insignia collection screams Spring, thanks to a lush, floral inspired smattering of diamonds. We love that the halo diamonds are BIG, and that the delicate shared prong diamonds on the split shank are smaller so the ring achieves balance.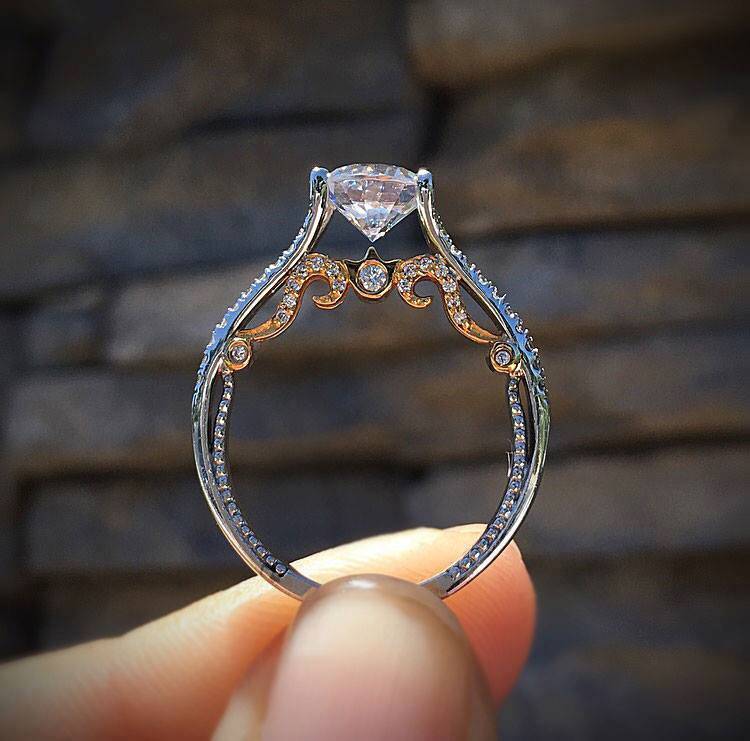 Another Insignia beauty, this time a solitaire style on a lace shank. The illusion of a floating diamond is spectacular, and very realistic – more than a few members of our Facebook community have said they'd be afraid to lose the diamond! Not to worry, it's firmly secured in a four-prong setting.
Blinded by bling? Same. Let's all take a moment to stare. Ok, now let's focus on that rose gold beauty shining from the ring finger. That's one of our most popular Verragio engagement rings, the rose gold edition of a Verragio Insignia with both a square halo and a twisted shank.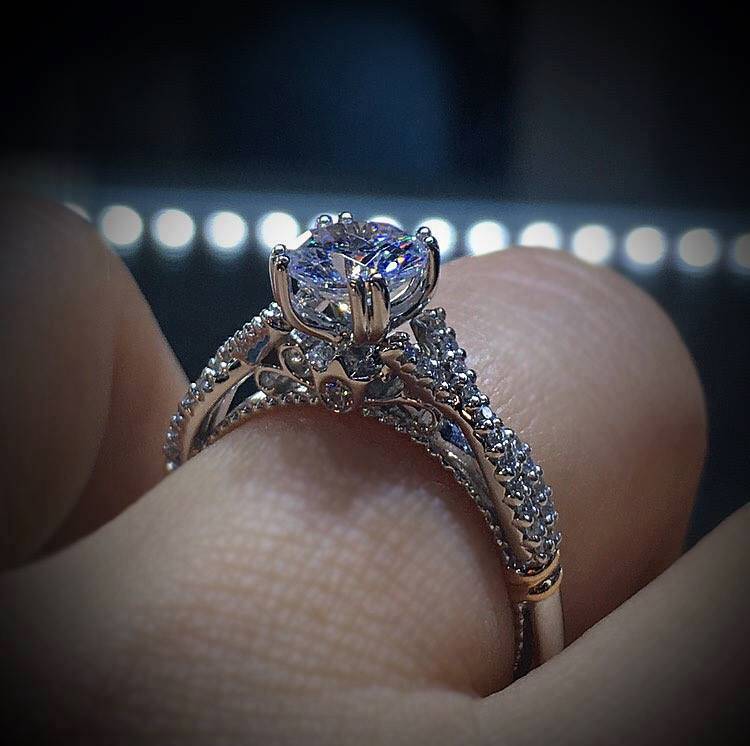 All hands on deck for this claw-prong solitaire from the Parisian collection. Check out those rose gold garters you can just catch a peek of – they span the entire base of the ring for a dash of texture and sultry color.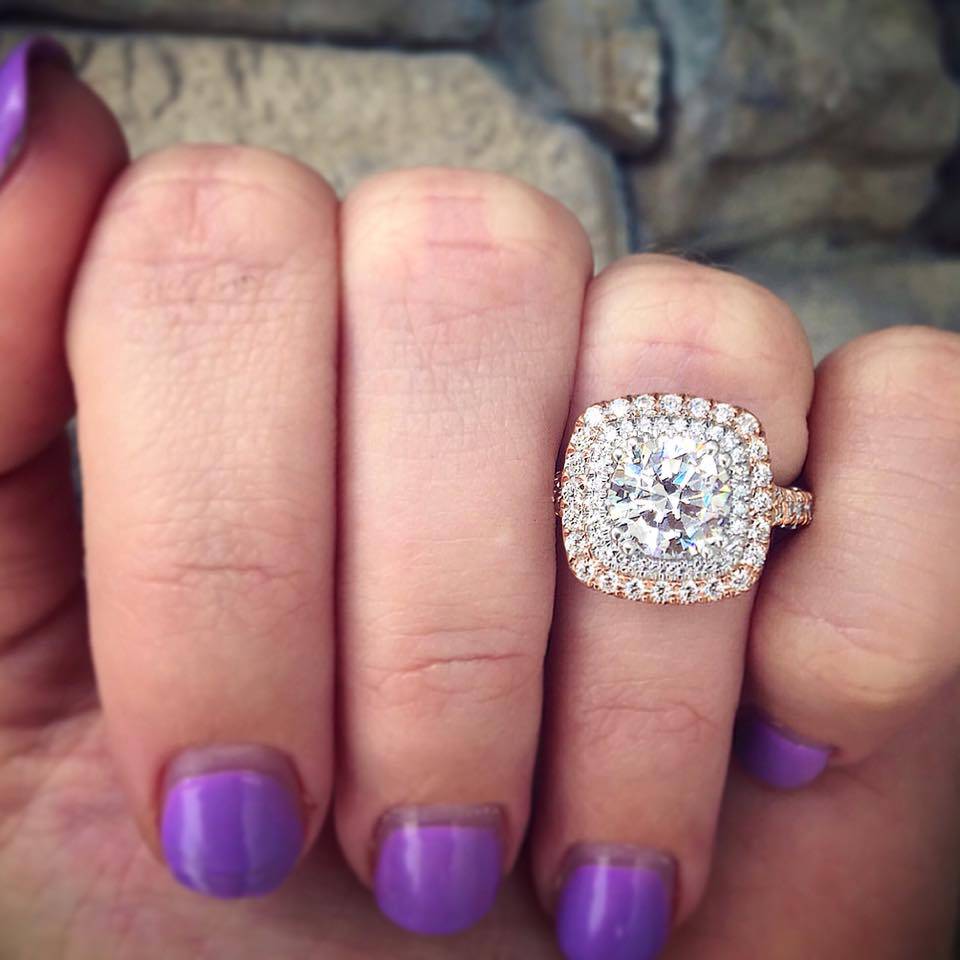 If you're gonna do a halo, why not do two? And while you're at it, why not make them BOLD? Verragio does just that with this gorgeous double halo from the Couture collection. We love this customized version with the outer halo done in rose gold and white diamonds, plus more rose gold for the gently tapered split shanks.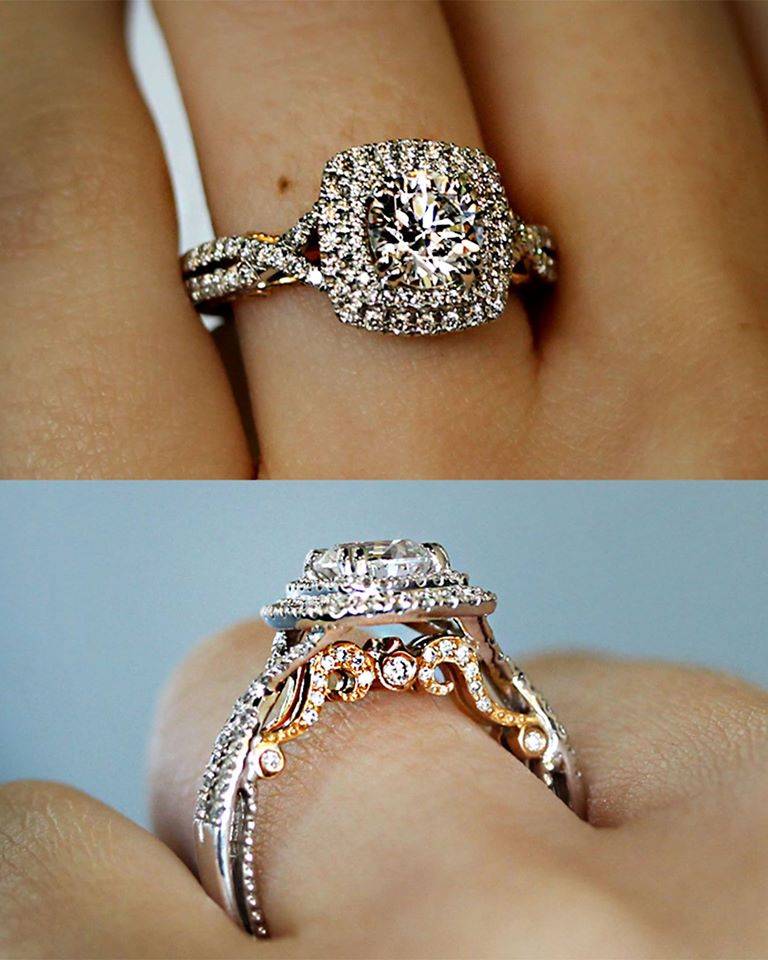 Here's another perfect excuse to make yours a double. This Insignia ring looks fabulous with a splash of rose gold on its signature scrolls, and also serves as a reminder that to every Verragio engagement ring there's more than meets the eye.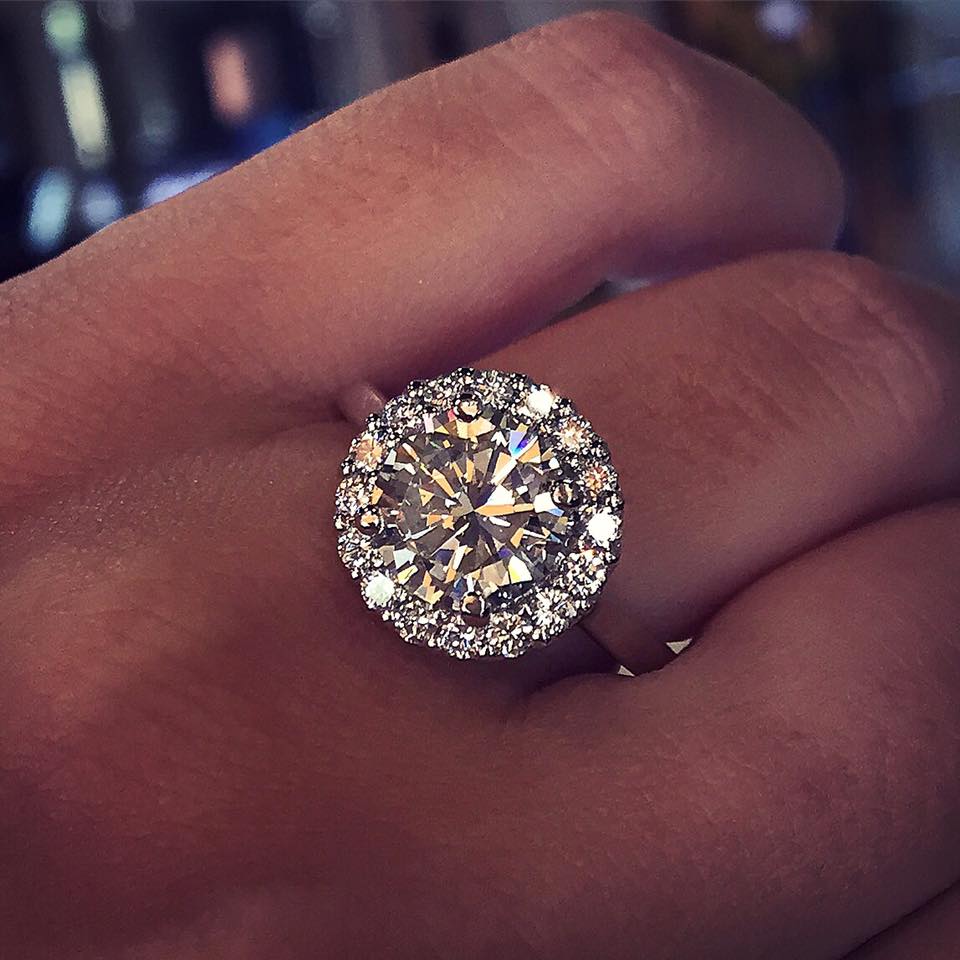 This customized ring is one of our favorites. When you love the look of a halo, but you also have a larger center stone and you're worried about the whole effect being "too much" here's what you do. You stick to a clean, classic band that lets the center stone and halo have the whole spotlight.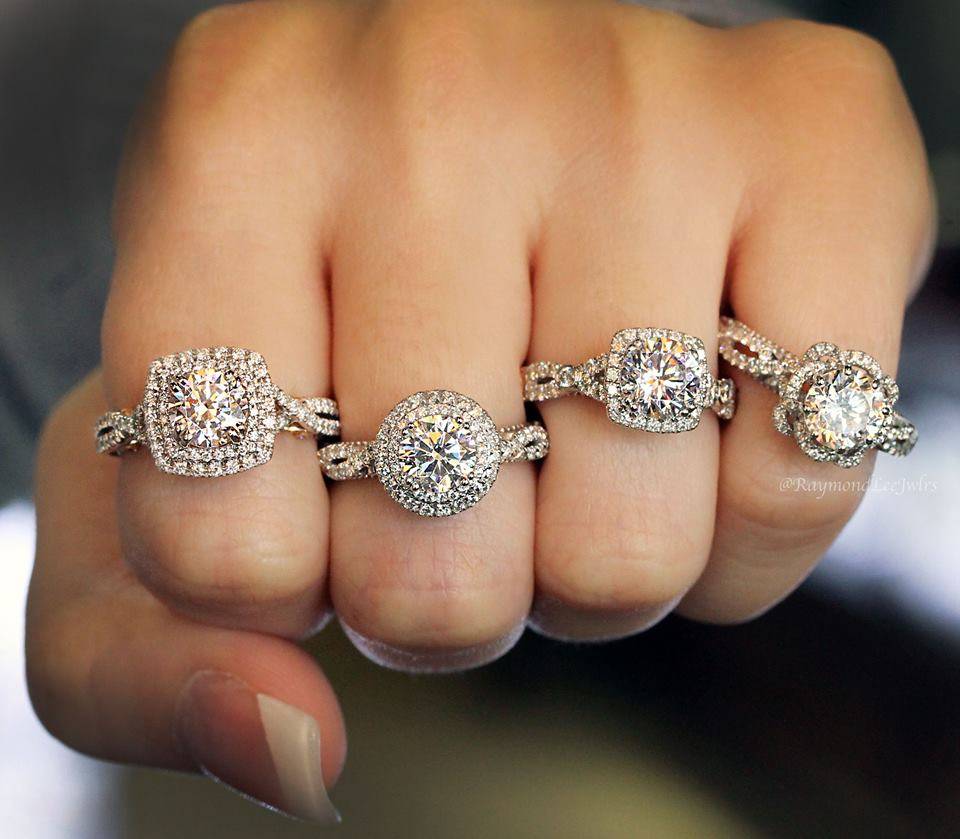 We just love this shot, showing of lace shanks from a variety of collections – Insignia, Venetian, Parisian, and Couture!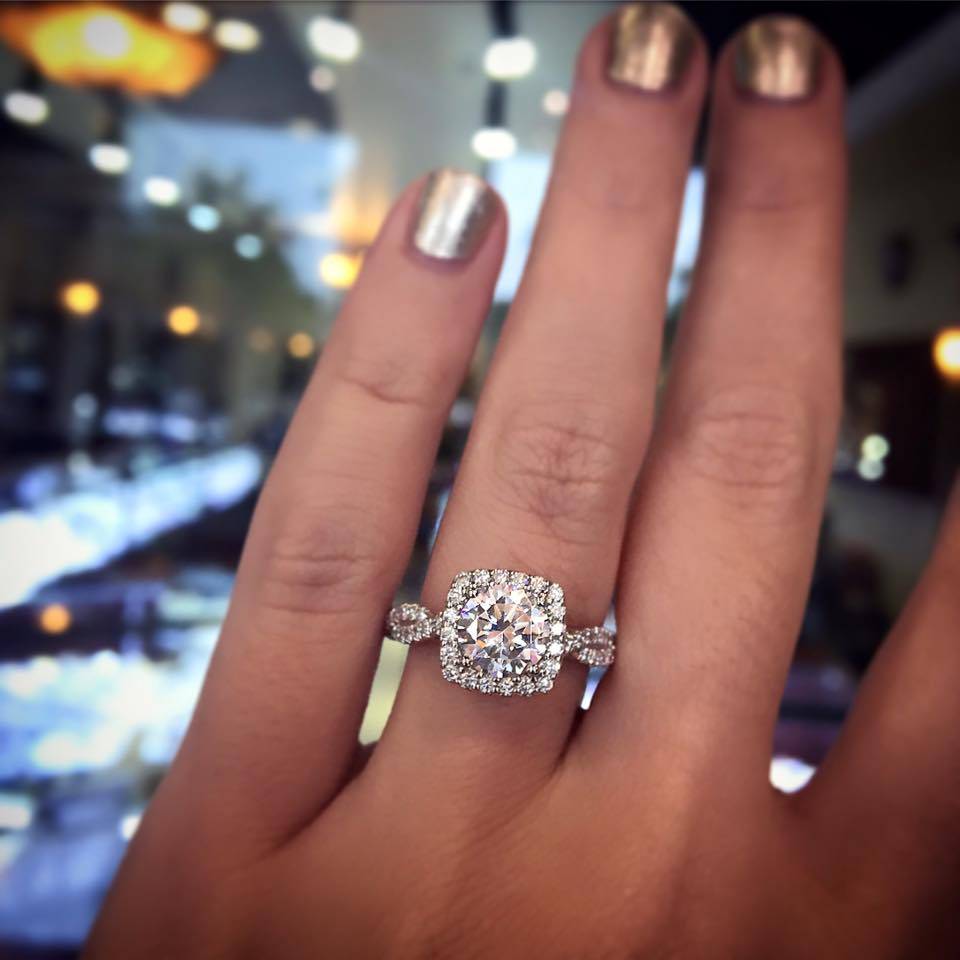 We love this Verragio Classic soft square halo – the Classic collection features Verragio's trademark designs with more open-air work to produce a more affordable collection. This ring starts at $3,000, for example. It's lookalike from the Insignia line starts at $4,800!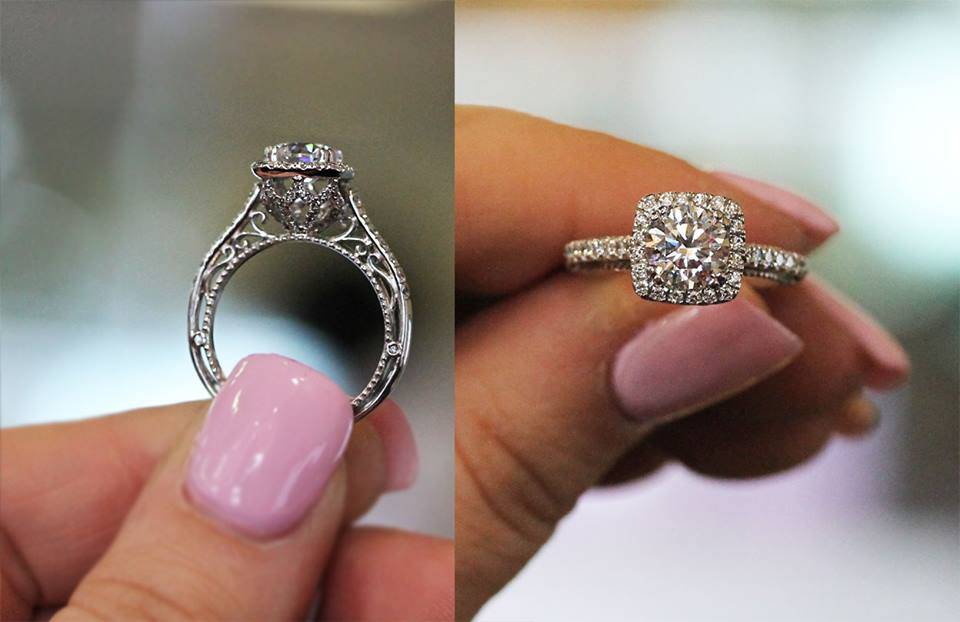 Couture has the loveliest tiaras, don't you agree? That's the small, lacy crown of diamonds just under the center stone!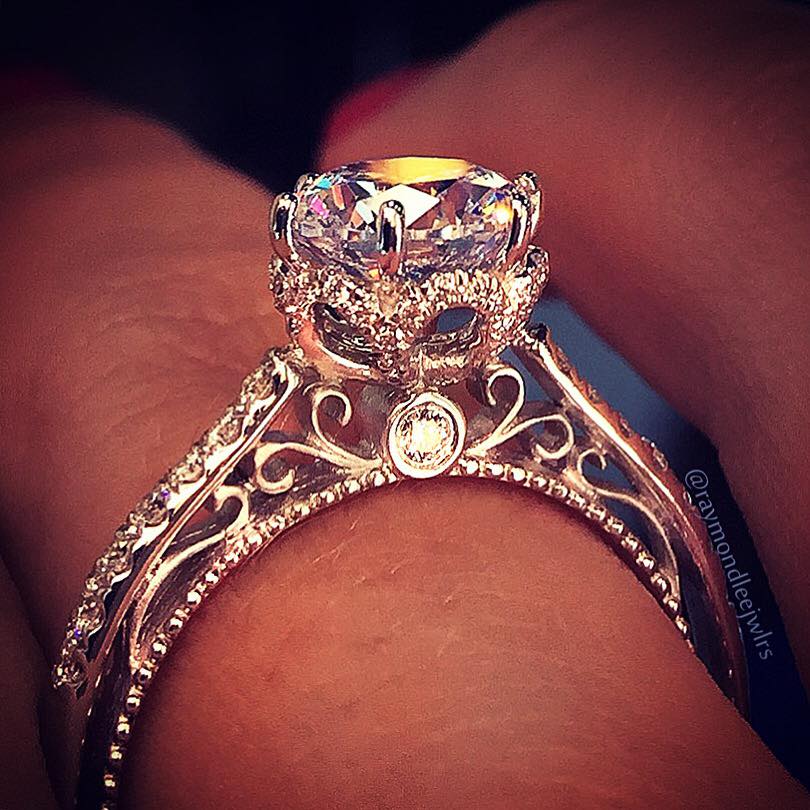 Here's another one, this time a solitaire with a 6 prong setting.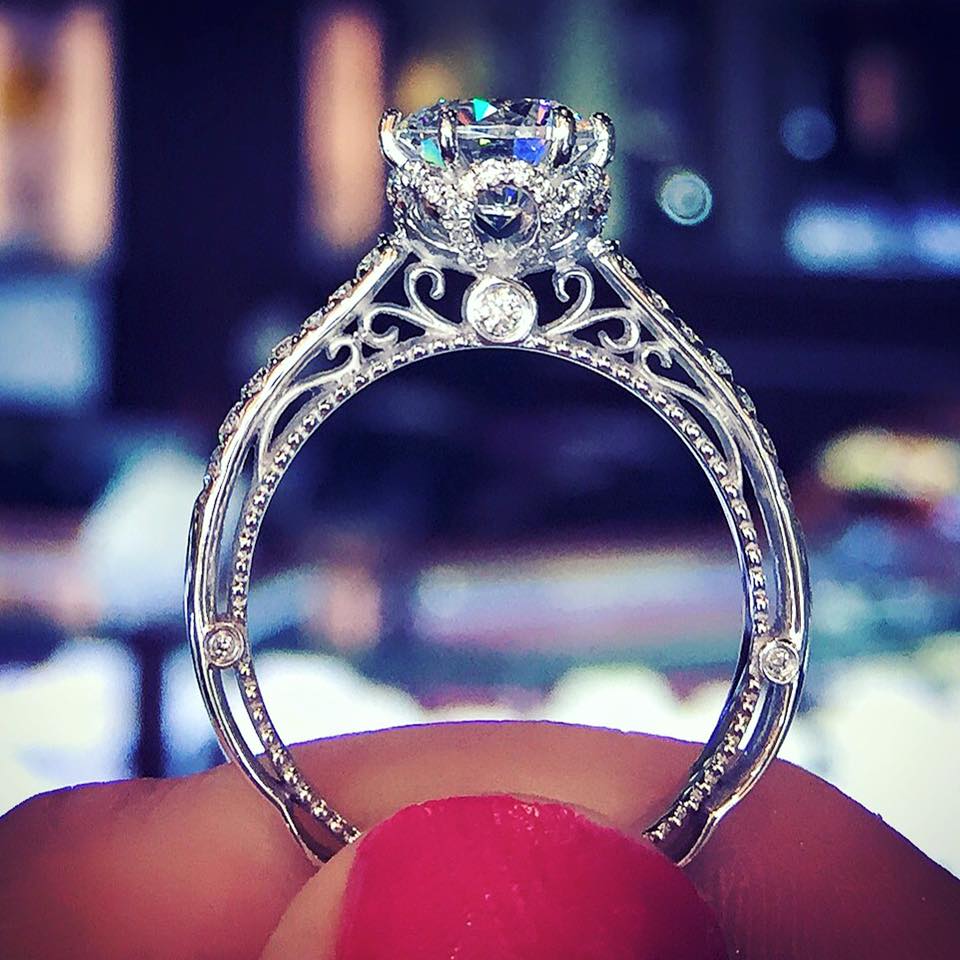 And another peek at the whole profile of this ring – we're obsessed!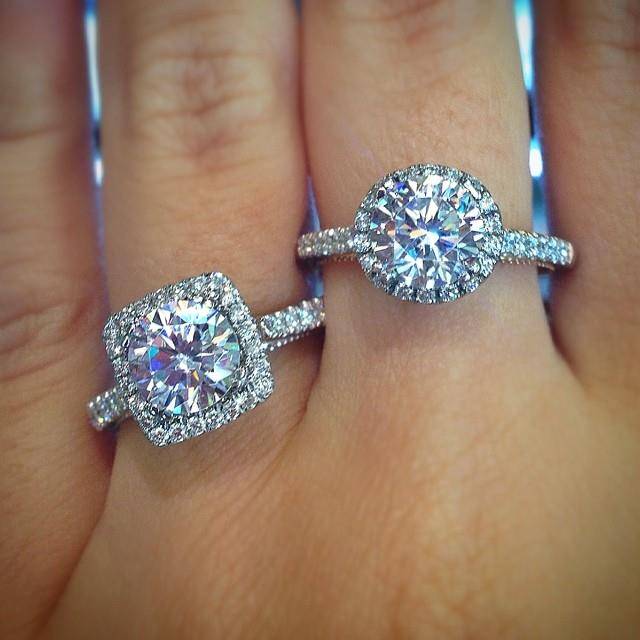 These two beauties from the Classic collection prove that any shape halo looks fabulous in Verragio's skilled hands.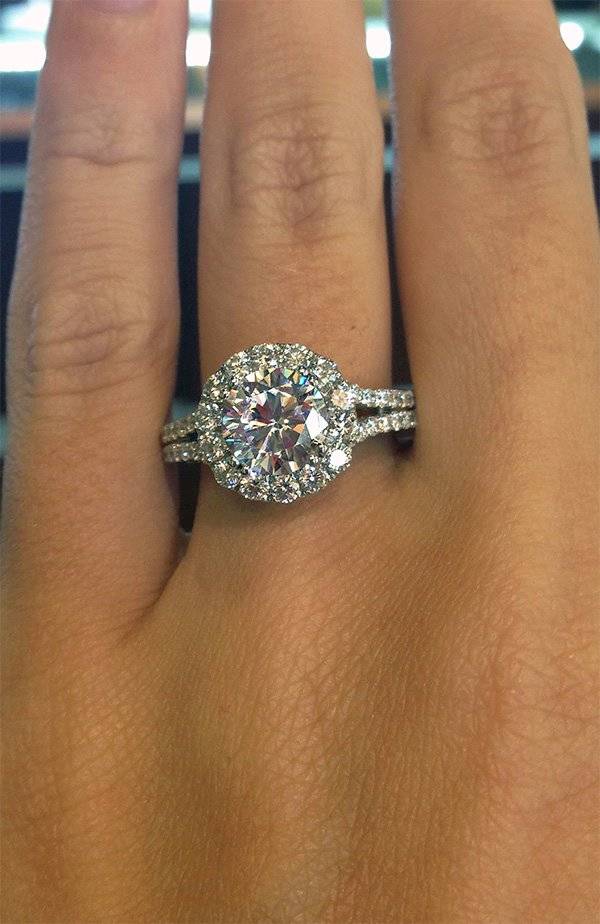 Where have you seen this before? This angle shows you how delicate the split is on the shank – they're perfectly stacked as a double row of diamonds until they open gently to meet that big, beautiful halo.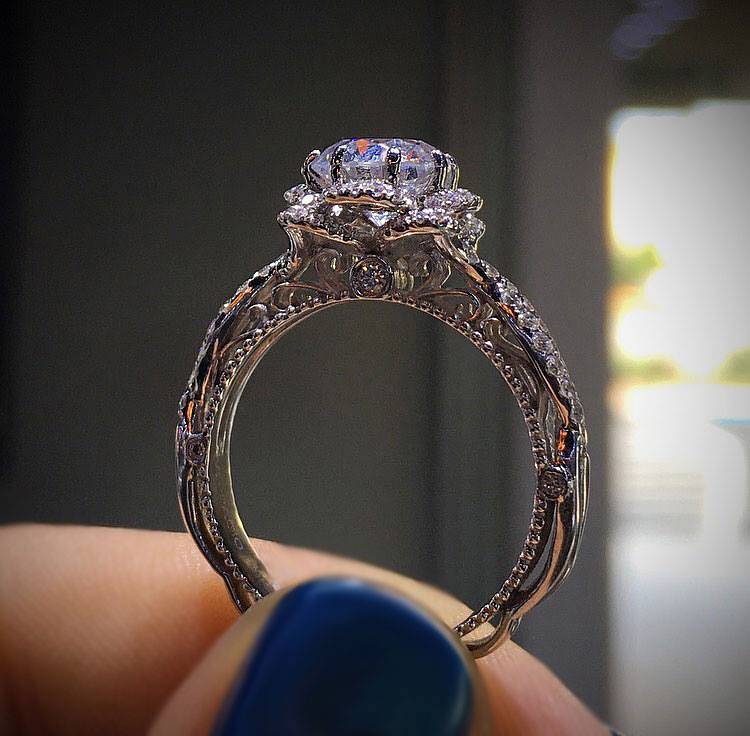 Oh, Venetian! Venetian is the most intricate collection of Verragio engagement rings, with stunning scrollwork all along the inner face of the ring. This particular floral halo is one of our most re-pinned images of all time.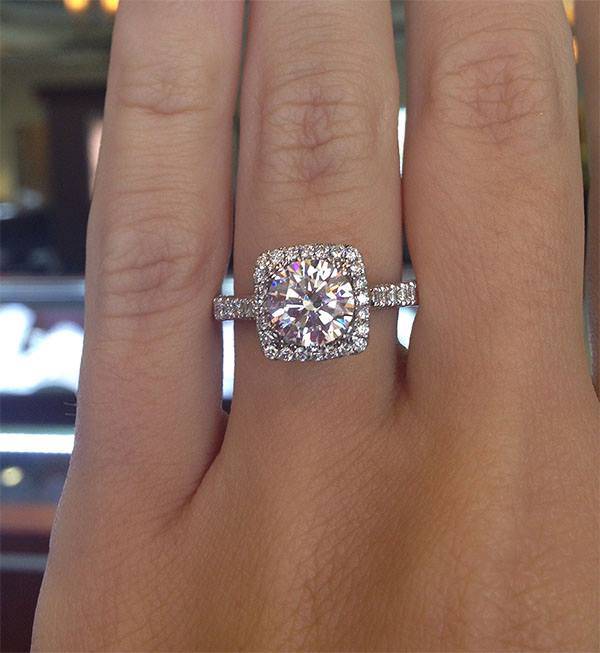 This Venetian looks clean and sleek from the top, but you've got to see the profile. It features a rose gold and diamond tiara, plus the signature lacework.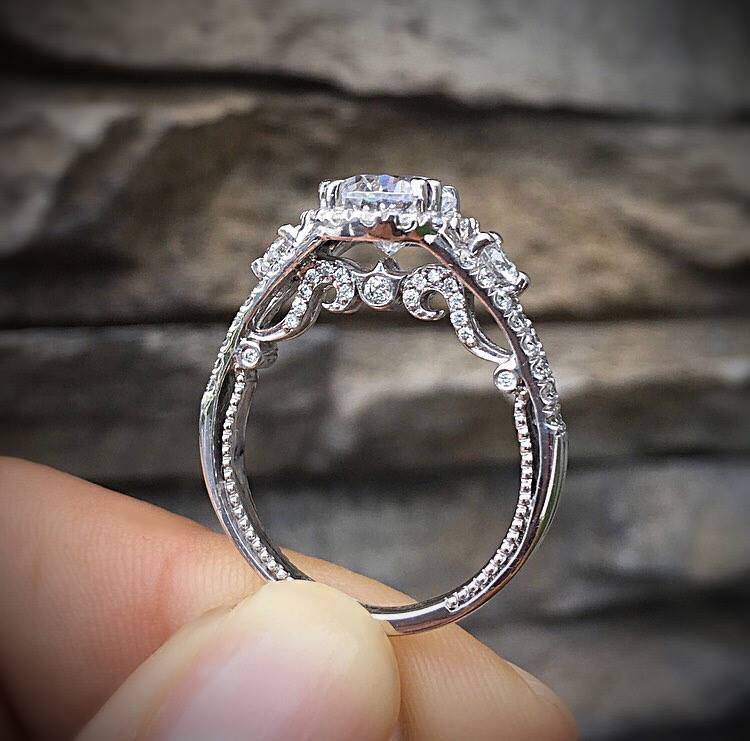 It's relatively rare to see a Verragio setting in a three stone style, but the Insignia collection has a few. This beauty is breathtaking.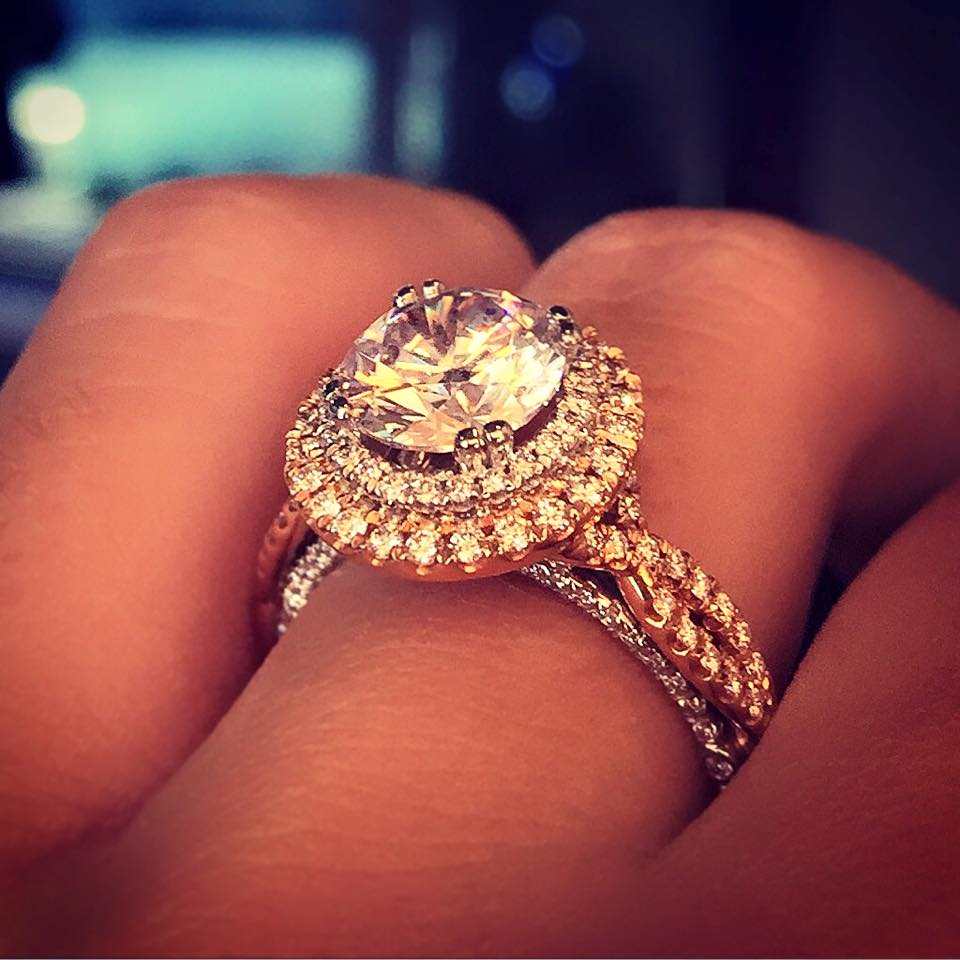 We adore this two-tone Venetian double halo! The rose gold adds so much warmth and interest to this already gorgeous setting.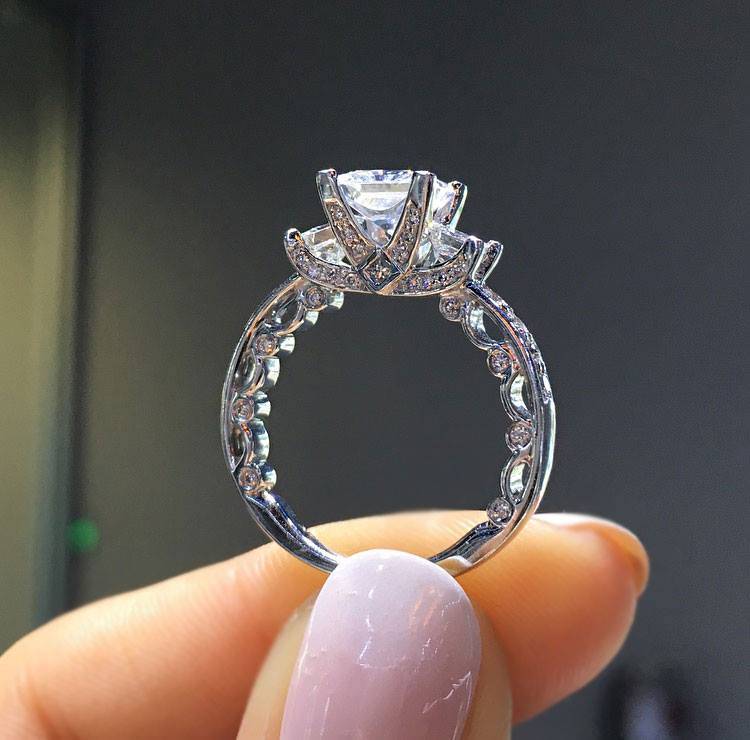 This is probably our favorite shot – ever – of a Paradiso ring. Paradiso is the newest Verragio line, designed with comfort in mind. Those striking bezel-set diamonds on the inner band aren't just another (beautiful) detail – they serve a purpose. They prevent your ring from spinning on your finger, while the scalloped shape lets air flow through the ring, making it even more comfortable for you.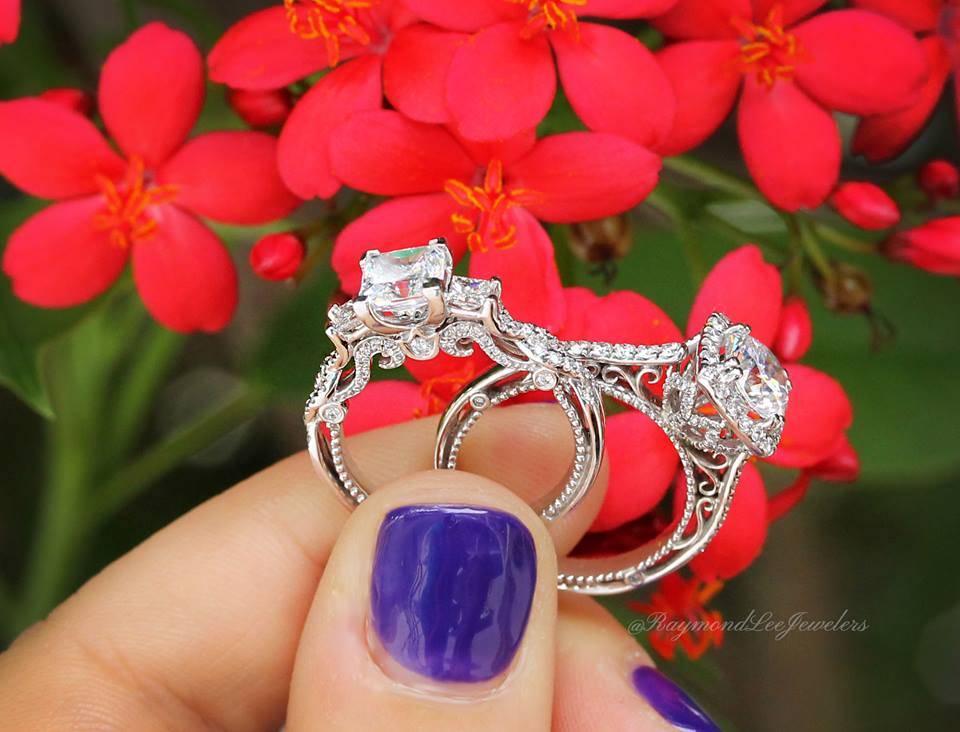 Let's end this gallery the way we started: with Spring-spired beauty! The three stone (most popular engagement ring on Pinterest) Insignia setting and a lovely Couture halo beg you to choose one of them for your favorite – can you decide?