Ah, the eternal comparison: the solitaire vs halo engagement ring. The much contested and hotly debated superior engagement ring style still isn't clear. Brides seem torn between the two, with passionate feelings about either style. Some of our laid-back brides like both, and can't decide between the two, leaving it up to their intended to choose the style with the instruction to "just make the diamond as big as humanly possible." However many more of our brides are very opinionated on the topic, and we wanted to provide some input and consideration from this camp so that our undecided diamond-lovers get a better feel for which ring is more their style.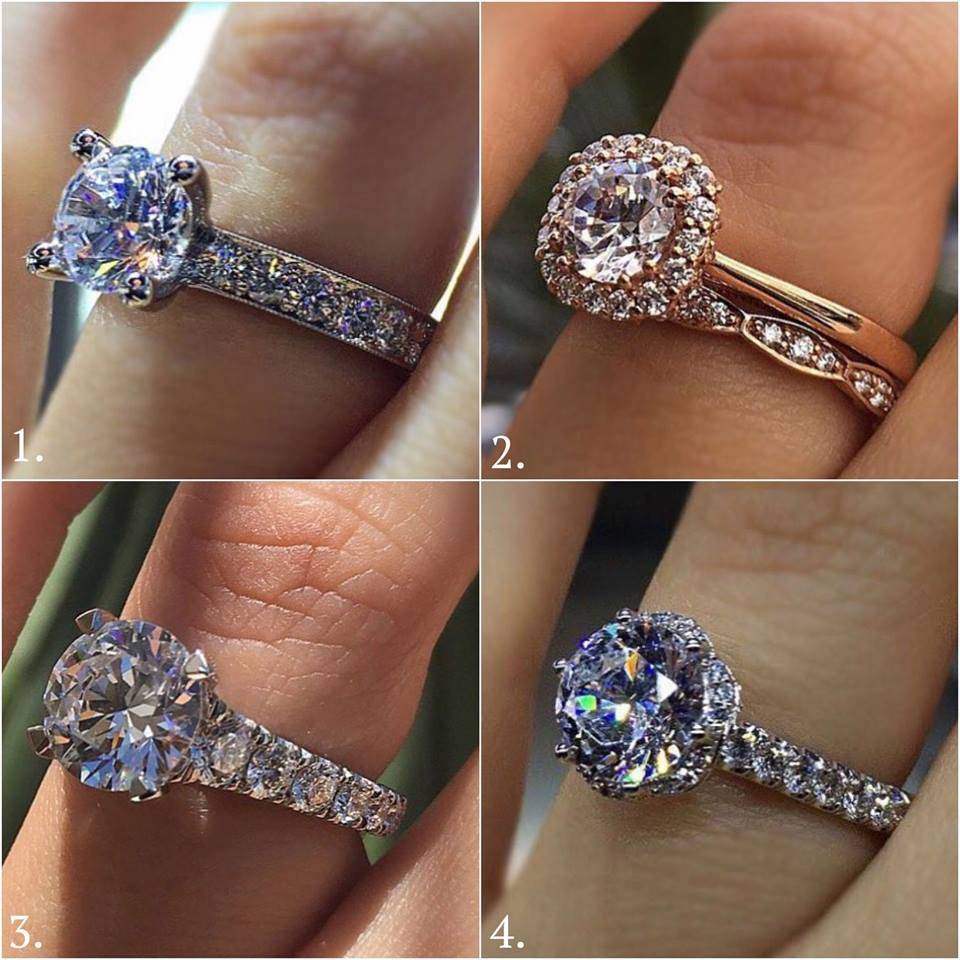 Solitaire Engagement Rings…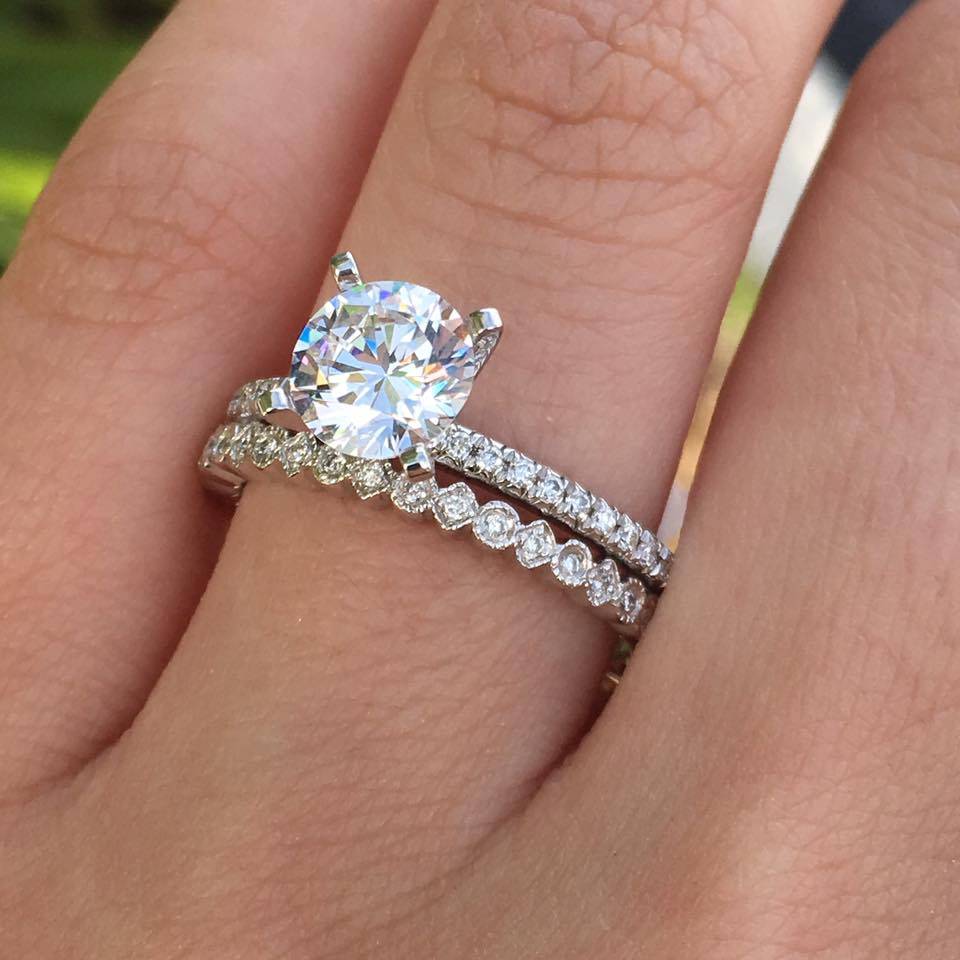 In the solitaire vs halo engagement ring debate we first need to lay out what makes each style. A solitaire is a ring with ONE center stone – for today's purposes we're not discussing other non-halo engagement ring styles like three stone, bypass, or antique styles. So a solitaire is a single diamond, diamond alternative, or precious gem of any carat weight on any type of band.
Just because there's one center stone doesn't mean there's one look. Solitaires can go modern with open-air, sculptural styles like some of our fun Gabriel settings. They can be alternative like a bezel-set raw diamond in unpolished yellow gold. They can be feminine with decorative carving on the band – flowers, vines, textured milgrain, etc. They can be on-trend like the current style of a big cushion cut perched on a delicate, diamond-studded rose gold band. Or they can be timeless, like a 6-prong Tiffany style solitaire on a sleek platinum band. There is a solitaire style for every bride.
There's only one common theme that unites the vast and varied world of solitaire engagement rings: the focus is all on the center stone. You know what that means, right? You need a rock you love. And you need one that you love to show off – all eyes are going to be on the center stone, so it comes with caveats. Let's discuss a few:
Thinking of a diamond alternative? If you're on a budget, popular options include a Cubic Zirconia or Moissanite center stone. You should read about these options before you start shopping, check out this post. One important thing to remember is that the larger you go with these alternatives, the easier it is to tell they're not a real diamond.
This is sometimes a conflict for solitaire lovers because often to them, Bigger = Better. But! It's not all about the Carat weight! The right diamond for you balances each of the 4 C's, which all work synergistically to make a beautiful diamond. And it balances the best grades for each of them with your budget – so you get the best deal on a diamond (see exactly how to do that here.) There's no joy in a big diamond with poor clarity so it looks cloudy, strong color so it looks too yellow or brown, or a bad cut grade that dulls its sparkle. If you want to go BIG and you want a precious gem – but a diamond isn't in the budget – look to the rainbow.
Precious gems like sapphire, ruby and emerald make for stunning, unique solitaire engagement rings. These gemstones aren't as hard as a diamond, and therefore may need a different style setting to protect them from the everyday wear of your I-love-it-so-much-I'm-never-taking-it-off ring. If, however, you're dead set on a colored stone ring and you're up in the air about solitaire vs halo engagement ring styles, it's time for us to discuss your other option.
Halo Engagement Rings…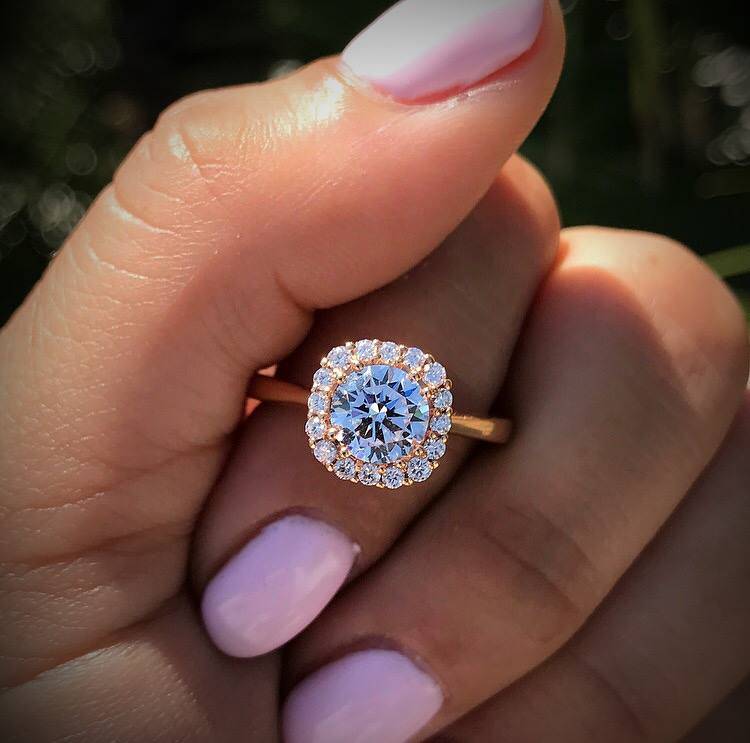 The halo style is any shape of center stone, typically a diamond, surrounded by a ring of smaller diamonds. Like the solitaire, the variety of styles within this genre is mind blowing. Between RLJ & DBRL, we carry hundreds of halos. The most popular style is the contemporary halo, usually a round diamond with a halo of very small diamonds snuggled up seamlessly to the center. Sometimes there's a double halo – sometimes a triple. Halos can be simple with just a plain or diamond pave band. They can be ornate like Verragio or Tacori. They can be bold with artistically carved shanks. They can be colorful like we'll discuss below. They can even be antique – despite the halo's booming popularity this style is hundreds of years old.
What makes a halo the right ring for you?
 More bling, please! There's no denying it – halo engagement rings sparkle brighter than any other style. This is thanks to their extra facets – all those tiny diamonds glitter like, well, glitter. They catch light from every angle and throw it around. They also make your center stone look bigger, sometimes doubling the appearance of carat weight.
This is great for your budget. If you want a really high quality diamond, you can sacrifice some carat weight for impeccable clarity, cut and color, trusting your halo to more than make up for the lost weight. If an E, VVS1 Triple Excellent isn't in the cards for you, then a halo or incredible setting can take some of the focus away from a still-beautiful but imperfect center diamond.
 Love color? Halo engagement rings, because of that gorgeous, glittering circle of diamonds, make a perfect guardian angel for softer precious gems, especially emerald. You'll see plenty of halos in antique styles for this reason! You'll also see your favorite sapphires, emerald and rubies tucked into the protective borders of a halo itself, creating a circle of color around a beautiful center diamond. So if you're obsessed with a precious gem engagement ring, a halo style might just be for you.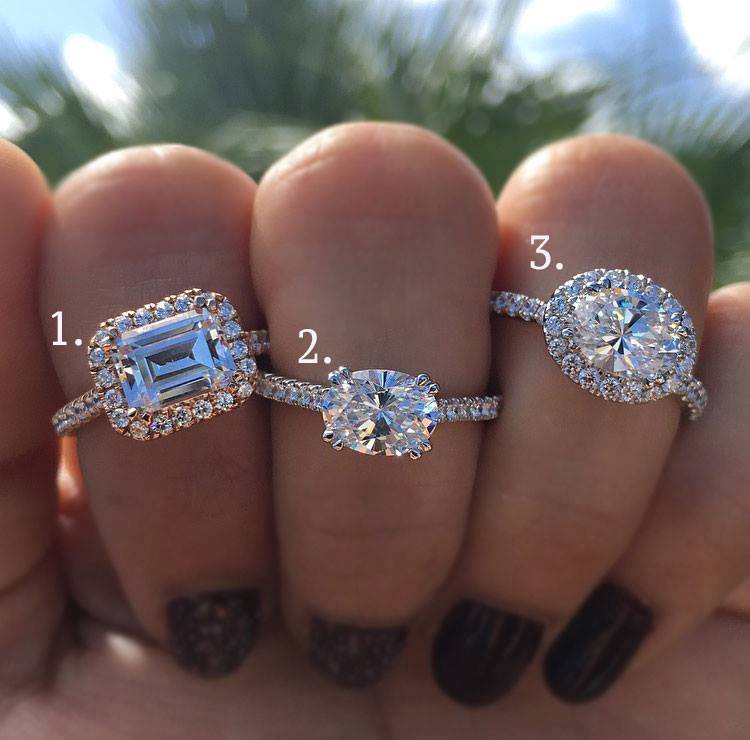 Still torn between solitaire vs halo engagement ring styles? Don't sweat it – this just means you'll be happy with either one and pleasantly surprised by whichever your future fiancé chooses. And if they're shopping with us then you're guaranteed to get a fabulous ring you adore.