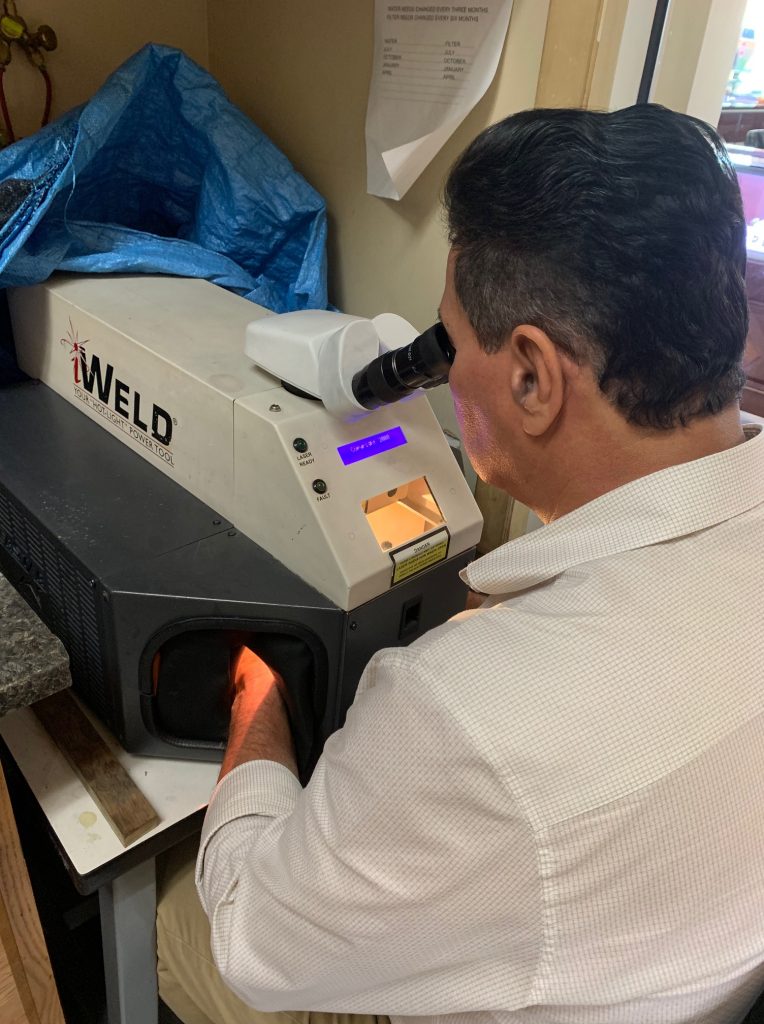 Jewelry repair is a sensitive subject and rightly so. Our jewelry is some of the most sentimental and prized possessions that we have. Many of them are heirlooms, commemorations of special moments, and symbols or tokens of our love. That is why when one of our special pieces is damaged, suffers the wear and tear of daily wear or just needs to be spruced up a bit it can be confusing and difficult to know where to go. As experts in the fine and bridal jewelry industry for the last three decades we at Diamonds by Raymond Lee are here to help. We offer on site jewelry repair services from top craftsmen who know their trade inside and out. 
Entrusting someone with the care let alone the repair of a favorite piece of jewelry can be difficult. How do you know that they will repair it in the same way and that you will have your beloved piece of jewelry back in one piece? The answer is to trust the experts. The people who are transparent, caring and here to help you, every step of the way. At Diamonds by Raymond Lee our jewelry experts do just that. They walk you through the evaluation of your piece of jewelry. Before we ever get started on anything we will walk you through step by step of the action plan. 
That way you know exactly what process your jewelry piece will undergo –– before it happens. Being transparent about the process and methods gives you peace of mind that our craftsmen will take good care of your jewelry. Many of our experts have been in the business for decades and they pride themselves on their perfectionism. A craft chosen with intention they not only repair and do regular maintenance on fine jewelry pieces they also create unique bespoke pieces. So you can trust that their delicate touch can bring your piece back to life with the same soul. Diamonds by Raymond Lee is your go to choice for local, national and international jewelry repair needs.
We have the latest equipment and technology to fix up your jewelry no matter the damage. We have some impressive on site machinery that includes lasers, microscopes and more. All so that our craftsmen are fully equipped to gently handle any piece of fine jewelry. Once they have their plan of action and your go ahead they will do their absolute best committing their time and attention. Our mission is to bring you superior quality service.
Jewelry repair on site at Diamonds by Raymond Lee in Boca Raton 
We are proud to offer jewelry repair services on site at our stores in South Florida. Comfortable and expertly designed you can walk around our shops or relax with a cold drink while we assess your jewelry piece right there on the spot. Our on site full time jewellers will have a look at the repair required and come up with an action plan, estimate and time frame for you. Once these are agreed on they will get to work on your fine jewelry piece. 
For some simpler repairs like jewelry polishing, gemstone cleaning, and others we can do it right there on the spot while you wait. Imagine that quick and easy but more than convenient a place you can trust. Many jewelry stores outsource their repairs sending them away since do not have in house capacity. At Diamonds by Raymond Lee we are proud to say we have our workshop on site. 
That means that even if your jewelry repair requires more time it will still be done at our shop. It is very important to us that you, our clientele, can trust that your jewelry is safe and in excellent hands. From the moment you hand us your jewelry piece to delivery of your final, repaired item. That means we do not send our jewelry repair work out to third party services. Since then we cannot maintain strict quality control. And your jewelry piece is insured from the moment it becomes our responsibility until it is returned to you. The entire time we work on your jewelry repair your item is treated like one of our own, under our state of the art surveillance and security the entire time. There is no safer place for you to have your jewelry repaired than at Diamonds by Raymond Lee.
Our jewellers and expert craftsmen 
Jewelry repair undoubtedly starts with trust and expertise. Fine jewelry can be extremely intricate, delicate and it takes a true professional to get it just right. We know that and it is why we work with our diamond and jewelry expert craftsmen. They have over thirty years of experience in the business and are continuously upskilling and training. Not only do they regularly do repairs on a variety of different jewelry types and styles, they have been at it for over thirty years. For the last three decades our craftsmen have devoted themselves fully to this chosen trade. Some of them for even longer than that. The jewelry making and repair trade is not a job you fall into. It is an absolute passion that you choose for your life. Many of our craftsmen do not only repair fine jewelry but they also actually create it with their own hands. 
This in depth knowledge of the jewelry creation process gives them another level of insight into the jewelry pieces that come their way. That is because our craftsmen not only know how to adjust and fix the jewelry they are also familiar with the process of creating it. What that means is that when it comes to fixing your fine jewelry you will not be able to tell it was repaired. They use a delicate touch and the techniques they know have been used in the creation process of the jewelry to make sure it is an impeccable correction. You can expect only the very best from our fine jewelry craftsmen, we guarantee it. Our full time jewellers know jewelry design and craftsmanship. Further they are equipped with the latest equipment including high tech laser technology for welding. This makes sure that our craftsmen's welding is precise, to .5 millimeters. 
Loose stones and extra precious material 
When it comes to the materials that our craftsmen use for the jewelry repairs they are always of the highest quality. Whether that is fine gold, diamonds or precious gems. We source our very own highest quality materials for both the repair and custom jewelry creation. So you can trust that the integrity and quality of your fine jewelry piece will stay. 
Also we match the exact color based on a mixture of fine metals for rose gold and other unique metal pieces. At our on site workshop we have all of the materials and equipment that we would need to repair a piece of fine jewelry. If you have damaged a piece of jewelry featuring diamonds of different cuts we also offer a diamond search feature. We can find you a diamond to match the other precious stones in your item or you can find a new perfect diamond. 
Specially if it is a prominent feature in the jewelry piece choosing a replacement diamond or precious gem stone can be turned into an opportunity. You can find a diamond of another carat weight, cut shape or even color to replace it with. Or of course we can match the original to the best of our abilities so that your piece looks the same. The sky is the limit when it comes to jewelry repairs at Diamonds by Raymond Lee. That is because we have some of the finest jewelry craftsmen as well as access to all of the top materials and equipment. Whatever you are looking for we are here to provide. And most of all peace of mind. You can trust that we will follow the action plan discussed with you prior to work to the t. You will have your jewelry piece back in your hands good.
Jewelry repair services on site that we offer
With our high level of expertise and broad experience it means we offer some of the best services in the industry. So whatever jewelry repair needs you may have we can help! When it comes to repairing jewelry we have seen most if not all of the issues. And we have fixed them. So no matter if you have a jewelry piece with a scratch, bend, break or loose stone you can be confident that our master jewellers can fix it. From the simple polish and cleaning to repairing a major fall or dent we have the abilities and capacity to fix it. 
Some of the jewelry repair services that we offer at our stores include but are not limited to the following:
Restoration
Refinishing
Redesign
Ring resizing (women's and men's rings)
Pearl restringing
Prong re-tipping
Claw repairs
Shanks replacement on rings
Chain or bracelet soldering and repairs
New clasp fitting
Safety chain repair
Charms soldering
Stone re-setting or replacement
Gemstone cleaning
Jewelry polishing
Rhodium plating
So if you have a piece of jewelry that needs some work let us know! Bring it in for one of our master jewellers to have a look at or drop us a message to find out more. We fully guarantee the highest quality on all of our services offered. Our high standards of workmanship, materials and service mean you can trust us with your gold, platinum and other fine metal diamond and gemstone jewelry. Our estimates are free and there is no obligation. Restoring your prized jewelry pieces to their former glory is our craftsmen's trade and their skills, talent and precision are unparalleled. Beyond just repair our master jewellers will also give you some helpful tips so you can keep your pieces looking beautiful and damage free for many years to come.
Where to repair jewelry? Diamonds by Raymond Lee in South Florida
So now you know whatever jewelry repair needs that you have you can trust your local jewelers Diamonds by Raymond Lee. We will never outsource work or send your jewelry to a third party. From the moment it is handed over to us until the repair work is complete and we have returned your jewelry to you we care for it like our own. Experts handle it with care delicately and it remains under our watchful state of the art surveillance system at all times. For the quick and easy repairs you can be sure we will do them right there on the spot! You can wait in our comfortable and expertly designed show rooms while you wait. If you want you can chat to one of our diamond experts while you are there they can show you around parts of our extensive curated collection of fine jewelry and watches.
Drop by to have your jewelry repair assessed or set up an appointment with one of our experts so that you will not have to wait. We are here to assist you and ensure that you have the best experience possible. Our family business Diamonds by Raymond Lee is run on a person to person level. Always keeping you, our clients, first of mind. For the last three decades it has been our pleasure to serve the South Florida community. And we look forward to continue doing so for the next three decades to come as well. So you can be sure that any repair work or purchases from our stores are guaranteed. You can just pop in, drop by or give us a shout to meet your fine jewelry needs.

You can contact us here or by phone and email below. Our regular hours of operation mean that you can bring your jewelry to be repaired at a time that is convenient for you.

Phone: (561) 623-8205

Email: info@diamondsbyraymondlee.com
Location: 2801 N Federal Hwy, Boca Raton, FL 33431
Hours: Monday-Friday  11am-7pm | Saturday  10am-5pm | Sunday  12pm-5pm