Can you finance an engagement ring? Let's cut straight to the chase, shall we? YES! You can! We've been chatting a lot lately about the different ways you can pay for an engagement ring, something we think is important to discuss right around the holidays, when everyone is excitedly shopping, but slightly worried about the total of filling up all those stockings and brightly wrapped boxes. And if the box you intend to present happens to be a small box with a big gift in it, you're probably thinking even more about money. Luckily, you can just think about and not stress about it. Let's talk about how.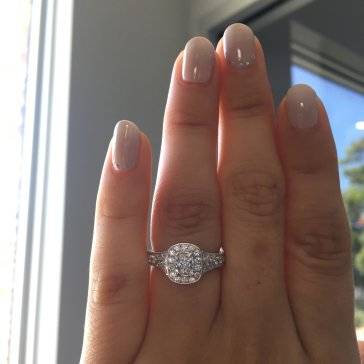 Engagement ring financing
lets you ease the burden of a large jewelry purchase by spacing it out – you won't need to fork over all that cash at once. Even if you have the full amount of your ring waiting safely in your bank account, you still might choose to break down the total into monthly payments, especially when you can score financing incentives like 0% interest for 6 months, a year or more.
If you don't have the total amount – but you're close – financing lets you get the ring she deserves on your own timeline. You feel financially secure, you know you can pay for the ring, but you don't want to wait the additional time it takes to save up? We hear you – especially if you're planning a holiday proposal! Time is of the essence, and financing vies you a flexible option. Engagement ring financing also comes in handy for online shoppers. If there's not a bounty of options in your hometown, maybe you planned a vacay to sunny South Florida, fell madly in love with one of the dazzling rings at the best showroom there, and went home before you were ready to sign on the dotted line.
Well now you can do so in your PJ's, on your couch, and still get great financing. We offer both PayPal (no interest on purchases over $95 for 6 months!) and Affirm (a more flexible option that has interest rates ranging from 10%-30%, depending on your payment period.) Both are great ways to finance your engagement ring, and both provide a long-awaited way for our online clients to shop. If financing isn't quite your style, we also offer layaway. This option lets you make payments directly to us while we keep your ring safe in our vault. Once your balance is paid, it's all yours (and your intended's.) This is a great payment option for those who need or want to space out the purchase, but have little or no or poor credit history.
If you're curious about how financing works, be sure to check out our series that answers (excitedly) the question: "Can you finance an engagement ring?":
Can you finance engagement rings?
Engagement Ring Layaway
Can You Finance Wedding Rings?
How to Finance Verragio Engagement Rings
The Top 10 Things You Need to Know About Engagement Ring Financing
And if those don't answer your questions, one of our expert diamond advisers is more than happy to. You can e-mail us, send us a message or DM on
Facebook
or
Instagram
, call us, or stop by in-person. We're here to serve!