Well we are all still celebrating the explosion of one of our favorite #RingSelfies over here, and you'll see our geotags still set to Cloud 9. But we didn't want to neglect our new(ish) found mission of shouting from the rooftops about how to finance a wedding ring.
We think it's important. Not everyone (most people, actually) can afford to waltz into our fantabulous showroom and pay cash for their dream Tacori engagement ring! And we get that. Which is why we're proud to offer different financing options. But, like we always say, an informed client is our favorite kind – and we don't just mean the kind who are well educated in the 4 C's! So today, we want to share the top 10 things you need to know about how to finance a wedding ring.
1. We can't do this countdown style because #1 is the most important and needs mentioning first and foremost. Do you already know what we're going to say? Probably, if you've read:
If not, we'll say it again: Don't buy a ring you can't afford. Not even if you get approved for an insane amount in financing. We don't want you to begin this exciting chapter in your life on unsure financial footing, so only buy a ring that fits your budget (which varies enormously from couple to couple!) This means you can make your monthly payments with no issue and you'll have that gorgeous ring paid off before your introductory offer ends.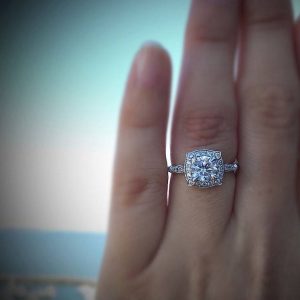 2. About that introductory offer – look for one! We offer a special financing incentive several times a year, where we give you an interest-free break. This is how to finance a wedding ring without paying extra for added time. If you shop enough in advance, you can find incentives for 6 months interest-free financing and up, sometimes with no down payment.
3. What kind of down payment will you need? Well, this depends on two things 1. Your credit score and 2. The price of the ring you're eyeing. Unless, of course, you shop during a promotion with no down payment financing. But again – this doesn't mean you should seize the opportunity to snag a $20,000 engagement ring with no down payment if paying the monthly bill presents a challenge.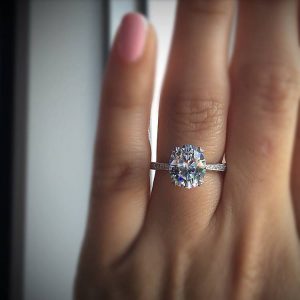 Contact Form DB
4. Is there a difference between how to finance a wedding ring online vs. in-store? Yes! We're glad you brought this up. There are a few differences, so let's break down the different options.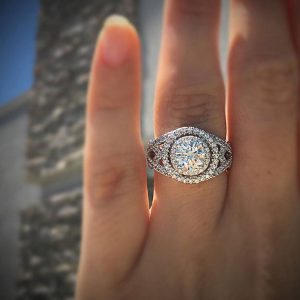 5. In-Store Financing = A hard credit inquiry. After you've found a ring you love, one of our diamond advisers will have you fill out a form to submit to the bank. The bank will then respond – usually in under 10 minutes – with the amount for which you're approved. This will depend on your credit score.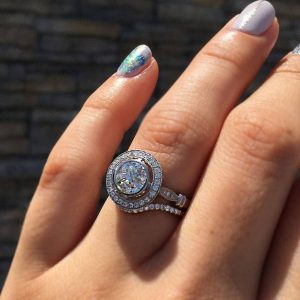 6. Online financing = A soft inquiry. And online financing for engagement rings is a relatively new phenomenon – we're really excited to finally offer this payment tool to our online clientele. There are two different options for how to finance a wedding ring online.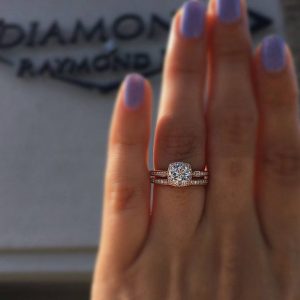 7. Trustworthy, secure, and well-known, PayPal presents a great option for many online engagement ring shoppers. PayPal offers financing on purchases over $99. Their introductory, interest-free period spans 6 months, so it's relatively short but if you only need to finance a portion of your ring, or if you already have the full amount, this is a great option. After that, the interest rate is 19.99% APR starting from the posting date (usually a few business days after you buy your ring.)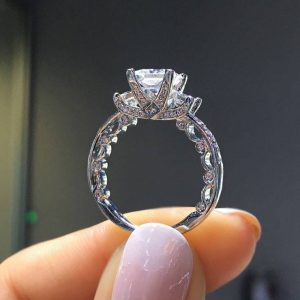 8. Affirm is the next option. We love Affirm – it's the online financing tool of the 22nd century, basically. It's fast, transparent and flexible, with interest rates that range from 10% – 30% depending on your credit score and payment period. You can learn more about Affirm here.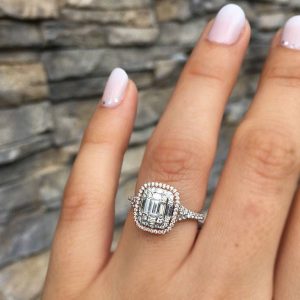 9. Concerned about your credit score? Let's explore layaway. With layaway, you don't need the same credit credentials. You will choose your dream ring, and start making payments, just like financing. The difference though, is that with financing you get to leave the store with your ring (or as soon as it's finished – see how long it takes to make an engagement ring here.) With layaway, your ring will stay safe in our vault until you've paid it off – then it's all yours. So if you're planning a holiday proposal and want to use layaway, the time to shop is now.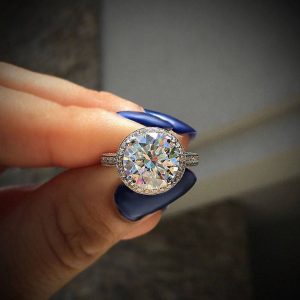 10. We're always here to answer your nitty gritty questions about how to finance a wedding ring. We realize that any guides we publish can't answer all your questions – financing is highly specific to every individual. So you can call us, message us, e-mail us, or DM us with any personal questions and we're ready to answer them discretely, quickly, and expertly.