Best Way to Finance an Engagement Ring
What's the best way to finance engagement rings? It depends! This question is tricky, it's like asking "What kind of engagement ring should I get?" Or "How much does a 1 carat diamond cost?" or "How much should you spend on an engagement ring?"
While we've discussed different answers to those questions in the links above, there are so many more we can't begin to cover. Because buying an engagement ring – your engagement ring – is a highly personal process. Just like the ring you ultimately choose will be a perfect blend of your taste, style, and budget, so too will the process of buying it.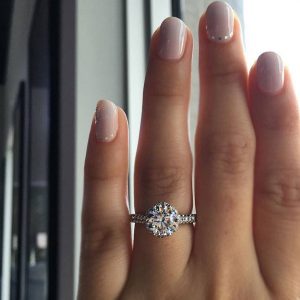 Are you an online shopper? A spur of the moment see-the-ring-and-buy-it-right-there kind of shopper? Do you spend hours of preliminary research on Pinterest and Instagram, then move onto researching every aspect of the diamond buying process from the 4 C's to the different types of engagement ring settings? If you're the third type, allow us to help you in your search:
–Be careful not to overwhelm yourself
–But an informed shopper is always the best kind
–And here's about how long you can expect your ring to take, depending on what kind you buy
And hopefully, today's post will be the perfect way to cap off your research, if you're interested in financing. First, what is financing?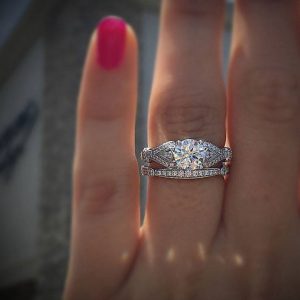 Financing is a tool for you to use to make it easier for you to pay for the perfect engagement ring. It is not a panacea to all your budget woes – you still need to stick to an engagement ring budget that works for you. That means you should not use financing to buy an engagement ring you cannot afford.
We'll say it again: Don't buy a ring you can't afford! We want you to start this exciting new chapter of your future on the right foot. So use financing to make the ring buying process easier, not to buy a ring and figure out how you'll pay for it later.
Ok, moving on to the best way to finance an engagement ring. There are a few different ways that we'll cover today, and we'll start with the one that lets us see your gorgeous, beaming face as you find the ring you love: in-store shopping.
When you're shopping in-store at Diamonds by Raymond Lee, you get the full sensory experience. The music, the concierge service, the congratulatory toast, and an eyeful of the most insane diamond rings in the South. So you'll also have access to our in-store financing, which functions just like a store credit card (that's essentially what it is.) After you've chosen the perfect engagement ring setting and diamond, our experts will have you fill out an application with all your info, then they'll send it over to the bank before shredding it. It's a fast approval turnaround, and the bank will send over the amount for which you're approved in about 5 minutes. If it's the full amount you'd like to use, then you'll get to receipt signing, have a beer with Lee, then skip out the front door and click your heels while planning your proposal. If you don't get approved for the full amount, our diamond advisors are always happy to call the bank and counter to see if we can get any more financing for you. Sometimes they say no, but often they'll work something out with us. Then we'll work with you to cover the difference and make sure to remind you one more time to pay off this beautiful ring before your introductory interest offer ends.
If you're not shopping in-store, we'll miss you. Though you can always Facetime us after you propose to show off the sparkler! Anyway, we're thrilled to offer online financing options too.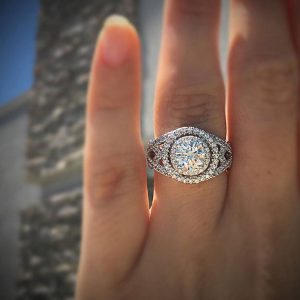 The first you're likely familiar with, PayPal. PayPal offers financing on purchases over $99. Their introductory, interest-free period spans 6 months, so it's relatively short but if you only need to finance a portion of your ring, or if you already have the full amount, this is a great option. It lets you spread out your payments without any interest rather than spending the whole chunk of cash at once. But be warned – if you don't pay off the ring by the time those 6 months are up, you'll pay a 19.99% APR starting from the posting date (usually a few business days after you buy your ring.)
The second option is Affirm, an exclusively online financing option that you've seen on our Tradesy & TrueFacet shops (plus those cool Casper mattresses.) It's fast, transparent and flexible, with interest rates that range from 10% – 30% depending on your credit score and payment period. You'll see this option right above the checkout button in our online showroom. And if you really want a toast after you seal the deal, we're serious. Facetime us.
Have any questions about the best way to finance an engagement ring? E-mail us, Facebook message us, DM us, you can even call us. We're here to answer anything and everything!