We've posted before several times about the best ways to spot a fake Rolex, along with tips for buying a used Rolex watch. As buyers and sellers of authentic pre owned Rolex watches (along with other major luxury brands like Patek Philippe, Audemars Piguet, Hublot, Jaeger LeCoultre, Cartier and  Vacheron Constantin, just to name a few) we have a vested interest in consumer education. Ensuring that our clients know they can trust us is of utmost importance to us – it's what separates us from the shady dealers and back alley bargainers that mix in replica Rolexes and counterfeits with the real deal (if they have any authentic inventory at all) that can give used watches a stigma.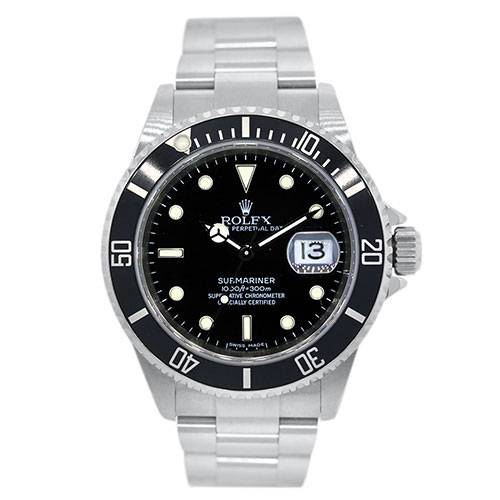 And while an authorized dealer will guarantee you that your Rolex is authentic, it also guarantees that you're paying retail. Our savvy customers know that scoring a used Rolex is almost always the better deal.
Unless it's an extremely rare or antique model, our prices are going to be less than retail, plain and simple. A luxury watch is like a car, once you walk out of the showroom with it, there's a steep drop off in its value. However, unlike a luxury car, a luxury watch can be kept in mint condition for decades, ensuring that its value, after that first drop, remains high. Those savings are passed along to the customer, who walks out of our showroom sans a massive depreciation and a shiny, new-to-them Rolex on the wrist.
But in order to get a great deal, it's important to educate yourself on buying a pre owned Rolex. You need to be able to identify the red flags of a shady dealer or a counterfeit Rolex. We've covered a fake Milgauss, a fake Submariner, and a general primer on fake Rolex red flags. The most important piece of advice we give to customers asking us to authenticate a watch (or a dealer) via e-mail is to trust their instincts – is the price too good to be true? It likely is. Does the location give you suspicion? Back away from Canal Street. Does an unresponsive seller creep you out? Don't bother e-mailing anymore (and really, they should have a phone number).
It's easier, and cheaper, in the long run, to find a reputable dealer. Buying any halfway passable fake Rolex will still set you back a couple hundred bucks, and the watch will inevitably need service or stop working altogether – good luck finding a watch repair shop willing to risk their reputation (or the wrath of Rolex S.A.) by operating on a counterfeit. Moreover, if you're shopping online, there's no guarantee that you'll ever even receive your replica Rolex. Think about it – these are criminals creating illegal fake watches. They aren't exactly bound to a moral obligation to their customers. And if you don't receive anything, you don't have a leg to stand on reporting them to the authorities, as you were purchasing illegal goods. And more often than not, these faux dealers ditch their URL's on a weekly basis to avoid being caught or facing legal action from the authentic manufacturers, so you won't be able to follow up on your purchase.
So it might seem like a better deal to spend $500 instead of $5,000, but for the long term, you're much better off finding a reputable pre owned watch dealer with a clear return policy who's happy to answer any and all questions you might have about this big investment – we're always happy to.
Related articles