The big, the bold and the chunky looks took the cake this year when it came to jewelry! From Cuban link chains and diamond studded hardware it was all about the chain necklace. The abstract pieces and lots and lots of diamonds have been very popular this past year as well. At our state of the art jewelry store we carry some of the finest gold and diamond jewelry around. Including this year's best pieces. Abstract jewelry featuring shapes and curves that tribute the non literal. They make for stunning pieces of jewelry and you know us. The only way to make a great piece of jewelry even better is by adding diamonds. Diamond jewelry has continued to be incredibly popular this year. The story goes that diamonds are forever after all and this last year of a decade has been one to remember not just at our jewelry stores.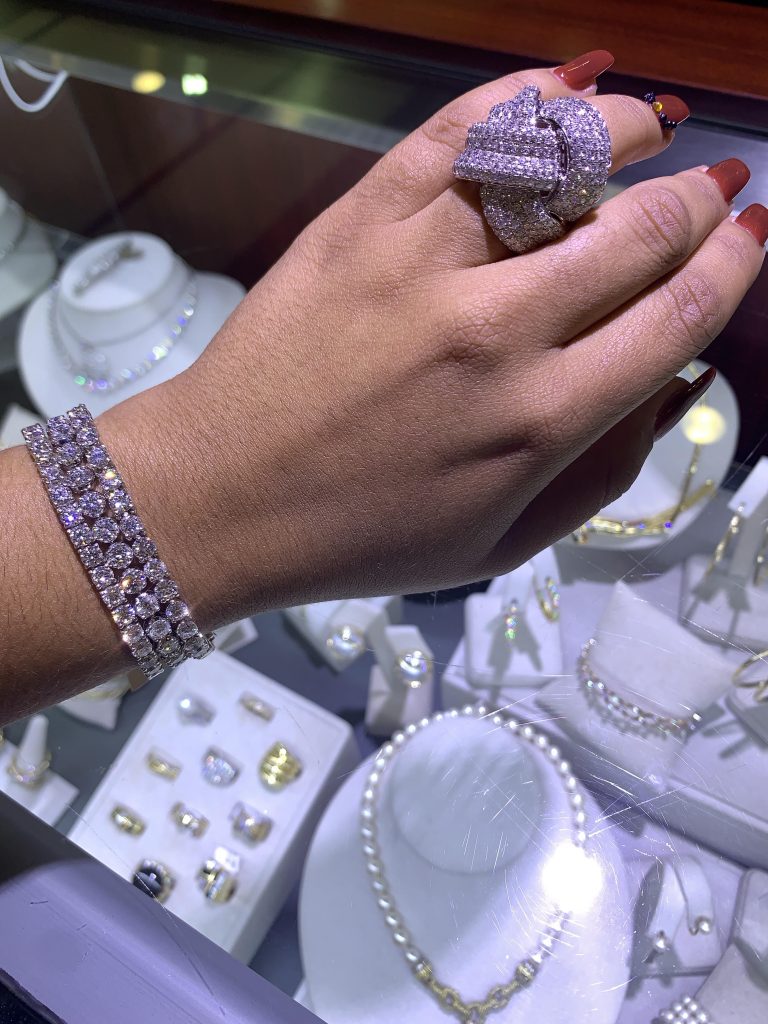 Ring stacks and the layered look really took off this year as well. As one of the most thriving jewelry trends of 2019 stacking rings and wearing them all together is a winner. We have seen celebrity looks pairing midi gold rings and rocking several diamonds on their hands. Again with the big and the bold looks this year rings were no exception. While they were mainly the dainty and delicate rings stacked together they are a force to be reckoned with. Especially with so many different ways to rock them. This trend also blended over to necklaces and bracelets. An arm party as it can be called as well stacking bracelets and bangles was a winning look too. 
When it was not stacks and layers it was big and bold on their own. The cabochon cut also had its moment in the spotlight this year. Let's have a look.
Statement jewelry steals the show
A simple and thin little bracelet or ring is a staple and go to for an accessory. Whether you need to glam up your day to day look or just want to add a bit of eye candy for the day. However 2019 this trend of petite and discreet has been thrown out of the window though. This year it has been all about the bold. Statement jewelry featuring chunky chains and large stones with additional diamonds were everywhere left and right. In the gold jewelry front the chains tended to be larger and wider than the average size.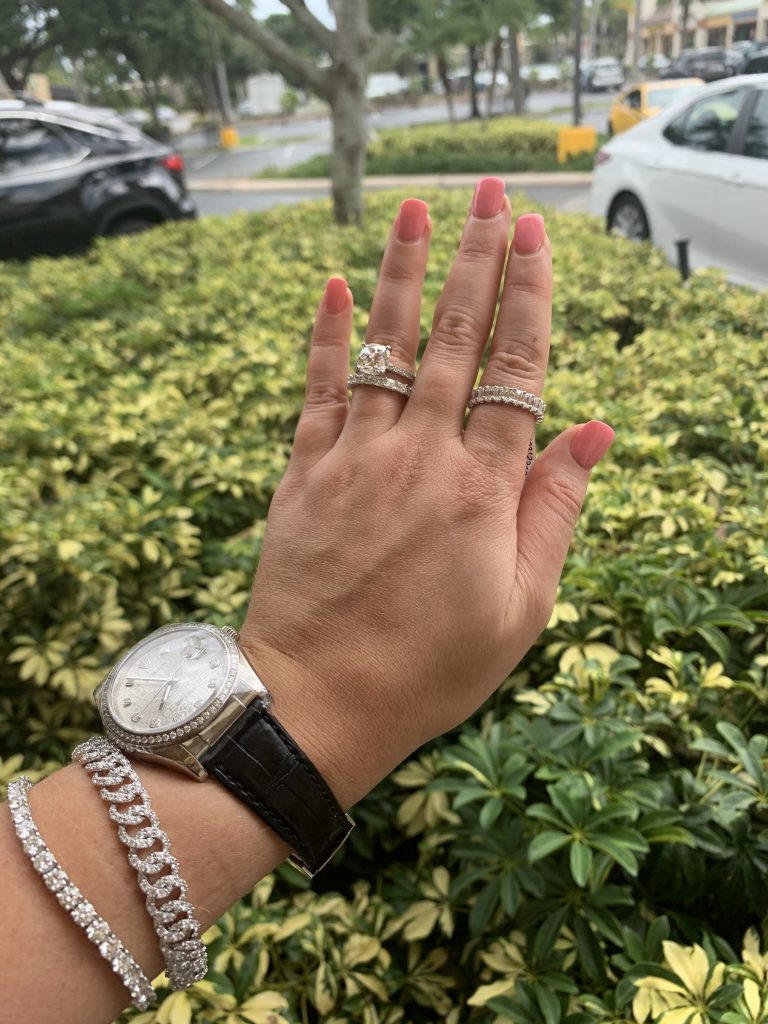 This bold look and stunning stage entrance is something we love especially when it includes diamond jewelry. Getting an iced out jewelry set is the best way to have an arm party and really make a dazzling entrance. Pairing an iced out luxury watch is really the only way to up the game with this one. 
When it is not just the thicker, bigger and bolder jewelry pieces it is all about pairing the little ones together. For a statement piece does not just have to be a single massive jewelry item. (Hint: like the incredible ring below!) However, more on ring stacks and arm parties later on. We still want to look at the combinations of statement jewelry. A major trend in 2019 these tough and thick gold chains we still have the large stones. These incorporated into abstract jewelry pieces that take the modernist look to a whole new level. Some of the other artistic styles do peek through in these designs but never truly ascribe to just one. It is all about the alluring and indefinite contrasts and combinations of looks through the centuries. Take for example this incredible jewel cabochon cut ring with an accent diamonds halo.
Chunky cabochon cut ring
The cabochon cut is one of the most unique and quite an old gem cut style. This is the kind of gem cut that is meant or at least very well adapted to large stones. The shape and polish of the cabochon are unique to the vintage designs. The nature of the cabochon high polish and smooth surface gives the stone an added luster. Further bold statement rings which are all the hype of 2019 also enjoyed success in the past. No one will argue that this stunning ring is anything less than a bold style. 
While most halo features on rings particularly engagement rings are made with solitaire brilliant white round diamonds, this one is with baguette cut diamonds. These modern baguette cut diamonds are laid around the center stone with impeccable precision. They form a radiant sun style design around the bright sparkling yellow cabochon stone.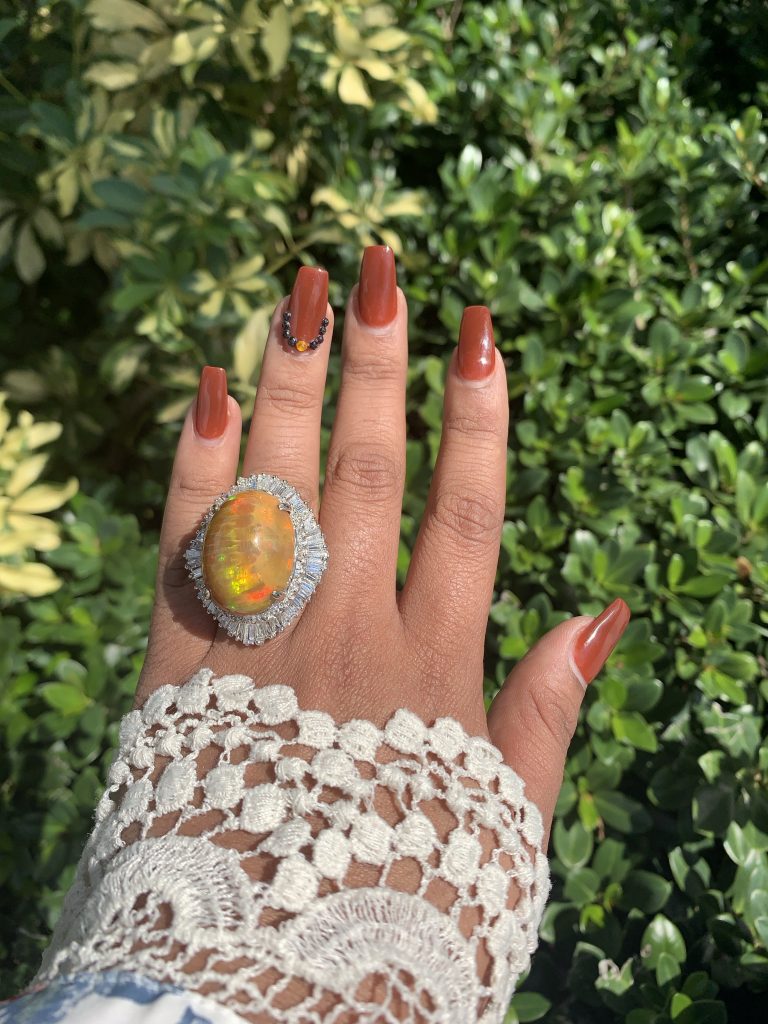 A glittering and dazzling glamorous hand party the cabochon cut ring catches light from every angle possible. Due to its large size and accompanying large diamond halo the ring is perfect to wear all on its own. That is not to say of course that you can't pair it with a stunning nail arrangement or a holiday outfit to impress. It is a vintage yet timeless look that you do not find often times.
Opposite end of the spectrum: thin and delicate ring stacks featuring midi ring
At the other end there is a totally different style of gold jewelry that has been trending. This is that smaller and thinner type of look that we talked about before. It is all of the way that you arrange them together. It is not just midi rings which let us be honest is one of the newest and more interesting of all of the jewelry styles that have come in decades. Really even longer than that even. The thin and small little rings which are worn not fully on your fingers really because they sit well in the middle. At the middle knuckle of your finger they make quite an interesting style and design. Particularly when paired among other rings on your fingers. It breaks up the texture and trend of all of the rings. Then as well what it does is create different levels on your fingers too.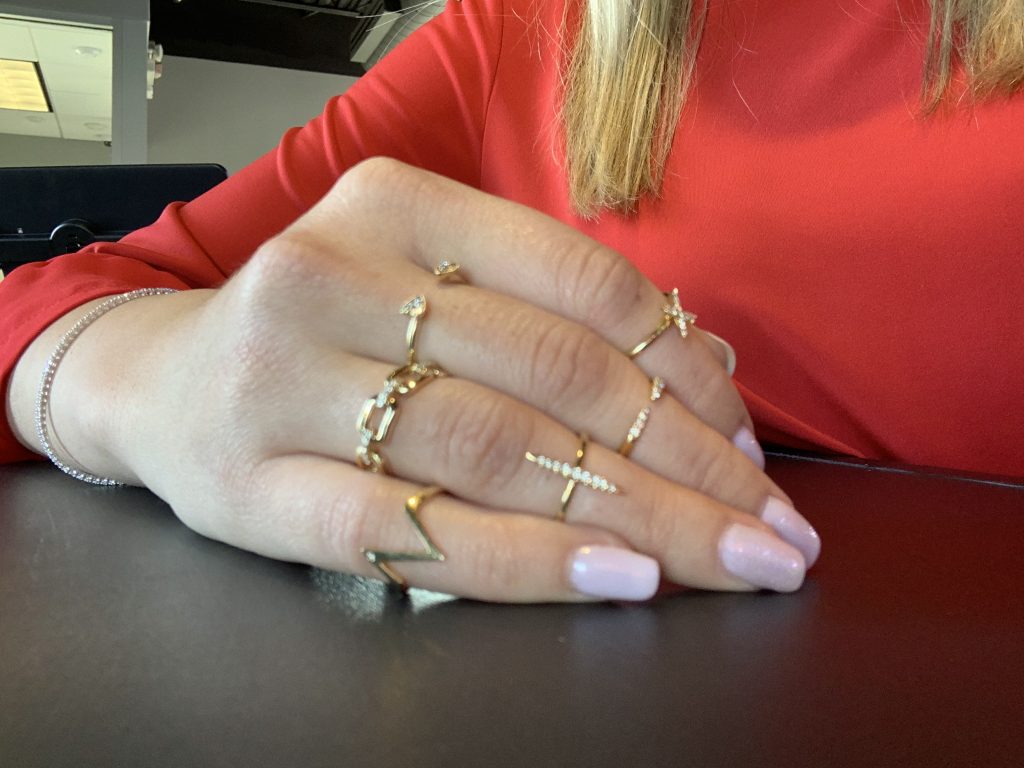 Pairing these together though has to be more than a couple of rings on two hands. It is all about more is more and less is a bore. The more of the tiny thin yellow gold rings with accent diamonds that you can pile up together into a hand party the better it is. When you can get slightly different designs, looks that are just slightly not the same particularly when it comes to the shape. Then that is when you really and truly have a stunning rings set to look forward to. It is all about the pairings, the stunning and dazzling brights. The combinations of which create and form some of the most personal and unique jewelry sets. That is why the bold and the unique like the abstract pieces have been quite so popular this year too. It is all about the personal touch each person brings.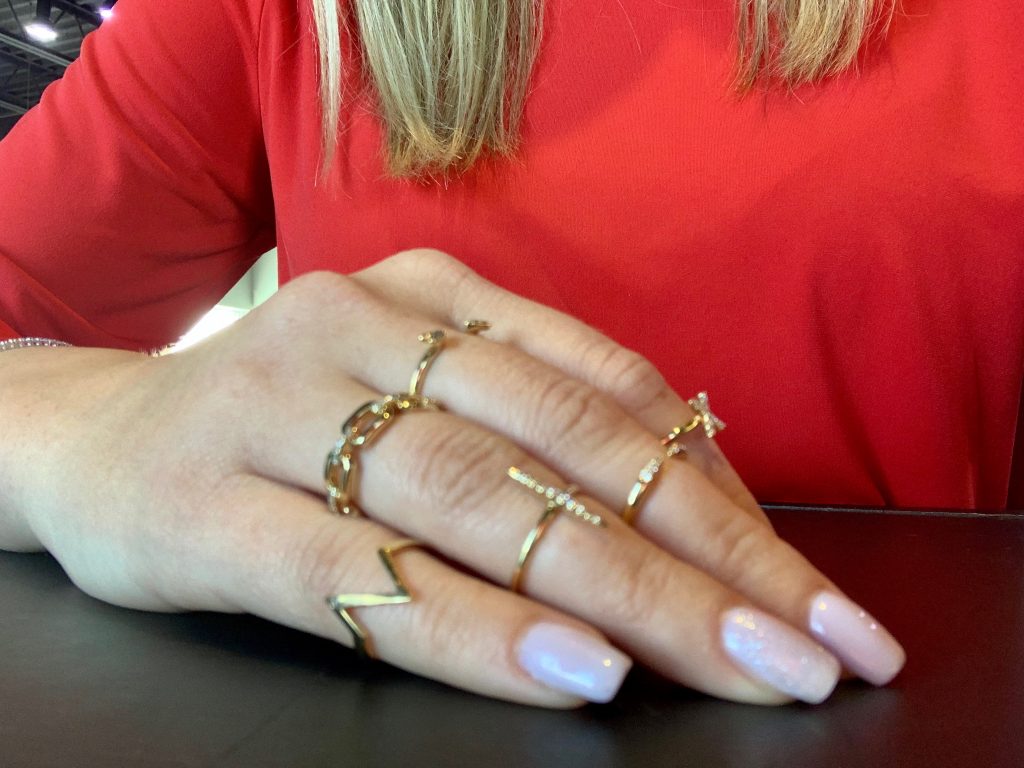 How to style a unique jewelry pairing
Your own personal style and preferences totally come through in your jewelry pairings it is the type of thing that is simply a stunning combination. This of course requires the delicate and delft touch of combining just the right set of textures, of colors and diamonds and of course designs on your jewelry and rings. The chunky and bold look is in but so is the layering and combining of all of these things with the classic and the timeless. The teeny tiny breathless necklaces and accessories that make an every day outfit a bit more glamorous and done up in its very own way. Here when we bring the bulbous and the audacious into the room it is all about how you pair these plain jane jewelry pieces to create a stunning and striking pair.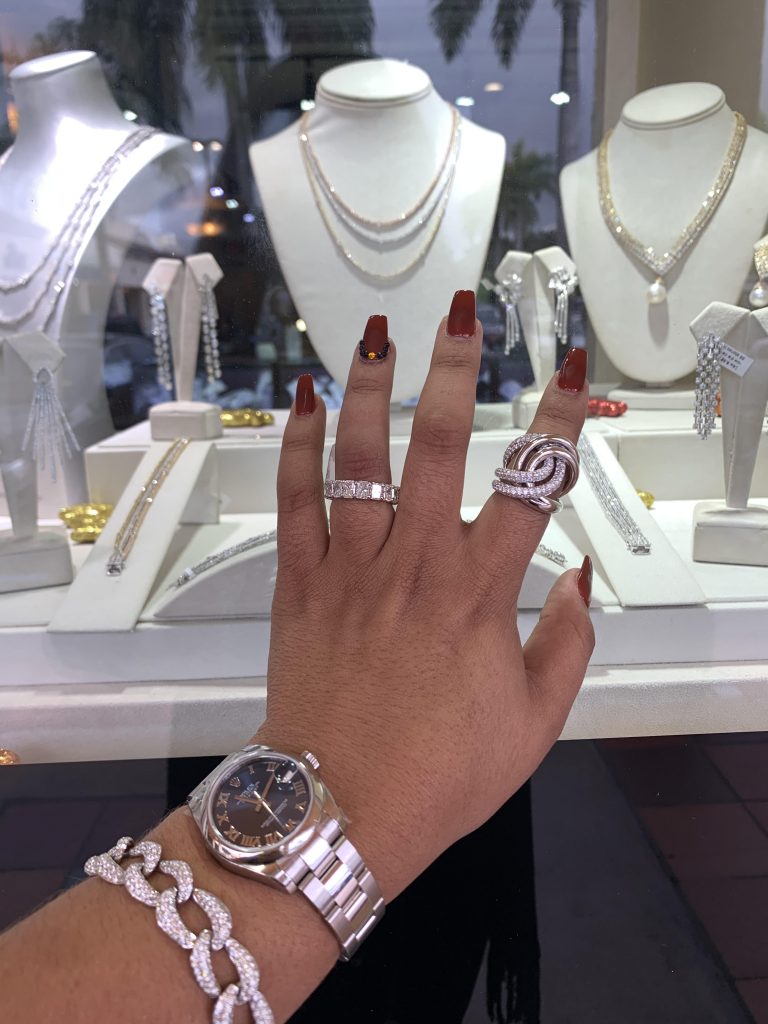 Nothing but the look that takes your breath away the one that each time you create it is different all on its own. There is nothing to hold back when it comes to a pairing like that. First of course you can take the staples and the classics. The thinner gold chain and the tennis bracelet or other diamond jewelry pieces you have. It is not like these are show stoppers on their own we know. However when you style these properly and bring together something to take over the show then you really have something. It is all about the combination. The assortment of all the classics and timeless items together with the ones that are abstract. These are the more modern and clunkier and sparklier too. It is the bringing together of all of these that makes for a unique look. 
A ring on each finger and of course an arm party to go with that. What else would anyone want? 
A jewelry store near me: Diamonds by Raymond Lee in Boca Raton
For the best jewelry your local jeweller is the place to go. Close, convenient and a part of your own community we're here to bring you the absolute best of the best. For the last three decades that is what we have been all about. Gathering the world's greatest brands of gold and diamond jewelry and creating our widely curated collection. From the bridal jewelry of your dreams to stunning one of a kind statement pieces. At Diamonds by Raymond Lee you can absolutely find it all. There is not a single dream or trend that we are not able to find for you. Whether that is a particular model of a luxury watch like Rolex, Audemars Piguet or other Swiss watch brands. Or if it is a designer jeweller that creates timeless and iconic pieces always studded with diamonds and more and more diamonds. You know there's never enough.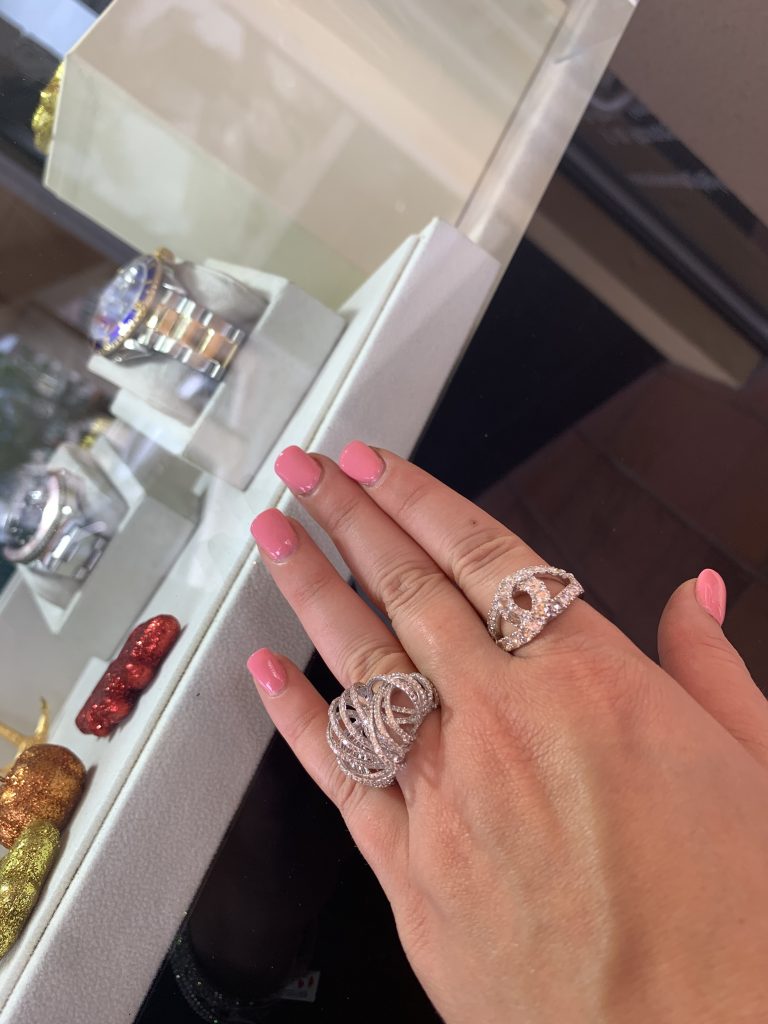 Diamonds for all of your luxury accessories that is what we are about. A family company we have been in the business of bringing the dazzling world of luxury to you. For the last three decades alongside our refined clientele we have built up an incredible collection and combination. It is our pleasure and highest priority to find you the very best in jewelry no matter what the current trend and tide. We would love to meet you in person at one of our conveniently located and expertly designed showrooms to show you some of our collection. Also, for luxury accessories and jewelry our expansive collection of designers has something for everyone. Gabriel & Co. and even Tiffany & Co. we have the perfect piece for each of us. Especially when you take a note out of this year's top jewelry trends and go for a stacked up arm or hand party!
Our two convenient locations:
To get a look at all of the best jewelry from 2019 just drop by one of our stores and we can show you around. Got any questions? Our diamond experts and jewelry craftsmen are busy in our in house workshop. They can help you answer any queries about the styles, quality and possibility of each piece. So kick back, relax and enjoy a cold glass of our best champagne while you look through this year's best of the pack. Chunky chains and rings for days for your own unique arm party stack. There is nothing better then than a pairing of the old and the new. The unique and traditional. It is yellow gold with diamond jewelry and everything that there is in between too. 
We have locations in both East and West Boca so you can choose the best place for you. Both expertly designed locations we have experts and craftsmen ready to assist you and ensure that all of your wishes in a piece of jewelry can be made true.
East Boca Location: 2801 N Federal Hwy, Boca Raton, FL 33431
Hours: Monday-Friday 11am-7pm | Saturday 10am-5pm | Sunday 12pm-5pm
Phone: (561) 623-8205
West Boca Location: 22191 Powerline Road #12b, Boca Raton, FL 33433
Hours: Monday-Friday 10am-6pm | Saturday 10am-5pm | Sunday Closed
Phone: (561) 750-7808Email: in**@di******************.com