Diamond jewelry store in South Florida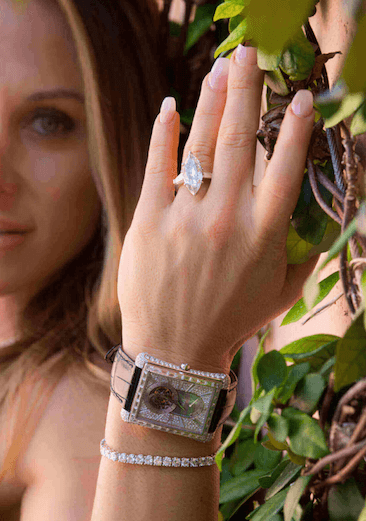 You know what they say – diamonds are forever, it is why we use these precious stones as symbols of our love. Nothing is more symbolic than a couple's love in our society now a days as well as days long gone than a diamond. It is the symbol of commitment, partnership, love and an eternal friendship. No wonder engagement rings tend to have a diamond or two! At Diamonds by Raymond Lee we take diamonds and diamond rings seriously. Our extensive collection of curated jewelry makes us the premiere diamond jewelry store in South Florida. For all the memorable occasions in life. Including the milestone of a lifetime, we are here to help you find the stone that says "I do!"
From some of the most prestigious engagement ring and wedding band brands of the world including Henri Daussi, Verragio, Gabriel & Co. and Tacori to custom made rings we really do have them all. You can select from Tiffany & Co. engagement rings to private label bridal designs or get us to help you bring to life a creation of your own. First we help you find the perfect diamond stone with our convenient and comprehensive diamond search tool. Then one of our expert jewelry designers sits with you to discover a design that works for your stone. Throughout the process you will get to see intricate examples until our craftsmen have the final product ready for you.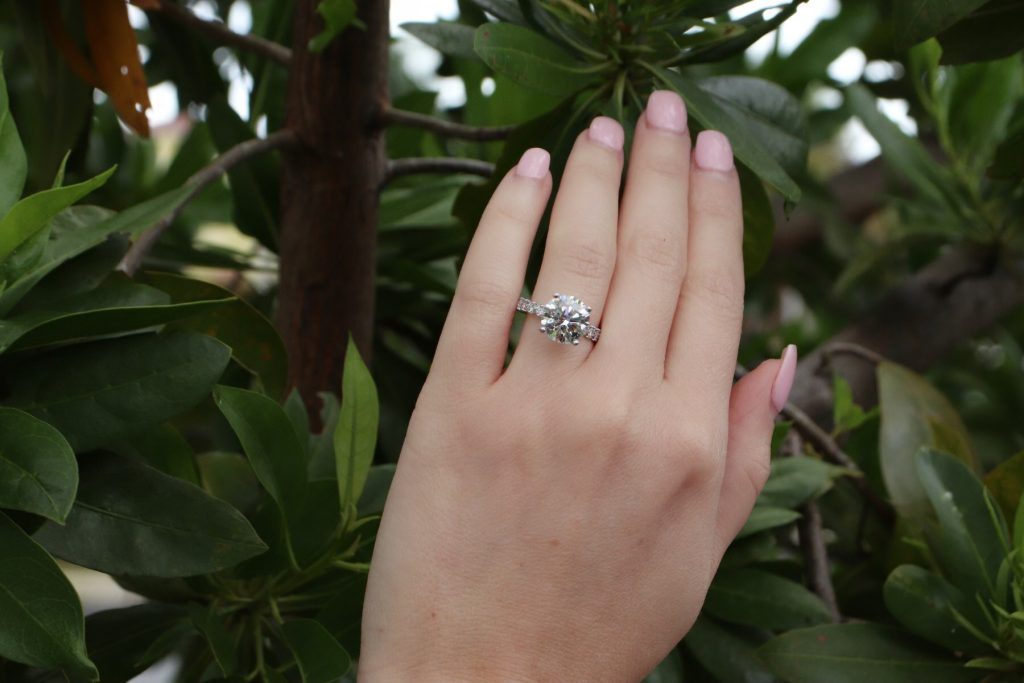 We pride ourselves in running one of the best diamond jewelry stores in the country. A premier destination in South Florida where we have been serving our clients for the last three decades. Our commitment is to superior service and excellence in quality now and always. Beyond our engagement and bridal collections we also offer beautiful diamond jewelry. Let us take a look.
Diamond rings and jewelry
Before we get into the diamond rings that kick off a lifetime let us have a look at some rings for other special occasions. Or otherwise for those occasions that call for spoiling yourself or your loved one just because. Our collection of diamond rings includes fabulous pave set diamond bands in intricate patterns and designs. As well as stunning and unique shapes for every day wear. From statement rings to diamond bracelet pairings that start an arm party like no other we have white gold, yellow gold, rose gold, platinum and silver diamond jewelry.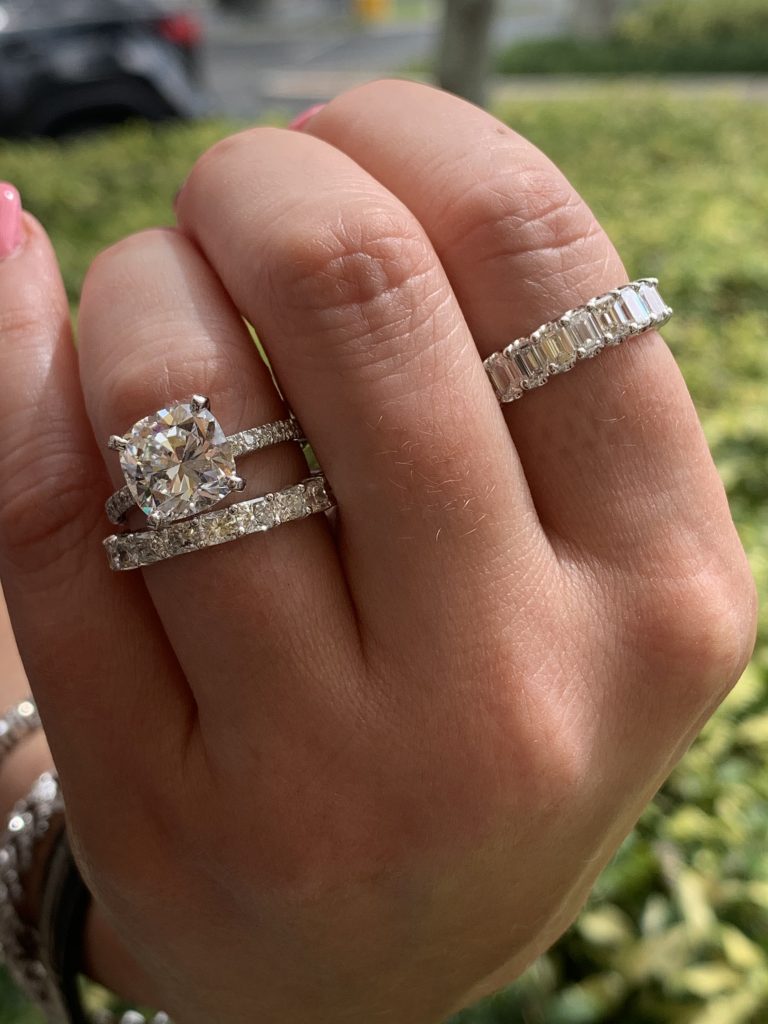 So no matter what look you prefer. Whether that is a mix and match stack or a more subtle monochromatic looking style here at Diamonds by Raymond Lee you can find it all – that we guarantee. All of our diamond jewelry is also thoroughly inspected and tested before being displayed. So you can trust that it is the finest quality jewelry around. Our master craftsmen who work at our in house jewelry workshop keep a keen eye on all of our jewelry making sure that it is the best of the best. Using our state of the art facility and cutting edge technology they ensure that all of our diamonds and jewelry pieces are not just stunning but also fit to last. They inspect each one rigorously. Quality is after our all our second highest priority – you are always our first!
Alongside our collection of luxury diamond jewelry we also have an extensive bridal diamond selection. From the best engagement ring brands in the world straight to South Florida we have every style you can imagine. For the diamond rings of a lifetime, the ones that say I love you and I do we have a huge range of diamond engagement rings too.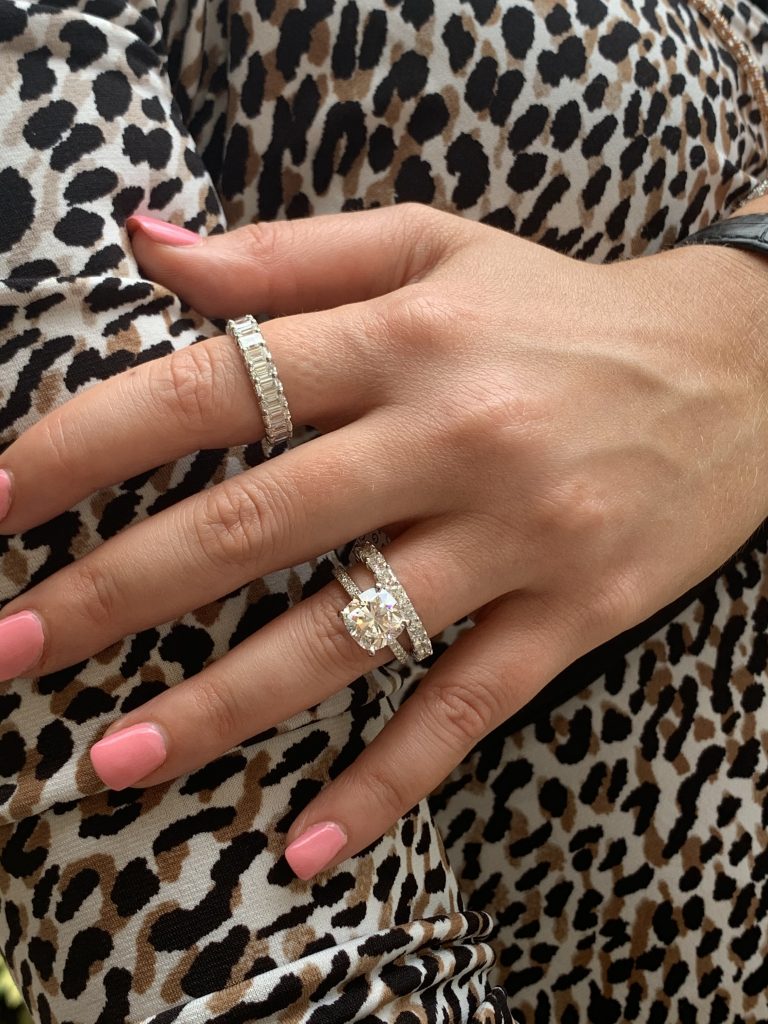 Engagement rings
There is no more exciting purchase than an engagement ring. It is a pivotal decision that really stakes out a move to concretize and level up your relationship. A romantic and infinitely important purchase an engagement ring is the culmination of all of the small moments. Those tender and caring times that bring you to that final moment culminating in sharing a lifetime together. A diamond engagement ring is a promise of forever. It is the very first step in the ceremonies that for centuries have brought together loving couples. Whether you have been together for as long as you can remember or it was love at first sight getting an engagement ring is a huge commitment. We know that the journey to get here was not easy and that is why we know how important it is that you feel supported by trusted experts as you make your choice.
When you come to one of our showrooms to begin your search for a stunning diamond engagement ring we will help you uncover the style to go for. It will depend of course on what you and your partner have in mind. Perhaps you have already discussed it together. Or you have spotted a trend in jewelry or a Pinterest board with some ideas! Either way we can help you sort through the different diamond cuts and styles. Then of course choosing a setting that goes with the style of your partner – whatever that may be! Then it is all about quality and carat we can show you through the diamond 4 C's so you can make an educated decision on which diamond stone to buy as well. Our experts can show you our wide ranging collection and help you determine the style and budget that you are looking for.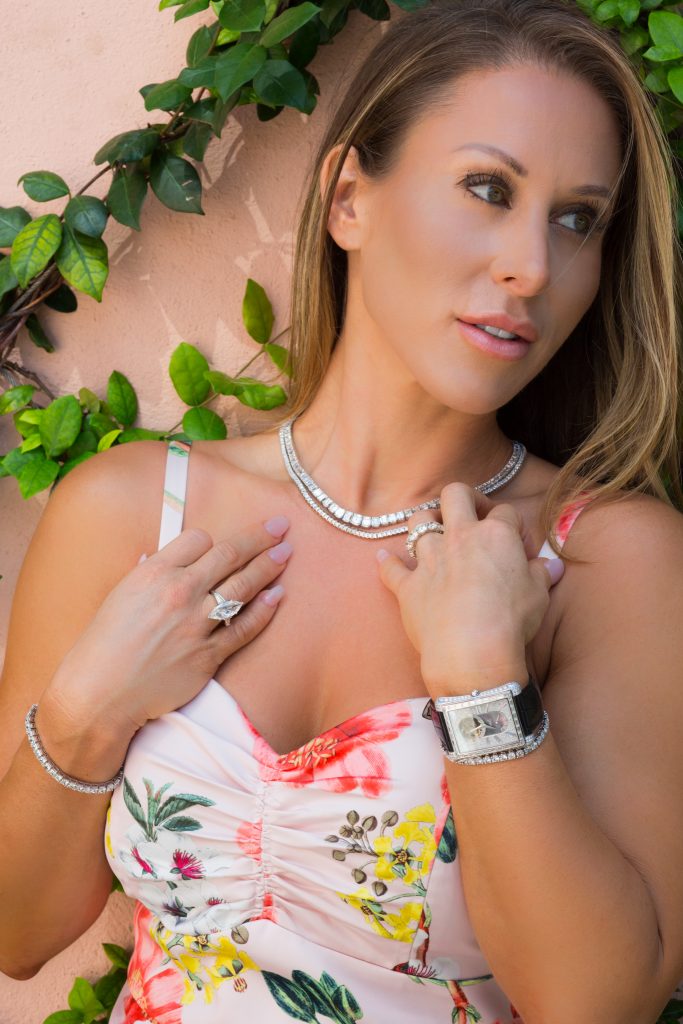 Diamond jewelry
Beyond diamond jewelry like rings and bracelets for every day and special occasions we also have gorgeous diamond necklaces and luxury watches. With a combination of these you can be dripping in diamonds in one, two, three. Unique bracelets that feature different patterns are a great way to add texture and movement to your diamond jewelry. Further it offers you an easy way to add some stunning bracelets and necklaces together. For example diamond tennis necklaces are a stunning classic. However you can turn it up and make the classic staple a bit more modern by layering them. A diamond on diamond on diamond look like no other. This is also a great way of bringing together different diamond cuts like emerald cut and round cut diamond jewelry together. As you can see in the picture above.
Below we have a close up of the hand and arm party that you can create with stunning diamond jewelry and a luxury watch. All together these gold jewelry pieces have movement, texture and contrast for a stunning diamond jewelry look. The luxury Piaget watch takes centre stage but all in all each of the pieces has their moment to shine as well.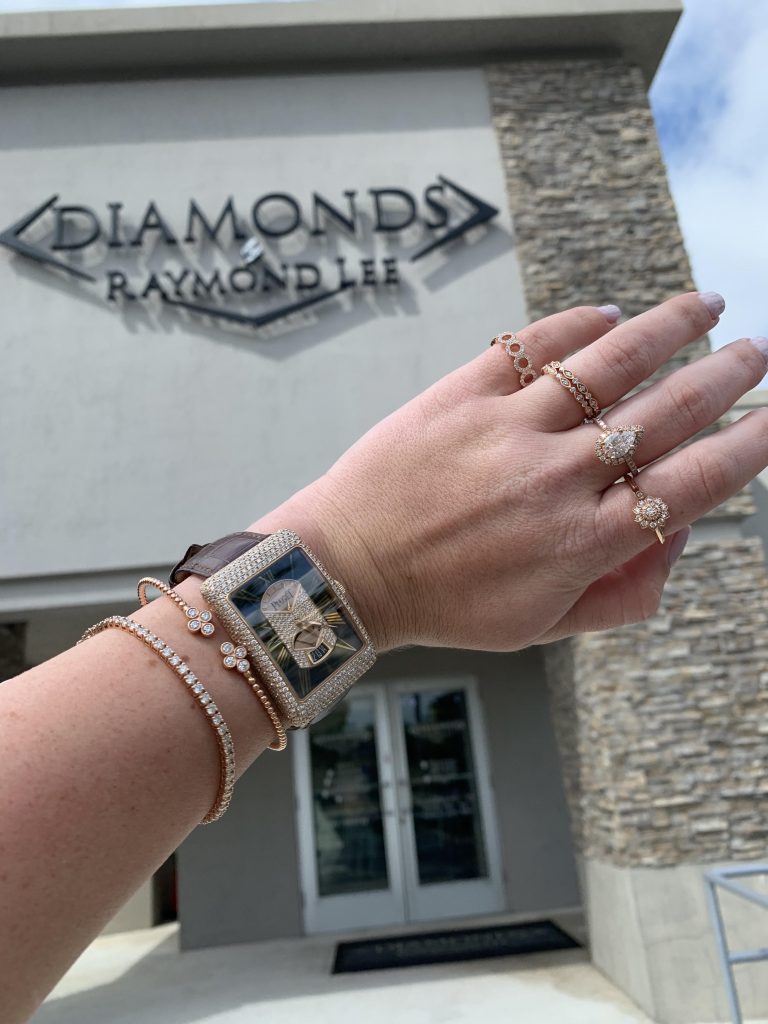 Luxury watches with diamonds
A luxury watch is one of the staple accessories for women. A centuries old functional tool used for its style the luxury watch seems to never go out of fashion. Always from the world's most renowned brands and generally a unique or limited edition version. A status symbol as well as an aesthetically pleasing objet d'art some watches are not made like others. To take it to the next level there is nothing like adding diamonds to a luxury watch. Diamond watches take the iconic accessory and elevate it to the level of fine jewelry. Sometimes people can assume that a jewelry store – especially one that has such a specialised engagement ring selection – is a jewelry store for only bridal jewelry. However, we have an extensive collection of luxury watches that take it to the next level. Incredible jewelry brands like Piaget have crafted unique time pieces unlike any other.
Luxury watches can be beautifully matched with almost any diamond jewelry. Especially when they are matched with stunning diamonds on the bezel, dial or the whole case! More diamonds is always better we say. Now when it comes to dressing a diamond jewelry pair up then there is no better choice than a diamond and rose gold Piaget like the one below.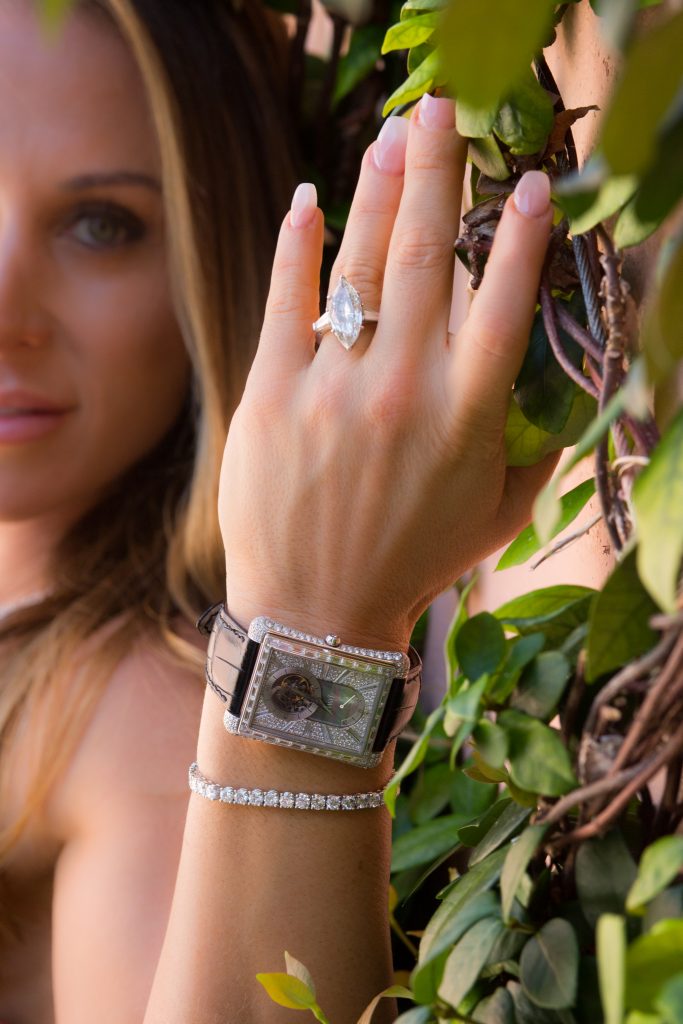 This stunning time piece is a diamond jewelry piece that is also a magnificent example of haute horlogerie. A black tie model it features a Rose gold and diamond brown roman dial. The diamonds at the centre of the dial match the incredible diamond bezel that sparkles from every angle on this watch. It is a unique and colorful time piece that can be worn with almost any outfit. It is easy to pair with luxury hand bags as well as with diamond jewelry. For a store that has it all you know you can come to us. Where diamond luxury watches from the world's best brands sit alongside precious gems, diamond jewelry and some stunning and unique pieces you are sure are hard to find.
Diamonds by Raymond Lee – premier diamond jewelry store in South Florida
We pride ourselves in our over thirty years of service to our South Florida community. A family run business it is with pleasure that we bring the finest diamond jewelry from the world to Boca. Our refined clientele are our extended family and together with our diamond experts and craftsmen we redefine what luxury jewelry means. Our ultimate goal is always to ensure you have a magnificent experience with us. Both with our staff as well as with our products! Anything that you need or prefer you can feel free to speak to one of us about it. We will be more than happy to help. After all it is not by accident that any of us are working here. It comes from a place of passion. A deep love for bringing people together as well as bringing together the finest jewelry too. It is what we love to do.
It will come as no surprise that we are excited to continue providing superior service and ultimate quality diamond jewelry for the next three decades to come too. Always growing and bringing you better and better options is our goal. Come and join us and the local South Florida community for some exciting events each month! We host some of the finest luxury and sports cars around as well as their owners of course each month during our Diamonds and Donuts car show. Beyond that we also have fun events featuring food trucks, music and some locals who really know how to have fun. Nothing is better than diamond jewelry than friends and family. So why not join us at our next event? We are proud to serve South Florida and all of our clientele bringing them the best of the best and we would love for you to join!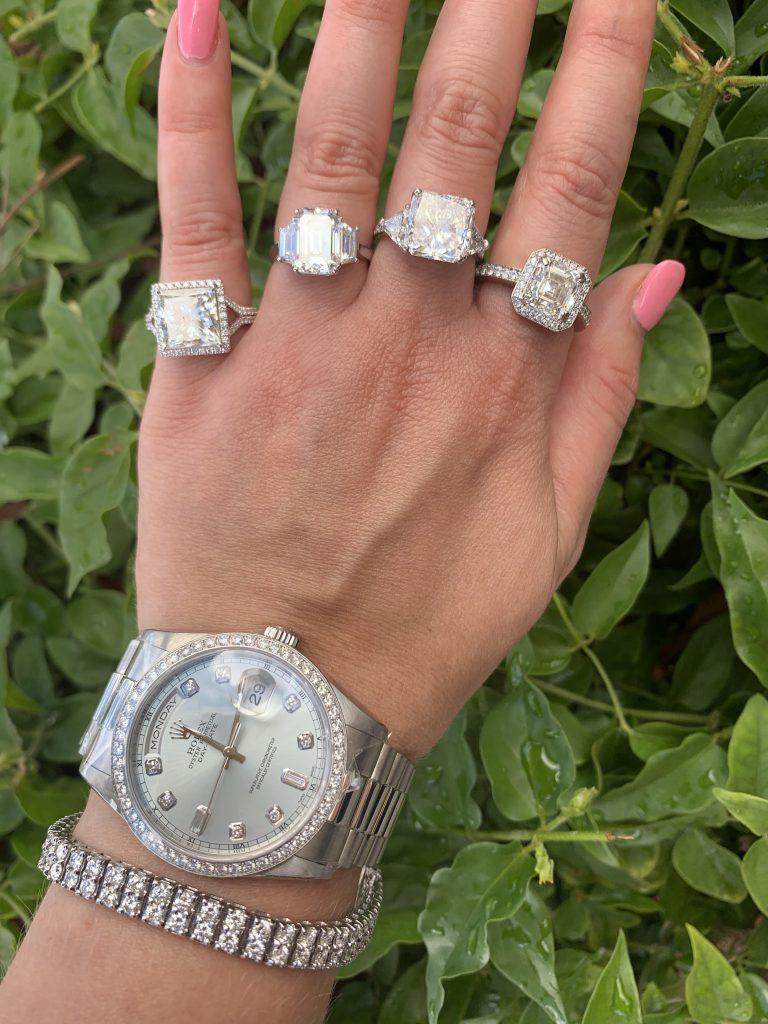 Our locations:
For convenience and ease we have expanded in a big way. With two conveniently located and expertly designed showrooms it is now easier than ever to join us. At both ends of Boca Raton we are ready to bring you the best of the best. Whether for one of our exciting monthly events or to view our extensive collection of diamond jewelry. While you are with us we invite you to relax and enjoy a cold craft beer or champagne with us and enjoy some of the finer things in life. Our diamond and jewelry experts are here to assist you every step of the way from your first looks at diamonds to growing your diamond jewelry collection. Come check us out and you will quickly see why we are the premier destination for diamond jewelry in South Florida.
Visit us!

East Boca Location: 2801 N Federal Hwy, Boca Raton, FL 33431
Hours: Monday-Friday 11am-7pm | Saturday 10am-5pm | Sunday 12pm-5pm
Phone: (561) 623-8205
West Boca Location: 22191 Powerline Road #12b, Boca Raton, FL 33433
Hours: Monday-Friday 10am-6pm | Saturday 10am-5pm | Sunday Closed
Phone: (561) 750-7808
Email: in**@di******************.com