Engagement ring – what you need to know before buying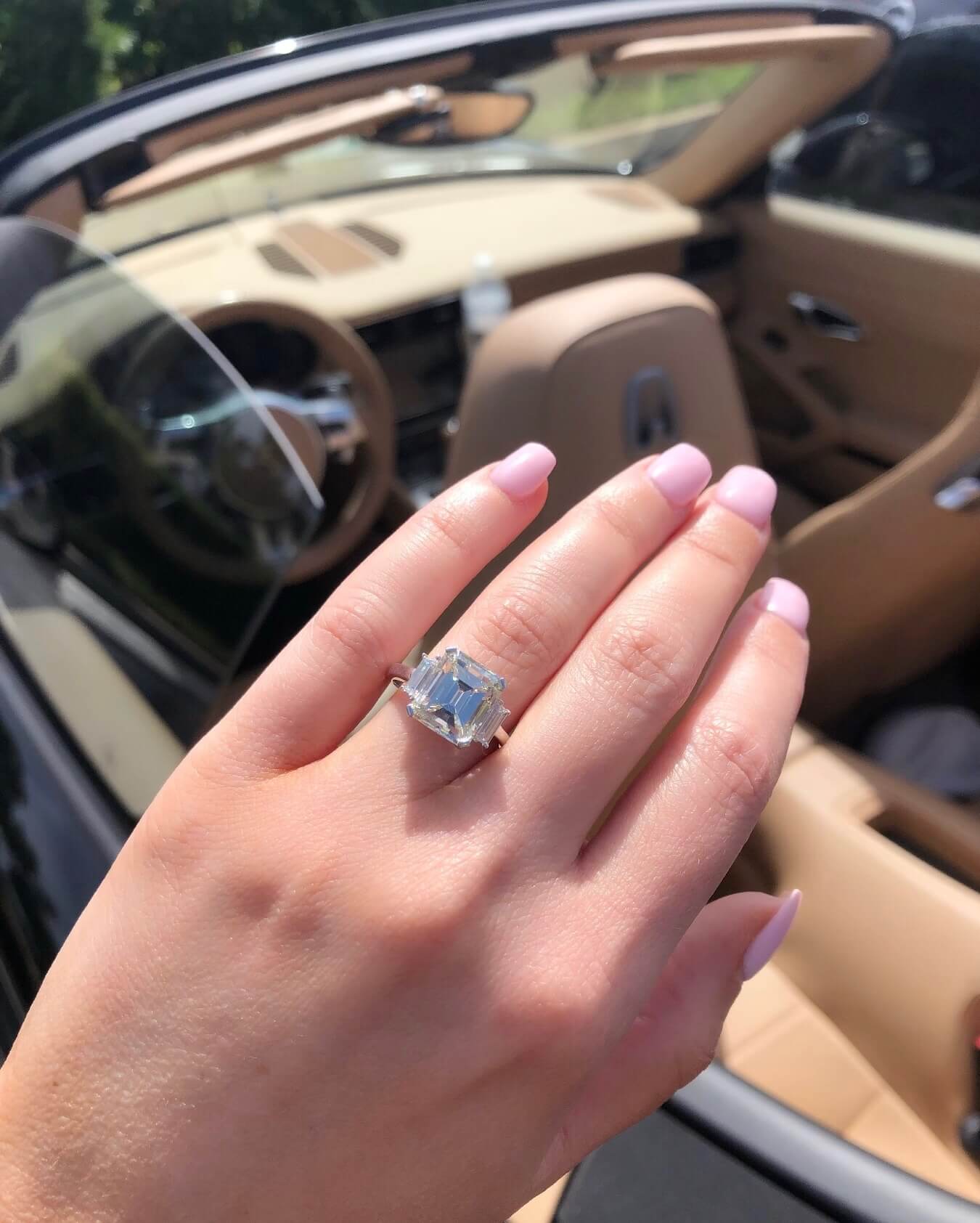 There are some things that you just need to know before you buy an engagement ring. The main ones that we hear people ask are 'how much does an engagement ring cost?' or 'where to buy engagement ring near me?' If these questions sound familiar then do not worry, our diamond experts at Diamonds by Raymond Lee are here to help. After all when it comes to buying arguably your most personal and important piece of jewelry in life it helps to have a hand. So before planning your engagement party let us take a look at what you need to do before choosing a Tacori engagement ring or bespoke custom made design.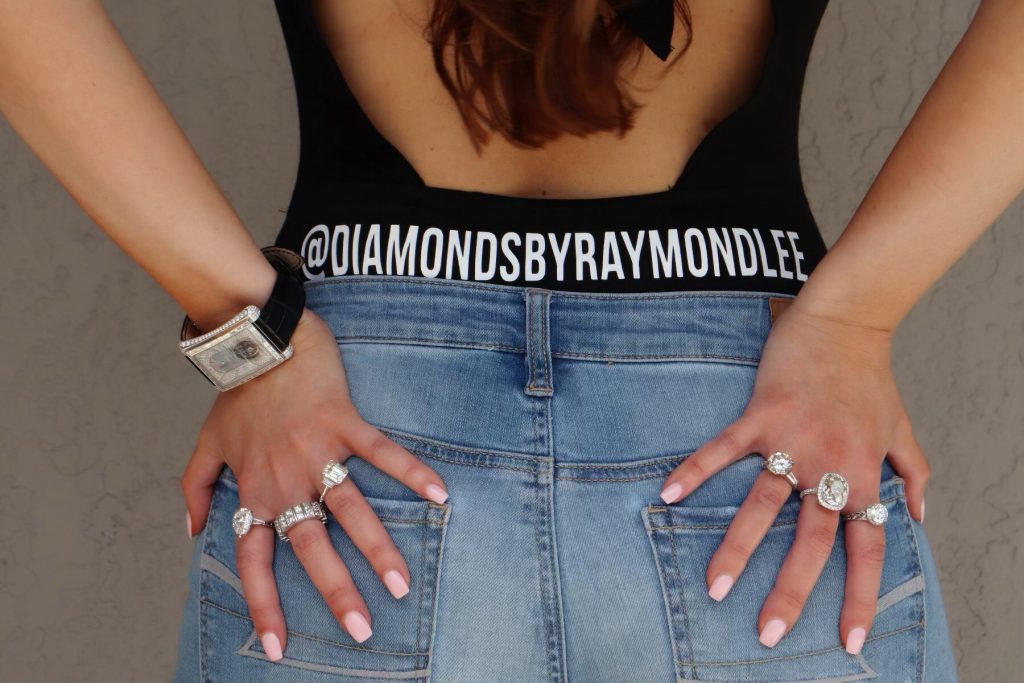 First to figure out on your journey to purchasing an engagement ring is your cost. If you have a budget in mind for how much you will be spending then it is worth telling the diamond expert you are working with. They can then show you a selection of rings in that range and walk you through the options of fine metal and carat weight combinations. Below we also get into figuring out how much to spend on engagement ring if you do not quite yet have a budget in mind. Then, we will get right into the engagement rings themselves. First with some of the most popular different diamond cuts. Then some popular engagement ring settings and designers. 
Buying an engagement ring is a milestone in life. It is perhaps one of the most important purchases any of us make during our lifetimes. So take your time and know that there is an entire team of experts and people here at Diamonds by Raymond Lee ready to welcome you. We have the honor of walking this journey of bringing two lives together with couples every day.
Figuring out how much your engagement ring cost will be
Many of us have heard of the three month's salary 'rule'. Now we would just like to say that there is a lot more thought that goes into how much to spend on engagement ring than simple math. The first thing to consider is what is your own personal expectation. As well as that of your partner. Do you know what kind of engagement ring they are expecting? Have there been hints at a shape or a size?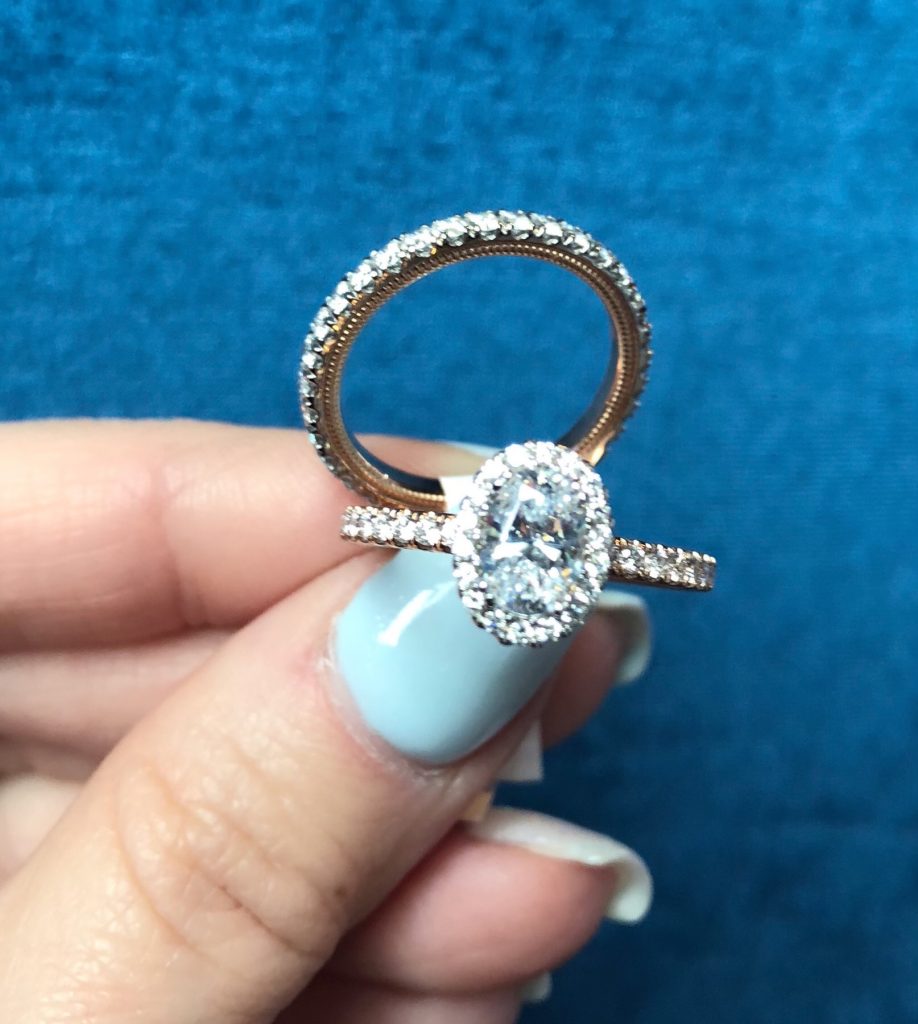 Some people prefer to keep the engagement a surprise while other talk it through with their partner. Even bringing them in to jewellery store to check out some of the options. This is really what we recommend. There is nothing quite like trying a ring on for yourself to help figure out what you like. Also there is still the surprise of the engagement party. So do not worry if you feel cutting the surprise also cuts the celebration. You can still celebrate later on. 
Another advantage of bringing your soon to be spouse along is that finances are a very intimate part of our lives. Perhaps you would rather they not know or think about cost when it comes to selecting an engagement ring. However, it is a good idea to think about your financial situation before setting your heart on that forever stone. Which brings us to yet another contradiction – sorry. But when it comes to an engagement ring it is really the first step to forever. So it is all about finding a balance between what you are financially able to buy and your dream diamond ring.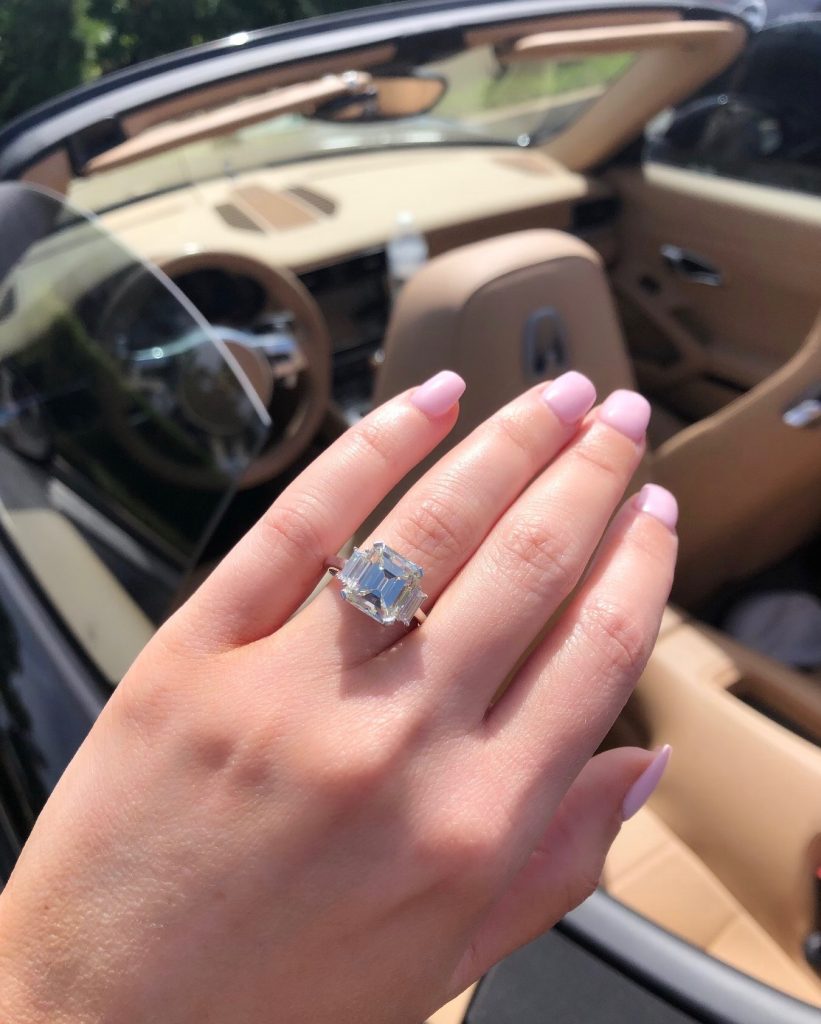 Our diamond experts can help you get the most bang for your buck. They are here to help get you the very best quality and deal closest to your diamond desires. 
Different diamond cut shapes and carat weight
A big aspect that plays a part in the price of the engagement ring is the diamond cut. There are several different diamond cuts and they dictate certain levels of quality. For example if you choose to go with an Emerald cut diamond the clarity is very important. This means that the overall quality and grading of the diamond should be particularly high. In order for an optimal engagement ring. Then there are unique cuts like Asscher and princess cut diamonds. These also require certain gradings of engagement rings.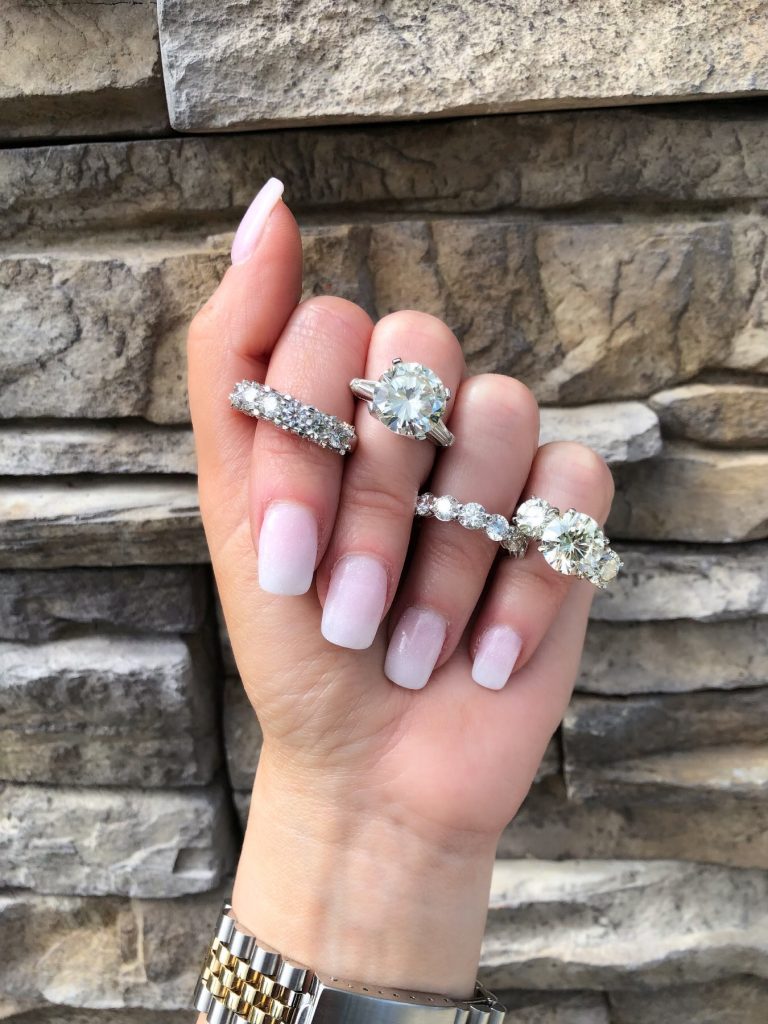 Further to consider are the attributes of each of the different diamond cuts. For example the most popular of the diamond cuts – round cut diamonds – allow for some blemishes in the stone. That is because the light striking all of the inner cuts reflect and can hide a small imperfection or two. So if you are looking to get round cut engagement rings then you can compromise a bit on the quality to get a better price for the size. Similarly there are the oval and cushion cut diamond cuts as well. These have their own unique set of attributes as well. Our diamond experts at our showrooms can walk you through the different types and all of their special features. 
Different diamond cut options for engagement rings: 
Pear cut
Asscher cut
Princess cut
Round cut
Oval cut
Cushion cut
Heart shaped cut
Emerald cut
If you want to learn more about diamond cuts and the 4 C's that measure a diamond's true value and the different parts of a ring check out our learning section.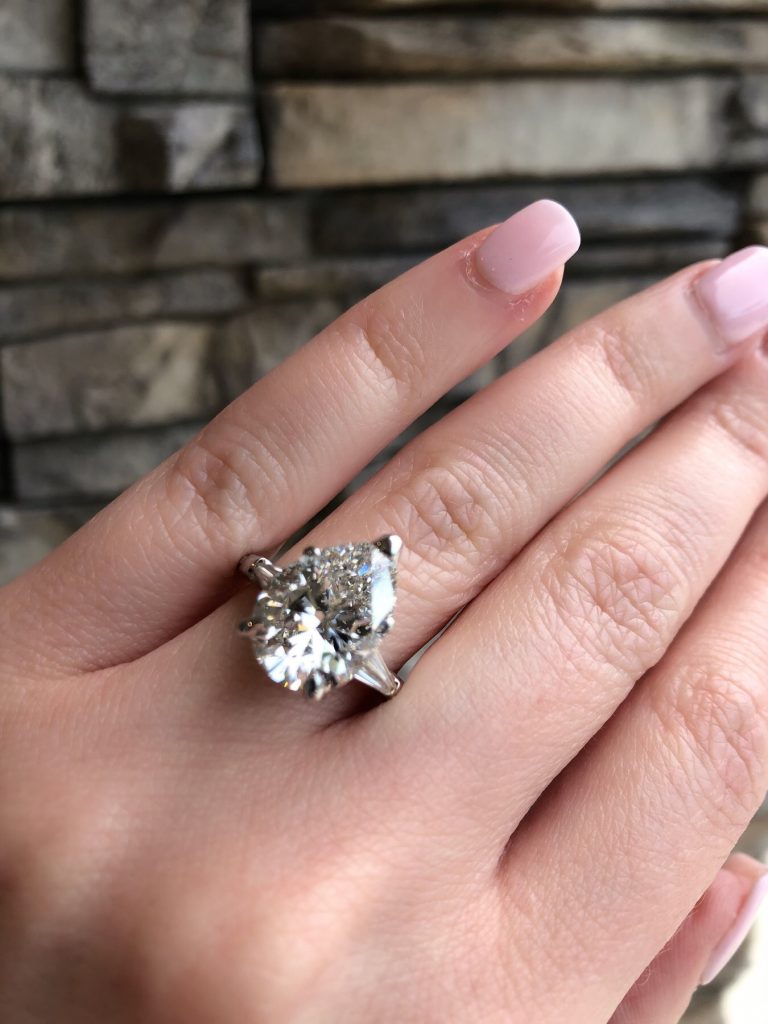 Here is one of the stunning pear shape diamond engagement rings that we have in our collection. It is a huge 3.10 carat GIA certified diamond ring. Flanked by two smaller trillion cut diamonds on either side this pear cut diamond is a unique glimmering piece.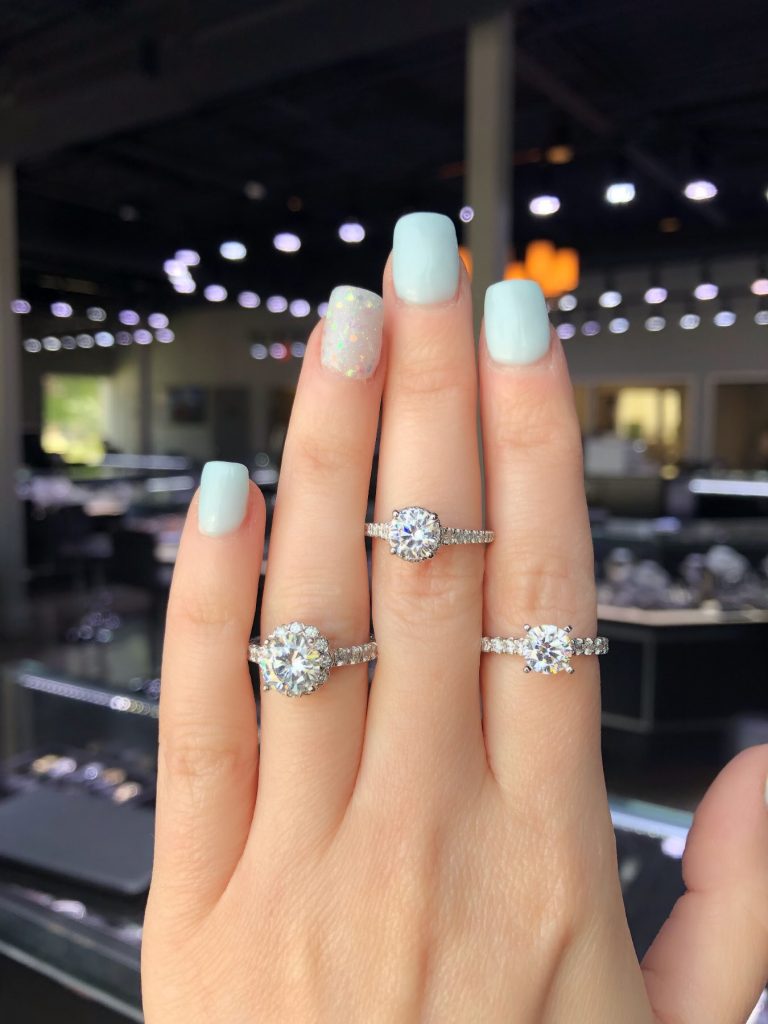 Then we have another GIA Certified diamond engagement ring featuring the classic and forever timeless round cut style. Another large diamond this is a 2.08 carat ring with a 14 carat white gold setting.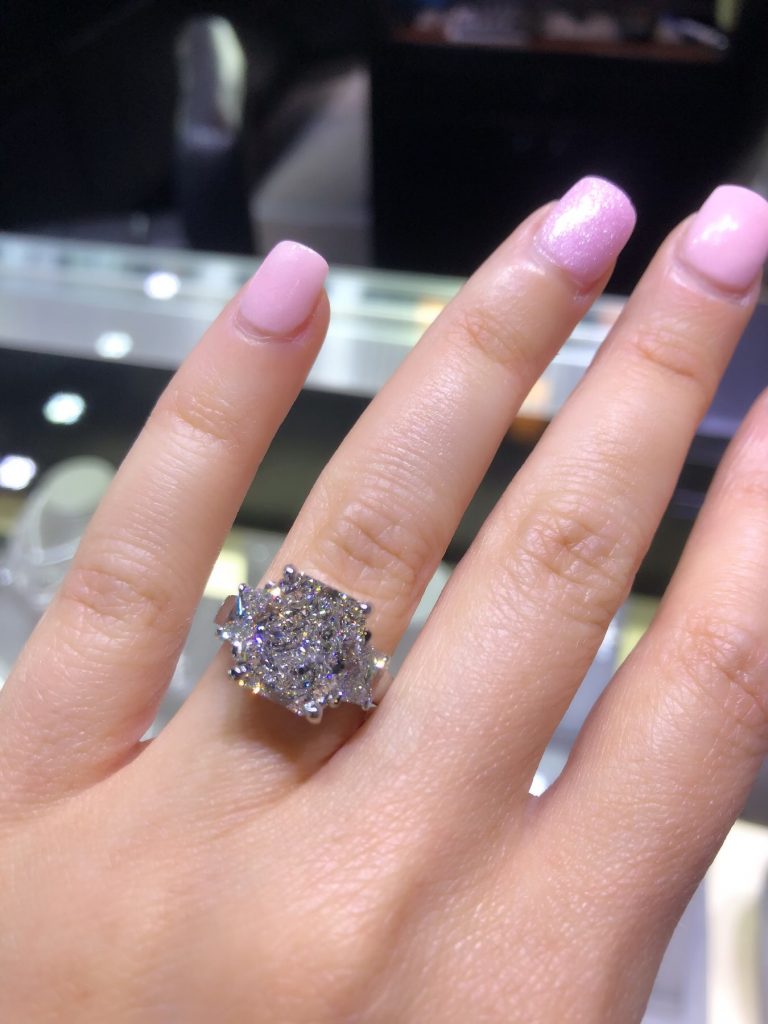 Finally a fine platinum ring with a stunning 5.02 carat emerald cut diamond. This massive emerald cut ring really shows the diamond cut's hall of mirrors look with incredible clarity and repeating geometric design. Set in one of the world's strongest fine metals ever it is undoubtedly a one of a kind engagement ring.
Settings and engagement ring design styles
One of the things to consider for your engagement ring is also the setting and design style. This is an important step because different settings change up the style of the engagement ring in the end. While the cut of the diamond plays a huge role in the price of the ring so does the setting. There are settings studded in accent diamonds which can drive the price up. As well as some that are intricately designed and finely detailed that add to the artistic visual of the ring, like Verragio collections. 
When it comes to choosing the setting for your diamond cut an expert at our showrooms can help. They can show you unique settings and styles that can accentuate a central diamond stone and give it a larger look. Like one of our diamond halo engagement rings. Or they can guide you in finding a combination setting that incorporates your family stones like a three stone ring.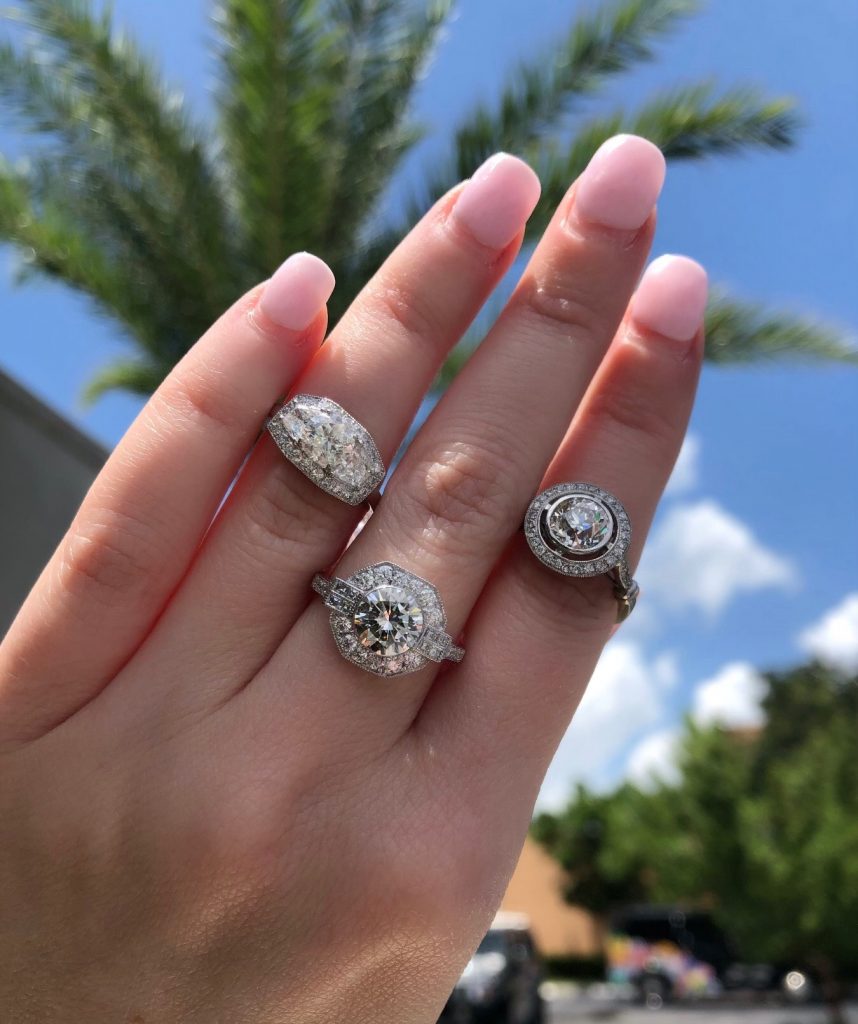 It is all about finding the perfect fit. With your diamond cut and diamond setting. Your desires and expectations for a ring with the price. Your ring with your partner's finger. 
Some unique diamond settings:
Three stone rings
Solitaire diamond rings
Halo feature rings

Floating halo
Double or even triple halo rings
Flush halo
These features can get really creative as well. You can have double halos with alternating metals. Or even different colorful gemstones too. To add a touch of color you can add pink or black diamonds to the mix.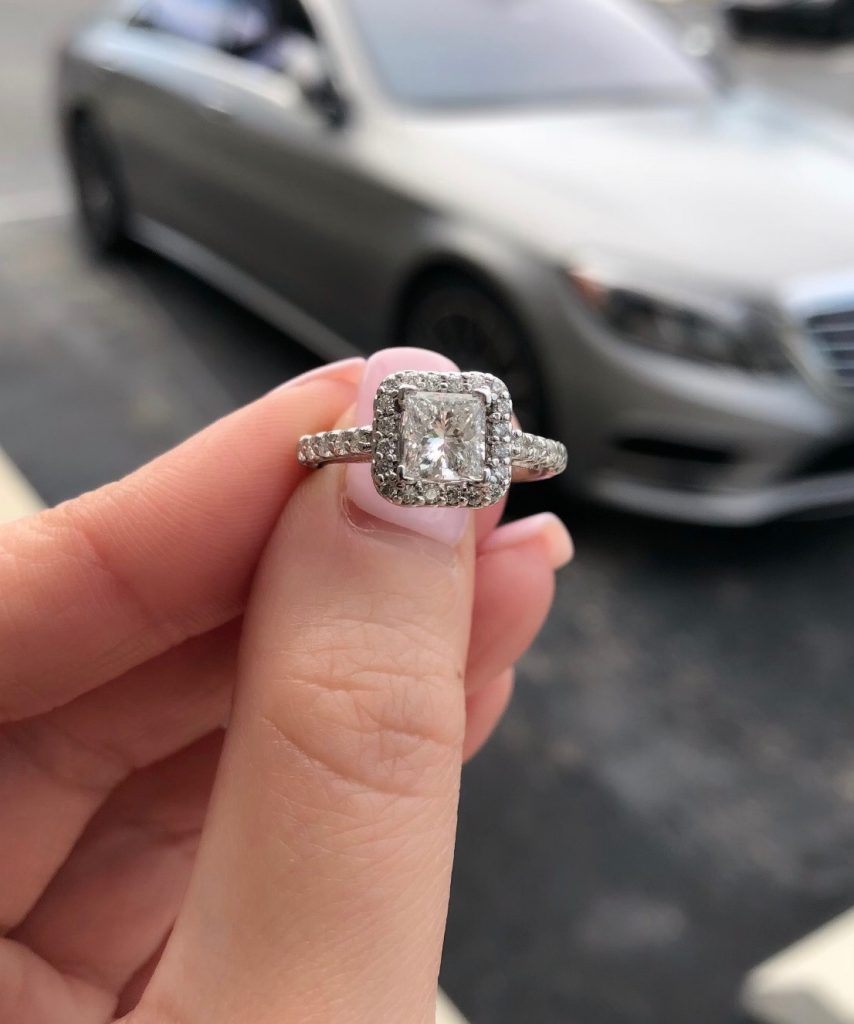 Here is just one example of a halo style ring. The Gabriel & Co. white gold diamond engagement ring features a flush diamond halo and accent diamond band.
Then of course there are diamond bands for engagement rings. While these are generally tend to be known as wedding bands there are no real rules. The number one rule is finding something that works for you or your partner if you are shopping for them. 
Perhaps they would prefer unique diamond bands to the more standard and classic diamond stone engagement ring. We also have a wide range of unique bands in our collection. These feature different patterns and designs. As well as different stones. If you are looking for rubies, sapphires and emeralds then check out some of the bands on our site.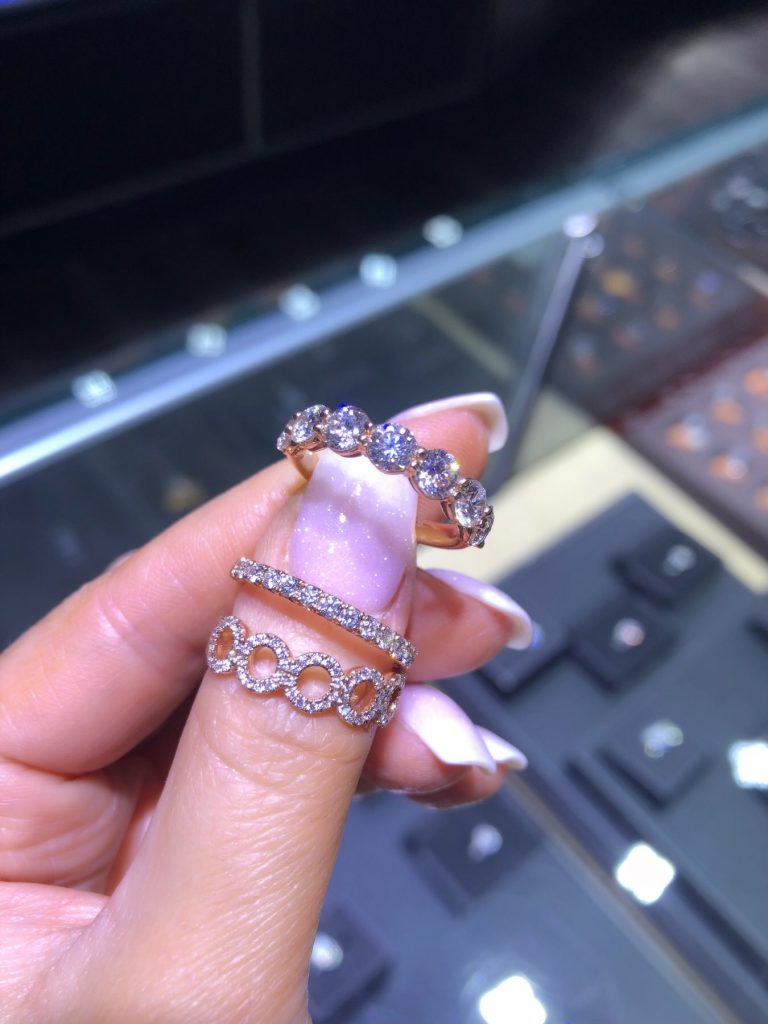 If you do want a unique band for an engagement ring but also still want diamonds the sky is the limit. Our range of different and stackable diamond bands are incredible. Perhaps you may even choose to have both. A traditional central diamond stone engagement ring and a diamond band. These offer lots of different options and can be given as a gift at the engagement party. 
Luxury designer bridal jewellers comparison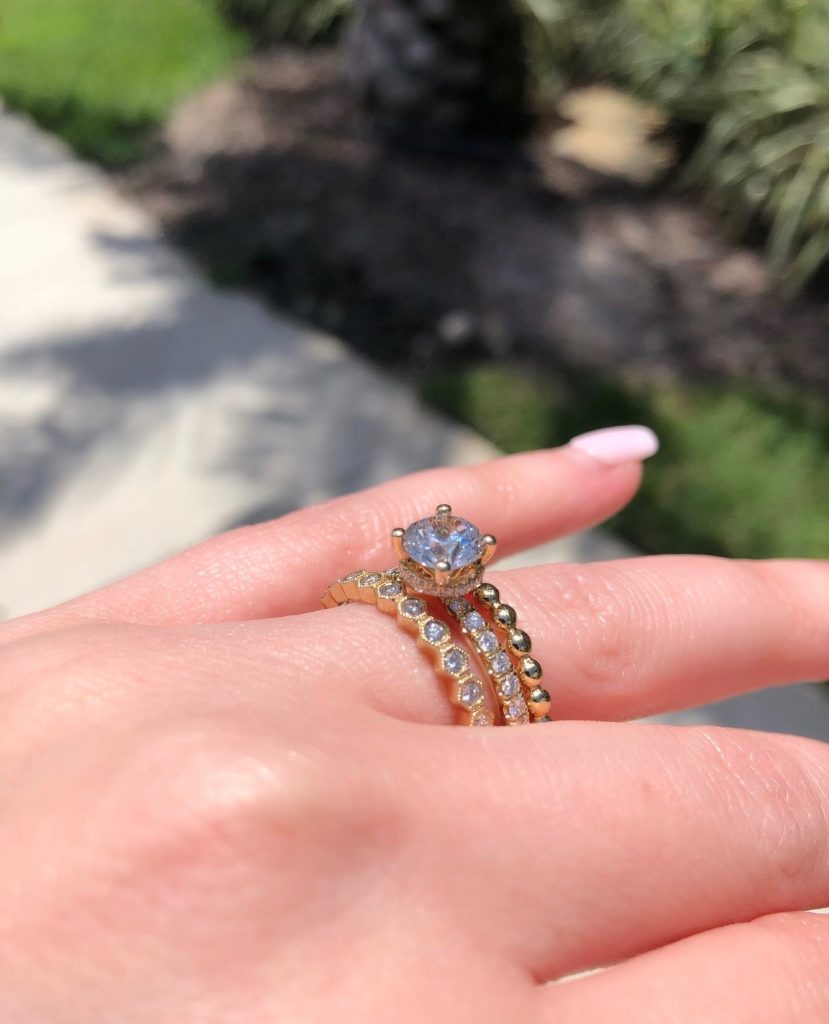 When it comes to bridal jewellery designers you would be hard pressed to find finer than these: 
Tacori engagement ring
Gabriel & Co. engagement ring
Henri Daussi engagement ring
Verragio engagement ring
Known the world over for their commitment to quality and a tradition of care these are some of the best designers in the industry. From your classic and timeless designs to truly modern marvels these designers offer it all. There is an engagement ring for everyone. If you are wondering what the price of engagement ring like this is do not worry they have a wide range of price selections too. Depending on the diamond cut, carat weight and intricacy of the setting.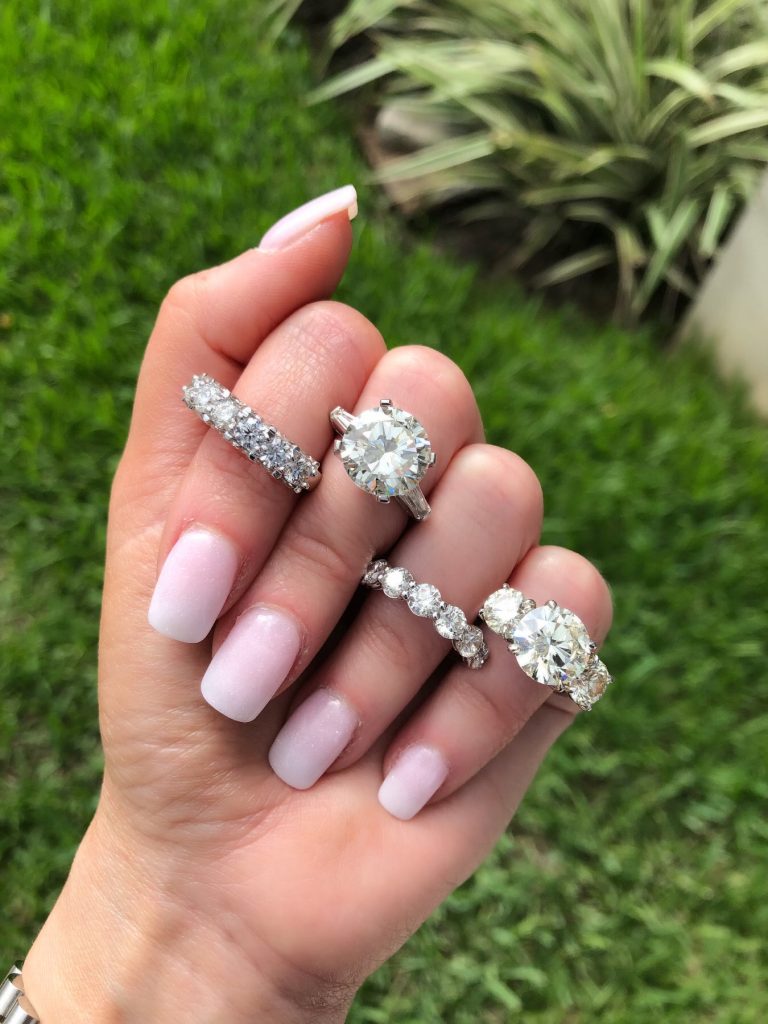 We have so many stunning world class engagement ring designer jewellers in our curated collection that you are sure to find the perfect piece for your loved one. Whether your partner is a bride to be that is sure to love a stunning classic, timeless romantic design or a cutting edge boundary pushing modern style we have them all. When it comes to what engagement ring to buy it is best to consult with the owner to be. 
Now in this article we have focused on a lot of different unique engagement rings. If you are looking for an engagement ring for men or for him we also have a huge variety of masculine rings. These feature singular inlays, diamonds and other gemstones as well as intricate designs. There is of course also the option of an engagement ring without diamond or without stone. It is up to your own personal preferences.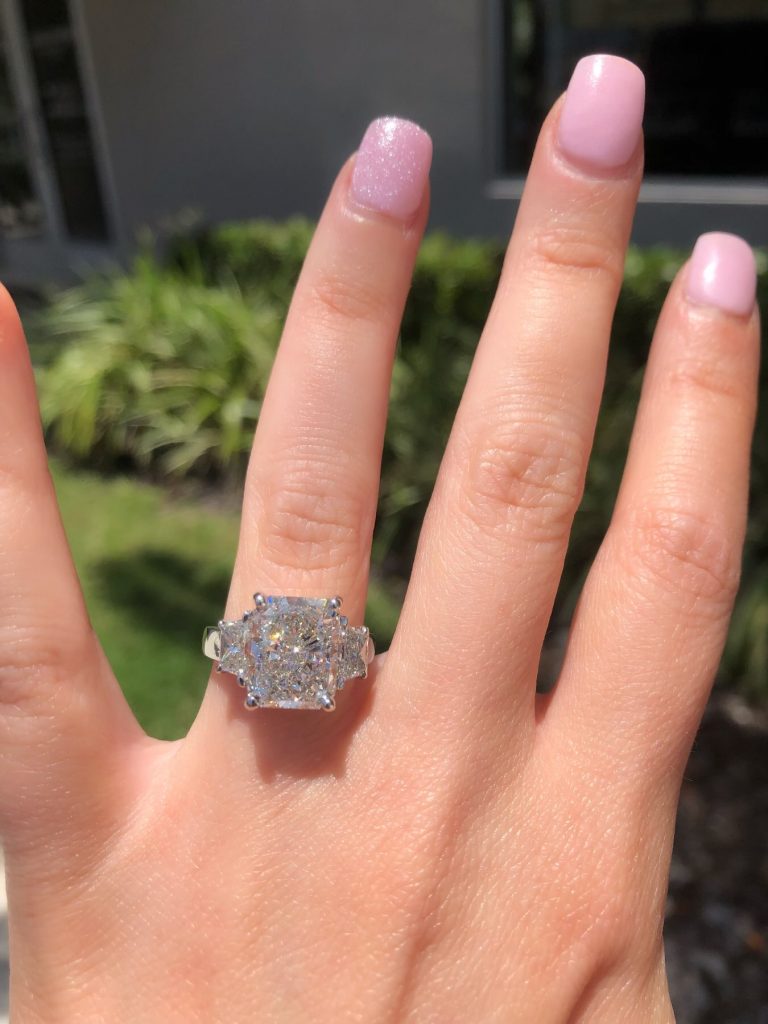 Where to buy engagement ring near me? Diamonds by Raymond Lee – the premiere destination for engagement rings and bridal jewelry
Now to answer the final question of where to buy engagement ring near me we say Diamonds by Raymond Lee. We are a full service showroom in two locations in Boca Raton. With our extensive collection of diamond engagement ring, bridal jewelry and fine watches there is no competition. We are the best place for those searching for engagement rings near me. We have a ring for you no matter what your answer is to the price of engagement ring. Whether that is for large carat rings or unique bespoke designs.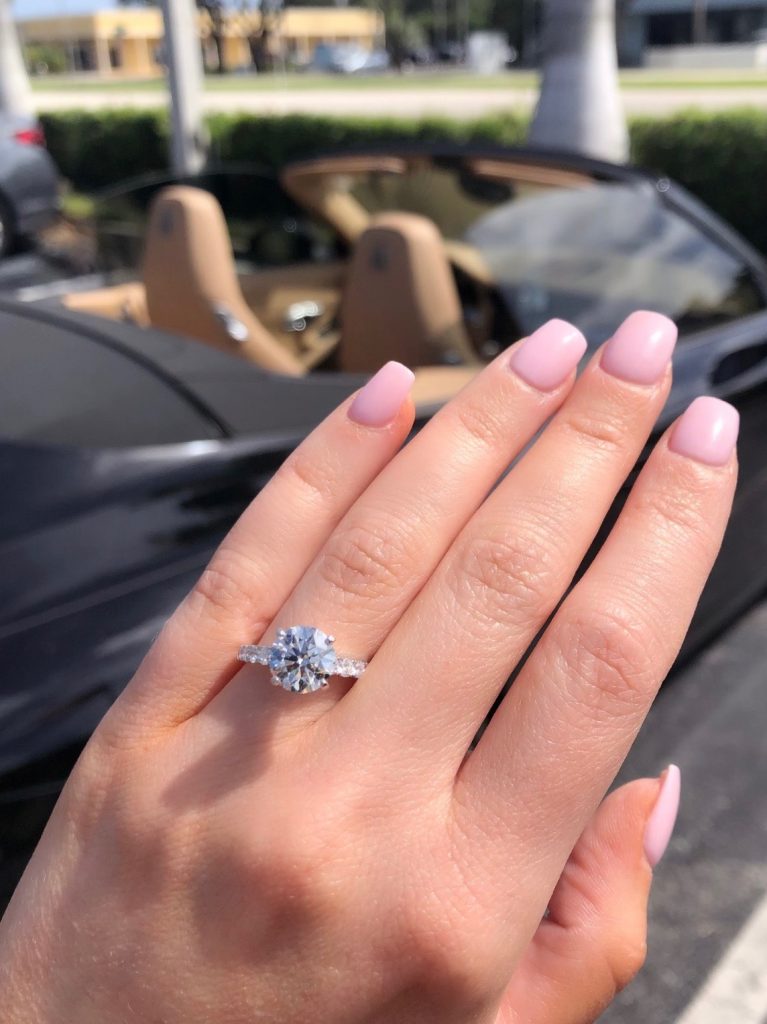 At our showrooms we have a fully kitted out workshop as well. Sometimes there are situations when a jewelry craftsman is necessary like when engagement ring is too big or too loose. You may need to have it resized or slightly modified. Maybe even you are keen to design and create your very own diamond engagement ring. For all of these situations Diamonds by Raymond Lee is the place, we can guarantee. So don't worry quite yet how much does an engagement ring cost we can find you the perfect ring that fits the price of engagement ring you are looking for.
East Boca Location: 2801 N Federal Hwy, Boca Raton, FL 33431
Hours: Monday-Friday 11am-7pm | Saturday 10am-5pm | Sunday 12pm-5pm
Phone: (561) 623-8205
West Boca Location: 22191 Powerline Road #12b, Boca Raton, FL 33433
Hours: Monday-Friday 10am-6pm | Saturday 10am-5pm | Sunday Closed
Phone: (561) 750-7808 Email: in**@di******************.com