5 of the Best Swiss Sports Watches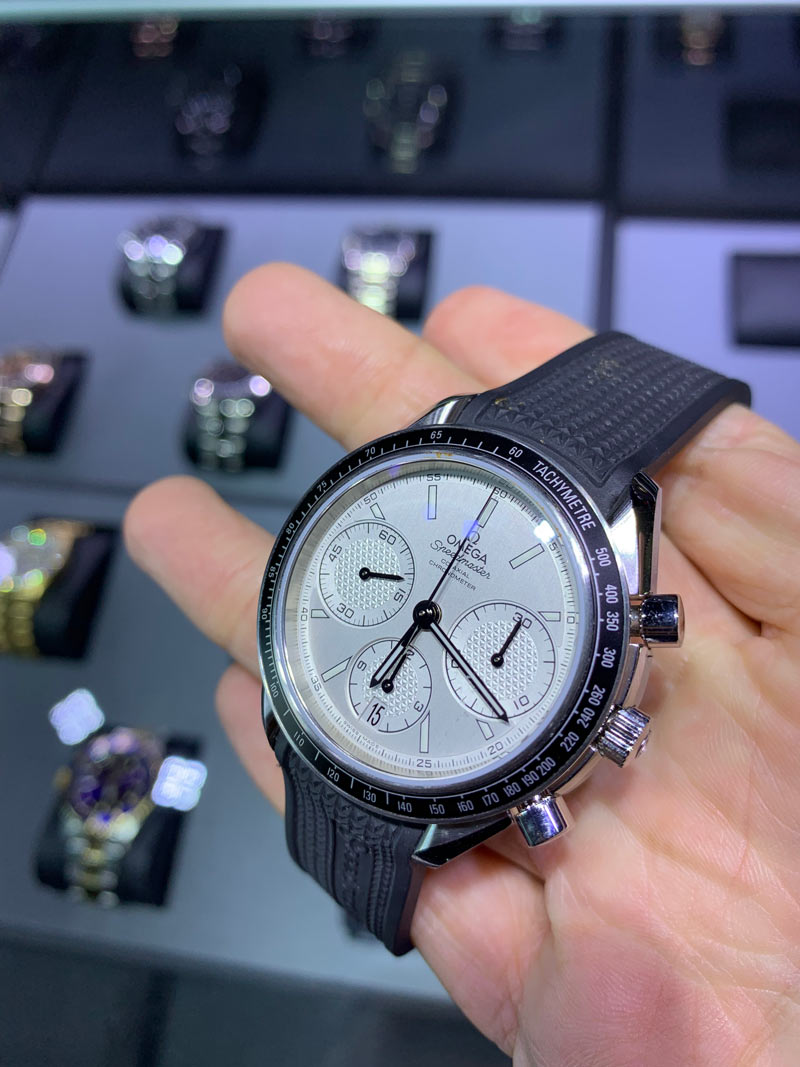 From Omega and Rolex to Patek Philippe and Richard Mille, here are 5 of the best sports watches from the top Swiss watch brands.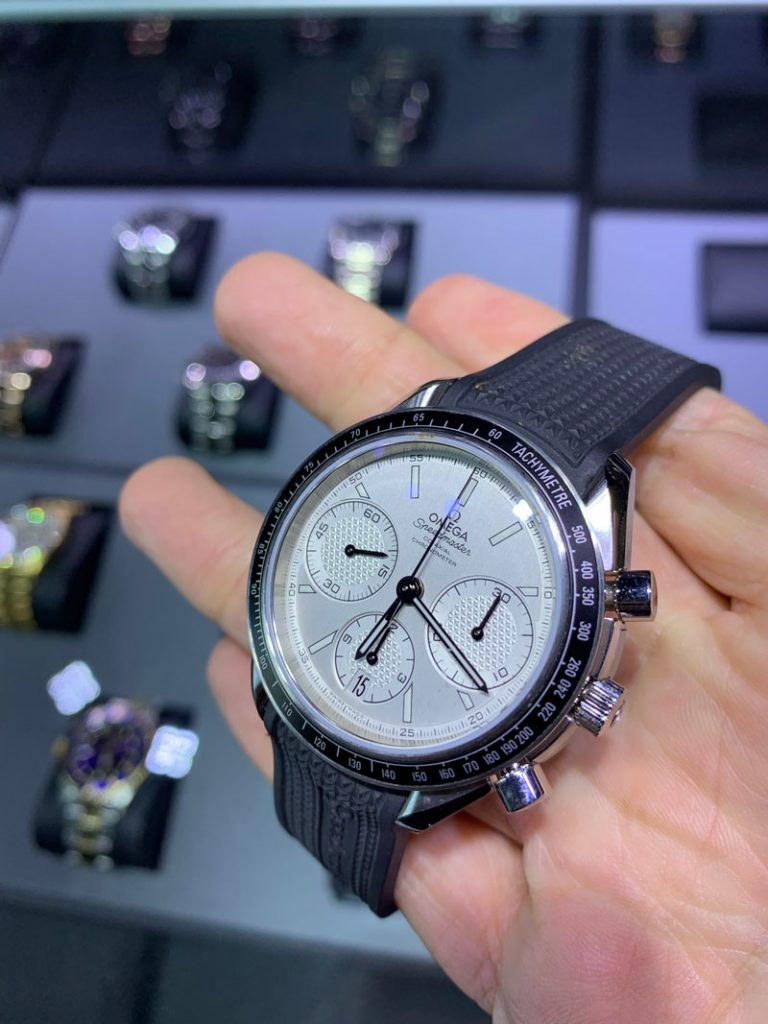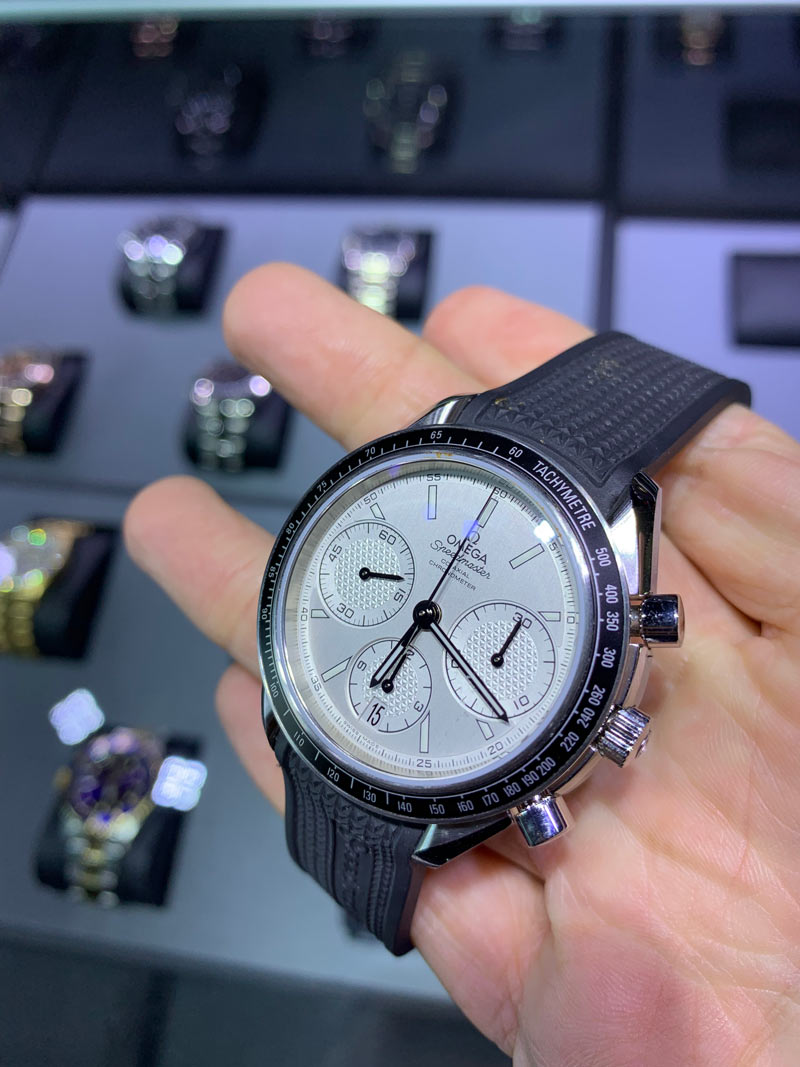 There's no better way to bless your wrist than with a luxury timepiece from the best and most iconic Swiss watch brands. Brands that are known for excellence, precision, superlative quality, and luxury. Brands that have certain sports watch models that are just as iconic as the companies themselves.
Why did we only choose Swiss sports watches?
Although Switzerland has a strong contender in Japan, Swiss watches have been at the pinnacle of the industry for hundreds of years, without fail. This is why the best and biggest watch show, Baselworld, is held in Switzerland each year. It is a place where the top watchmakers come to boast their newest timepiece creations.
So, with that, today we are only presenting the best Swiss sports watches, but this is not to say there aren't many other worthy watches and brands from other countries. Moreover, these are only 5 of the best Swiss sports watches. So, many incredible watch references will be left out.
How did we choose these 5 specific watches?
Of course, if we made an exhaustive list of the best Swiss sports watches, we'd be here for days discussing all of them. Moreover, "best" really comes down to personal preference. It is subjective. So, to create our list of 5 of the best Swiss sports watches (keywords "of the"), we decided to choose watches that have been extremely well-received, at least for the most part, and watches that you can actually buy right now should you fall in love with what you see and read.
So, without further ado, here's today's pick of the top 5 luxury Swiss sports watches.
5 Best Swiss Sports Watches For Men
Are these 5 Swiss watches ranked in order?
Yes, but they are simply ranked by price!
Note: Click the accompanying links below to see full sales listings from Diamonds By Raymond Lee in Boca Raton.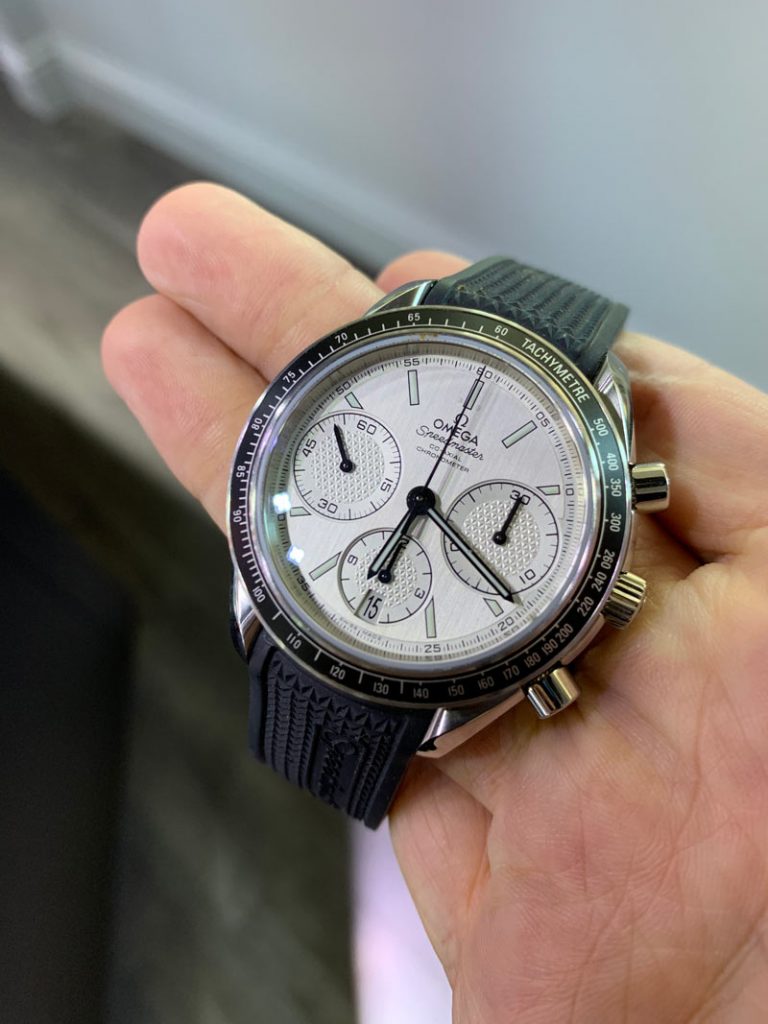 Founded in 1848, Omega is a brand that is loved and respected around the world. Not only are their watches incredibly well made, they are surprisingly affordable considering their immense prestige.
As for specific watches, one of their most iconic models is the Speedmaster, and it has been since its first release in 1957. It is an incredible watch with an even more impressive history. The Speedmaster is watch born for space exploration and motor racing. And it's most imposing feat is that it was the first watch ever worn on the moon.
Although there are many wonderful Speedmaster references, one of our favorite Speedmasters is reference O326324.
A Chronograph Watch Made For Racing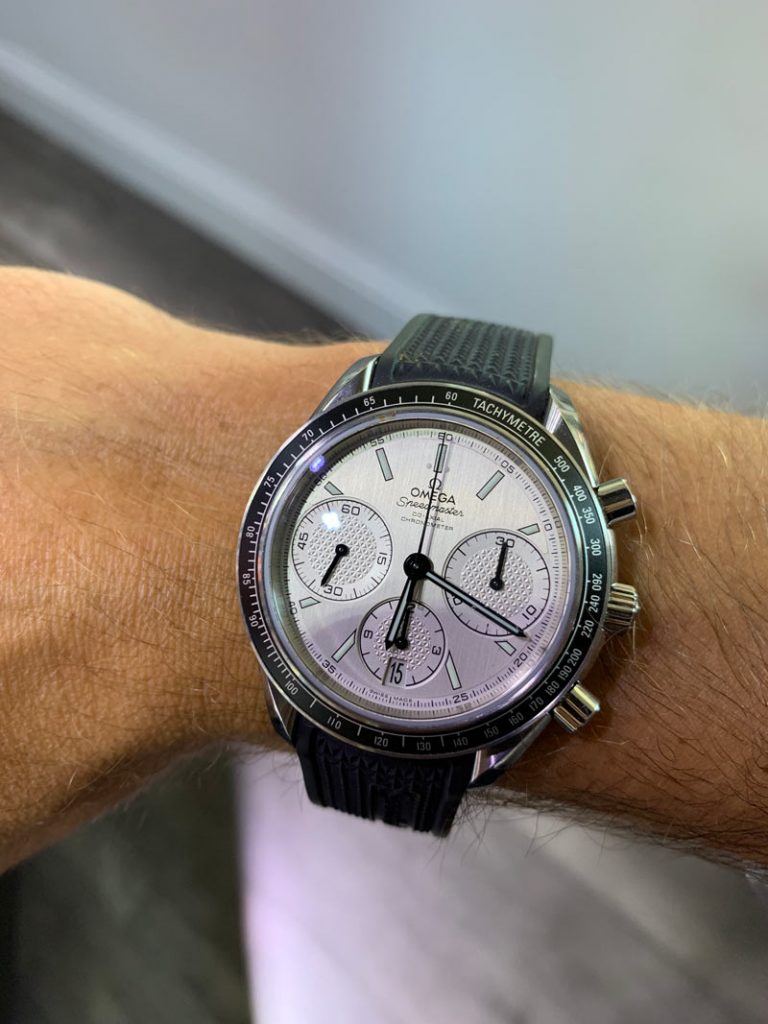 The Omega Speedmaster O326324 is a chronograph watch made for race car drivers. And it is one of the more modestly priced Speedmasters.
Released in 2017, this Omega Speedmaster features three "Clou de Paris"-textured subdials that are extremely practical for race car drivers. It has a 30-minute subdial (at the 3 o'clock), a 12-hour counters subdial (at the 6 o'clock), and a small chronograph seconds hand subdial (at the 9 o'clock). Moreover, it has a tachymeter bezel so it can measure speed based on time traveled over a fixed distance. This allows racers, or anyone for that matter, to easily and quickly convert elapsed time in units per second to speed in units per hour.
Beyond its useful complications, it is also beautifully designed. It uses a 40mm stainless steel case, which gives it the perfect amount of wrist presence. It was crafted into the classic, round Speedmaster shape and it has two pushers with a screw-down crown in the middle, which grants it 330 feet of water resistance.
Captivating Racing Dial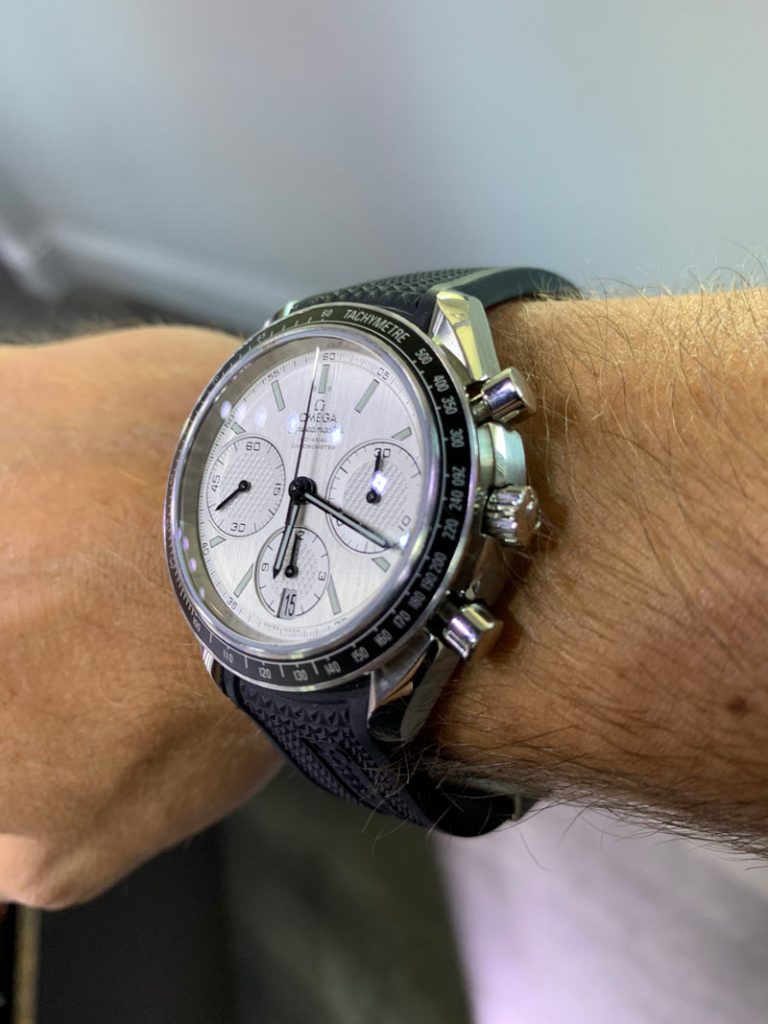 As for the white dial, it immediately captivates with its monochromatic design and sleek black hands. Moreover, it is perfectly spacious, which makes for easy legibility, both day and night thanks to the Super-LumiNova fill. And one of the most unique touches to this dial is the date window, which is featured at the 6 rather than your typical watch's 3 o'clock position.
Contrasting the face of the watch beautifully, and matching the hands, is a black tactile rubber strap. It is extremely comfortable and it balances out the case beautifully. Furthermore, the stainless steel clasp is of the highest quality, so this bad boy is amazingly secure on the wrist at all times, especially in high-speed, wheel-turning situations.
The final point we'd like to make about this one before moving on is its Calibre 3300 movement, which was a new movement for this Speedmaster and something watch nerds love to talk about. It's an exquisitely precise and reliable movement with a column-wheel chronograph mechanism, a Co-Axial escapement, NIVACHOC shock absorber, an Si14 silicon balance spring…and it has 52 hours of power reserve. With all that, this high-performance movement achieved a COSC certified chronometer.
Here's a complete review of the Omega Racing Speedmaster.
See the full sales listing of the Omega Speedmaster, which is on sale now at Diamonds By Raymond Lee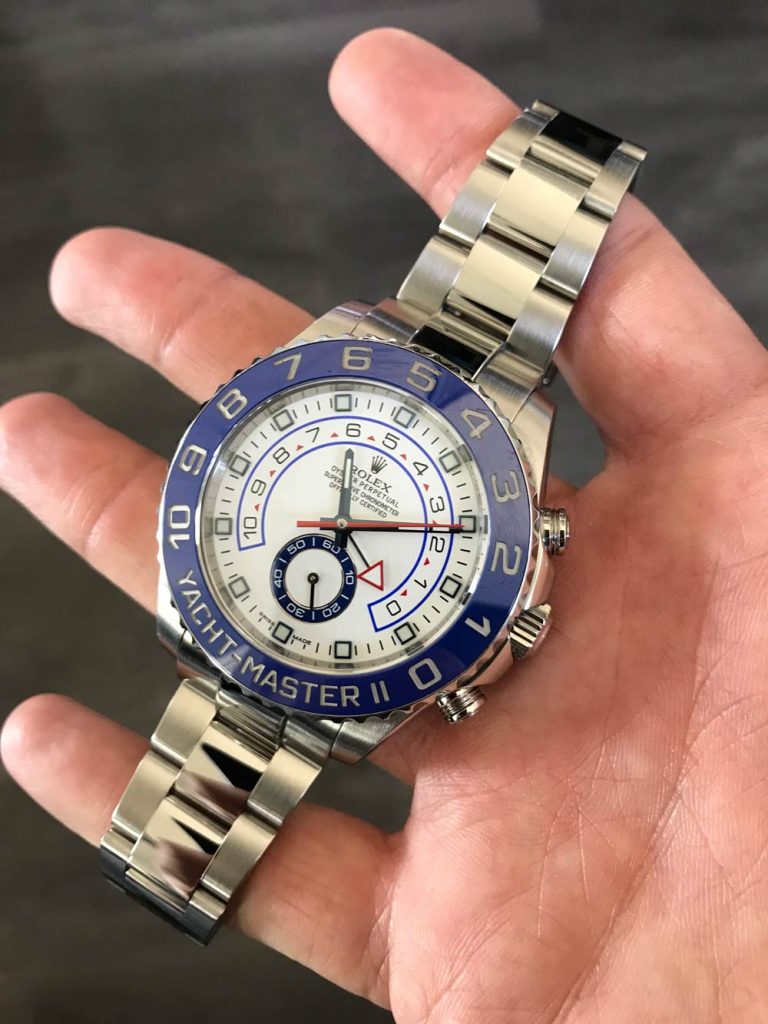 This Stainless Steel Rolex Yachtmaster II is a timepiece loved by sailors, collectors and casual watch fans alike. Upon its release in 2013, it excited the Rolex community in a powerful way.
We can say with confidence that this particular reference is going to go down in history as one of the greats. It is a watch that is immediately recognizable and one that quickly earned its iconic position in the sports watch game.
What does the Rolex Yachtmaster II?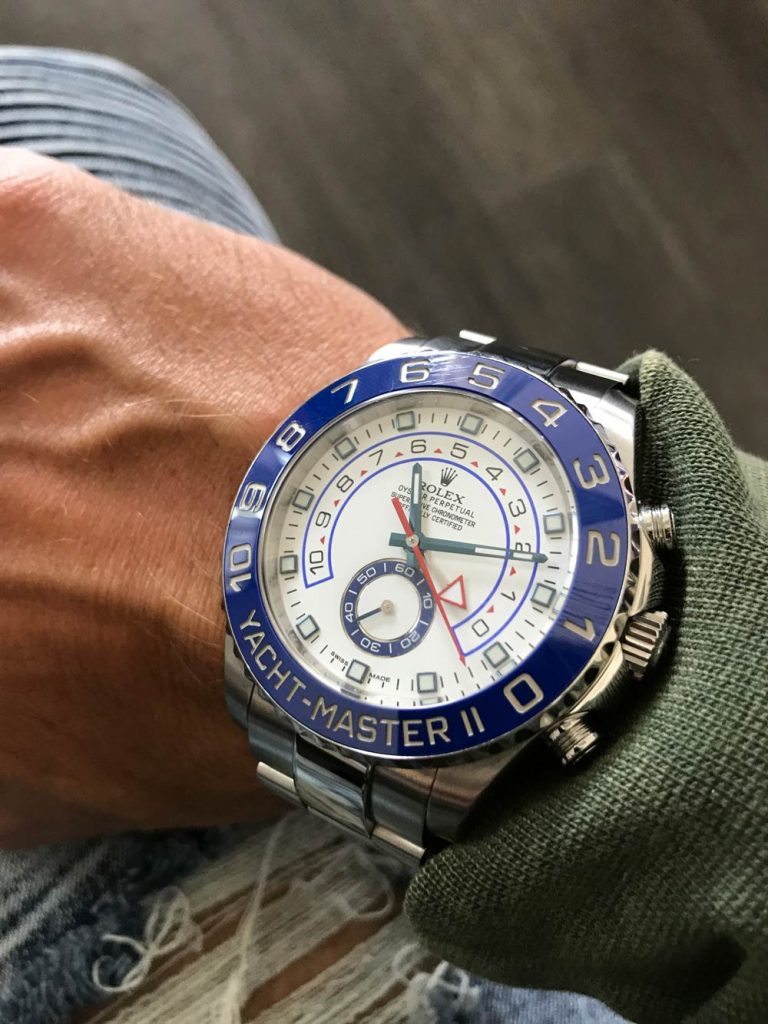 The Yachtmaster II is a watch designed for the nautical world. More specifically, skippers of yachts. It has a programmable regatta countdown flyback chronograph that enables skippers to select a countdown interval from one to ten minutes. Moreover, it can synchronize the timer "on the fly", in case you accidentally started the countdown too early or too late. This is all controlled by the highly complicated Ring Command Bezel, chrono pushers, and the crown.
Check this article out if you are interested in learning everything about the functions of the Yachtmaster II. It is a very interesting watch and one of the most complicated Rolex watches.
An Imposing Watch With Immense Wrist Presence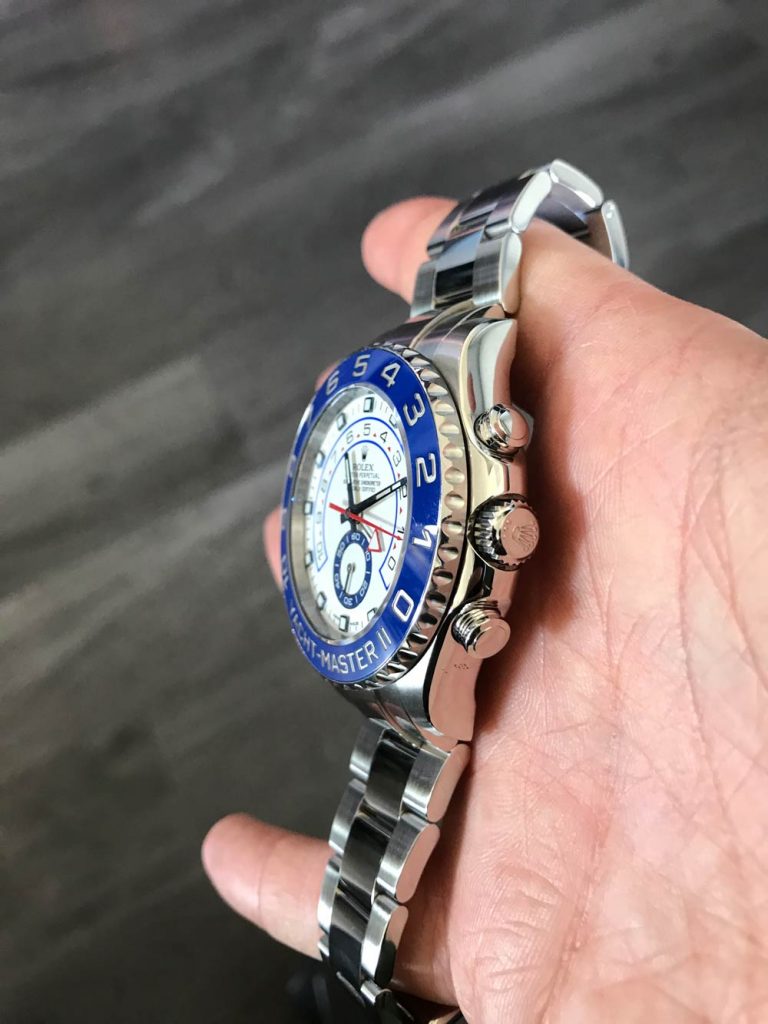 The Yachtmaster II is an imposing watch with immense wrist presence, and the stainless steel version intensifies this with its bright and bold appearance.
The Oystersteel case is 44mm, which is Rolex's largest case size. This allows the dial to have plenty of space for all of its complications, while also making it super easy to read. Moreover, it makes this timepiece stand out like no other. The colors help its cause in this effect as well. The Oystersteel Yachtmaster II features an electric blue bi-directional bezel, known as the Ring Command Bezel. The bezel is made from Rolex's patented ceramic, Cerachrom, which makes it incredibly durable. This is a crucial feature for sailors as they are often exposed to extreme conditions. What's more, the bezel displays massive numbers, making it tremendously legible and essentially impossible to get the timer wrong.
As for the dial, the white and blue color pops beautifully while also matching and complementing the bezel perfectly. The dial has the regatta timer display and a 60 second chronograph subdial. It is incredibly unique, nothing like any other watch on the market.
Overall, the Rolex 116680 Yachtmaster II has an exquisitely strong, embellished appearance, allowing it to captivate the wearer and everyone around.
See the full sales listing of this watch, which is on sale now at Diamonds By Raymond Lee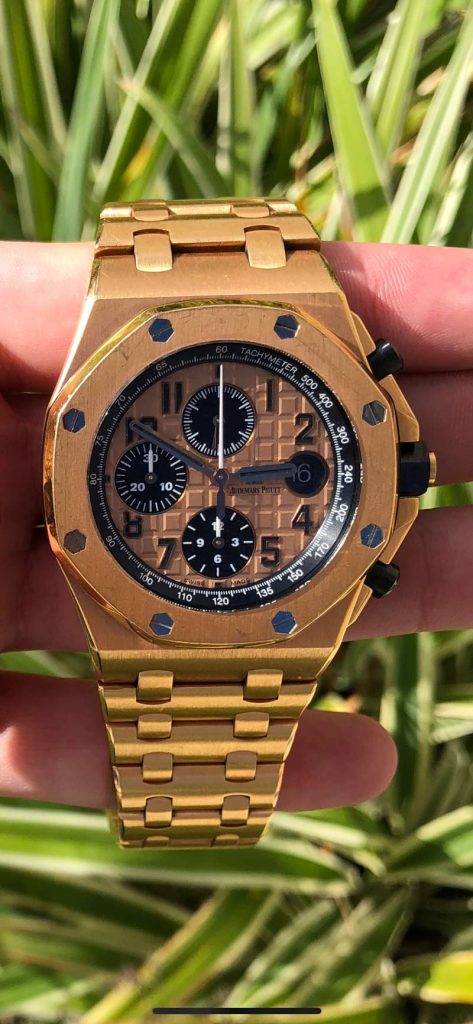 The Royal Oak Offshore is the epitome of "oversized sport swatch". It is one of the most coveted Swiss watches, especially for modern watch enthusiasts.
The Royal Oak Offshore is a timepiece prized by professional athletes, rappers, and fashion-forward men and women.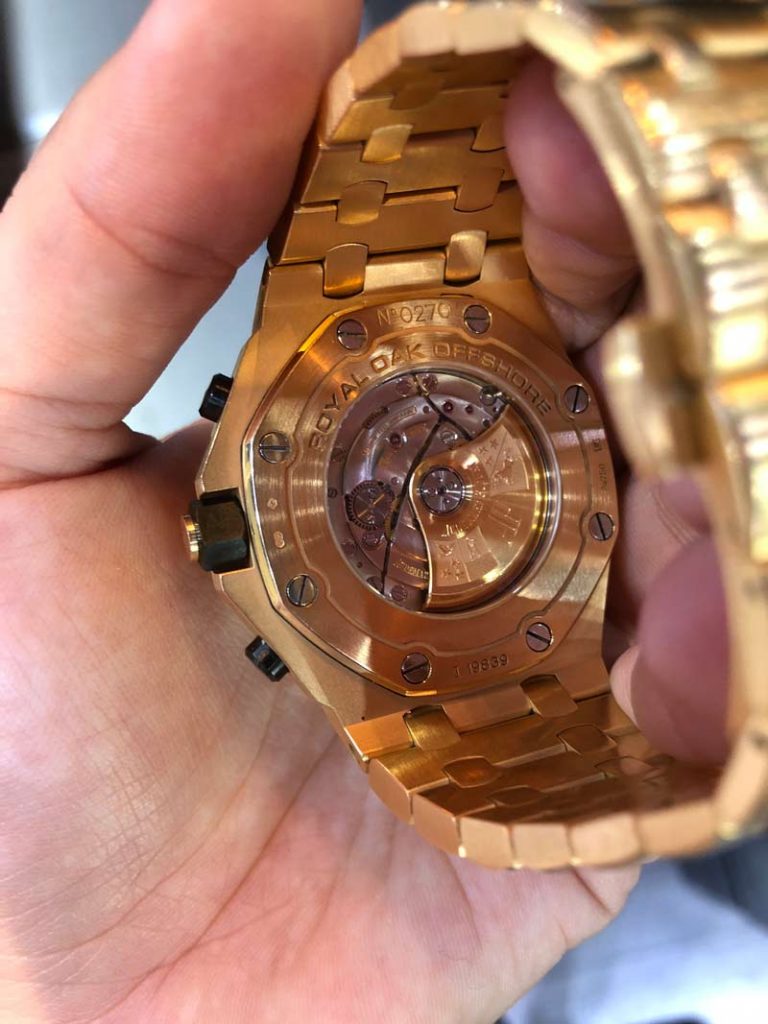 THE BRICK
Although Royal Oak Offshore Swiss sports watches are best known for their stainless steel models, the All Rose Gold Royal Oak Offshore reference is highly sought after. It is nicknamed "The Brick", and it is pretty obvious why. It is a large, thick, robust watch crafted purely from 18K rose gold.
The watch is 42mm across the round of the case, but it wears far larger than this dimension suggests thanks to its broad lugs… Lug to lug, the Rose Gold AP Brick spans 53.5mm. So, it takes up a lot of wrist real estate. Ideal for those who like a watch that can't be missed.
What's more, it features Royal Oak's classic octagonal, bevel-edged bezel with eight hexagonal screws. The top of the bezel has a brushed finish, as does the case, and the edges use a high polished finish. It gives the watch such an exquisitely premium look and feel. We honestly think AP is the best in the game when it comes to finishing. Although Patek Philippe could easily take offense to that statement because their finishing is absolutely amazing too.
A watch that stands out like no other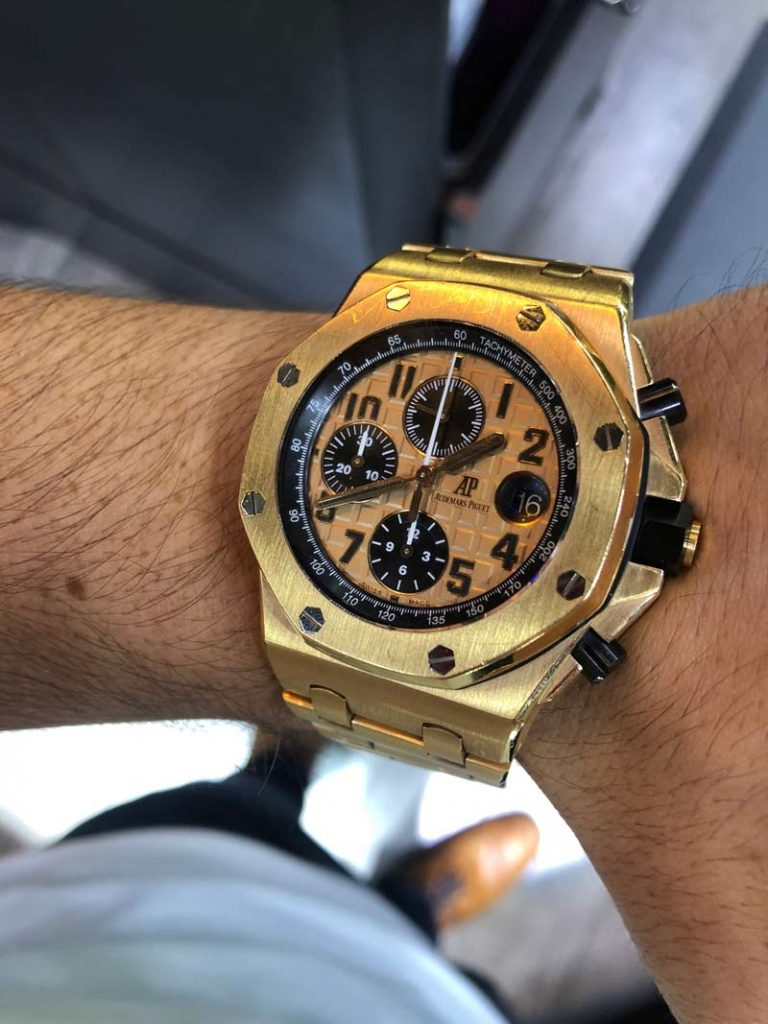 Now, the bracelet is the traditional Royal Oak bracelet. It also uses a combination of satin and gloss finishing, and it is super solid, so it balances out the heavy case nicely.
With the rose gold bracelet, it's simply impossible for this watch to fly under the radar. It really gives this watch a completely different attitude. Moreover, it significantly adds to the weight of this watch, taking it from 200 grams (rubber strap version) to 350 grams…after all, it is the BRICK.
Matching the bracelet and case to perfection is a champagne tapisserie dial with three subdials and a tachymetric scale. The black and rose gold colored dial gives the face of this watch an undeniably charming look. There is no other dial that we'd want for this particular watch.
All in all, this is by far one of our favorite all rose gold Swiss watches, so it easily makes our list of the 5 best Swiss sports watches.
Read more about this all gold Audemar Piguet Royal Oak Offshore.
See the full sales listing of the AP BRICK, which is on sale now at Diamonds By Raymond Lee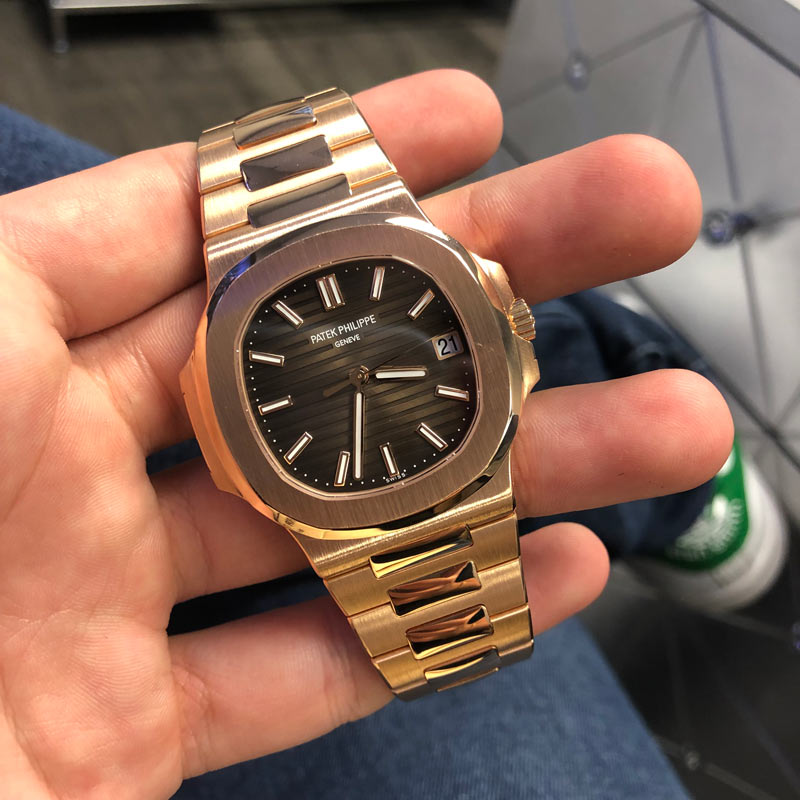 Another one of the best rose gold Swiss sports watches to ever exist is the Patek Philippe 5711-1R. It's a much more understated rose gold watch comparing to the AP Brick, but equally as stunning and breathtaking…even more so for those who appreciate an elegant, sophisticated, traditional sports watch.
The Patek 5711R features an 18K rose gold case, bezel, bracelet and clasp. The case has a porthole structure and the classic Patek Nautilus ears. It measures 40mm, but the bezel really steals the show as it covers a large portion of the case. It is beautifully polished, with its satin and gloss finishing. And speaking of finishing, it is one of the best features of this iconic Swiss sports watch, and that extends to the gorgeous and charming bracelet.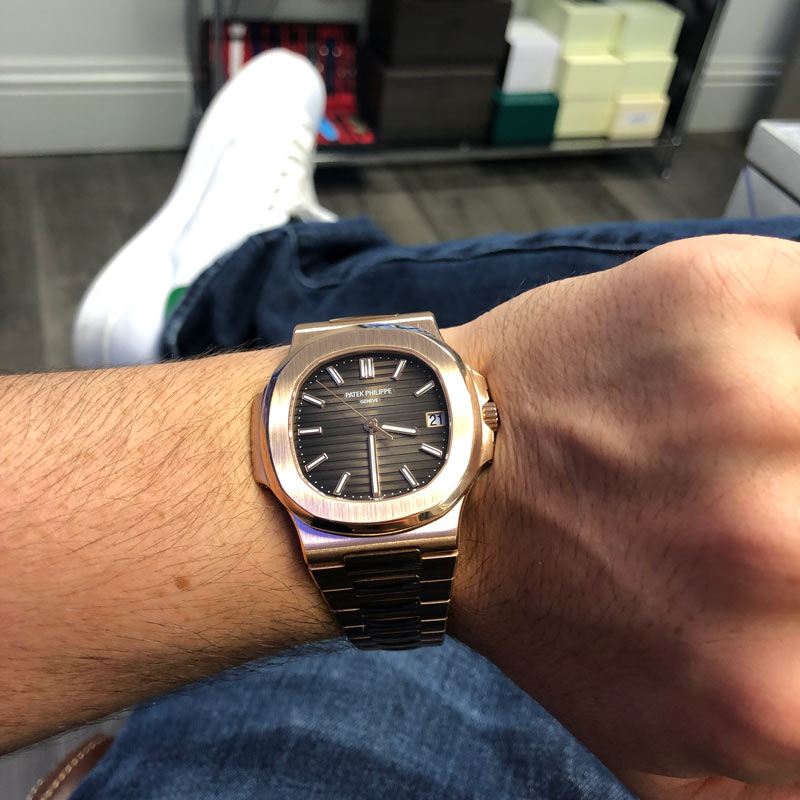 The face is also immensely mesmerizing. It has a brown gradient horizontally embossed dial that is super clean. There's absolutely no nonsense with this watch. It has rose gold hour markers and hands with powerful lume and a date display, that's it. However, that's all this watch needs as it is of the most superlative quality.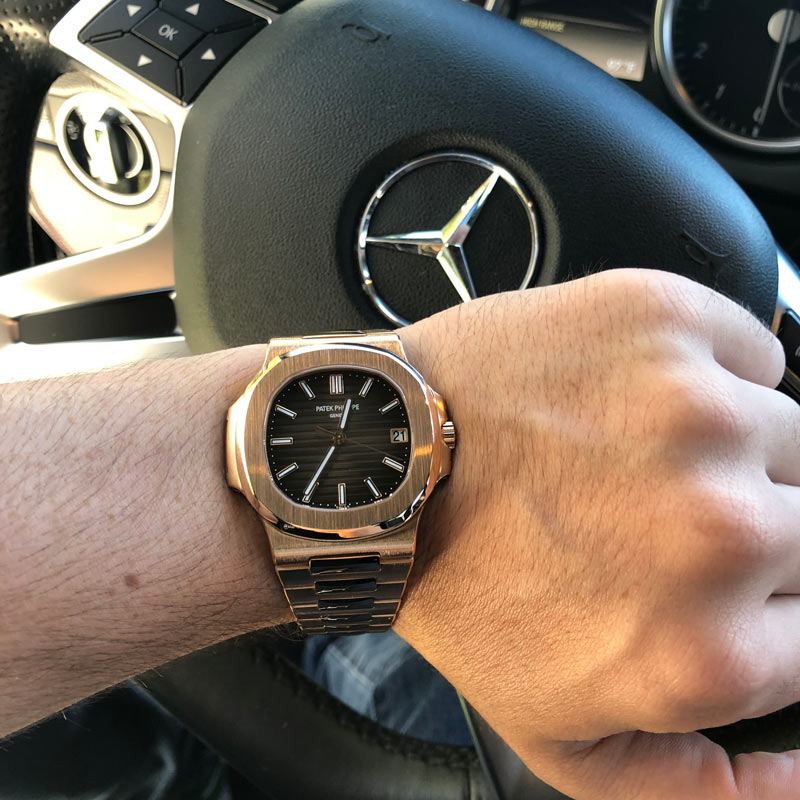 All in all, the Patek Philippe Nautilus 5711R is not only a wonderful sports watch, it is an heirloom that should be cherished and passed down for generations to come.
Read our in-depth review on the Patek 5711R.
See the full sales listing of the Patek 5711R watch, which is on sale now at Diamonds By Raymond Lee.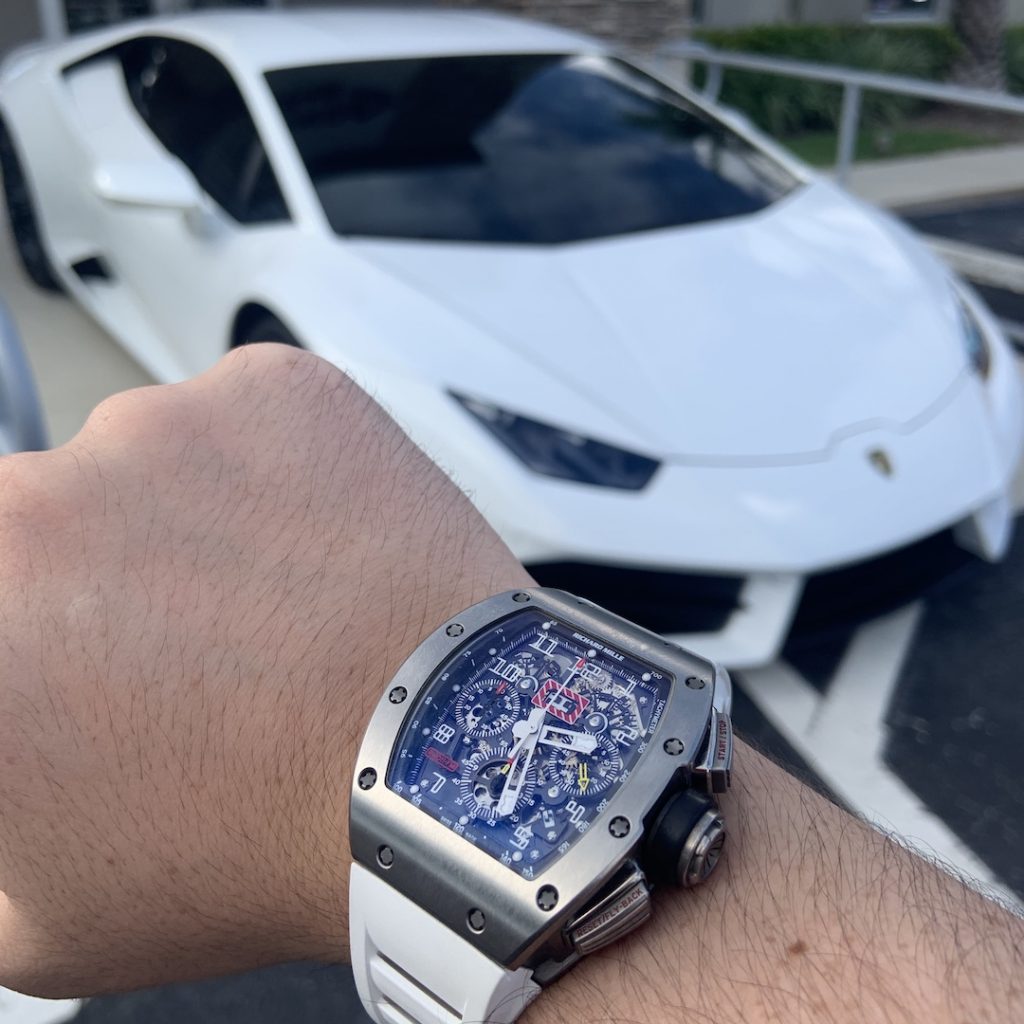 The final watch on this list comes from a new, extraordinarily innovative brand, so we are breaking away from the hundred-plus-year-old classic watch brands. We are talking Richard Mille, a watch brand that in less than two decades has achieved iconic status, right alongside the greats like Rolex, Patek Philippe and Audemars Piguet.
Richard Mille is a new breed of watchmaker that is reshaping the face of the watch industry. They use avant garde materials that you'd only find in spaceships, Formula One cars, and the most high tech science labs.
Although there are many amazing Richard Mille watches to marvel, and that could easily make any "best Swiss sports watches" list, today we are presenting the Richard Mille RM011-FM.
Richard Mille x Felipe Massa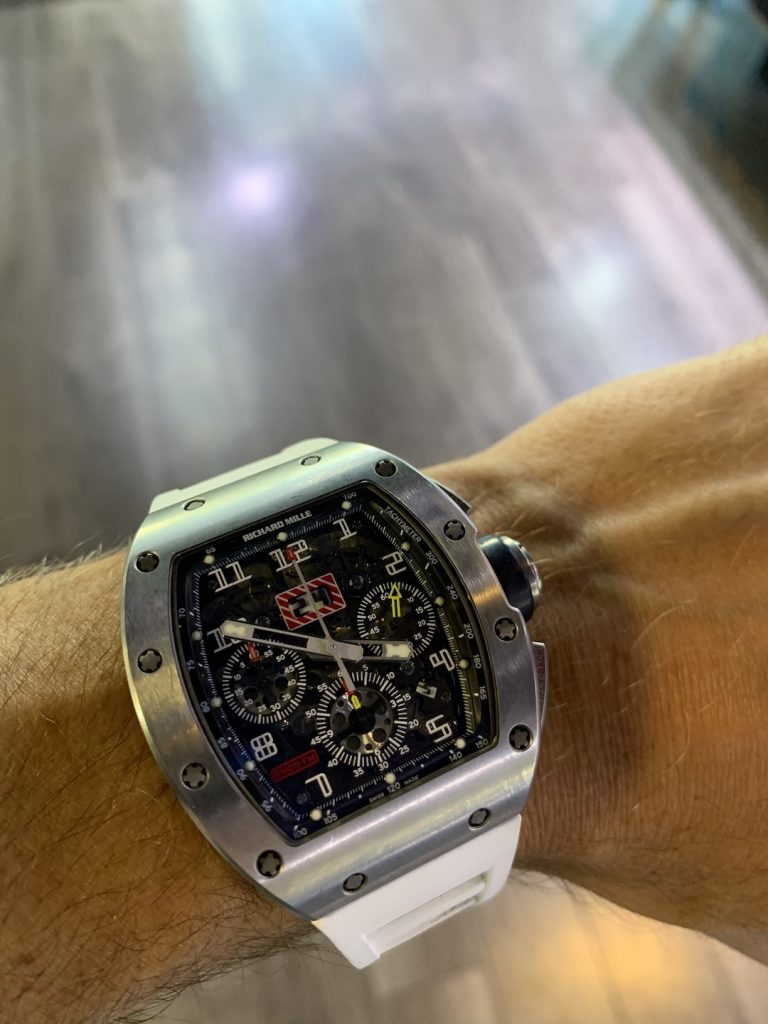 The RM011-FM is a watch inspired by, and made for, Felipe Massa, an F1 racing driver. It features a skeletonized dial unlike anything you've ever seen. It uses layered sapphire crystal to achieve this advanced, industrialized look. Underneath the cambered sapphire (highest quality sapphire that exists) is a carbon fiber composite outboard that contains luminescent indices and a tachymetric scale, and then another foundation for the numerals and sub resisters of the chronograph.
So, with the skeletonized dial, the movement is completely visible. It is also viewable from the back as the caseback features an exhibition case. The movement in this watch is pure mastery and dare we say futuristic. One special feature of the movement is the variable-geometry rotor, which automatically alter their position based on your activities. So, it can increase or decrease winding efficiency.
As for the case, it has the unique and Richard Mille-archetypal tonneau case. A tonneau case is a refreshing change from all the round cases out there. The case is made from titanium and it is of a lofty size.
The case integrates immaculately with the white rubber strap, which has ventilation spaces to enable moisture and sweat to permeate through.
Incredibly Lightweight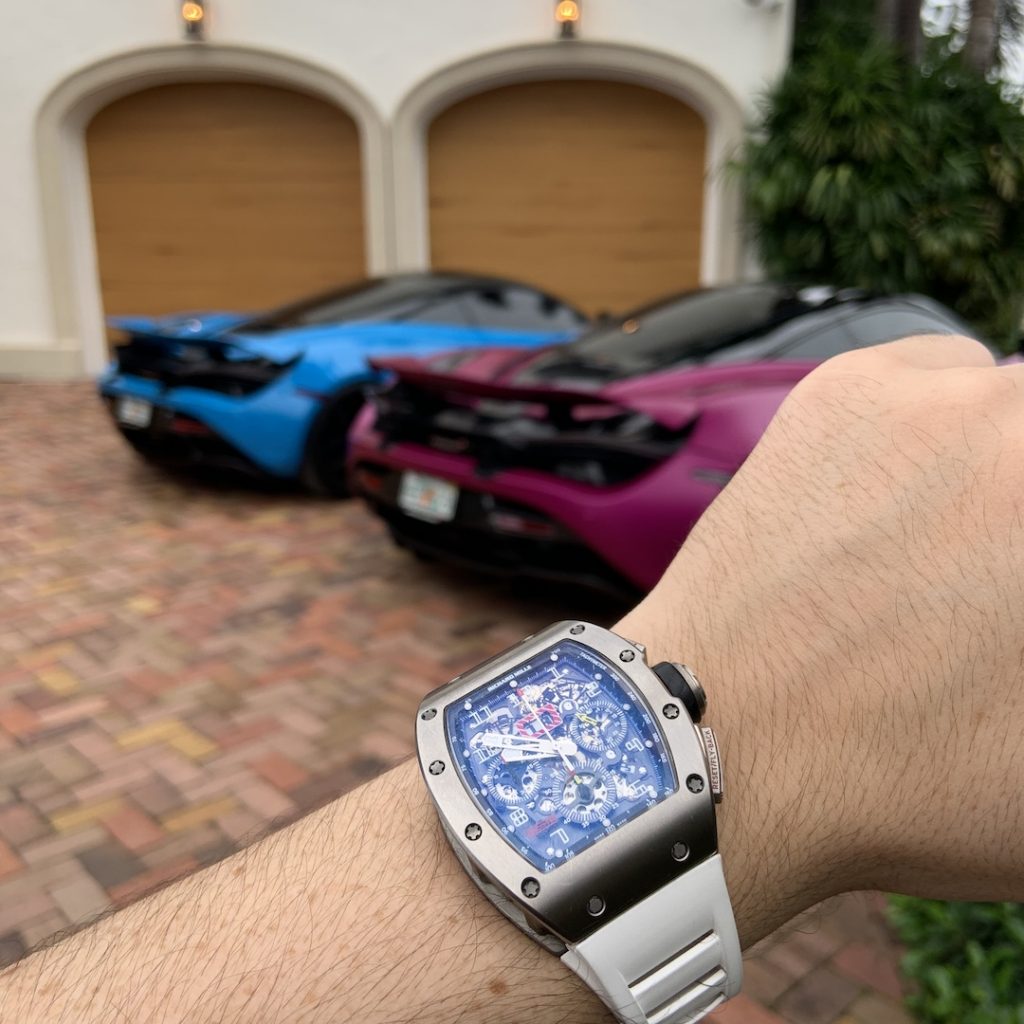 So, with all the innovative materials that make up this timepiece, not only is it extremely durable and downright jaw-dropping, but it is also unbelievably lightweight. We are talking credit-card-weight-type light. If it wasn't for it's arresting, utterly engrossing appearance, you wouldn't even know it was on your wrist.
All in all, there are so many special aspects of this watch, so if you want to learn more, and see a few other Richard Mille watches that we love, read our Richard Mille post from last month.
Contact us for pricing. But be warned, this is a Richard Mille, so you already know it costs a Lambo.
Want To See More of the Best Luxury Swiss Sports Watches?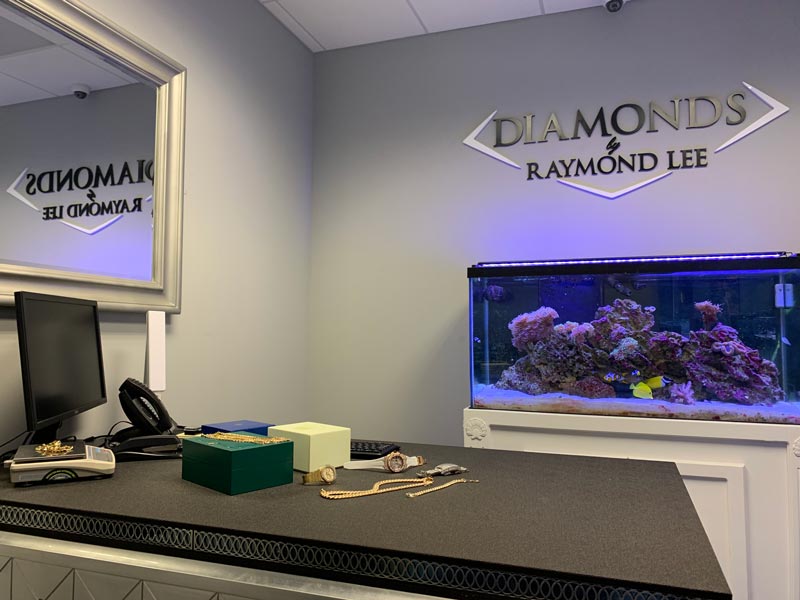 At Diamonds By Raymond Lee, we have one of the largest and best collections of Swiss sports watches in all of South Florida. What's more, our timepieces are competitively priced. So, if you are in the market for a Swiss watch, there's no better place to shop than Diamonds By Raymond Lee.
View our extensive collection of the best Swiss sports watches.