If you are like us, you can't get enough of unique and beautiful ladies fashion diamond rings. There's just something so deeply satisfying about shopping for, trying on, and adding new fashion diamond rings to the collection. Not to mention, styling them for the outfit and jewelry ensembles of the day!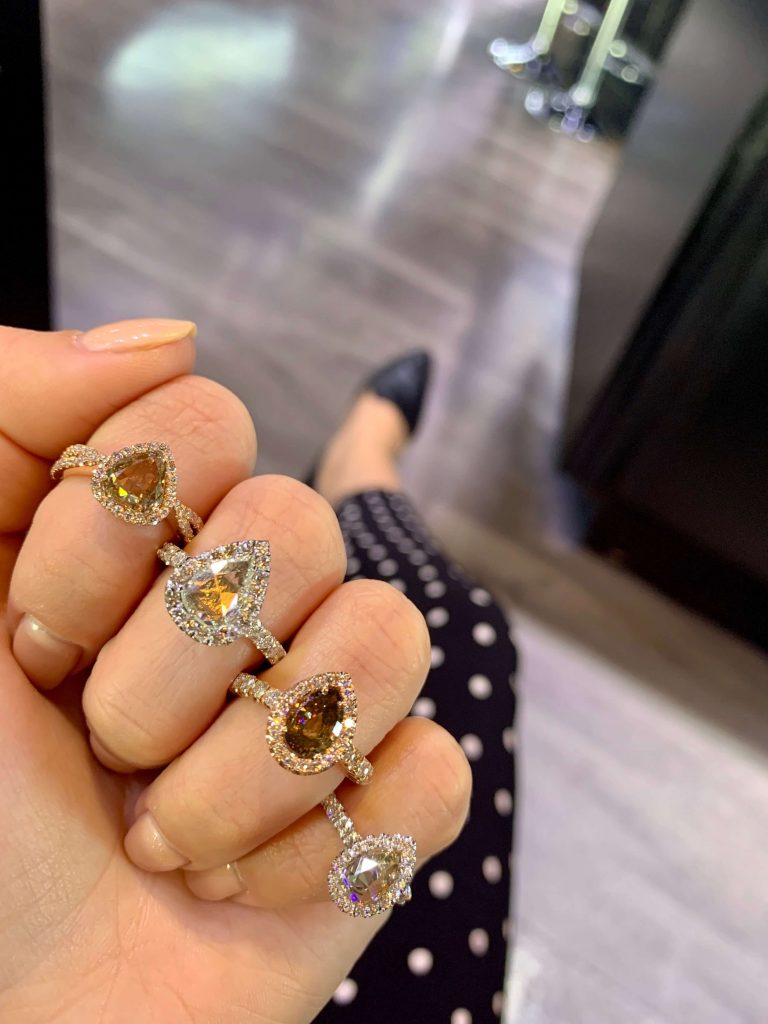 With all the various unique and beautiful ladies fashion diamond rings on the market, the options are endless. It's a never-ending hunt, but no complaints, right? It's a fun hunt, like a kid on Easter, you just never know what you will find. So, today, we bring your hunt for new fashion diamond rings right here all on one page, many of which are from the celebrated fashion diamond ring brand Gabriel & Co. Below you will find a number of unique, fine diamond rings that are simply hard to resist. Luckily, they are all available right now at Diamonds By Raymond Lee, and for a wonderfully affordable price.
17 UNIQUE LADIES FASHION DIAMOND RINGS & ENGAGEMENT RINGS
We are categorizing the below by precious metal type and stone color…at least for the most part. So, for the women who love rose gold, yellow gold, white gold or fancy color stones, scroll through to find them all organized in one place…
Also, before we begin, we just want to note that all of the rings below are private label rings (made by independent, expert jewelers who have an extremely artistic eye) AND Gabriel & Co. It was an easy choice to look to Gabriel & Co. when picking the best fashion diamond rings to share with you, as they are one of the best designer jewelry brands, especially when it comes to fashion diamond rings for women.
New WHITE GOLD Fashion Diamond Rings: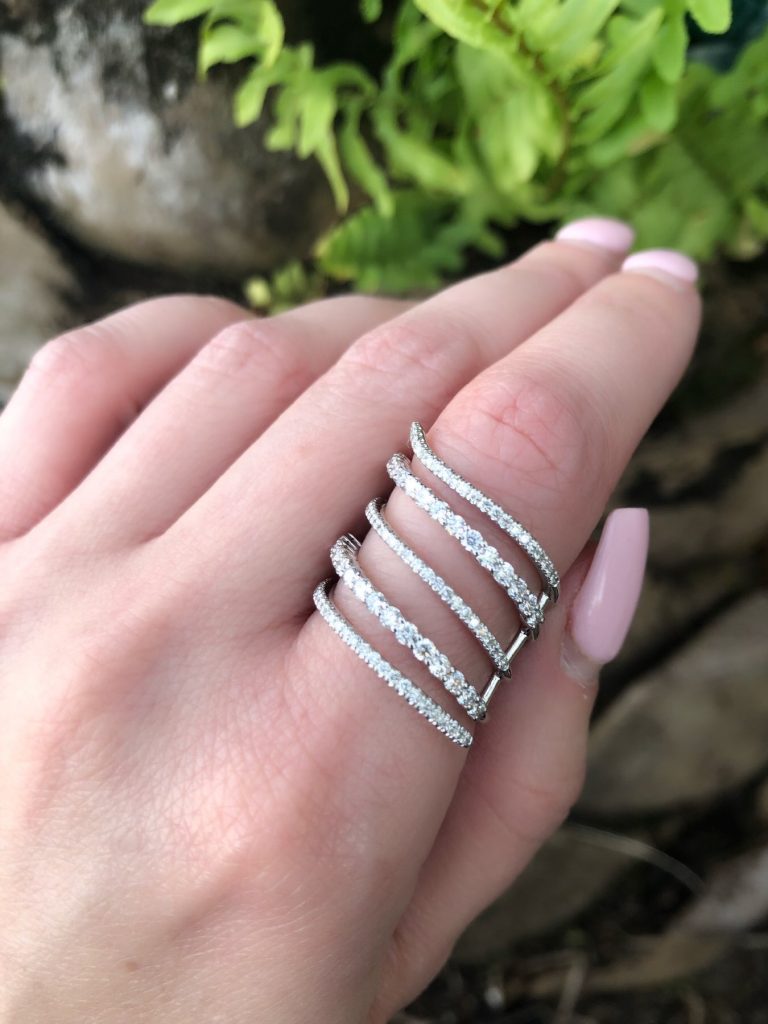 Here's a diamond ring that earns itself a tremendous amount of finger real estate. It's a Gabriel & Co. 14K white gold ring that twirls around the finger like a stunning miniature diamond snake. But don't be mistaken, this is not a snake motif, it's simply a gorgeous spiral diamond ring that easily slips on the finger.
The middle of the ring uses a horizontal flat bar of white gold along the three inner spirals, which rests on the underside of the finger, allowing the ring to fit firmly and securely.
If you are looking for a simple yet beautiful, utterly eye-catching fashionable diamond ring, this is the one.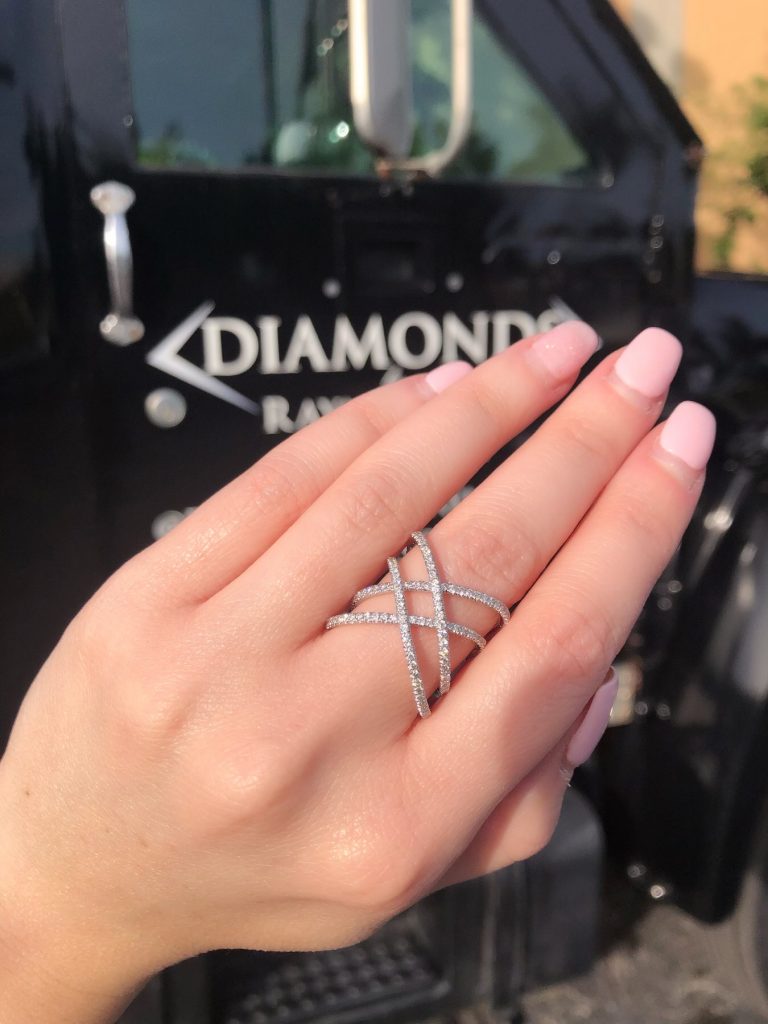 This Gabriel & Co white gold pavé diamond ring was clearly crafted with lots of attention to detail. The woven structure has a double layered silhouette that is visually stunning. If unique and elegant is what you look for in jewelry, this is a ring that you will surely adore for many, many years to come.
Unique Engagement Ring and Diamond Band Stack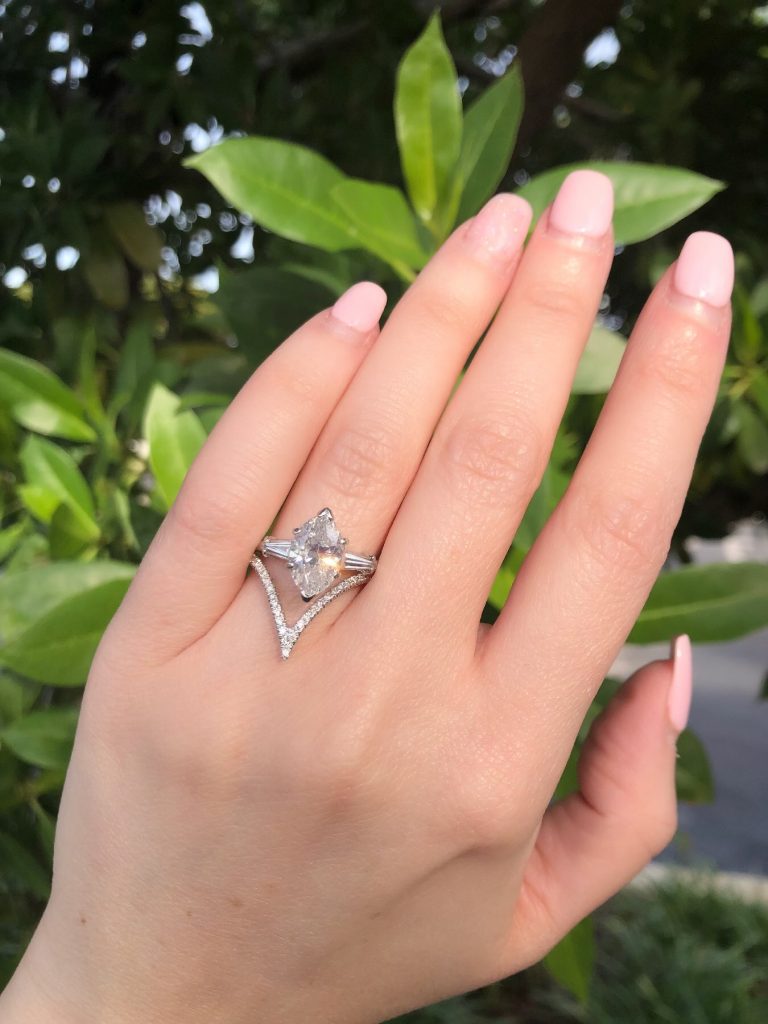 Have a look at this one-of-a-kind, positively breathtaking diamond engagement ring and diamond band stack.
These two rings go together flawlessly, as if they were made solely for each other…However, they weren't. This is just pure ring styling skill and adeptness.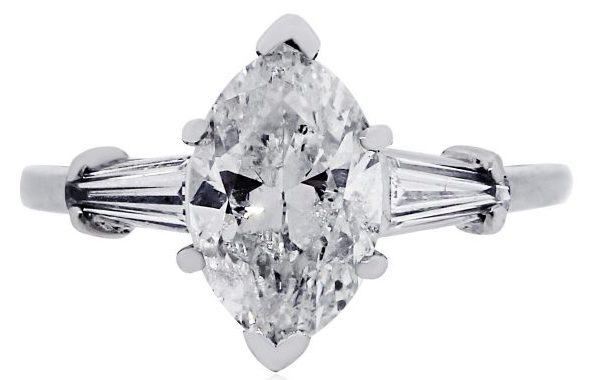 Here we have a platinum 2.10 carat marquise diamond engagement ring with two baguette side stones. The marquise diamond centerpiece gives this engagement ring a glamorous vintage look.
Only a small percentage of married women in the world have a marquise diamond engagement ring, and even less with one of this calibre, so this ring allows you to be exquisitely unique.
AND, one of the best things about this ring, besides its incredible beauty and uniqueness, is it is surprisingly well priced. You will be hard pressed to find a better deal on a captivating diamond engagement ring like this.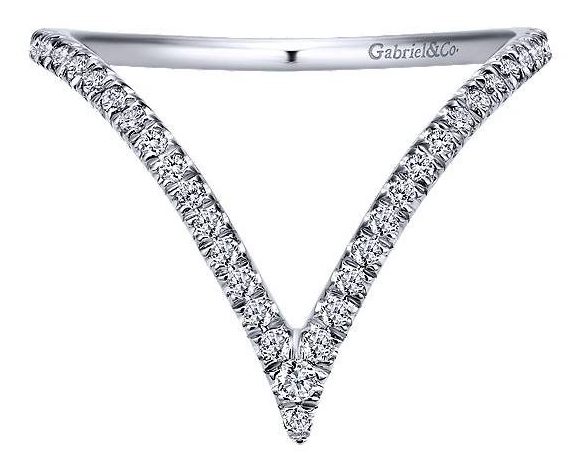 This 14K white gold diamond band swoops down the finger to form a "V" shape that is perfect for a marquise diamond engagement ring. Stacked together, the fit is flawless and downright jaw-dropping.
Stacks like this one are rare, so if you appreciate a distinct look, this might just be the one for you…And if not, let this be an excellent example of how to stack a marquise engagement ring.
Rose Gold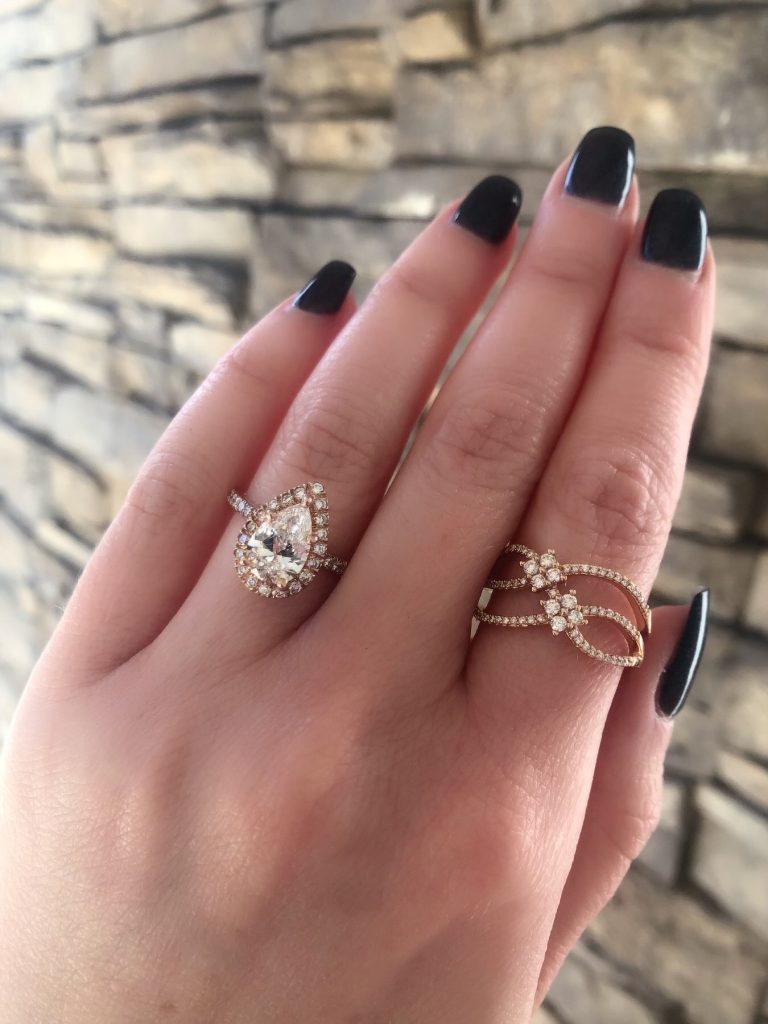 Being that rose gold is the hottest metal in fine jewelry, you know we have plenty of options for you.
We love rose gold rings because they give a vintage yet modern feel, and they look romantic. Plus, it's an unexpected metal for a ring, even with it being one of the most popular nowadays. It's simply that many women are wearing older rings from a time when white gold and platinum were à la mode.
So, have a look at a few unique fashion rose gold rings.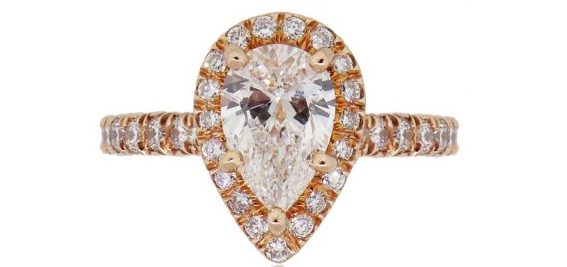 Pear engagement rings are not only gorgeous and classy, they are also unique and fashionable. Plus, it's rose gold, which turns up the fashion knob to eleven.
Touching more on the uniqueness factor, only 4% (approx.) of the world's diamonds are cut into a pear shape. And only a percentage of that small percentage is for engagement rings. Therefore, wearing a pear engagement ring is quite special.
What's more, this pear engagement ring has a round pink tourmaline set in its gallery.
So, for those who value exclusive, vintage style engagement rings, this should be a top candidate.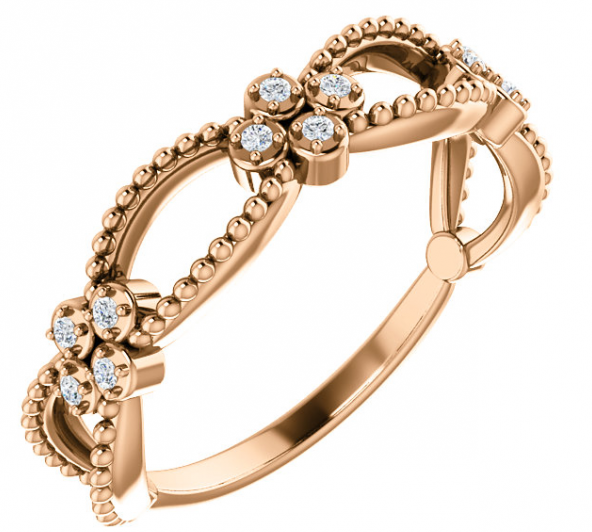 This is a rose gold stackable ring that has a very unique composition. The ring curves up and down, forming multiple center-less beaded ovals on the face-up side of the ring, and where each oval meets, there's a cluster of 4 round brilliant diamonds set with a shared prong setting.
Due to the special curving shape of this flower-motif ring, it stacks beautiful with an identical twin, as featured in the picture above. If you are the type of woman who likes to wear multiple rings on the same hand, these will look particularly glamorous stacked on their own finger. What's really cool about this beautiful rose gold stackable ring is it is excellently priced.
Rose and White Gold Stack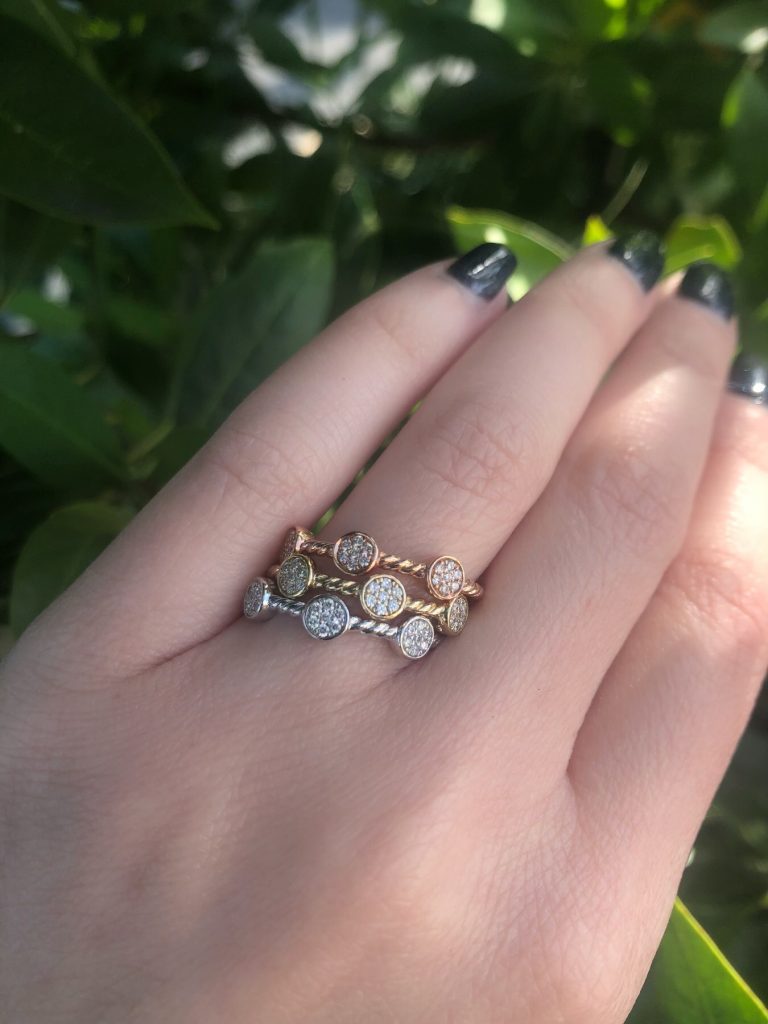 Here we have an effortless stack that features the same Gabriel & Co. ring in two different metals.
As we all know, mixing metals is vogue, so never hesitate to wear multiple metal colors together, even on the same finger!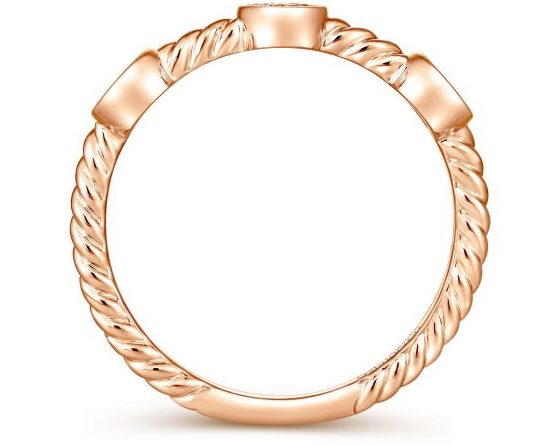 These twisted stackable rings have a delightful look when stacked together. They also go great with other stackable rings, but for this one, we wanted to feature three of them together – two rose gold and one white gold…

Overall, it's undeniably simple, but also undeniably elegant and fanciable thanks to the three clusters of bevel-set diamonds on each ring.
Yellow Gold Full Hand Ring Stack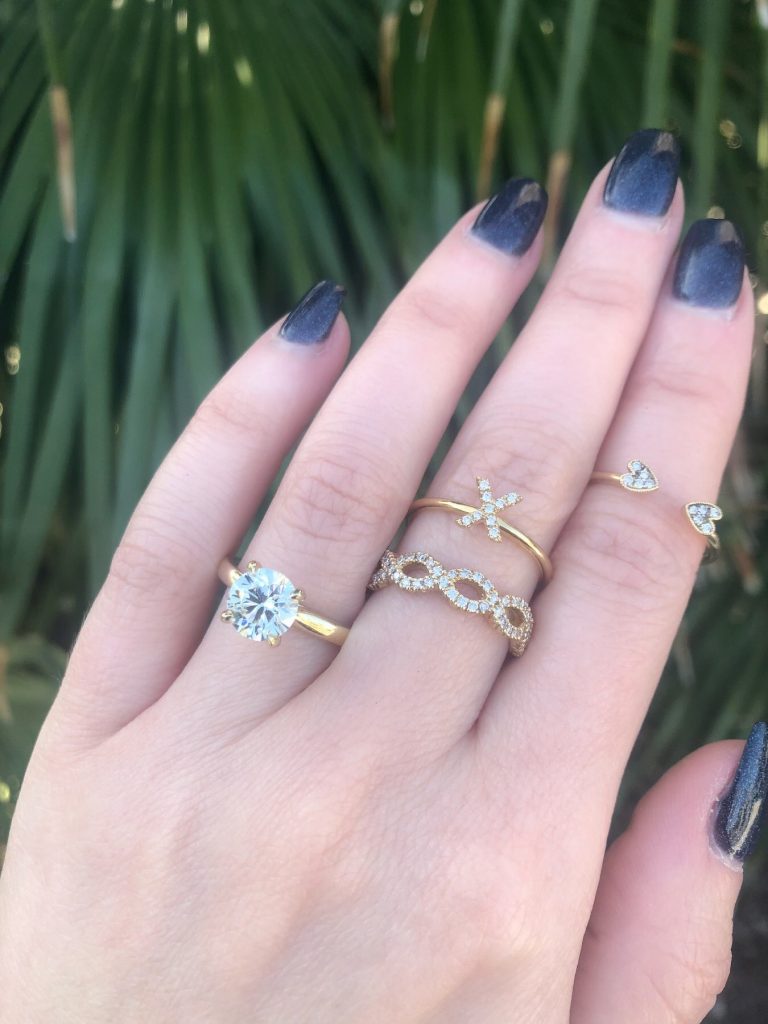 Yellow gold is a classic color for fine diamond rings. It's a precious metal that you can't go wrong with. Moreover, it is the quintessential gold color.
So, with that, here is a stylish and sassy stack made for the appeal of contemporary ladies.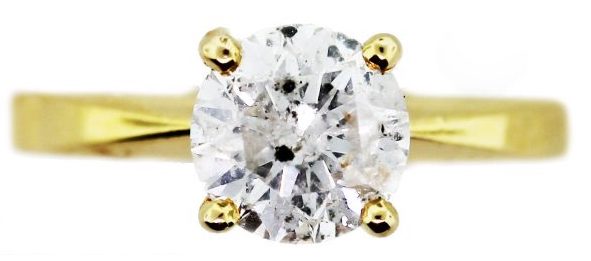 Starting with the main attraction and focal point of this ring stack, we have an 18K yellow gold solitaire 4 prong setting round brilliant diamond engagement ring. The centerpiece is a very respectable 1.15 carats, so this ring is perfectly sizable. It really doesn't get more traditional than a ring like this, it also doesn't get any more classically beautiful and sophisticated.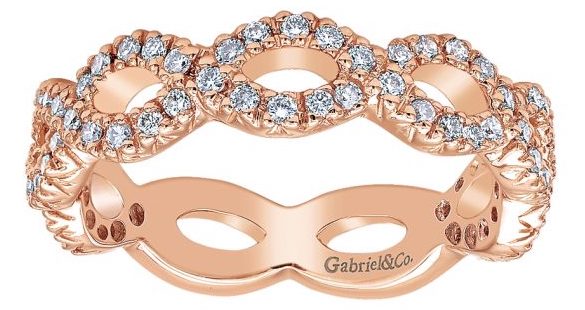 This Gabriel & Co. ladies fashion stackable diamond ring features a continuous loop of center-less ovals, giving it a gorgeously eye-catching look. To make this ring pop even more, there are beautifully contrasting round brilliant diamonds set in the yellow gold. The diamonds go almost all the way around the ring. Only the bottom two ovals don't have diamonds, as to provide more comfort.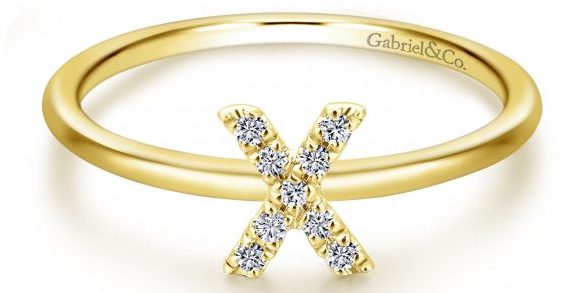 Stacked above the oval shaped ring, we have a yellow gold "X" ring also by Gabriel & Co. It's a minimalist style ring but stunning nonetheless. The "X" contains tiny round brilliant pave set diamonds, making this ring stand out in an incredibly pretty manner.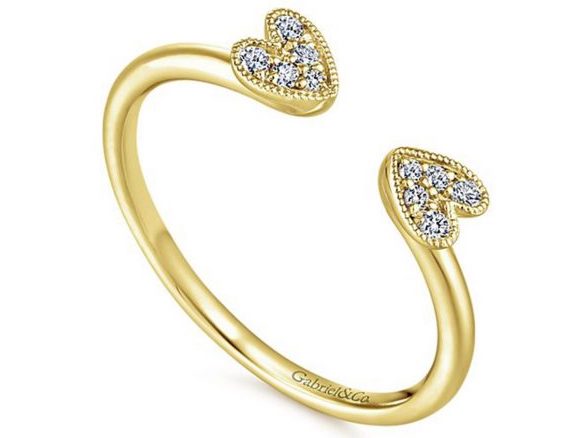 To finish this stack off, we have an upper finger ring cuff with heart shaped diamond set ends. It's not every day that you see someone wearing a middle phalanx ring, so this style ring is great for separating yourself from the crowd of fashion diamond jewelry lovers.
Rose Gold Pear and Triangle Shaped Diamond Rings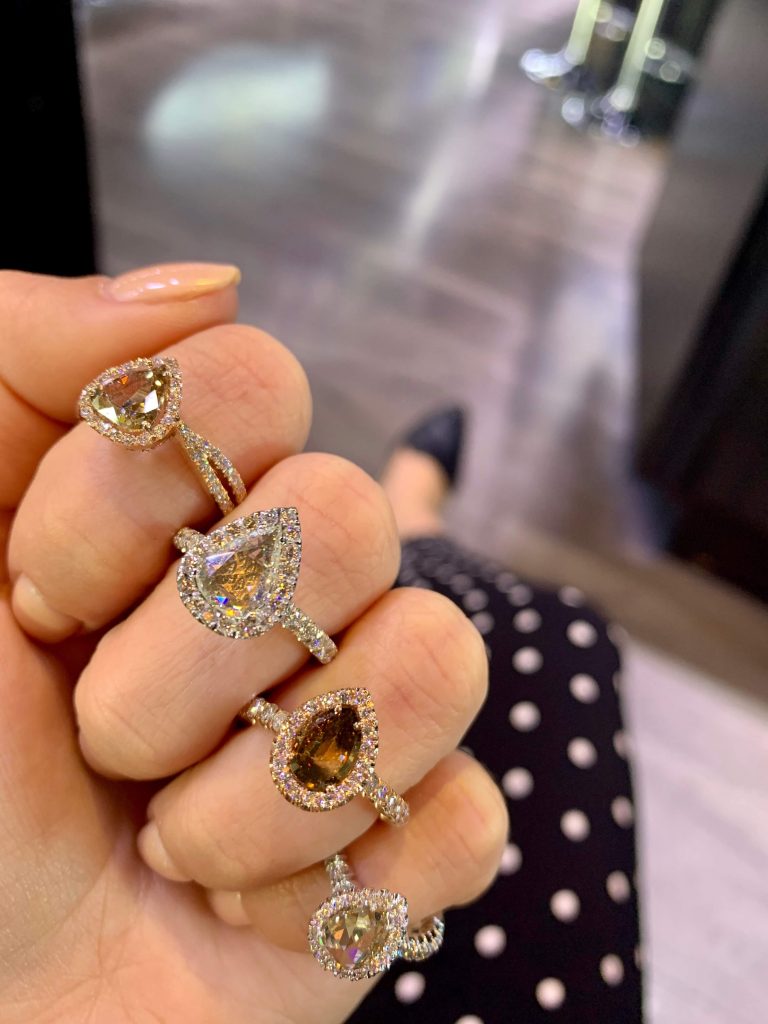 The following rings are not meant to be stacked together, we are simply just exhibiting them all on one hand so you can compare and contrast.
These rings can only be described as fancy, breathtaking and unequivocally unique. So let's discuss each one individually…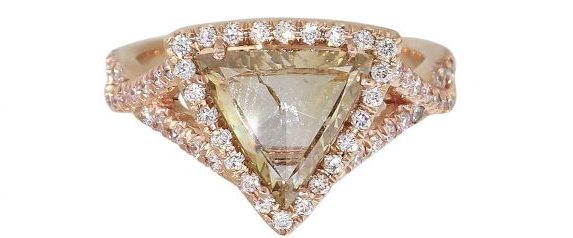 Triangle shaped engagement rings are especially rare. You won't easily spot one of these rare gems in person. This particular triangle shaped ring is fancy yellow, which turns the uniqueness knob up to eleven. It's a rose gold halo triangle diamond ring with a distinctive twisted pave diamond band.
You'll notice there is an inclusion in the center of this diamond, which is why it is priced at an extremely moderate price.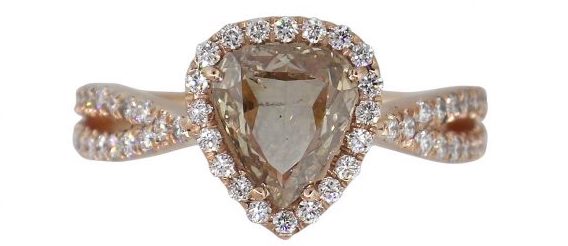 Again, taking the uniqueness of a triangle diamond to the next level, we have a triangle diamond engagement ring in fancy brown.
Fancy brown is not a fancy diamond color most people think of when shopping for diamonds. However, fancy brown and rose gold are an impeccable combination, as you can clearly see for yourself with this one, and the next featured ring to come…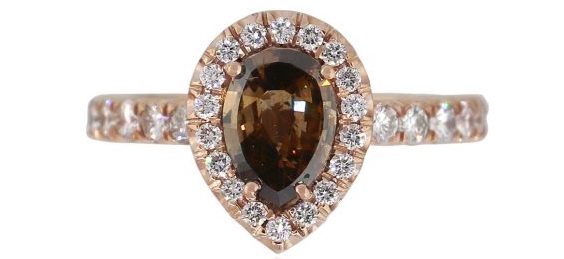 This is a 14K rose gold 1 carat fancy brown diamond halo engagement ring with a pave diamond band.
Brown hues in white diamonds is not a desirable look. However, when a diamond reaches this intensity of brown, it's like a caterpillar vs a butterfly. Although vivid fancy brown is not a sought after as black diamonds, it is unquestionably gorgeous and similar in beauty. So, if you are a lover of brown and rose gold, and being "different" is your thing, this is a flawless choice. Plus, fancy brown diamonds are the fairest priced fancy diamond color of all.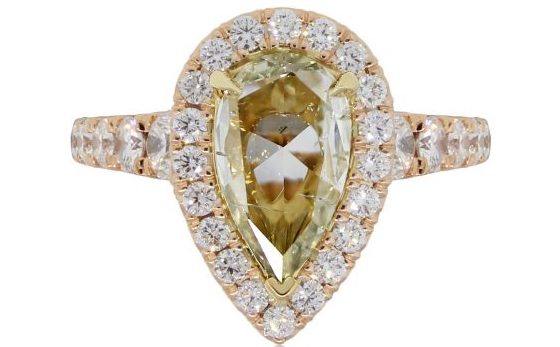 Stepping away from brown, we have a pear shaped fancy light yellow diamond halo engagement ring with a pave diamond band. This ring is imposing with its 2.02 carat centerpiece. And as with brown, fancy yellow goes incredibly well with rose gold, even more so for those who desire a lighter-toned color.
That said, this ring is considerably more expensive than the previous fancy brown rings as fancy yellow is one of the most coveted diamond colors in the game nowadays.
Fancy Bypass Ring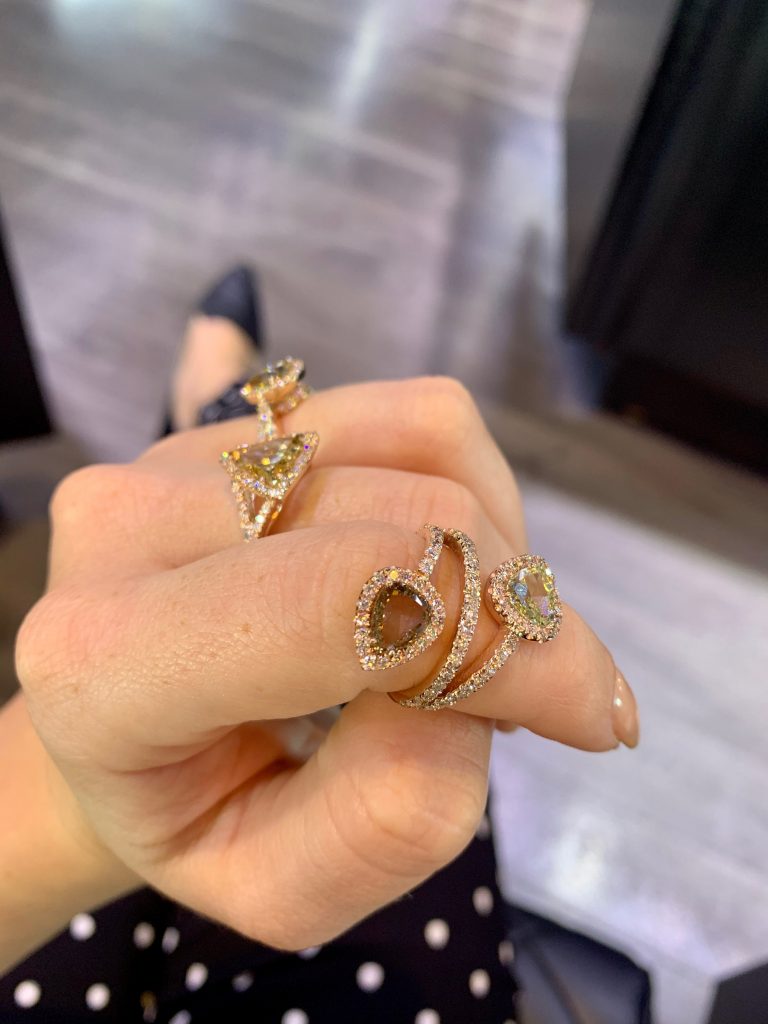 Finishing off this ensemble of fancy colored rose gold rings, we move away from engagement rings and bring the uniqueness heat level up with a bypass ring.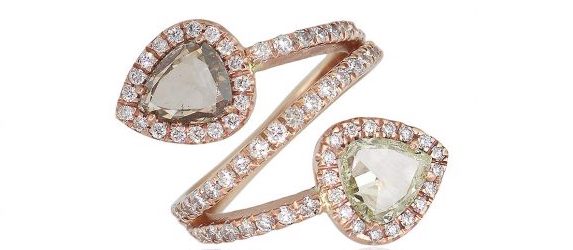 This is a pear shaped halo diamond bypass ring with a pave diamond band. One of the pear diamonds features light fancy yellow diamond while the other sports a light fancy brown diamond.
The ring wraps around the finger, forming 3 upward facing bands that never meet at the ends, hence the name "bypass".
For those who like eccentric diamond rings, this one tops the chart in both "slightly strange" and "very stunning". This is one of our favorite diamond bypass rings for the 2020s and beyond. It will surely be a ring that future generations of your family will love and cherish.
Want to see more fashion diamond rings?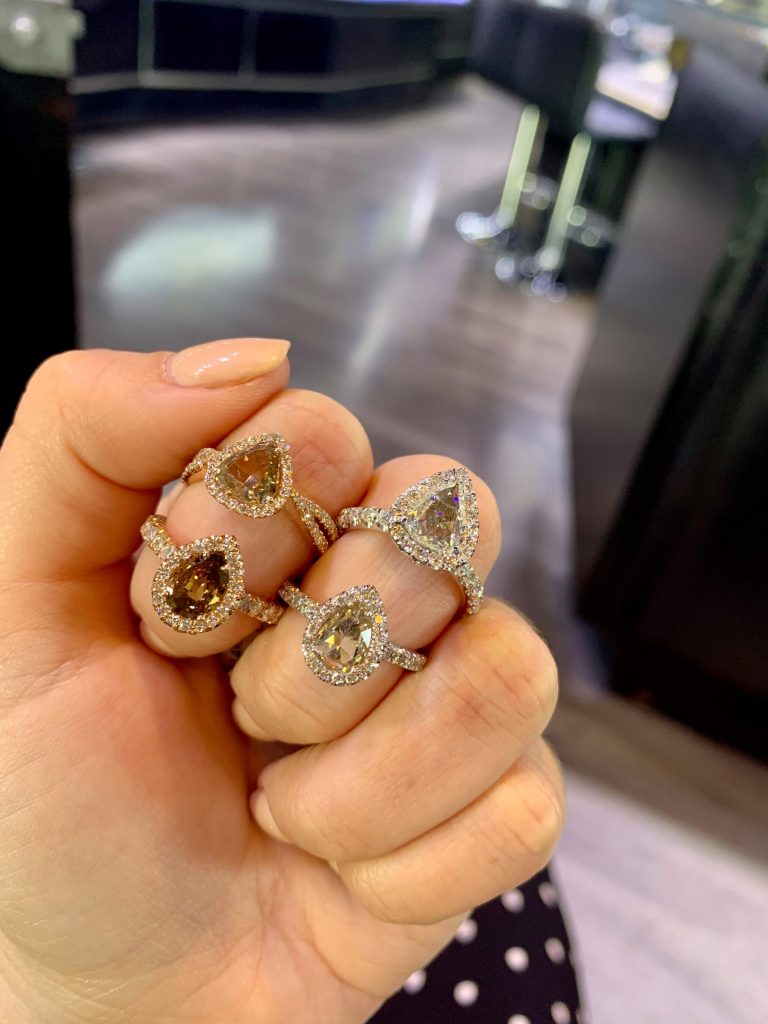 Shop diamond rings at Diamonds By Raymond Lee, South Florida's premier diamond ring and jewelry store.
Shop Ladies Fashion Diamond Rings by Gabriel & Co.
Tell us what you favorite Gabriel & Co. ladies fashion diamond ring was in the comments below