When it comes to rose gold engagement rings Tacori has the game down pat. These rose gold engagement ring designs are boldly delicate and classic. The antique and vintage allure of a rose gold ring are subtly juxtaposed with the center stone in order to create the perfect look. These are our favorite rose gold Tacori rings of the season.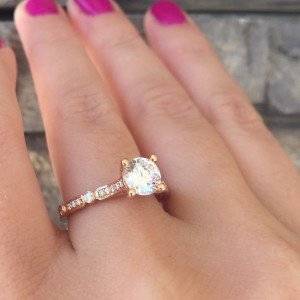 This sculpted crescent rose gold setting is modern yet timeless. The simple band compliments the beauty and awe of the center stone while still maintaining it's own unique rarity. The diamond accents on the band include .15 carats of accent diamonds. The ring feature hand crafted milgrain details and goes perfectly with a range of Tacori wedding bands.
This straight shank halo rose gold engagement ring is designed to beautifully accentuate you center stone. The .25 carats of accent diamonds shine on the timeless band and compliment the robustness of the halo. This ring will accommodate various center stones and has just the right amount of intricacy of design to create the perfect look.
For a bold, classic look this twisted shank rose gold setting is perfection. The ring features .22 carats of round, brilliant diamonds that showcase the beauty of your center stone. This ring is ideal for a woman that wants more to her band than just a diamond holder. It's hand crafted details are obvious from afar and the setting accommodates a number of different center stone styles.
Nothing says "I do" like this stunning rose gold halo setting. With .31 carats of accent, round brilliant diamonds, your center stone will stand out immensely. The sophisticated yet simple design is something you'll instinctively fall in love with and adore for the rest of your life. The setting accommodates princess cut and round cut center stones that are .5 carats and higher in weight.
A petite, modern and luxurious setting, this rose gold, solitaire is adorned with .15 carats of diamonds and is fit for a round or princess cut stone that is .5 carats or larger. This ring is perfect for someone who wants a delicate setting that draws attention to their diamond in a beautiful way.
If you're looking for a gorgeous rose gold engagement ring Tacori makes specifically to cater to a new generation of engagement ring aesthetics., contact Diamonds by Raymond Lee today. We're here to help, and there is always a representative available to walk you through the shopping and buy process. We'd love to hear from you soon.