Patek 5711R Review | 18K Rose Gold Nautilus Sports Watch For Sale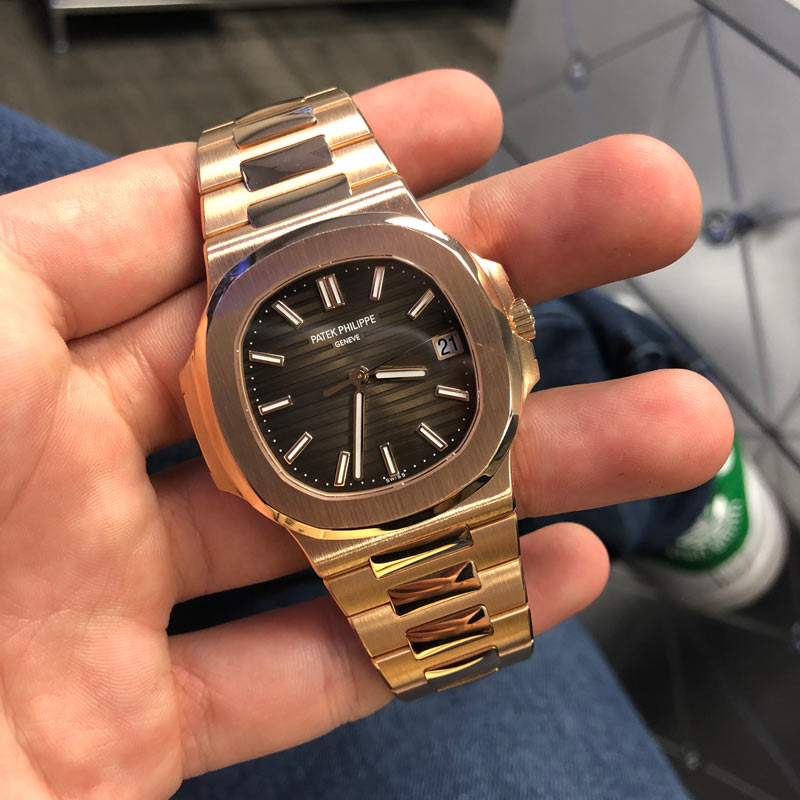 Here is a hands-on review of the Patek Philippe Nautilus In Rose Gold (Reference 5711/1R) with Images, Pricing, and Availability.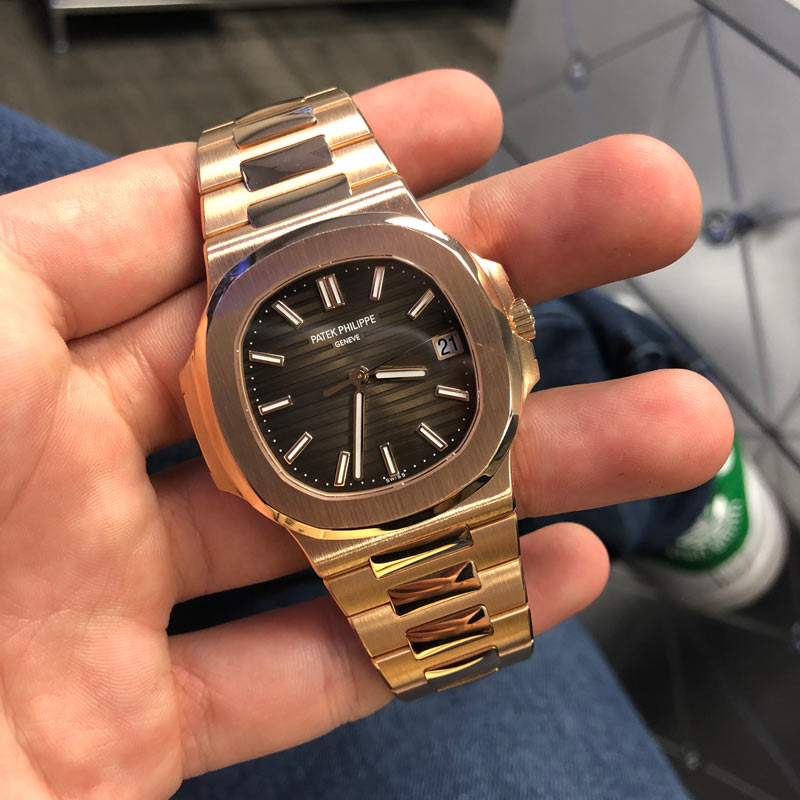 Today we are featuring a pre-owned Patek Philippe Nautilus Rose Gold 5711R watch, which is for sale and can be purchased on our website or at Diamonds by Raymond Lee's showroom in Boca Raton.
You can view the full sales listing here: Patek Philippe 5711-1R Rose Gold Watch
The Rose Gold Patek Philippe Nautilus (5711/1R) watch had a limited production run and has caught the attention of many people so they are very hard to get. Therefore, if you are interested in this watch, don't hesitate to contact us.
Now, let's begin…
We are going to give you a hands-on, in-depth review of the Patek Philippe Nautilus 5711/1R. In this article, we will provide a little background information on the Patek Philippe Nautilus, then we are going to run through all the fine details of this particular watch, such as the case, bezel, bracelet, movement, and how it looks and feels on the wrist.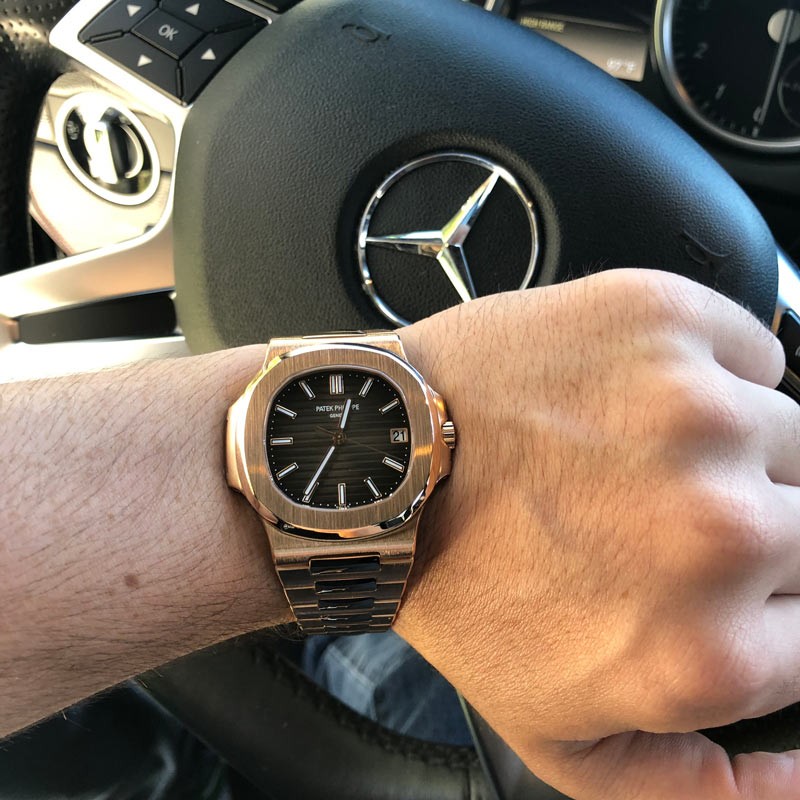 5711R Patek Philippe Nautilus Rose Gold Sports Watch
The rose gold Nautilus 5711/1R was Patek's best release in 2015.
It's a Nautilus in its purest form…the only thing is, it's made of 18k rose gold!
All Patek had to do was change the metal and the dial on the Nautilus 5711 (the stainless steel versions have a blue dial, and now we get a charming chocolatey brown), and boom, they have their new hottest watch.
Everything about this watch is perfect in our eyes. We do love Nautilus watches as a whole after all.
The rounded octagonal shape of the bezel, the creative porthole construction of the case, the horizontally embossed dial, and of course, the utterly intelligent finishing of the entire watch. The Nautilus is the epitome of elegant sports watches.
And they have been for over 40 years…
Throughout these last four decades, there have been many versions of the Nautilus, yet they all remain true to their origin. The collection comprises of models for both men and women and they come in a variety of metals, such as steel, white gold, rose gold and two-tone combination to meet the desire of anyone with an active lifestyle.
Gerald Genta
The Nautilus was designed by Gerald Genta in 1974. This was just a couple years after Genta designed the Audemars Piguet Royal Oak. By looking at the two iconic watches, you will see striking similarities. However, the Patek Philippe watch is seen as more refined and understated, as is the brand at large. We must honor Gerald Genta for these creations. His designs from over 40 years ago are still at the height of popularity.
As today we are reviewing a rose gold Nautilus, let's discuss a bit of background on their use of this precious metal.
Gold Patek Philippe Nautilus Watches
The first gold Nautilus was reference z/1A, which is still the most iconic and coveted Nautilus for any adept Patek enthusiast, was introduced back in the late 70s. Years later other Nautilus models became available in gold, except the Nautilus 5711. The Patek Nautilus 5711 stuck with stainless steel and a blue dial for a long time.
Then, to watch enthusiasts delight, the Nautilus 5711 came out with its first rose gold version. The first rose gold 5711 wasn't completely rose gold, it had a brown alligator leather strap.
In 2015, Patek Philippe welcomed the addition of the 5711 in rose gold with a gold bracelet, and it's been the talk of the 5711's ever since.
People can't get enough of rose gold, and as sports watches are the hottest thing in luxury watches, this one has been highly coveted since its release. Gerald Genta would be proud.
And with that, let's discuss the finer details of this particular 5711 Nautilus watch in rose gold.
Patek 5711 Rose Gold Review – Everything You Need To Know
Below we will breakdown the following:
Case, Bezel & Bracelet
Dial
Movement
5711R Patek On The Wrist
Then we will tell you how you can buy this stunning pre-owned rose gold Nautilus 5711.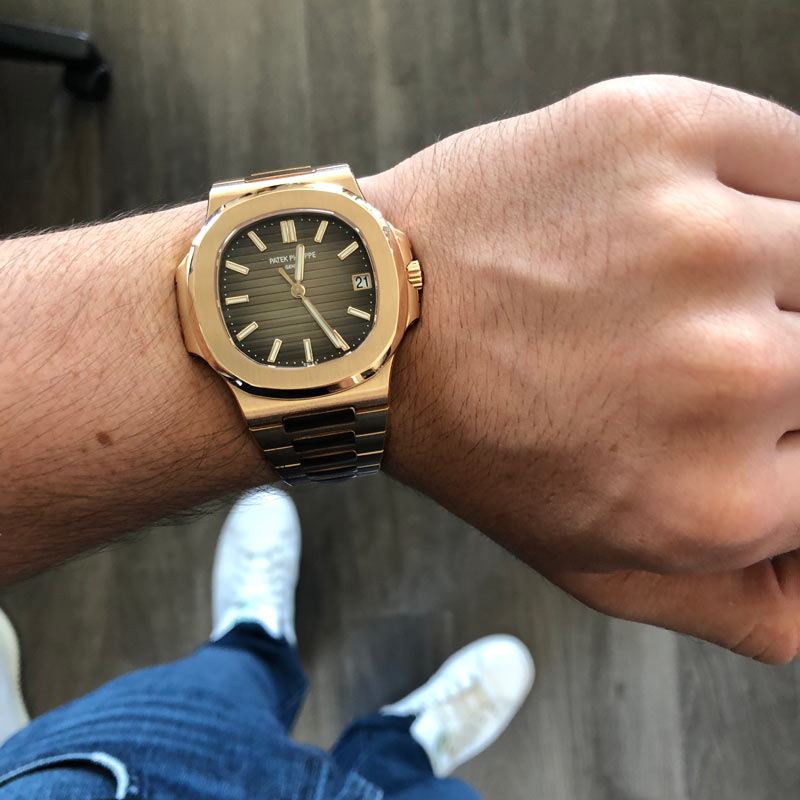 Patek Philippe Nautilus Rose Gold CASE, BEZEL & BRACELET
First, this has to be one of the most elegant looking sports watches in all of history. The 18k rose gold case has a creative porthole construction with a rounded octagonal bezel and a see-through sapphire crystal caseback.
One of the most delightful things about the Nautilus 5711/1R is the magnificent finishing on both the case, bezel, and the bracelet. If you need the perfect example of watchmaking finishing, this is it. In fact, Nautilus watches as a whole are the epitome luxury casework.
As you look over this Rose Gold Nautilus, you will see many different polishing techniques. There's mirror polishing on the bezel and case edges, beautiful brushing on the flat surfaces of the case, and the bracelet has a sumptuously unique style of finishing along with an unusual deployment clasp that has been designed to be seamlessly flush with the bracelet.
Everything is 18k Rose Gold and all of these details put together create the ultimate rich and charming look.
That said, this is everything that one would expect from Patek Philippe. Excellent case detailing using contrast polishing techniques is what they do, and they do it remarkably well. Honestly, if it wasn't for the superb finishing, we would have a completely different feeling towards this watch and its quality level as a whole. Rose gold or not.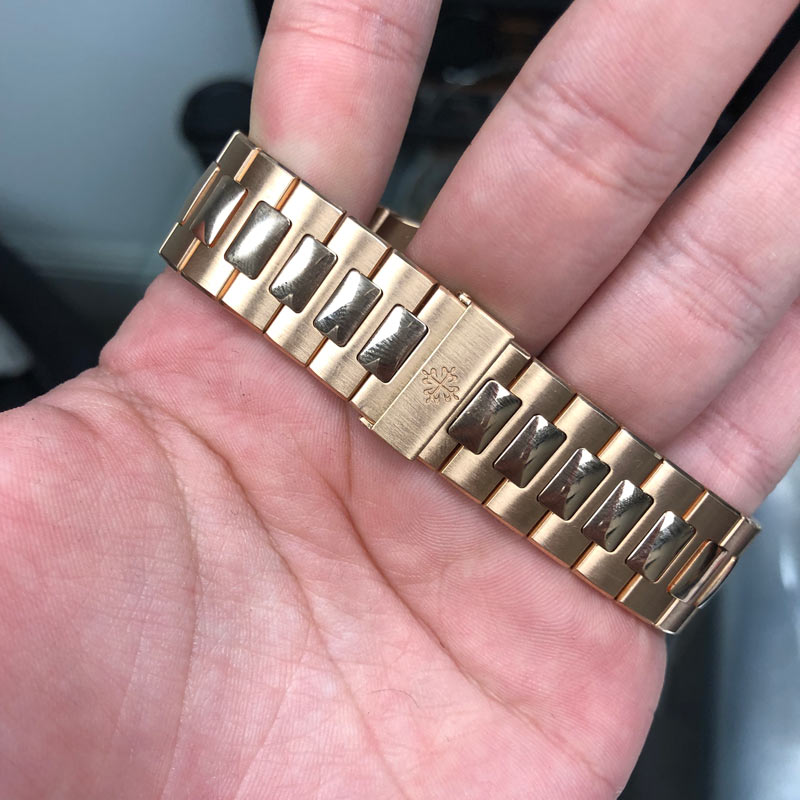 Size
The 5711R Patek has a 40mm case, yet this isn't your typical 40mm watch as it wears larger due to the case flanks. The 40mm dimension doesn't account for that.
From lug to lug, the watch is a compact 44.5mm. If you consider the rigid flare of the bracelet, which is the point of the bracelet near the case that can't be bent down, the span across the wrist is a substantial 55.5mm.
That said, it won't overwhelm most wrists. You can safely wear this one with a good sense of proportion and security all the way down to a 14.5cm wrist circumference.
What's more, from a thickness standpoint, the watch is considerably thin. The case is only 8.5mm in height and the bracelet is surprisingly thin, which allows it to easily slide underneath any tight sleeve or dress cuff.
Moreover, it has a sloped case flank, so it wears even thinner than that. All in all, the dimensions make for a super comfortable watch with the perfect amount of presence.
Waterproof
The 5711R Patek is waterproof to 120 meters, which is highly respectable and about three times deeper than what any recreational diver dives.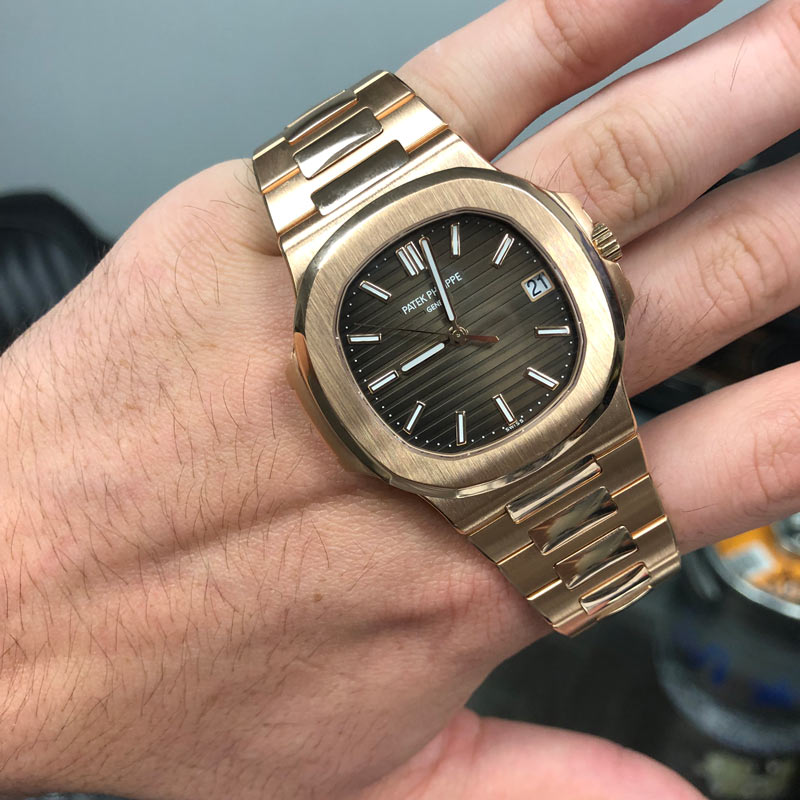 Patek Philippe Nautilus 5711/1R BROWN DIAL
The dial of the Patek Philippe Nautilus in rose gold is a charming chocolate brown. This color combination is very on-trend and according to all the raving Patek 5711R reviews, this was a smart choice.
The 5711R Patek has a guilloché dial with horizontal embossed lines. It offers incredible reflections, with color changing from dark brown to light cream depending on the lighting. The rose gold brown dial Nautilus delivers the look of a lively, high-end watch face.
What's more, the 3 hands and applied indices match the case. So, yes, those are made of 18k rose gold too. Moreover, the date window at the 3 o'clock is encircled with rose gold as well, which is a new development.
Furthermore, it also has the perfect amount of lume for low light conditions. When wearing the Nautilus 5711R at night, it will glow and gleam elegantly.
Overall the dial is straight to the point, offering the utmost intelligence. It's legible and impeccably attractive with no clutter or nonsense at all.
A big thanks to Patek Philippe for creating this groovy looking brown gradient-colored dial. This is a style that will never die, unlike the word "groovy"…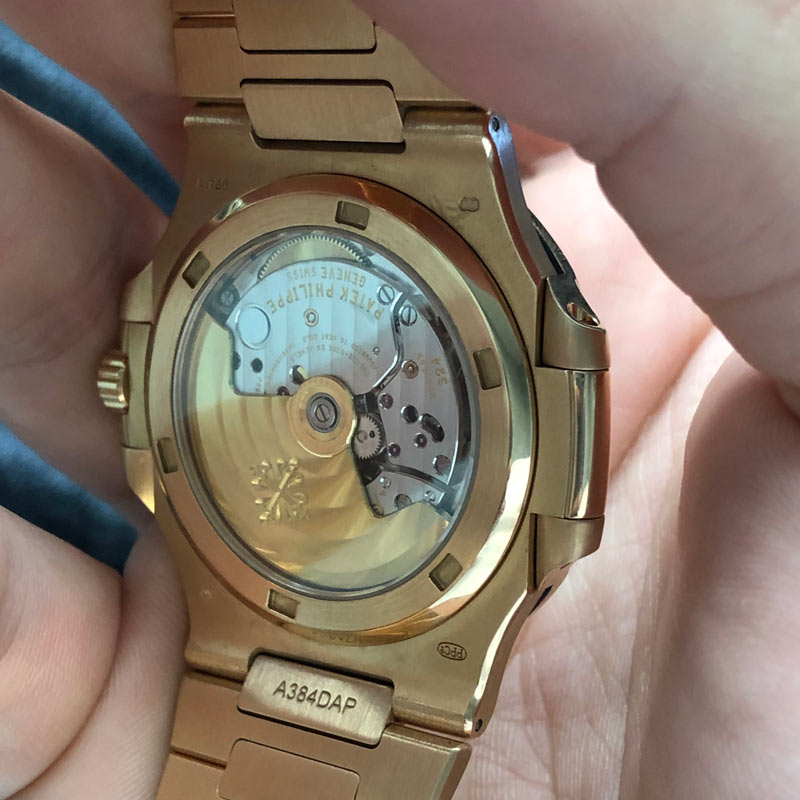 Patek Caliber 324 SC MOVEMENT
Behind the see-through caseback we have the gorgeous in-house automatic self winding Patek caliber 324 SC. You can visibly see Patek's Gyromax balance and finishing which goes beyond even Patek's own in-house standards.
The movement is produced from 213 components and is only 3.3mm thick. It operates at 4Hz and has a power reserve of 45 hours.
All in all, the movement has a meticulous appearance that we are very thankful to be able to enjoy whenever we want to look at it AND the 5711R Patek is highly accurate. So accurate that it will lose less than a second in a 72 hour period.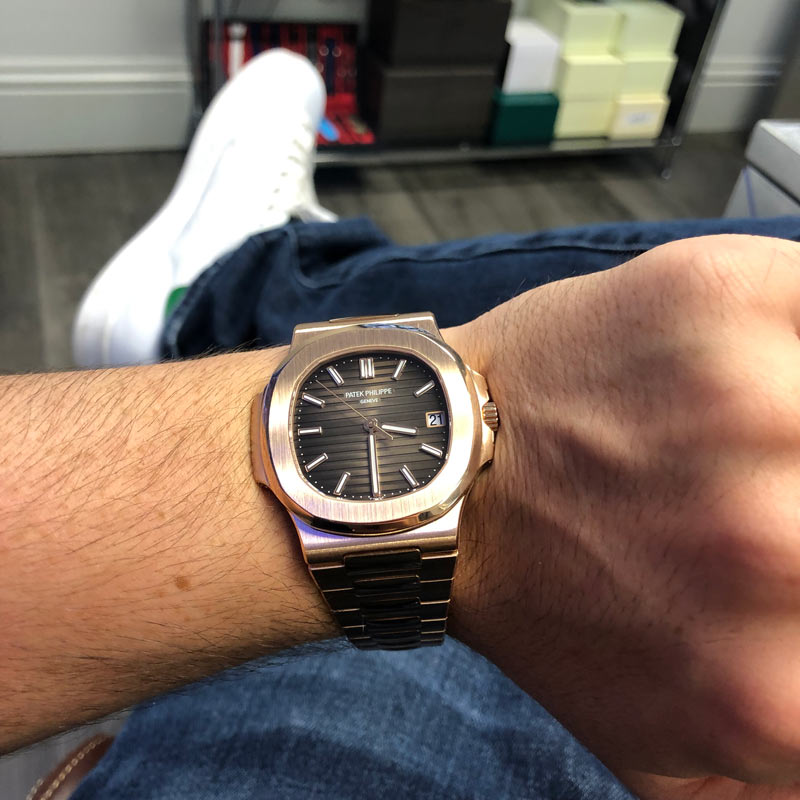 5711R Patek – ON THE WRIST
Put simply, this is a beautiful watch. The combination of rose gold and gradient brown is just really appealing, sophisticated and tremendously refined.
In terms of weight, unlike the stainless steel version, which is quite light, the rose gold has a larger presence. The weight of the gold will remind you that you have precious material on your wrist.
Moreover, the color of the gold and the incredible finishing adds to the presence. It has a supremely warm demeanor.
Unlike a lot of gold watches, this one will never appear flashy or gaudy. In fact, the watch is surprisingly understated, at least for a solid rose gold watch. Because this rose gold is of a soft color, you can fly under the radar with this one.
When comparing it to a rose gold Audemars Piguet or Rolex, the Patek Nautilus 5711/1R is modest-luxury. Moreover, the watch is thin, unlike AP and Rolex watches, so that also helps with its low-key grandeur.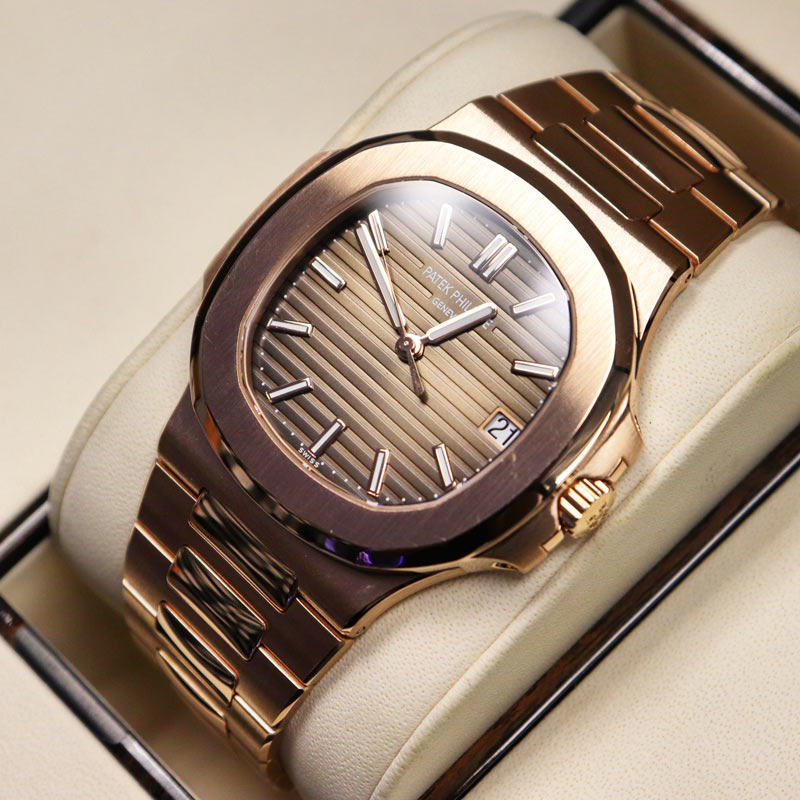 Wrapping up this review
If you love the Nautilus but you are looking for something more distinct and luxurious than the usual stainless steel versions, the rose gold Nautilus 5711 is your match made in heaven.
Although the 18K rose gold Patek Philippe Nautilus won't be for every person out there, and it is quite expensive (and increasing), it does fulfill a nearly unprecedented degree of style and prestige.
The Patek Philippe Nautilus 5711 in rose gold is the perfect example of how a gold sports watch can be "graceful".
This is another excellent timepiece by Patek Philippe.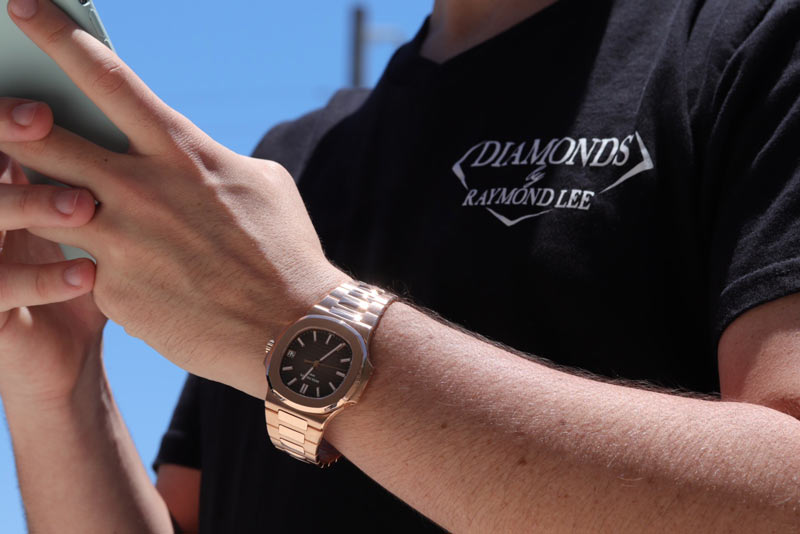 Where to buy a Patek 5711R?
Patek watches, in general, are hard to get your hands on, and this rose gold Nautilus is no exception. In fact, it's harder than most.
Patek likes to make their watches hard to track down. It adds a sense of exclusivity and gives it a more prized-possession-feeling as you must hunt it down, potentially for years.
Yes, years. The Patek 5711 waiting list is extremely long and it will take years to get one….unless you know where to shop.
Fortunately, the watch featured in this 5711R Patek Review is for sale at Diamonds by Raymond Lee.
You can see and purchase this rose gold sports watch on our website or at our showroom in Boca Raton.
See our full sales listing of this Pre-Owned Patek Philippe Nautilus 5711R Rose Gold Case & Bracelet Watch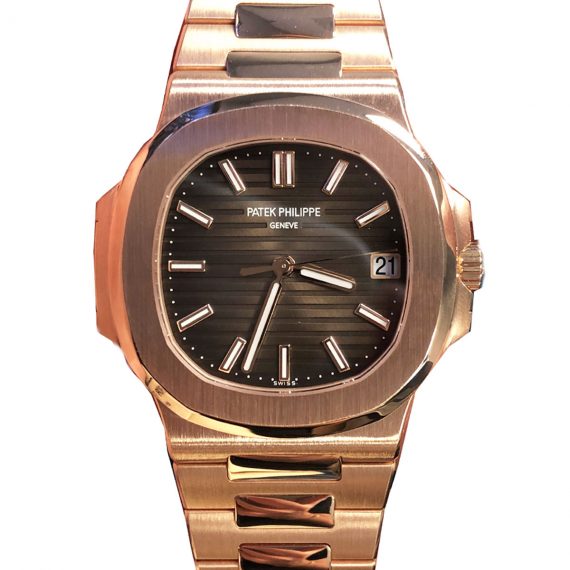 Diamonds by Raymond Lee is Boca Raton's most recommended sales and service centers for watches, diamonds, and high-end jewelry. Our business is family owned and operated. We have over 30 years of experience selling fine certified luxury watches and in that time we have built an unparalleled reputation for fair, quality dealings in South Florida.
Our goal is to meet the needs of our customers at our Boca Raton retail store and online, and to provide our community with the best possible experience.  We combine value, quality, and cost with the remarkable ability to meet and understand the needs of the people we serve.
If you live in Boca Raton, please feel free to drop by our showroom anytime!
Diamond By Raymond Lee's Showroom in Boca Raton, Florida:
2801 N Federal Hwy, Boca Raton, FL 33431
Our hours of operation are:
Monday-Friday – 11 am to 7 pm
Saturday – 10 am to 5 pm
Sunday – 12 pm to 5 pm
Feel free to contact us if you have any questions about this pre-owned Patek Philippe Nautilus 5711/1R, and if you liked this review, please leave a comment below telling us your favorite aspect of the 5711R Patek.
Did you know the following celebrities are huge Patek Nautilus enthusiasts?
Robert Downey Jr., Kevin Hart, Sylvester Stallone, Brad Pitt, Ed Sheeran, Ellen DeGeneres, Jonah Hill, and Orlando Bloom. That's not all, the list goes on, from actors to sports stars to CEOs and high-level executives, the Patek Nautilus is a top choice. When you are famous and rich, you want luxury without all the "loud". Elegance and sophistication are key and the Patek Nautilus has that in abundance.