An In-depth Omega Speedmaster Racing Review – 40mm, White Dial

Today we are reviewing the Omega Speedmaster Racing Chronograph White Dial Watch.
The Speedmaster Racing Chronograph collection was first introduced in Baselworld 2012. It is the more affordable collection of the brand's Co-Axial Speedmaster watches.
The Speedmaster series as a whole has over 60 years of history, with designs that have been inspired by the dashboards of illustrious Italian race cars.
The Speedmaster Racing watch is one of the world's most popular chronographs.
Omega's 2017 Speedmaster Racing Chronograph collection uses a 40mm stainless steel case, iconic matte black tachymetric bezel, 3 textural subdials, either a bracelet or rubber strap, and they come in a variety of different colors schemes.
The watch we are featuring today is a monochromatic white dial with a black rubber strap.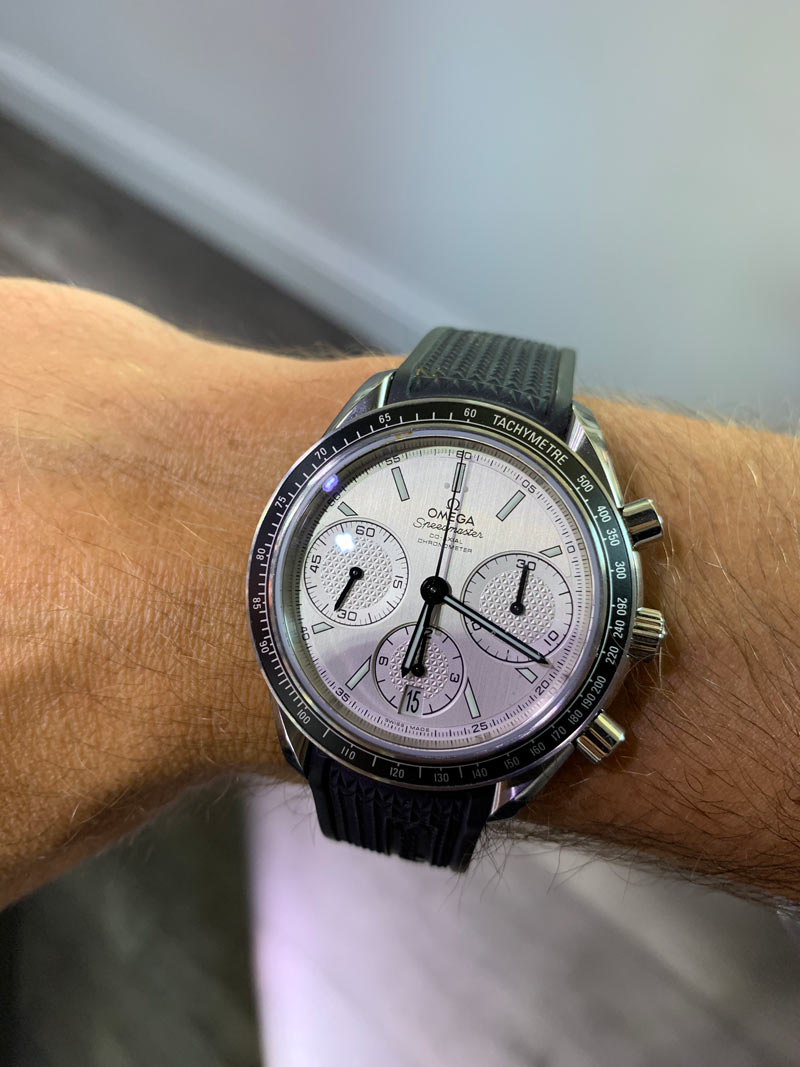 We are going to discuss the following details in this Speedmaster Racing Chronograph Review.
This watch's…
40mm Stainless Steel Case
Monochromatic Chronograph Dial
Tachymeter Bezel
Rubber Strap & Clasp
Then we are also going to briefly cover the History of Speedmaster and we are going to tell you how you can purchase this incredible (and affordable) watch.
So, let's get started…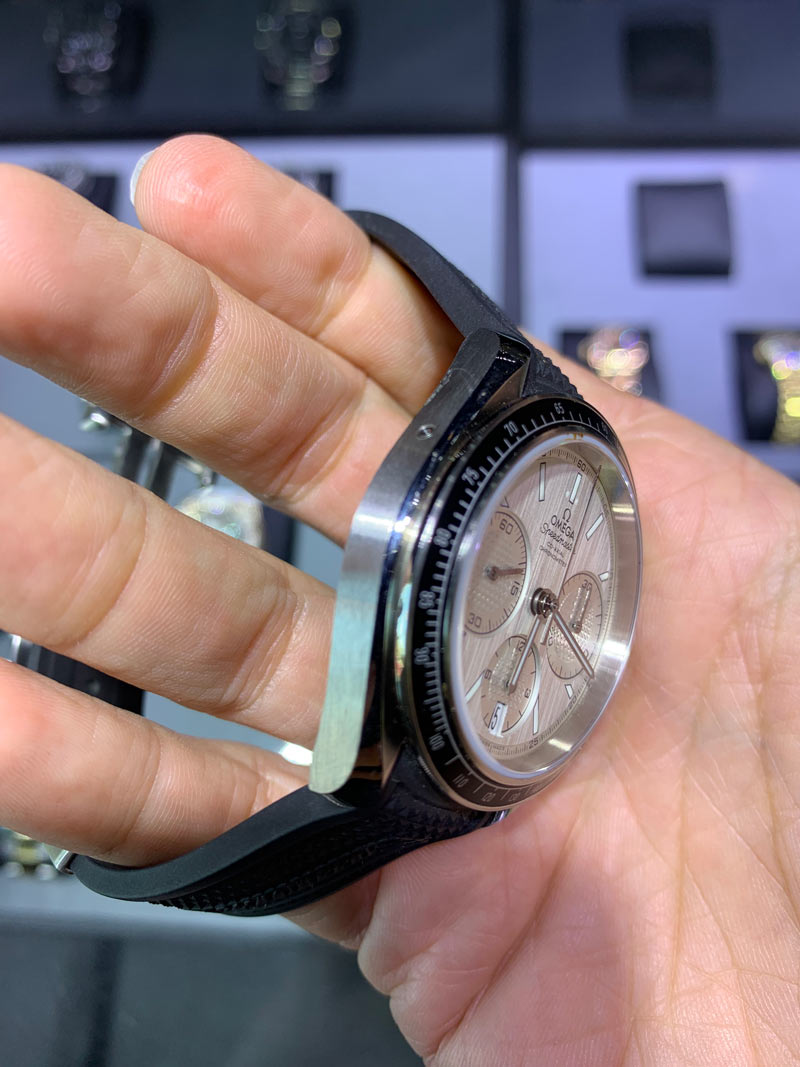 Speedmaster Racing 40mm CASE
The Speedmaster Racing watch has a stainless steel case measuring 40mm in diameter and 15.05mm in height. This is 2mm smaller in diameter than the Speedmaster Professional, making it a much more wearable model for the majority of the population.
The case has the signature, classic Speedmaster shape, with flank edges and lugs, bezel edges, two pushers with a crown in the middle, and a beautifully brushed finishing.
There's a scratch-resistant sapphire crystal which has a double-sided anti-reflective treatment so the dial remains visible in all lighting conditions. Moreover, the sapphire crystal has only a slight dome shape, so it doesn't protrude out as much as previous Speedmaster collections.
The caseback is a screw-in and it is stamped and polished with Omega's signature and iconic seahorse emblem.
Overall the watch sits perfectly on the wrist and it is super comfortable to wear. Furthermore, the watch is water resistant down to 10 bars, which is 100 meters or 330 feet, so you can safely jump in the ocean to do typical dives with it, and of course, showering with speed is of no concern.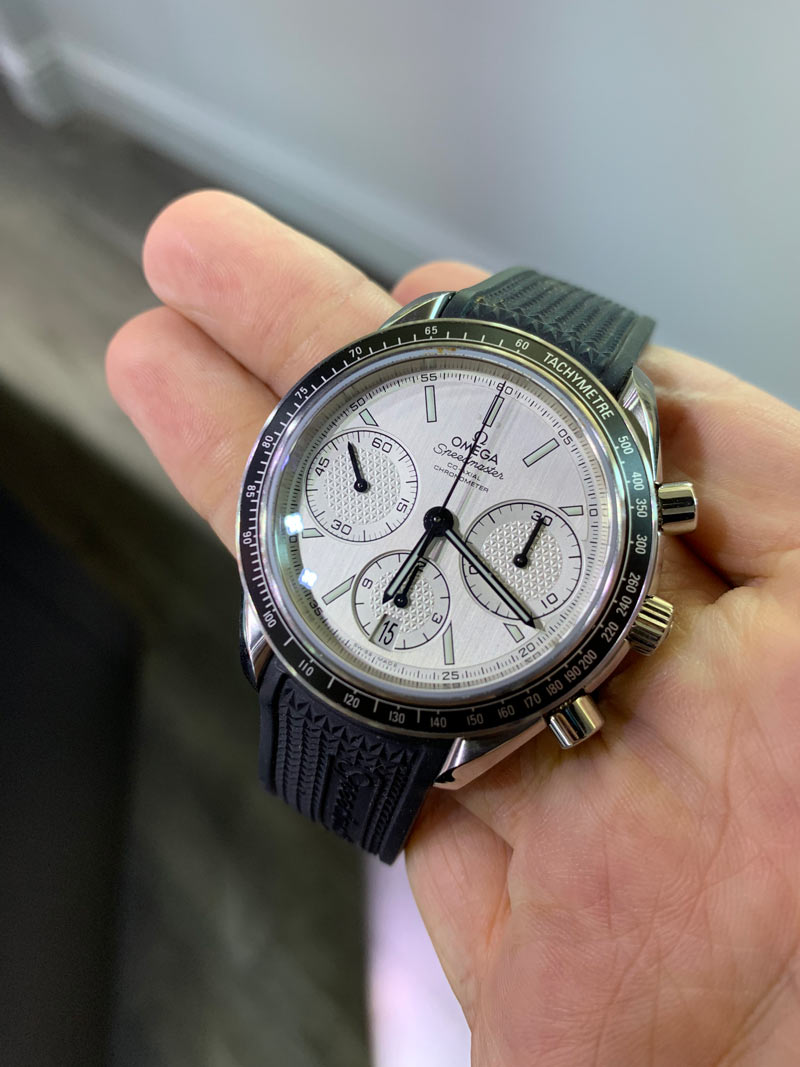 Speedmaster Racing Chronometer White DIAL
This Speedmaster Racing Co-Axial Chronometer model is the white monochrome version. The dial and subdials are both a grayish white. It offers a much more classic Speedmaster feel comparing to the featured watch of this collection which uses bright yellow accents.
The hands on both the dial and subdials are a striking black color and they are rhodium plated. The hour and minute hands use powerful lume fill, as do the hour indexes. The luminous fill is Super-LumiNova so you have perfect legibility at night and you know it is made to last.
There are three useful subdials that feature triangular textured "Clou de Paris":
30-minute subdial (at the 3 o'clock)
12-hour counters subdial (at the 6 o'clock)
Small chronograph seconds hand subdial (at the 9 o'clock)
We love how there is a date window at the 6 o'clock position, which connects with the subdial, rather than the typical 3 o'clock position you see on most watches. This is a unique touch from the Speedmaster collection.
The dial reads – Omega, Speedmaster, Co-Axial, Chronometer – just under the 12 o'clock, and there is a sharp looking minute track around the edge of the dial.
All in all, the dial has a remarkable design. There is a lot to look at but nothing is cluttered. If you are more of a monochromatic person and dresser, this is definitely the best choice of all the Speedmaster Racing models.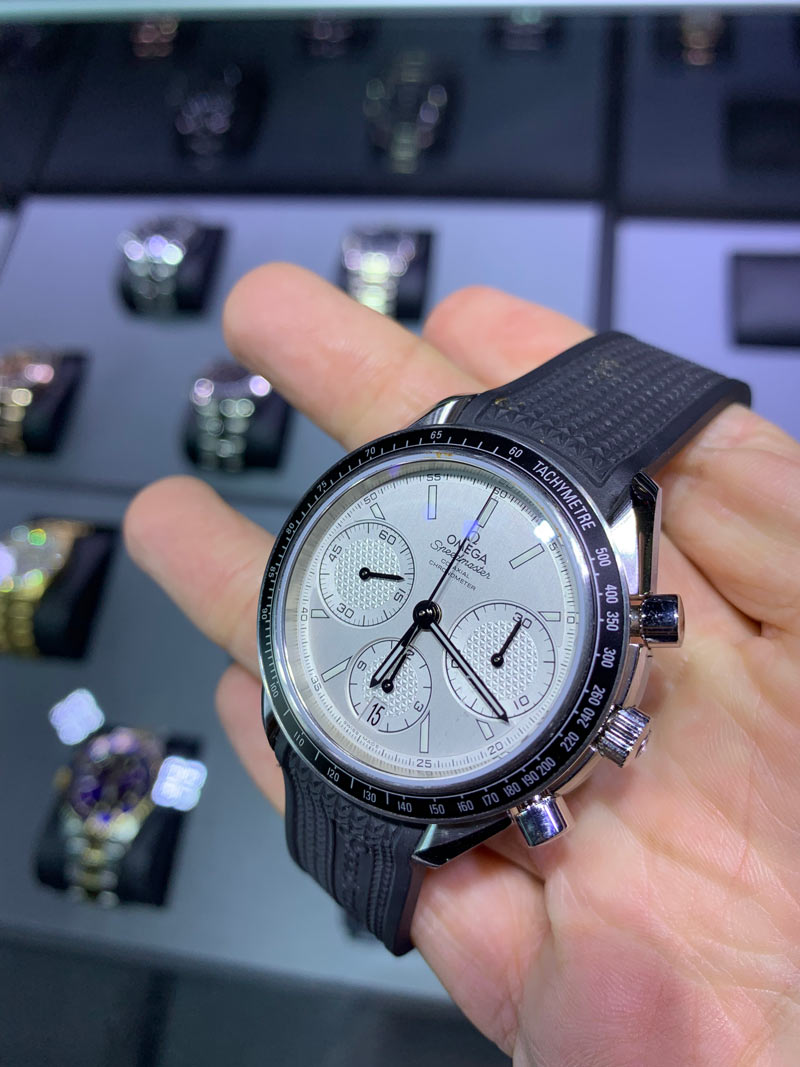 Black Matte Stainless Steel Tachymeter Ring BEZEL
One of the classic features of the Speedmaster is the tachymeter ring bezel. This one is stainless steel matte black and has scaling that matches the color of the dial.
A tachymeter can measure the speed of a moving object based on time traveled over a fixed distance. It allows for an easy conversion of elapsed time in seconds per unit to speed in units per hour. It has a maximum duration of 60 seconds and the seconds hand is the indicator of speed.
This is great if you want to calculate the speed of a moving car. Hence the point of this whole collection. Its design and functions are perfect for racing.
Here's how it works:
Let's say we are using a distance of 1 mile between two points:
You start the chronograph as soon as the car passes the first point.
Then you stop the chronograph as soon as it passes the second point.
Let's say the seconds hand traveled around the dial to 35 seconds mark on the dial's minute track.
On the tachymeter bezel, this would line up with the '100'.
This would mean the car was traveling at a speed of 100 miles per hour.
When speed is life, the Speedmaster Racing collection is the perfect companion. Watches and cars go hand in hand (literally), and any race car driver would be more than pleased with this watch.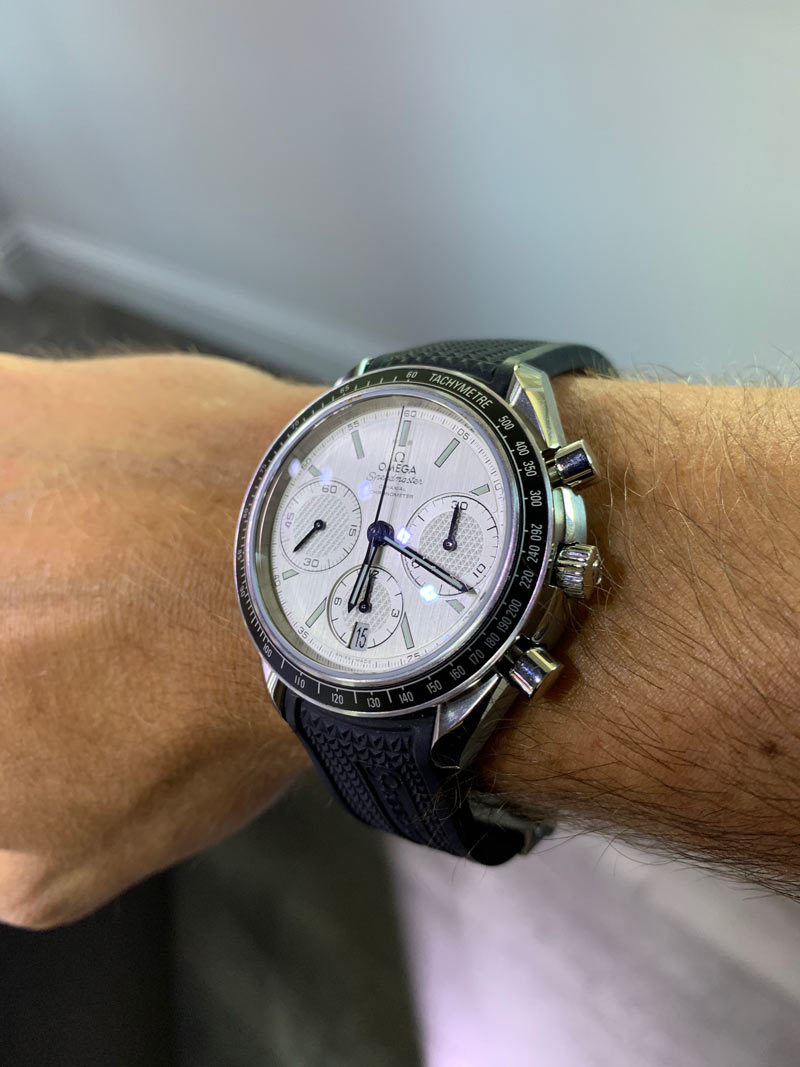 Calibre 3300 MOVEMENT
The Speedmaster Racing models aren't just aesthetically pleasing with their tricked out dials. This new concept of the Speedmaster comes with a new movement, something that watch nerds have taken a strong interest in.
The new movement is a mix of a base ETA movement and a completely in-house Omega movement like the calibre 9300.
The Speedmaster Racing is equipped with Omega's exclusive calibre 3300 movement.
Omega's calibre 3300 is quite a bit more affordable than the 9300, yet it still has Omega's proprietary mechanisms, such as a column-wheel chronograph mechanism, a Co-Axial escapement, NIVACHOC shock absorber, and an Si14 silicon balance spring. This combination offers incredibly reliable timekeeping performance and stability even when the watch is in the most extreme conditions.
The movement uses 31 jewels, running at 4hz, and it has a power reserve of 52 hours. Furthermore, it has been officially COSC certified as a chronometer. It's a very accurate movement with an average deviation of only -4/+6 seconds a day. This is "quality" movement meant to last.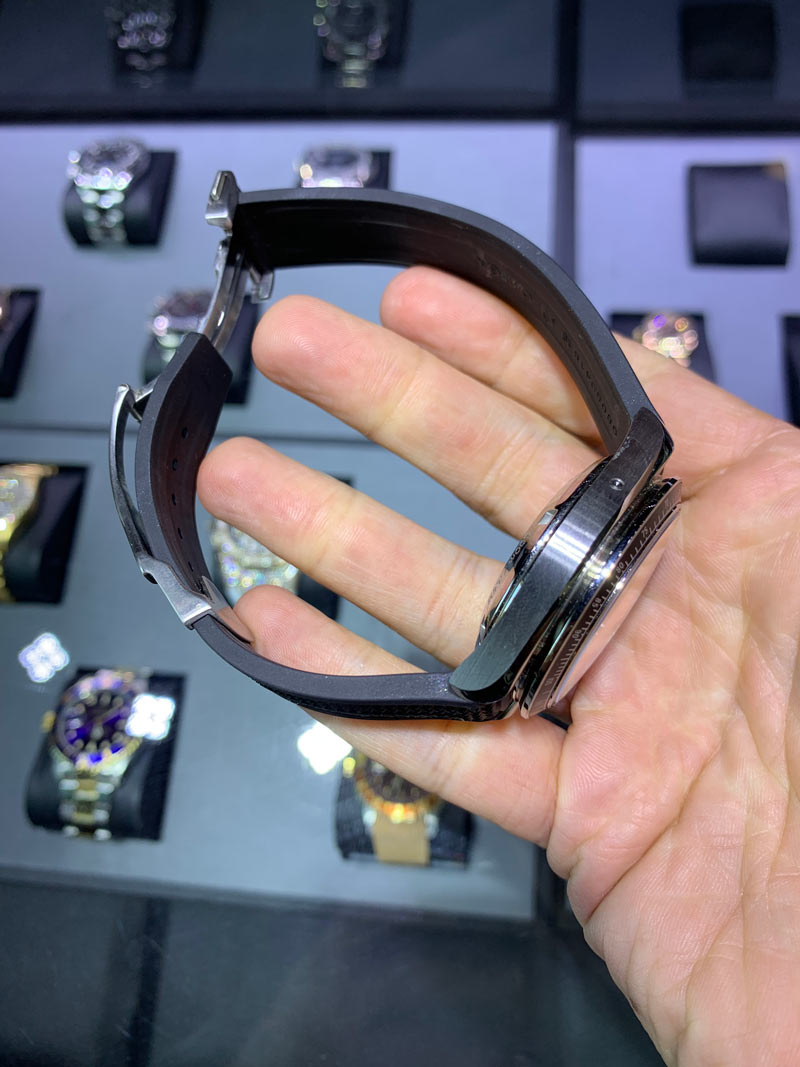 Black Rubber STRAP & Fold Over CLASP
The strap is a very cool black tactile rubber strap with a good looking folding clasp. Both the clasp and the strap scream high-end materials. One look and feel of the strap and buckle of the claps and you will know.
The strap has a terrific texture to it that suits the rest of the watch beautifully, as many components of the Speedmaster Racing are textural.
The inside of the strap is extremely comfortable on the wrist as well.
Even though the bracelet looks great with this watch, we are bigger fans of the rubber strap. It really completes the look of this racey watch.
Adjusting the length of the strap.
You can easily adjust the length of the strap, all you have to do is free the longer strap section from the clasp's two slideways, adjust it and reinsert it into the two slideways.
A Brief History of the Speedmaster
The first official Speedmaster was introduced in 1957. It was made to be a sports and racing chronograph, and it complemented Omega's post as the official timekeeper for the Olympic Games. It was Omega's first chronograph watch with a tachymeter bezel.
Their first model was known as the Broad Arrow (ref. CK 2915). It was designed by Swiss Claude Baillod. This first watch set the tone for future Speedmaster designs as they still use many of the same hallmarks – the triple register chronograph layout, the domed Plexiglas crystal, the powerfully contrasted index markers, and the perfectly balanced and proportioned dial.
In 1963, Omega released their iconic Moon Watch. Then the Speedmaster Professional in 1965, which was the first Speedmaster to have a 42mm diameter case.
It was during this time that the USSR was propelling the first man into space. Of course, this was followed by USA, who has a very competitive nature when it comes to space, sending the first man to the MOON. In preparation for this venture into space, NASA was looking for a wristwatch for their astronauts. They worked with Rolex, Longines, Breitling, and of course, Omega.
NASA was testing watches to see if they could endure:
High temperatures
Low temperatures
Temperature-pressure changes
Humidity
Shock
Oxygen atmosphere
Acceleration
Acoustic noise
Decompression
High pressure
Vibrations
Obviously, the watches were all tested on extreme conditions that really only astronauts would face.
NASA chose Omega.
The Speedmaster proved to be more reliable than the electronic timer inside the module, so the astronauts would end up relying on this.
Fast forward to Apollo 11, and Buzz Aldrin, who was wearing his Speedmaster, stepped foot on the moon.
The Omega Speedmaster officially became the first watch to be worn on the moon.
During Apollo 13, Jack Swigert utilized his Speedmaster to record a crucial 14 second boost that was required to angle the space shuttle back to Earth. This was a major deal for the astronauts and they received the Silver Snoopy Award for "dedication, professionalism, and outstanding contributions in support of the first United States Manned Lunar Landing Project".
It became clear that an excellent watch like the Speedmaster was a crucial element of space travel.
All in all, Omega Speedmaster was involved in six lunar missions, which makes the Speedmaster one of Omega's most iconic collections.
Omega continues to make space watches to this day.
Now, the Speedmaster collection is now known for racing and the incredible adventures of mankind in space.
Most Popular Speedmaster Models:
CK 2915 (1957)
ST 105.003 (1965)
ST 145.012 (1967)
Mark II (1969)
125 (1973)
X-33 (1998)
57 Omega Co-Axial Chronograph (2013)
Speedmaster "Dark Side of the Moon" (2013)
Speedmaster Racing Collection
The Speedmaster Racing collection dates back to the first Speedmaster, the CK 2915, in 1957. And although the Speedmaster collection heavily focused on space watches in the 60s, from 1968 on, Omega continued to produce innovative Racing Watches.  Always keeping the world's best drivers intrigued.
Omega's new Speedmaster Racing models, which were unveiled at Basel 2012, remain true to Omega's racing tradition. The new models (like the one featured in this review) carry the spirit and design of Omega's past. This is instantly clear when you look at the dial. From the distinct minute-track to the easy readability to the other unique and refined details, Omega's history is in it all.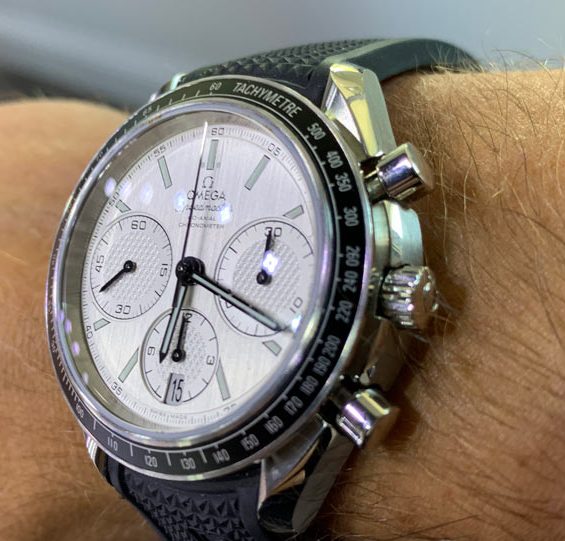 Where to buy this Omega Speedmaster Racing Co-Axial Chronograph 40mm White Dial, Black Tachymetric Bezel, Rubber Strap Racing Watch?
The Omega Speedmaster Racing Co-Axial Chronometer watch featured in this article is now for sale online or at our showroom in Boca Raton.
Pre-owned Omega O326324 Speedmaster Chronograph White Dial Watch FOR SALE
This watch comes with its original box and papers! It's in excellent condition, as you can see from the pictures. If you have any questions regarding the sale of this watch, please don't hesitate to contact us.
Diamonds By Raymond Lee
Diamonds by Raymond Lee is Boca Raton's most recommended sales and service centers for luxury watches, diamonds, and high-end jewelry. We have over 30 years of experience selling certified luxury watches and in that time we have built an unparalleled reputation for fair, quality dealings in South Florida and online.
Our goal is to meet the needs of our customers at our Boca Raton retail store and online and to provide our community with the best possible experience.  We combine value, quality, and good prices with the remarkable ability to meet and understand the needs of the people we serve.
What we do: We buy, sell, trade, customize, and appraise luxury jewelry and watches. We also offer collateral loans for estate jewelry.
Diamonds by Raymond Lee has one of the largest collections of Rolex watches in all of South Florida. Moreover, we have extensive collections from top Swiss watch brands such as Omega, Audemars Piguet, Patek Philippe, Breitling, Longines, IWC, Cartier, and more.
If you live in Boca Raton, please feel free to drop by our showroom anytime!
Diamond By Raymond Lee's Showroom in Boca Raton, Florida:
2801 N Federal Hwy, Boca Raton, FL 33431
Our hours of operation are:
Monday-Friday – 11 am to 7 pm
Saturday – 10 am to 5 pm
Sunday – 12 pm to 5 pm
Feel free to contact us if you have any questions.
If you want more reviews of your favorite watches, please leave a comment below and let us know what model you want us to review. We look forward to hearing from you.
Here are a few more Omega watch reviews:
OMEGA SEAMASTER PLANET OCEAN CO-AXIAL BLACK DIAL 45.5MM WATCH REVIEW
OMEGA SEAMASTER PLANET OCEAN REVIEW | GOODPLANET 600M BLUE WATCH
SPEEDMASTER OMEGA 3573.50 PROFESSIONAL BLACK DIAL MOONWATCH REVIEW