Audemars Piguet Black Themes Royal Oak Offshore Watch Review
The Audemars Piguet black dial royal oak offshore dial watch is a true master piece of watchmaking. Integrating all of the fine parts of the Royal Oak Offshore watch that we know and hold dear from Audemars Piguet the black themes takes it just one step further with a truly bold black look. The dial is a monochromatic base with the classic tappisserie dial. Meanwhile the large white Arabic numerals call out from within the monochrome stainless steel case. Along with the bracelet this watch is an iconic piece. A visual delight and a complicated chronograph function watch it is for the versatile gentleman that requires a watch follow his lead.
A complicated chronograph watch the Audemars Piguet black themes watch is a time piece for collectors. For those gentlemen that look for the watches that not only set a tone and declare their presence the AP Royal Oak Offshore is also a unified solid design style and look. It has the iconic and well known if not instantly recognizable octagonal fixed bezel with the eight visible accent screws. Further this watch also features the black rubber clad detailing that make the tappisserie dial pop even more. On both the pushers and the crown, not to mention the sealing gasket between the case and the dial, the Audemars Piguet black themes features several rubber odes to its sportive and active style.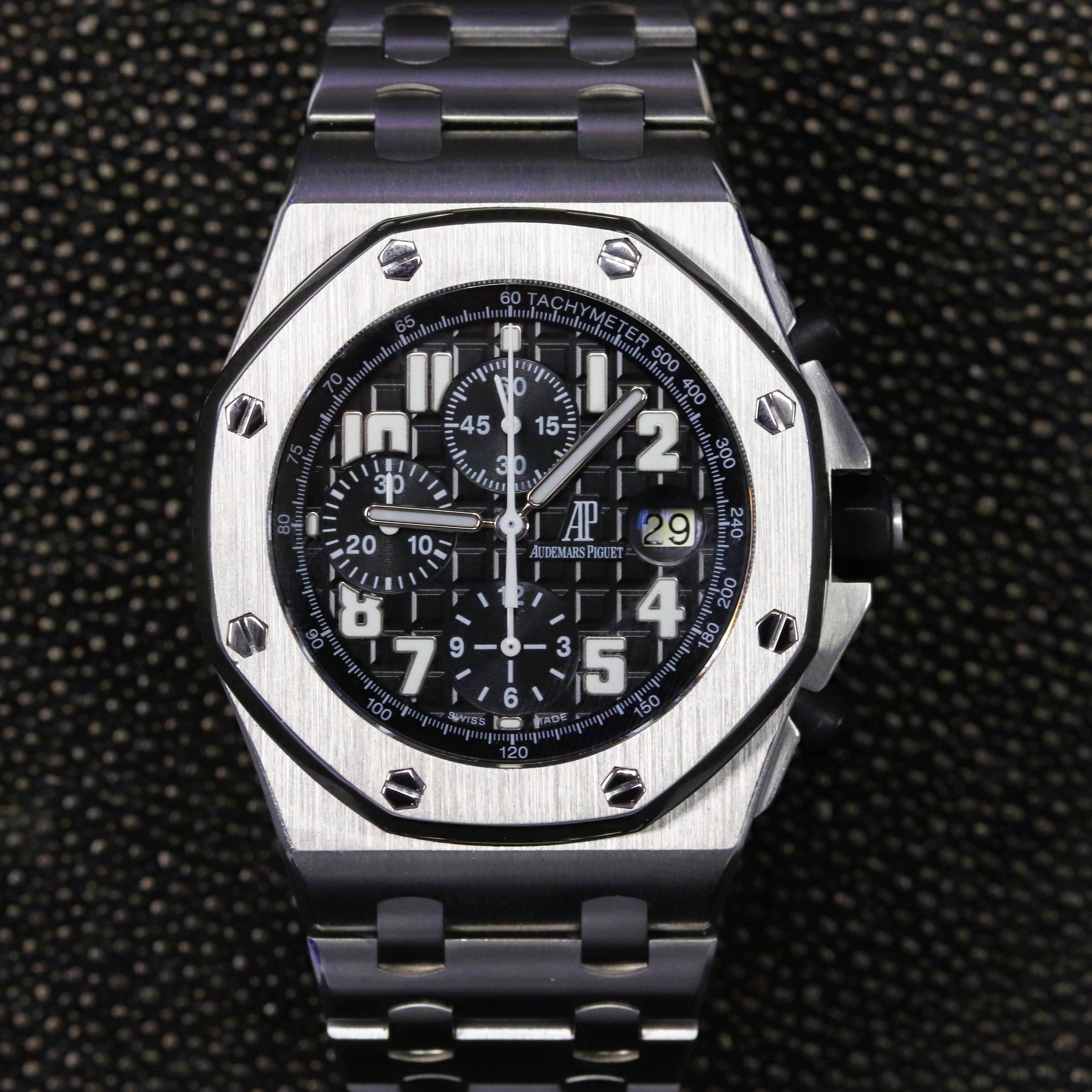 The almost 15 millimeter thick 26170 "Black Themes" Audemars Piguet Royal Oak Offshore is a stunning time piece. Fully in stainless steel with a monochromatic matching stainless steel bracelet the watch catches your eye from every angle. The crown and the crown guards on this particular black themes AP are rubber clad in black. Further the watch of course features the iconic Audemars Piguet octagonal fixed bezel with eight visible accent screws. Each detail of this watch is the classic Royal Oak Offshore sportive and modern masculine feel. With the black chronograph waffle dial.
The presence of this watch is unbeatable we will get further into the details of this watch's dial and features but for the overall review of the time piece it is stately and enigmatic. Instantly recognizable and accordingly iconic the Audemars Piguet black themes watch is a stunning piece. From the brand that leads product and material innovation in the world of haute horlogerie Audemars Piguet is always exceeding expectations.
On the full stainless steel bracelet this Royal Oak Offshore audemars piguet wears larger than its telling 42 millimeters. The intense design lines and robust manufacturing means this watch sits tall on your wrist and solidly across. The tapered stainless steel bracelet can of course be swapped out with the black rubber strap or other as we will see below. However this version with the full stainless steel bracelet is more of a dress watch. While the rubber strap options are more of an active lifestyle aesthetic.
The size and fit of the Audemars Piguet black themes
A monolithic watch that almost appears to be fashioned from a single unit of stainless steel it absolutely has a strong presence. Although a substantial and almost hefty watch is fits extremely comfortably. As the finish on the bracelet is the same degree as that of dress watches. A versatile time piece this Audemars Piguet black themes brings the best of both worlds from the classic Royal Oak AP's and the Offshores. On the underside there are broad channels between the links for comfort, it will not pinch you. Much like the classic Royal Oak Audemars Piguet. Now you might be wondering what is better the Audemars Piguet Royal Oak or the Offshore? The truth is that it simply comes down to personal preference. Depending on what your style is and what occasions you are planning to wear your watch to is what will dictate the "better" option for you.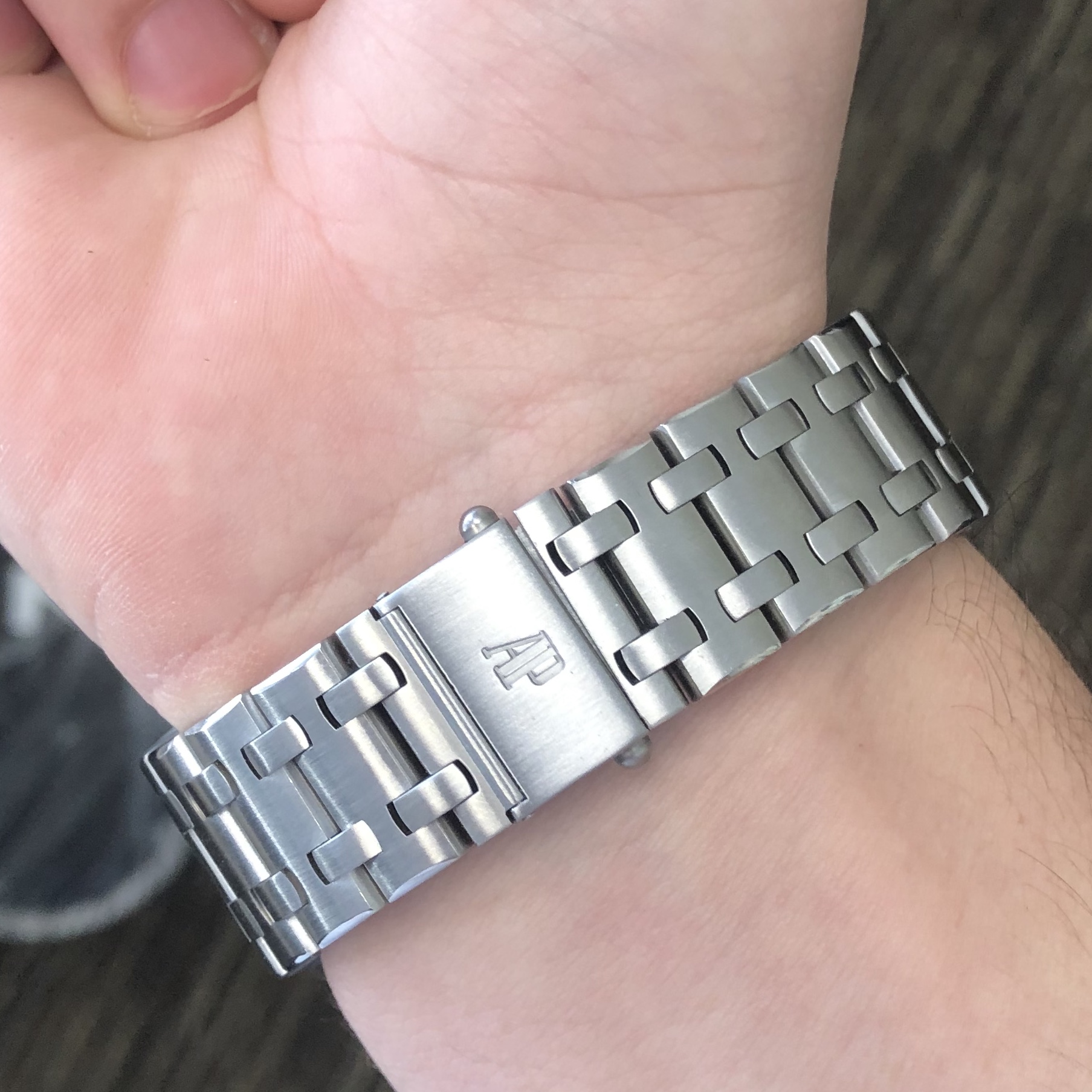 Now another feature on this Offshore watch is the finishing. It is still all done by hand. This is one of Audemars Piguet's claim to fame really. With over 100 years in watch making they still put their watches together by hand with an impeccable attention to detail. They use the exact same types of tools that they always have and create solid luxury sport watches for gentlemen to enjoy. The black themes chronograph also has a prominent sealing gasket. A detail on the past iterations of this watch it is now a visible and robustly visible functional adornment on the watch. It becomes an integral feature of the styling of the watch bringing the black rubber feature back into the mix. The crowns are also protected in the black rubber but really those are the only features outside of the watch that carry the black of the black themes.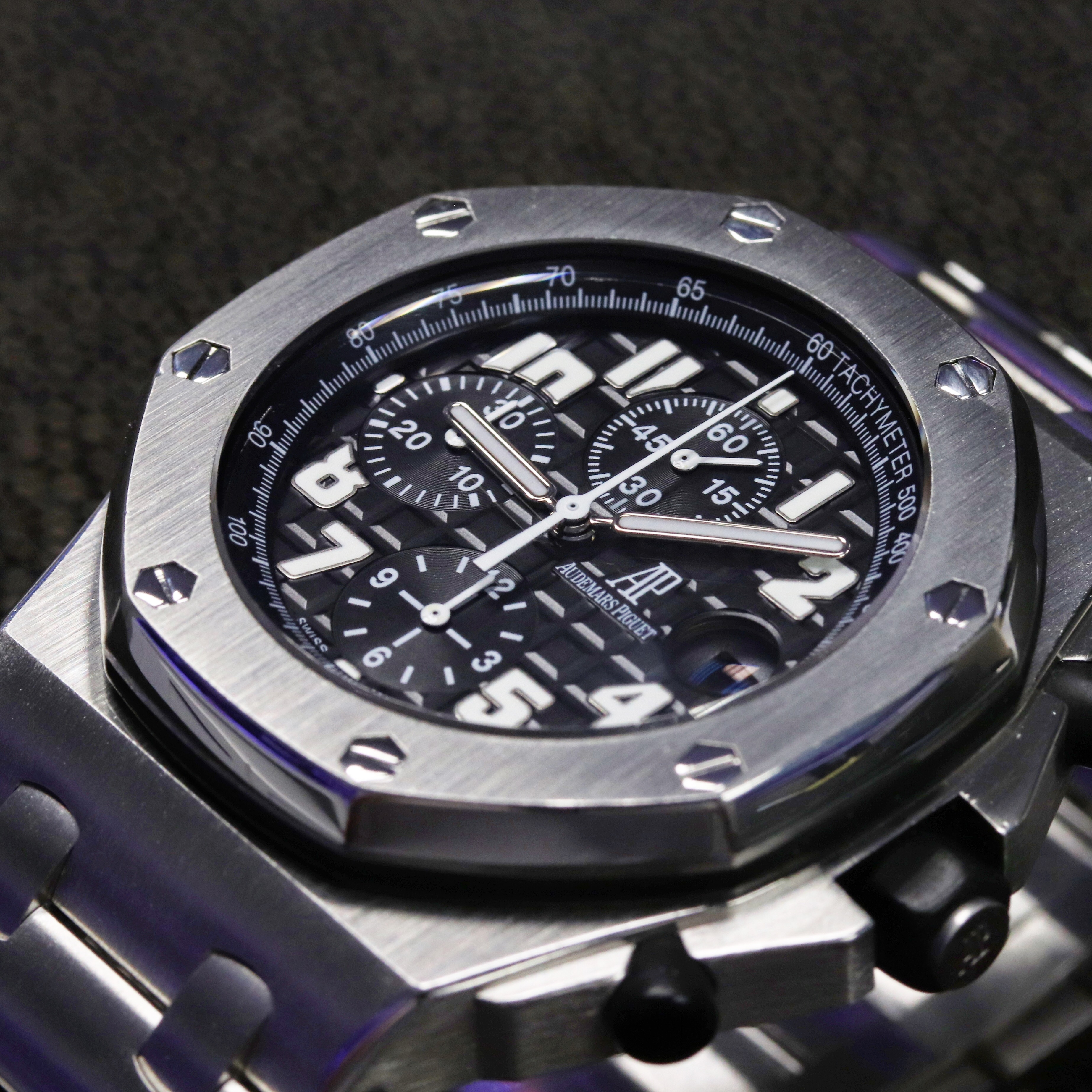 The black themes mega tappisserie "waffle" dial
Now on the inner part of the watch we have the black dial. It is the iconic waffle style textured dial that we find on the Audemars Piguet Royal Oak Offshore watches. It is the key to the black themes nickname as it really carries the aesthetic of the watch. First we have the dramatic contrast of the calibrations on the tachymeter scale on the outer edge of the circumference of the watch. Then we have the have the Arabic numerals in white gold with luminescent features in a strong and block shaped masculine font as well. The small sub registers on the three sub dials of the watch provide more functional views on the dial.
While the sub registers on this watch give the dial some added texture and readability they fit seamlessly into the dial's aesthetic. There is not really any contrast between them like for example say a white sub dial would have. This allows for the black themes to permeate the grander part of this watch. It also makes the watch look bigger. It is more imposing and present with its sleek all black look.
As well as the mega tappisserie base of the dial. Also known as the waffle texture it is the signature of the Royal Oak Offshore. It is bigger, bolder and blockier than other traditional tappisserie dials. It really defines the look and design aesthetic of this watch. A striking time piece it is both versatile in aesthetics as well as in functionality. You can dive up to 100 meters with the AP black themes Offshore watch as well as wear it to formal functions.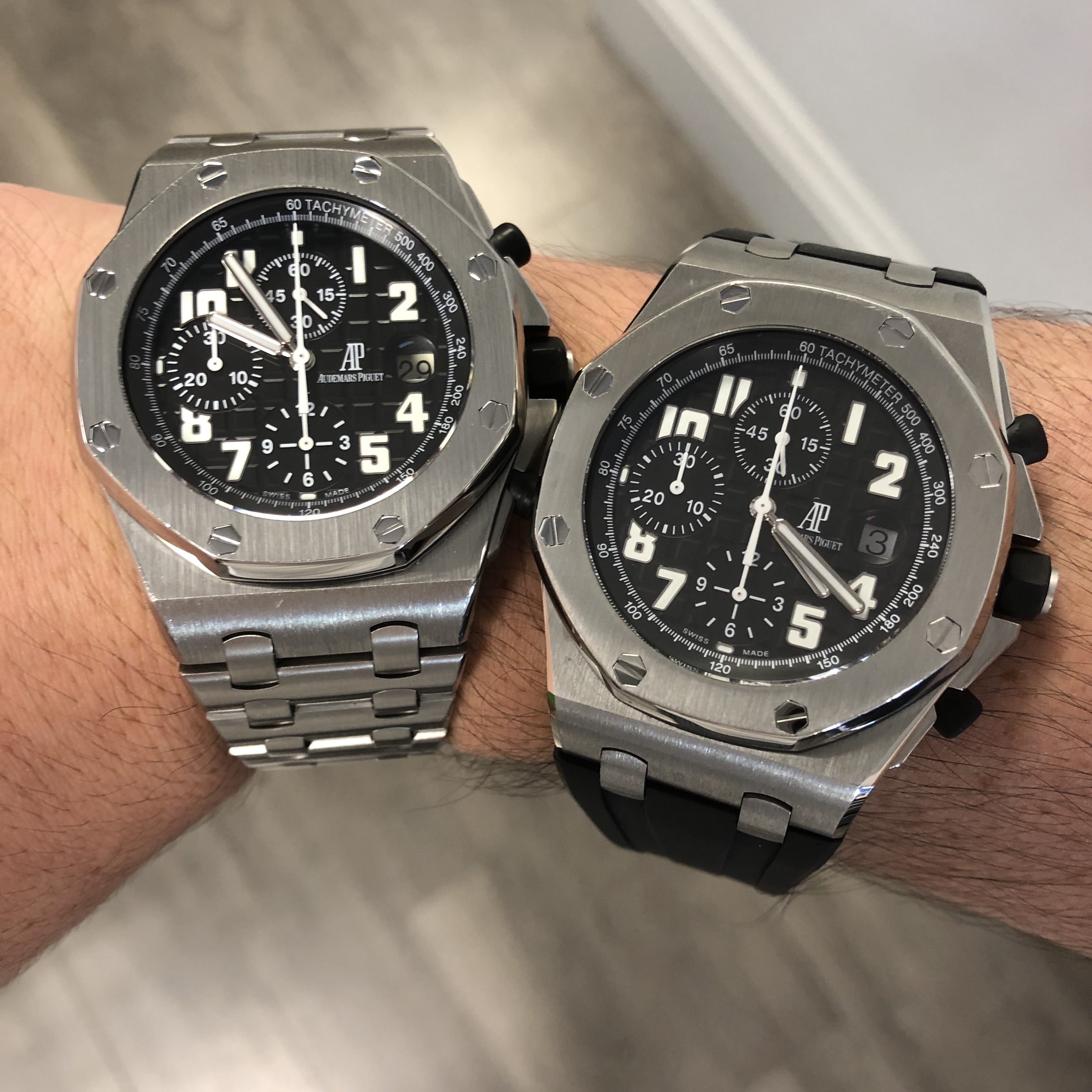 Options: stainless steel bracelet or rubber strap
When it comes to your Audemars Piguet black dial watch there are two ways to match it up. Using only the original Audemars Piguet accessories this watch can be seamlessly paired with two very different styles. First the stainless steel bracelet for a singular style and look. Professional and sleek it is ideal for the man searching for a watch that can be more than his time piece. On the other hand there is also the rubber clad strap option. This one is a much sportier alternative perfect for those gentlemen looking for a more modern street style. High quality rubber made to last it is perfect for when your Audemars Piguet is accompanying you into active activities. An easy swap and a seamless switch of pace from a sporty active wear luxury watch accessory to a sleek and formal bracelet. You can do both with one single time piece.
With a unique and eye catching time piece like the Audemars Piguet Royal Oak Offshore your watch is a statement piece. It may very well be the piece de resistance for your look. Whether that is an athletic aesthetic or a formal evening suit. Your Royal Oak Offshore is limitless when it comes to pairing and dressing it up or down. A look on its own it gets an additional life with different bracelets and straps. Your watch can accompany you whether that is for high speed sports or high stakes events. A refined gentleman's luxury accessory having the options to pivot easily and seamlessly are integrally important. The watch is after all a timeless time piece if you will and so only the accessory's accessories can set the tone of the occasion really. So whether you are on the court, the track or the red carpet you are covered.
Horus rubber straps for luxury watches
Speaking of the rubber strap alternative you can also go beyond just the black on black aesthetic. Although the combination of an original rubber Audemars Piguet black strap and the classic signature black dial is a gorgeous choice there are also so many more options available. Now the brand that creates these alternatives is of course crucially important. Horus is an exquisite brand that we have tested and trusted. They produce some of the finest rubber replacement straps for luxury watches. Their straps are made to the exact specifications necessary for top luxury watch brands like Rolex, Audemars Piguet, and Panerai among others. Their fine quality rubber materials are elevated to modern and fun accessories to change up your time piece. A collectible that gets more than one modern trendy alternative. And you can do it all with the confidence that your watch is safe and secure on your wrist.
The clasps that Horus uses for their straps are also super high quality and exquisitely made. So if you want to pair your black theme Audemars Piguet Royal Oak Offshore with a flashy white band or perhaps a  green military camouflage pattern now you can. They also have unique patterns, colors and combinations that you can use with your watch depending on your preference. It is one of the many benefits of selecting a versatile and masculine watch like the Royal Oak Offshore. It pivots just as easily as you do from one facet of life to the next. An Audemars Piguet black dial watch also offers the strong contrast option against these new colorful and textured rubber strap options. Whereas a white dial can get washed out or appear stark against the strap the black theme allows it to go with the beat set by the strap you choose.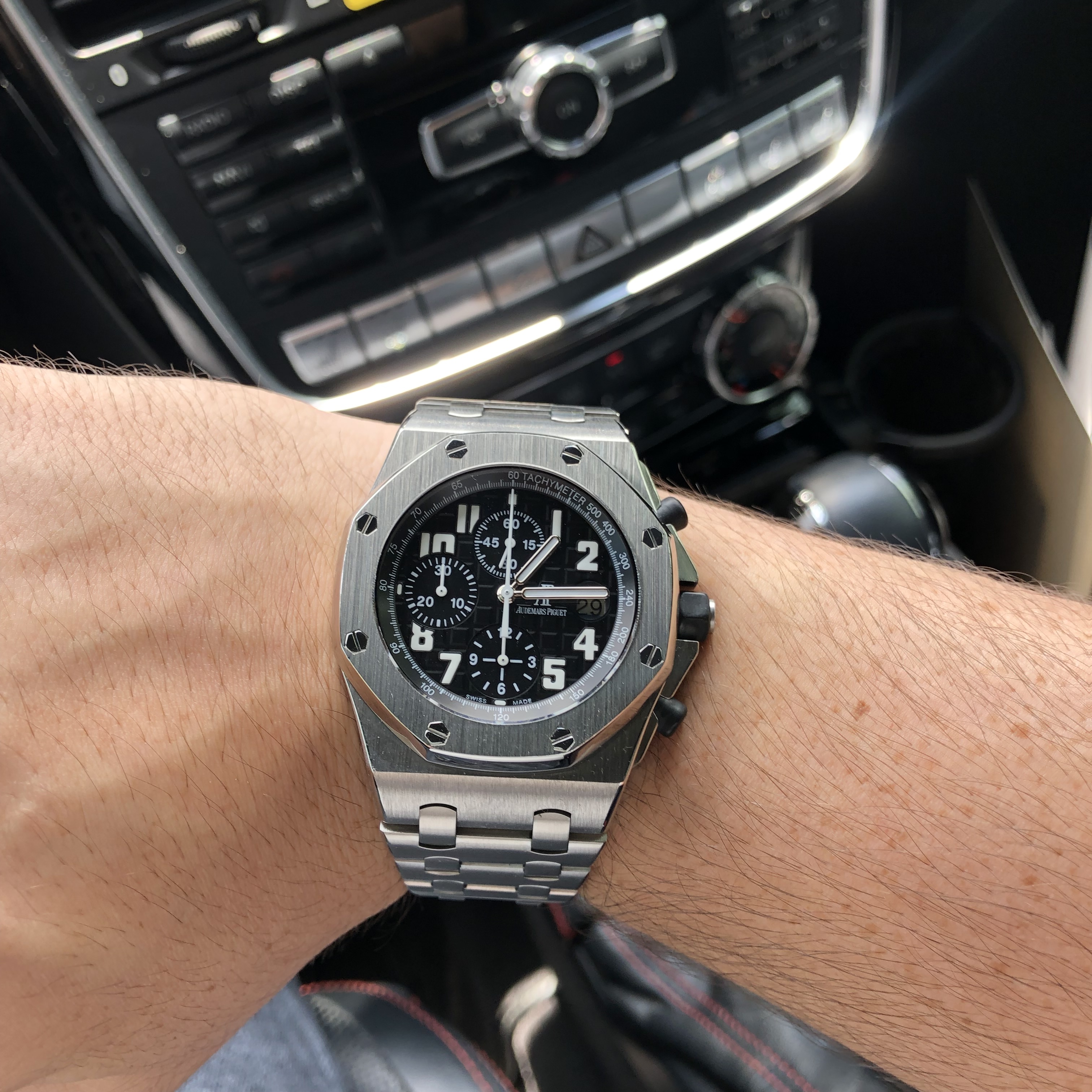 Where to buy a Royal Oak Offshore Audemars Piguet black dial watch? Diamonds by Raymond Lee in South Florida
If you are looking to purchase a fine luxury watch like the Audemars Piguet black themes Royal Oak Offshore then you want to go to watch experts. You want to know that your time piece you are selecting is a fine model that has been rigorously tested and inspected. Meanwhile beyond finding a team that you trust it is also ideal to be able to entrust the care and maintenance of the watch you choose to those experts. That is where Diamonds by Raymond Lee comes in.
We are a family company that has been working in the luxury watch and fine jewelry business for the last three decades. We are committed to excellence and superior service providing our selective clientele with exquisite pieces and the very best support that is available. With distinguished experts and craftsmen at our stores we supply our team with the latest technology and engineering tools available for them to inspect and care for fine time pieces.
Whether this is your very first fine watch purchase or another addition to your growing collection we would be thrilled to welcome you to our stores. We have connoisseurs and passionate technicians ready to assist you with any questions or on your search for the perfect watch. Beyond the Audemars Piguet Royal Oak Offshore black themes watches we also carry a wide range of curated collections from the world's best and most iconic brands. We search wide and far for limited edition and special edition time pieces that are in mint condition to bring back to sunny South Florida. Also we offer bespoke services for customization and modifications. You can come into one of our stores to find out more or just drop us a comment below. As always let us know what you think of this watch.