Top 10 Engagement Ring Cuts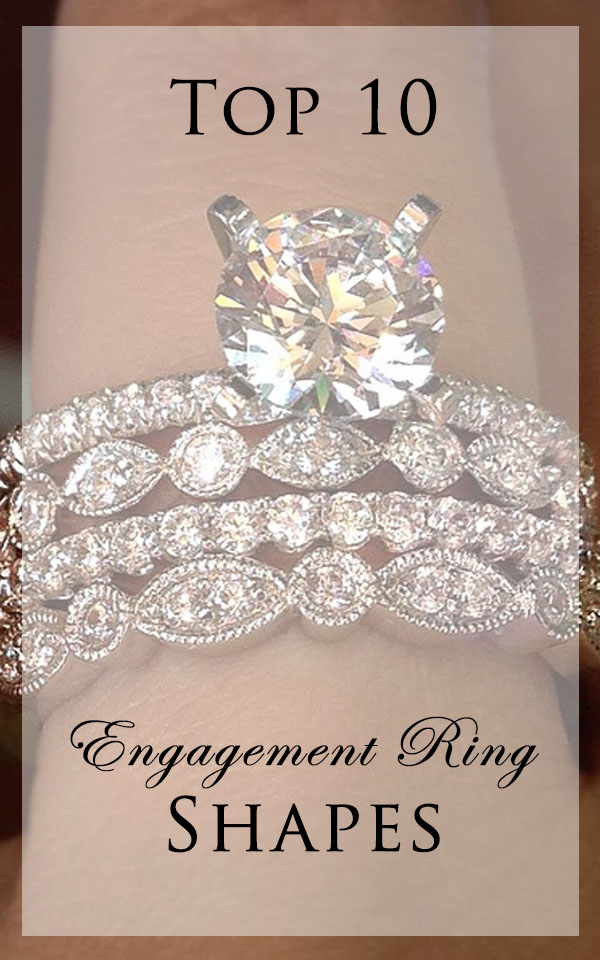 Whether you are looking for the perfect engagement ring or you are simply searching for a new set of diamond earrings, it is a good idea to know the difference between the most popular diamond cuts out there. There literally are dozens of different available cuts, but these 10 cuts are the ones that are most often used, requested and taken advantage of when it comes to crafting diamond jewelry.
10. Heart
The heart shaped diamond is a modified brilliant-cut diamond with most generally larger than .5 carats, simply because cutting a diamond any smaller than .5 carats is rather difficult. It is more difficult to perceive the heart shape in a smaller diamond. If you want to use a heart shaped diamond in an engagement ring or other piece of jewelry, make sure to keep this in mind. A brilliant cut diamond is designed to reflect the light well, which is what makes the diamond sparkle. Flatter cut diamonds that do not utilize the brilliant-cut style (it basically is a set of angles that ensures there is always part of the diamond that is reflected off of the light) are not going to have this constant sparkle.
Related: How to Choose the Perfect Engagement Ring
9. Radiant Cut
The radiant cut is a rectangular cut that utilizes the brilliant-cut facet pattern, which is directly applied to both the crown and the pavilion, which creates a rather vibrant looking diamond. This is a similar shape to both the cushion and the princess cut diamond styles, so if you are looking for a more rectangular diamond shape, this is an excellent option.
Related: Gabriel New York Engagement Rings
8. Asscher Cut Diamond
This cut has been around since 1902 when it was first used by the Asscher Brothers. This is the forerunner to the emerald cut diamond. It is a square shaped diamond, although it has larger step facets than the emerald cut.
Related: Ready to Wear Engagement Rings Under $5000 Dollars
7. Emerald Cut
The emerald cut is another rectangular shaped diamond that uses the step cut look, which gives it more of a flat look, instead of the brilliant-cut, which brings out sparkles in the diamond.
Related: Emerald Cut Engagement Ring Eye Candy
6. Cushion Cut
This is a classic cut of diamond as it has been around for 200 years. This diamond has become more popular in recent years, especially as vintage looking jewelry has started to come back around.
Related: Our Favorite Cushion Cut Wedding Rings
5. Pear Shaped
This is a brilliant-cut diamond that has both a round and marquise shape with one edge tapering off to almost a point. This also looks a bit like a tear drop.
Related: Everything You Need To Know About Pear Shaped Diamonds
4. Marquise
This is shaped more like a football, with each end of the elongated diamond coming to a point. It also uses a brilliant-cut facet pattern.
Related: Tacori Engagement Rings
3. Oval
This is a similar design to the round cut diamond and is going to reflect the light in a similar manner due to its brilliant cut and similar shape. The elongated shape of the oval diamond does often make the diamond look larger though, simply due to its shape.
Related: Unique Proposal Ideas
2. Princess Cut
This has been around since 1980 and is a popular engagement ring style as it can be used in almost any style of ring.
Related: Top 10 Princess Cut Engagement Rings
1. Round
Round cut diamonds are 75 percent of all the diamond cuts sold in the world. Plus, the shape allows it to reflect the light better than most other diamonds as well.
Which of these beautiful shapes is just right for you?