Rose Gold Oval Diamond Halo Ring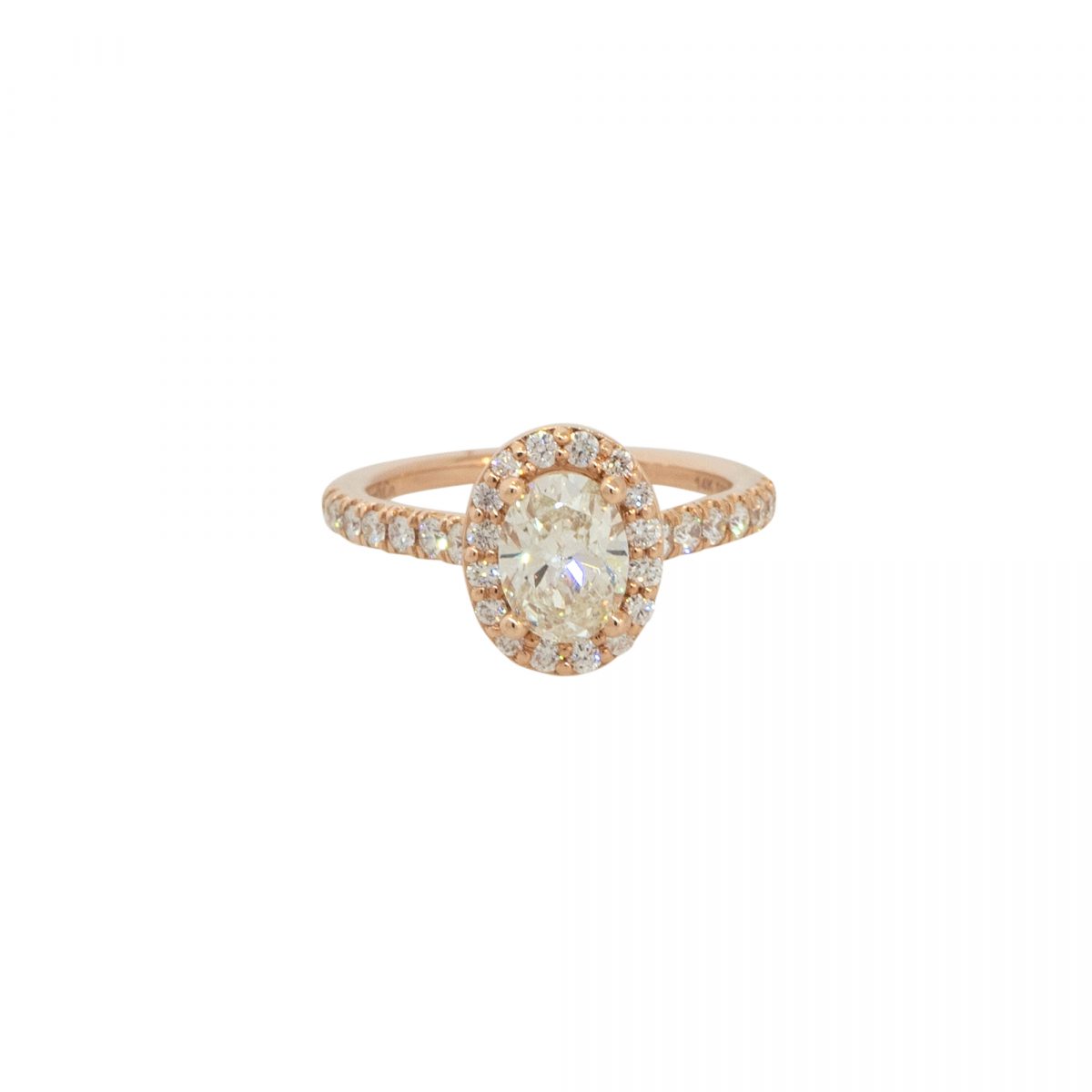 A ring such as the rose gold diamond halo band we feature here makes for a really great engagement ring. It is classic and timeless, which, as we will see, is really important. But it is also unique in that it features rose gold. Rose gold is a warmer, richer hue than traditional yellow gold. It has a slight reddish or pinkish look to it. You don't see it every day. But it is a great choice for someone who likes the warmth of gold but doesn't want the brightness of traditional yellow gold.
Choosing the right engagement ring can seem pretty scary. You are being asked to find something that will be happily worn every day for the rest of someone's life. That is a pretty big deal. Thankfully, we have a ton of experience helping couples from all walks of life find the perfect ring for their taste, budget, and style. We hope to clear up some of the confusion and make the process of choosing a ring a little bit easier and perhaps even more enjoyable.
Considerations for Choosing an Engagement Ring
When you are looking for an engagement ring, there are a lot of things you will want to consider. While the rose gold diamond halo ring we feature here is elegant and stunning, it might not be for everyone. One of the first things you will need to consider is style. What kind of gold or precious metals do you (or your significant other) prefer? Do you have a particular cut of diamond you like? You will then want to set a budget. This will help you avoid wasting time on pieces that are out of your price range.
Once you have these basic elements in place, you will then need to consider lifestyle. Are you really active in your daily life? Do you use your hands a lot for your job or your hobbies? If you are active or hands-on, you may want to choose something simple that won't get in the way. The ring we feature here is perfect whether you are active or not. If these are not considerations that you have, you have a lot more options for rings. Really, at that point, the proverbial sky's the limit.
Why the Classics are Key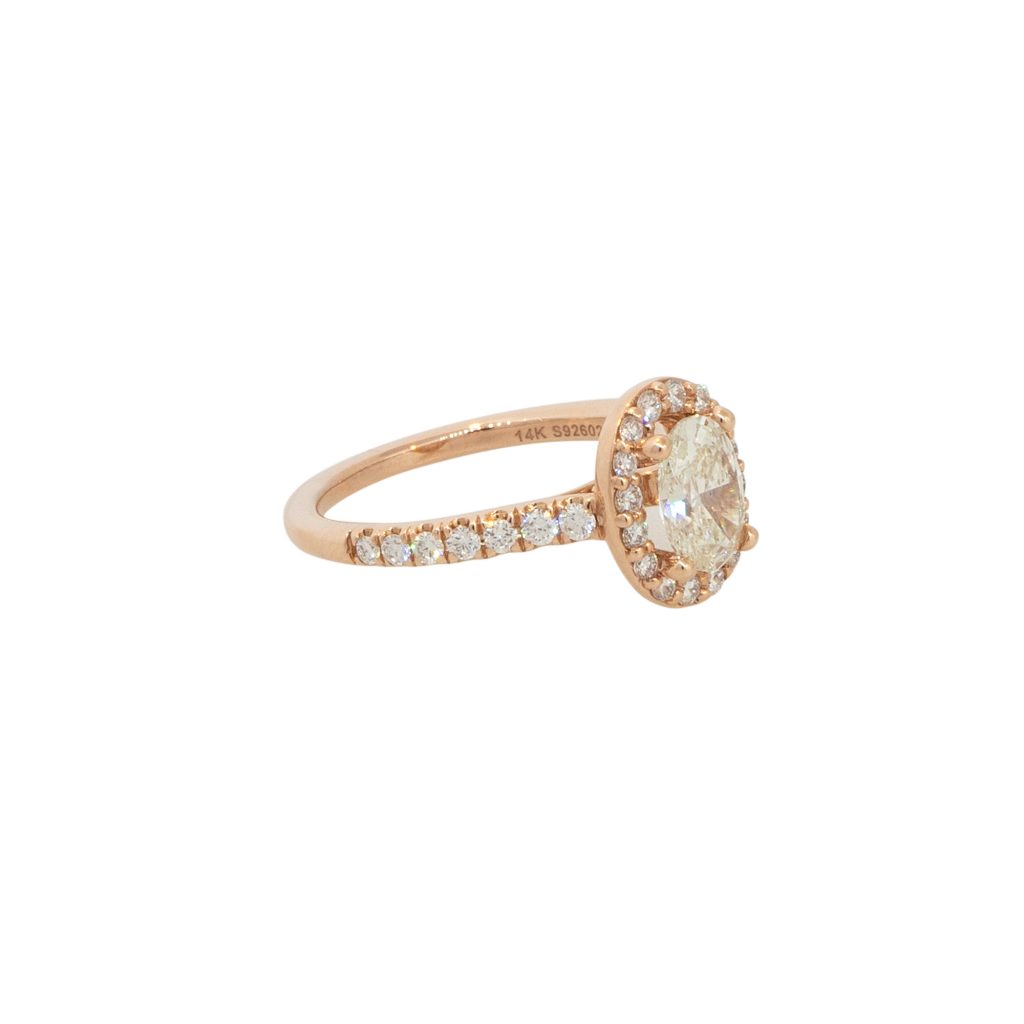 Trendy pieces are really attractive and fun to wear. And it can be tempting to choose something like this as an engagement ring, but we really do not recommend it. Think about trends. They come and go, sometimes really quickly. What is popular today may be passe tomorrow. The last thing you want is to have an engagement ring that is no longer in style. This leaves you with an unpleasant dilemma. Do you spend the money on a new ring or do you continue to wear something you no longer like?
The best way to avoid this is to choose something classic. When it comes to an engagement ring, we really do think the classics are the best. Classics are timeless – they defy trends. That means that, no matter what is in style at any given moment, these looks will still look great. The rose gold halo ring we feature here is actually a blending of three different classics in one. This gives you the benefits of the classics but still allows you to have something unique. And, as your style changes and evolves over time, this ring will continue to evolve with you.
The Best Place for All Your Jewelry Needs
At Raymond Lee Jewelers, fine-quality jewelry is our passion. We strive to provide the Boca Raton area with the best selection of rare, fine, high-end accessories. Whether you are looking for an engagement ring or you want a high-end watch, we have something for everyone. Our buyers have a ton of experience and connections. This allows us to seek out the rarest and finest pieces for our stores. Here, you have the peace of mind that you can find something that not everyone has. And the quality is almost impossible to beat.
While rare fine jewelry is our passion, it is not the only service we offer. We also provide custom jewelry design services. Using the latest in computer technology, our skilled jewelers work closely with our clients every step of the way to turn their dream into reality. Additionally, we also offer a comprehensive array of jewelry repair services. Whether you need a ring resized, or you have a bigger job in mind, we have the tools and skills to fix it! We really do strive to be a one-stop shop for all your luxury and high-end jewelry needs. Our clients are incredibly important to us so we work every day to provide them with the best service possible. 
Rose Gold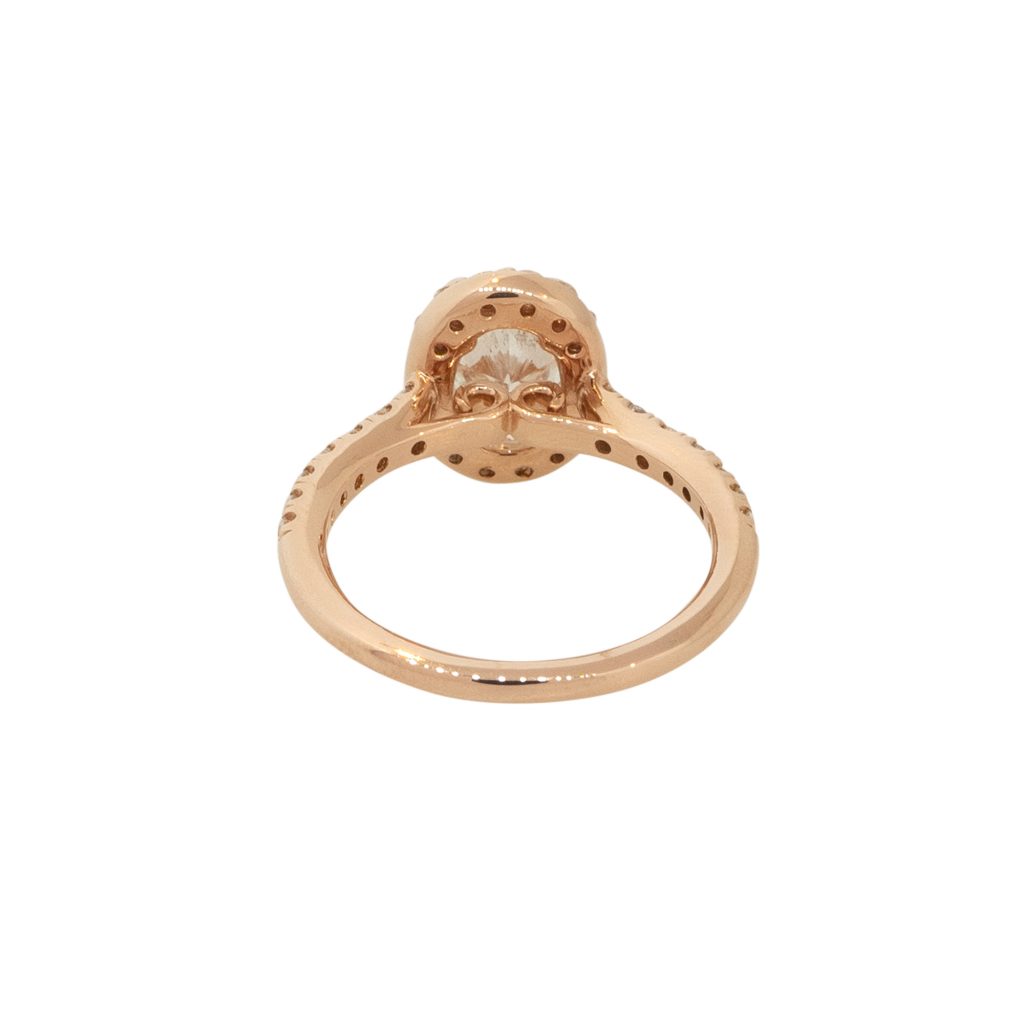 Rose gold is a unique type of gold. The rose gold diamond halo ring we feature here is a great example of the beauty of this alloy. It has a more reddish or pinkish hue than traditional yellow gold and is a great alternative for someone who wants something a bit warmer and not as bright.
Like all gold that is used for jewelry, rose gold is actually a blend of pure gold and different materials. On its own, pure gold is far too soft to make jewelry out of. Anything made from pure gold would quickly lose its shape from daily wear. So pure 24-karat gold is blended with other metals to enhance its strength.
All gold that features in jewelry is a blend of pure gold, copper, silver, and other more common metals. With rose gold, there is a higher level of copper in the blend, which gives it its unique hue. It was first known as Russian Gold and it became popular in the US during the 1920s. Since its introduction to the rest of the world, this stunning metal has been seen in rings and other fine jewelry.
Halo Ring
The rose gold diamond ring we feature here boasts a halo. This is a beautiful style you will often see in engagement rings. There are different kinds of halo rings. A traditional halo can be seen with round stones, oval stones, and even square stones. What you have is a ring of smaller accent stones that surround that main stone. In the case of the ring we feature here, we have an oval diamond that is encircled by smaller round, brilliant-cut diamonds. There are also hidden halos, which are most commonly seen when paired with square or rectangular stones. Here, the halo of stones will be at the case of the stone setting, rather than around the stone's face.
This is a classic and elegant look that works incredibly well for engagement rings. It is a timeless style that will look great for a long time to come. It allows you to retain focus on the main stone of the ring but gives it some extra sparkle that it wouldn't otherwise have. In framing the main stone, we actually draw even more attention to it. This style gives a traditional solitaire-style ring a more unique look and amplifies its elegance. 
Eternity Band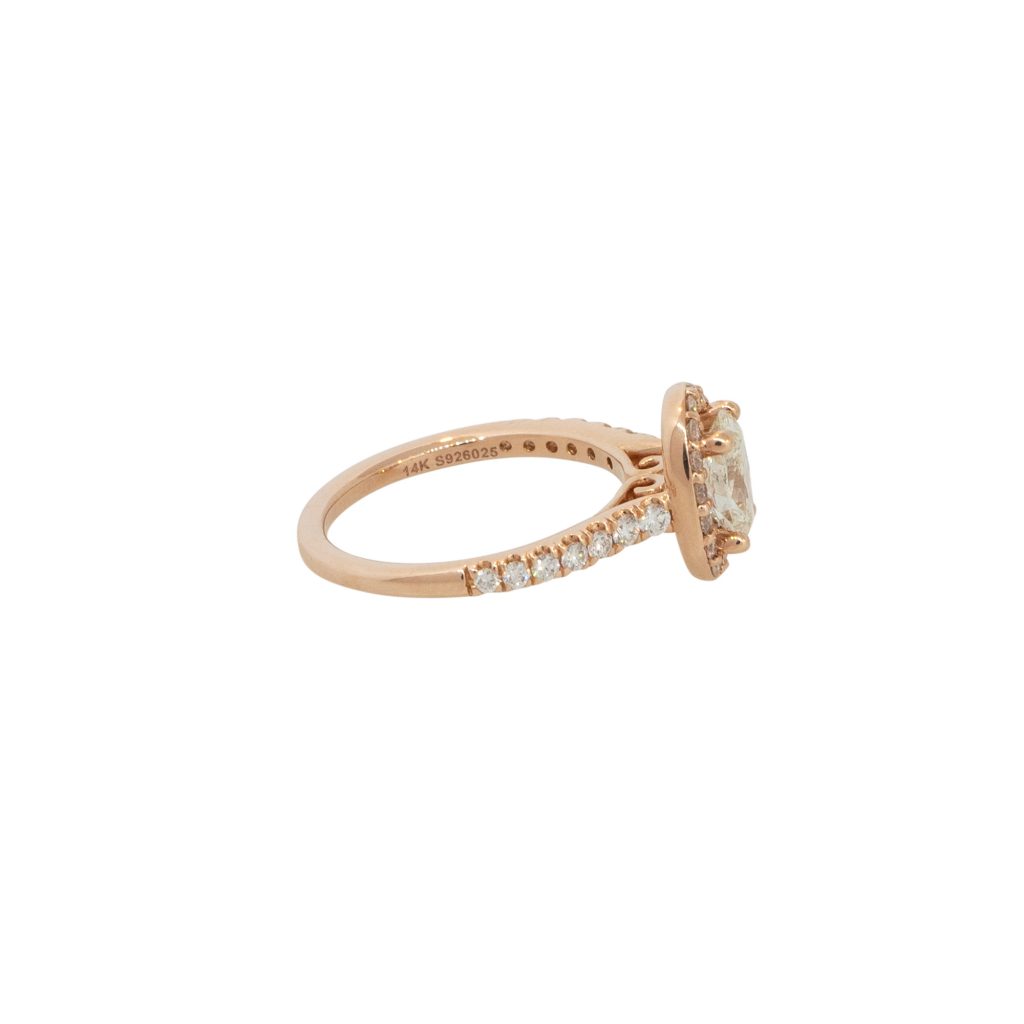 The eternity band is another classic and timeless style we see a lot in wedding bands and engagement rings. We commonly see this style used as a wedding band. It will pair really well with classic or simple engagement rings. However, another common use is in the engagement ring itself. It adds to the style and glamor of the piece but doesn't take away from its timeless glamor and elegance. In essence, an eternity band is a band that features inset gemstones that go all, or part of the way, around the band of the ring.
The rose gold diamond halo ring we feature here boasts a half eternity band. What this means is that the inset gemstones (in this case, diamonds) go halfway around the band of the ring. A lot of people prefer a half or two-thirds eternity band to a full eternity band. While the full eternity band looks great, some people find that the stones can cause some chafing on the inner parts of their fingers. With the other styles, you can avoid this. And, the eternity band represents two lives joining as one for eternity. When we are talking about engagement rings or wedding bands, this is great symbolism.
Three Classics in One
We feel that we make a really strong case for why the classics are best when we are talking about engagement rings. You don't have to worry that your ring may no longer be in style in a few months' time. And, since it is a classic look, you know that it will always be lovely, no matter what the trends. The thing is, our style is also likely to evolve over time. With a classic ring, we get a piece that can evolve with us. But one reason people may shy away from the classics is their desire to be unique and one-of-a-kind. It makes sense that we don't want a ring that countless others already have.
Just because you choose something classic doesn't mean it has to be plain or run-of-the-mill. The rose gold diamond halo ring we feature here is actually a combination of three different classics in one ring. You have the classic solitaire, the halo, and an eternity band. This unique combination of classic styles, when paired with the unique rose gold, give you something that is unlike what everyone else has. Yes, it is classic, but the blending of styles and use of unique materials sets it apart from other classics.
Versatile and Elegant
Not only does the rose gold diamond halo we feature here look stunning, it is actually incredibly versatile. Again, this is a ring that you will be wearing every day. You will be wearing it with formal attire, business fashions, and very casual clothing as well. As such, it makes sense that you would want a ring that will work with all these different styles. While that might seem impossible it is, again, another reason that the classics make so much sense in this application. Not only do the classics look great, regardless of trends, they also look great with pretty much any type of fashion.
Whether you are spending an evening out with friends or an afternoon at home with the kids, you need a ring that will look great and work with your lifestyle. We know that you will love the instant glamor and style anything takes on when you pair it with this ring. A pair of jeans and a t-shirt will instantly be taken to a new level of beauty when paired with this ring. And it is durable and comfortable, so it can go where you go.
In Closing
We know that choosing an engagement ring may be one of the more difficult decisions you make in your life. Since we have helped so many couples find the perfect ring for their taste and style, we have learned a few things. Here, we give you the advice and considerations necessary for choosing a great ring for you or your significant other. We feel that these considerations will help guide your ultimate decision. And, we think that we have made a really solid case as to why the classics are the best bet for an engagement ring. The last thing you want is an engagement ring that is no longer in fashion.
The rose gold diamond halo ring we feature here is a great example of a classic with a twist. It features three different classic designs in one ring. And with the use of rose gold, you get something that doesn't look like your average engagement ring. But since it is classic, it is a ring that can evolve with you. As your style changes over time, this ring will continue to look great. It is comfortable and versatile and will look great with anything you pair it with. The unique beauty of the materials pairs beautifully with the classic look of the ring.