We hear the cliche all the time: Diamonds are a girl's best friend. What we fail to recognize sometimes are that the men in our lives are typically the one's showering us girls with all of these diamonds.
My conclusion: men love diamonds, too! What's not to love? They're one of the hardest substances on the face of the earth, they're a solid addition to our drill bits and saw blades, and they look ravishing around the necks, fingers, and adorning the earlobes of both men and women.
While a man can't rock a solitaire diamond ring (because it's far too dainty for a burly man), there are a zillion options for men in the diamond ring department.
Men's ring sizes generally range from 8-12. While many ring styles can be sized to fit appropriately, there are some styles that can't be sized.
Check out these men's rings offered pre-owned from Raymond Lee Jewelers.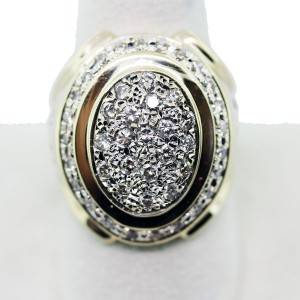 This 14k Yellow gold ring is adorned with 2 carats of shining diamonds. Currently a size 10, this ring can be resized for proper wear.
You'll notice the oval shape and the width of the ring. It's gorgeous–but masculine.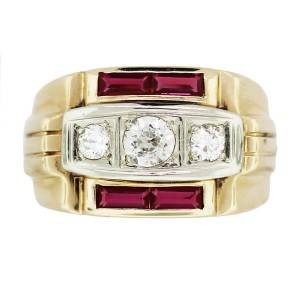 Great for the July Birthday's, this 14k Yellow Gold Diamond and Ruby ring has a wide band–perfect for a manly hand. While currently sized a 9.5, it is able to be resized. The setting holds 4 red rubies and 3 white diamonds–rated for color and clarity. It's not overly flashy, but make's a great statement.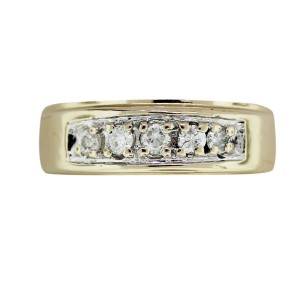 While most men heavily rely on the plane-jane gold wedding band–why not throw some diamonds into the mix? This simple men's wedding band houses 5 small diamonds with a total diamond weight of .25 carats. It's simple and elegant, but makes much more of a statement then the tired, simple gold band.