Rolex Explorer with a Black Dial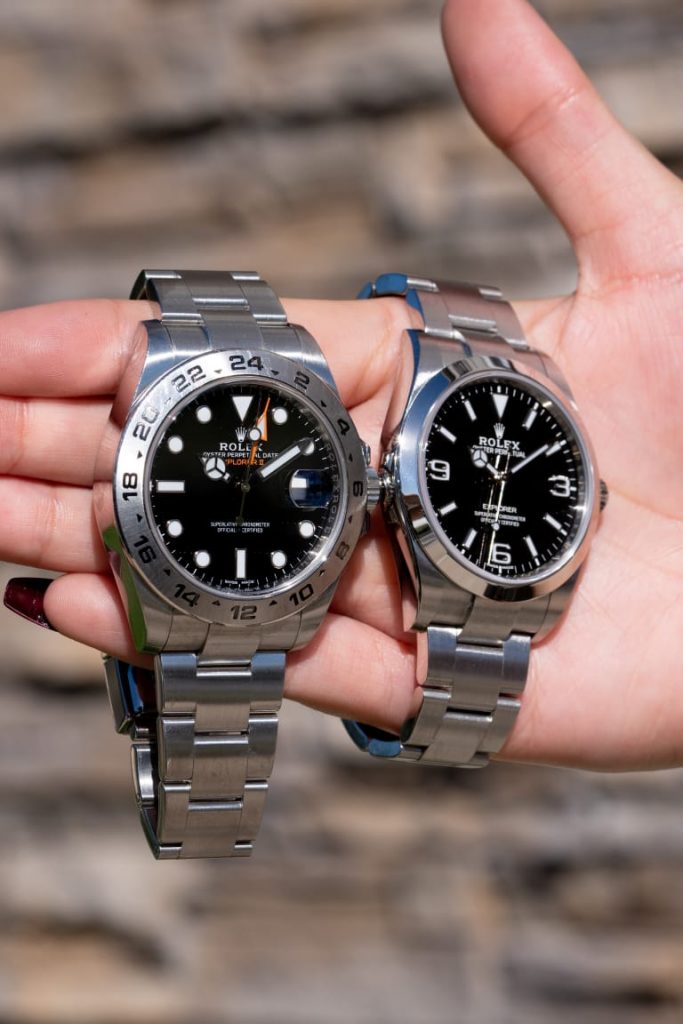 Rolex is an iconic brand for many reasons. They have fashion-forward designs and thoughtful innovations that make their watches more than just a watch. They are also tool timepieces like the Rolex Explorer with a black dial.
Also, they are incredible at marketing. Rolex is known for being a pathfinder of product placement in media. This factor played a major role in the success of the brand. Their ability to capture media attention dates way back.
As early as 1927, when a young British swimmer named Mercedes Gleitze swam across the English Channel. She had a Rolex Oyster on her neck and at the end of that all-encompassing 10-hour swim, the watch prevailed just as she did.
After this extraordinary achievement, Rolex put a full front-page advertisement in the Daily Mail, acknowledging Gleitze while also claiming the success of their waterproof watch. This created a major wave in the industry and impressed the public eye greatly.
A few years later, Rolex did the extreme yet again, but this time, it was going to the highest point on Earth – Tenzing Norgay wore a Rolex Explorer to the top of Mount Everest. Rolex made it clear that they were the most superior watch brand in the world via this hostile conditions test. The result was another public recognition boost that went as high as Everest. These stunts proved to be crucial factors in Rolex's success moving forward.
Rolex Tool Timepieces Stand Out
Nowadays, Rolex is undoubtedly one of the most illustrious brands of watches and they are known for being a tool watch, with each model geared towards a specific niche market, such as race-car drivers, deep-sea divers, scientists, sailor-boat racers, and explorers.
If Rolex makes an iteration to a reference, you can bet that it is going to stir the pot within the enthusiast community. Even small changes can draw massive attention, negatively or positively, and sometimes both.
This was the case with the Rolex Explorer 214270 that was announced in Baselworld 2016. The iterations were subtle, yet in our opinion highly intelligent nuances. With that being said, the purpose of today's article is a hands-on Rolex Explorer review. Featuring the new Rolex Explorer I 39mm ref. 214270, one of the best Rolex watches under $10,000.
History of Rolex Explorer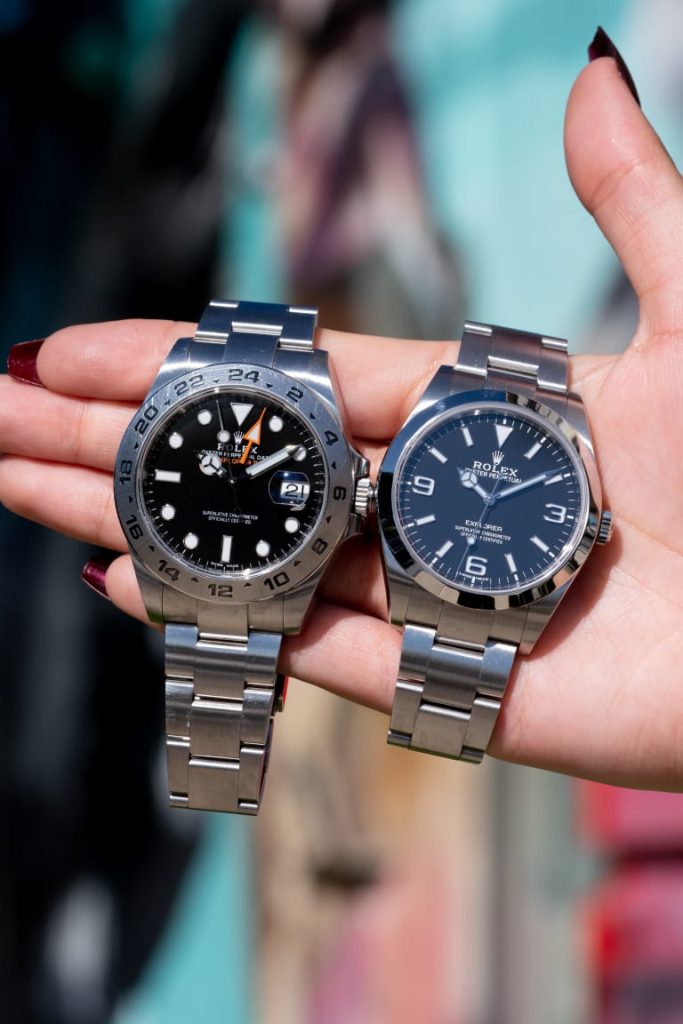 Before we get into the details of the watch, let's talk about history. Rolex produced the Explorer with respect to Edmund Hilary and Tenzing Norgay's attempt to conquer Mount Everest in 1953. Rolex was one of the official sponsors of the climatic expedition.
They weren't the only watch brand promoting the climb. An English watch company named Smith's also got involved. Norgay sported a Rolex to the top while Hilary rocked the Smith's watch. The story ended up being covered by tons of media and the exposure for Rolex was paramount.
The Rolex Explorer that Norgay wore was in perfect condition after the expedition was completed, and it passed every extreme test it was put to on the immense cresting of Mount Everest. It was exactly as Rolex intended it to be upon creation – the perfect watch for extreme explorers.
Rolex and the Name "EXPLORER"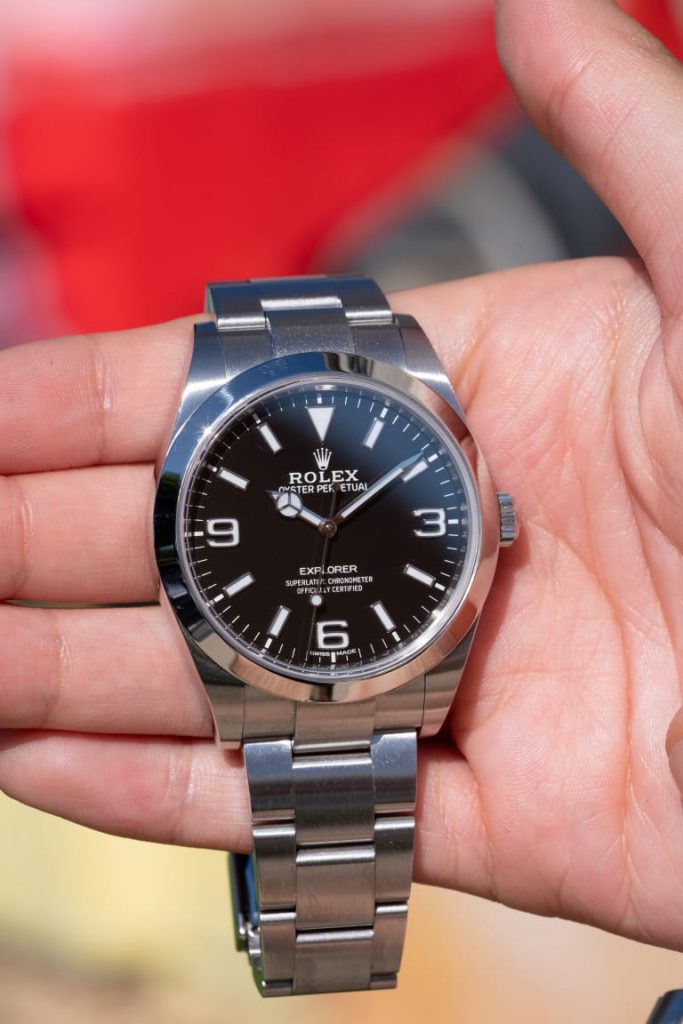 Designed for arduous use and extreme conditions, the Explorer can withstand temperatures ranging from -20 Celsius to +40 Celsius in environments with powerful rain, sleet, snow, and sunshine…and, of course, high altitudes.
Moreover, its chronometer will perform perfectly in the roughest of terrains. The Explorer takes "rugged use" to a completely new level. Many collectors consider the Rolex Explorer to be the original sports watch…or as some would call it, the original "tool watch".
Since the first Explorer I was released in the 50s, there have only been a total of 4 references ever produced. Reference 214270 was the third Explorer, and it took the case size up a notch – from 36mm to 39mm. Interestingly, the fourth Explorer I, released in 2016, and the feature of this article has the same reference number as the third – Rolex 214270 additionally labeled with MK2 – Therefore restating the 2010 model as the MK1.
The difference between the MK1 and MK2 is subtle. The Rolex 214270 MK2 offers more proportional center hands and additional lume on the dial. Everything else, such as the movement, case, and bracelet, is the same. All in all, throughout Explorer 1's history, it has never been the flashiest watch in Rolex's arsenal. It's not the most expensive or overly complicated either.
But, it's extremely reliable with its hearty build and minimalist design. We love the fact that it has stayed true to its original appearance and specifications. So do Rolex Traditionalists. The new Explorer is a modern-day classic, and in our opinion, it is the best Rolex Explorer of them all. Now, let's get into the finer details.
Rolex Explorer with a Black Dial 
The Rolex Explorer with a black dial has an uncluttered and minimalistic design. Its black dial comes with a big luminous triangular marker at its' 12. Also, there are rectangular hour markers with Arabic numerals at 3, 6, and 9. These are characteristics that all Explorer 1s have.
Nevertheless, there are some slight differences to give it a necessary contemporary touch. The changes from the MK1 to the MK2 are all in the dial.
The main difference is the hands, which are longer and a bit larger on the MK2. This was a nice change for Rolex enthusiasts who weren't completely satisfied with the proportions of the first 214270. When the case increased from 36mm (Explorer ref. 114270) to 39mm (Explorer ref. 214270 MK1), the hands stayed pretty much the same size.
Therefore, they were slightly too short for the new case and dial size. They didn't reach the indices as one would expect. It was a small thing, but many said it just looked off, creating a lot of excess space on the dial.
The Rolex Explorer with a black dial as featured in this article addressed that with its more proportional hands. This results in a more aesthetic, balanced look – the Rolex 214270 2016 variant is impeccably legible and clean.
The Chromalight Feature
Chromalight, which is exclusive to Rolex, is a lume that glows blue rather than many other luminous watches that glow green. Rolex claims Chromalight lume has a longer lifespan than standard SuperLuminova.
Previous Explorers used tritium up until 1998, at which time legislation required a change to non-radioactive luminous material in watches. At that point, Luminova took over, then the improved SuperLuminova, and finally in 2008, Chromalight was the standard lume in all Rolex watches. Chromalight is the first blue lume and it is amazingly legible.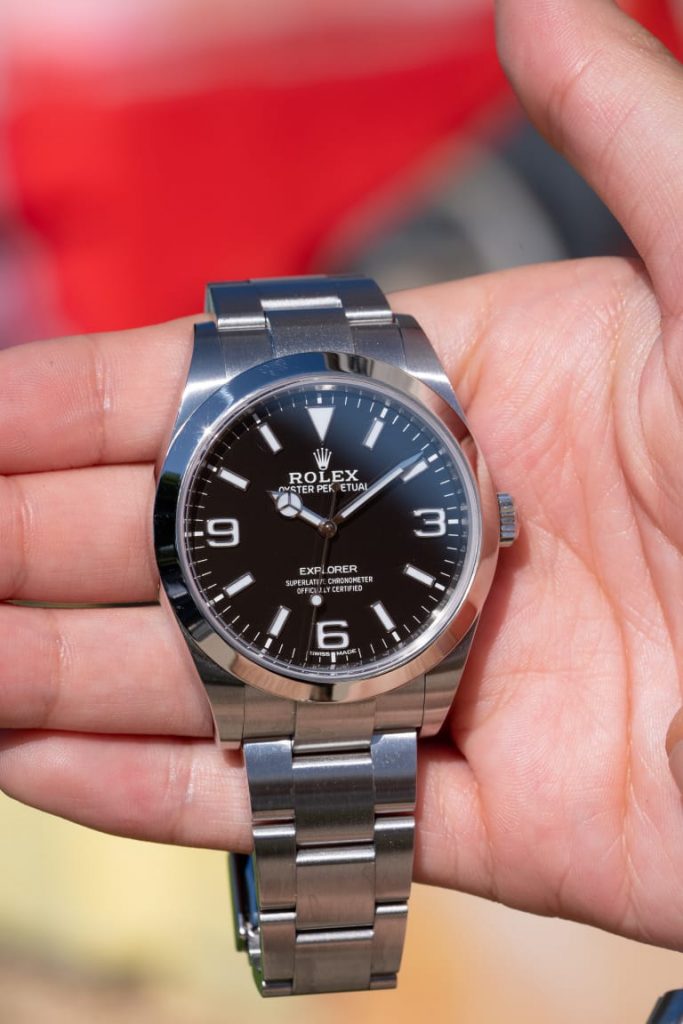 As usual, Rolex is on top of innovation. The MK1 utilized Rolex's Chromalight, but only in the rectangular hour markers and triangle marker at the 12. The Rolex Explorer with a black dial also has that. Yet, it added additional Chromalight infills to the polished steel applique 3, 6, and 9 Arabic numerals on the dial.
This means that every marker on the new variant of Rolex 214270 is luminous, which improves legibility in low light conditions. Overall, we love how minimalistic the design is. It declares simplistic intelligence.
Into the Rolex Explorer with a Black Dial
The Case 
The Rolex Explorer case size is 39mm in diameter, making it quite larger than previous Rolex Explorers. Still, it is very reasonable and sophisticated in size. If you are used to smaller watches at around 36mm, it won't take long to adjust to the extra 3mm.
With that said, the Rolex Explorer with a black dial has a lug to lug measurement of 47.5mm, and from one solid end link to the other, it's 49mm. Thus, the Rolex Explorer 39mm doesn't wear so much as a 39mm, but more like a 40 or 41mm.
In terms of the Rolex Explorer 39mm case thickness, it has a superbly thin profile. Moreover, it is super comfy. This is the type of watch that hugs the wrist with affection. It is crafted from a pure block of Rolex's patented 904L stainless steel, the most corrosion-and-scratch-resistant steel on the planet.
Furthermore, the Rolex Explorer with a black dial has an Oyster case with a screw down crown. So, it offers water resistance down to 100 meters (330 feet). To top it all off (literally), a scratch proof sapphire crystal covers the dial.
In our opinion, this is one of the most classic variations of the Oyster case ever made. It has a super professional demeanor, with its sweeping curves, perfect alignment, and graceful flat polished bezel. Put simply, it's stunning, and many have considered it a masterpiece. Sometimes the simple things in life are the most appreciated.
The Bracelet of the Rolex Explorer 39mm 
The bracelet is a solid end link, solid center link 904L Oyster bracelet, which adds to the overall heft and solidity of the watch beautifully. It has a combination of polished sides with a satin finished top, making for a wonderful contrast. As satin is the dominant tone, it doesn't overpower the look of the watch. It has a superbly polished Oysterlock clasp, completely milled out. 
Also, Rolex Explorer 39mm features a 5mm Easylink quick adjustment, so you can add or reduce the bracelet by 5 mm depending on the activity or temperature you are facing at that moment. When it's closed, it is completely secure and the function of the clasp is extremely impressive.
Wearability Features of the Rolex Explorer with a Black Dial
The 2016 variant of the Rolex Explorer 214270 is larger than a typical 39mm watch. Yet, as it is quite slim, it is unobtrusive during activity and it can easily slide under a dress cuff. We consider it to be the perfect size in both height and width.
Alt-Images: Rolex Explorer 39mm with a black dial on the wrist
Rolex Explorer 39mm has the functions and quality of a sports watch, as that's what it is, but it is super compatible both physically and aesthetically with any formal attire. The design is minimalistic and crisp. It's the perfect no-nonsense sports watch for adventurers and businessmen alike.
Rolex Explorer 214270 Movement Caliber 3132
The movement is Caliber 3132, a state-of-the-art engineering standard made in-house by Rolex. It's profoundly reliable and rugged, maintaining the highest precision in its operation over time. Even though the watch doesn't have a display case back, you can be sure that Rolex paid tremendous attention to detail.
If you get the chance to see what it looks like with the case back off, you will be amazed by the incredible intricacy of the movement. The 3132 movement features a Parachrom hairspring and Paraflex shock absorbers, both Rolex patented tech, which allows it to resist (what would normally be harmful) impact. It has surpassed COSC testing and Rolex Superlative Chronometer standards (+2/-2 second a day timing result).
Buying a Rolex Explorer 39mm in South Florida
Reference 214270, Rolex Explorer 1's 2016 variant, is still the latest reference in the Rolex Explorer line. So, it can be purchased brand-new with a factory warranty from most Rolex authorized dealers.
This pre-owned Rolex Explorer 1 39mm For Sale in Boca Raton at Raymond Lee Jewelers is in excellent condition. Buying a used Rolex Explorer 39mm like this one will save you a fair amount of money over a brand-new one, especially with its currently discounted price.
In terms of quality, there really won't be much difference at all, as it was kept in pristine condition. When comparing the price of Rolex Explorer with a black dial with other Rolex models, it is far less dramatic. If you consider the price you pay for the value you get, it doesn't get any better than this.
Shop with Raymond Lee Jewelers in Boca Raton
Raymond Lee Jewelers is Boca Raton's most recommended sales and service center for watches, diamonds, and high-end jewelry. Our business is family owned and operated. We have over 30 years of experience selling fine certified luxury watches. In that time we have built an unparalleled reputation for fair, quality dealings in South Florida. Our goal is to meet the needs of our customers at our Boca Raton retail store and online. We always aim to provide our community with the best possible experience. We combine value, quality, and cost with the remarkable ability to meet and understand the needs of the people we serve. Furthermore, we have one of the largest collections of Rolex watches in all of South Florida. So there is something in store for everyone.