Oval Cut Ring with Hidden Halo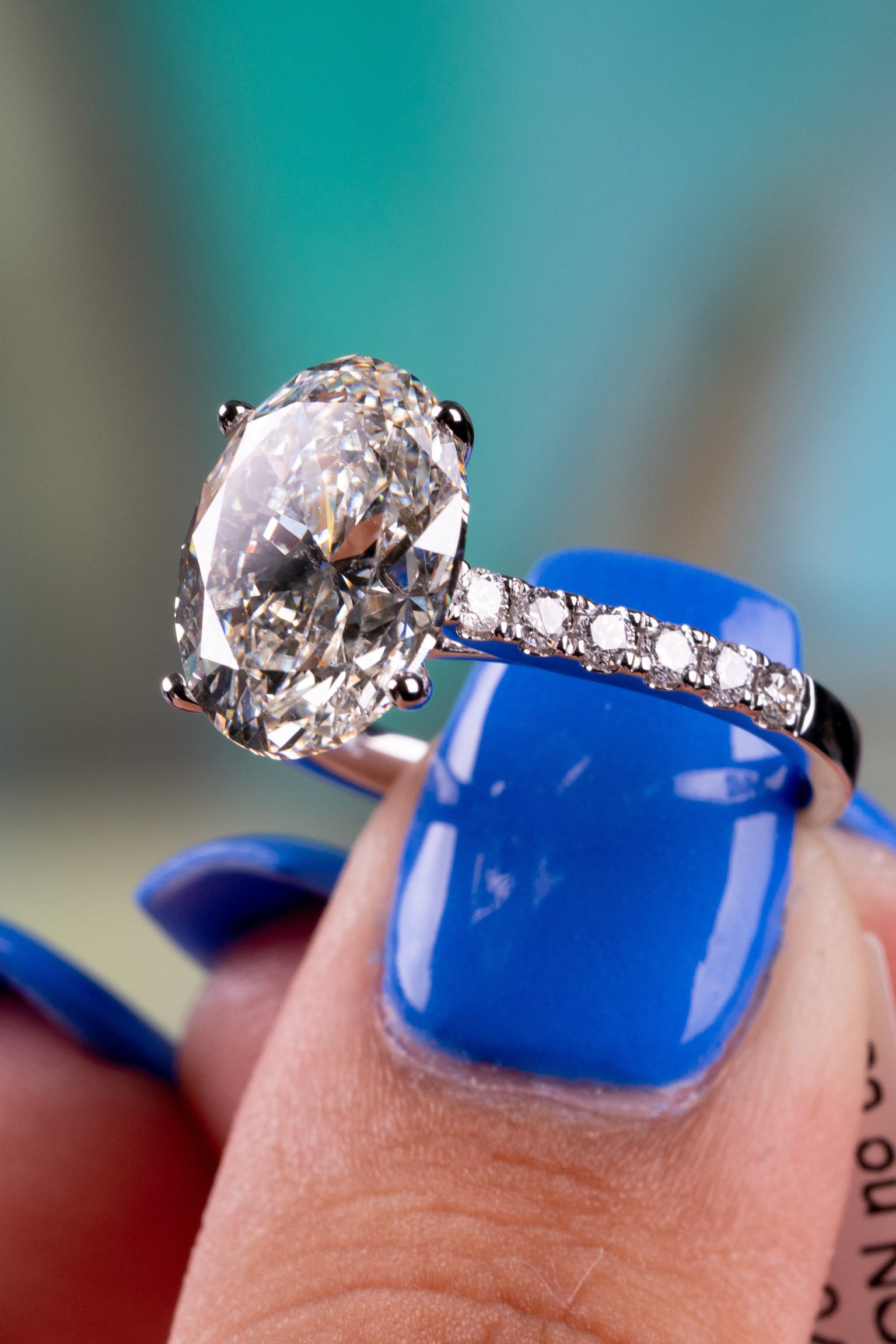 The oval cut ring with hidden halo is fast growing on us and getting more popular by the day. Well, it's not difficult to see why. First, the tiny band of diamonds that sit below the center stone and can naturally only get noticed in the profile is a fun way to add a little extra sparkle to your ring. Also, it is a great way to provide your center stone with a bit of a lift. In addition, it's more subtle than a traditional halo setting.
However, when you see some oval engagement rings with a hidden halo, it most times requires a higher and bulkier setting. Hence, finding a matching wedding band gets a little difficult.
Private jeweler Hannah Florman once said in an interview that "If you want to customize your ring but not distract from the center stone, a hidden halo is a lovely way to achieve just that. And if you want to elevate the look without a massive bump in cost, these small diamonds can do the trick."
For better understanding, Hannah Florman is a private jeweler in Boston. Florman's brand specializes in one-of-a-kind diamond engagement rings and fine jewelry.
Introducing The Oval Cut Ring with Hidden Halo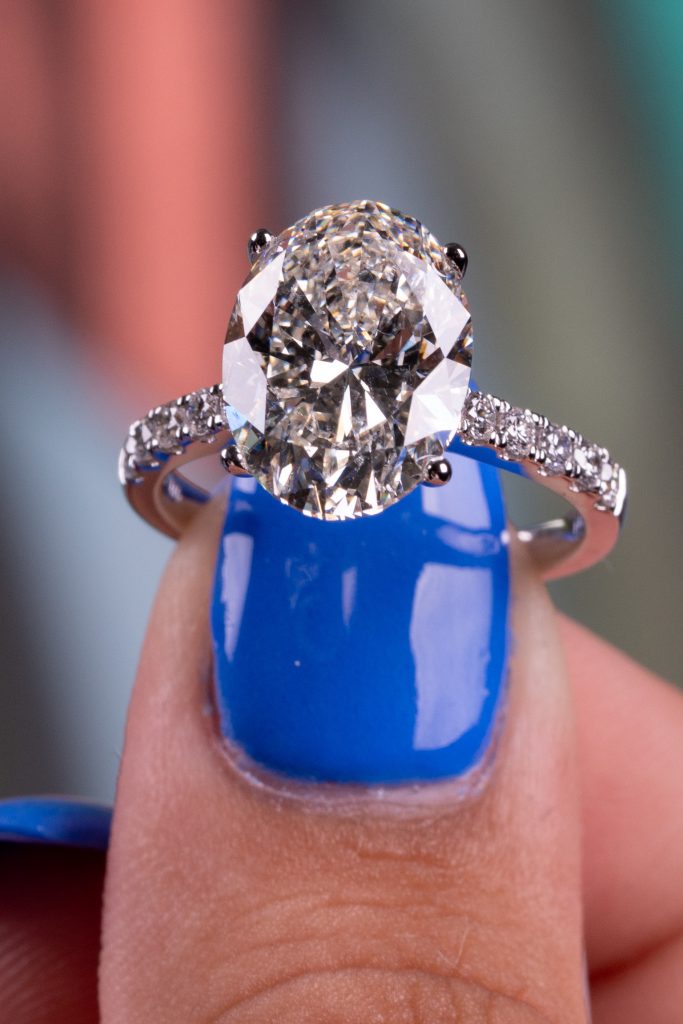 As the name implies, this ring features a Halo setting, but this time, it is a diamond sitting right on top of a halo setting. The diamond cutters framed the centerpiece with smaller diamonds encircling it. And yes, the idea is to replicate the appearance of two separate entities stacked on top of each other.
Practically, the oval shape sets the oval cut ring with a hidden halo apart from its peers. This style is drop-dead gorgeous and is perfect for any occasion that requires you to wear any attire. It is also perfect when you desire to make a strong impression on onlookers.
When diamond cutters mount a platinum ring with an oval diamond, it results in an elegant piece of jewelry. If the gem designers proceed to surround the oval cut diamond halo ring, they get an even more stylish piece. We refer to this piece as the oval cut ring with hidden halo for obvious reasons.
This piece of diamond jewelry is one of the most luxurious out there. This is because of the large number of precious materials that it entails. Diamonds are indeed well-known for their brilliance, grace, and sparkle. However, this ring exhibits other qualities that transcend aesthetics and beauty. Before we say much about the flawless reputation of the oval cut ring with hidden halo, let us see the origin:
The Origin of Oval Diamond
The oval cut has been around for hundreds of years. But it wasn't until 1957 that a Russian-born diamond cutter changed the game for the better. Named Lazare Kaplan, this special diamond cutter invented the oval cut we see today.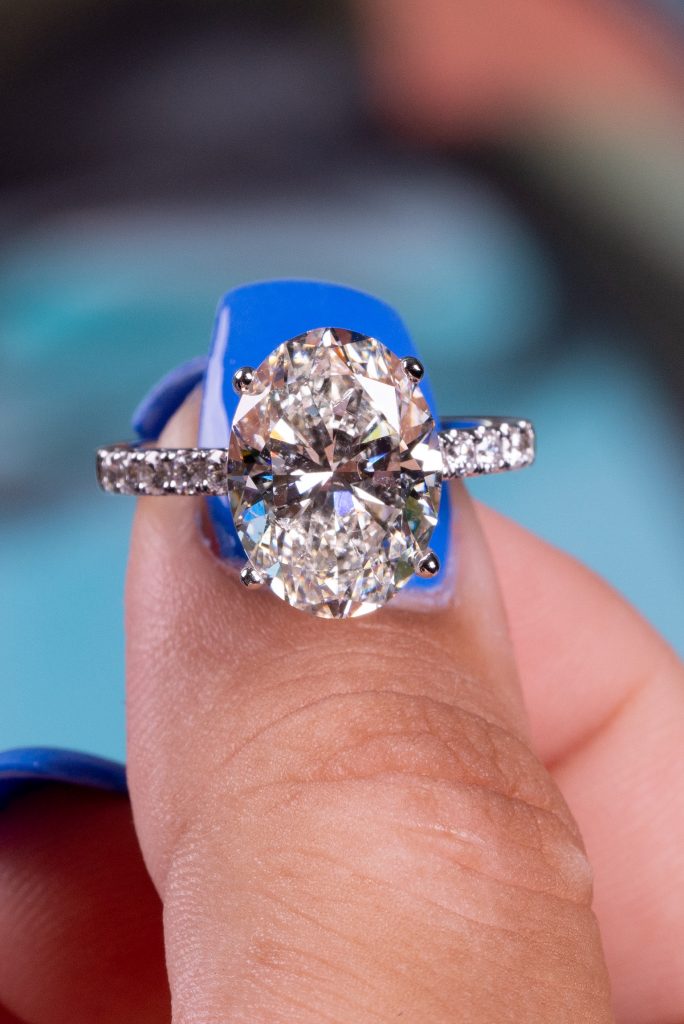 If you have wondered what Kaplan was doing before his invention, he was into cleaving. He was popular for being able to turn a mess into a beauty. Kaplan picked up broken or damaged diamonds, worked on them, and made a more petite beauty. He was into this for a long time.
Being born into a family of jewelers was a gift he appreciated. From what we know about his past, it is obvious that he has always been about diamonds. One of his uncles, Abraham, is popular for inventing the ideal cut. And as expected, Kaplan worked with him for as long as possible. At least he worked beside his uncle until his big break came in 1957.
After he designed the modern oval cut, he became even more popular. His fame earned him a spot in the jewelers' international hall of fame. And not only did he gain more fame, but the oval cut also gained more fame. Ever since then, it has expanded worldwide.
While choosing a diamond ring, many people opt for the Halo setting. This is because it has a beautiful scene of diamonds surrounding the main stone. Now, imagine what the combination of a halo setting and an oval cut diamond can do. It is the perfect story of two great worlds meeting each other. Kaplan holds the glory for discovering oval cuts.
The Origin of the Halo Setting
However, the halo setting came to life through Kate Middleton. In 2010, she showed the world her engagement ring. It was a beauty to behold, and many people loved what they saw. She wore her elegant sapphire center stone. And as expected, the halo setting drew people's attention the most. The sapphire center stone sat right and fitted well with the diamond halo setting.
It has been a halo setting praise ever since. The Oval cut diamond Halo ring is unique. It has a unique shape and looks larger, making it stand out among all other types of diamonds in this category.
What is special about the oval cut ring with hidden halo? Traditional and contemporary diamond rings often come in round cuts. It's the most popular choice among diamond ring cuts. However, the oval cut is gaining popularity, and many people are starting to choose it. So let's look at what's so special about this new trend!
Why is the Oval Cut Ring with Hidden Halo Special?
You can't go wrong with an oval cut ring with hidden halo when it comes to diamond rings. The oval shape of the center stone is a timeless choice, while the hidden halo setting makes it extra special.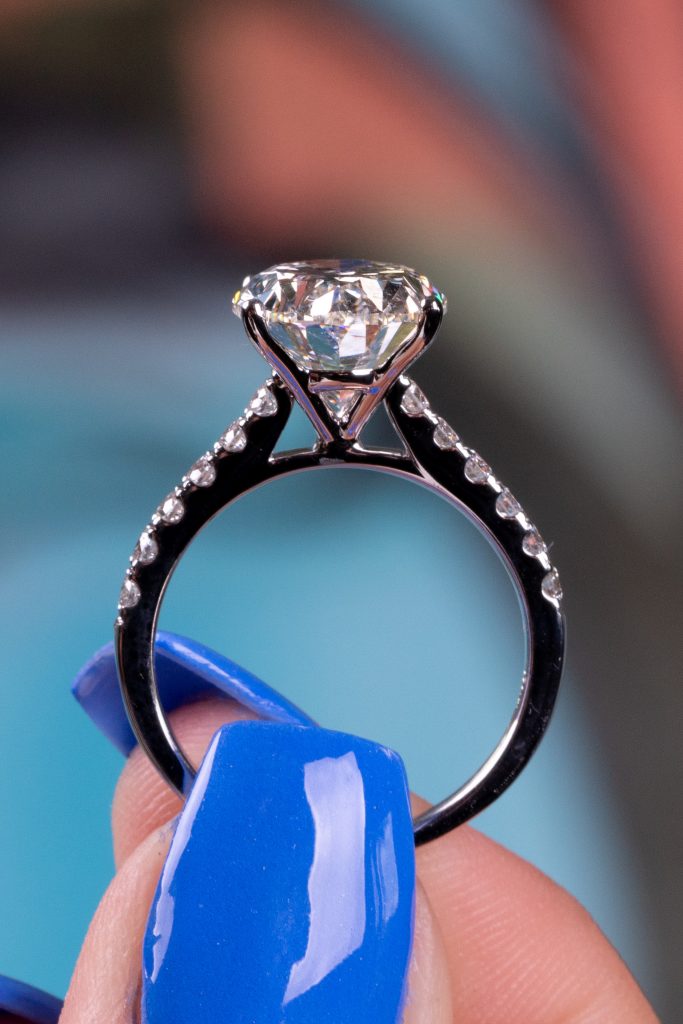 When you opt for an oval cut ring with hidden halo, there are plenty of benefits that you'll enjoy:
Hidden Halo Oval Ring Glitters
If you are the type that does not mind being the center of attraction, an oval cut diamond is good for you. It is one of the best options to stand out in a crowd. It shines bright, and its brilliance is unarguable.
Oval Cut Diamonds are Different
Many people are familiar with the diamond shape. A princess cut diamond is also another common diamond ring. While these two and many others are common and simple, the oval cut is unique. The oval cut diamond with a hidden halo looks like something out of a fashion magazine. Not common, yet ethereal in every sense.
This diamond ring would pass as one of the most creative rings. And yes, it is classy as it is different.
Oval Cut Ring with Halo Ring is an Audacious Design
The design of an oval cut diamond is different in ways that make it stand out. One of the things it has different from the other types is the size. Now, it does not matter if diamond cutters use the same carat for round and oval cuts. The tendency of the oval cut diamond to come out bolder is very high. So, if you are one of the people who favor bolder rings, the oval cut diamond halo ring should do it for you.
Hidden Halo Oval Ring Puffs up your Fingers
It is one thing for a ring to have all the coveted features. And, of course, it is another thing for such a ring to bring out the best in its wearers. The best thing about the oval cut ring with hidden halo isn't about the features.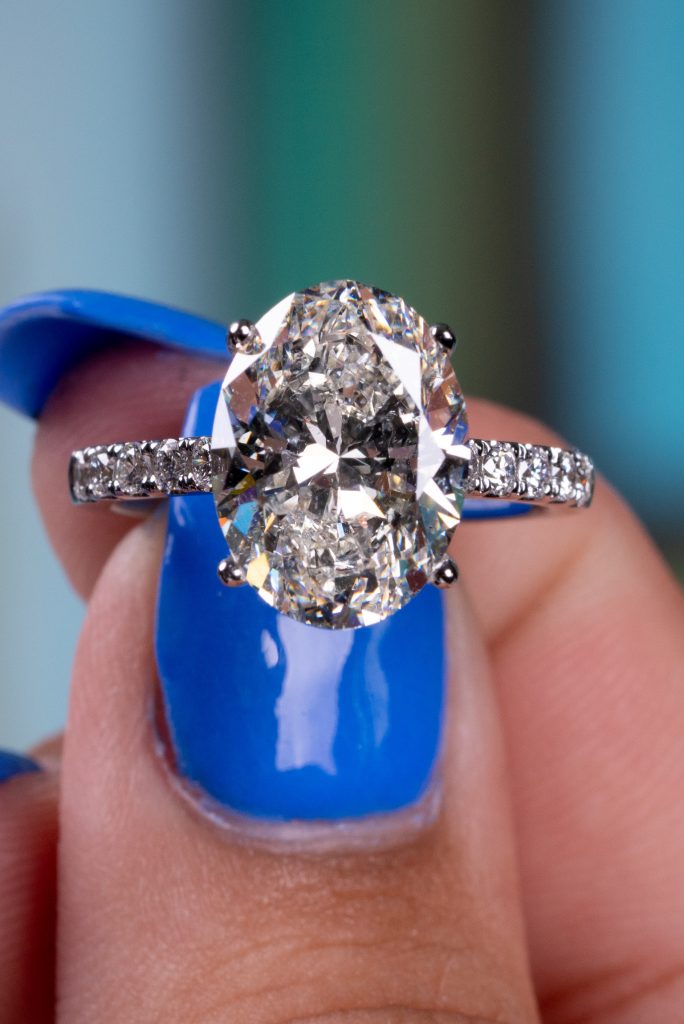 Truly, the features are pretty impressive. Still, what makes it a unique ring among its peers is that it brings out the best look in your fingers. Your fingers will look more refined, longer, and slimmer if you wear the hidden halo oval ring.
You are lucky if you get the best service from a product and still get it at an affordable rate. Believe it or not, most products with the best services cost more than necessary. The oval cut diamond halo is one of the exceptions. You can trust that you would not need to break the bank to afford this piece.
These benefits of hidden halo oval rings are worthwhile. And to be honest, they are enough to convince anyone that getting this piece is the right step.
If you have reached this phase and are ready to pick an oval cut ring, there is more to do.
Elements to Evaluate when Buying a Hidden Halo Oval Ring
Here are some tips for you. It would be best to consider these things before picking up your oval cut ring with hidden halo.
Does your oval cut diamond halo ring exude brilliance? Would you say it is sparkling enough? If your answer to both of these questions is yes, you do not have to worry.
To ensure that you get the best cut is to choose the one with a certain depth. A depth ranging from 58 to 63 is right—likewise, a table ranging from 53 to 63 %.
Color may not play a huge role in other diamond cuts. However, it is better to consider the color grades before choosing an oval cut. Experts of diamonds and rings have noticed lower color grades in oval cuts stand out. Hence, it is advisable to opt for color H grade when choosing a color for this cut. Nevertheless, color is more noticeable in a larger diamond.
For this reason, you may choose F or G when your cut is 2 carats. Using other color grades like I and J are also great. The only thing is that I and J are not as common as the others. So, it is more realistic to use the H, F, or G color grade.
Consider the Diamond's Clarity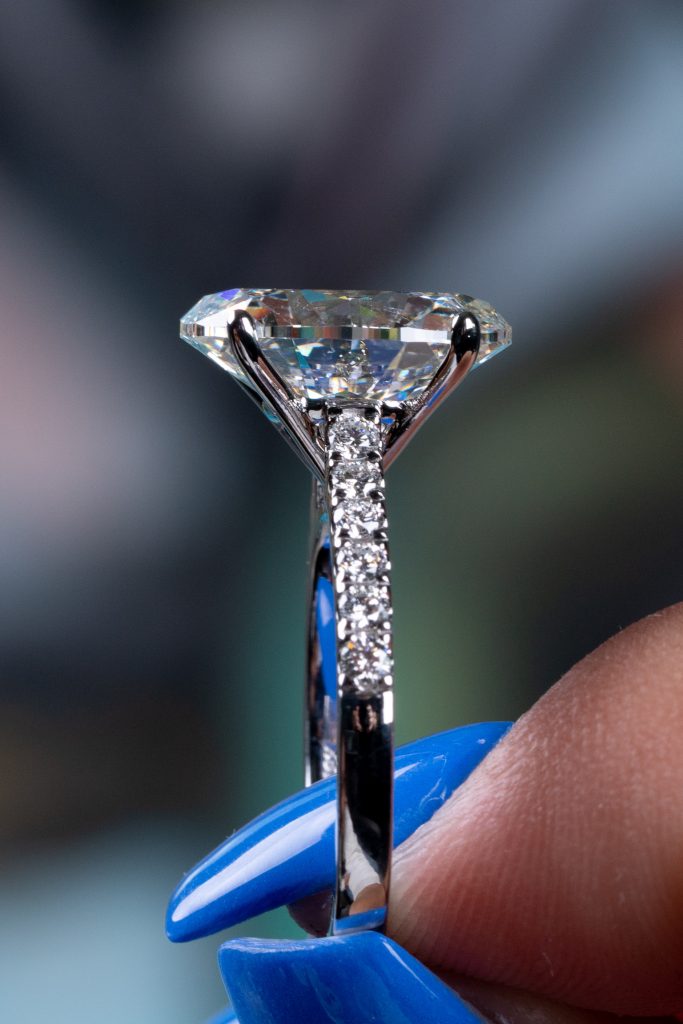 This cut has exceptional brilliance, so it is always difficult to detect faults. Even when there are blemishes, the naked eye may not be able to see beyond the brilliance. A diamond cut with the clarity grade VS2, S11, or S12 is perfect for the naked eye. You need not worry too much about how clear it is. Although, you need to ensure no dark inclusions at the center. The center attracts more attention. And so it may be easy to detect compared to other parts of the oval cut ring.
There are different shapes of an oval cut ring. And, of course, not all oval cut diamond halo rings have the same shape. When choosing the right one for you, you do not want to get the one with bad shapes. As far as bad shapes go, there is the off-shaped oval. This type has a pointed or squared end. The egg-shaped ovals are as bad. So, avoid these shapes. Rather, you go for symmetry in the look of the oval cut.
Consider the Length to Width Ratio
The length-to-width ratio of your hidden halo oval ring is about preference. Would you like a tall-looking oval cut? Or would you rather have it short? While the preference is what you should focus on, there have been popular ratios in the past. We know that most people leaned towards 1.3 to 1.5 regarding the length-to-width ratio. You could join the multitude or go for something unique. Either way, you wouldn't miss out on the beauty of an oval cut ring with hidden halo.
Like the length to width ratio, the presence of a bow tie is also about preference. Although, it didn't use to be a matter of preference. There was a time when everyone agreed it was a fatal flaw to have dark patches on the cut. Now, some do not mind it as long as it is not noticeable. And as expected, some still would rather have a hidden halo oval ring without a bowtie.
Whatever category you belong to, you can make your choice before picking up this piece.
Conclusion
The oval cut ring with hidden halo is a trendy ring-type among modern diamond carat weight rings. This is thanks to the flattering nature of the halo setting that hides under the frame of her center stone.