Engagement Ring Style Guide

Just starting to browse engagement rings? The infinite options can seem overwhelming, we know. We get lost admiring our own hundreds of engagement rings every day, but when we look online? Forget it. The gorgeous engagement rings bursting from our Twitter feed, Instagram feed and Facebook timeline give us endless inspiration. And that's ideal for us – it's our privilege to create more and more beautiful rings for every bride. And the more couples who let us be a part of their love story, the better for our family business. And of course all the better for our pride – our hearts swell when #rljbrides show off our handiwork!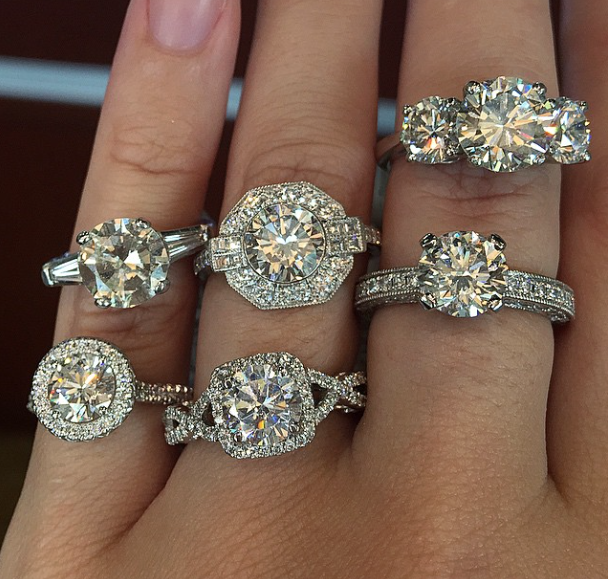 But for you – you only need one engagement ring. How do you narrow it down? Odds are, you see the beauty in a few different types of styles. Odds also are that you see some rings and immediately go "nope – not for me!" And that's ok. It's expected. Engagement rings are a deeply personal choice, and the huge variety of styles proves this: there are enough different engagement ring style to suit the billions of different brides who love them.
The first step for finding your dream ring is finding your engagement ring style. Without delving into the technical details, like the 4 C's or specific jewelry styles and eras, the easiest watt o spot your style is to look at it! We've gathered a teeny, tiny sampling of our engagement rings to show the different categories of ring styles we carry. Check out this graphic, and see which ring style (or styles) make your heart flutter. This is your engagement ring style.

Traditional
One carat solitaire engagement ring
Platinum 4.23ct three stone princess cut engagement ring
Platinum 1.62ct GIA Certified Diamond Engagement Ring
Glamorous
White Gold 3 Stone Round Diamond Micropave Engagement Ring
Uneek Platinum Oval Halo Split Shank Engagement Ring
18k White Gold GIA Certified 1.61ct Emerald Cut Diamond Halo Ring
Elegant
Platinum 4CT Emerald with Baguette Diamonds Engagement Ring
3.10ct Pear Shape Diamond with Approximately 0.80ctw of Trillion Cut Accent Diamonds.
Platinum GIA Certified 1.95ct Round Brilliant Diamond Engagement Ring
Unique
Uneek OS026 0.43ctw Diamond Engagement Ring Semi Mounting
Gabriel NY 14k White Gold Victorian Diamond Cushion Halo Semi Mounting
Uneek SM670 0.74ctw Solitaire Engagement Ring Semi Mounting
Antique
Platinum 1.42ct EGL Certified Diamond Engagement Ring
Platinum 2.10ct Old European Cut Diamond Engagement Ring
Platinum Art Deco Inspired Round Diamond Engagement Ring
Avant Garde
18K Yellow Gold, Du Nuveau Diamond Engagement Ring
Gabriel NY 14k White Gold Diamond Split Shank Semi Mounting
Gabriel NY 14k Two Tone Diamond ByPass Engagement Ring Semi Mounting
Vibrant
3.01ct European Cut Diamond & Emerald Double Halo Engagement Ring
Pink Sapphire and Diamond Platinum 3 Stone Ring
Pear Shape Fancy Yellow Diamond Halo Engagement Ring
Related articles