Asscher Cut Wedding Bands
On a yacht in 1968 sailing across the River Thames in London, Richard Burton revealed a luxurious piece as a gift to Elizabeth Taylor. The gift was the Krupp Diamond. It was a colorless 33.19-carat diamond piece. Richard Burton bought this piece at an auction for $307,000. Presently, this same piece has an estimated worth of over $9 million. In the history of gemology, this piece will pass as one of the most famous diamonds. Meanwhile, you might be missing out on a detail. This beloved and famous piece was an Asscher cut wedding band.
Meet The Asscher Cut Wedding Band
Aside from the square shape that sets them apart majorly, the Asscher cut shares various similarities with the Emerald cut. The outstanding part of this cut includes:
The higher crown
The smaller table
The bigger step facets.
These all add to the weight of the stone. The diamond has cropped edges that bring out its distinctive appearance.
Joseph Isaac Asscher created this sophisticated cut in the early 1900s. He is the founder of the IJ Asscher company based in Holland. This company later changed its name to the Royal Asscher Diamond Company.
The company still operates today. They have other classic diamonds like The Excelsior Diamond and The Cullinan Diamond. They are all part of the company's legacy.
Into the Asscher Cut Wedding Band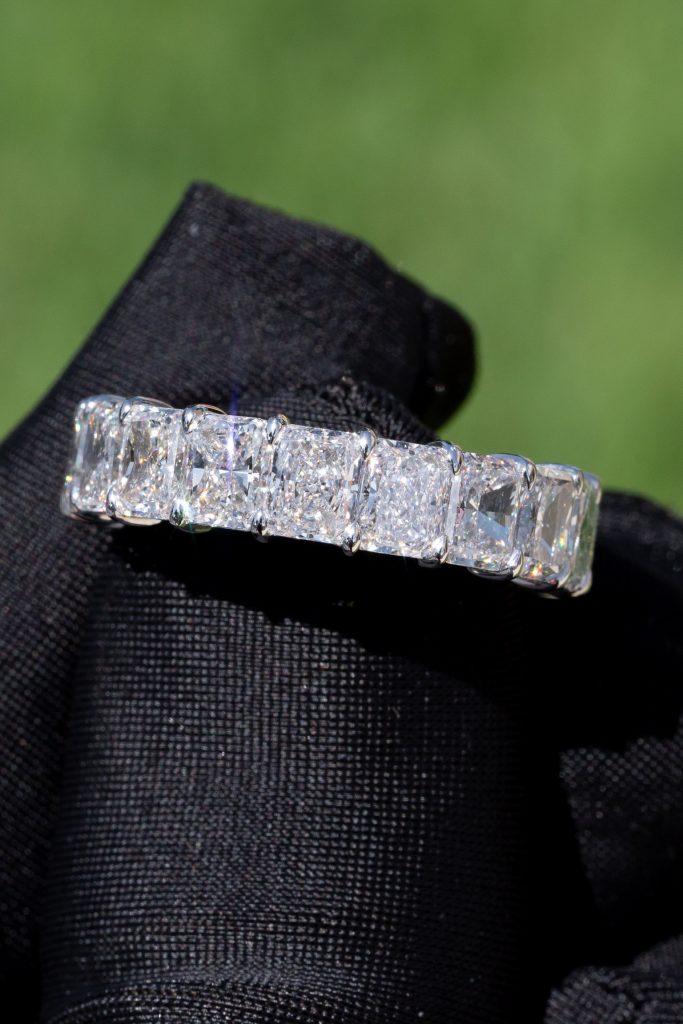 The popularity of these intricate rings lessened slightly all through the last century. Recently, there is a rise in the interest shown in these rings. This rise is due to the cut's classic and Art Deco-like excellence.
This ring cut can only be found at vintage jewelry auctions and estate sales. An Asscher cut can be rare and difficult to buy due to its cost. The best way to get one is by going vintage for an Asscher cut.
This is justifiable considering that Asscher diamonds must be precise and particular in the size ratio if they must maintain their square look. You have to divide the width by the length to get the ratio.
Before going out to shop for a ring, you must know that this kind of ring is not as shiny as other well-known cuts. Have it in mind that these stones (in a bid to produce color) do not refract light. Hence, there aren't as shiny as other round brilliant gemstones.
Asscher cut bands come with open facets. Due to this, they tend to reveal inclusions or blemishes and unwanted colors easily. Hence, it would help if you searched for an outstanding jeweler who deals only with exceptional diamonds.
Besides, Asscher cut bands cut between 60% and 68% (a lower depth) are the best. The shallower the cut is, the bigger the diamond will look.
In this regard, you don't want open-prong settings as they can hide the sophistication of the cut. Plus, that gives room for more light to penetrate the diamond. For instance, a four-prong setting would be perfect.
Furthermore, to add to the glitter, a halo or pave setting will be perfect as well. Eventually, the settings you choose rely on your personal choice. The way you love to display and complement your center stone matters too.
Unique Features of Asscher Cut Bands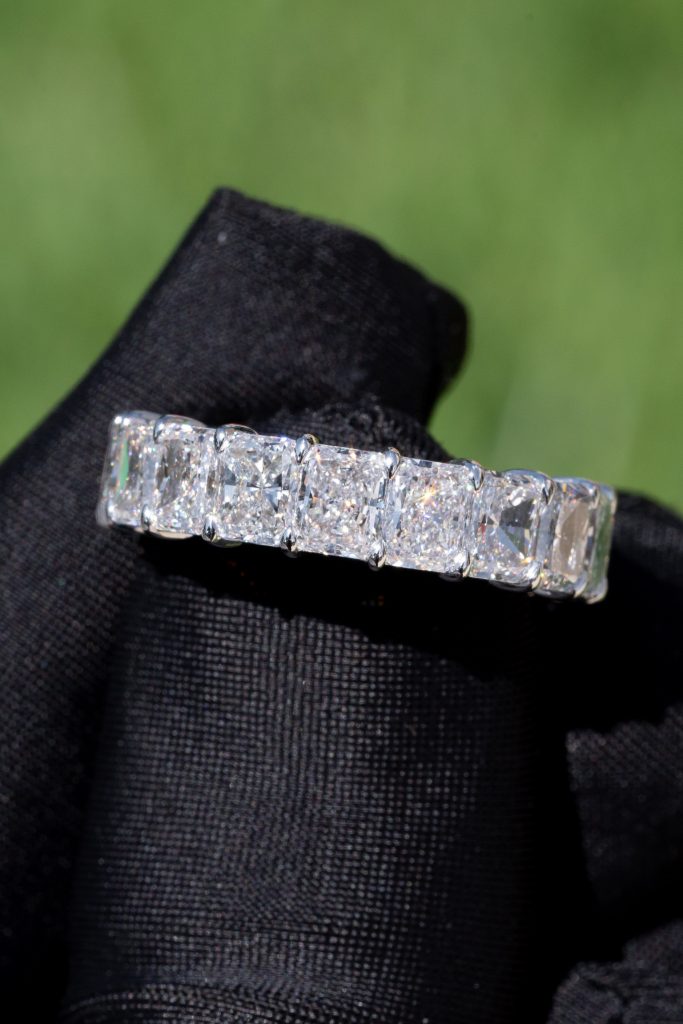 Asscher cut wedding bands come with straight-edged facets, which produce a neat, outstanding look. The edges are why it is sometimes referred to as a "square emerald." Their shapes feature a trademark difference from brilliant cuts for these two ring cuts (Asscher and Emerald cuts). Most of their features remind you of the Art Deco period.
Round brilliant diamonds and Asscher diamonds have a similar number of facets (58 facets). However, the huge difference between the Asscher diamonds lies in the arrangement of these facets. The arrangement produces its remarkable relic and "hall of mirrors" appearance.
This is another distinctive feature of Asscher cut bands. For the shape, the width and the length are the same, just like a typical square.
However, they come with angled corners which then produce an octagon look. What you have eventually is somewhat similar to a Princess cut. You now have something in the region of a perfect square and a round cut.
Types Of Asscher Cuts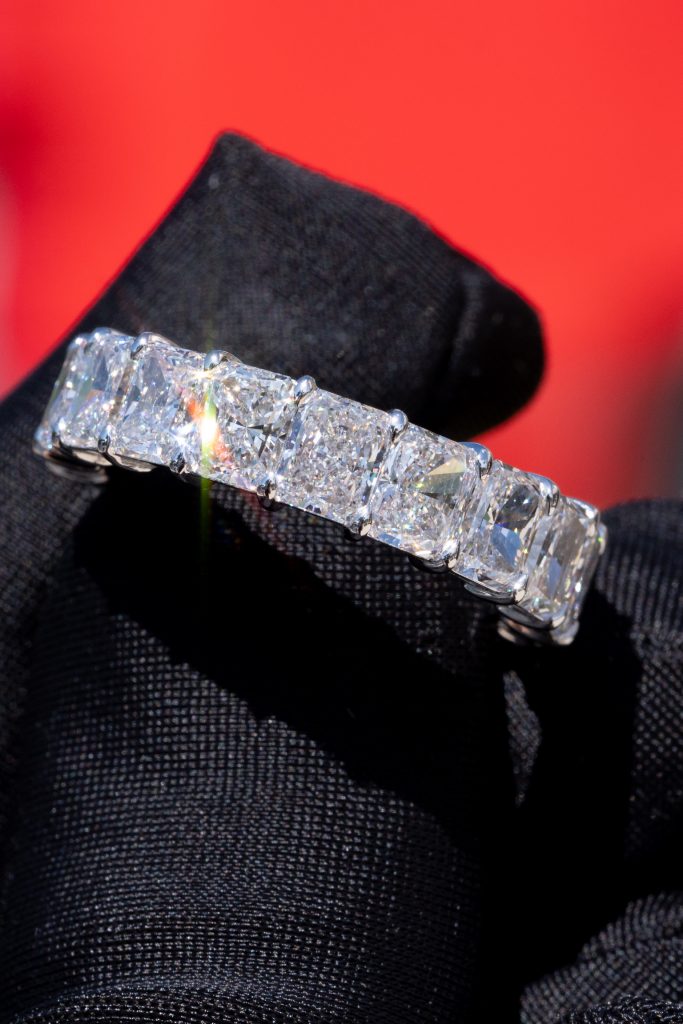 Presently, Asscher cuts are of two different types. These two types produce a stylishly crafted step cut. They include:
The Royal Asscher cut of 2001 was made by Edward and Joop Asscher.
The Standard Asscher cut of 1902 was made by Joseph Asscher.
The Standard Asscher Cut
This particular cut comes with 58 facets. It bears a lot of similarities to an emerald cut, except for its octagonal shape.
Note that this octagonal shape is simply square with cut corners.
It comes with high crown facets, a deep pavilion, and a small table. These allow it to wear a dazzling glow and brilliant look, which is pretty similar to the dashing round brilliant cut.
The Royal Asscher Cut
This cut is simply a patented cut with a similar shape to the standard Asscher cut. Meanwhile, this cut comes with a different number of facets (75 facets). Also, it features a barely higher crown giving it more sparkle.
Note: This cut has an exclusive patent. Hence, you must consult with the Royal Asscher Diamond Company before you can get one of these types.
What are Wedding Bands?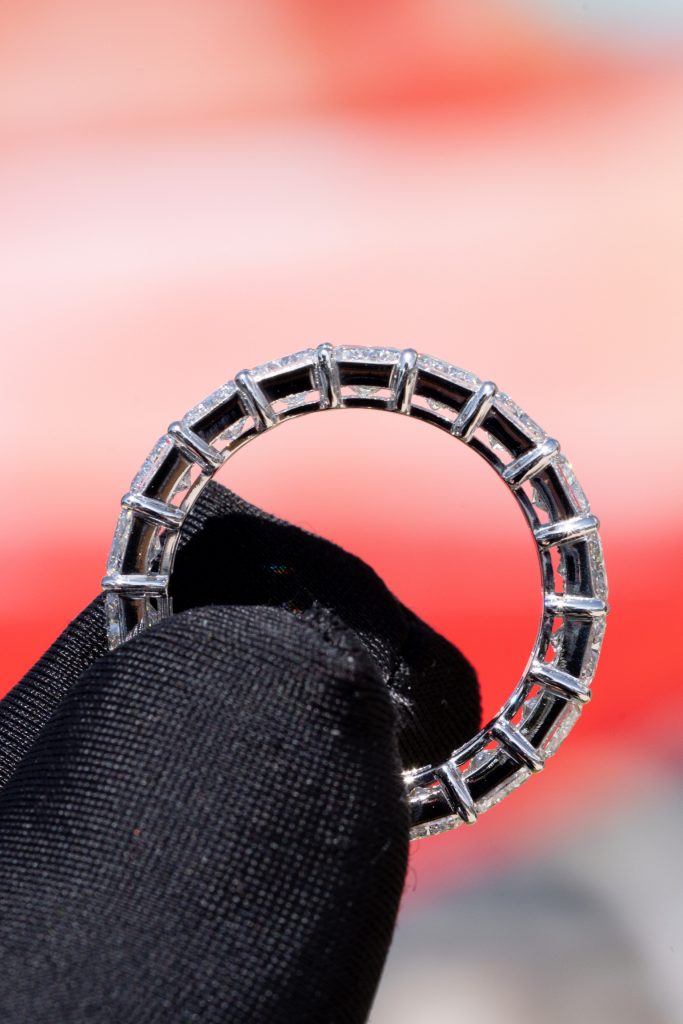 The wedding band is a popular choice as it allows you to enjoy a few more sparkly diamonds. Also, there is a lovely symbolism in this style that makes it perfectly suitable for wedding jewelry. The wedding band is a symbol of a relationship that never ends. It shows the combination of two lives into one, for the rest of time. This is a lovely symbolism for someone who wants a ring that is meaningful as well as beautiful.
The style is simple. It consists of a band that has small diamonds that are inset into the band. This can be a full wedding band, meaning the stones go around the entirety of the band of the ring. Or, more commonly, you will see half or two-thirds of wedding bands.
The ring we feature here is an Asscher cut band. A lot of people prefer this style because they find it more comfortable for daily wear than a full wedding band. What works best for you will be a matter of preference or personal comfort.
Wedding Bands: Outstanding Pieces
A wedding band is another distinctive fashion. Frequently, people will prefer a style such as this for their wedding band. Nevertheless, it can also work in tandem with another style, such as the round diamond halo ring style in this post.
With that, the ring gets extra refinement and intricacy. Simply put, a wedding band is a band style that comes with stones that surround all or part of the band. Based on the latter part, we can have full wedding bands, two-thirds wedding bands, or half wedding bands. These types are simply a reflection of how far around the band the stones get.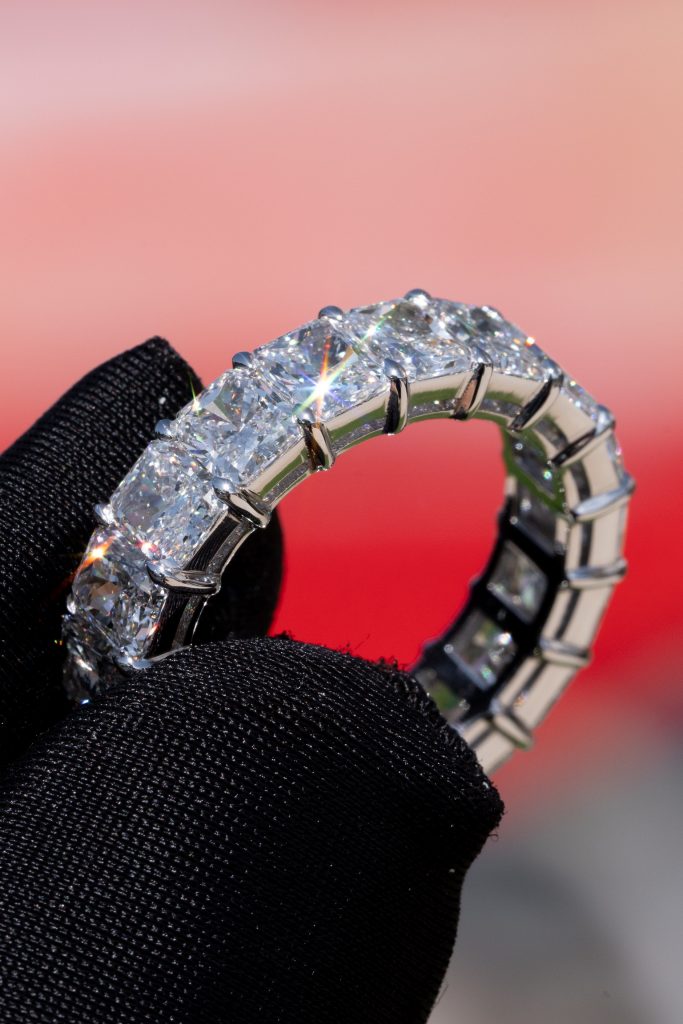 In addition, the piece we have here parades a two-thirds wedding band. What this suggests is that the stones go around two-thirds of the band. Also, the wedding band in this post shows off high-grade diamonds. You get the stones held together in the prong style. That is one truly classic and elegant way to have your Asscher wedding band.
Likewise, the cut of the stones comes in to improve the sparkle and shine of the stones. This cut gives the ring additional allure and luster that it wouldn't have with a regular band. With this style, you get a great style that allows extra stones. However, this doesn't create a ring that is so over-the-top that it doesn't make sense for daily wear eventually.
Pros of Asscher Wedding Bands
Grand Color, Glow, And Clarity
If you need an outstanding and classy diamond cut ring, then the Asscher cut is perfect for you. This ring cut has a unique way of drawing attention.
This is thanks to its grand color and clarity, just like an exceptional top-grade diamond. Plus, it makes the most of its glow.
This is for lovers of rings that bring out enough sparkle to captivate and remain elegant and classy. If that is you, then an Asscher cut diamond engagement ring is the perfect style for you.
Suited to Various Kinds Of Gemstones
For a cut too like this, several kinds of gemstones will work well with it. Gemstones like sapphires, rubies, and aquamarines with higher hardness ratings are also fitting.
Also, thanks to the angled edges of this cut, the Asscher diamond, and delicate gemstone edges are not exposed. Hence, they cannot be damaged easily.
Cons of Asscher Wedding Bands
An Outstanding Band Requires an Equally Outstanding Stone
This is the biggest con of this cut. To maximize the grandness of this cut, you must use an equally grand gemstone. Every flaw in the stone's color and clarity will be clearly shown. Down to the slightest of blemishes, they will all stand out.
Moreover, the Asscher cut must be particularly accurate and sophisticated. Only a highly skilled and well-trained gemstone cutter should take up the task.
A More Expensive Ring Style
Asscher cut diamond engagement rings are more expensive. This cost is due to the gemstones and diamonds' requirement in color and clarity. Plus, the fact that only a highly skilled cutter can work on it also means it will cost more. Compared to other types of fancy shape engagement rings, the Asscher cut diamond ring costs more.
A major part of the weight of an Asscher cut gemstone lies beneath the gemstone. The weight is not evident on the exterior.
Therefore, a one-carat Asscher cut diamond will appear a bit smaller than another one-carat brilliant round-cut diamond.
Why Do You Need An Asscher Cut Wedding Band?
The clean and gorgeous look of the Asscher cut is what makes it a favorite for most people. The extended rectangular facets give room for light well enough into the diamond. This light goes on to produce bold sparkles.
The classic charm of an Asscher cut band also endears people to it. The diamond's style was highly prominent in the 1920s, during the Art Deco period. Present-day Asscher wedding bands still highlight that classic charm from way back.
The Ideal Step Cut Diamond Band
Do you need a top-quality step Cut diamond ring, then the Asscher cut band is an excellent pick. Alternatively, you can go for either the Baguette or the Emerald cut ring types.
Maintaining Your Asscher Cut Bands
After choosing your preferred Asscher cut bands, the next step is to keep them in good shape. Caring for your Asscher wedding bands should be like every other diamond piece of jewelry.
According to the Gemology Institute of America, it is advisable to clean your rings with any of these.
Household detergents
Commercial jewelry cleaning solutions
Lint-free clothes.
Do not make use of the following:
Steam cleaners
Ultrasonic cleaners
Abrasive household cleaners
Conclusion: Combining Striking Elements
We discussed the importance of classic and timeless styles and feel like we make a good case as to why these are one of the better options when it comes to rings. But why relegate yourself to a single style?
The Asscher cut wedding band we feature here is a beautiful combination of two classic styles: the Asscher cut diamond and the wedding band. The Asscher cut is a timeless style that is the perfect way to show off the quality, clarity, and beauty of the main diamond in the ring. It is like the little black dress of rings because it never goes out of fashion and looks great on everyone.
When you feature this style in a wedding band, you get a really elegant piece of jewelry. It has extra sparkle and shines and the wedding band gives the ring some extra meaning, which is great for an engagement ring. Putting these styles together gives you something more unique than either of these styles on their own. And since they are both classic styles, you get the peace of mind that they will continue to look great for many years to come.
Meta-Description
Main Keyphrase
Other Keyphrases
Asscher cut band
Asscher wedding band