We have a massive selection of Rolex watches for sale including Rolex Oyster stainless steel watches featuring diamonds, Daytona Rolex, Submariner and other iconic collections. These are all some of the finest and most iconic fine watch collections from the world renowned Rolex brand. If you are growing your watch collection or just getting started Diamonds by Raymond Lee is the place to visit. Our master craftsmen and watch experts know luxury watch brands like Rolex inside and out. They can walk you through our extensive collection, help you uncover the differences between models and find unique time pieces. A passion for over thirty years luxury watches are part of our central collection. When it comes to Rolex watches these are the top collections that are truly staples in a watch collection. We have a wide range of different dial and bezel color combinations.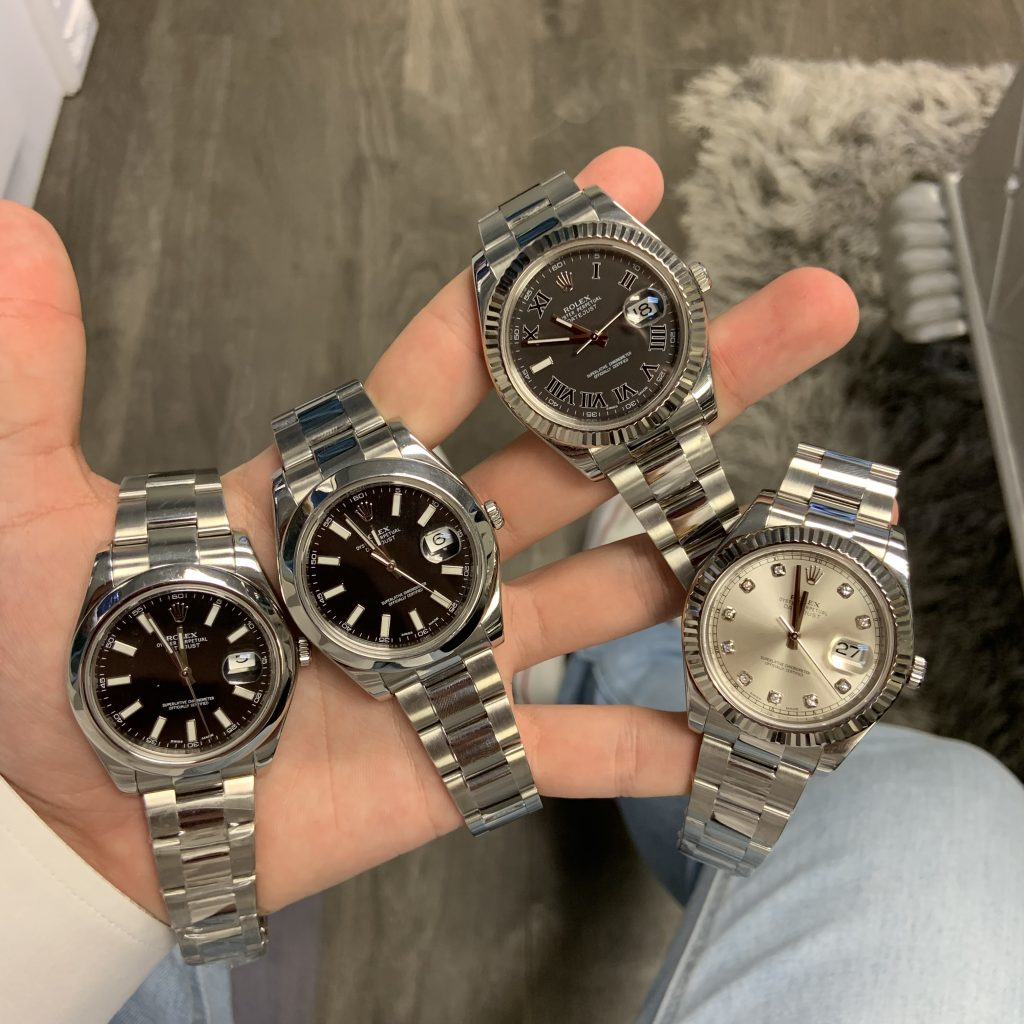 As well as unique combinations from the traditional two tone gold Rolex Rolesor look. A good idea before deciding on what Rolex watch to buy is to look into the different collections. They each have a unique back story and aesthetic that they aim for. It is not unusual therefore to look for watches that match the look you are trying to go for. Further there are also special additions that can be made to each of these unique collection watches.
For example the addition of fine and precious stones or gems like diamonds. You can have small accent diamonds on the dial where the hour markers are. Or you can have a diamond bezel surrounding the watch face. Finally you can also have our personal favorite which is an iced out look unlike any other. These are watches that are coated in diamonds from the dial to the case to the bracelet.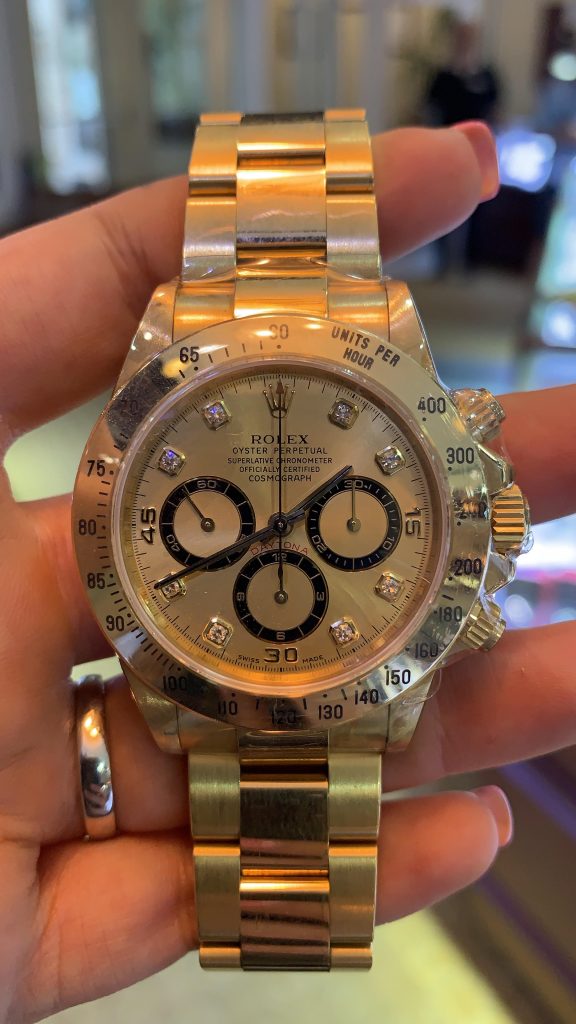 Rolex watches for sale
When it comes to purchasing a Rolex watch you want to know that you can trust the quality of the timepiece. Certain factors like repairs, tune ups, and modifications can make a Rolex watch not so much up to the standards that the crowned King of watches expects. We should know as all of our timepieces are rigorously inspected and maintained with original Rolex parts and pieces. We make it an utmost priority to always ensure that our products are factory quality and maintained to keep them looking that way. Also we extend this mentality to our client's collections as we see all of us as part of one watch passionate community. That is why we offer our $159 Rolex Tune Up. It is an easy way to get your watch serviced and make sure that it is in optimal condition always. Even while you shop for your next piece.
Shopping for Rolex watches for sale means looking at a lot of different models and specifications. Particularly if the watch that you are looking for is one with a lot of different iterations. For example take the Rolex Submariner watch. There are quite a few different versions and if you are not so well versed in the ins and outs of Rolexes you might not know the difference. The truth is there's more to the differences than what meets the eye. That is why it is always good to consult an expert that you can trust. Someone who will bring you insider knowledge of the inner workings of the watches. Someone like the craftsmen who spend decades inside the workings of luxury watches. At Diamonds by Raymond Lee we have a few of these experts ready to help. Here's what they have to say about the differences in Submariner models.
Rolex Submariner watches for sale
When it comes to the Submariner the first thing to note is that this is one of the most renowned Rolex watches that there are. Hugely popular the Submariner watch continues to be to this day from when it first launched a diver's refined tool. Made to go to the deepest depths it is an iconic symbol of the power of the Rolex brand. The first to go to depths never before reached with a wrist watch it continues to be at the edge of engineering and watchmaking. These inner workings are what make them incredibly unique and coveted time pieces.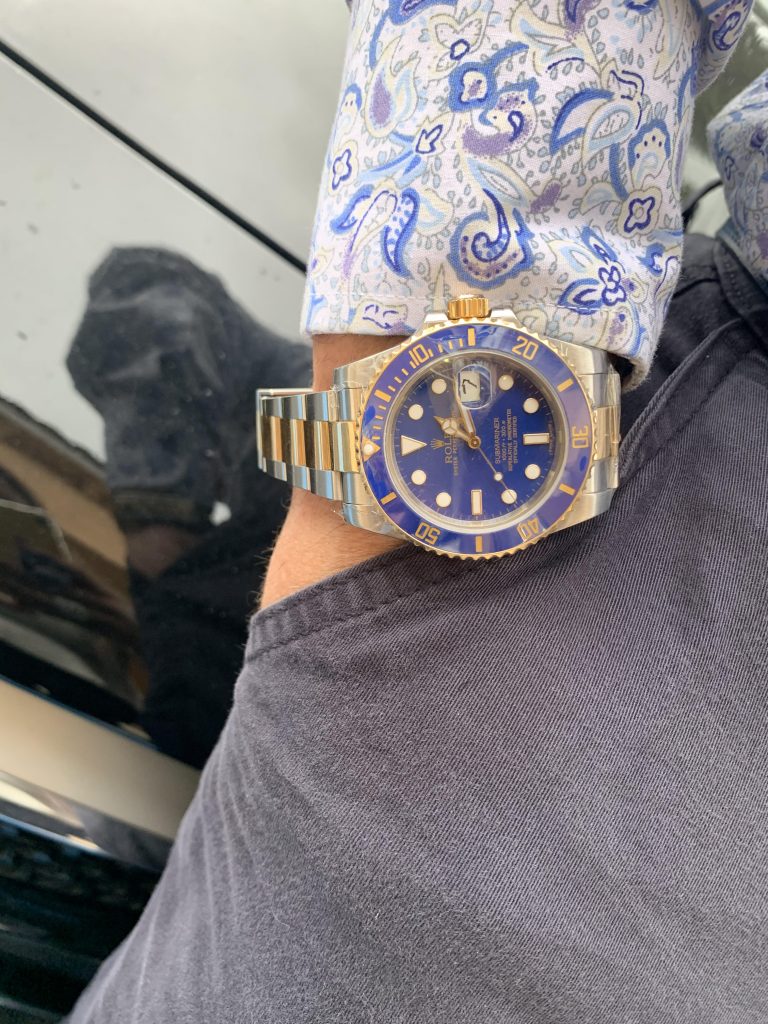 Let us have a look then at which Submariner to buy when comparing some of the most well known models. For extra measure we have taken the iconic two tone Rolesor versions that feature the exact same blue dial and blue rotating bezel for parity when looking at these three watches. So what makes this big difference between three models of two tone Submariners that have at first glance almost the same look? Well behind that blue bezel blue dial match up look there are important differences between the three watches. These are the Submariner 116613LB, 16613 and 16803:
Now for context these watches are not being showcased in order of release but rather in descending order. We are starting off by looking at the 116613LB because this Rolex Submariner is the most recent of the three. Therefore it is also the watch with the newest features and innovations. Retailing at $13,400 this watch is a significant upgrade from the aesthetically similar models of this collection like these Submariners below. Each of them retailing for $7,495 and $7,695 respectively.
Rolex Submariner 116613LB vs 16613 vs 16803:
With all of its many new advances the 116613 does not leave the 16613, its predecessor in the water though. This is still a valuable collector's item that has been in production since 1984. Another two tone model it was released at the same time as its all stainless steel counterpart namely the 16610. The dial on this particular two tone model though has a unique iridescent tone to the blue. Which is a bit different from the solid blue of the newer 16613 we saw above. A Maxi dial it is also different from its own predecessor. This one having slimmer hands and hour markers. The links in the bracelet of the 16613 are hollow which is also different from the newer version where the links are now solid.
The earliest of all three of these is the 16803. Launched in 1984 this particular model had a very short run. It was only then produced for another four years until 1988. This is a transitional model as the two tone Submariner was scaled up from the all stainless steel Submariners of the past. Another particularity of this special Rolex Submariner is the sapphire crystal. It featured the introduction of the crystals into Rolex watches. The water resistance is always a key feature of the Submariner ofcourse. But this is the edition where they took another 100 meters depth to the Submariner's water resistance. It is a historic piece that took the rating beyond the 200 meter limit of the past Submariners to 300 meters.
Rolex watches with Roman dials
A lovely and unique feature for Rolex watches are the Roman hour marker dials. These are more of a classic touch to a watch that is undoubtedly a marker of classic luxury fashion. A unique yet staple of luxury lifestyles the Rolex watch with a Roman dial has a totally different look than the sportive watches we were just discussing above. These are more apt for your traditional and classic collection models like the Rolex Oyster steel Date Just watches. These are the iconic first fluted bezel beauties that took the world by storm making Rolex an iconic name in haute horlogerie.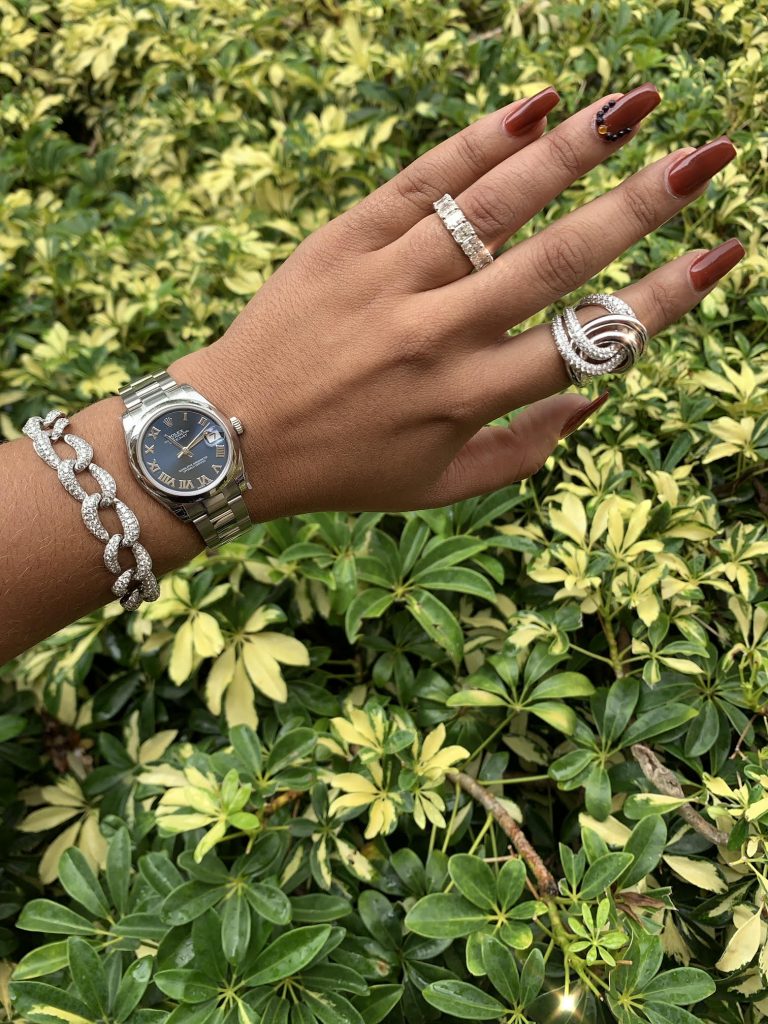 A Roman dial is not a feature that one readily finds in classic watches. It is unarguably one of the finest distinctions for a unique watch. At 41 millimeters this larger dial has ample space to showcase the Roman numerals. However, to keep things sleek and undercover if you will this dark gray dial features dark Roman numerals as well for a clean look that accentuates the iconic fluted bezel.
First is this lovely ladies watch in the Rolex Oyster steel unique blend of precious metals made right at home in their own foundry. This Rolex Oyster Perpetual watch features not only a white Roman dial it also has a twist. Or sparkle that is. This watch features a dazzling diamond bezel surrounding the classic dial. The 26 millimetre watch has pave set diamonds all along the diameter bringing some added glamour to an already stunning watch. Featuring a Rolex Oyster jubilee bracelet it is a stunning and classy classic like any.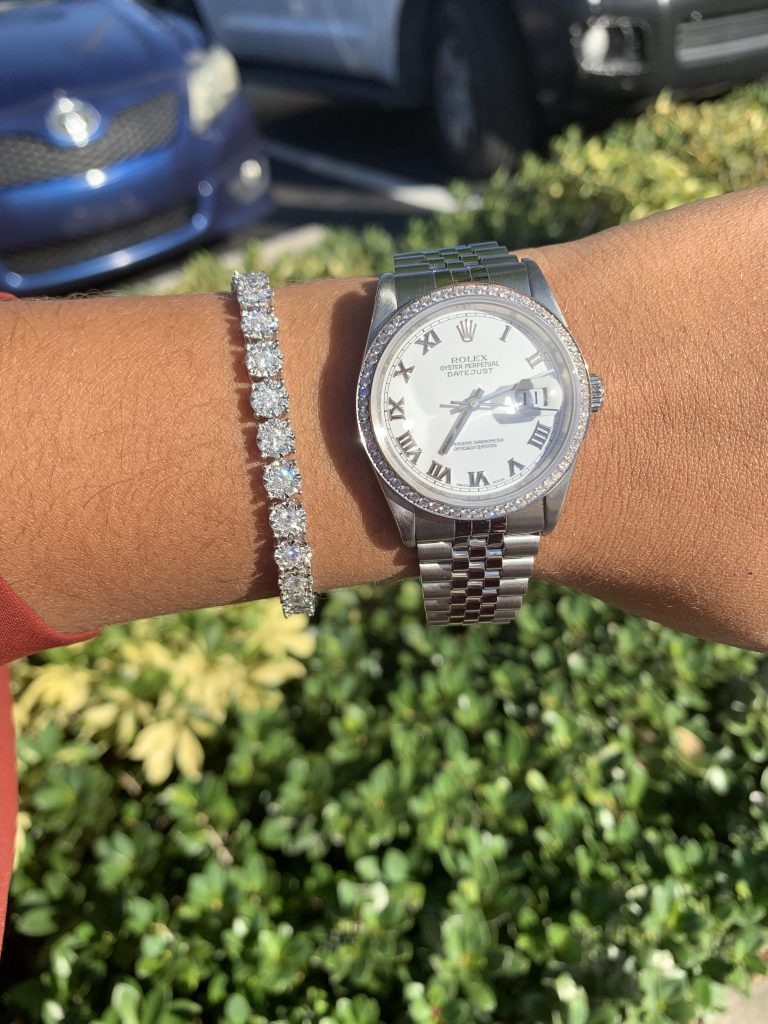 Diamond dial luxury watches
For an added feature of luxury on a top luxury watch like a Rolex what more could you look for than diamonds? Like the diamond bezel and Roman numeral watch above we have a series of diamond dial Rolex watches for sale at our showrooms including these two mother of pearl dial pieces. Classic and stunning these Rolex Oyster Date Just watches come in two very different styles. One is more of a modern day watch while the other is a more classic look. Even though they are both mother of pearl diamond dial Date Just watches.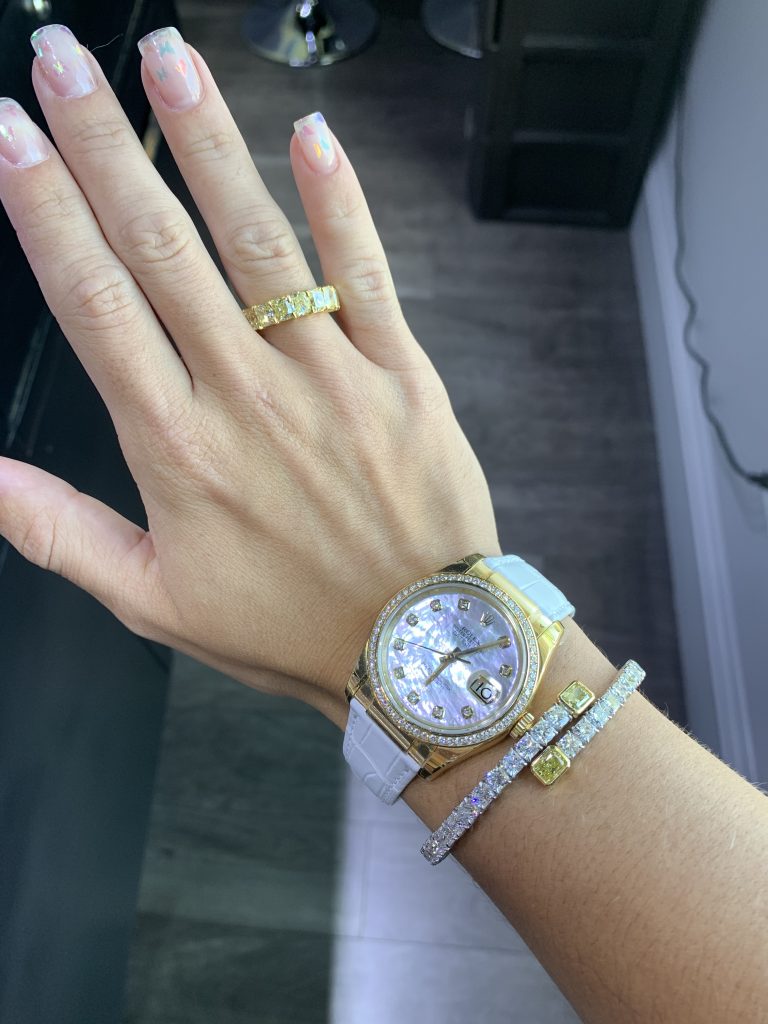 First is a much more modern 18 carat yellow gold Rolex. This one featuring a unique white alligator leather strap. The contrast of the white leather with the yellow gold is accentuated with the dazzling mother of pearl dial and the ten accent diamonds placed at the hour markers on the dial. As well as the dazzling diamond bezel surrounding the face. It is a significantly larger model watch than the one below coming in at 36 millimetres. However both of these watches share the diamond bezel look where accent diamonds are set surrounding the watch face.
On the other hand this is a more traditional look of Rolex Oyster watch. It has the iconic jubilee bracelet featuring detailed links. Also the diamond dial brings out the classic monochromatic stainless steel look. With the iconic jubilee bracelet there is also the cyclops augmentation lens over the date window – a key feature of the Date Just watch.
Where to find Rolex watches for sale in South Florida –– Diamonds by Raymond Lee, Boca's best jewelry store
Now that you know the best place to find Rolex watches for sale in South Florida why not come and visit us? We have incredibly expert designed showrooms. Our jewelry store display is optimized for your comfort when browsing. You can chat with one of our passionate luxury watch experts and get everything that you need to know from them. An outing that is not your average shopping at Diamonds by Raymond Lee you can always find incredible time pieces. As well as incredible sports cars out front. Because nothing goes better with a luxury life style than fine jewelry, luxury watches and sexy cars.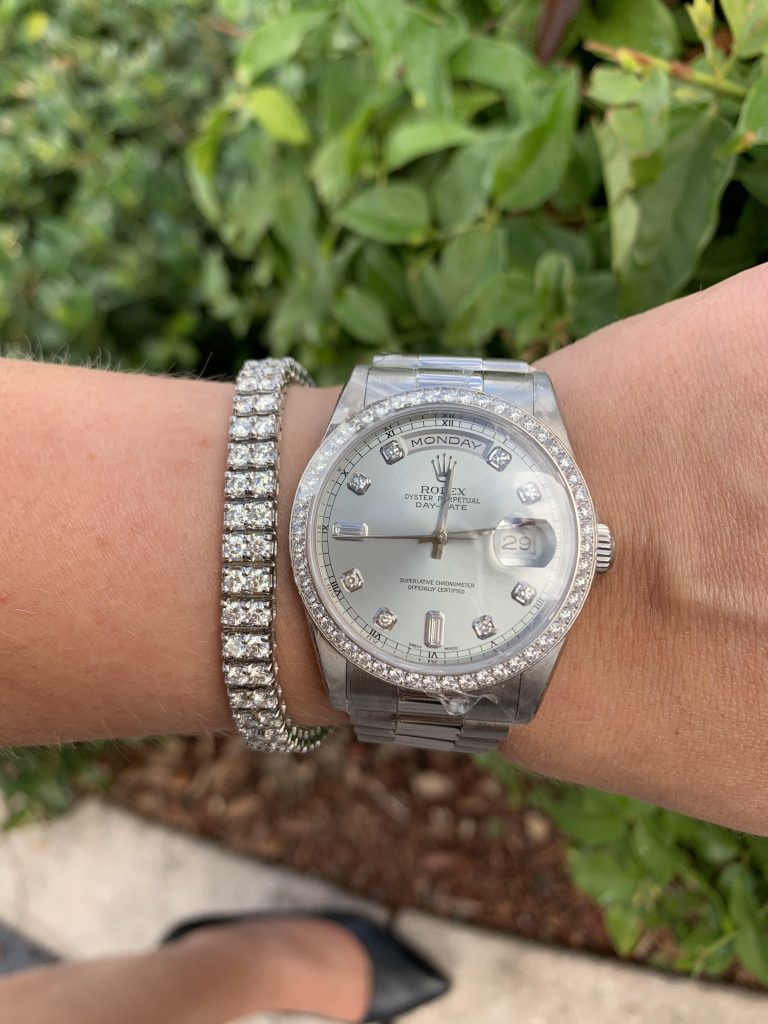 If you roll up in a Tesla we have a convenient charging station for you to use while you shop. We also frequently host super car events too for this reason. You can come along and check out all of the hot rides and sometimes matching luxury timepieces. Including Rolex watches. Although not a Daytona Rolex 24 race we do share our passions for watches and cars with our refined clientele. They know what the luxury lifestyle is all about and if you are like them you know one is never enough. We share that mentality and we are always striving to provide superior service to clients. Which of course includes offering convenience, variety and choice. So we also have two separate locations in Boca that you can check us out at. You will find we have our experts, in house workshop and collection ready for you whenever you visit.
East Boca Location: 2801 N Federal Hwy, Boca Raton, FL 33431
Hours: Monday-Friday 11am-7pm | Saturday 10am-5pm | Sunday 12pm-5pm
Phone: (561) 623-8205
West Boca Location: 22191 Powerline Road #12b, Boca Raton, FL 33433Hours: Monday-Friday 10am-6pm | Saturday 10am-5pm | Sunday Closed Phone: (561) 750-7808Email: in**@di******************.com