Review of the Zenith-Powered Rolex Daytona 16528 Yellow Gold Champagne Dial Watch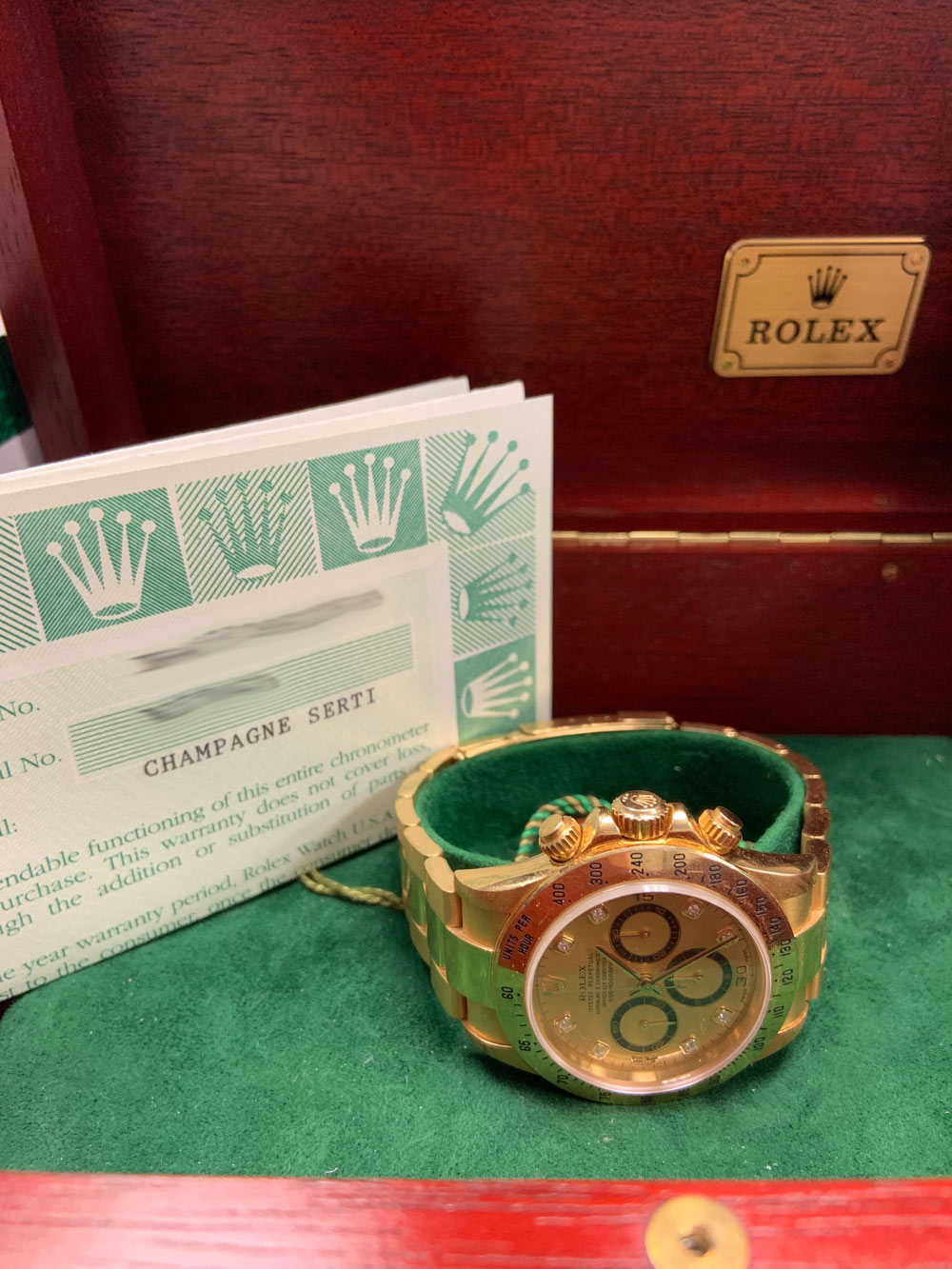 Today we are featuring a review of the legendary 18K yellow gold Rolex Cosmograph Daytona Zenith El Primero Champagne Serti Diamond Hour Marker Watch, reference 16528.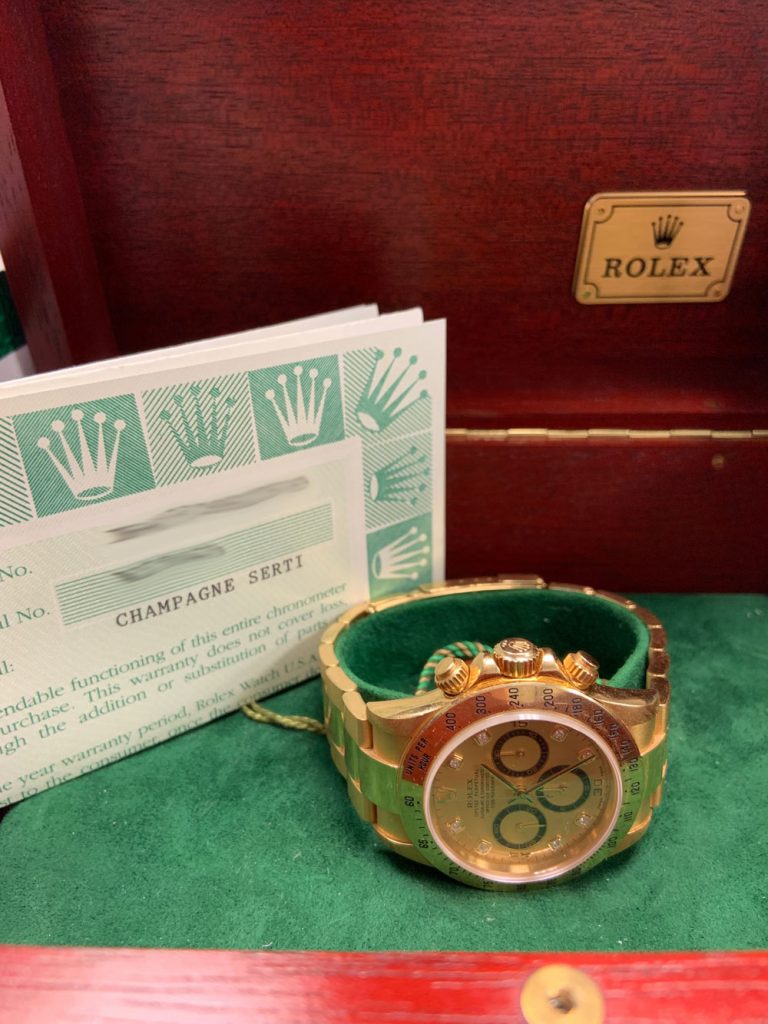 We recently purchased a used Rolex Daytona 16528 from a member of the South Florida community.
So, we wanted to review this pre-owned Yellow Gold Rolex Daytona Zenith watch and discuss its incredible horological pedigree with all of you.
This Zenith-era Daytona is tremendously special. So grab yourself some popcorn and enjoy the ride.
Note: This All Gold Zenith-Powered Rolex Daytona is available for sale now at Diamonds by Raymond Lee.
The Condition of this Used Gold Rolex Daytona 16528 Zenith El Primero Watch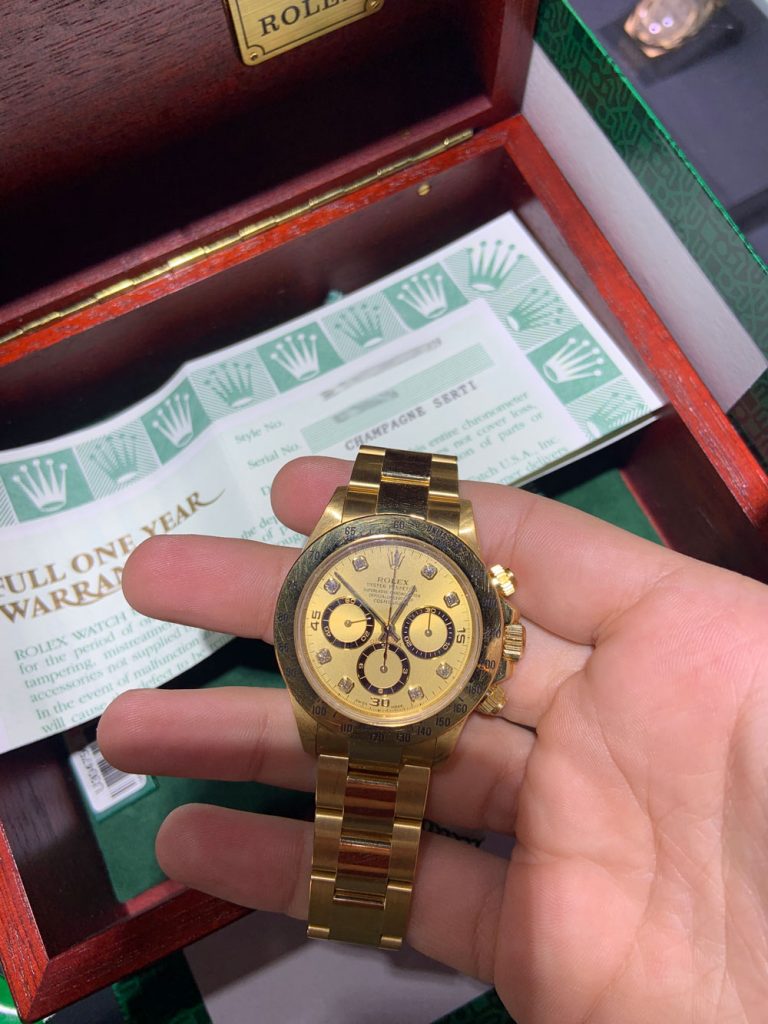 The pictures in this post really do a good job of showing this watch's condition.
As you can see, the watch does have light scratches on the bezel, case, and bracelet. These are natural scratches or marks that occur from wearing the watch over time.
The good news is this gold Rolex Daytona has never been polished. This means the watch has never been serviced either, as Rolex Service Centers include polishing and replacing any damaged parts.
Luckily, this watch has all of its original pieces too. More importantly, the watch is running beautifully and there are no damages to any of its parts.
All in all, this is what watch collectors look for in older and vintage Rolex watches. And with this watch being over 20 years old, and it already having substantial value based on the reference, it is even more valuable because of all this.
Over the next 5-10 years, this watch will skyrocket in value. Even more than it has already over the past decade. Especially with it not having been polished and it including the original box and papers. Cha-Ching!
Why is an unpolished Rolex more valuable?
For all of our Rolex connoisseurs reading this, we don't need to explain, of course. But for those who aren't aware, it's because it is rare to have an older and vintage Rolex watch that has never been polished. Not to mention, one with all of its original parts.
Essentially, polishing a vintage Rolex will typically devalue it. This is just how it goes in the Rolex watch market.
That said, if you were to purchase this gold Rolex Daytona from us and you did want to have it polished, we can do that for you. We don't recommend it. Nevertheless, we are highly skilled at polishing Rolex watches. We polish Rolex watches in a professional (RSC-level) way that minimizes the chance of it losing value.
Rolex Daytona 16528 Zenith Review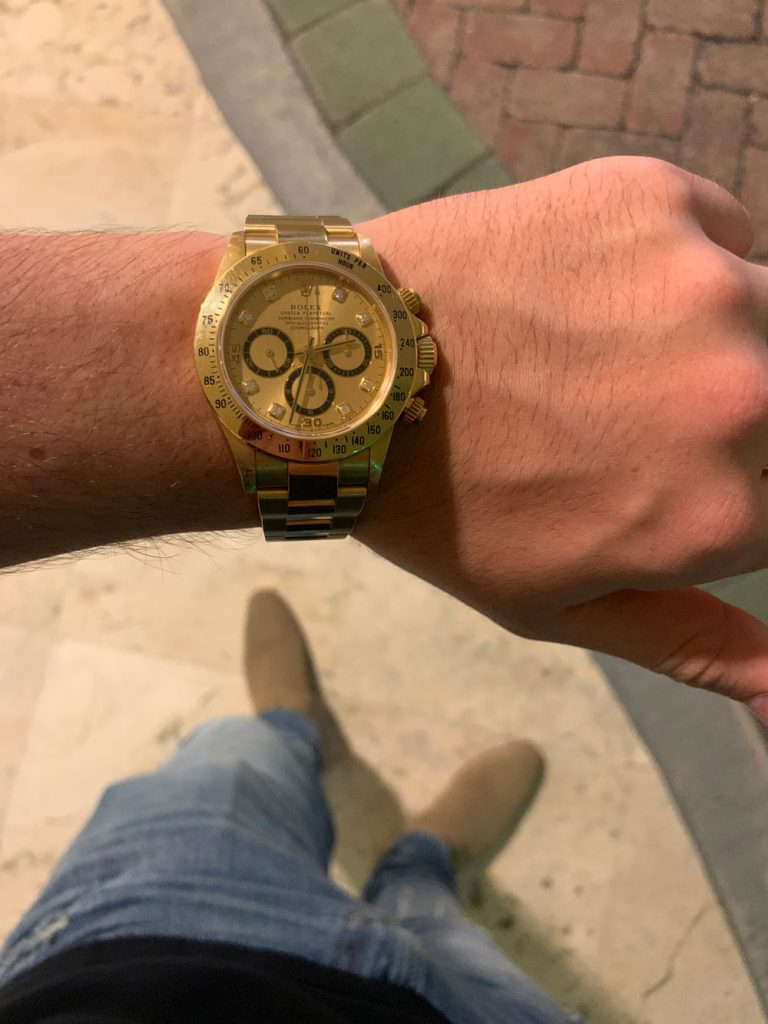 Let's go over all the features of this Rolex Daytona 18K Yellow Gold Champagne Serti Dial Watch.
Solid 18K Yellow Gold
The bracelet, clasp, case and bezel are made from Rolex's very own 18K yellow gold.
This all gold Daytona has immense visual impact and charisma, which is why it is regarded as one of the most luxurious sports watches.
The Yellow Gold 40mm CASE
Rolex Daytona 16528 has a 40mm yellow gold case with broad crown guards.
The height of the case is 13mm, with a healthy curved ergonomic case flank and a low profile sapphire crystal.
Thanks to the caseback having a tapered shape, when the watch is on the wrist it sits at about 11.5mm in height rather than 13mm…
Another noteworthy aspect is this generation of the gold Daytona marked the beginning of solid lugs rather than the pierced pinholes that you see on the case sides of older manual winding Daytonas. This gives it a more upscale, higher quality, and integrated look.
All in all, the case is a stunner and it conforms to the wrist flawlessly and comfortably.
The All Gold Tachymetric BEZEL
This watch features a beautifully broad tachymetric bezel made from 18K yellow gold.
The Rolex 16528 was the first time the tachymetric scale graduated up to 400 units.
It is extremely stunning and unequivocally Daytona.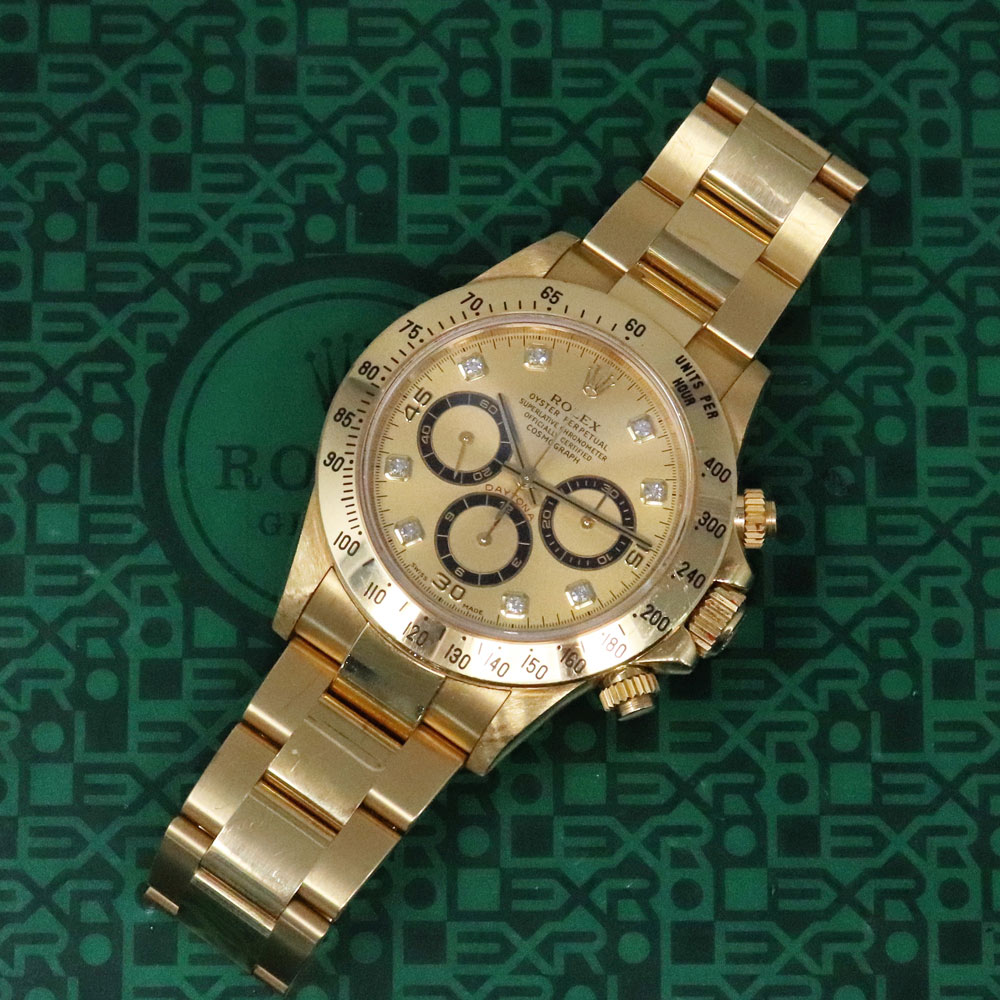 The Champagne Serti Diamond Hour Marker DIAL
This particular model of the Rolex 16528 has a Champagne Serti dial with diamond fitted hour markers.
You'll notice that this watch has beautiful patina in the dial.
Furthermore, you will also notice it has a constant seconds hand sub dial which immediately lets you know this is a Zenith powered Daytona.
The combination of the champagne dial and the yellow-gold-everything creates a powerfully luxurious visual impact.
Solid End Link Yellow Gold BRACELET
The bracelet uses solid end links, so not only does this give the bracelet king-size heft, but it also eliminates the rattle that you'd hear on older generation (pre-1999) Stainless Steel Daytona watches, which came equipped with hollow end link bracelets.
Overall, the bracelet is brawny yet it feels supple and wears exquisitely comfortable.
If you were to close your eyes, the bracelet would feel unrecognizable from a modern gold Daytona bracelet.
Rolex Daytona 16528 ON THE WRIST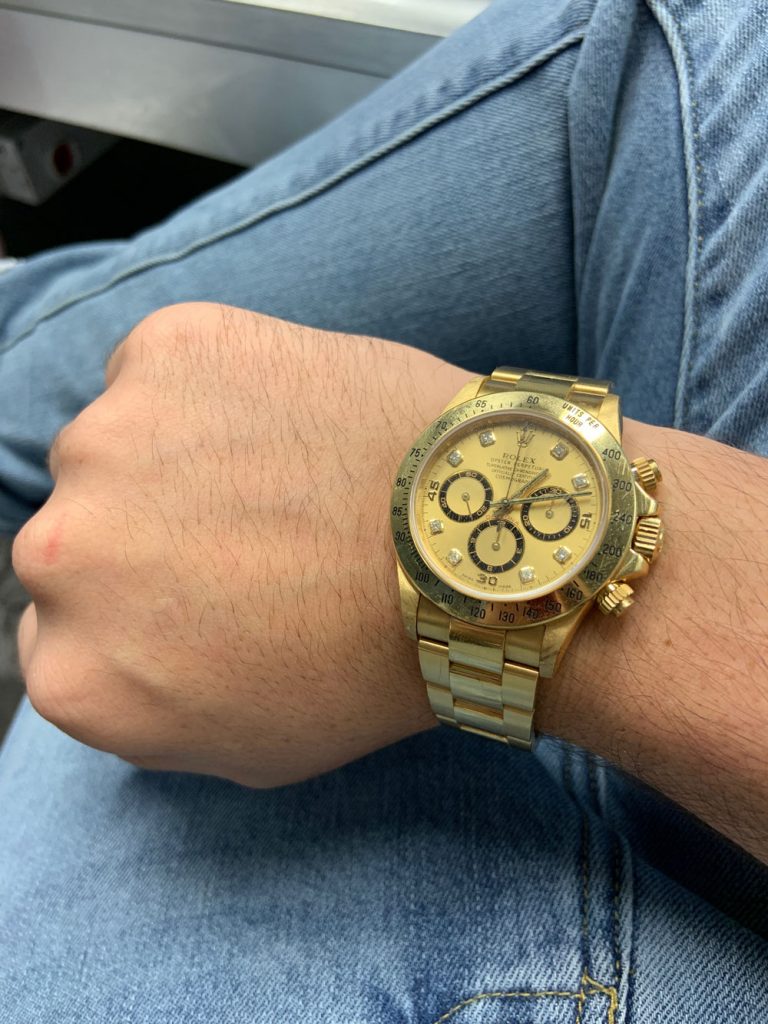 The case fits on the wrist like a glove on a hand. It is the epitome of "watch comfort". And with its perfect dimensions, it carries a very strong presence, yet you will never have an issue slipping it under a tight dress cuff.
Furthermore, because this Daytona is a screw-down crown generation, and it has a contemporary 40mm case, automatic winding, and a gorgeous full metal bracelet, it is a sports watch in every respect. Albeit, one with a very upscale pedigree.
You can wear it on a jog, to swim, or out to a fancy party alike. It's extremely versatile and its robustness makes it a thoroughly tough watch. After all, it is a tool watch.
Zenith El Primero MOVEMENT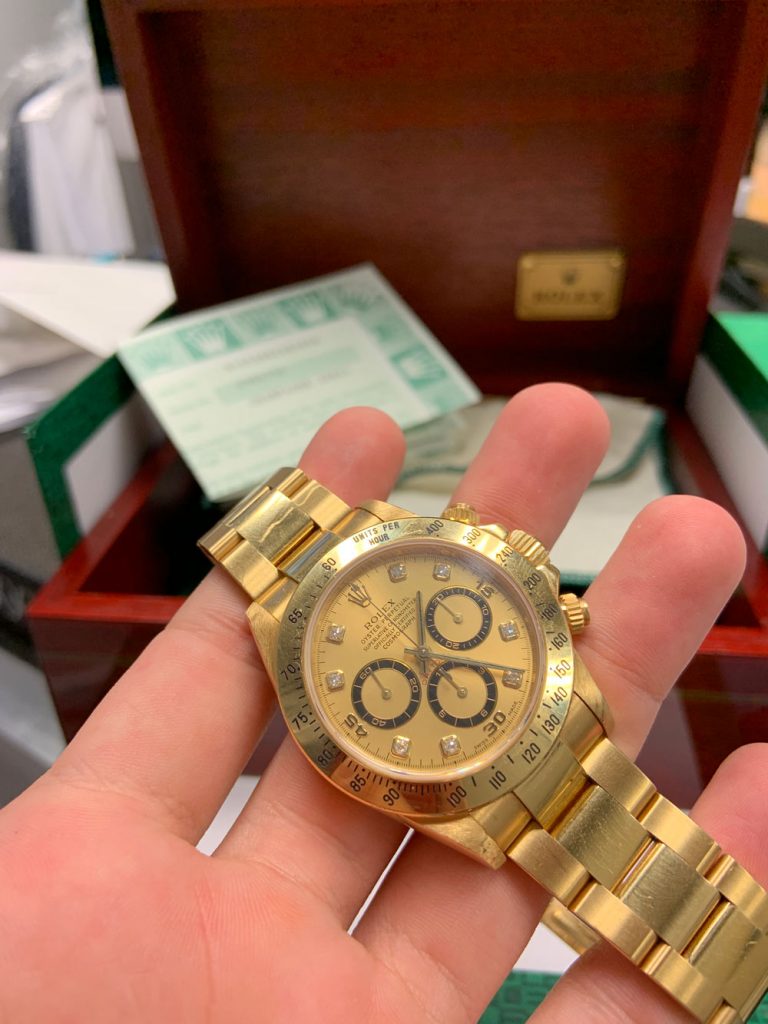 For Rolex watch collectors and true horology fanatics, there are few things that resonate as strongly as the Zenith El Primero.
The Zenith El Primero was the first automatic caliber movement ever used inside a Rolex Cosmograph Daytona.
Moreover, it is arguably the first automatic chronograph movement ever made. Zenith had originally developed it back in the 60s, but due to the quartz crisis, they had to stop production up until the late 80s. At which time it fell into the hands of ecstatic Rolex's engineers, to be used for the then-new 40mm Rolex Daytona.
Rolex equipped their Rolex Daytona watches with the Zenith movement from 1987 until 2000. In 2000, they introduced their first completely new in-house movement in over half a century – A fully integrated, self-winding chronograph for the Daytona, the caliber 4130.
Upgrades & Modifications of the Original Zenith El Primero
What's interesting, and something a lot of people don't know, is that although the El Primero was the best chronograph in the game at the time, it still needed some upgrades and modifications before it could be "worthy" to sit inside of a Daytona.
The engineers at Rolex went through over 200 different modifications. So, the Zenith El Primero was left with approximately half of its original components when the Rolex technicians were done with it.
The date function was eliminated and a completely new escapement was equipped. It had a bigger free sprung Glucydur balance wheel and a Microstella regulating system.
Furthermore, the flat hairspring was given a Breguet overcoil and the frequency was lowered to maintain Rolex's professional of a relaxed 28,800 vph.
After everything was said and done, the Zenith El Primero had transformed into the illustrious Rolex Calibre 4030. And it was the best automatic calibre chronograph movement ever made…
From there, the Rolex Daytona became the legend that it is today.
The Legend of all Watches
The Rolex Daytona didn't become the mammoth icon and household name that it is today until its Zenith El Primero days.
This move by Rolex was a true game changer for the Daytona line.
The Daytona burst and exploded into the spotlight in the late 80s, and it was all the rage among watch collectors across the world (as it is still to this day).
Back in the 80s and 90s, a Zenith-driven Rolex Daytona was the hottest commodity in the industry. It did so much for the Daytona line that collectors started raving for older generations too.
Besides the change from a fragile manual movement to a powerhouse Zenith-based movement, other key factors that made the boom of the Daytona was that Rolex went from plastic bezels and plastic crystals to crown guards, engraved metal bezels, and the impenetrable sapphire crystal. Not to mention the jump in case size from 37mm to 40mm.
Finally, the Rolex Daytona got the respect its 56 years of history deserved. The geniuses at Rolex did it again!
It not only put the Daytona on the map, it straight up covered the whole thing.
Nowadays, Zenith El Primero Rolex Daytona watches like this one are extremely coveted. As with everything Rolex, when the Zenith Daytona watches became discontinued, the value blew up. Not to mention, Zenith is still regarded as one of the best in chrono movements. So the Rolex and Zenith combination is historical and legendary.
Rolex Daytona 16528 PRICE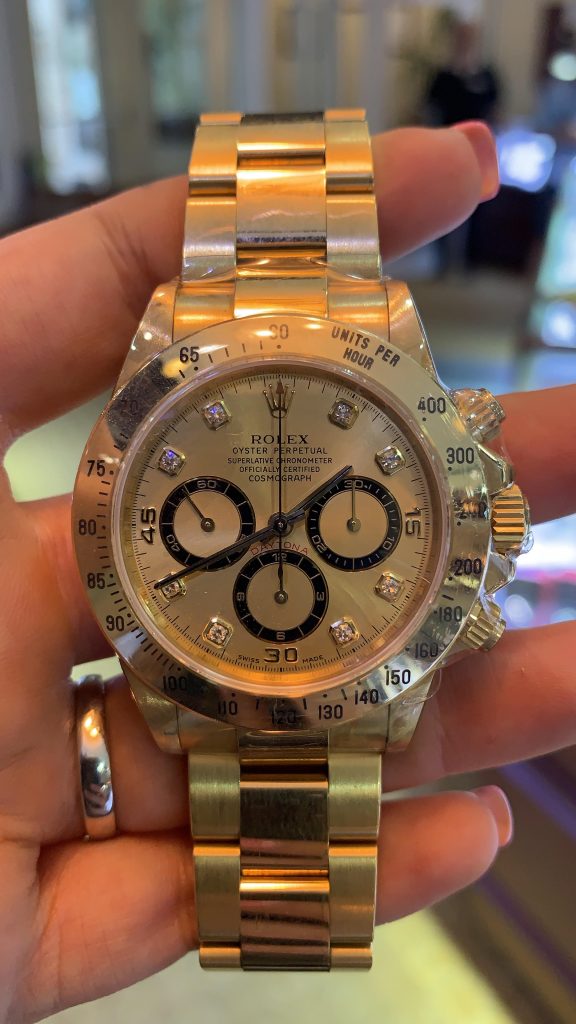 We are currently selling this Rolex 16528 Daytona 18K Yellow Gold Champagne Serti Dial Watch for $48,000.
Rarity & Value
The Rolex Daytona 16528, with a champagne dial and diamond hour markers, is a rare and valuable piece. It's even more rare and valuable because this one has never been polished and it has all of its original pieces.
Furthermore, it comes with its original box and papers!
This watch has skyrocketed in value over the years and it will continue to rise in value. We guarantee it.
You will be hard pressed to find another Rolex Daytona 16528 in this condition. This is a watch collector's dream find, which is why we were thrilled to purchase it from a local fella who came into our showroom looking to sell it.
We Buy Luxury Swiss Watches: Sell Your Rolex in Boca Raton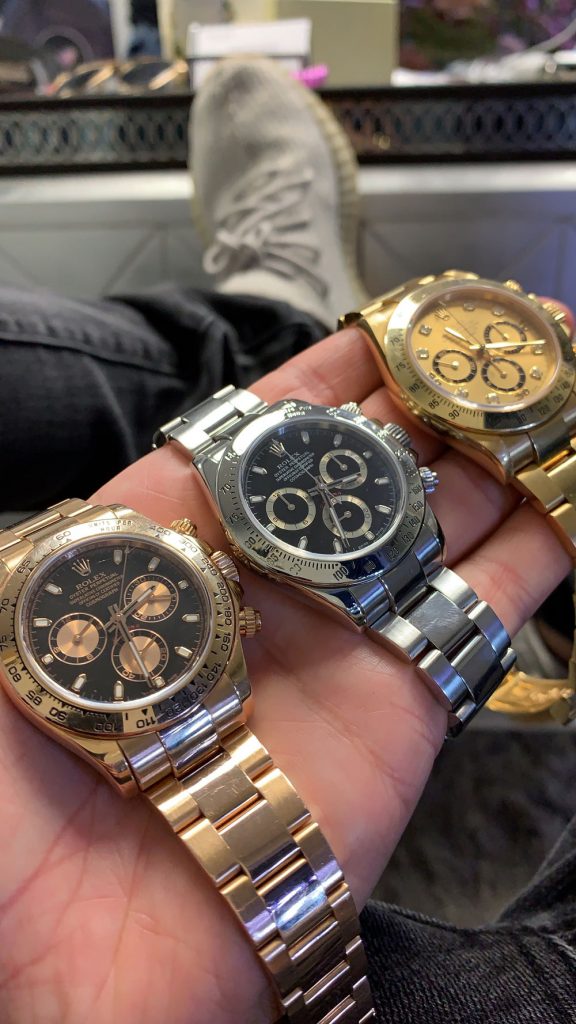 At Diamonds by Raymond Lee, not only do we buy pre-owned watches, we pay the most when purchasing desirable Swiss watches like this.
So, if you have an older or vintage watch, or any Rolex that is in high demand, you won't find a better offer than you will at Diamonds by Raymond Lee.
We are known in the area for providing great customer service and undoubtedly fair business dealings. We are able to do this because we are not the middleman – we are the source.
Furthermore, we know the value of Rolex watches and we know what will sell. So, we are completely transparent about it.
We've been in this business for well over 30 years. Therefore, we know exactly what we are doing.
We Buy Watches in Boca Raton at Diamonds by Raymond Lee and Raymond Lee Jewelers
Where to buy this Zenith El Primero Rolex Daytona 16528 Solid Yellow Gold watch?
You can buy this watch online or at our showroom in Boca Raton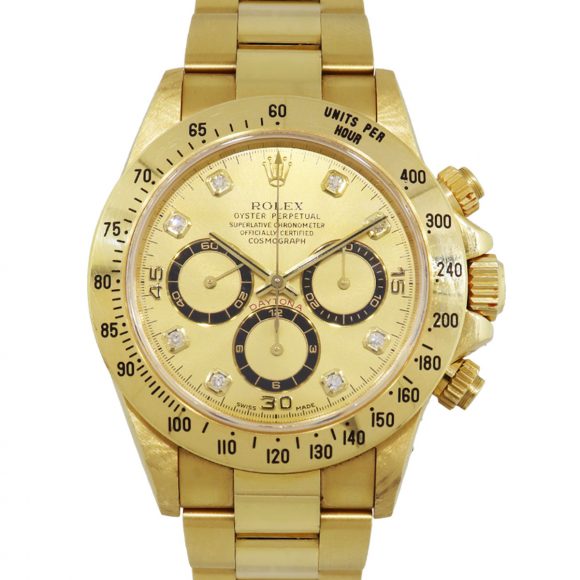 See the full sales listing for this Rolex 16528 Daytona 18K Yellow Gold Champagne Serti Dial Watch
Or…see more Used Rolex Daytona Watches