A Rolex watch is a tool by nature of design. Yet, even though it's made to be a tool, Platinum, Gold, and Stainless Steel bracelets, cases and bezels are not scratch-resistant. There is absolutely nothing you can do to prevent your Rolex from accumulating scratches. Rolex scratches are inevitable. However, the good news is, polishing and buffing with the right technique can restore your Rolex to its original, pristine condition. Rolex polishing is a special skill that only the most expert watch polishers should be trusted with. As the most trustworthy Rolex watch polishing service in Boca Raton, we wrote this article to tell you about our professional Rolex refinishing and restoration technique and opinion.
Owning a luxury watch, more specifically a Rolex, is kind of like owning a car. You spent a lot of money on it, you want to keep it pristine, but you know it's a tool and meant to be used to the fullest. This is especially true for newer models, as limited edition and vintage watches and cars are a bit different.
Rolex watches are designed to take a beating – bracelet, case, crystal and all. Your arm would break before the bracelet does; the case is water-resistant down to at least 300 feet; the movement is impeccable and meant to last with only minor servicing throughout its life.
Furthermore, many Rolex bezels are ceramic, which makes them pretty much impervious to damage. They do this because bezels are one of the areas that take the most dings.
Since a Rolex watch is extremely functional, the only real concern Rolex owners have is regarding scratches. Rolex scratches are a fact of a Rolex's life. Rolex gold (yellow, white, rose), platinum and 904L stainless steel can and will scratch from daily use.
Scratches become most abundant on the center and outers links of Rolex Oyster bracelets. Oyster bracelets are used on Rolex watches like the Submariner, Daytona, and Yacht-Master. By polishing the scratches on the center and outer links, you can essentially achieve a brand new appearance for your Rolex bracelet. Therefore revamping the look of your entire Rolex.
However, some Rolex owners aren't sure if polishing their watch is the right thing to do. You will find that one of the most common questions in the Rolex community is "should I polish my Rolex?"
Controversy – To Polish or Not to Polish, that is the question!
This is one of the most controversial topics when it comes to Rolex owners. It's a debate where both sides make their point known.
Some people choose to keep the natural marks that acquire through time, while others choose to polish their Rolex every few years so it can shine like new.
What's Raymond Lee Jewelers, a certified seller and Rolex service company in Boca Raton Flordia's, opinion?
In our opinion, it makes sense to maintain valuable vintage timepieces in their original, natural condition. The reason being, collectors love original pieces and appreciate naturally aged patina.
However, if you have a modern model, especially one that had a non-limited-edition-size production, it makes sense to polish it every so often to keep it looking its best. I mean, who doesn't like their watch to look brand new. A slight polish of your Rolex watch is absolutely fine, although a significant amount of people would forgo a Rolex polishing.
Some people like their Rolex scratches (aka scars), as they tell a story. However, only the owner who made those scratches would appreciate them. If you want your watch to look like new, especially if it's pre-owned, or you are looking to resell it, there is no reason not to seek a professional Rolex watch polishing service.
In fact, Rolex automatically polishes watches that come in for service unless the owner specifically tells them not to.
Regardless of your stance on Rolex polishing, it's a fact that as long as there isn't any significant metal removal, your watch won't lose its value. This means you should only ask to polish and refinish minor scratches. Big nicks should be left alone, as they would require you to remove substantial amounts of metal.
Aging is amazing when it comes to things like cheese, wine and scotch, but most "body parts" look best when they are "younger".
Nonetheless, if you do want to get your Rolex refinished, it is of extreme importance that an experienced, highly skilled watch polisher does it.
If you use your average Joe-Schmo at a watch store to polish a Rolex, even for a simple, light polishing, you run the risk of removing too much metal, therefore devaluing your Rolex.
Rolex Polishing Experts ONLY
It's important to understand that by polishing a Rolex you are in fact removing a very thin layer of metal.
Because of this, people are skeptical about polishing Rolex watches.
As tempting as removing all the flaws and restoring the original smooth finish is, the act of polishing is irrevocable so you should only remove shallow scratches.
If the refinishing is below par, and significant amounts of metal have been ground off, the shape and structure of your watch will have a noticeable and permanent alteration. This can result in a potential loss of thousands of dollars in resale value.
Thus, finding an expert watch polisher that has a long history of refinishing Rolex watches is of utmost importance. If done correctly, a good polishing will make your watch appear brand spanking new. Moreover, the structural integrity of your watch will be unaltered and value will not be affected negatively. If you are looking to resell your Rolex, a polishing can make it more appealing. Any well-trained and certified Rolex watch expert can restore your Rolex back to a factory-like finish.
"Where can I have my Rolex Polished?"
If you are in Boca Raton or South Florida and you are looking for a professional Rolex polishing service, Raymond Lee Jewelers is by far the best and most reputable place to go. Read here about our watch repair and refinishing services. 
We also can handle the process entirely online with just a few simple steps. This means you can have your Rolex watch polishing done without coming to our retail location. You can be anywhere in the country as well.
We have been in the luxury watch and Rolex servicing business for over 30 years. Raymond Lee Jewelers will guarantee a perfect polishing, refurbishing, restoration and servicing of your Rolex watch. There is no better Rolex watch polishing service in Boca Raton than Raymond Lee Jewelers.
Below we will show you Rolex polishing before and after pictures of recent Rolex watches that we have polished – The Rolex Yachtmaster 2 and Rolex Daytona Cosmograph.
Yachtmaster 2 Rolex Polishing Before and After Pics
The Rolex Yachtmaster 2 ref 116680 is a classic, well-known Rolex model that has stirred the pot that is the Rolex community in a way that no other way has. It is a large, eye-catching, strong watch with an incredibly complicated complication called the Regatta Timer. It's a watch that is unmistakable, with its big YACHT-MASTER II lettering on the vibrant blue ceramic bezel, in addition to its handsome 18-karat gold case and bracelet.
Our Yacht-Master II was scratched up and we wanted to give it a light polishing to bring back its younger, newer self.
Before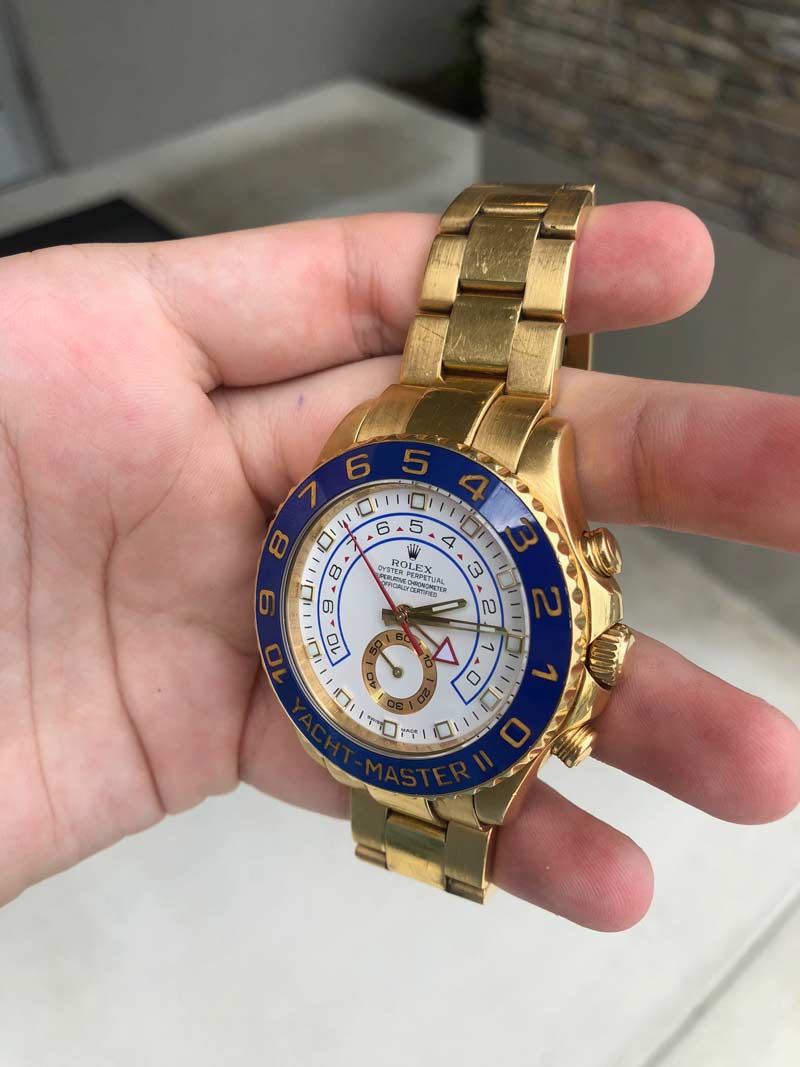 We use a state-of-the-art variable speed polishing machine with special buffing wheels and compounds to polish our Rolex watches.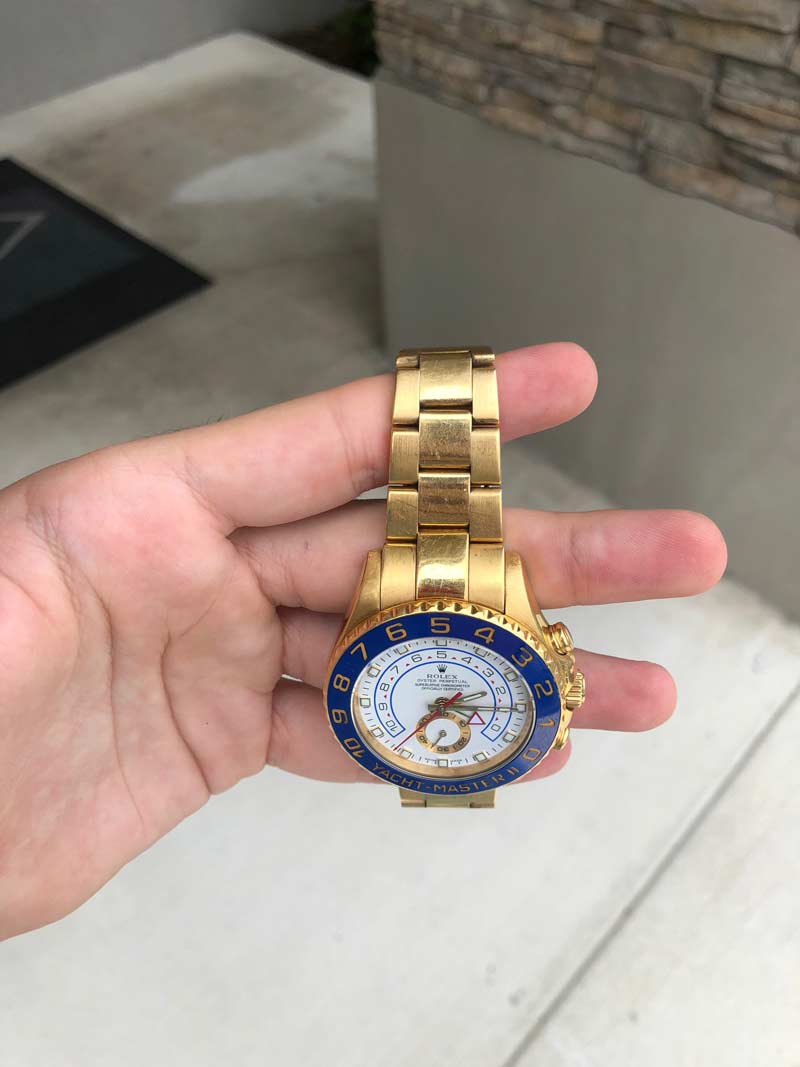 Note: the bezel is one of the most resilient pieces of the watch as it is made of ceramic, so it looks brand new still to this day and of course no polishing work done on this bezel.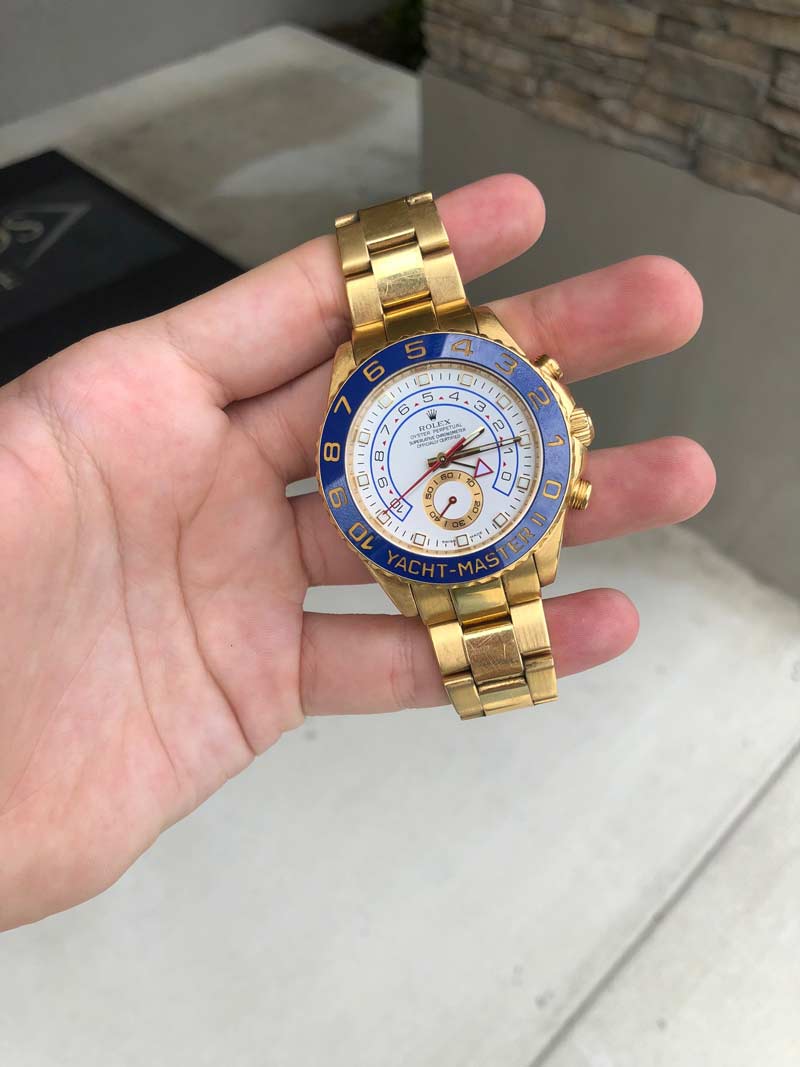 After
The outer links have a satin (brushed) finish and the center links have a high polished finish.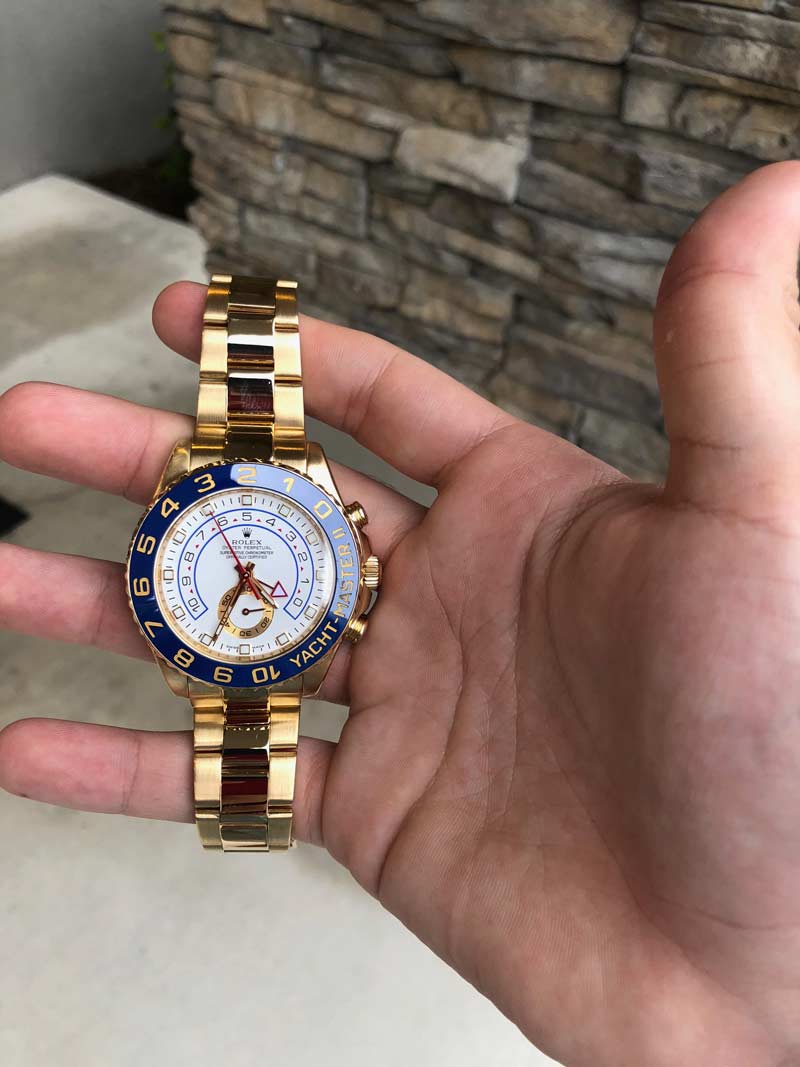 As you will see, one small patch of scratches on a center link hasn't been completely removed. This is because we always make sure to keep the structural integrity intact. We would NEVER want to devalue a Rolex. Nonetheless, we were able to make our Yachtmaster 2 look very close to its original factory finish.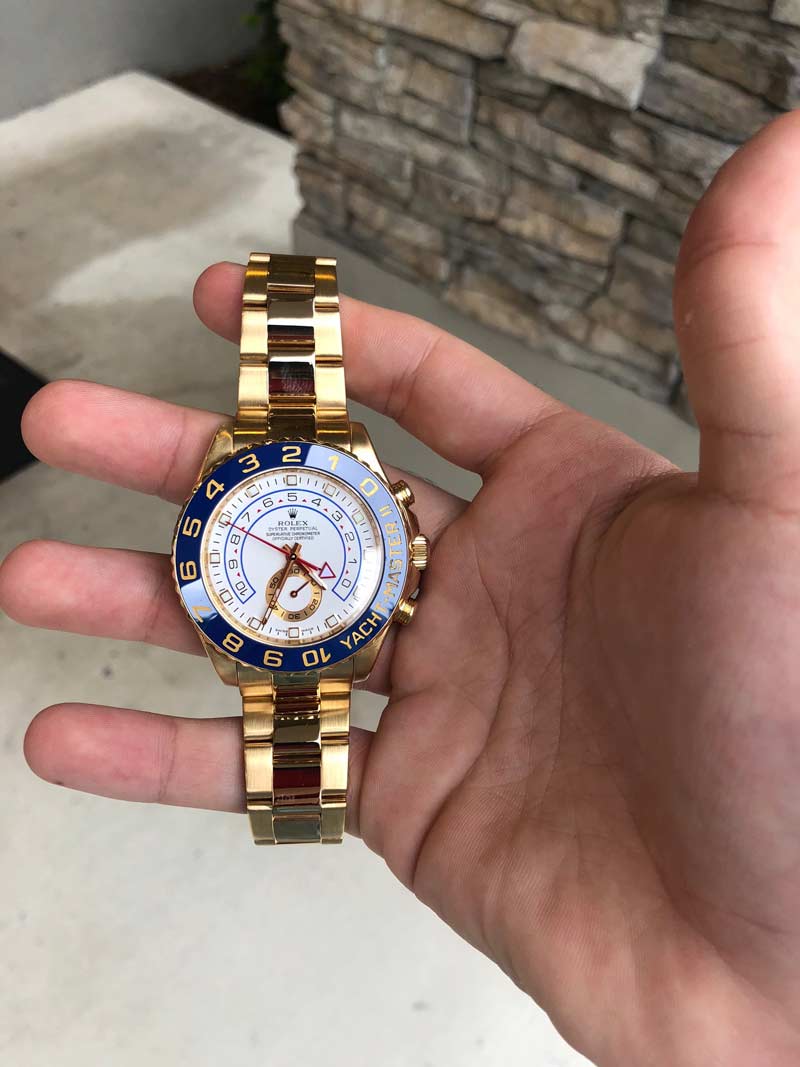 Cosmograph Daytona Rolex Polishing Before and After Pics
The Rolex Cosmograph Daytona, Oyster, 40mm, yellow gold was created for professional driving racers. It is an iconic watch and a household name. The gorgeous "mother of pearl" bezel has diamond indexes and yellow gold sub dials that match the 18k yellow gold bezel, case and bracelet. There is no reason why a light polishing to make this iconic watch look pristine can't be done. So, we did it.
Before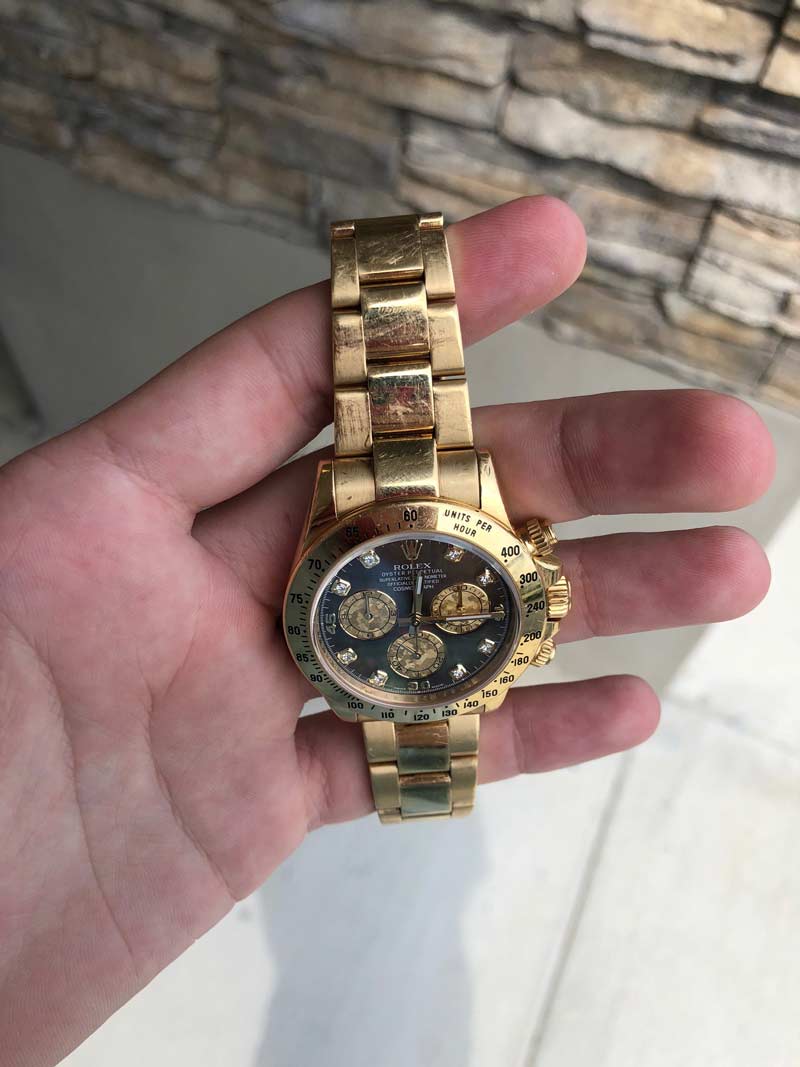 Usually, people only leave scratches because they have meaning to them personally. During resale, no one cares about the story of the scratches that someone else made.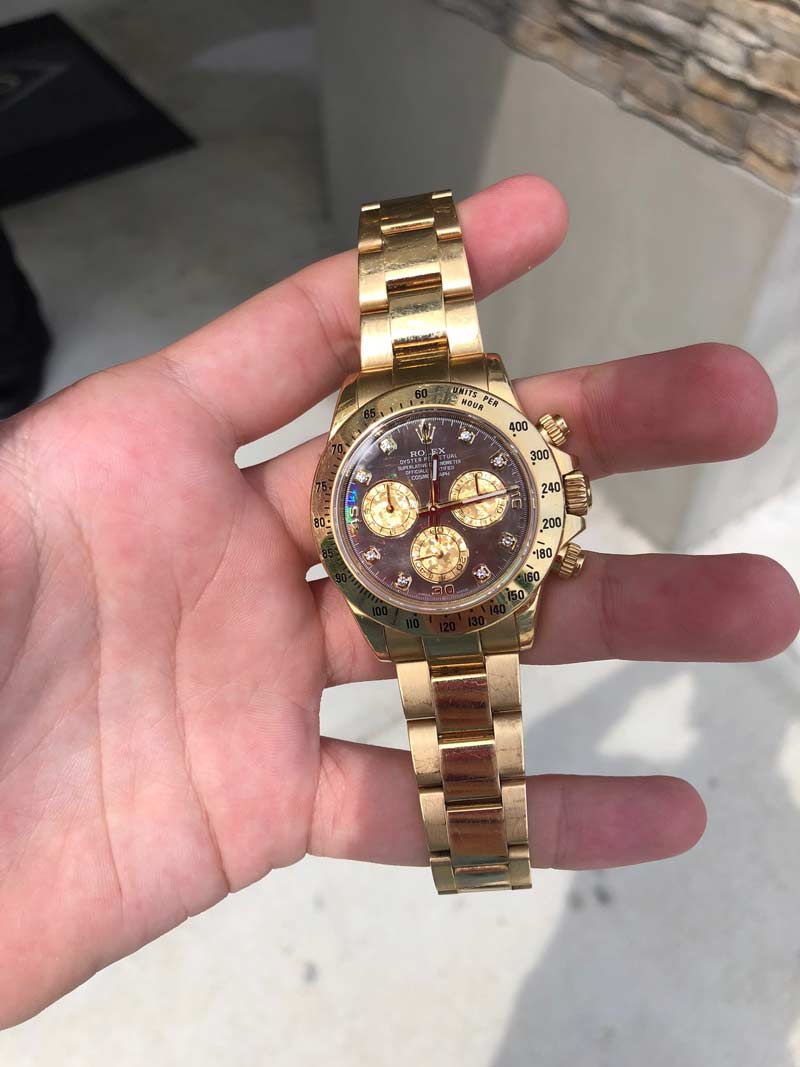 Therefore, we polish it clean.
After
Polishing a watch using a professional Rolex polishing service, like Raymond Lee Jewelers of Boca Raton, will surely add value to your watch if you want to resell it. And you can see why; just have a look at the difference.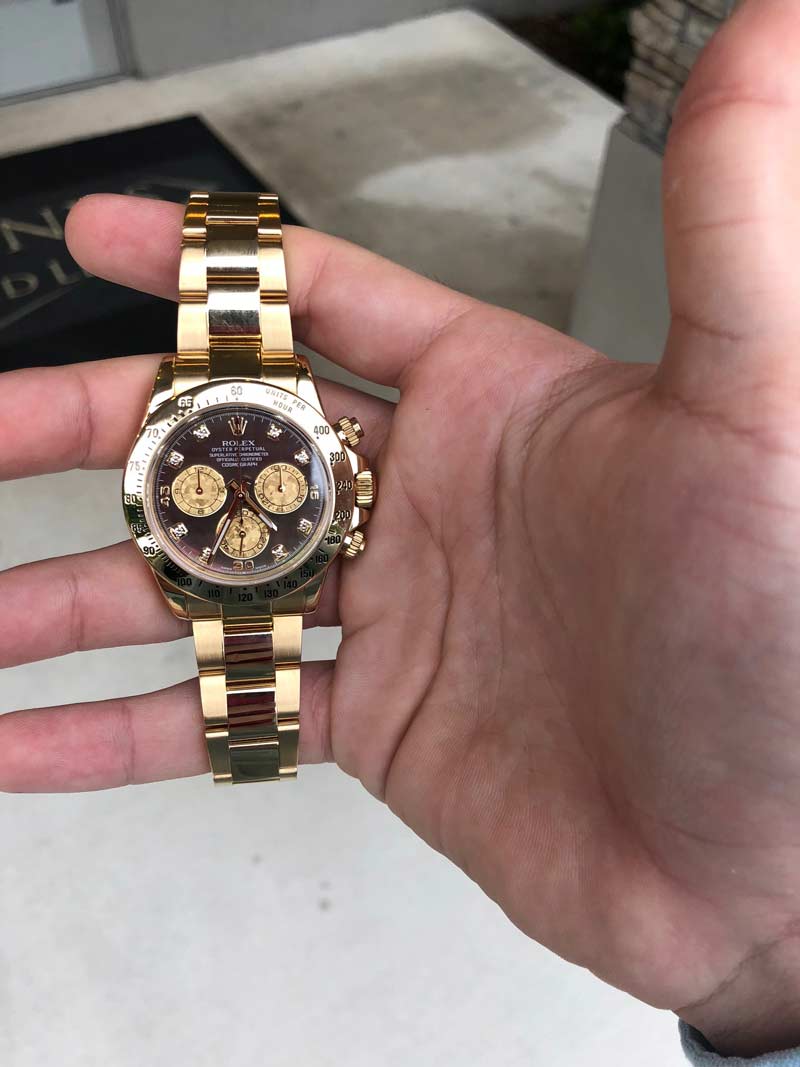 You will notice on the Daytona, the bezel is made of yellow gold. So we also polished it, with a high polished finish. And it came out perfectly. The engraved numeric and indexes are as fresh as ever.

How to Polish a Rolex
Most Rolex cases and bracelets have both high-polish and brushed surfaces. Because of this, Rolex polishers need to utilize multiple refinishing techniques, specific to the type of finish on each area of the watch. In addition to the different finishing, a lot of Rolex watches have two, and sometimes more, types of metals; therefore further complicating the refinishing process.
Variable speed-polishing machine with special wheels and compounds
The best technique for polishing a Rolex is a variable speed-polishing machine with special rotating wheels and buffing compounds. The compounds that professional Rolex polishers use will depend on which type of metal they are refinishing and what type of finish they want to achieve.
Rolex watch polishing process
When any luxury watch undergoes polishing, they remove the entire movement from the case. This is done because polishing induces heat and metal shavings, which can be dangerous for the watch's delicate internal elements.
Once the movement has been taken out, the next step is to disassemble and remove the bezel, crystal, crown, chronograph pushers, and caseback from the case. It is done this way because it is much easier to work on the parts individually. Additionally, you won't risk affecting other parts of the watch when polishing a certain piece.
Deep dings and scratches on the Rolex will be left alone, so polishing off surface scratches is the only focus. Also, unscathed areas of the watch will not receive any refinishing.
When a watch has a proper polishing from an expert, everything is done so precisely that you wouldn't notice a difference between a factory finish and a refinish. Refurbishing a Rolex should never change the shape of the watch. Professional watch polishing services make sure the polishing is perfectly even. It's done with a machine to ensure this.
How long does it take to polish a Rolex?
Professional Rolex polishers perform commercial polishing, so it really doesn't take much time. The process of separating the pieces and polishing an extremely thin layer (which is all that you'll need) can be done in an hour or so. In fact, more time spent on polishing will offer diminishing returns. If a scratch is too deep, then it stays, it's that simple.
How often should you have you take your Rolex for polishing?
The truth is, you can polish a Rolex as frequently as you like if you are just removing the light scratches. Only deep scratches will demand a worrisome amount of metal to be shaved off. Many people have Rolex scratch removal services done regularly, and there is never a negative impact on their watch.
This is especially true for the bracelet. You can polish it as much as you want, to a reasonable extent. Moreover, if a part like a link or a clasp has too much damage, you can easily replace it.
A Rolex case, on the other hand, can be a bit more concerning. It's understandable for people to be cautious during a case polishing as keeping the special characteristics and factory shape means you need to set limits on how much polishing should be done.
Nevertheless, modern polishing techniques, like the ones we use, are so innovative that they will never allow a 'run-down' appearance to occur.
Boca Raton Rolex Polishing Service Professionals
If you are interested in having your Rolex polished, just drop into our retail location in Boca Raton. We will break down the whole process for you. We will let you know exactly what scratches can be removed and what the final results will be. Our Rolex polishing prices are really good and most importantly nobody does it better.
Also, if you are interested in online service, we can offer you a reliable online process where you would send us pictures of your Rolex. Afterward, we would give you a quote and expectation of end result (note: a further inspection in person may change our initial expectation. But as we mentioned in this article numerous times, we would never over-polish so you should have absolutely no concerns). Then if you accept you would send us your watch via a fully insured, high priority prepaid shipping label that we give you. After we polish it, we send it back to you looking as close as possible to "fresh out of the box".
Jewelry and Watch Repair While You Wait – Fast Watch Repair Service
Professional Rolex Polishing Service in South Florida – Areas Raymond Lee Jewelers Serves.
Raymond Lee Jewelers is located in West Boca Raton at 22191 Powerline Road #12b – Boca Raton, FL 33433. We proudly serve all of South Florida: Palm Beach, Fort Lauderdale, Miami, Broward, and Miami Dade.
Learn more about our Rolex Watch Repair Service here.
If you are in Southern Florida, you can give us a call to make an appointment, simply stop into our retail location/showroom, or contact us by filling out the form below.
About Raymond Lee Jewelers
We are South Florida's premier luxury jeweler located in Boca Raton. We buy, sell, repair and service, trade, and appraise luxury watches and jewelry.
Raymond Lee Jewelers has been in the high-end watch and jewelry industry for over 30 years. We are a family owned and operated business with an A+ BBB rating.
Raymond Lee Jewelers takes pride in having a close-knit relationship with the community of Boca Raton and South Florida.
Our love for Rolex watches stretches far and wide. We have one of the largest collections of Rolex watches in Florida. We buy, sell, repair, service and restore Rolex watches of all models – Rolex President, Yachtmaster, Date Just, Daytona, Submariner, Sky-Dweller, Sea Dwellers, GMT-Master, Explorer I & II, Air King