Rolex near me used watches for sale: Submariner, Date Just & more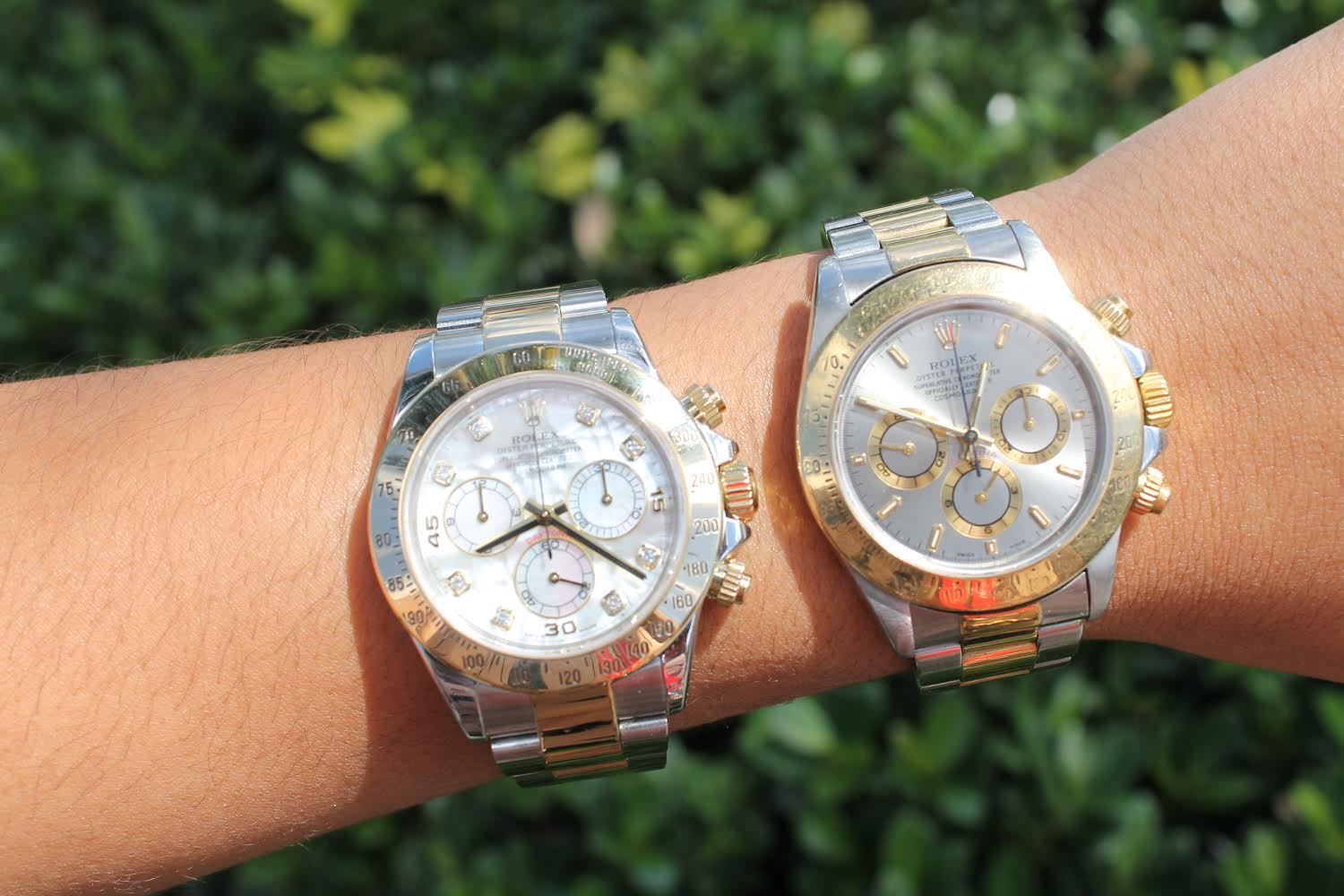 Whether you are an avid luxury watch collector or are just getting started on your search for your very first major purchase you want to have options. Maybe you have already decided that a Rolex is the watch that you are going to buy. You now just need to find someone or somewhere that you can trust. A place that has Rolexes of the finest quality and that you can turn to for all of your needs with this watch. These features are particularly important when you are considering buying used Rolex watches. It might be a used Datejust, used Daytona or used Submariner. The important thing is a place that has all of these and more. A place that you can trust and feel at home to truly enjoy your purchasing experience. So where can you get a Rolex near me used? At Raymond Lee Jewelers your local jewellers.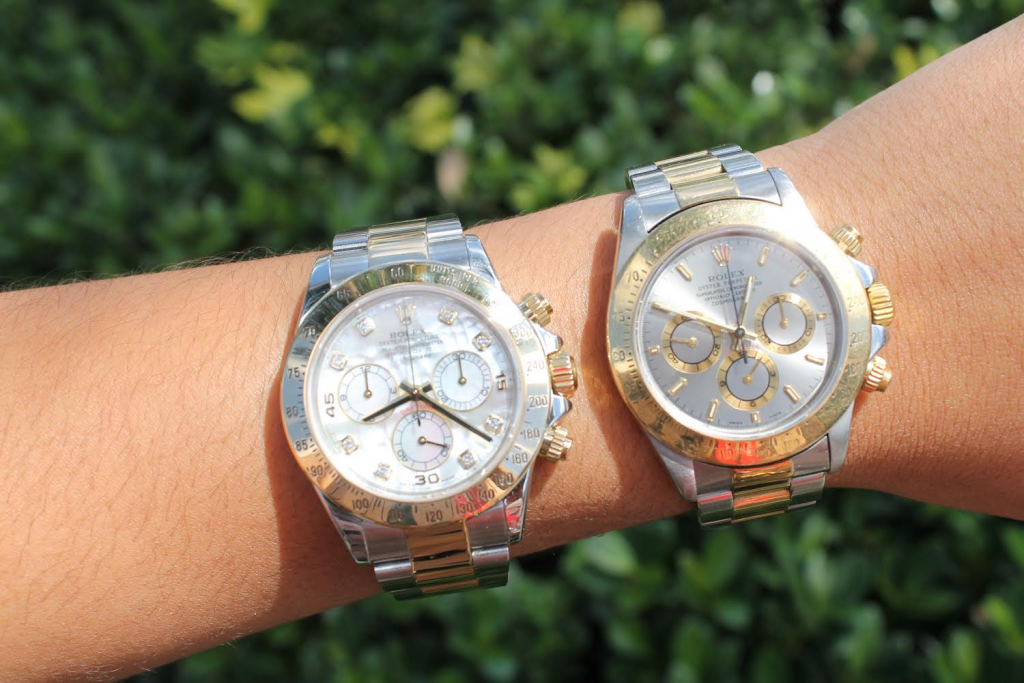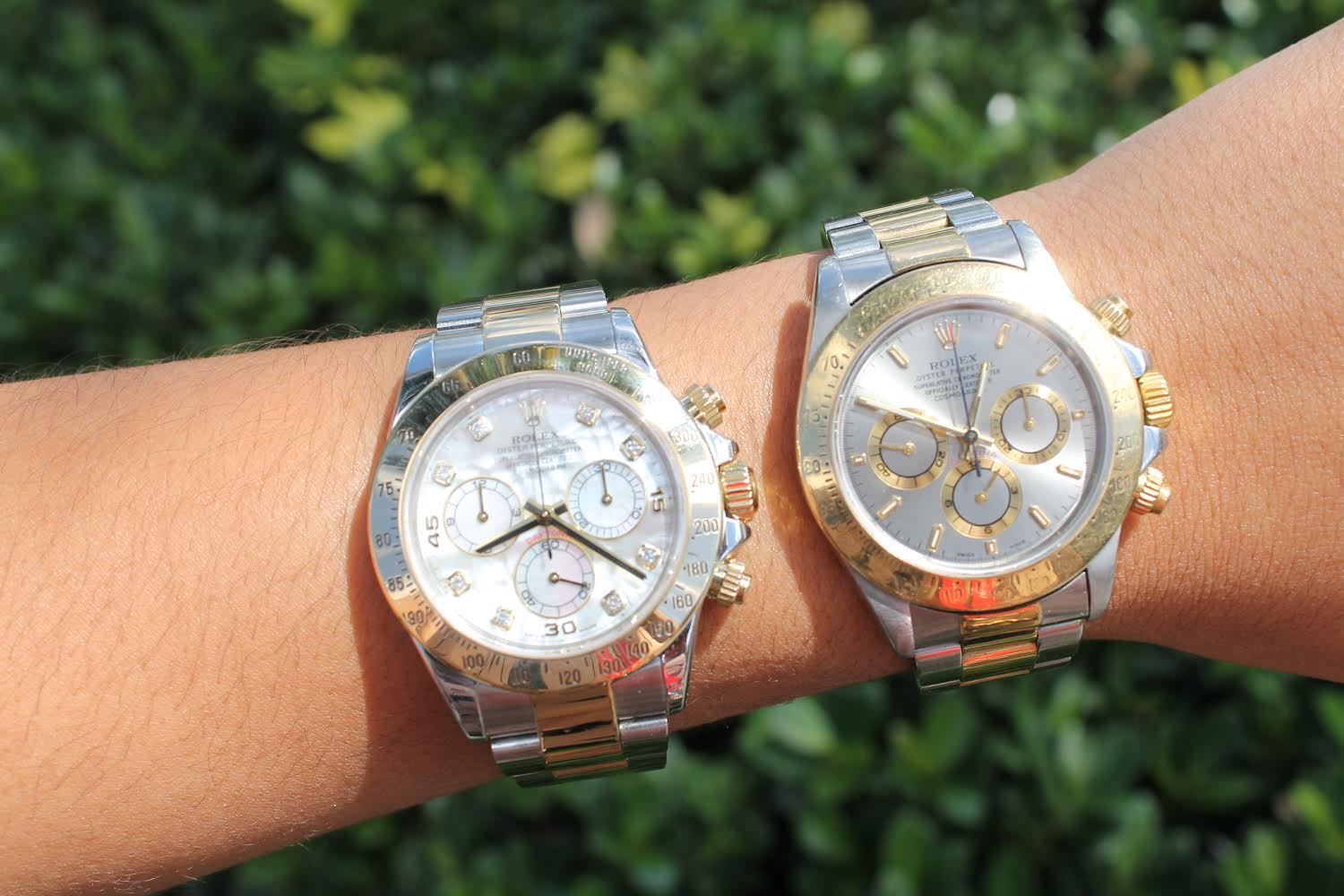 We have been serving the South Florida community for the last three decades. Our main area of focus? Our refined clientele of course. However we do put a lot of emphasis into our products. That is why we carry only the very best of the world's finest brands and their most renowned collections. Including difficult to find limited and special edition pieces. For decades we have been pursuing our passion and working with luxury accessories and fine luxury timepieces including used Rolex watches. All of them intricately inspected and tested to ensure that they are still operating at the top performance we ensure that all of our sales lead to happy purchases. Here are some of the most popular used Rolex watches from our collection.
If you are interested in buying any of the watches featured here just reach out to one of our watch experts at  (561)750 –7808.
Rolex Daytona watches pre-owned
One of the used Rolex watch models that we have in our collection is the Rolex Daytona. This watch is truly made for speed. Named after the well known here in South Florida at the very least race car track home city of Daytona the watch is a driver's dream. With three sub dials, a chronograph and the power to help you instantly in one glance calculate your times the Rolex Daytona is a winner. The classic two tone look is one often seen in the Rolex Daytona models. Partly because ease of reading is one of the key points of this watch and its intended purpose the dial is mainly kept white. Or as you will see below a glittering mother of pearl or even silver. Surrounded by the yellow gold beauty bezel inscribed with the chronograph it is a sportive jewelry piece that is for sure. 
More than a powerful tool for timing it is also a gorgeous piece to accessorize with. For both men and women the Rolex Daytona two tone watch is a stunning choice. Here are two from our own collection that you can get into your collection right now!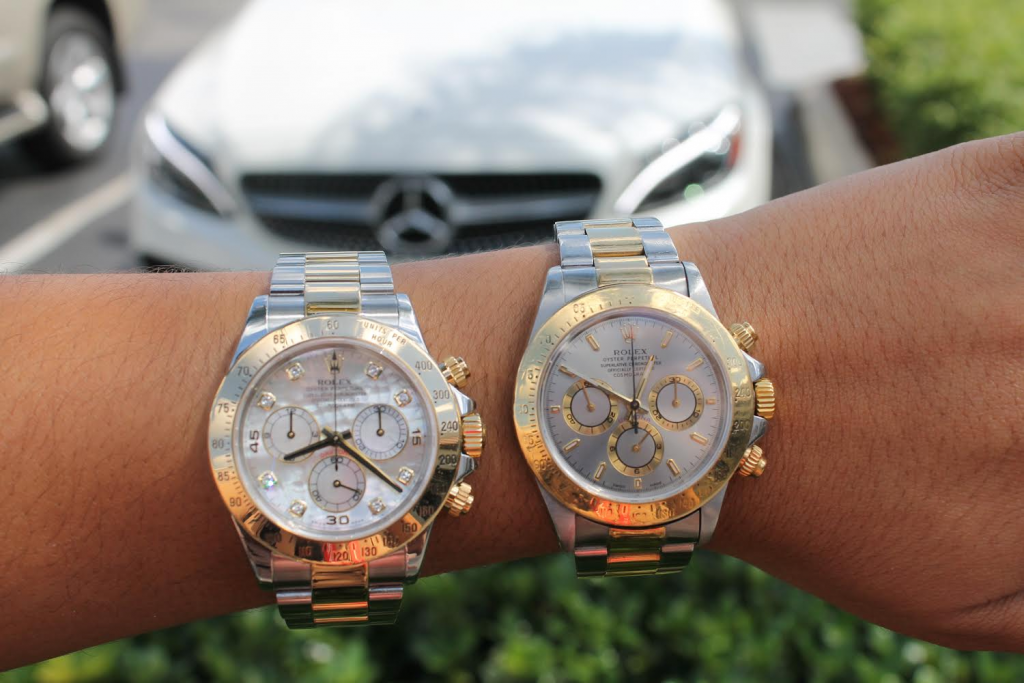 First the Rolex Daytona featuring a mother of pearl dial that we were talking about. A 116523 it features a gorgeous delicate and refined mother of pearl dial with similarly striking diamonds at each of the hour markers. The glint and shine of the mother of pearl is the perfect pairing for the polished two tone watch. Further the white sub dials add to the glossy style. It is a beautiful time piece that resembles fine jewelry. Clocking in at 40 millimeters this watch case is a substantial size.
Then of course the Zenith white dial watch. The classic of classics in a modern watch model's style. Incorporating the two tone style into the dial. The 16523 no longer in production since Rolex developed their own in house chronograph movement. The Zenith movements were made during a 12 year period and this classic is one of them. Also a 40 millimeter watch it is currently retailing for $16,900.00. 
Interested in buying a used Daytona Rolex watch? All of the time pieces featured here are for sale right now! Just reach out to one of our experts for more information at (561) 750 – 7808
Rolex used Datejust watches with unique dials
Beyond the super sportive Rolex Daytona we then have the Rolex Date Just watches. The first and most regal in our opinion watch model from the crowned King of luxury time pieces there are used Datejust watches in our collection too of course! Now the options and combinations for the Rolex Date Just watches are just about infinite. From the dial, bezel and hour marker options for one you can create the watch of your dreams. Or even update yours to something new. 
In case you did not know that is something that our master craftsmen can do for you at our in house workshop. Featuring cutting edge equipment they have all that is needed to transform your watch into a one of a kind piece. Just like you. 
Back to the pieces that we have available right now though. We have put together a couple of items that are stunning in their unique looks. There are the iconic two tone pieces bringing Rolex Oyster steel together with 18 carat yellow gold from their in house foundry. As well as monochromatic stainless steel items. Let us start with that one shall we?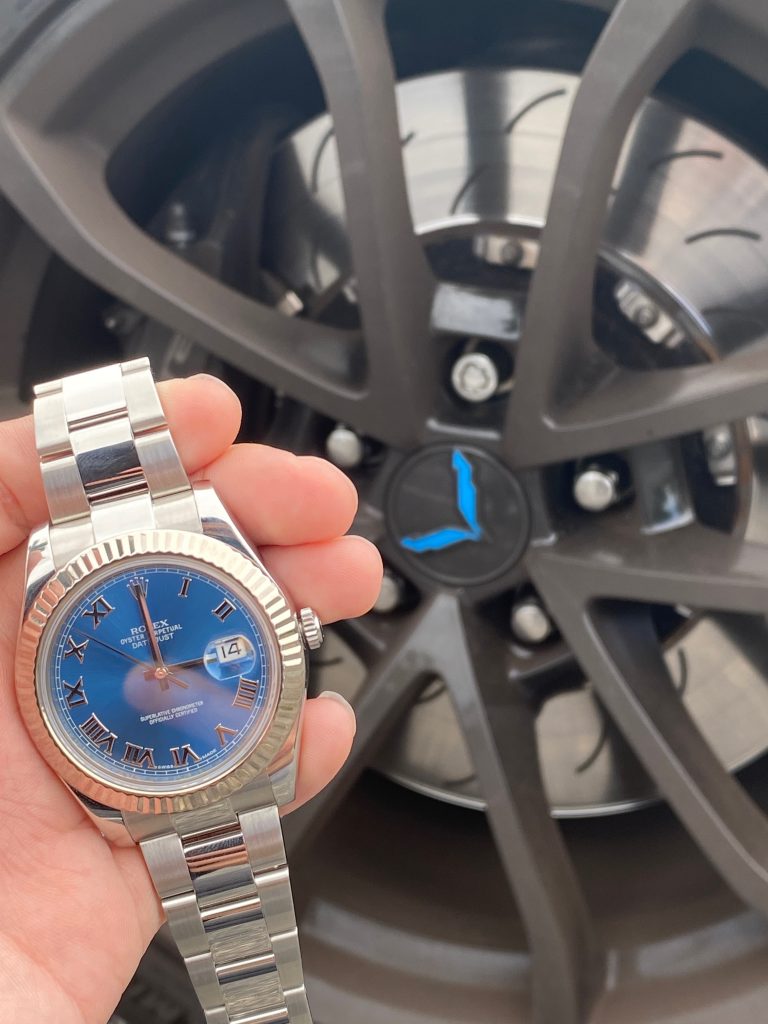 Stunning and striking with its classic all stainless steel look this used Datejust Rolex watch is a II edition 116334. It features some unique features but maintains the iconic fluted bezel that is such an integral part of the date just range. The dial on this particular piece is a deep blue that gives a striking comparison with the stainless steel. Further each one of the hour markers here are Roman numerals. All in silver with matching silver hands the watch keeps a clean and classic look. The bracelet on this piece is the classic three link with a fold over clasp closure.
Then we have a 116233 used Datejust also with a blue dial. This one however features a two tone combination of yellow gold and stainless steel. Further the gold fluted bezel surrounds a deep blue dial. This time the hour markers are not Roman numerals however they are Arabic numerals. Outlined in yellow gold to match the central links in the two tone jubilee bracelet the watch is perfectly balanced.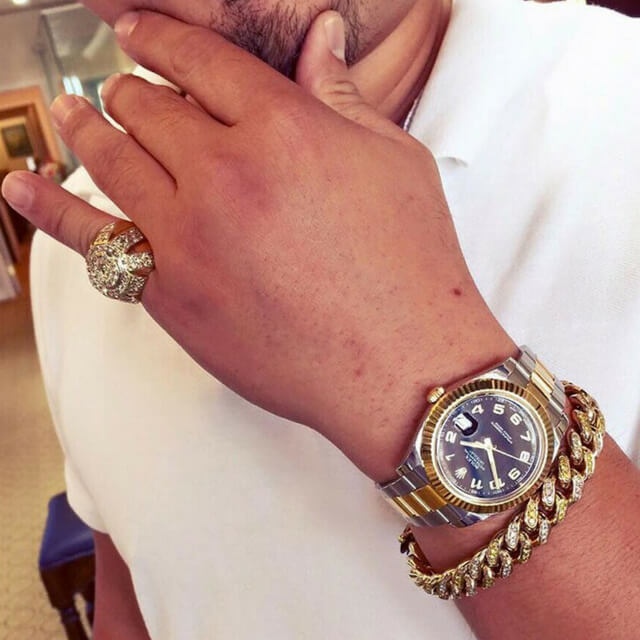 Finally we have a precious dial. A mother of pearl face elevates this two tone used Datejust watch to a fine jewelry piece. The 16233 Rolex also has a jubilee bracelet. Refined and elegant it also has diamonds at each one of the hour markers. Together with the yellow gold and smaller  36 millimeter watch case this piece is ideal for a ladies day to day wear that transitions easily to an evening outing. 
If you are interested in buying any of these used Datejust Rolex watches contact us at (561) 750 – 7808. They are all currently for sale!
Rolex Submariner – a deep diving phenomenon
The world's first watch to go to the deepest depths. The Rolex Submariner is a reference out of all diving watches since it broke the first initial barrier into deep sea diving. A tool crafted for easy reading on its large face the Rolex Submariner is a tool of survival at the depths. Sportive design of this watch matches the work that it is cut out to do. Resistant to pressure and of course water proof the tough yet refined look is a balance that this watch strikes. The look is very versatile considering how many different precious metal combinations and styles are available. However the most important feature is always the same. That is the bi directional bezel. 
The bezel itself is easy to maneuver. That is in order to make the necessary calculations while you are down below regarding depth, time and oxygen. At the twelve o'clock mark on the rotating bezel there is also an additional raised feature to facilitate reading and ensure that your tool is doing the most that it can for you. Ideal for competitive personalities that love the open seas this luxury time piece is more than a luxury accessory.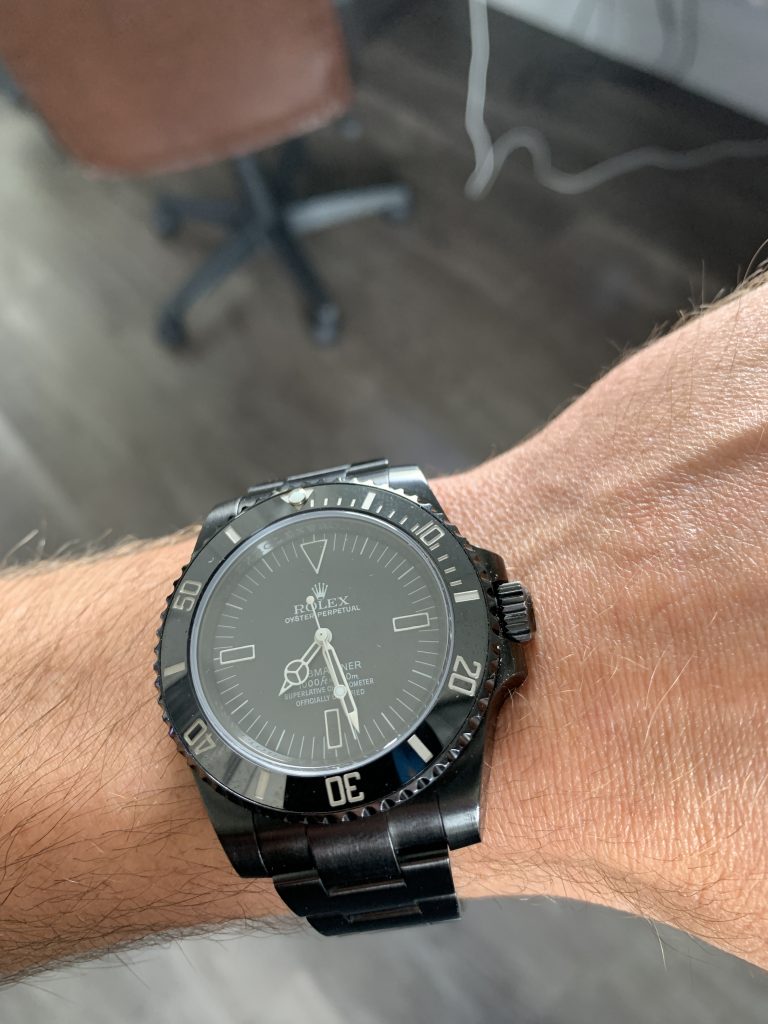 Used Rolex Submariner watches come in a variety of different styles. Whether the features that you are looking for include unique dials or bezels we do have those options. As well as different models that were developed by the Rolex house throughout the years. For collectors particularly we do know how fantastic it can be to have different models of a collection you love. And for an iconic piece like the Rolex Submariner it rings truer than for almost any other. The deep diving capacity as well as the history behind this ground breaking watch make it an absolute favorite. Is it yours? 
Want to buy a used Submariner Rolex watch? We have them in our collection and in excellent condition. The watch featured here and many others are for sale at our store. Call one of our specialists to find out more (561) 750 – 7808.
Where to buy a used Rolex near me? Raymond Lee Jewelers in Boca Raton, Florida
Knowing where to go for your luxury accessory purchases can be difficult. But with your local jeweler you know you are going to get the very best service. As you may know we have been serving our community for the last three decades. It comes from a place of passion for our products and a love of what we do. Our widely curated collection features a wide variety of different items just for you. When it comes to pre owned or used Rolex watches we know what we are talking about.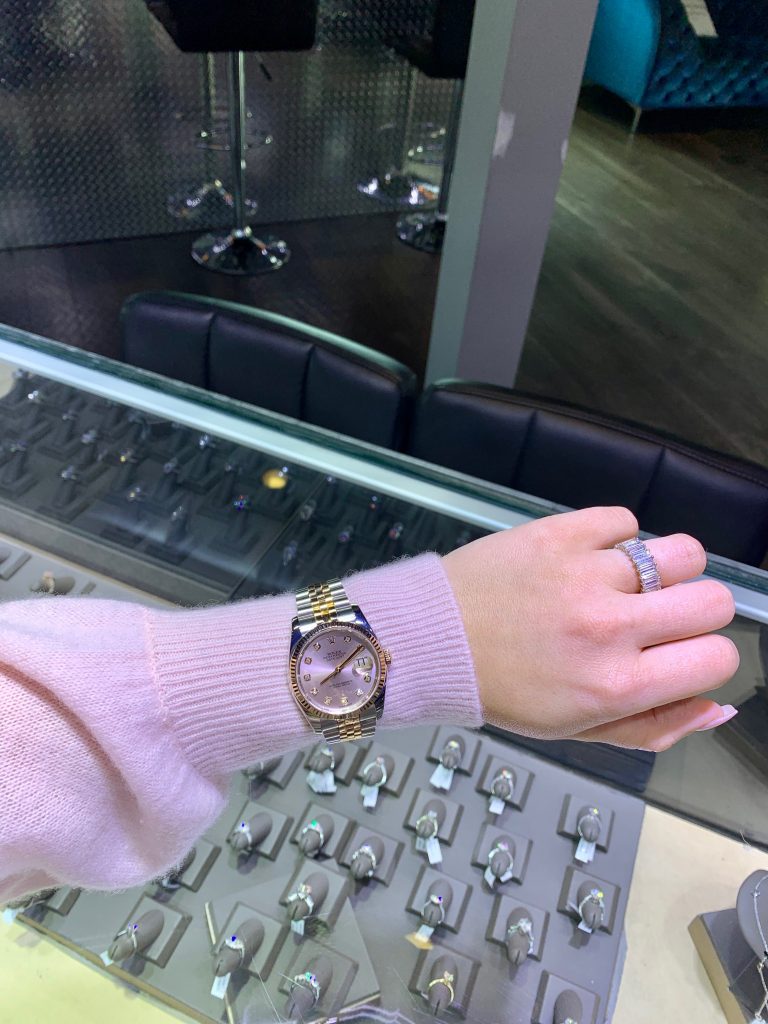 Our watch experts have been working inside and out on these watches for most of their careers. It is no surprise then that they can with a quick glance tell you all about a time piece. Beyond just the sale and purchase (that is right our acquisitions team is always on the look out for top quality watches) we also offer in house services. From a classic tune up to get your watch running well and looking great to in depth bespoke changes. Our craftsmen do it all. Whether you want to add a smattering of diamonds to your dial or bezel. Or if you want to change up watches completely to say match your super car – here you can. 
We would love to have you come and visit us to check out the full collection. But you can also do so from the comfort of your own home right on our website. We have clients from all around the world. It is nothing new to hear of someone finding their perfect piece online. So if something catches your eye do let us know. And if you are on the search then definitely give us a call or drop us an email so we can help you find it.
Our contact information
We are open most days of the week and would love to welcome you into our store. Whether you know exactly what you are looking for or just want to browse around we are here to help!
Location: 22191 Powerline Rd #12B, Boca Raton, FL 33433
Hours: Monday – Friday 10 am – 6 pm | Saturday 10 am – 5 pm | Sunday Closed
Phone: (561) 750 – 7808
Email: in**@di******************.com