When it comes to high-end wrist accessories for the modern man, there are two prominent pieces that come to mind, besides a wristwatch, of course. They are a gold Cuban Link Bracelet and a Cartier Love Bangle. Nothing declares spending power and a cultured sense of fashion like these two iconic gold bracelets.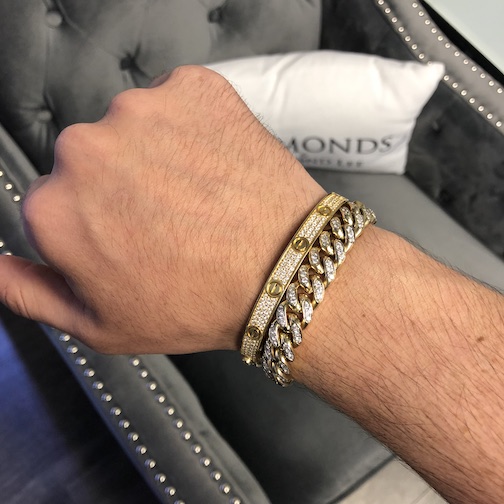 2 Timeless Luxury Bracelets Every Man Needs
The Miami Cuban Link Bracelet and the Cartier Love Bangle are extravagant pieces, yet they are somehow wonderfully simple. This is what makes them perfect everyday wrist accessories for those who aren't afraid to shine. They can be worn with literally everything. Dressed up or dressed down, these two gold bracelets will never need to be taken off. Wake up, shower, go to work, come home, party, the Cuban Link Bracelet and the Cartier Love Bangle should always remain locked in place. They are lifelong companions that will someday make for a cherished heirloom.
Now, while there are a lot of gold bracelets on the market, none are as timeless as these two. This is proven in how they hold their value and the fact that they've never faded from admiration and demand in the market. There are no other bracelets with perennial popularity like the Miami Cuban Link Bracelet and the Cartier Love. There are no other men's bracelets that have the same prestige. These are iconic bracelets that are household names, instantly recognizable, and they will never go unseen.
Bust Down Cuban Link and Cartier Love Bracelets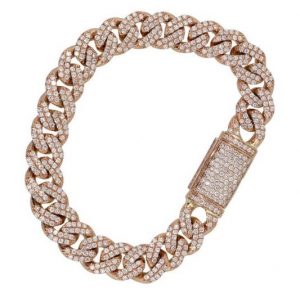 Although these two pieces are perfect without diamonds, drilling them out and setting diamonds in them really takes the opulence and "deep pocket" demeanor up a whole bunch of notches. It's not a look for the shy and unconfident. But for those who are confident and proud of their jewels, there are no gold diamond bracelets as coveted as a bust down pave diamond Cartier Love and Cuban Link. The diamonds are simply the icing on the cake, the chocolate on the Boston Creme, the pepperoni on the pizza. They enhance the flavor and take nothing from it.
Personally, we are big fans of the look, and so are many of our friends here in South Florida. This is why we are presenting the bust down version of these two timeless gold bracelets for men. Nevertheless, what we explore below regarding these two gold bracelets applies to their Plain Jane no-diamond counterparts. So, continue reading on even if you aren't a fan of bust down gold bracelets.
Moreover, from here on, we are displaying the yellow gold versions. If you like white gold, rose gold or platinum, it's all the same. It's just a matter of preference. We will say this, however, the white gold and platinum versions are less "garish" and the rose gold version offers a vintage appearance that is really popular these days. Regardless, you can't go wrong with any precious metal, and in our option, you can't go wrong with bustin any of them down. Unless you are afraid of diamonds that is. In the modern world, diamonds are as much a man's bestfriend as they are a woman's. Don't let anyone tell you otherwise. If they do, that's their disposition. To each his own. However, if they have a problem with gold, as is, you might just be dealing with a short-pocket hater. That said, we respect everyone's opinion 😉
Enough said, let's have a look at these two iconic and timeless gold bracelets for men.
Cuban Link Bracelet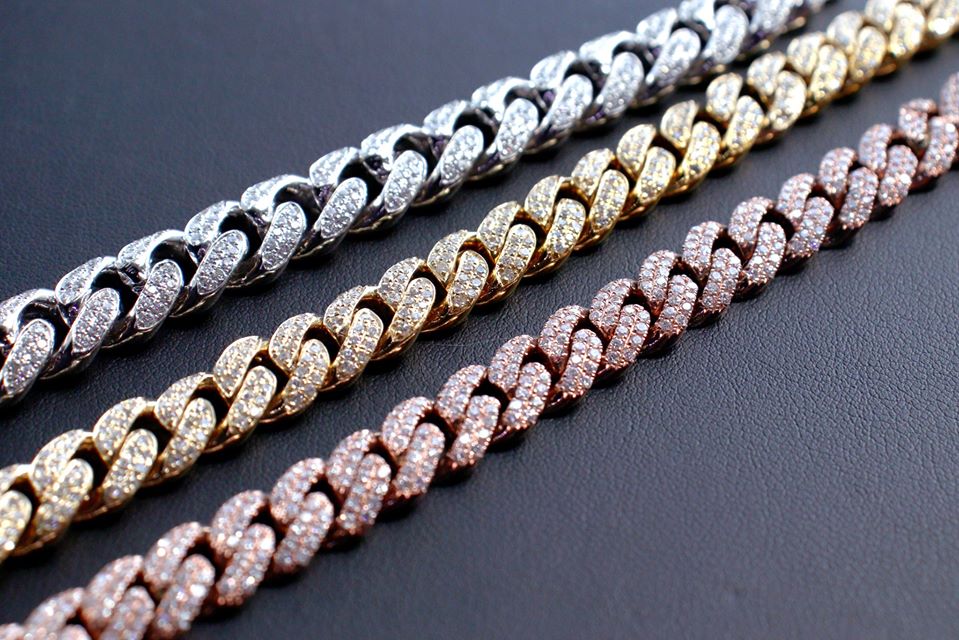 Is there any bracelet as masculine as a thick Cuban link bracelet? We think not. If gold and diamonds generally speaks to femininity, this bracelet style completely flips that thought on its head.
The Cuban link design is also referred to as a Miami Cuban Link or Curb Chain, depending on the design and who's talking about it. These chain bracelets can be made chunky, thin, flat, round, tight, spaced out. The bracelets range from 7mm to 13+mm in size and they can weigh as much as 250 grams or more. Some are made from machines (typically the thin ones) and some (the best ones) are made by hand…
Now, we are only talking about the solid gold Cuban link bracelets, as everything else won't even fall on our radar. The handmade Cuban links involve an insanely time-consuming process. Expert jewelers melt down gold, stretch it out, cut and turn it, then link it together and polish it. That's not even considering the time it takes to bust one down with diamonds, which takes many hours itself, as it involves meticulously drilling out the gold so it can be set with, what you better hope are, excellent natural diamonds. In terms of quality, of course, just like any other craft and craftsman, some jewelry makers are better than others, so some Cuban link bracelets are better than others too. At Diamonds By Raymond Lee, we only deal with the best of the best. We are quality freaks.
Cuban Link History & Popular Culture
The Cuban Link design first appeared in in the late 70s and it has stuck around ever since. This is why we call it timeless and traditional. Since day one, it has been a jewelry design that turns heads and everyone wants, especially the hip hop scene. When you think hip hop jewelry, the Cuban chain better be top of mine. Because if it isn't, you've been living under a rock.
Nowadays, Cuban chain link bracelets and necklaces are more than a staple among hip hop celebrities, it is a jewelry design that the entire contemporary culture covets. That is, those who like to wear jewelry, women included. It's like the Rolex of jewelry.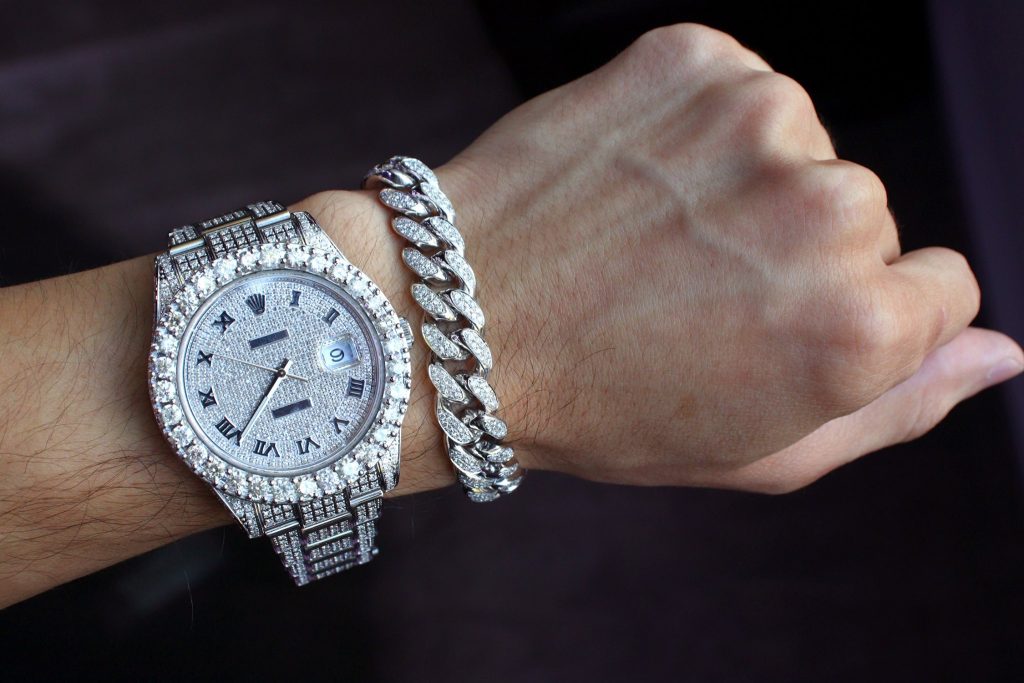 Why did Cuban Link Bracelets and Chains become so Popular?
As with most things in the modern world, hip hop/rap culture sets the tone. As does Hollywood.
So, when people see all the big-name artists wearing them, it's only natural that the general public begins desiring them. From fashion icons to rappers, MCs, DJs, and celebrities, Cuban Link Chains are everywhere these days.
But why did the Hip Hop game take to the Cuban Link Chain so heavily?
The answer is simple. The style is an instant classic thanks to it's masculine, outstanding (and stand-out), full design. Moreover, it's extremely solid and strong. Any respectable Cuban link chain isn't going break. It has a special tight interlocking pattern that makes it extremely sturdy. Even thinner Cuban links are incredibly durable, especially comparing to other types of chains. Plus, it's pure gold, so a quick polishing gets it back to it's eye-catching, gorgeous luster very swiftly.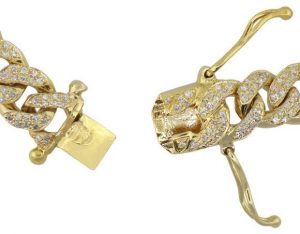 How to Choose a Cuban Link Chain Bracelet?
There's a wide variety of Cuban Link designs. First, you have different types of metals, and different karats of gold (10k, 14k, 18k, 24k). Then you have to consider size and weight.
It's all matter of what you favor. Some people like thin, some like thick.
We think it looks good to have a few sizes so you can mix it up and wear them together. Stacking chains is one of the hottest looks in jewelry right now.
Stacking Cuban Link Bracelets
You can stack Cuban link bracelets together. Different sizes offer some contrast and it makes for a striking look.
What about watches?
Without a doubt! If you pair a Cuban link bracelet with a watch, consider the size of the bracelet. You want it to complement the watch nicely, so typically a mid-size Cuban link bracelet is best.
Cuban link bracelets also pair well with other gold bracelets (including mixed metals), as you are about to see with our next timeless high end, luxury bracelet for men.
Cartier Love Bracelet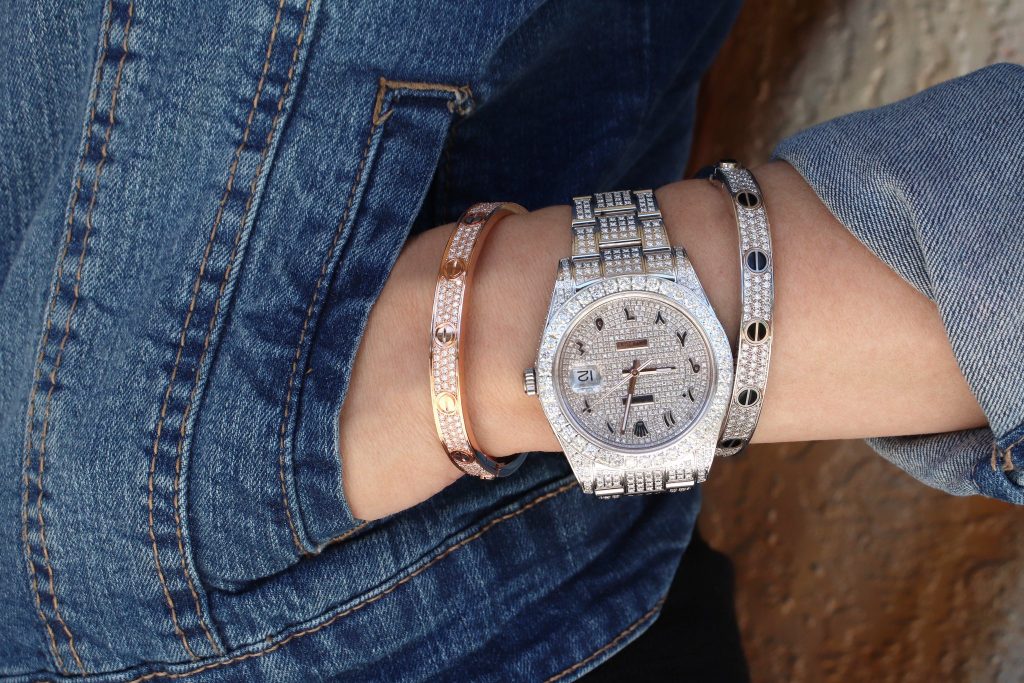 Unlike the Cuban link, which is an inherently men's bracelet (that women also love), the Cartier Love Bracelet is typically thought to be a women's bracelet. At least by those who aren't too familiar with this iconic piece. And while many elite women do wear the Cartier Love, it is definitely not a women's bracelet, it is unequivocally unisex! If you don't like the sound of unisex, keep reading on as sometimes people need their eyes opened up to these kinds of things.
For men who overlook the Cartier Love bracelet because many women wear them, and even the name itself, you'd be doing yourself a disservice by overlooking this bracelet.
It was created by Cartier's world-renowned designer Aldo Cipullo back in 1969. The Cartier Love was designed to be worn by both men and women.
It was an instant hit and it is probably the most iconic and talked about piece of jewelry from the maison that is Cartier. It's a bracelet that celebrities, royalty, and fashion-forward wealthy people admire across the globe. The design is immediately identifiable and exquisitely unique.
Cartier Love Bracelet For Men
When it comes to the design of the Cartier Love Bracelet, we find it to be much more masculine than feminine. In fact, we don't find it feminine in the slightest. The screw motifs, minimal design, and strong sturdy structure are all very masculine features. It was a smart move on Aldo Cipullo's part, as women like to wear men's jewelry but the same can't be said in vice versa.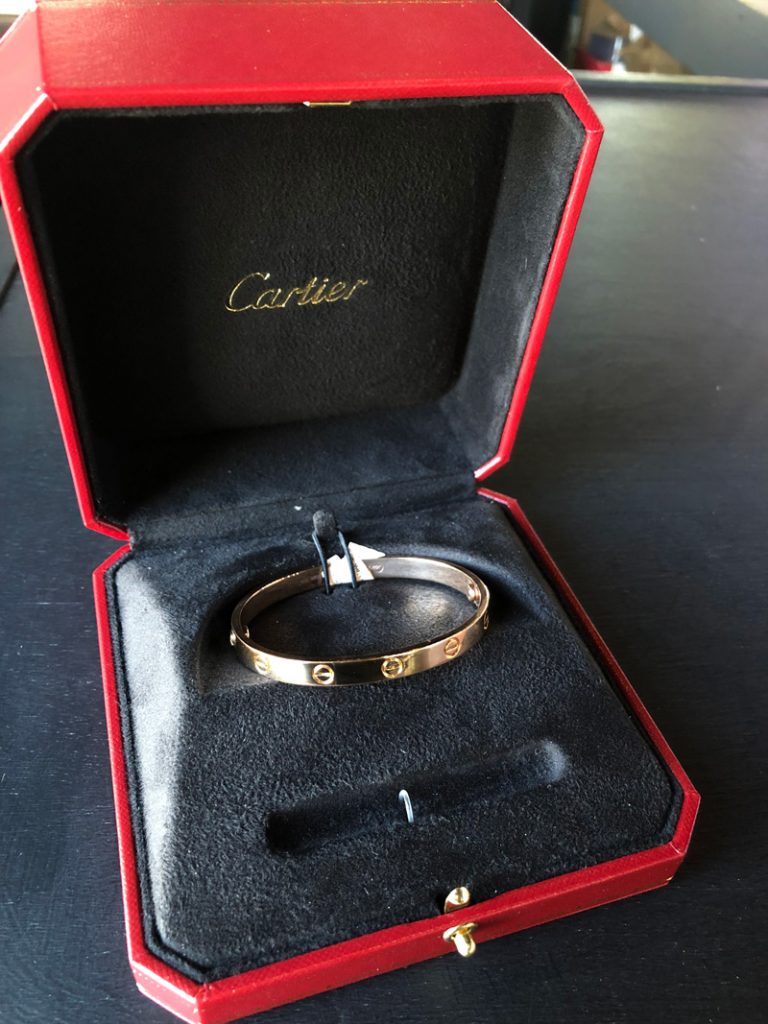 Celebrities who wear the Cartier Love
The Cartier Love bracelet is a status symbol through and through. It is an absolute favorite and must-have among many male celebrities. Let's quickly run through some men who wear Cartier Love bracelets.
Drake
Kany West
Zac Efron
Prince Harry
Jamie Foxx
Lebron James
Odell Beckham
Lewis Hamilton
Richard Hammond
Simon Cowel
The list goes on and on. Many of these celebrities have pave diamond Cartier Love Bracelets.
24/7, 365
The Cartier Love bracelet is one of the few bracelets that is a 24/7, 365 days a year piece. It is literally not meant to be taken off and put back on frequently. It is meant to be worn, forever. Hence the lock and screws. It goes with everything. There isn't an occasion where the Cartier Love bracelet won't be appropriate for a man. From the gym to swimming to a casual lunch to a formal event, the Cartier Love will fit right in. It's a piece that adds the perfect amount of flair without ever overdoing it. It's flashy yet elegant. Moreover, it is probably the most classic, iconic piece of jewelry on the planet. As much as we love the Cuban link chain, the Cartier Love is far more revered, globally and demographically speaking.
Investment
The Cartier Love is more than just a bracelet. It is an heirloom. It is a bracelet that will never lose value, it is worth more than just it's intrinsic value, as this timeless piece has been engrained into history as one of the greatest jewelry designs. A Cartier Love can be passed down generations upon generations, remaining as popular as it was back in 1969. As a matter of fact, the popularity of this bracelet has only continued to increase over the decades.
Pave Diamond Cartier Love
The pave diamond Cartier Love takes the classic piece and turns the opulence up to eleven. It makes the piece more contemporary, more blinding, more recognizable, which is an almost impossible task, but it manages to somehow do that. It is great for those who love their gemstones, and it doesn't take anything away from its recognizability. Whether you like it, that's up to you. Does it make it better or worse, absolutely not.
One of the benefits of a pave diamond Cartier Love bangle is it makes it so you don't even have to think about scratches. The diamonds are, well, the hardest rock in the world, and they take up all the space that typically scratches on this piece.
That being said, you shouldn't worry about scratches with gold jewelry, it is inventible and they are meant to be worn. Appreciate your scratches and patina!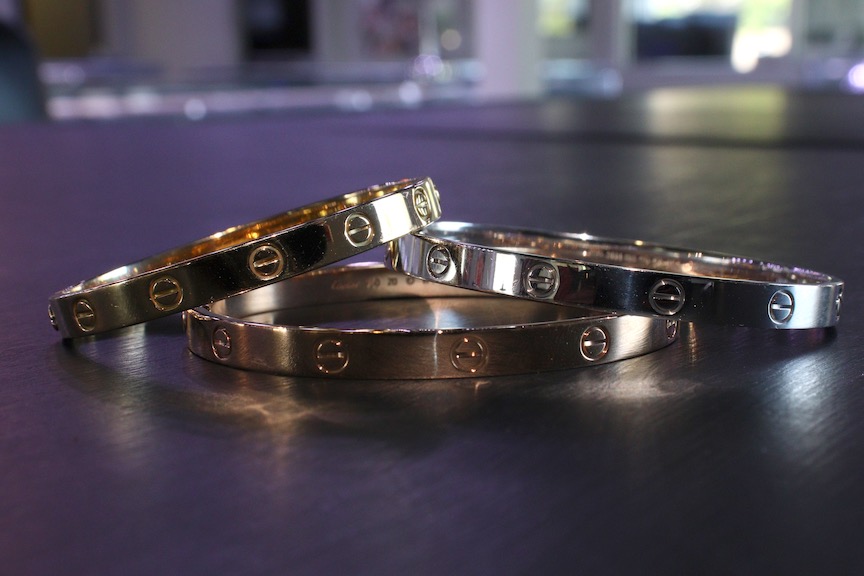 Stacking a Cartier Love Bracelet
The Cartier Love stacks incredibly well with other Love bracelets, jewelry and watches. When it comes to watches, it is typically the go-to bracelet for luxury Swiss watches like Rolex, Patek Philippe and Audemars Piguet. It just goes so well with a fine timepiece.
Closing Note
If you are a man who wants an iconic bracelet that holds value, goes great with everything, and can be worn day in and day out, the Cuban Link bracelet and Cartier Love, iced out or not, are no brainers.
Shop Cartier Love Bracelets
Shop Cuban Link Bracelets