Fine Diamond Jewelry: All The Answers To Your Questions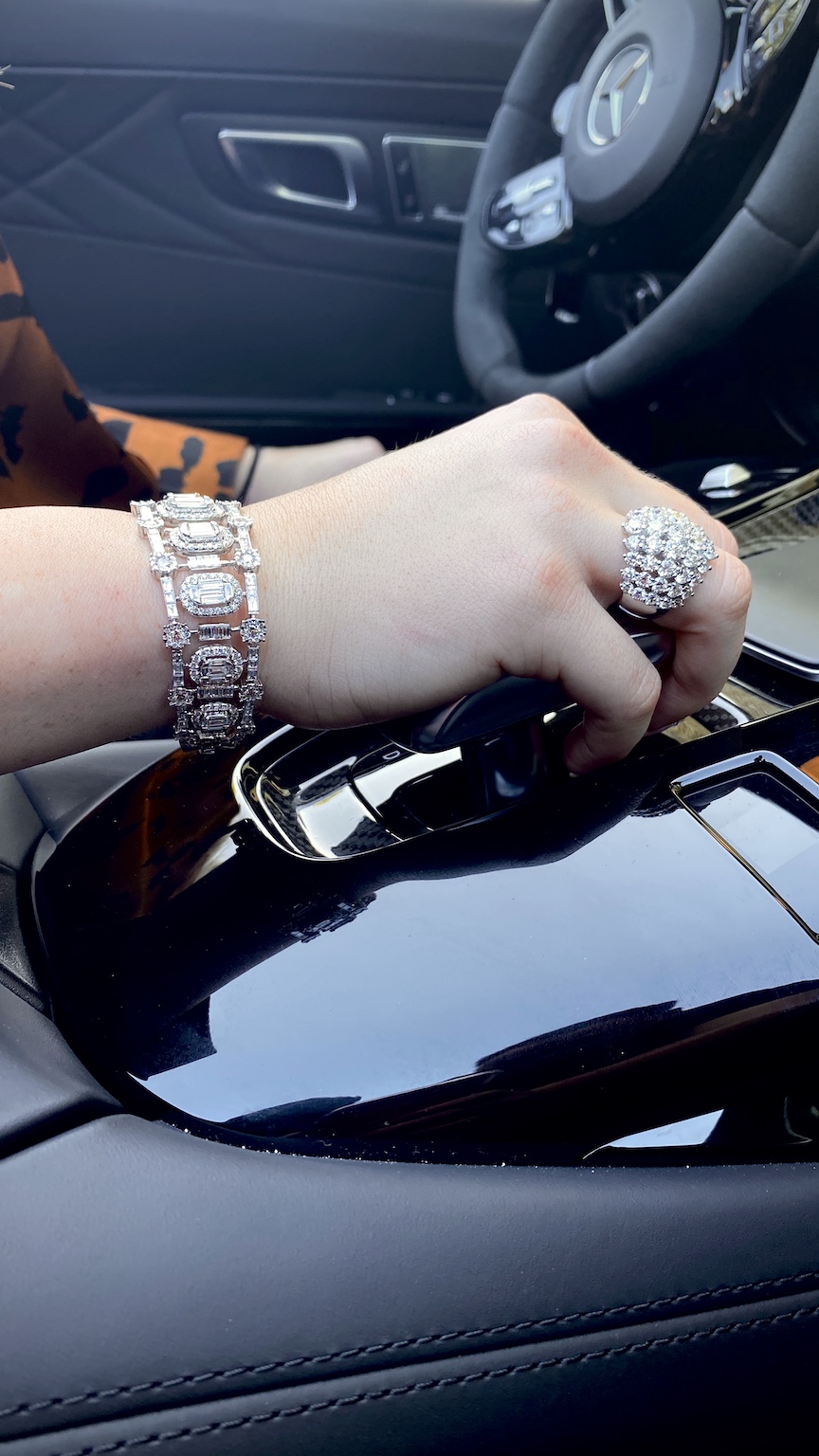 If you are on the hunt for fine diamond jewelry, you probably have a lot of questions that you want answered. We understand how difficult and time-consuming it can be to make the right choice when buying expensive fine diamond jewelry. So, we are here to answer all the most important questions you probably have when buying diamond jewelry. That way we can streamline your process, giving you all the information you need in one place.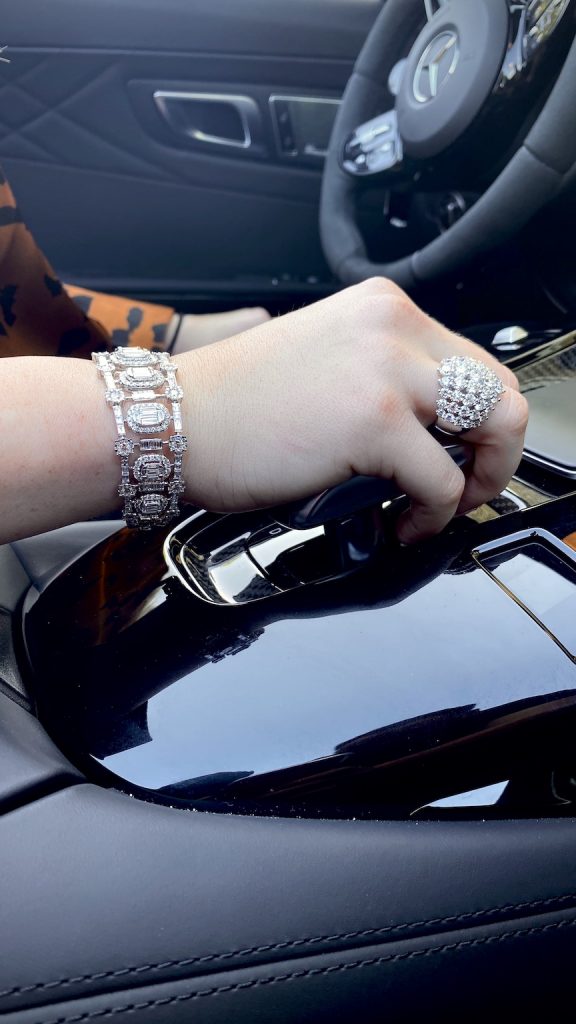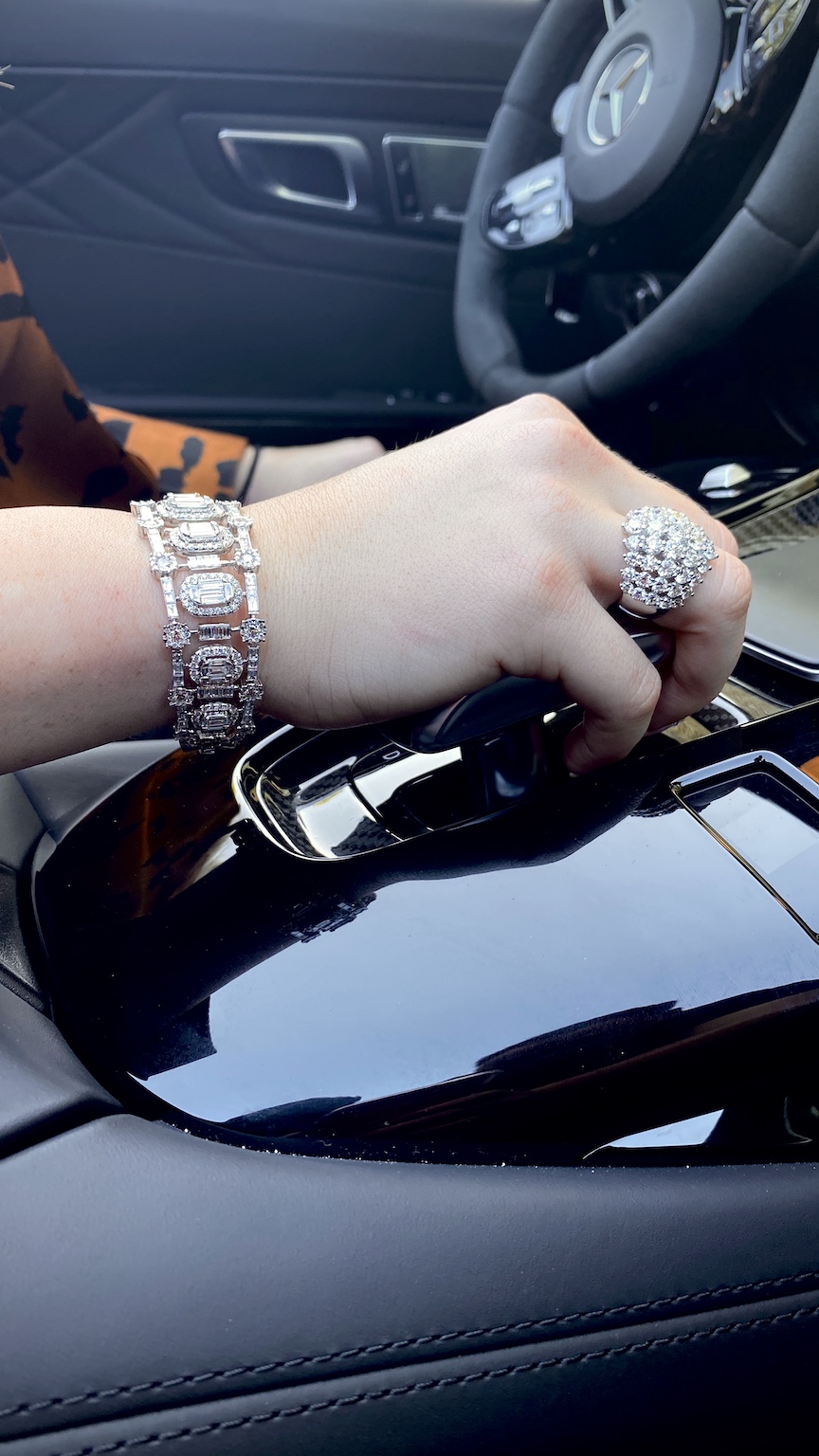 We've categorized the diamond jewelry questions, so you can skim through to find what you want to know quickly.
If you have any questions that we didn't answer in this fine diamond jewelry Q&A, please feel free to leave a comment below or contact us so we can answer it!
Questions about Diamonds
What are the 4 C's?
The 4C's represent a diamond's quality, both in beauty and structure. They stand for Cut, Color, Clarity and Carat. The 4C's are how gemologists grade diamonds, which then allows the market to effectively price them. 
What is Cut
Cut refers to how well a diamond's facets react to light. The grading is fair/poor, good, very good, and excellent/ideal. 

What is Color?
Color refers to the color of a diamond, or the lack thereof. Many white diamonds have a soft hue of yellow or brown. The best grade would be a diamond that is completely white, as shades of yellow/brown cause visual distractions that affect sparkle. These nuances in color results in a large difference in price. The grading ranges from D to Z, with D being the highest grade, as it is completely colorless.

What is Clarity
Clarity refers to impurities or imperfections within or on the diamond. These are known as diamond inclusions. Inclusions are like a birthmark of a diamond. Inclusions are examined at 10x magnification, as many times they can't be seen by the naked eye. Needless to say, a diamond with no or fewer inclusions is of a higher grade. Clarity grade ranges from IF to I2, with IF being the highest. IF stands for internally flawless, it is a perfect diamond inside and out. Of course, these are extremely rare. As natural diamonds will almost always have inclusions, most people consider VVS diamonds to be the best as IF's are so rare. VVS stands for "very, very slightly included". 

What is Carat Weight?
Carat refers to the size of the diamond in carat weight. A metric "carat" equals to 200 milligrams. To do the math, it is simple, yet perfectly precise. You take a diamond and weigh it in grams then divide it by 0.2. So, if a diamond weighs 0.4 grams, you divide by 0.2 and you get 2 – 2 carats. Now, in terms of grading, there is no grading for this as a diamond can weigh any amount, reasonably speaking. The largest diamond found in the world was 3,106.75 carats (rough, meaning uncut diamond). That being said, the majority of diamonds in the jewelry market range from .25 carats to 5 carats. When it comes to calculating a diamond's price by carat weight, it is not as simple as four .25 carat diamonds are the same price as a 1 carat diamond. As bigger diamonds are rarer, they will cost more. Moreover, the other aspects of the 4C's come into play with every diamond.
Note: The above 4C's apply to Round Brilliant Diamonds. Other diamond shapes will have a slightly different grading system. The Cut will be looked at in terms of Polish and Symmetry instead. The rest of the 4C's will apply.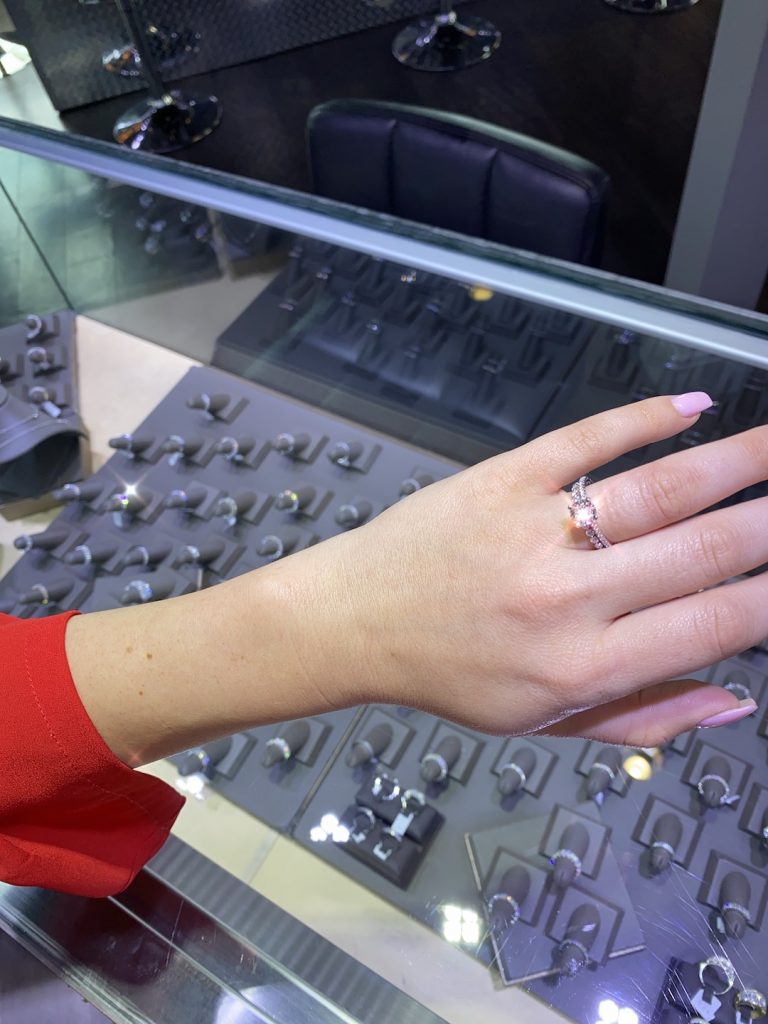 What are the different diamond shapes?
There are various shapes of diamonds. You have round, cushion, princess, oval, pear, marquise, emerald, radiant, Asscher, heart, baguette, and more. Anything other than a round diamond is considered a "fancy shape diamond".
What is the "5th C" of a diamond? Isn't this a thing?
The 5th C can mean a few things…
Certification, Conflict-Free or Confidence
Typically, the 5th C refers to a diamond certification, from a reputable gemological institute. GIA is the most famous and reputable of them all. The certification has all of the 4C's grading on it. It will tell you all you need to know about the diamond in question. 
When buying diamond jewelry with large diamonds, a diamond certificate is very important as it gives you peace of mind and confidence, as you know exactly what you are getting.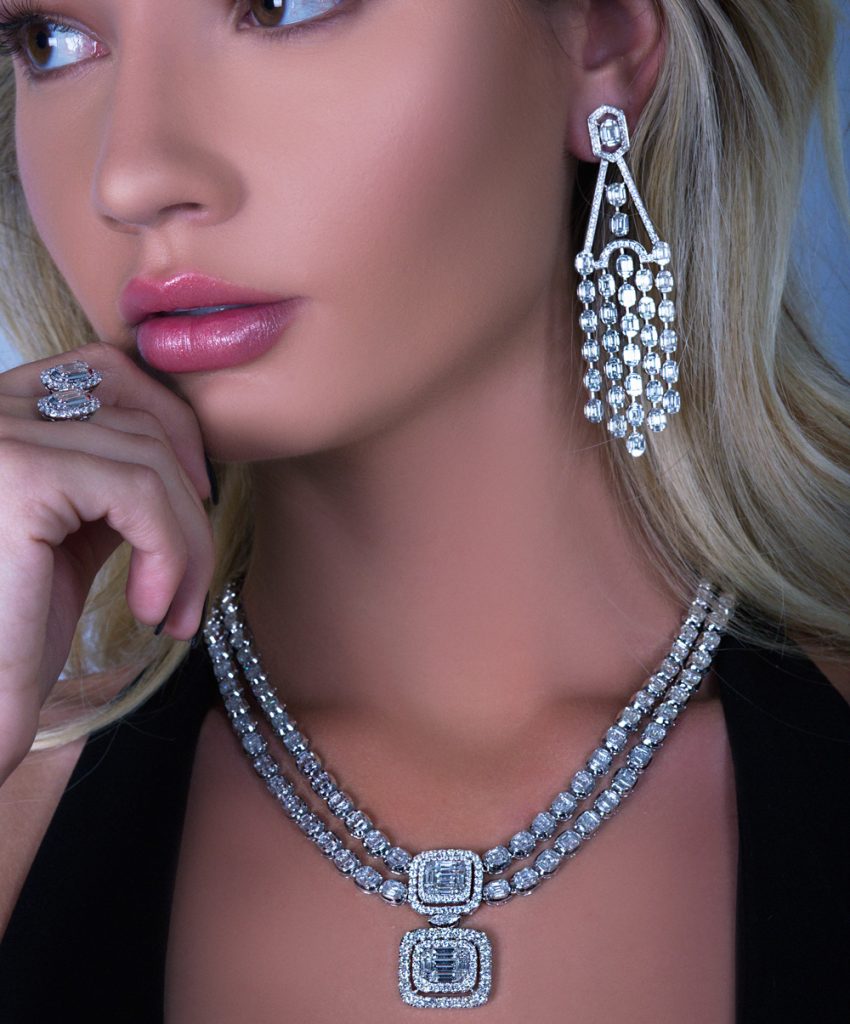 Should the diamonds in my jewelry be certified?
This depends on the price of the piece in question and the size of the diamonds. For negligibly priced jewelry and jewelry with small pave diamonds, it is not necessary. In this case, you will simply want to buy from a jewelry store that you can trust. 
However, if you are buying diamond jewelry with a large diamond, you will want a diamond certification. This will give you more confidence when buying something very expensive.
As for engagement rings, it is almost always recommended that the diamond has a certification.
Does a diamond need a certificate
What is the most important of the 4C's of diamonds?
The most important aspect of the 4C's is said to be the cut. The brilliance and fire of your diamond depend most on the cut. A perfectly cut stone will allow you to make some comprises on the other factors of the 4C's, while still having a great diamond that sparkles and pops. 
You don't need a perfectly colorless D-grade diamond as it is almost impossible to spot the hue of yellow on an E-H diamond with the naked eye. The same thing applies to inclusions. Even inclusions on an SI1 diamond are often impossible to see with the naked eye. Check the diamond in good lighting to make sure these flaws can't be seen with the naked eye and focus on the cut!
More on the most important aspects of the 4C's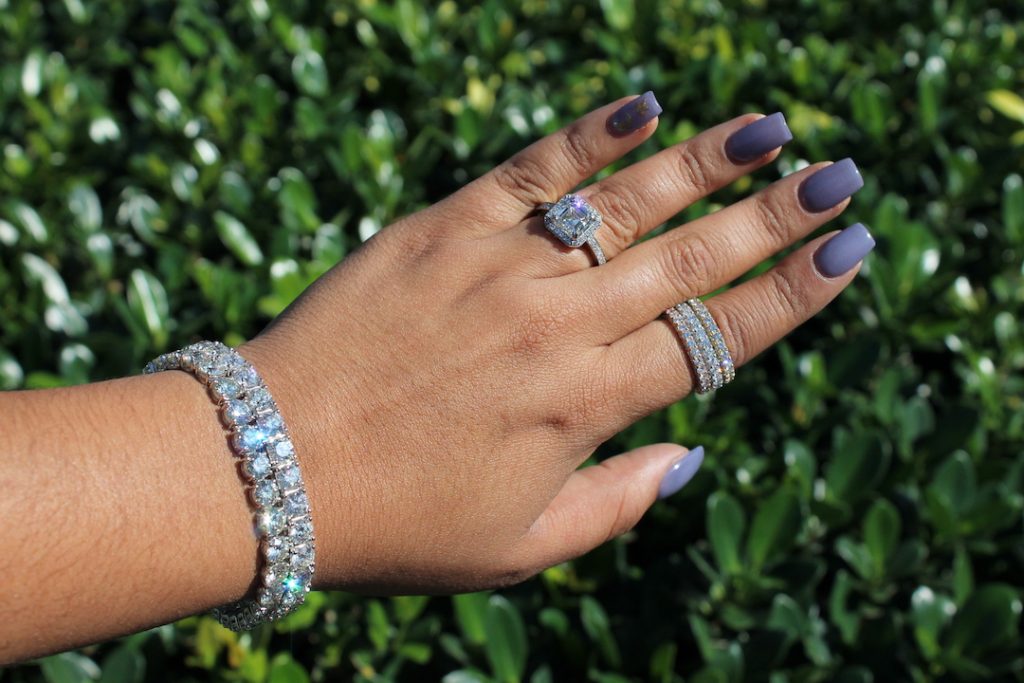 How to get the best diamond for your budget?
We have a few tips:
Consider fancy diamond shapes, as Round Brilliant diamonds are the most expensive.
Halos offer more size without needing to buy a large diamond. Again, many small diamonds are far less expensive than one big one.
Focus on cut and sacrifice the other 4C's a bit. Get a lower grade that is still beautiful to the naked eye.
Buy a diamond that is just under 1 carat or just under 2 carats. As once they reach those margins, the price jumps significantly. Again, the bigger the diamond, the rarer it is, and the more expensive it is. 
Are synthetic diamonds as good as natural?
Although synthetic diamonds have the same exact physical properties as natural diamonds, they are not valued the same. Not even close. Synthetic diamonds will be much less expensive than natural diamonds, and they will have basically no value after you buy it.

But are they as good? In fact, they are often better in terms of the 4C's, as can be made with zero inclusions and perfectly white.
So, if you are dealing with a "natural" diamond that is perfect, you will definitely want to check that diamond certificate.
Note: There are some very expensive machines that will tell you if a diamond is natural or lab grown. So gemological institutes know! Diamonds By Raymond Lee in Boca Raton has one of these innovative machines to spot if a diamond is real as we buy jewelry from the public. Any high-end jewelry store should have one of these nowadays.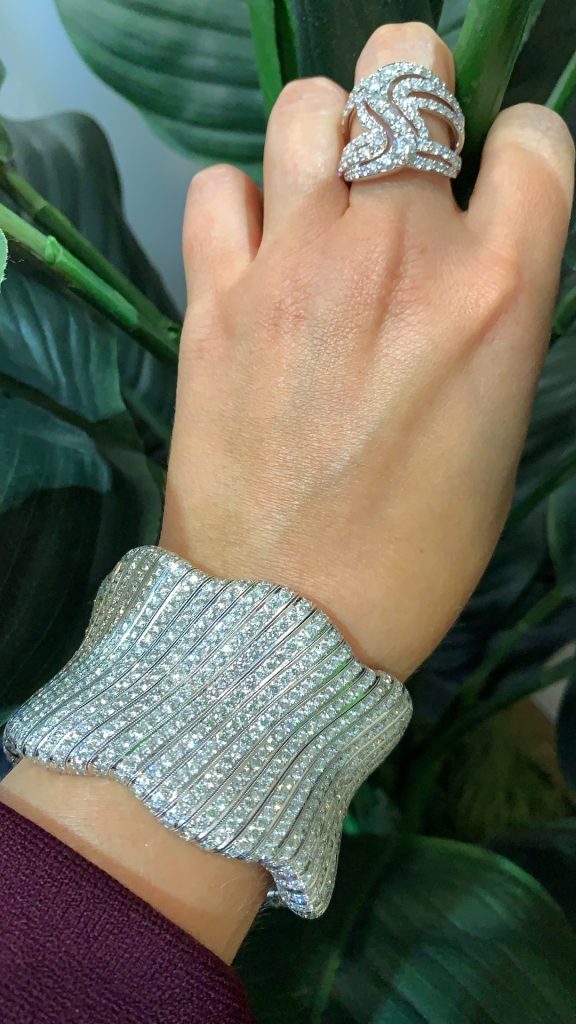 Questions about Different Types of Diamond Jewelry
Which brand of jewelry is the best?
The best brand of jewelry really depends on your preference. However, we can tell you the top, most classic jewelry brands in the world. Iconic brands that women and men desire…
Cartier
Harry Winston
Tiffany & Co.
Van Cleef & Arpels
Graff
Piaget
Bvlgari
Buccellati
David Yurman
Chopard
What jewelry brand holds value the best?
Here are the jewelry brands that retain value the best.
Harry Winston
Many pieces of jewelry from these brands have sold at auctions for exorbitant prices. So, they may even increase in value.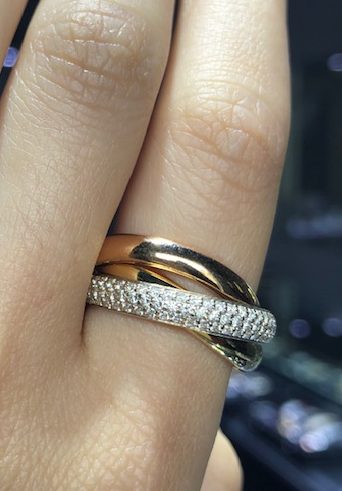 Rose gold vs White gold vs Yellow gold vs Platinum, Which is best? What's the difference between metals?
There is no best when it comes to precious metal jewelry. What we can do is tell you some of the differences so you can make an informed decision based on your preference.
Rose gold:
Pros – More durable than the other golds, affordable, no plating required, vintage appeal.
Cons – Not hypoallergenic due to copper in the alloy, the copper within it may darken/oxidize over time.
White gold:
Pros – More durable and scratch resistant than yellow gold, compliments white diamonds.
Cons – It has rhodium plating which fades over time (although most jewelry stores offer this for free if you bought from them), has nickel so it is not hypoallergenic.
Yellow gold:
Pros – Hypoallergenic, most classic look for gold, purest of all golds, easiest to maintain, most malleable for jewelers to manipulate and resize, easily matched with diamonds of lower color grade.
Cons – Needs to be polished regularly and it is easily scratched compared to the other golds.
Platinum:
Pros – Excellent durablity, great for white diamonds, hypoallergenic
Cons – Most expensive precious metal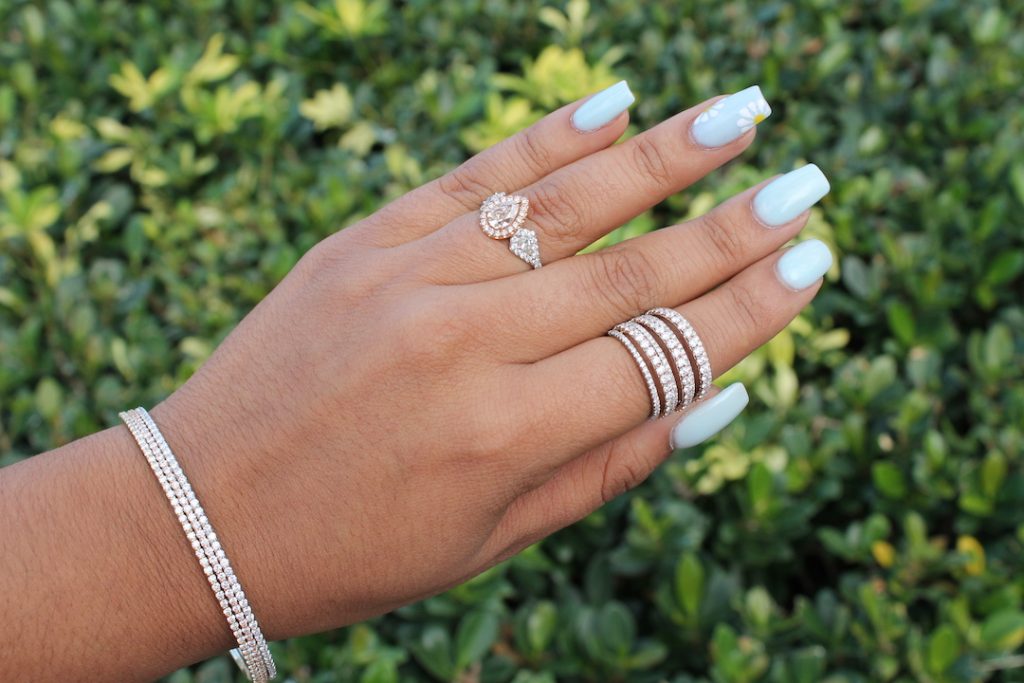 What are the different diamond settings for jewelry?
There are various diamond settings to choose from. You have prong, shared prong, channel, bar channel, tension, pave, micro-pave, bezel settings and more.

Learn more about diamond settings
Is buying used diamond jewelry good?
People often consider used jewelry as "low quality". That is false. The only thing different from used and new is that someone owned it before you! Fine diamond jewelry is not like a car or shoes that wears down and loses value, the materials are everlasting. A simply polishing and it will look brand new. Moreover, new jewelry is only new until you buy it!
Advantages of buying used diamond jewelry:
Better price and best bang for your buck. 
You retain more value, as the initial buyer took the hit that comes with buying jewelry new.
More options and styles to choose from. 
So, to answer this question, yes used jewelry is good. It is also smart if you want to get something beautiful for a good price. It is only bad if you don't like the fact that someone has worn it before you.
Note: Vintage jewelry that sells for crazy prices at auction are used! Collectors love used jewelry with patina.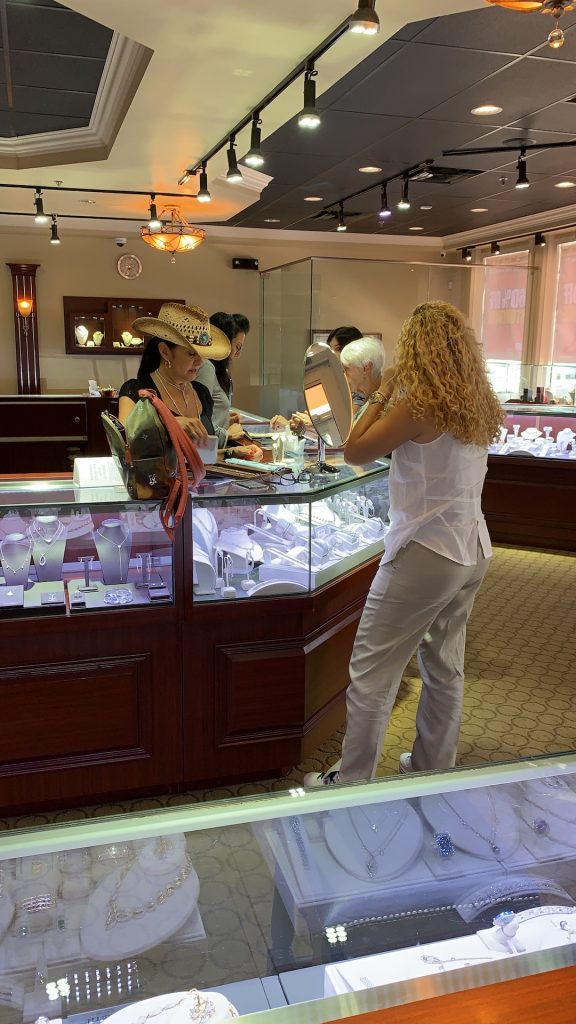 What is the Popular Diamond Necklace Style?
Gold chain necklaces (with or without pendants) and diamond tennis necklaces will never go out of style. Those are classic pieces.
What to look for when buying a diamond necklaces?
Be sure to review the diamonds closely. Look for blemishes and inclusions.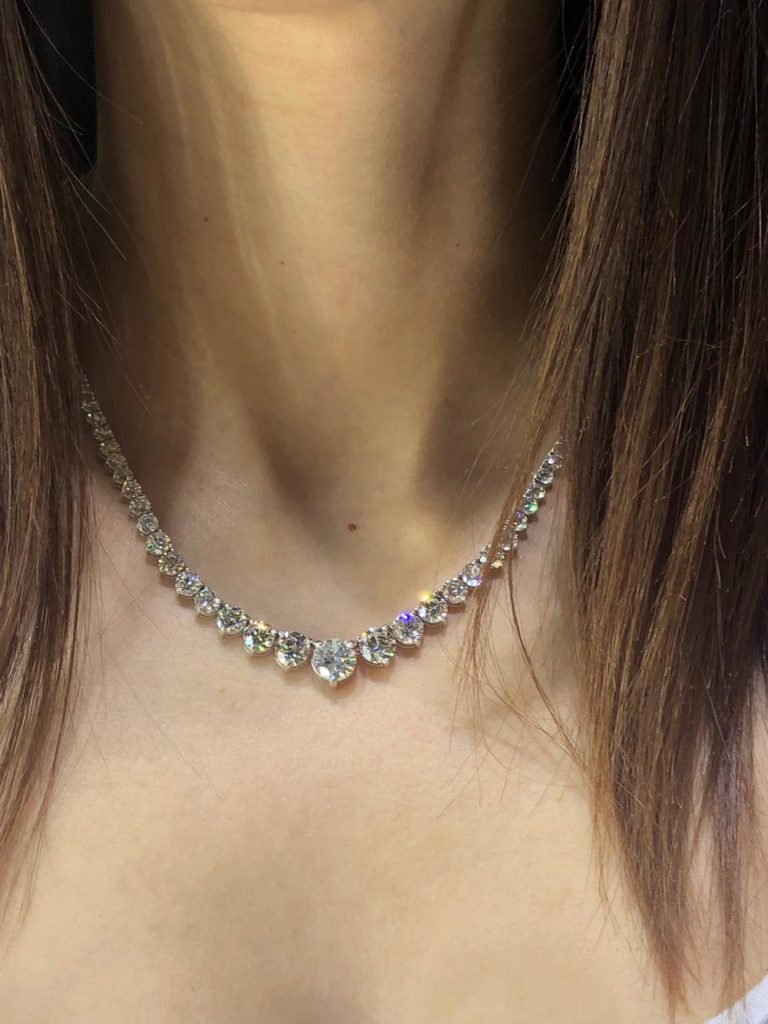 What is the Most Popular Diamond Bracelet Style?
Diamond tennis bracelets are easily the most popular and classic diamond bracelet style. They have perennial popularity.
Other classic bracelet styles are Cartier Love Bracelets, Gold Chain Bracelets, and other bracelets from the Top 10 brands we mentioned above.
Note: Cartier Love Bracelets and Gold Chain Bracelets can be set with pave diamonds if you want some diamond flair!
What kind of earrings are the most popular?
The most popular earrings are diamond studs, hoops, drops and dangle earrings. These are all classic and elegant styles.
If you are dressing up, any of those types of earrings will be great. If you are going casual, studs and hoops will look best.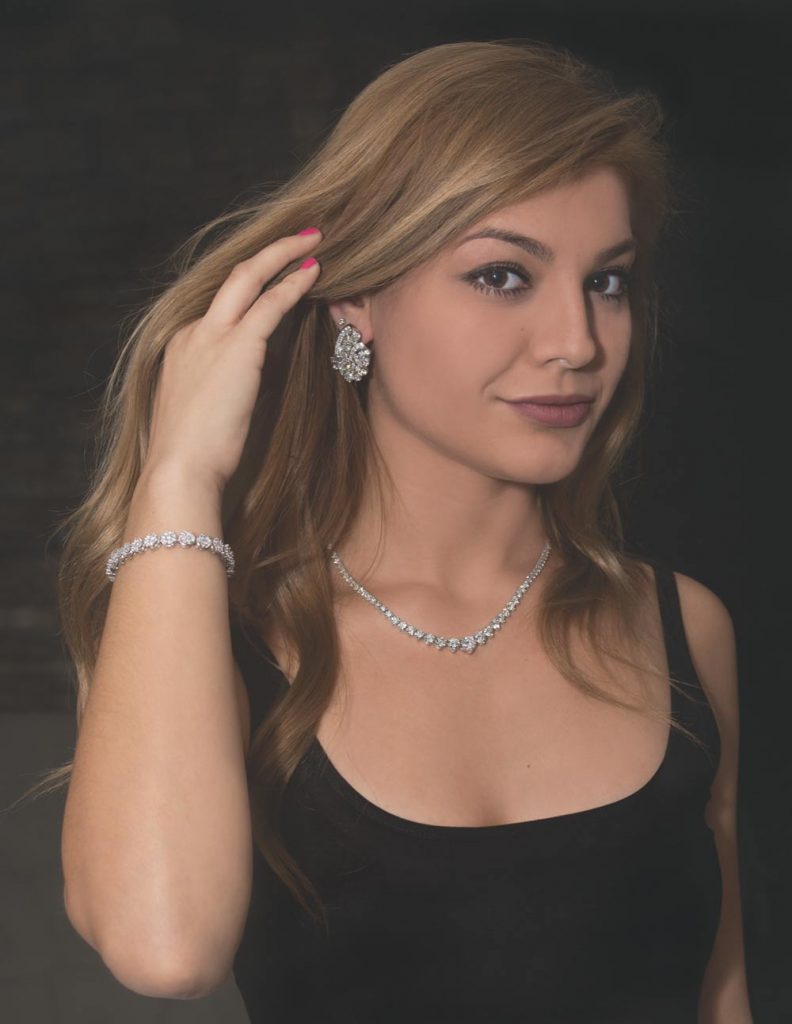 What are cocktail rings?
A cocktail ring is a ring that is oversized and made to attract attention. They can be worn on any finger. Diamond cocktail rings are extremely popular…probably more than ever.

See diamond cocktail rings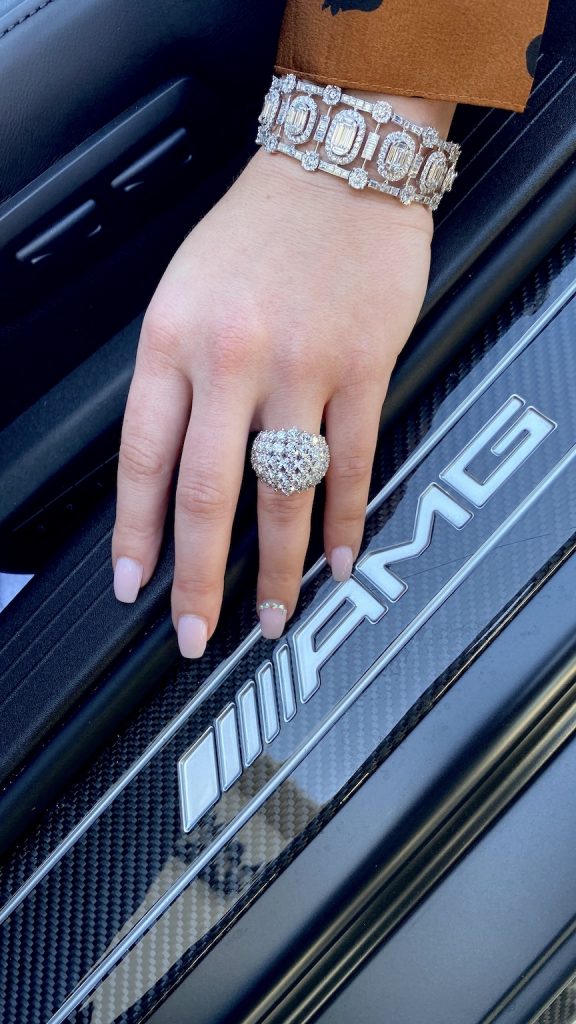 Questions about Diamond Jewelry Customizations:
Can I make a custom piece of diamond jewelry?
Absolutely. Most jewelry stores offer custom jewelry services. The options range from simple things like engravings to full custom pieces designed from scratch.
Tip: Find a jewelry store that makes custom jewelry in-house. Many jewelry stores outsource the work, which adds to the cost and the time it takes to complete the project.
Diamonds By Raymond Lee and Raymond Lee Jewelers in Boca Raton offer custom jewelry service and it is done completely in-house by our master jewelry maker.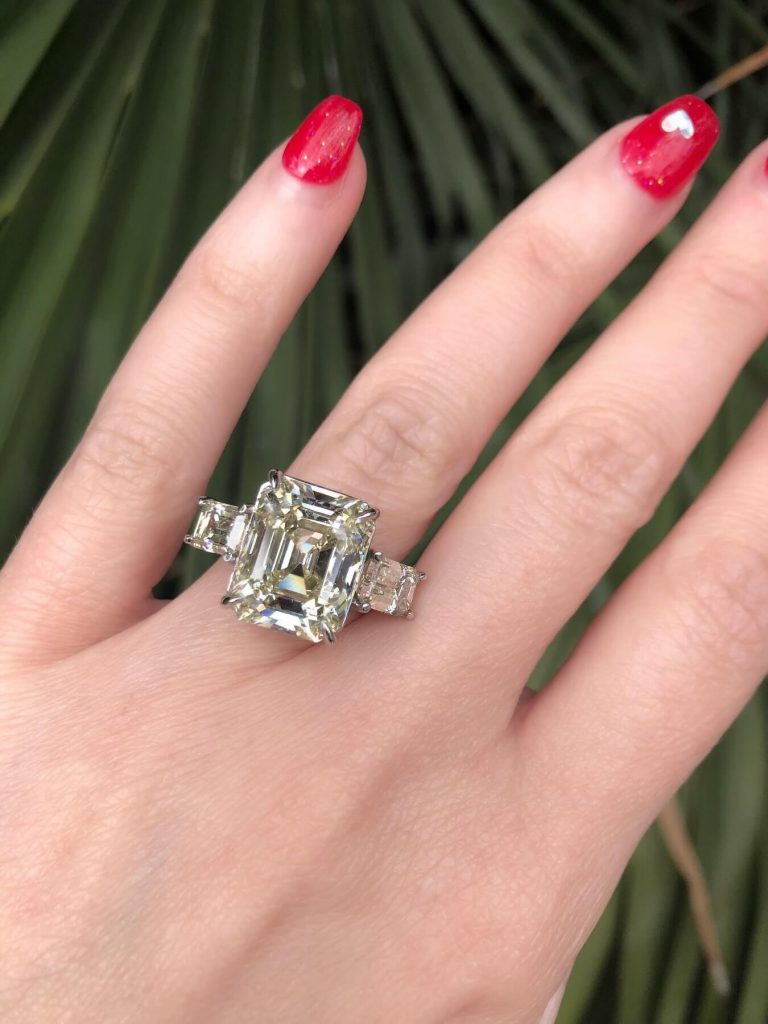 What is the process for making custom jewelry?
Here are the steps:
Consultation
Sketches
CAD Renders
Wax Model
Casting
Final touches
You can read about the process in-depth here and see custom jewelry examples done at Diamonds By Raymond Lee.
How long does it take to create a custom jewelry piece?
It can take anywhere from 1 week to 6 weeks depending on how many projects the jewelry store is doing at the time and if the jewelry store does it themselves or outsources it.
How much does it cost to make custom jewelry?
There are too many factors that come into play to give a straight answer. The good thing is consultations are typically free (they are at Diamonds By Raymond Lee!), so you can find out how much it's going to cost you before moving forward.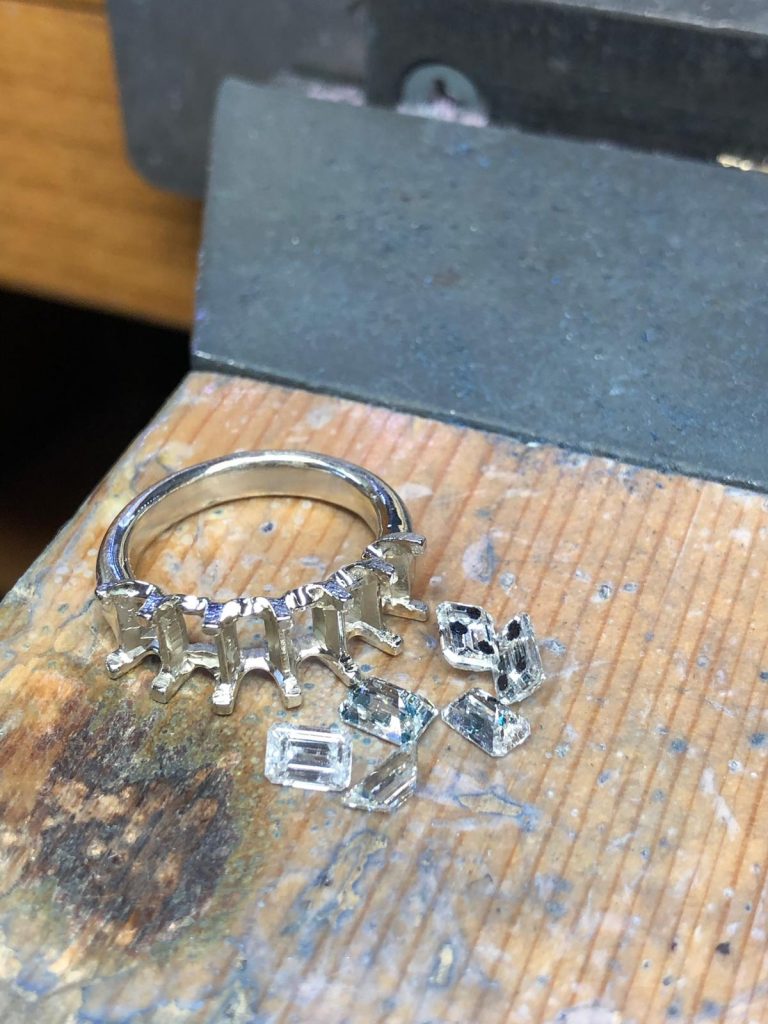 Can I create a custom piece of jewelry from old jewelry and stones?
Absolutely! At Diamonds By Raymond Lee, we understand the emotional and sentimental value of diamonds and gemstones, so we are happy to repurpose your jewelry for you. We can also add any additional diamonds and gemstones to it that you like. 
Diamond Jewelry Sizing Questions:
How to buy the right size ring?
You have some simple options. You can go to a jewelry store and have them measure your finger for you or you can print out a ring size chart and measure it yourself. 
But what if you want to buy a ring for a loved one and keep it a secret? Try to get one of their existing rings and then bring it to a jeweler so you can find out their ring size! Just be sure to not get caught if you want it to be a secret 😉
What length necklace should I buy?
Choker: 14-16 inches
Princess: 18-20 inches
Matinee: 22-23 inches
Opera: 26-36 inches
Rope: 37 inches or more
There is no wrong or right size necklace. It depends on what you like and what you are wearing. Some necklaces go better with certain necklines.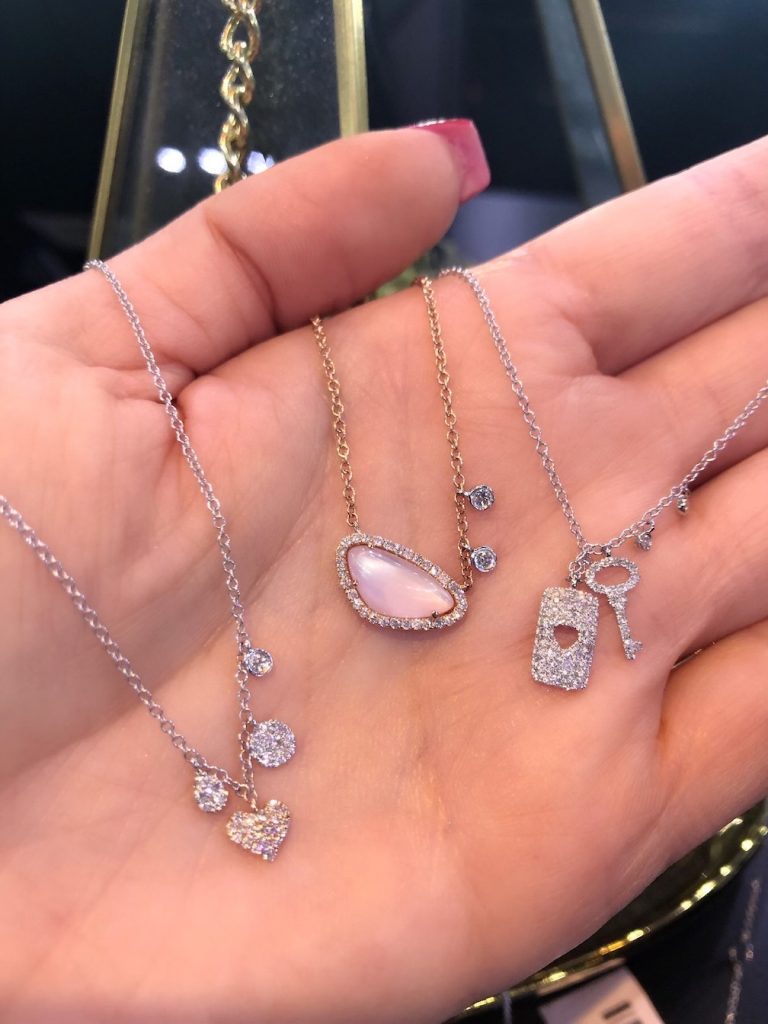 What size bracelet should I buy?
As with ring sizing, you can print a chart out or you can go to a jeweler to have your wrist measured. Moreover, you can use a piece of floss then measure it or simply use a flexible tape measure.
When measuring, measure just above the wrist bone. Then add .8 inches (2 cm) to the wrist size. This is the ideal fit and most comfortable.
If you want a bangle, you follow this guide. It is for the Cartier Love Bracelet, but it will help you with similar style bangles.
Cartier Love Bracelet sizing guide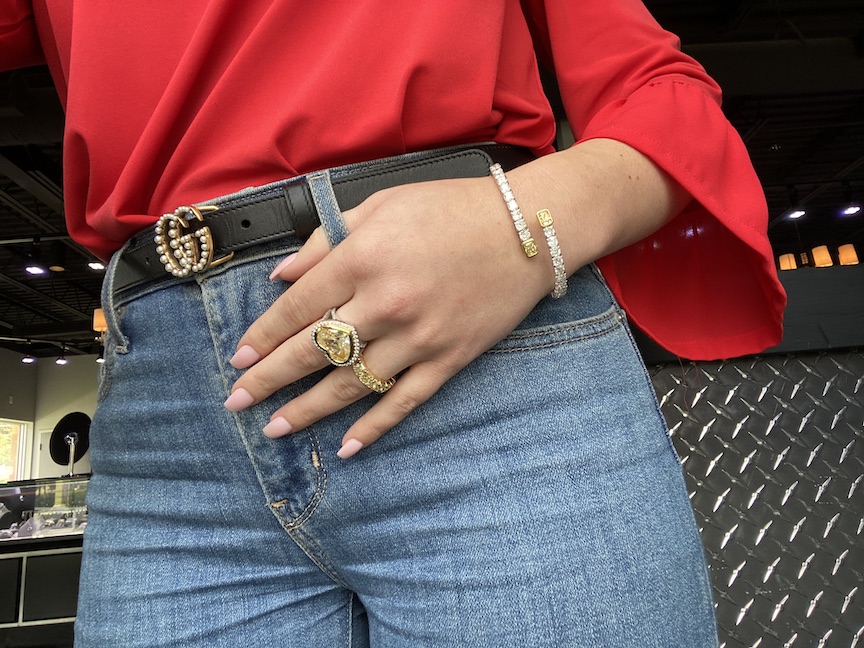 Other Frequently Asked Questions about Diamond Jewelry
We recommend insuring your jewelry if it is expensive. Jewelry insurance is quite affordable. On average, you will pay about 1-2% of its total value per year. 
Can I purchase jewelry online? What are the pros and cons of buying jewelry online?
Most jewelry stores are online these days. If they aren't they are behind the times! So, yes, you can buy jewelry online. Whether you want to do that is up to you. Here are the pros and cons of buying jewelry online…
Pros:
Can find good deals
Convenience
Wide range of products to choose from
Cons:
You can't try it on
You won't have your jewelry immediately after buying it
If you do decide to purchase jewelry online, be sure to check the stores warranty, guarantee and return policy! Also, check reviews and overall do your due diligence.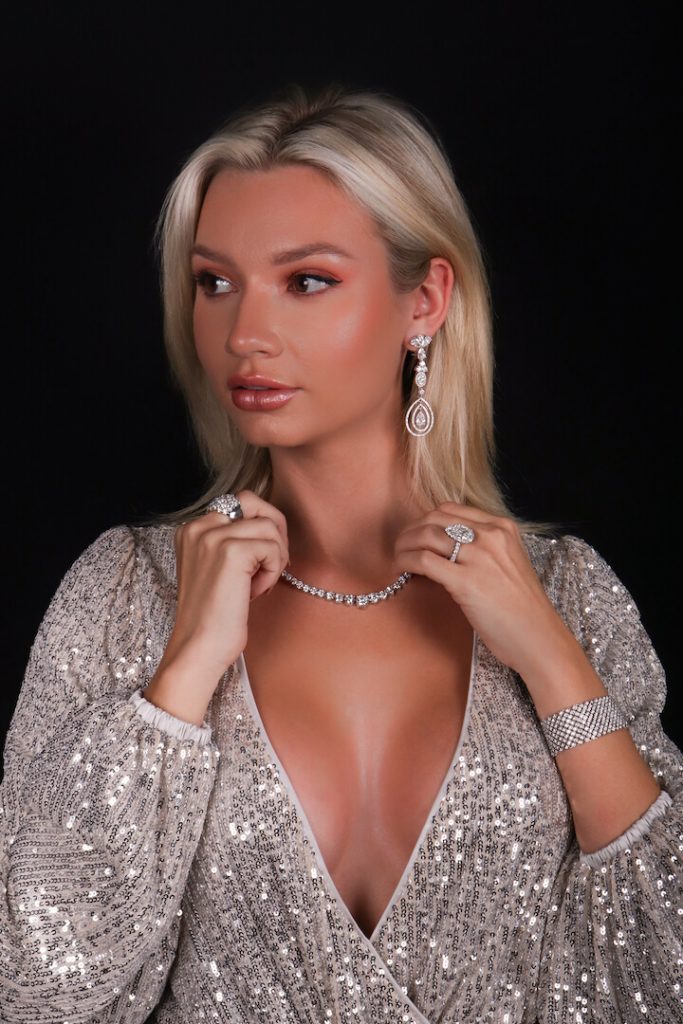 Can I trade old jewelry for new jewelry?
Yes, you can trade in old jewelry. If it is from a famous jewelry brand like Cartier or Tiffany, you will likely receive more than just its intrinsic value. If not, you will at least receive its intrinsic value. Then you can use that for a new purchase.
Note: Even scrap jewelry can be sold and used to purchase a new piece of jewelry at most jewelry stores. It can at Diamonds By Raymond Lee and Raymond Lee Jewelers.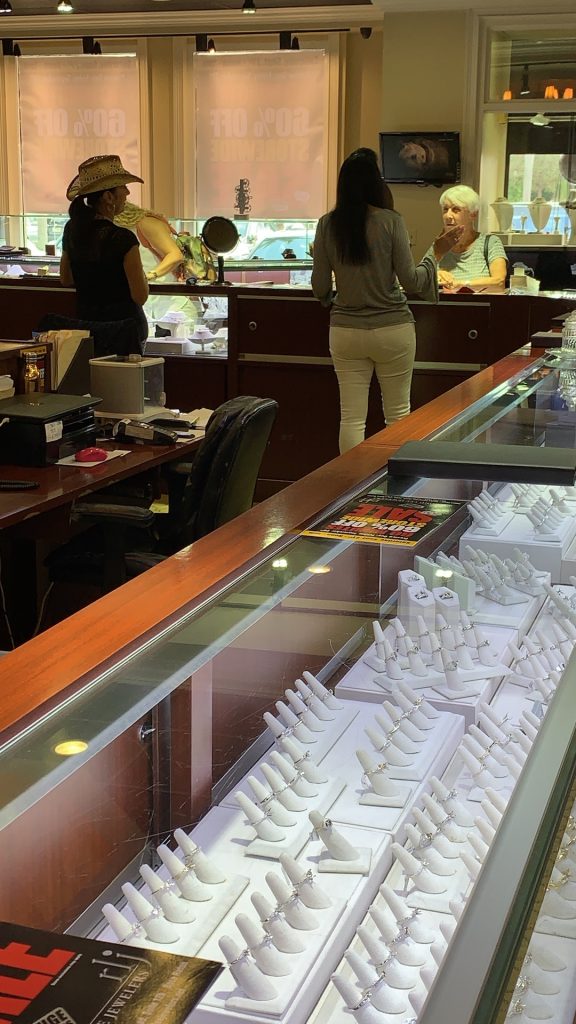 What is the Best Place to Buy Jewelry?
The best place to buy Fine Diamond Jewelry is with the place you trust.
We suggest you avoid buying fine diamond jewelry from places like eBay and Craigslist. Also, avoid malls as you will likely be overpaying.
Your best choice is an independent jewelry store like Diamonds By Raymond Lee and Raymond Lee Jewelers as they will have the best quality fine diamond jewelry at the most competitive price.
Shop Jewelry at Diamonds By Raymond Lee