9 Different Types of Chains – Your Guide to Choosing the Right Chain Necklace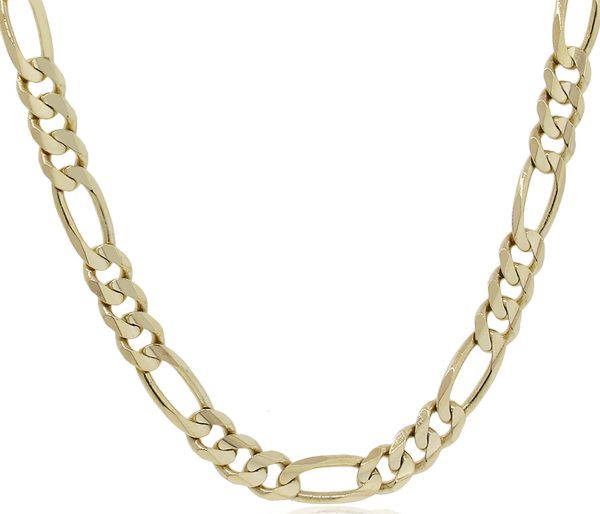 Considering to buy a chain necklace but not sure what type of chain necklace is best for you? We completely understand! It's smart that you are doing your research! With so many different types of chains out there, things can get overwhelming and decisions can be tough.
This post is here to help you with all of your questions:
What are the different types of chains?
Which chain is best for men and which type of chain is best for women?
What style of chain necklaces is the strongest?
Which are the easiest to fix?
Is there anything else I should know when choosing a chain necklace style?
We have the answers. So, no more fluff, let's get started…
9 Different Types of Chains
Figaro Chain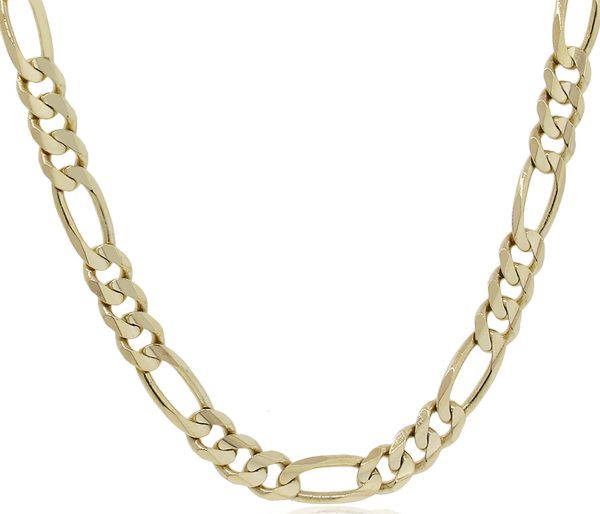 14K YELLOW GOLD FIGARO LINK 20″ CHAIN NECKLACE
The Figaro chain is one of the most popular of the different types of chains. It is a pretty simple design, yet it is fancier than a cable chain. Figaro chains were first created in Italy. The chain consists of an alternating design of flattened links in contrasting sizes. Typically, the design pattern is one long flattened link, then two or three shorter flattened links. The two or three shorter links are the same size as each other, which gives it a uniformed design throughout the length of the chain.
Are Figaro Chains Strong?
Figaro chains are solid and durable, as they are usually made of thick wire.
Fixing a Figaro Chain
Moreover, this type of chain is easy to fix if a link is broken. That being said, because of the pattern of the chain, you can not simply remove a link, you need to replace it or repair it. If you remove the link, you will throw off the pattern.
Are Figaro Chains for Men or Women?
Figaro chains have a gender-neutral appeal, so they can be worn by both men and women.
Rope Chain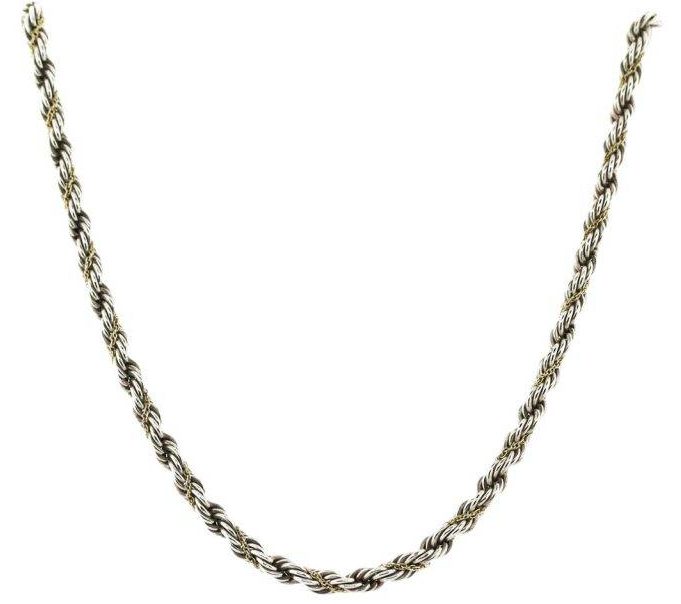 TIFFANY & CO. STERLING SILVER AND GOLD ROPE CHAIN NECKLACE
In our opinion, and many others, the rope chain is one of the most beautiful types of chains. Rope chains consist of a number of gold (or another precious metal) segments. The segments are connected tightly in twos or threes, with a twisting pattern so that it resembles an actual rope. Thanks to this eye-catching twisting rope pattern, the Rope Chain reflects light amazingly well from all angles. Thus, the rope chain is one of the most lustrous, lavish, shiny types of chains. This is a big reason why it is one of the most popular styles of chains around the world.
Thinner rope chains look wonderful with pendants and they are a very secure option for them as well. Thicker rope chains will look best on their own, and they are a statement piece enough without the pendant.
Are Rope Chains Strong?
Rope chains are not only one of the most popular types of chains, but they are also one of the most durable, heavy, and textural types of chains as well. This means they are quite strong, even for the thinner rope chains, and they won't come apart easily. A rope chain is said to last more than a lifetime.
Note: Rope chains will slowly stretch and lengthen as you wear them overtime, as do pretty much all the different types of chains. But it won't affect this chain much at all. The thicker the rope, the less it will stretch. If you have a thick rope chain, you won't even be able to notice the stretch of the chain.
Fixing a Rope Chain
Rope chains are easy to fix, but they might show the soldering fix depending on who repairs it. At Raymond Lee Jewelers in Boca Raton, we repair chain necklaces in an impeccable manner.
Are Rope Chains for Men or Women?
Both men and women can wear a rope chain. Rope chains are a popular choice amongst men.
Box Chain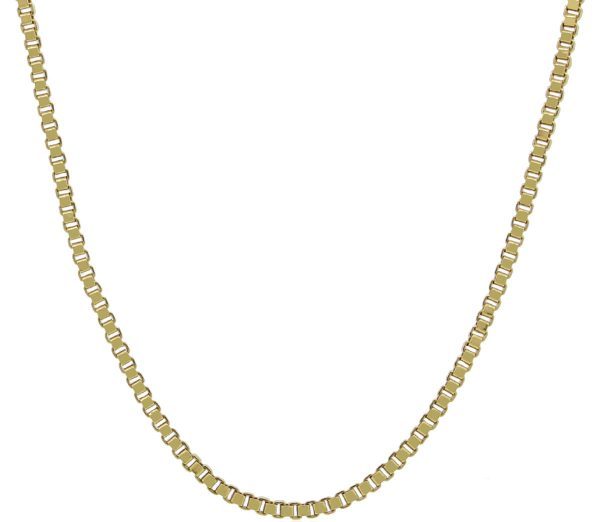 Box chains are as the name suggest, "boxy". They have square links instead of the typical round links you see in the other different types of chains. This gives each link the appearance of being a small box.
Are Box Chains Strong?
Box chains come in a variety of widths. The thicker ones are pretty strong and won't break easily. Thinner box chains do break much easier.
Fixing a Box Chain
A box chain can be fixed without too much difficulty. You can either replace the link with a new one or you can simply remove the broken link then reattach the remainder of the chain. Either way, you won't affect the design of the chain.
Are Box Chains for Men or Women?
Thinner box chains are popular in women's jewelry and they are usually paired with pendants. Thicker box chains are popular among men, but they are also commonly seen in women's jewelry. The thicker box chains are worn as a statement piece, just like a rope chain is.
Cable Chain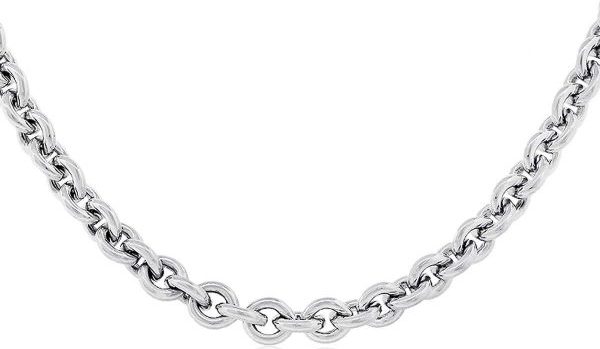 MOVADO STERLING SILVER CABLE CHAIN NECKLACE
Cable chains are one of the most popular, most common, and most recommended types of chains thanks to their classic appearance and durability.
This type of chain resembles an iron chain used for anchoring ships. In fact, this is where the inspiration came from. It's pretty much just a smaller version of it. So if you have a cable chain, you can consider it one of the oldest types of chains.
A cable chain consists of a series of identical round or oval links. Each individual link is connected to the next, forming a wonderful chain made for beauty and functionality.
Some cable chains are round and some are flattened. But as long as each link is of the same size and connected one by one, it is a cable chain.
Cable chains are perfectly eye-catching and the thin ones look stunning with a pendant.
Are Cable Chains Strong?
Cable chains are sturdy thanks to their simple design. They are one of the most reliable types of chains as they won't easily break.
Fixing a Cable Chain
If your cable chain does happen to break, or one of the links becomes misshapen, it is an easy fix for any jeweler.
Are Cable Chains for Men or Women?
A cable chain is a gender neutral type of chain. So both men and women can enjoy this traditional chain style. Men typically get a thicker cable chain while women prefer a thinner, but you will see both men and women wearing thick cable chains made of yellow gold, white gold, rose gold, platinum and silver.
Snake Chain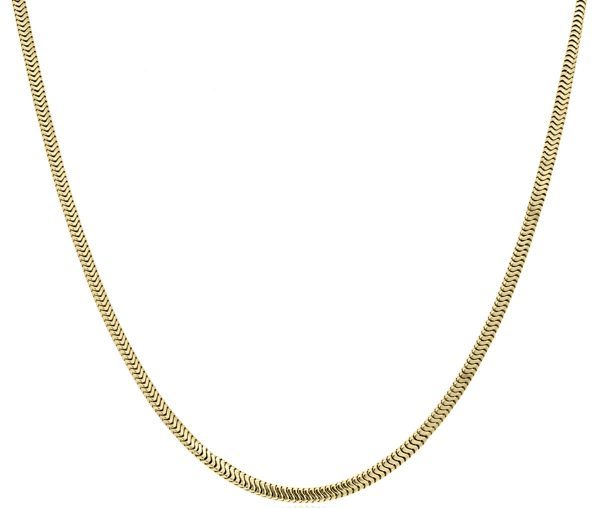 14K YELLOW GOLD SNAKE CHAIN NECKLACE
The name "snake chain" makes perfect sense for this type of chain, as it resembles the body of a snake and it actually moves with the likeness of one too thanks to its flexibility.
Snake chains consist of a series of small rings (plates or bands), which are joined tightly to form a continuously smooth and sleek chain. The rings are wound so tight with one another that you can only notice them when up close.
Snake chains have a good looking texture and just overall they look very nice and elegant. They are a great choice for a pendant. A snake chain with a pendant makes for a stunning necklace.
Are Snake Chains Strong?
Snake chains are a bit delicate, as they are usually made quite narrow.
Fixing a Snake Chain
Because a snake chain is delicate, they can break easily, and fixing them isn't the easiest job due to the nature of the design.
Are Snake Chains for Men or Women?
Both men and women wear snake chains. The thinner snake chains are typically for women and worn with pendants.
Curb Chains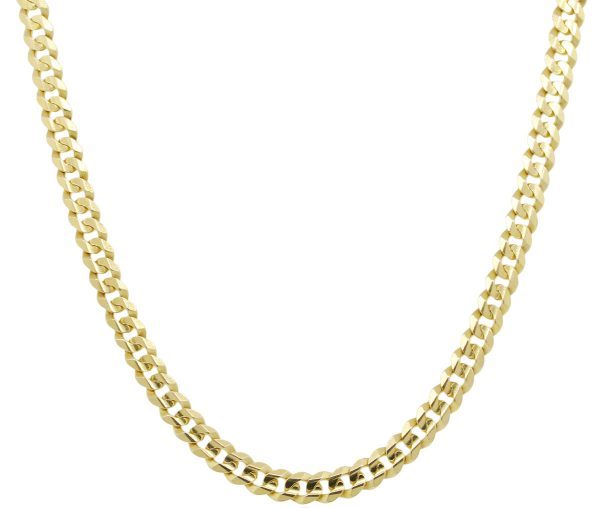 14K YELLOW GOLD CURB LINK CHAIN NECKLACE
Curb chains are another popular choice. The curb design is simple and classic. It has flat, closely interlocking uniform links that come together at two distinctive grooves.
Curb chains have been around for hundreds of years, long before state of the art technology existed. So they are part of the classic chain style group. The curb chain still remains a very fashionable choice, as do most classic jewelry pieces.
Moreover, there are many different types of curb chains with unique finishings. The variations and finishings are as such: rounded curb, open curb, close curb, concaved curb, square curb, flat curb, diamond cut curb, pave curb, and so on.
Are Curb Chains Strong?
The most common curb chains are thick and heavy, so they are extremely durable. This is one of the reasons why they've lasted through the years.
Fixing a Curb Chain
Depending on the finishing of a curb chain, it is typically not difficult to fix. Just bring your curb chain to a competent jeweler and they should be able to fix it up good as new.
Are Curb Chains for Men or Women?
Thick curb chains have been extremely popular among men for a long time. Nowadays, thanks to the advent of high tech machinery, thinner, delicate curb chains are being made and they are becoming very popular in women's jewelry. These newer, delicate curb chains look absolutely stunning with pendants.
Mariner Chain

10K TWO TONE GOLD MARINER LINK CHAIN
The Mariner chain is also known as the Anchor chain as it has a strong connection (pun intended) with the chains used for anchors. Inspired by the nautical realm, mariner chains are a fantastic option for those who love the sea and for anyone who wants a strong necklace chain that will last a lifetime.
The mariner chain comprises interlocking oval links that have bar directly down the center. It gives this chain a unique appearance and it's aesthetically pleasing.
Historically, mariner chains have been flat, but as of late, there's a new trend of mariner chains, they are called puffed mariner chains.
Like the rope, curb and box chain, the mariner looks powerful all on it's own, but they also look great when paired with a pendant.
Are Mariner Chains Strong
Mariner chain necklaces are one of the strongest of the different types of chains. It's as strong as the curb and cable chain.
Fixing a Mariner Chain
Again, just like the curb and cable chains, this one isn't a difficult fix. Just take it to a jewelry repair shop and you will be good to go.
Are Mariner Chains for Men or Women?
Thicker mariner chains are popular with men, the more delicate ones are popular with women…You are probably seeing a trend here.
Gucci Chains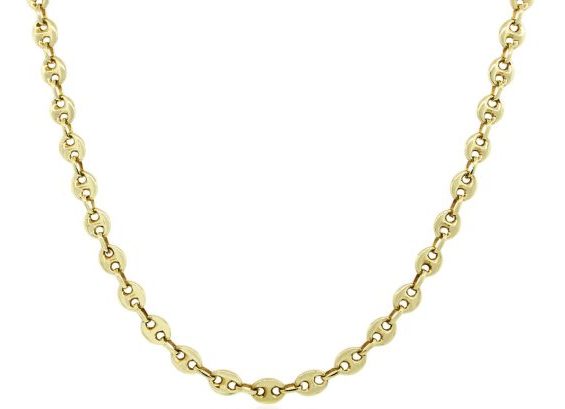 14K YELLOW GOLD GUCCI LINK CHAIN NECKLACE
Gucci Chains are similar to anchor chains except the links are more round and wider. If you are looking for a unique statement piece, a bigger, wider gucci chain is a great choice. The smaller gucci chains go well with pendants.
Are Gucci Chains Strong?
Gucci chains are strong and durable, especially the thicker ones. Between the uniqueness and the stability of this chain, you really can't go wrong.
Fixing a Gucci Chain
With a competent jeweler, you can get a gucci chain fixed in no time. It may require some soldering or removal of a link, but not to worry, it'll be back and as good as ever.
Are Gucci Chains made for Men or Women?
Both! Gucci chains are worn by men and women. However, they are more popular with men. Gucci chains are typically thick and worn with a pendant.
Wheat Chain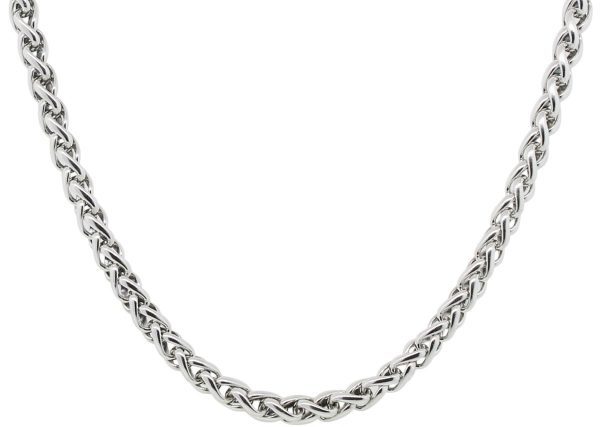 DAVID YURMAN STERLING SILVER AND 14K YELLOW GOLD 6MM WHEAT CHAIN
A Wheat or Spiga chain is produced using four strands of twisted oval links. It has a somewhat similar appearance as a rope chain from a distance. The links are "woven" and "braided" together, making a splendidly charming necklace.
Are Wheat Chains Strong?
Yes, as long as they are not hollow links, they are strong as some of the strongest chains on this list.
Fixing a Wheat Chain
Wheat chains are a bit challenging to fix, but it can be done. Take it to a jeweler and get a quote. It may be worth buying a new chain depending on what metal it is made of.
Are Wheat Chains for Men or Women?
As with all the chains on this list, they are gender neutral, but you will see more men gravitating towards wheat chains.
Which of the different type of chains is best?
The first rule is to never buy a hollow chain. Ever. They will break too easily. Any non-hallow chain will last a long time.
Here are our most highly recommended chains to buy, in order:
Rope Chain
Cable Chain
Curb Chain
Mariner Chain
We chose these top 4 based on durability, fashionability, and aesthetics. That being said, any of the different types of chains on this list is a good option if you like it!
Other things to consider when buying a chain necklace
Besides the type of chain, you need to consider the following factors:
Finishing
Type of metal and karat number
Size and Length
We will come out with a post on the above soon enough and link to it from here. Until then, do your research before buying OR ask your trustworthy jeweler.
Best Place to Buy Chain Necklaces
Raymond Lee Jewelers in Boca Raton (we also sell different types of chains online!).
Raymond Lee Jewelers has been in the fine jewelry business for over 30 years. We are a family owned and operated business. We take pride in providing an unparalleled experience when shopping with us. All of our chain necklaces are of the highest quality and we offer free repairs if you purchase from us.
Shop Chain Necklaces at Raymond Lee Jewelers
Shop Pendants at Raymond Lee Jewelers
Note: All of the different types of chain necklaces featured in this article are for sale online or at our showroom in Boca Raton. Feel free to contact us or come on in!
2801 N Federal Hwy, Boca Raton, FL 33431
Our hours of operation are:
Monday-Friday – 11 am to 7 pm
Saturday – 10 am to 5 pm
Sunday – 12 pm to 5 pm