Mens watches: the ultimate luxury accessory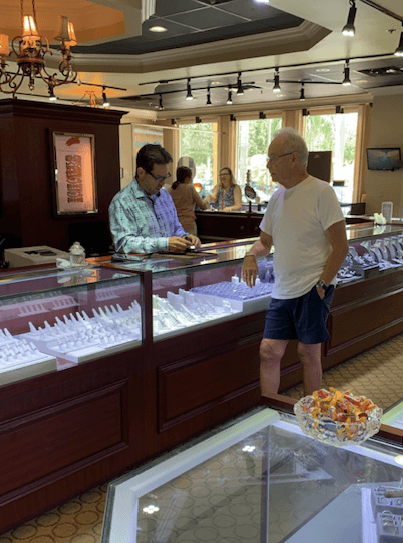 The top luxury accessory is a fine watch. There is nothing quite like an incredible time piece on your wrist. Mens watches generally come from the leading brands of the world. These have been around for a long, long time. Making their mark on the world of haute horlogerie one decade at a time building up their centuries in watch making. These are names the likes of Rolex, Audemars Piguet, Patek Philippe, Breitling, and Cartier among others.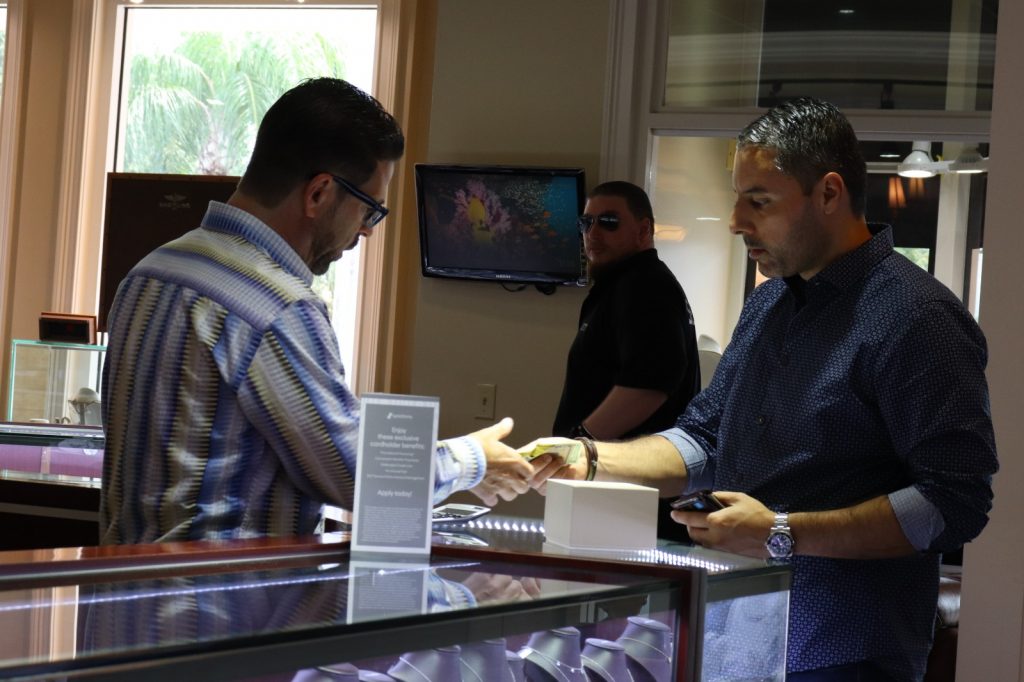 Well known and instantly recognizable these companies create some of the finest mens watches around. They are the types of accessories that do not accessorize but rather set the tone of your fashion. These are not for your every day man but for the guy who knows how to work a room. An instant hit and always an eye catcher mens watches are a unique niche. 
It is not everyone who knows how to wear or what a true fine watch even is to be frank. When worn confidently by someone who knows what they are all about that is when we see these fine watches shine. Some more than others. We are talking about the iced out diamond studded mens watches that sparkle so bright they are absolutely a fine jewelry piece in their own right. When it comes to buying mens watches though there are many things to consider. First and foremost is your personal style. What watch brand and even the which collection represents your style best?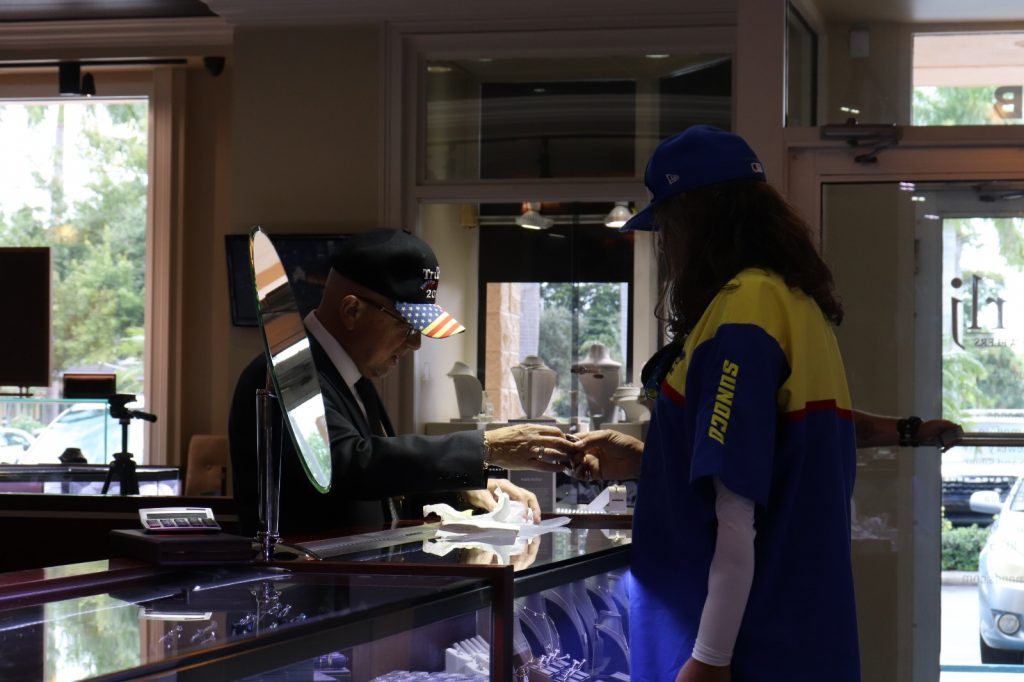 Collecting luxury watches for men
For the collectors and connoisseurs we know that this changes with the day, the event and how you are feeling. There are sportive watches like the Audemars Piguet Royal Oak Offshore and the Rolex Submariner. Meanwhile there are the classics. Staples in any watch lovers collection like the Rolex Date Just and a Patek Philippe. There is no right or wrong answer. There is only the right occasion. Everywhere you go and whatever it is you choose to do having a fine watch with you is always a good call. It is more than a tool. It is also a statement piece. Long in history a corner stone of elegant men's fashion. As well as a fascination for collecting and fine craftsmanship. Luxury watches are unrivalled when it comes to their quality.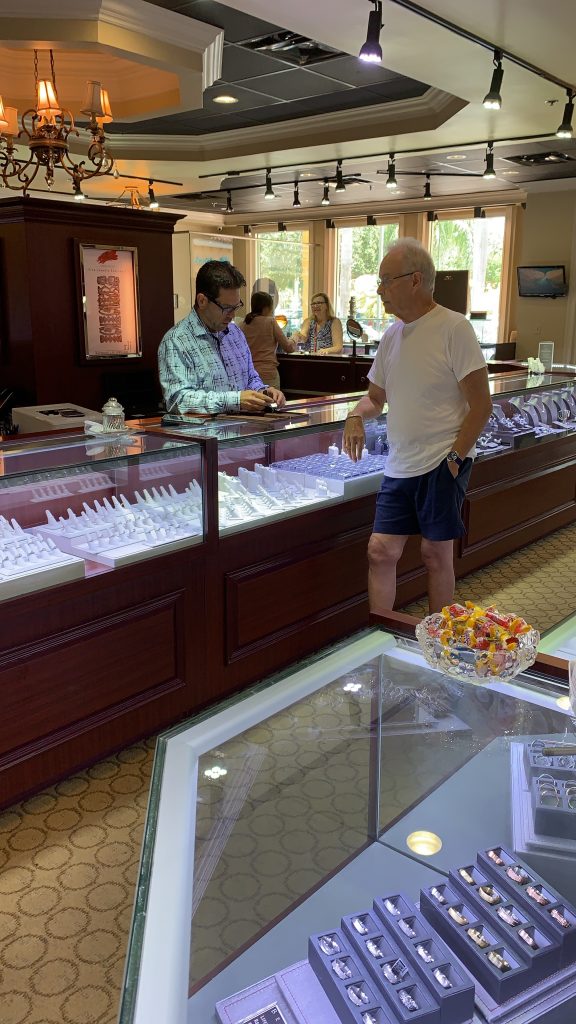 There is no match for a fine watch and the craftsmen who deal with them are few and far between. To have someone who really knows their stuff – that is all of the calibres, movements and small details of a specific brand of watch requires a lifetime. A lifetime and a true passion for the world of horlogerie. We at Diamonds by Raymond Lee would know too. We have some of the finest craftsmen around right at our showrooms. They use their expertise to guide potential buyers, collectors and passionate owners who want to change things up a bit. That is because they not only cover your usual maintenance, know all the fine watches inside and out. But they also craft unique additions to fine watches.
Everything from diamonds and jewels inlaid or added to dials, bezels, bracelets and what have you. Whatever your ideal is – these are the guys that can get you there. For a truly unique luxury watch.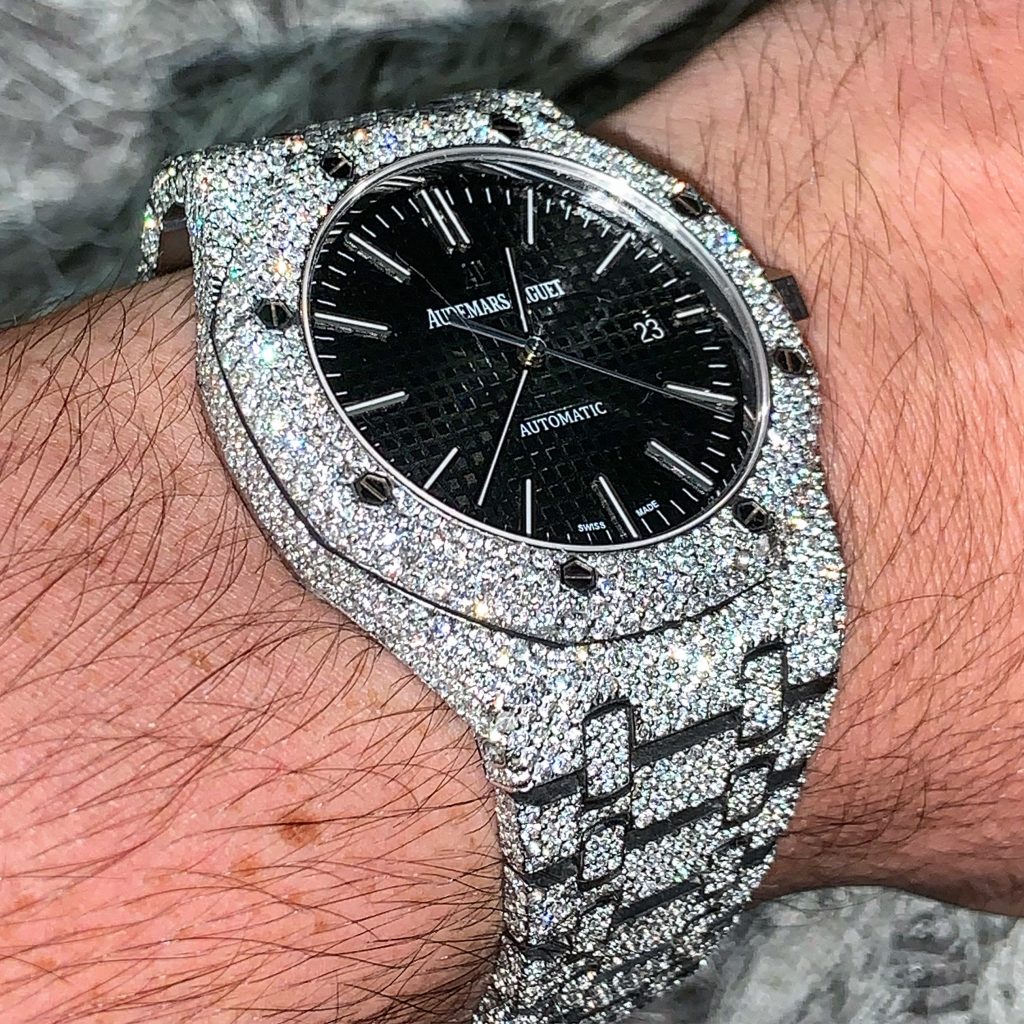 Audemars Piguet Royal Oak
First in our series of mens watches that we are showcasing this week we have an iconic AP Royal Oak watch. This watch has some of the most unique and instanty recognizable aesthetic features of all of the watches. Starting with the eight visible accent screw octagonal bezel. The all stainless steel watch also has one of the thinnest cases around. With spectacular power packed in tight. A rubber clad style this watch also has two push buttons and the crown covered in black rubber. To match the rubber clad bracelet. 
Then the dial. The dial on these watches are stunningly unique as well. There is the waffle tappisserie dial texture that is millimetrically measured and almost completely hand crafted on the Offshore versions of this watch but not here. This is the more classic of the two collections however sportive even this classic piece is. The three subdials and the chronograph feature also up the game for this time piece. Finally, we have the date window located at the three o'clock mark. And the the large luminescent Arabic numeral hour markers.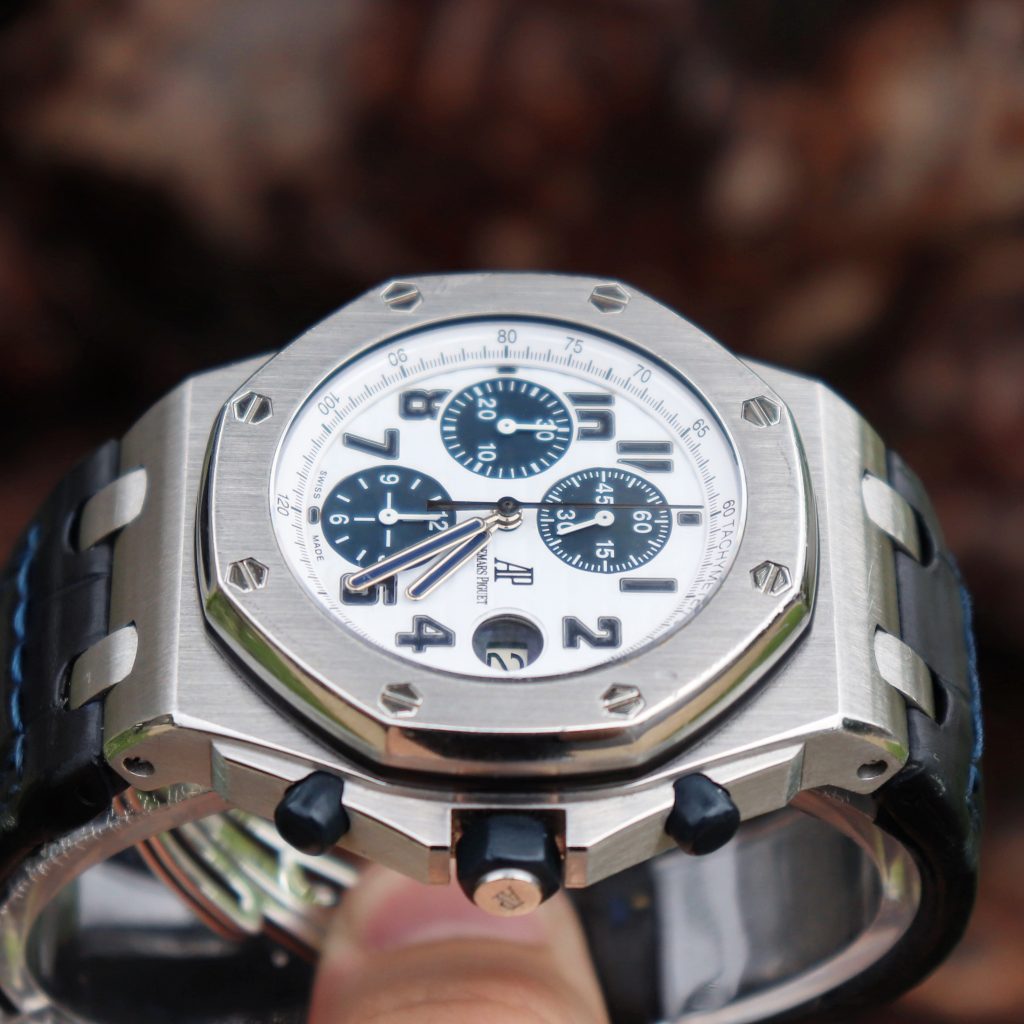 This masterpiece watch is not only a fine piece of watch making it is also a forward thinking bundary pushing fashion statement. One of the lesser known luxury watch brands when compared to widely recognized brands like Rolex or even Patek Philippe. An Audemars Piguet watch is a sign of a true watch lover. For collectors it is an iconic sportive watch that shows true originality and uniqueness. This particular watch has a white dial without the classic tappisserie texture. However, it does have dark blue green sub dials that stand out. 
Iced out Audemars Piguet Royal Oak
Next we have a gem of a watch. It is still an AP Royal Oak. However this one is completely iced out. A fashion statement at the very least this slick watch is dripping in diamonds. From the case and bezel to the bracelet every inch of this watch has been set with brilliant white round cut pave set diamonds. Except of course for the iconic eight visible accent screws. So that the aesthetic of the Audemars Piguet can continue through the shine.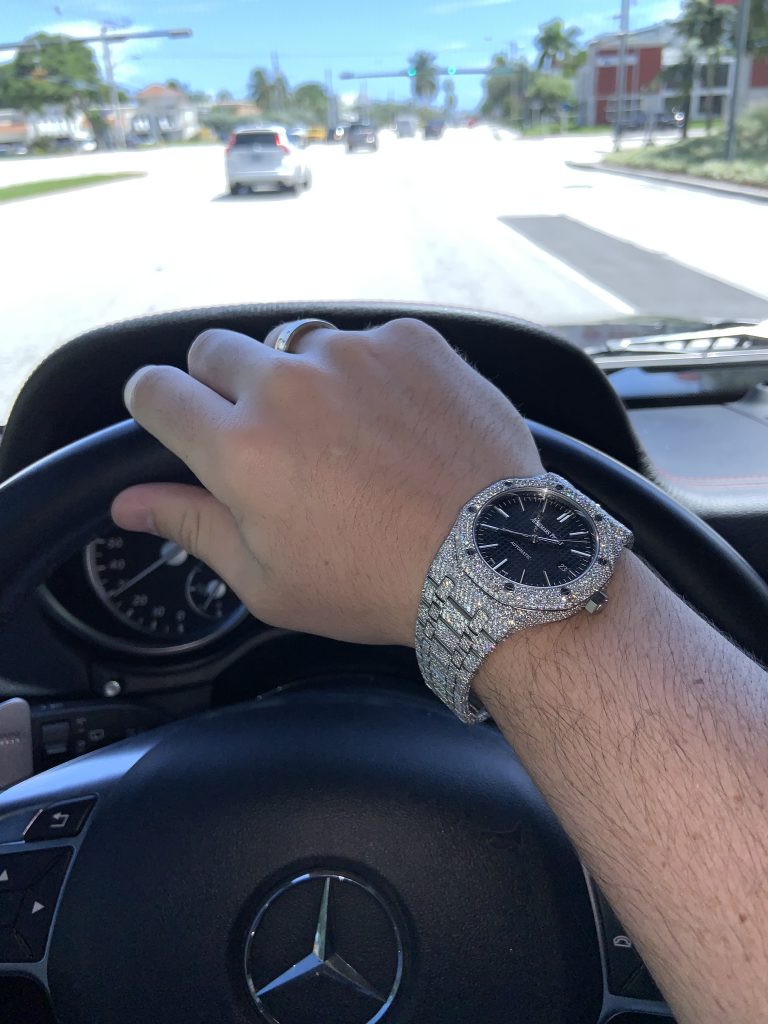 This watch is a sick upgrade on an already ultimate luxury mens watch. It has a blinding shine from no matter what angle as every single inch of this time piece is covered in diamonds. Every one of the tightly set lugs on the iconic AP bracelet is iced out as well. 
Talk about diamond jewelry this is one of those pieces for guys who do not worry about drawing attention to themselves. It is an iconic time piece with a truly unique and stunning twist. We promise you there are not going to be other guys around with a fully iced out stainless steel diamond pave Audemars Piguet Royal Oak. Or at the very least you would be hard pressed to find them that is for sure.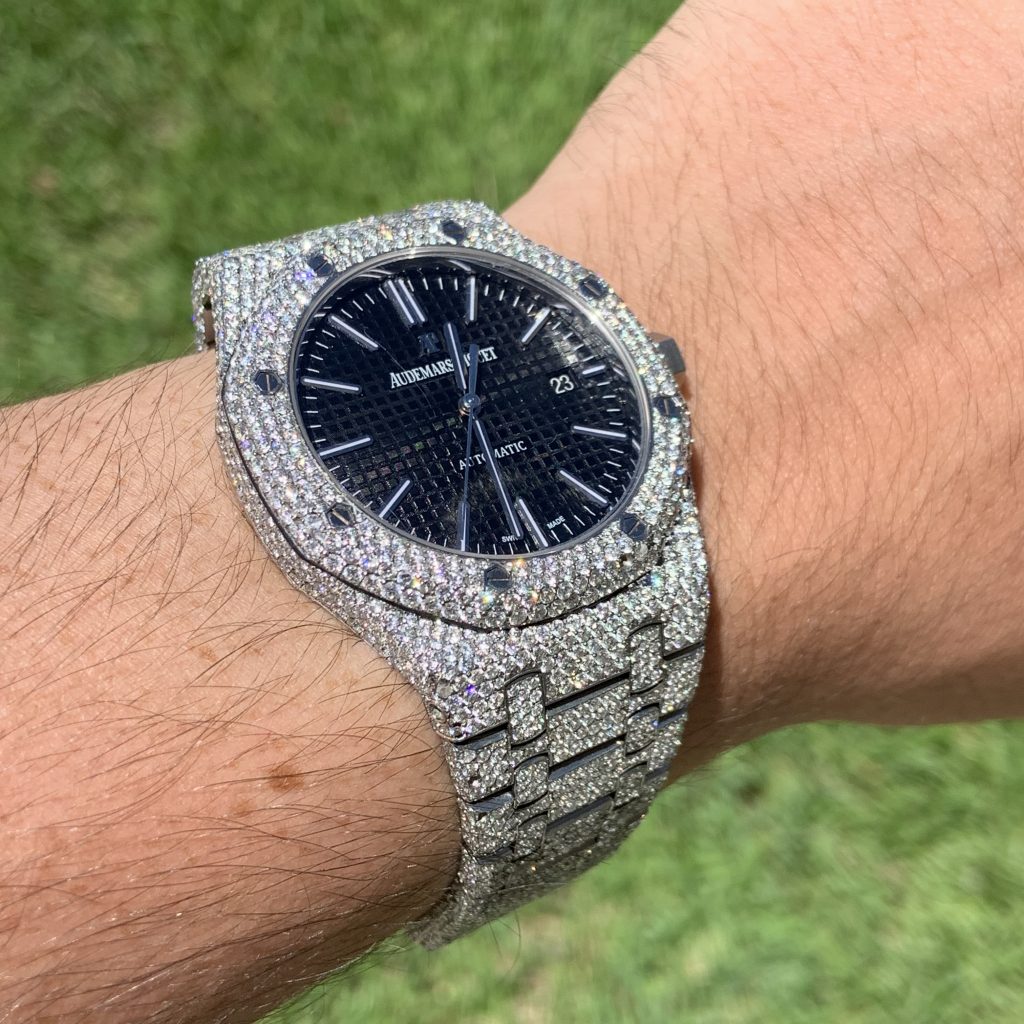 Pairing diamond jewelry with iced out watches
Now nothing goes better with an iced out luxury watch than some more diamonds is there? That is why we love pairing diamond jewelry with iced out watched for mens fashion. Check out this stunning iced out Audemars Piguet Royal Oak watch paired with some huge emerald cut diamond jewelry.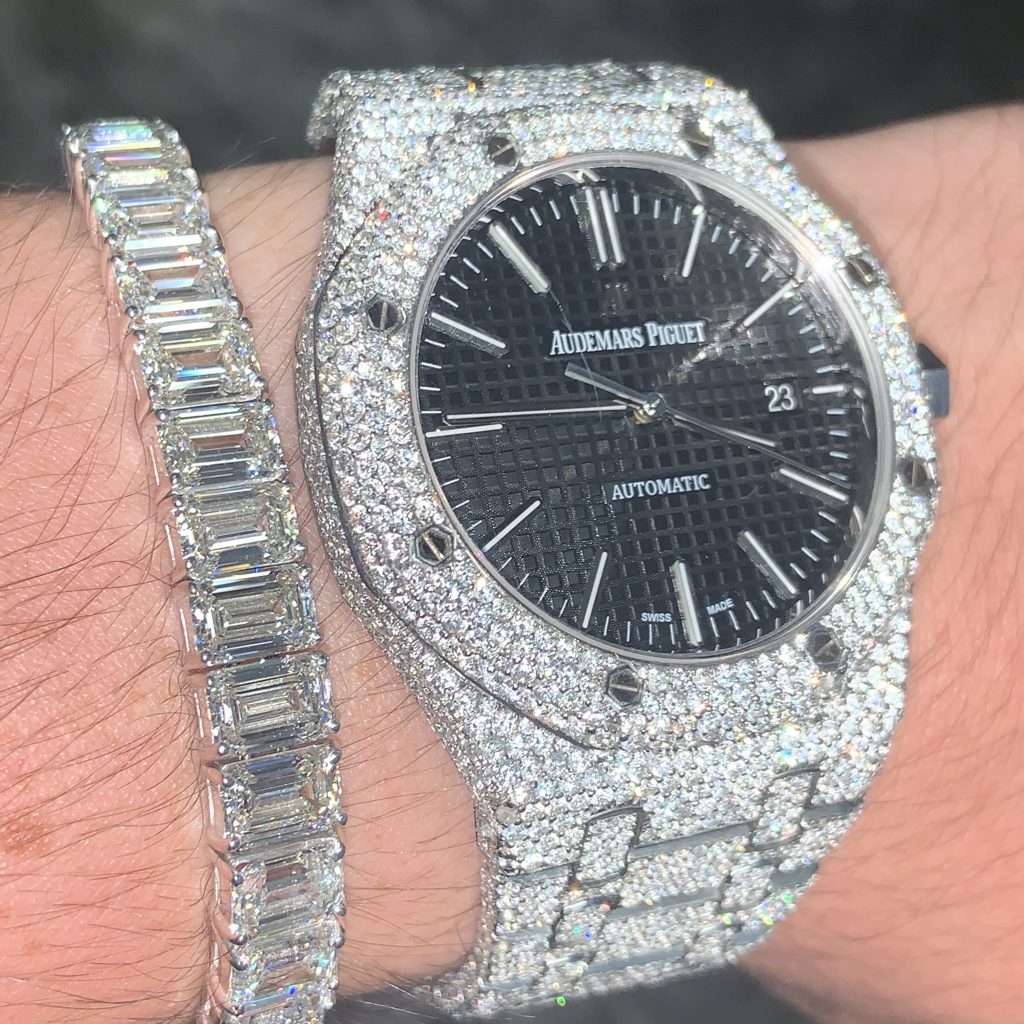 First a platinum emerald cut diamond tennis bracelet. The classic of classics is a size that will not be missed. It features a stunning 13.2 carats of emerald cut diamonds.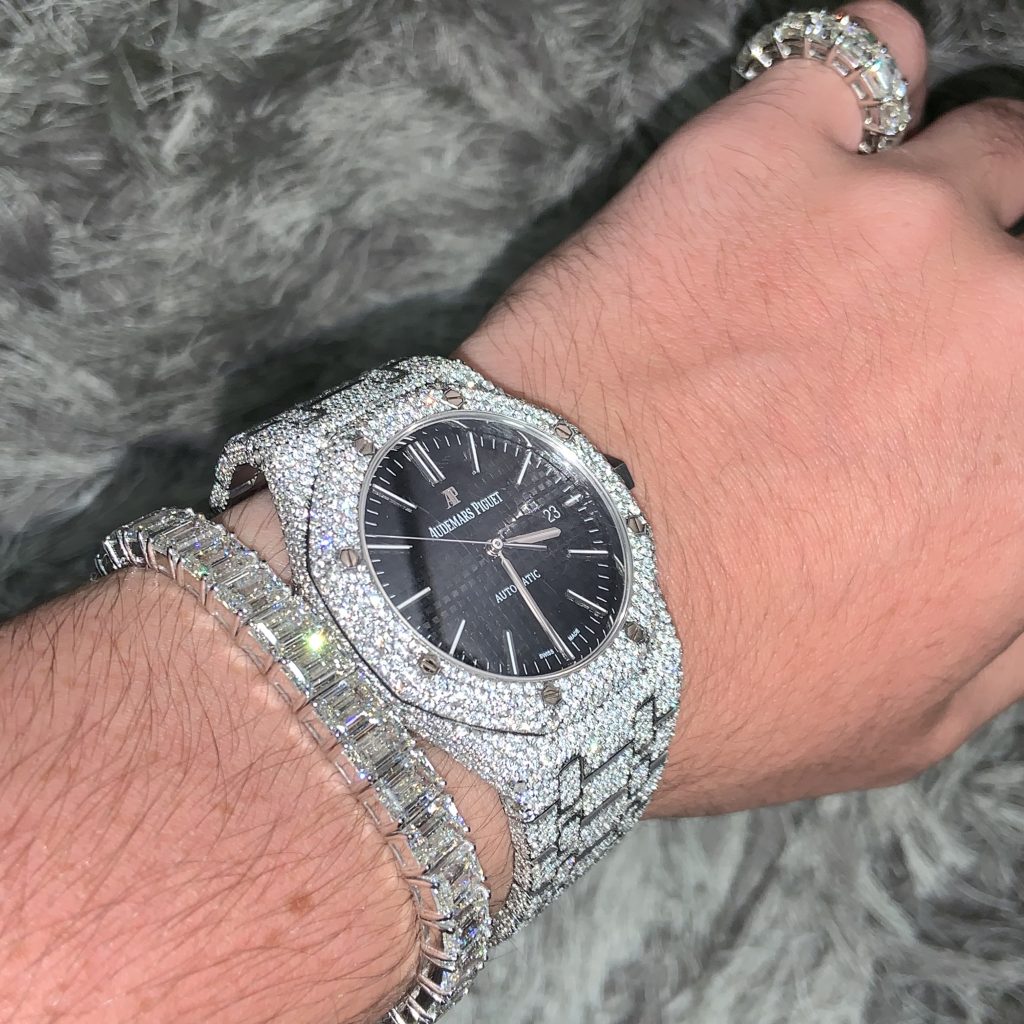 Then to go with the bling on your wrist we add a platinum 9.78 carat emerald cut diamond eternity band. Matching with the classic tennis bracelet this ring is a large and masculine style. Undoubedtly a stunning stance this is an all iced out look. Between the diamond watch, emerald cut diamond bracelet and eternity ring there are diamonds for days.
Rolexes – the crowned king of watches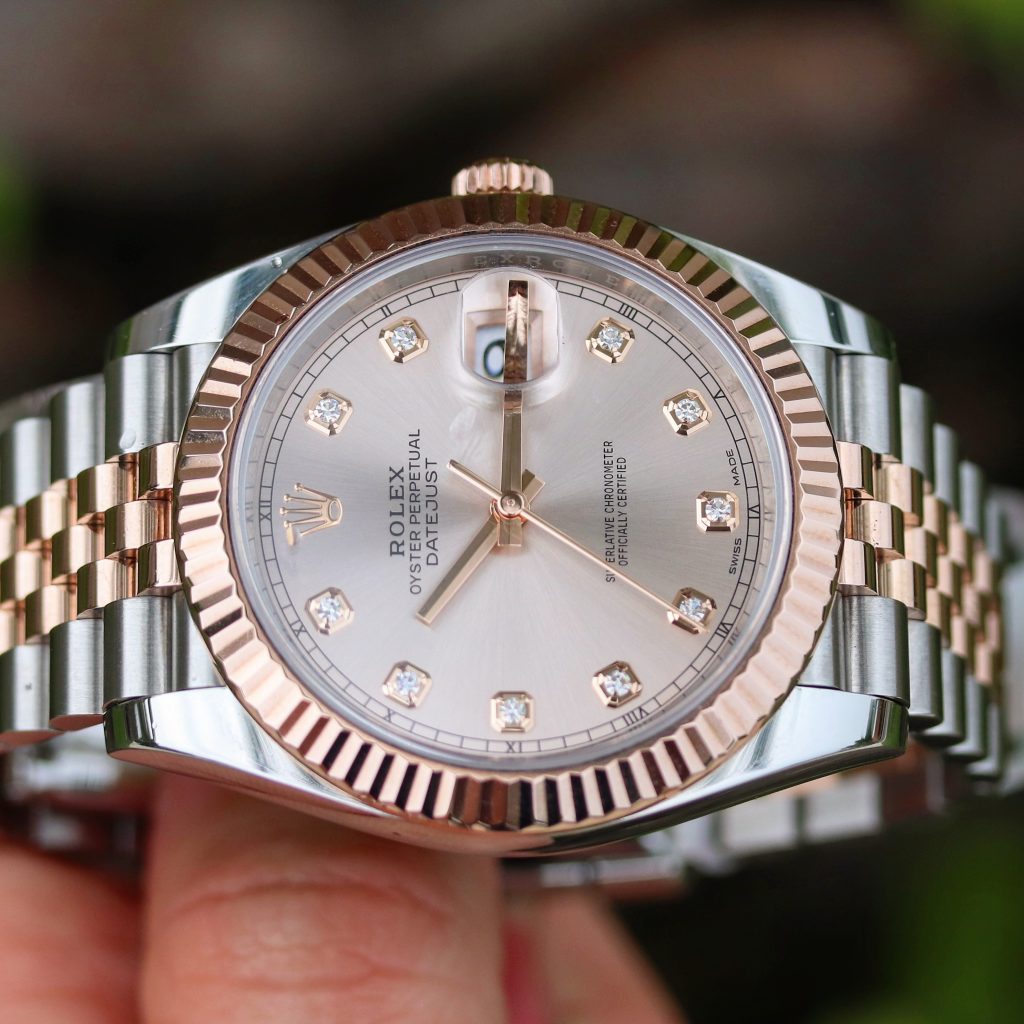 Rolex is the iconic, most well known brand when it comes to luxury watches. They are the leaders when it comes to wrist watches and Swiss made. We all know their affiliations with some of the finest events in the world as well. From the Wimbledon tennis championship to the Rolex 24 Daytona car race.  
Date Just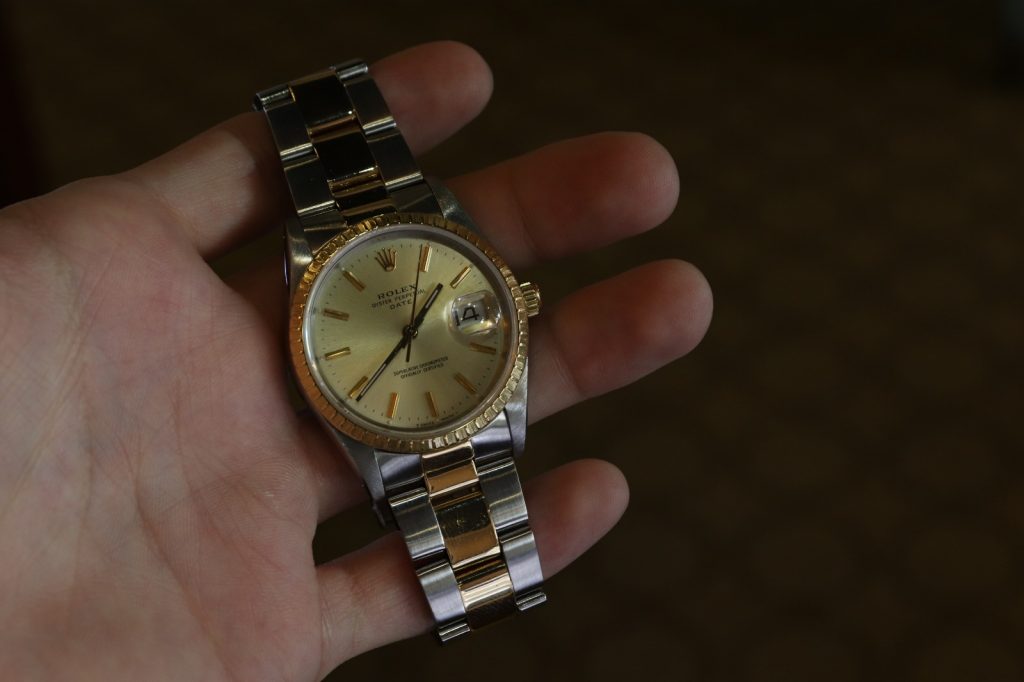 A Date Just watch is the classic of the classics. This formal watch is a staple for collectors and anyone with a penchant for Rolexes. These luxury watches are seen on the wrists of powerful men in almost every industry that exists. From famous music makers like Jay Z to financial masters like Warren Buffet. The Date Just Rolex is a one of a kind watch. With the iconic fluted gold bezel and Rolesor combination of precious gold and Oyster steel there is nothing like them. One of the first wrist watches in the world to have a date window this is the classic icon for men.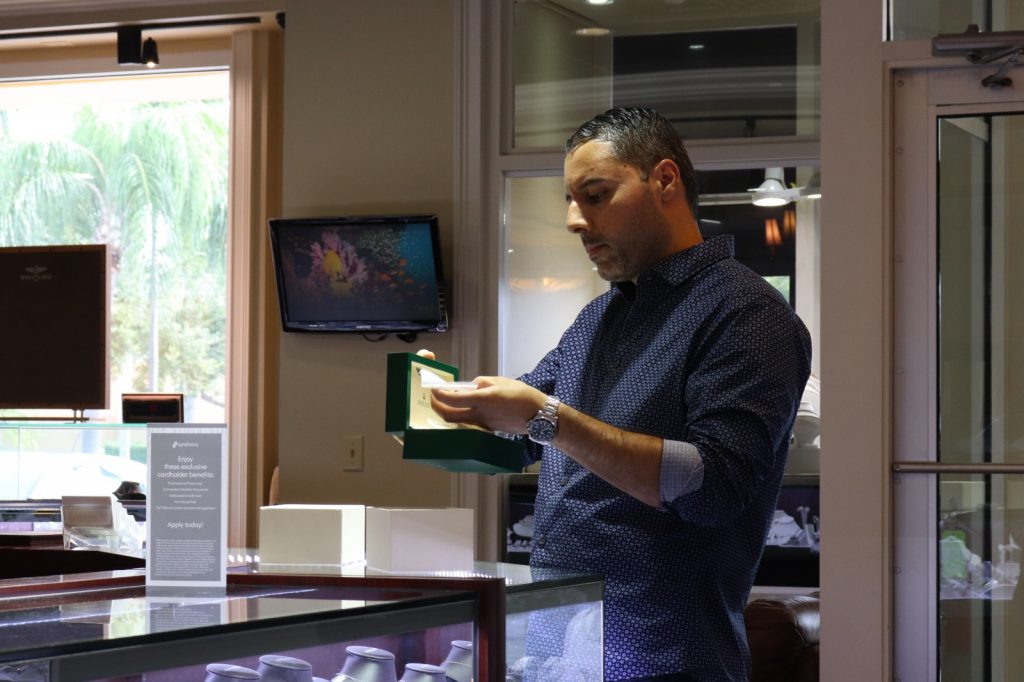 The two tone Rolesor bracelet is the classic and iconic look. However Rolex also plays with full stainless steel looks. As well as a whole myriad of different dial color combos. The most impressive dials include mother of pearl, diamond and Rolex green – in our opinion. There is a huge range of options that you can choose from though including yellow or rose gold. All of the gold used in Rolex watches come of course from Rolex's own foundry. They have their own patented unique blends of precious metals to create the unmistakable and inimitable look.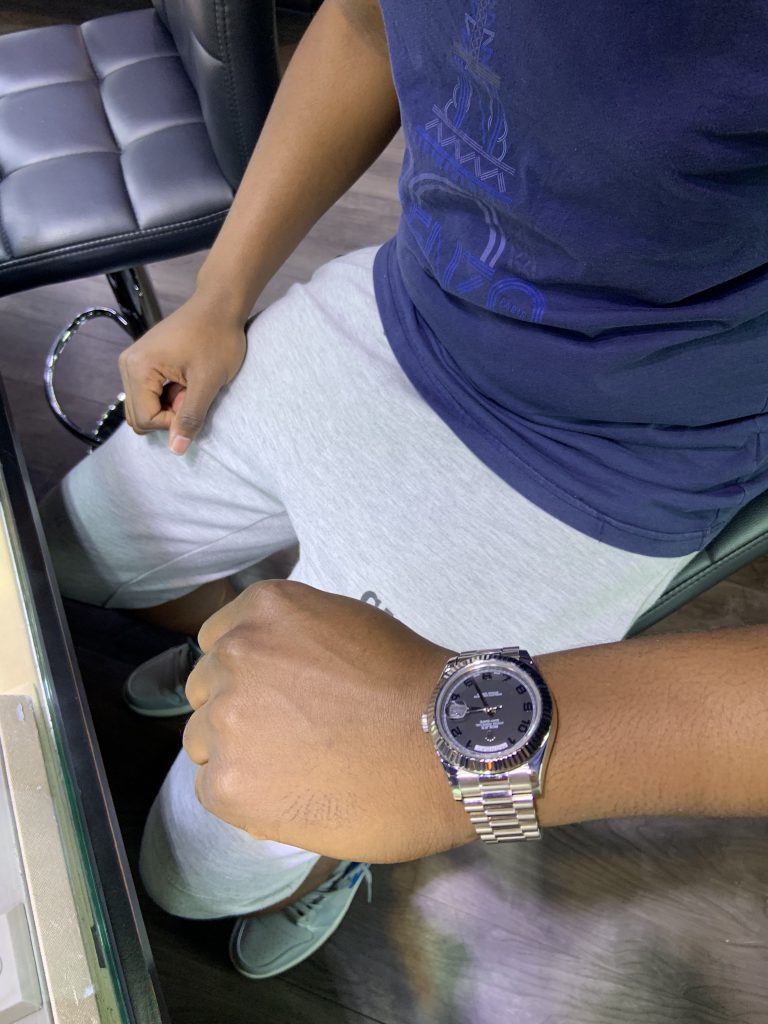 Submariner
A standard setting model the Submariner is the reference for diving watches. Regardless of the depth you want to go nothing is taking you further than a Rolex Submariner. These watches are also an Oyster steel power house with a depth capacity that was unbeatable for a long time. The two tone classic gets a twist with unique color combinations for the bi directional bezel and dial. One thing stays the same though and that is the luminescent hour markers for ease of reading.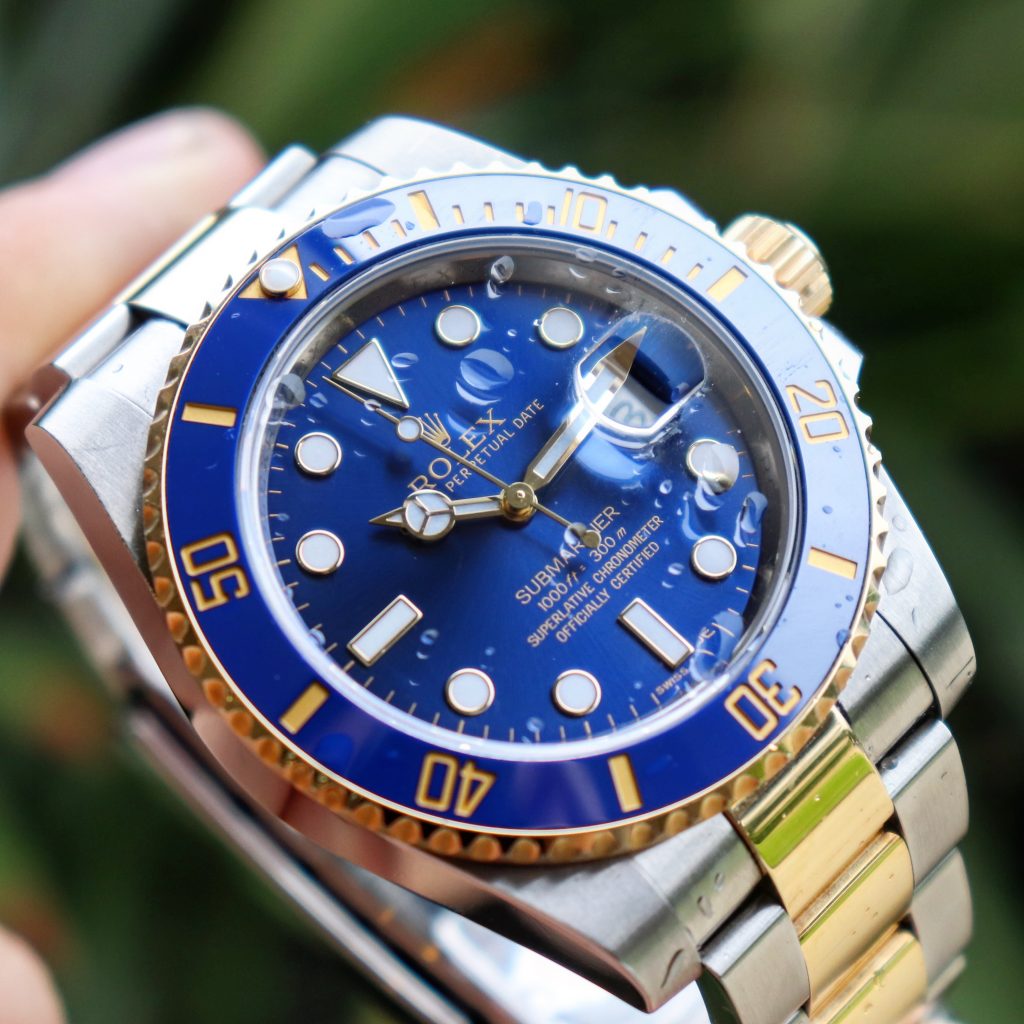 This is an iconic look with the three link two tone bracelet and ceramic bezel. The blue on blue hue surrounded by yellow gold is an added touch that you just do not see everywhere.
Special edition colors
Colors are not reserved to Submariner's though. Rolex does use special edition colors to mark special occasions and achievements. Take for example the Kermit Rolex watch. It is a green ceramic bezel on green dial stunner that is collected widely. 
Kermit
The Rolex Kermit watch was launched in 2003 to celebrate Rolex's 50th anniversary. It is not the only green Rolex though. The Hulk was launched afterwards as well. The Kermit Submariner is a massive watch with an impressively unique features list.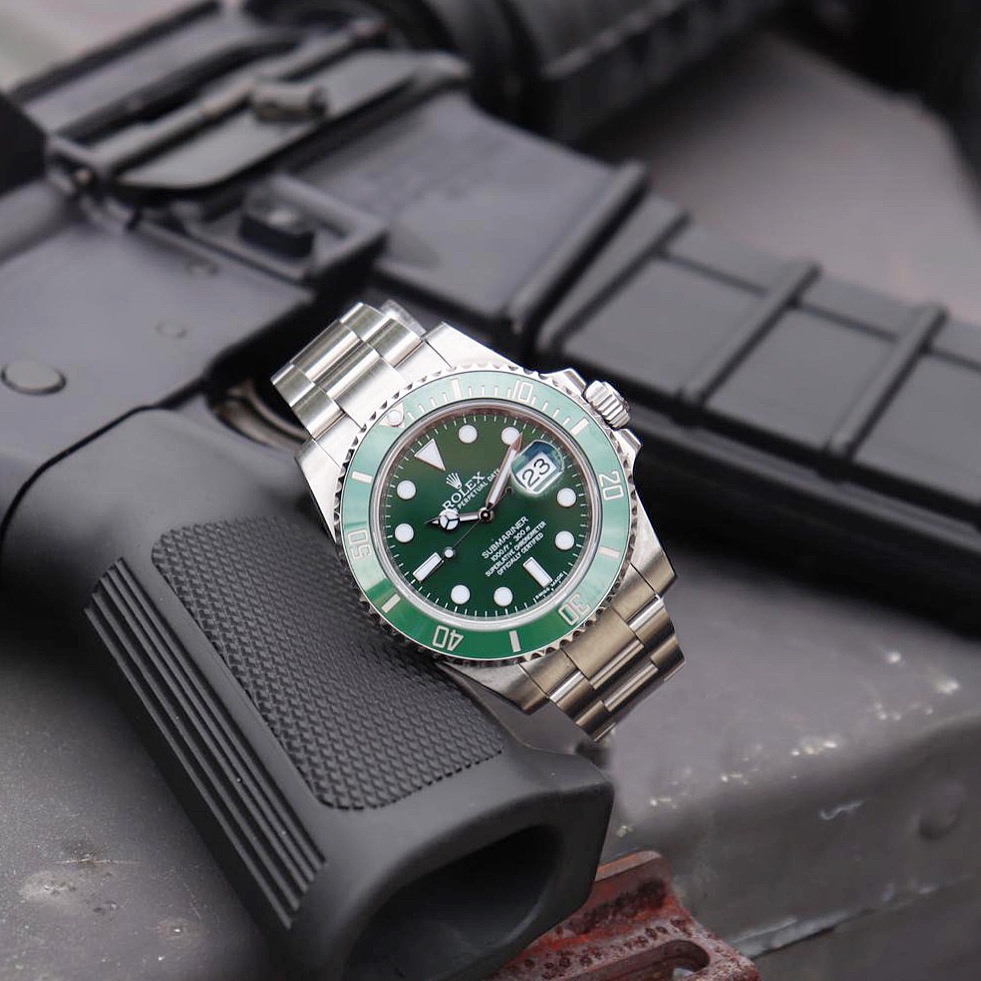 Buy luxury mens watches in Boca Raton at Diamonds by Raymond Lee
If you want to shop for the best luxury mens watches around then come down to one of our Diamonds by Raymond Lee showrooms. We have a huge collection of the finest brands in the world including Breitling, Cartier, Patek Philippe, Rolex, Audemars Piguet, Omega and so many more. From the classic creme de la cremes. All the way to the most modern and iced out watches that you have ever seen. Our collection has it absolutely all. There is nothing we can not source for you too. 
If you are looking to have your Rolex tuned up or do some regular maintenance on one of your fine watches we can also help with that. Our master craftsmen are available at our showrooms to help out every week. At our in house workshop you can get your watch tuned up or fixed depending on the issue while you wait. And have a cold drink while you shop around too.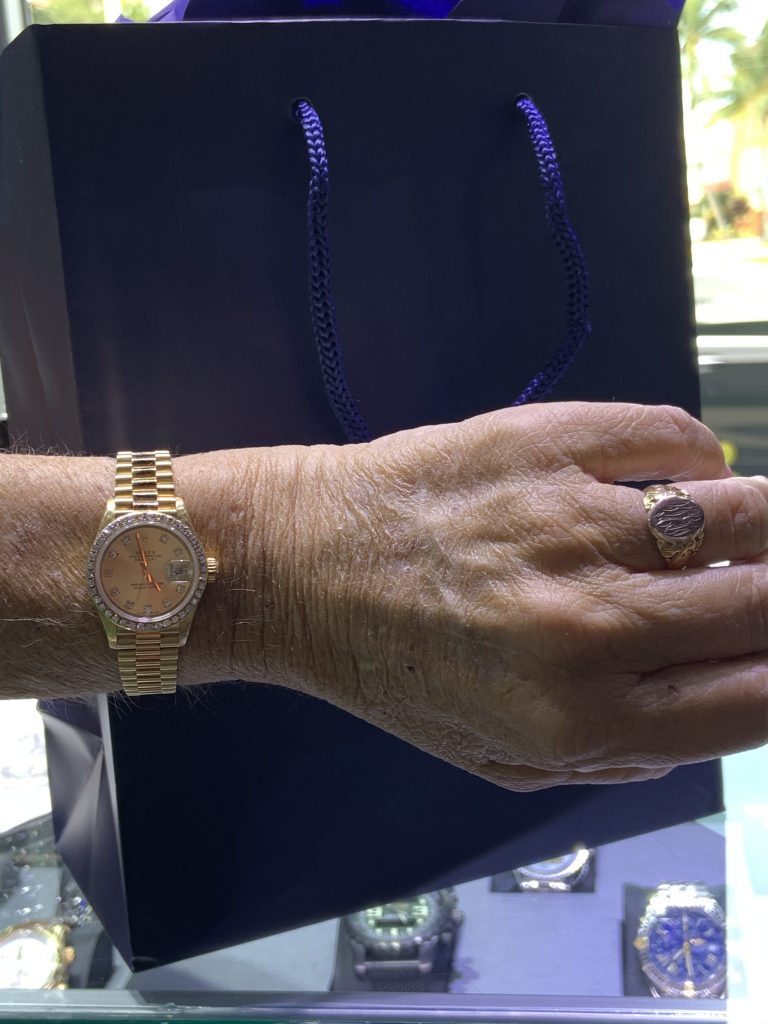 We pride ourselves in offering superior service and top craftsmanship for all of our fine watch services. So come check us out at either of our two locations in Boca Raton. We have spots in East and West Boca with a massive floor. You will see how much there is to see here. And since we also love a luxury car as we said above, you will probably see some of Boca's best luxury cars right out front too. Overall it is an unparalleled experience when you come to Diamonds by Raymond Lee. 
East Boca Location: 2801 N Federal Hwy, Boca Raton, FL 33431
Hours: Monday-Friday 11am-7pm | Saturday 10am-5pm | Sunday 12pm-5pm
Phone: (561) 623-8205
West Boca Location: 22191 Powerline Road #12b, Boca Raton, FL 33433
Hours: Monday-Friday 10am-6pm | Saturday 10am-5pm | Sunday Closed
Phone: (561) 750-7808Email: in**@di******************.com