Diamonds By Raymond Lee presents the famous Top 5 Rolex Watches to invest in.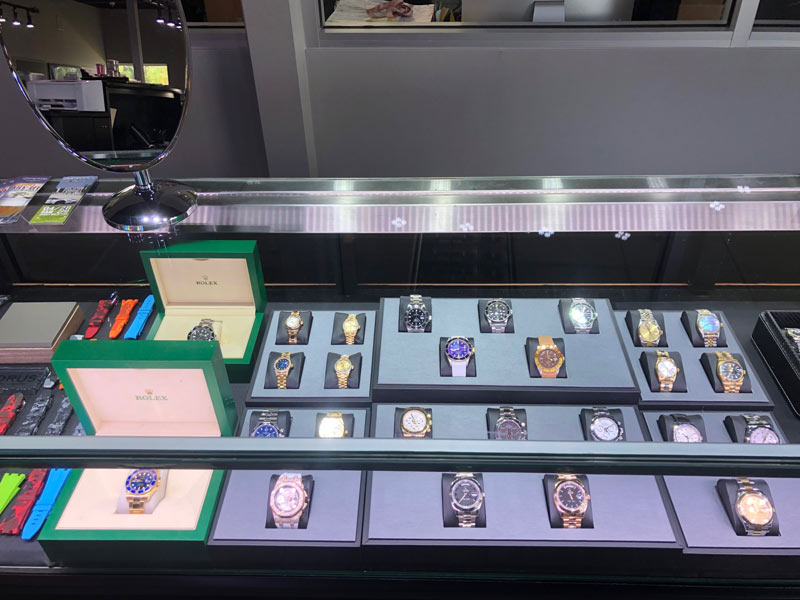 Since Rolex's very beginnings in 1905, they have been raising the bar higher and higher for the watch industry with their robust luxury timepiece creations, ultimately becoming one of the most famous brands, not to mention the most famous watch brand, in the world. 
Rolex has always developed watches with stylish designs and purposeful functionality, which has taken luxury horology as a whole to new levels never before seen. 
From the iconic Submariner to the exceedingly coveted Daytona, Rolex watches are some of the best, most prestigious timepieces across the globe.
To own a Rolex is a great privilege, and to own one of the best Rolex watches is an even greater privilege.
So, with that, here are the Top 5 Rolex watches to invest in…
TOP 5 Rolex Watches To Buy Now
Note: We've based these choices on prestige, resale value, design, functionality, and, of course, our understanding of the Swiss watch market thanks to over 30 years of experience in the industry.
1. Sky Dweller 326139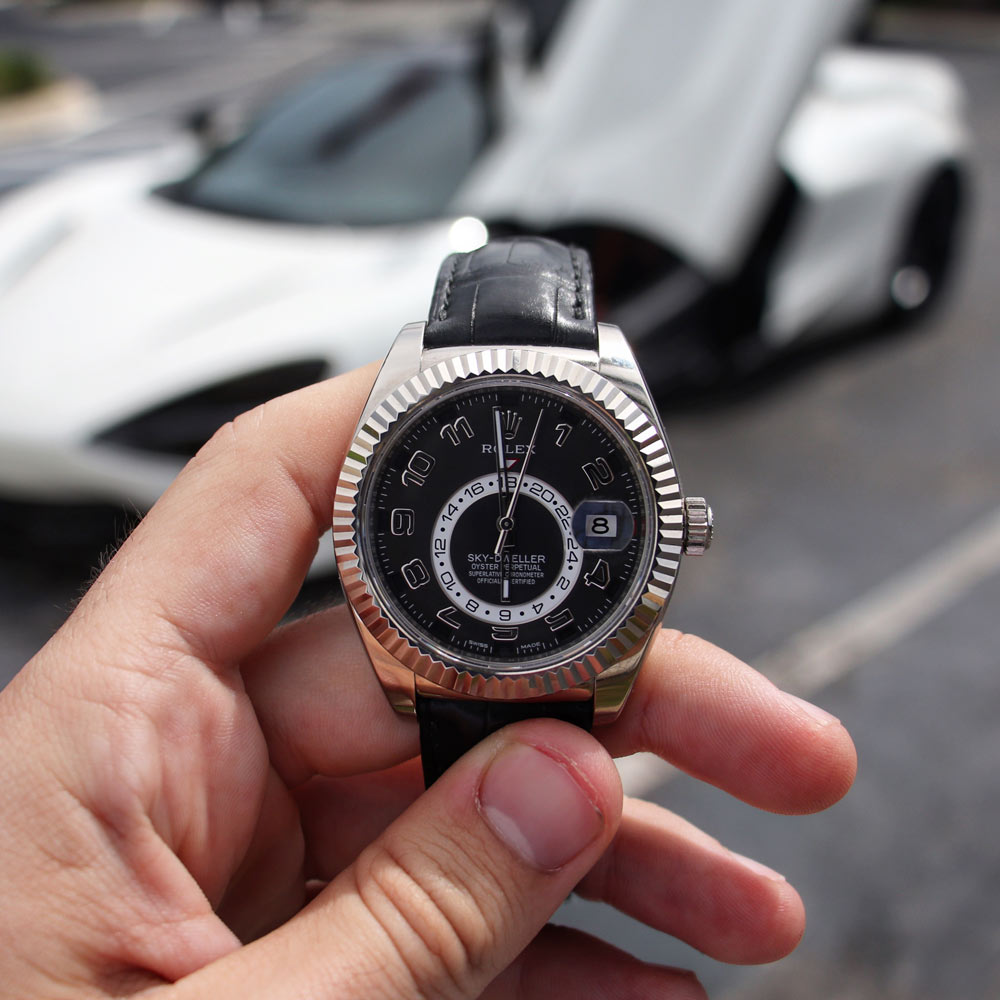 This Sky Dweller is the most expensive watch in this list of top Rolex watches. Moreover, it is one of the most complicated.
In fact, the Sky Dweller has one of the most complicated movements that Rolex has ever created. Rolex released the Sky Dweller in 2012, and it was the first entirely new watch from Rolex in 20 years. It brought a wonderfully contemporary vibe to the classic Swiss company.
The watch is so special that Rolex filed 14 different patents for it. Sky-Dweller watches use a non-concentric 24-hour GMT disc for a second time zone and an annual calendar that is indicated by month via the 12 hour markers. What's more, the Sky Dweller takes cue from the Yacht Master II's regatta timer by employing the brand's second generation Ring Command bezel. 
Sky Dweller watches have a case size of 42mm, 100 meters of water resistance, a highly jeweled calibre 9001 movement with a supremely impressive 72 hour power reserve, and either a Oyster bracelet or leather strap.
The dial of the Sky Dweller is marvelously unique, setting it apart from other Rolex collections. It's a watch that can be worn casually or dressed up, perfectly fitting into any setting with just the right amount of extravagance. 
By wearing a Sky Dweller, you are making an obvious statement that you are a winner and a world traveler who is usually jet set. Not to mention, you know world-class watches.
This particular Sky Dweller that we are featuring is our favorite reference. It was released in 2014, and was certainly the standout reference at Baselworld. It has a white gold case and Oyster clasp, black leather strap, and black satin dial.
Famous People Who Love Sky Dwellers:
Sky Dwellers are popular among hip and sports star. Jay-Z, Conor MacGregor, and Roger Federer own various Sky Dweller references.
2. Submariner Hulk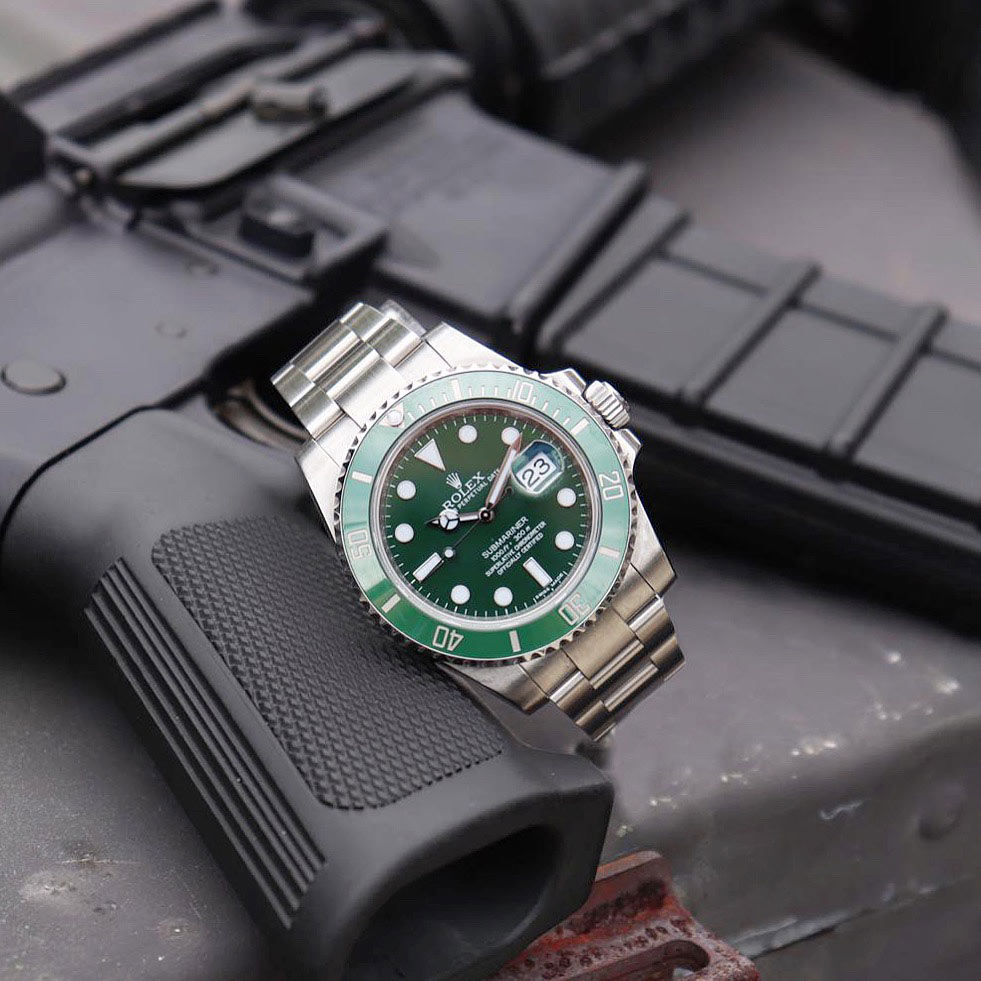 The Rolex Submariner 116610LV, aka 'The Hulk' was introduced at Baselworld in 2010 and was an instant hit among Rolex enthusiasts and watch collectors.
The name "Hulk" was given to this watch by the Rolex community, not Rolex themselves, and it was coined this name for obvious reasons. 
The Rolex Submariner 116610LV is one of the most coveted Rolex watches. So, the waiting lists are long and the price for one is continually rising. Reference 116610LV is without a doubt one of the best Rolex watches to invest in, especially now that this reference has been discontinued.
Its predecessor, The Kermit, is also a highly successful reference from the Submariner line and was the model created to celebrate the 50th anniversary of the Submariner.
The Rolex Hulk has a robust (as you'd expect from the name) and functional design. The beautifully finished Oyster case is 40mm in diameter and is crafted from stainless steel. It has a steel Oyster bracelet, a vibrant green Cerachrom rotatable bezel with 60 minute graduations, and a matching green Maxi dial. Furthermore, being that it is the granddaddy of all dive watches, it has 300 meters (1,000 feet) of water resistance. 
Famous People Who Love The Rolex Hulk
The Submariner watch in general is probably the greatest icon in all of Rolex. It's the symbol of good taste, top notch craftsmanship, rugged sophisticated, and, of course, success. The Rolex Hulk reference 116610LV is a favorite among the highly coveted Submariner line. Celebrities such as Robert Downey Jr., Matt LeBlanc, and Slash from Guns N' Roses, to name a few, are all proud owners of the beastly Rolex Hulk.
3. Yacht Master II 116680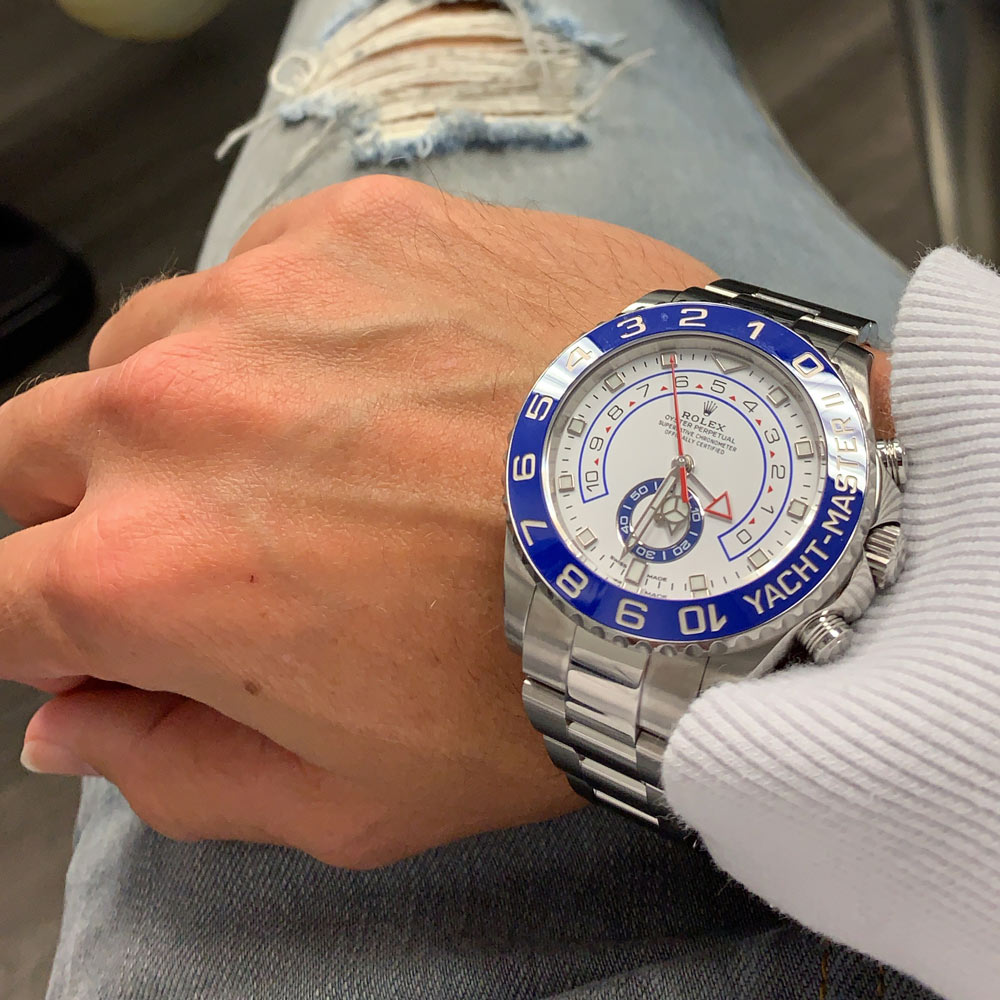 For those who love to travel the world by sea, the Yacht Master II is the only option for a timepiece.
The Yacht Master II is flawlessly excessive in functionality, something a true sailor will greatly admire.
It was made with yacht racing top of mind, utilizing a regatta chronograph with a countdown timer programmed by a ring command bezel and crown that is built into the movement. It's all about that vital 10 minute count down when it comes to racing sailboats.
But, the Yacht Master II is far more versatile in its market. People from all different types of careers have their eyes on the Yacht Master II. Between the design and its prestige, it's undoubtedly one of the most highly sought after Rolex watches.
Yacht Master II watches feature a behemoth 44mm case, a regatta chronograph with countdown timer, rotating Cerachrom bezel (apart from reference 116689 which is exclusively platinum), and an Oyster bracelet and clasp.
This particular model was first introduced at Baselworld 2013 and it was the first time this watch was available in 904L steel. Reference 116680 is fitted with a blue Cerachrom bezel and it has a stunning white dial with blue and red accents. The stainless steel case and bracelet with the white and blue face gives this Yacht Master II a classic, clean and elegant appearance that is somewhat understated for such a massive, extremely iconic, blue bezeled, and otherwise lavish watch. 
Famous People Who Love Yacht Master II
Many celebrities champion the Yacht Master II line. It is especially popular among movie stars. For instance, Brad Pitt, Mark Wahlberg and Bruce Willis are noble owners of the Yacht Master II.
4. Datejust 116234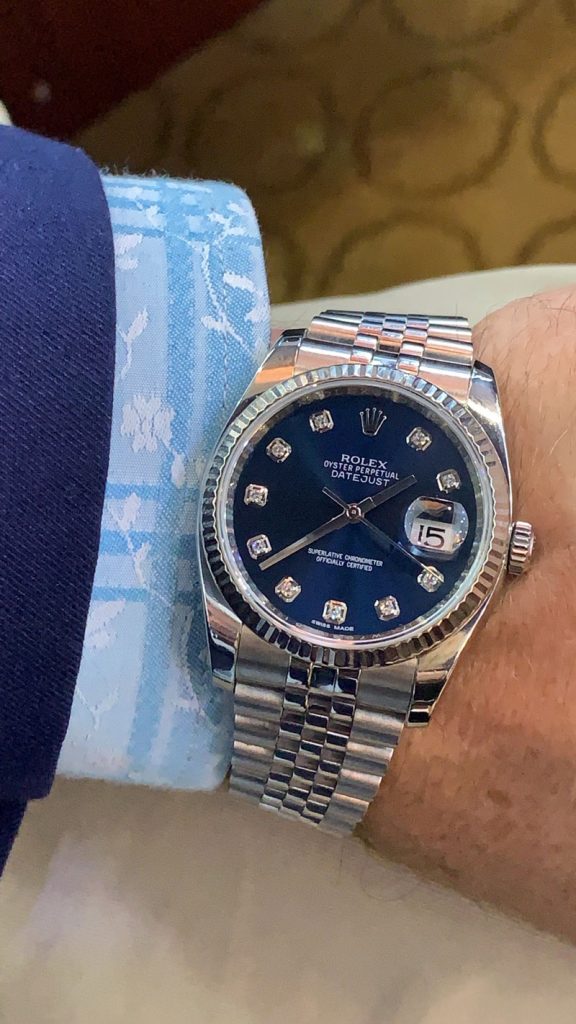 We thought we'd add the Datejust 116234 to this list as it is a cool watch and it is surprisingly affordable.
The Datejust has the classic daily Rolex luxury watch look. Many people believe the Datejust is the quintessential Rolex timepiece. Even though Rolex's sports watches are definitely more in the limelight these days. In any case, you really can't go wrong with a Datejust if you are looking for a dress watch. Especially reference 116234.
The name "Datejust" is a Rolex neologism, and it is staggeringly straightforward. "Date" is of course regarding the date, and "Just" stands for "just in time", as the date advances exactly at midnight without delay. This may not seem very special, but most date wheels take hours to change.
Datejust watches come in various case sizes, from 28mm-41mm, with each size having different Rolex calibre movements. Every Datejust has 100 meters water resistance and is equipped with the same adventure-ready tech known to Oyster Perpetual. There are many different dial variations, and the bezel types range from smooth steel to fluted to diamond-set. There are also various bracelet option available. The Datejust line has one of the most references in all of Rolex. So you can choose from the plethora of options to find the perfect style for you. 
Let's quickly breakdown the featured Datejust in this 'best Rolex watches' list, the Datejust 116234. It has a stainless steel case, fluted bezel and jubilee bracelet. The dial is a stunning blue and it is fit with silver hands and diamond hour markers. Overall, we love this particular reference because it is clean and minimal with the perfect touch of luxury. It's the ideal dress watch to let people know you mean business and you are successful, without ever being over-the-top or too "extra". It's a serious, subtle Rolex watch for a prosperous person. 
Famous People Who Love Datejust
There are many celebrities who own Datejust watches. For example, P-Diddy has a diamond Datejust, TheWeeknd has a stainless steel Datejust II with a Jubilee bracelet, and Justin Bieber also sports a subtle stainless steel Datejust II with a black dial
5. Rolex Pepsi & Rolex Batman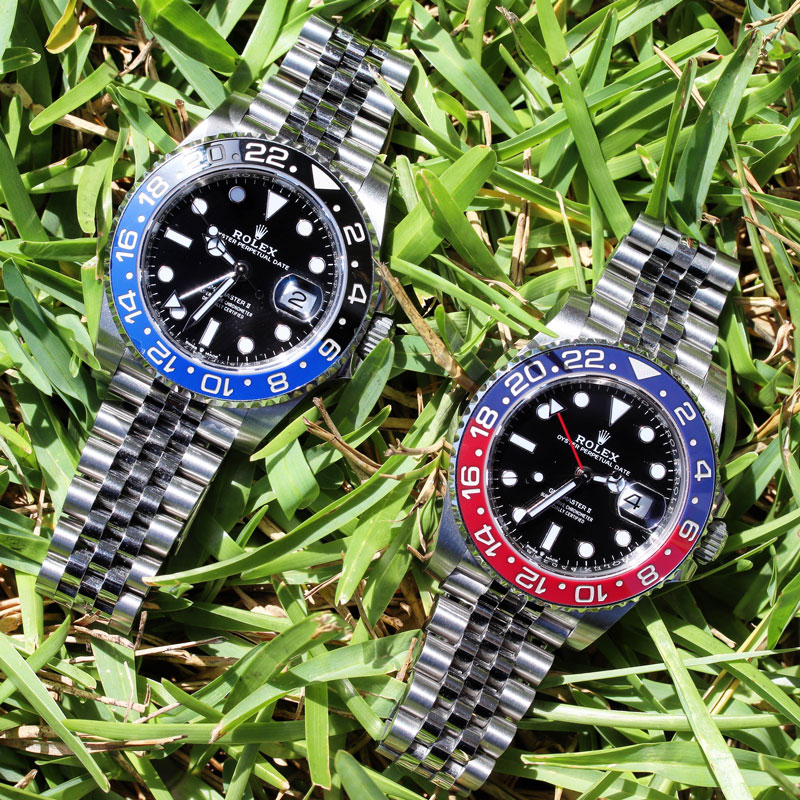 For our number 5 position, we have a tie between two iconic Rolex GMT Master II watches, Rolex Batman and Rolex Pepsi.
First off, let's just be clear, both of these watches could easily be in position 1, and our top 5 really isn't in any specific order, so we thought putting these two as a shared number 5 made sense…
Let's start with Pepsi since the original Rolex Pepsi was released way before Rolex Batman.
Note: we are going to be detailing the newest version (for both models), not the vintage model. 
Pepsi Rolex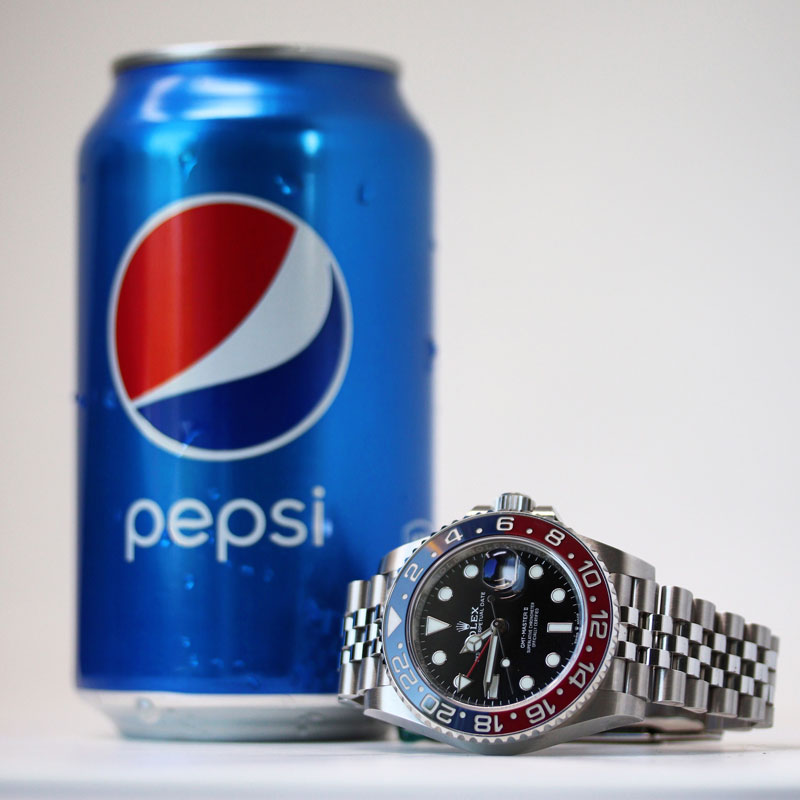 The original Pepsi Rolex was the GMT Master reference 1675, launched in 1959.
The Pepsi Rolex featured here is the newest GMT Master II 126710BLRO, which is still in production.
This means the Pepsi Rolex has 6 decades of history!
Moving on…
Pepsi Rolex 126710BLRO features a 40mm Oyster case and Jubilee bracelet crafted from Rolex's patented Oystersteel. The bidirectional rotatable bezel has 24 hour graduations on a two-tone red and blue Cerachrom insert. For a watch made for pilots, it still has a generous 100 meters of water resistance. The dial is black and uses highly legible chroma light display with blue luminesce made to last a lifetime. At the heart of the new Pepsi Rolex is a calibre 3285 movement with a Superlative Chronometer and a whopping 70 hour power reserve. The watch has your typical GMT Master II functions: 24 hour display, second time zone with an independently rapid hour hand setting, an instantaneous date, and a stop seconds hand for the highest precision of time setting. 
Famous People Who Love Rolex Pepsi
The Pepsi Rolex is an extremely popular model, with celebrities like Sylvester Stallone, Orlando Bloom, Daniel Craig and Tom Selleck all owning different references of the Rolex Pepsi. It's also very popular watch for NASA astronauts and members of the US Air Force.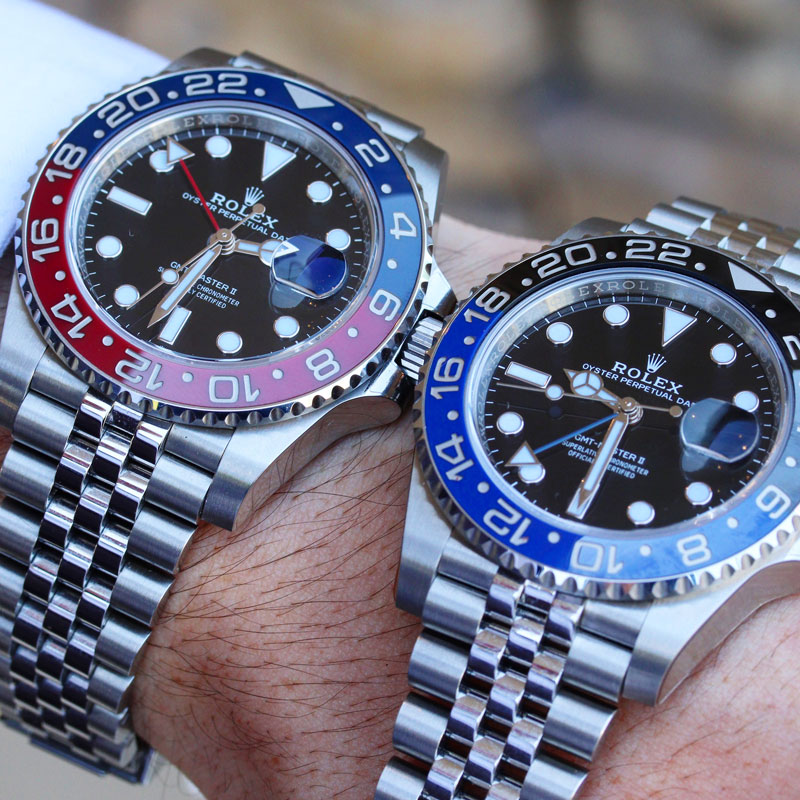 The Batman Rolex doesn't have nearly as long of a history as the Pepsi Rolex.
The first Batman Rolex was introduced in 2013. It was the first two tone ceramic (Cerachrom) bezel. Before that, Rolex had issues creating the two tone bezel with ceramic. The first reference of the Batman watch was quite similar to the newer version, but it had an Oyster bracelet rather than the newest version's Jubilee bracelet, as featured here. 
The new Batman Rolex is essentially identical to the new Pepsi Rolex. The only difference is the color scheme. Batman Rolex 126710BLNR has a black and blue two tone bezel and the second time zone hand is blue.
Famous People Who Love Rolex Batman
This famous superhero-named Rolex pilot watch is a favorite of Roger Federer, John Mayer, and Real Madrid's striker Karim Benzema. 
GMT Master II – Rolex Batman vs Pepsi
Both watches are highly sought after but the Pepsi is slightly more coveted due to its long history.
In the end, it really comes down to personal preference as both watches are equally excellent. They exude confidence and ruggedness for the wearer, and they are perfect for those who travel intercontinentally. 
Other iconic GMT Master watches are the Rolex Coke (red and black) and the Rolex Rootbeer (gold and brownish-cream tones).
Wondering why we didn't include the ultra famous Rolex Stainless Steel Daytona? Great questions! After all, it is easily the most famous Rolex watch ever. However, based on availability, price and other aspects, we thought it would be better to exclude it and present some Rolex watches you maybe wouldn't expect, such as the Sky Dweller. That said, a SS Daytona could easily be number 1 on anyone's list of Top Rolex Watches.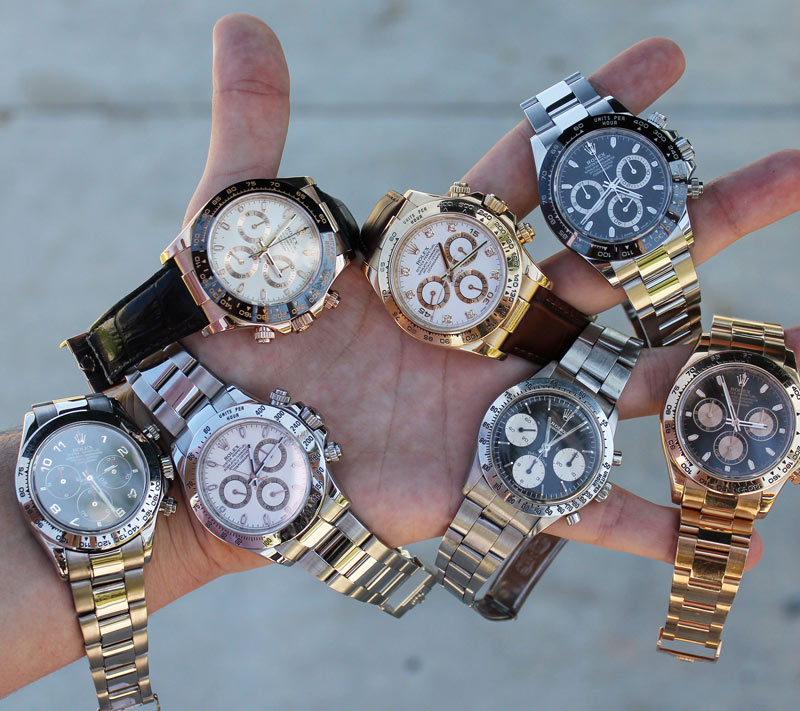 Want to buy a Rolex Watch?
You can purchase any of the Rolex watches featured in our top Rolex watches list above from Diamonds by Raymond Lee and Raymond Lee Jewelers in Boca Raton.
Click the links or pictures above associated with each model to view the full listing on our website or you can also visit in person to try them on!
Sky Dweller 326139
Submariner 116610LV (The Hulk)
Yacht Master II 116680
Datejust 116234
Pepsi Rolex
Batman Rolex
3 Legendary Vintage Rolex Watches
Let us know which of these famous Rolex watches is your favorite or what your Top 5 Rolex Watches are in the comments below…