3 Legendary Vintage Rolex Watches That Rolex Collectors Want & Love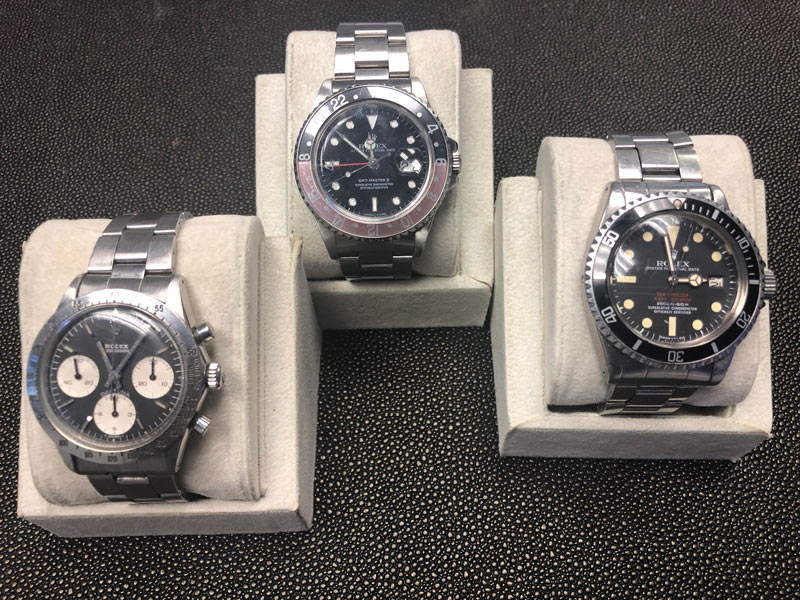 In the world of vintage Rolex collecting, there are a few references that emerge as desirable among the most admirable.
In this article, we will delve into three iconic vintage Rolex watches and discuss why they became great among the greats. These watches will take any collection to the next level.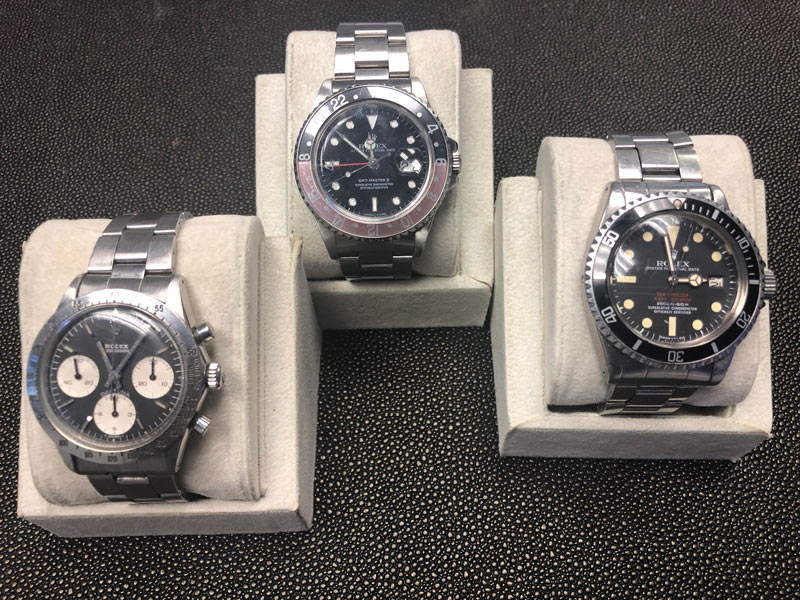 Before we explore the three legendary and highly coveted collectible watches that we will be featuring today, we need to understand what makes a Rolex vintage and what makes a vintage Rolex great.
How old is a vintage Rolex?
There is no set standard governed by some form of authority that defines what makes a Rolex 'vintage'. However, there is an agreed upon basis for when something becomes vintage, and this applies to Rolex watches too.
One of the criteria for being vintage is it has to be 25 to 30 years old or older. Once something reaches 100 plus years old, it can be defined as antique.
In respect to Rolex watches, Rolex collectors seek vintage watches with honest, well-aged patina.
What is patina?
Patina is the natural aging of a watch's hands, hour markers, bezel and dial.
Patina is more popular than ever now among the Rolex community. You'd think for most things, wear and tear is a bad thing, but not vintage Rolex watches. The more even and consistent the patina is, the better, in the eyes of a Rolex collector.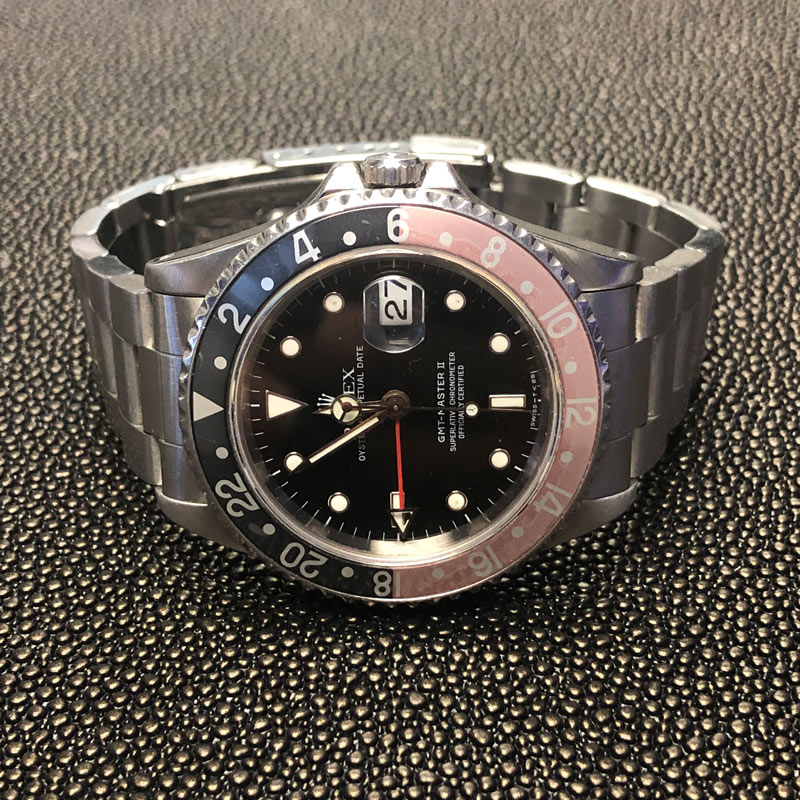 But it's not all about Patina. A vintage Rolex with a special history and a small production run will be even more valuable.
Valuable among the most valuable
The vintage Rolex market is booming in recent years. Even the more common and larger production run vintage Rolex references are breaking five-figures. And you need to remember that they were only hundreds of dollars at the time when they were new.
Nevertheless, not all vintage Rolex references are reaching crazy levels of resale value. So, the question becomes, "is a vintage Rolex a good investment in general?"
Is a vintage Rolex a good investment?
The simple answer would be…'it depends, but it is highly unlikely to lose value'. To be considered an investment, you need an appreciation in value.
Some series of Rolex watches will increase in value, and are good investments. Moreover, the Rolex 'greats' will grow incredibly high in value.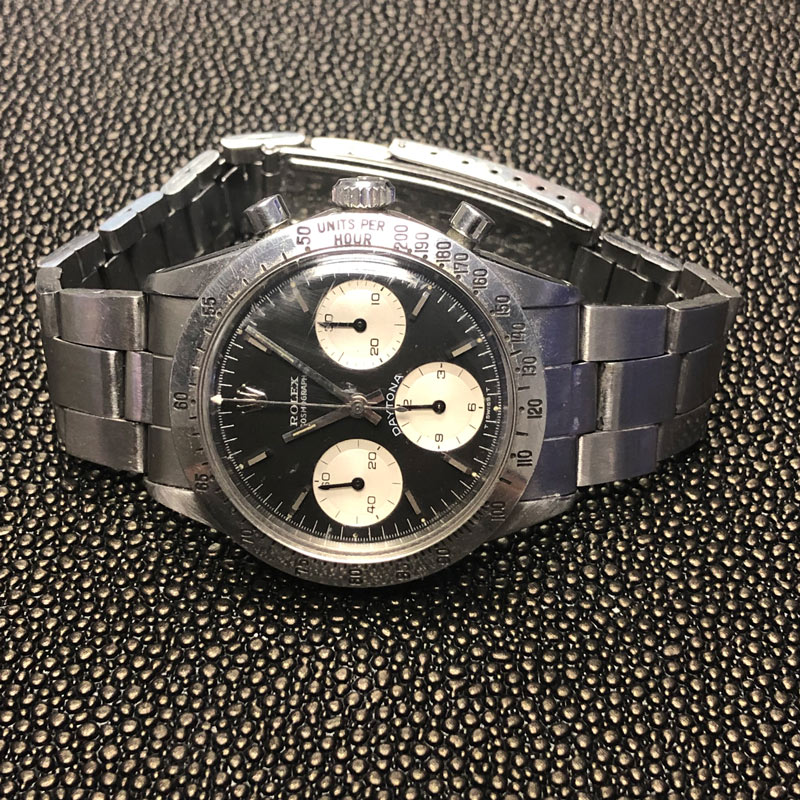 So, what makes a Rolex a good investment?
1. Rarity
Rolex collectors pay attention to rarity. The less the references were released to the market, the more valuable they will be as time goes on.
2. Materials
Another focal point is the materials. There is a premium on vintage Rolex watches that utilize precious metals and diamonds set by Rolex themselves. It is also crucial to know if any components were replaced over time, as this will decrease the value. Original pieces, even if they are not fully intact, are more desirable.
3. History
Watch collectors will invest in a vintage Rolex based on the history behind it. Rolex watches that were made for specific people, such as scientists, explorers, pilots, movie icons, race car drivers, sailors, etc., are always a top priority. Also, many collectors will look far and wide to find a Rolex from the World War I era. The time when Rolex hit the market running.
All in all, you need to pay attention to these three things when considering a Rolex as an investment. If you know what you are doing, you can make a Rolex purchase that will appreciate in value. Make sure that you get the original watch documents, certifications and box and you'll be buying something better than gold!
After making your investment in a Rolex, we advise you to frequently monitor the worth in the market. As the years progress, you will see the value increase. That will make any Rolex collector with an understanding of a good investment happy.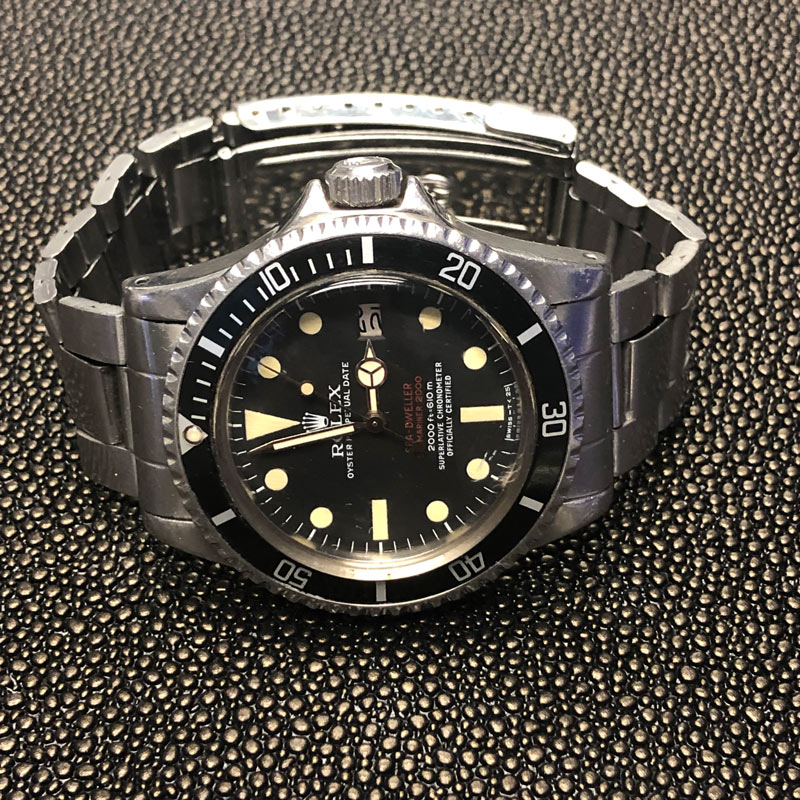 That being said, it's not just about valuing increasing when it comes to vintage Rolex watches. You need to personally love the watch. If you appreciate the watch, value-increasing or not, that vintage Rolex is for you. Investments come in many forms and they don't have to be a Rolex. A Rolex is a watch to be cherished for what it is, a magnificent watch.
3 Legendary Vintage Rolex Watches That Collectors Love
Without further ado, here are the three legendary vintage Rolex models that we love…
Rolex 6262 Daytona Cosmograph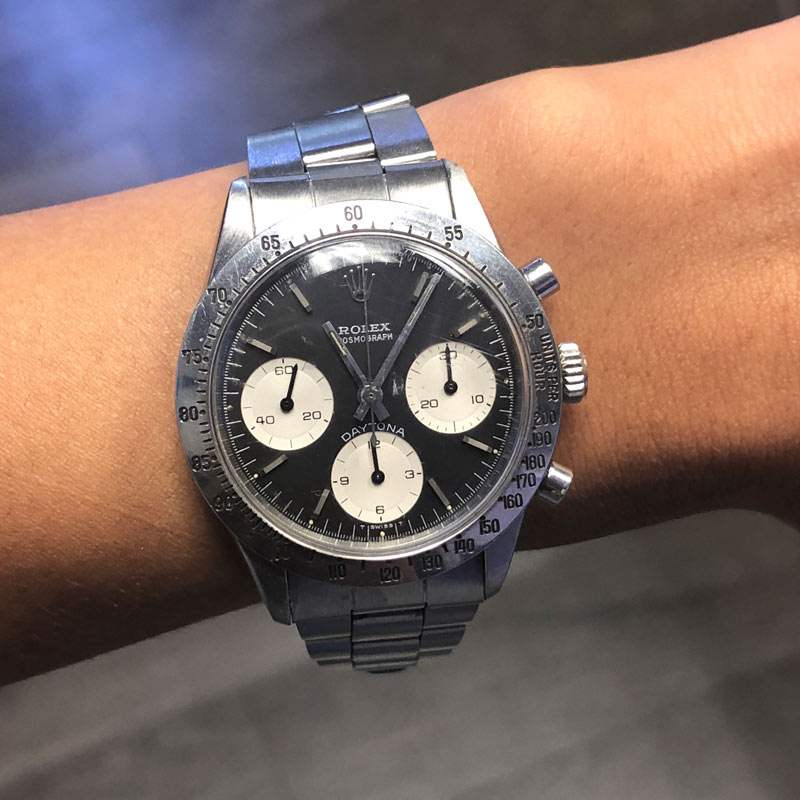 Daytona watches, in general, are difficult to obtain. It's been 3 decades since the first Daytona self-winding watch was released and stainless steel Daytonas remain to be one of the most challenging Rolex watches to buy new from authorized dealers. Typically, dealers will save new Daytona releases for their most loyal clients. So, if you aren't one of those special clients, it's likely that you'll be on a waiting list for anywhere from one to five years.
That being said, stainless steel vintage Daytona Cosmographs are quite special among Rolex collectors. One of our favorite vintage Daytonas is reference 6262.
The Rolex 6262 was in production for only one year, in the 70s, so they are extra rare. It has a strikingly similar design as ref 6239, which was its predecessor. Rolex 6262 Daytona Cosmograph has a conventional Daytona inverse dial, non-Oyster case with pump pushers and an engraved tachymeter bezel. The bracelet is an original stainless steel 78350 with 14 links and 571 end links.
Valjoux 727 Movement
The movement was the biggest difference of the Rolex 6262 and the Rolex 6239. Rolex 6262 Daytona Cosmograph gave the world a new and improved movement, the Valjoux 727. This movement is extremely reliable and accurate, so much so that it is still top of the line in today's world. It has a manual wind with 727 beats at a frequency of 21,699 vibrations per hour. This was a significant change that later would change the history of vintage Daytona's.
Furthermore, this is the last reference where the push pumpers were used, as the screw down pushers took over for the future Daytona watches due to enhanced water resistance capabilities. The pump pushers are now much appreciated by collectors, especially when you have the originals in perfect condition like the Rolex 6262 featured here.
On the inside of this watch's caseback, you will find the 6262 stamp. We make this point because some of the ref. 6262 models have a caseback with a 6239 stamp, as Rolex fit some of the earlier 6262 production runs with leftover casebacks from the 6239.
What's really interesting is that when this watch was first produced, it wasn't a good seller. This is why it was phased out after only one year. Dismissed for a newer, more advanced reference. We are thankful for that because decades later, we are left with a rare, gorgeous, highly sought after Daytona Cosmograph. In fact, it's one of the rarest vintage Rolex Daytonas of them all.
Love this watch? Get the Rolex 6262 now.
Rolex 1665 Double Red Seadweller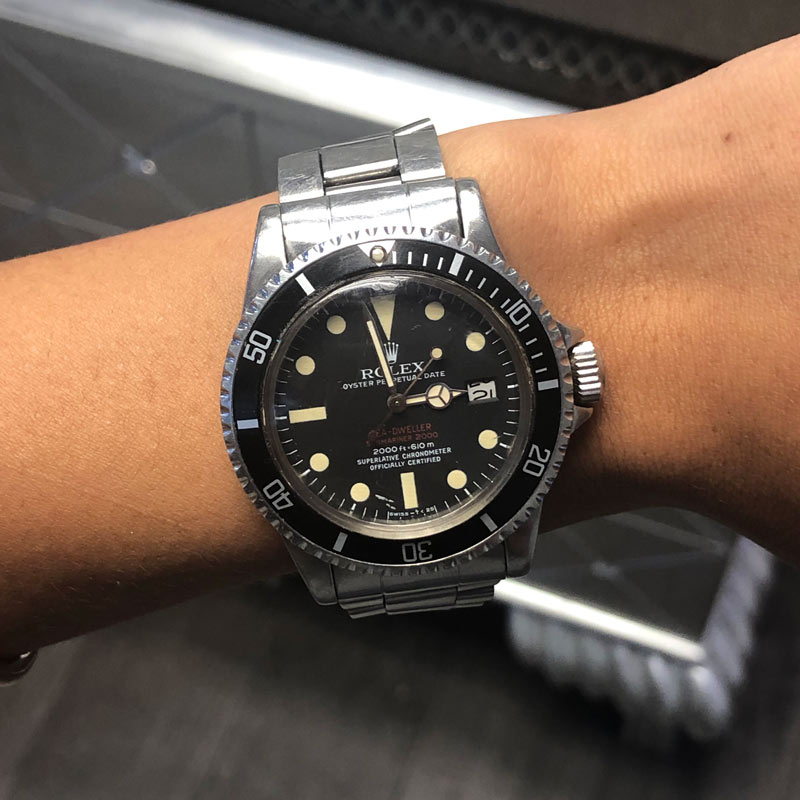 Here we have another highly collectible vintage Rolex watches in history, the Rolex 1665 Double Red Sea Dweller.
The Double Red Sea Dweller has a very interesting history and story behind it. It was made at a time when the horology beast that is Rolex already had a strong reputation for making timepieces that could withstand forceful conditions in the ocean.
In the 1960s, the Rolex Submariner was the watch for divers. It was capable of 200 meters (660ft). This was superb and ideal for almost every underwater activist. That was until SeaLab expeditions came into existence. During SeaLab expeditions, a deepsea experiment, the divers who wore Submariners would experience issues with the watch during decompression after a dive.
SeaLab deepsea divers did serious, extended expeditions underwater. In 1965, ex-Astronaut Scott Carpenter made an incredible achievement of staying underwater for 30 consecutive days. Saturation divers from the SeaLab expeditions required helium to be replaced with nitrogen so they could stay down at greater depths for long periods of time, thus, they needed decompression after their dives. This is when the crystal of the Submariner would pop off, in the decompression chamber.
Therefore, Rolex had a new problem to tackle. It was a completely new phenomenon to resolve. A new, very specific niche to accomplish. Something they do best. Remember, this is what Rolex collectors love. So you can already see why this watch would go on to be so special.
So, these deepsea saturation divers needed something more. And that's what they got. Now, it wasn't a simple task, but Rolex got it done. By the late 60s, Rolex produced a watch that was able to withstand depths of 2000 feet for very long periods of time.
Helium Escape Valve
Again, saturation diving involves the use of helium within the air divers breathe. This would make helium atoms accumulate inside the case of the watch after being underwater for a long time. These same helium atoms created pressure that would have to be released. It was being released from the weakest point – the plexiglass crystal. To solve this problem, Rolex made a very small and effective mechanism, a 'helium escape valve'. It was placed on the side of the case and it solved the problem perfectly. At the time, it was an extraordinarily impressive feat. Thus, this new innovation from Rolex made history and went on to receive a Swiss patent.
Sea-Dweller
There were many models created in the attempt to solve this occurrence of helium build up, and they were mostly nicknamed "Sea-Dweller", due to being underwater for multiple days. The first Sea Dweller ready for sale to the public was in 1967. This was the first production of the Rolex 1665 Sea Dweller, which later was coined the Double Red Sea Dweller. This reference was produced until the early 1980s, at which time it underwent a number of small changes. For the first 10 years of production, The Double Red Sea Dweller had both Submariner and Sea-Dweller names in red ink on the dial. That's actually how it got its nickname. Within those ten years, there were some dial variations and different caseback arrangements – these changes are labeled as Mark I to Mark IV. Some are rarer than others.
Many Double Red Sea Dweller watches were sent to Rolex Service Centers for dial updates in the 80s and 90s, which left them with newer-era dials. The newer dials didn't contain the Submariner name and they had all white text. Because of this, the original Double Red dials are quite rare and very valuable in the Rolex collector community.
The Rolex we have here is the Mark IV variation and it has the original dial with exquisite patina.
Rolex 16760 GMT-Master II "Coke"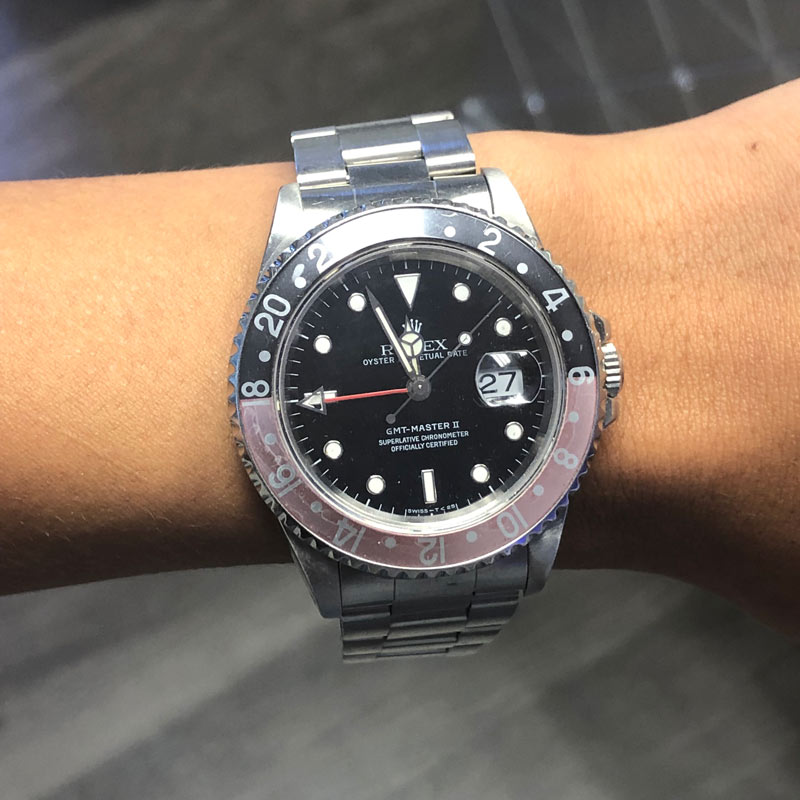 GMT-Master II ref 16760, aka Rolex "Coke", is a super iconic model that carries many "firsts" in the history of Rolex. It's a quintessential piece to any vintage Rolex collection. There are few references that are as special to Rolex collectors as the GMT Master II ref. 16760.
In 1983, Rolex released the next line to their pilot watch, the GMT Master II. The first GMT-Master II was ref 16760…the "Fat Lady" to the Rolex collecting peeps.
There were a number of modifications made on the new GMT Master I in which made the GMT Master II. The most notable change was ref 16760 was equipped with the new Caliber 3085 movement. The Caliber 3805's center hour hand and 24-hour hand could adjust independently of one another. This wasn't possible on previous GMT-Master models.
3 Time Zone Complication
Thanks to the advanced unlinking of the two hands, the bezel is able to stay in its standard position (triangle at 12 o'clock) and the 24-hour hand can be set to one's home timezone while the center hour hand jumps to the current local time during travels to new destinations. This was a crucial complication made easier for Pilots.
Moreover, this allowed for a third-time zone possibility. If you were to rotate the bezel, the 24 hour hand would act as an indicator for both the home time zone and a third-time zone. So two time zones on the dial and one on the bezel.
Other enhancements to the GMT Master II were the sapphire crystal for better protection of the watch's face, white gold surrounding the luminous hour markers (people love precious metals, plus it helps prevent tarnishing), and, finally, it gave the world a new bezel color – the black and red 'Coke' bezel.
More Features
The watch's exterior was only available in stainless steel. It was a 40mm Oyster case, and it was a thicker one, as it had to accommodate the newer, bigger caliber. The bezel of the Rolex Coke ref. 16760 was wider as well. Additionally, the winding crown was bigger. All of this made for a larger watch (hence the name "Fat Lady") that had a much sportier and bolder appearance than its predecessor, the GMT Master I.
The GMT-Master II ref. 16760, which had various bezel options (Pepsi, Coke, Black) was in production up until 1988, so this one has just become "vintage" in the last 5 years, and it's been extremely coveted over the last few years. Especially a Rolex Coke with beautiful patina like the one we have.
Want to buy a vintage Rolex?
You can purchase any of these three vintage Rolex watches from Raymond Lee Jewelers in Boca Raton (or online). Simply contact us and let us know which Rolex you are interested in and we will email you back promptly.
Buy Now: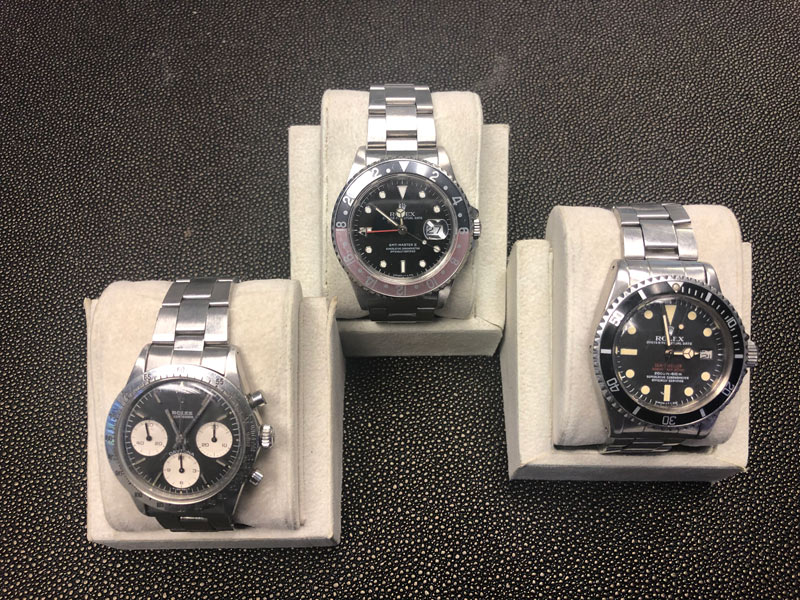 Let us know which vintage Rolex is your favorite in the comments below…