An in depth look at peak Summer weddings' flowers and the bridal jewellery to go along with it! The flowers that are in bloom for your July wedding may vary depending on where you are having your ceremony. However, there is a piece of bridal jewelry to match them all. 
When it comes to your big day there are oh so many things to plan and prepare for. There are all of your wonderful guests, the party and ceremony preparations and of course the gown! Only after all of the bigger questions of venue, time of year and the like are sorted though. Another big question that is always asked is also flowers. Tied deeply to the theme that you choose to go with the flowers at your wedding can strongly set the tone. Whether that is for a more modern, romantic or unique wedding theme. Now for those lucky brides getting married in July there is plenty to be excited about. A month for the bees and the butterflies a July wedding is that peak summer feeling. The light pastel colors, the bright sunny days and warm summer nights. July weddings are sure to be bursting with gorgeous flowers. 
So this month we are going to do a deep dive into July wedding flowers. What do we mean by that you might be asking. Well what we mean is that we are taking some of the most booming blossoms that are in their peak season in July. We are going to take them and find their match for bridal jewelry. So that if you are having a wedding in July and are looking for the floral and jewel ideal. Or you are celebrating your July wedding anniversary and want to find a piece of jewelry to commemorate and remember your special day, this guide can help. Wildflower blooms are a staple of the July plant life but so are the exotic tropical flowers we see so often in fine jewelry like orchids. So let us take a look at that the top three flowers in season in July are.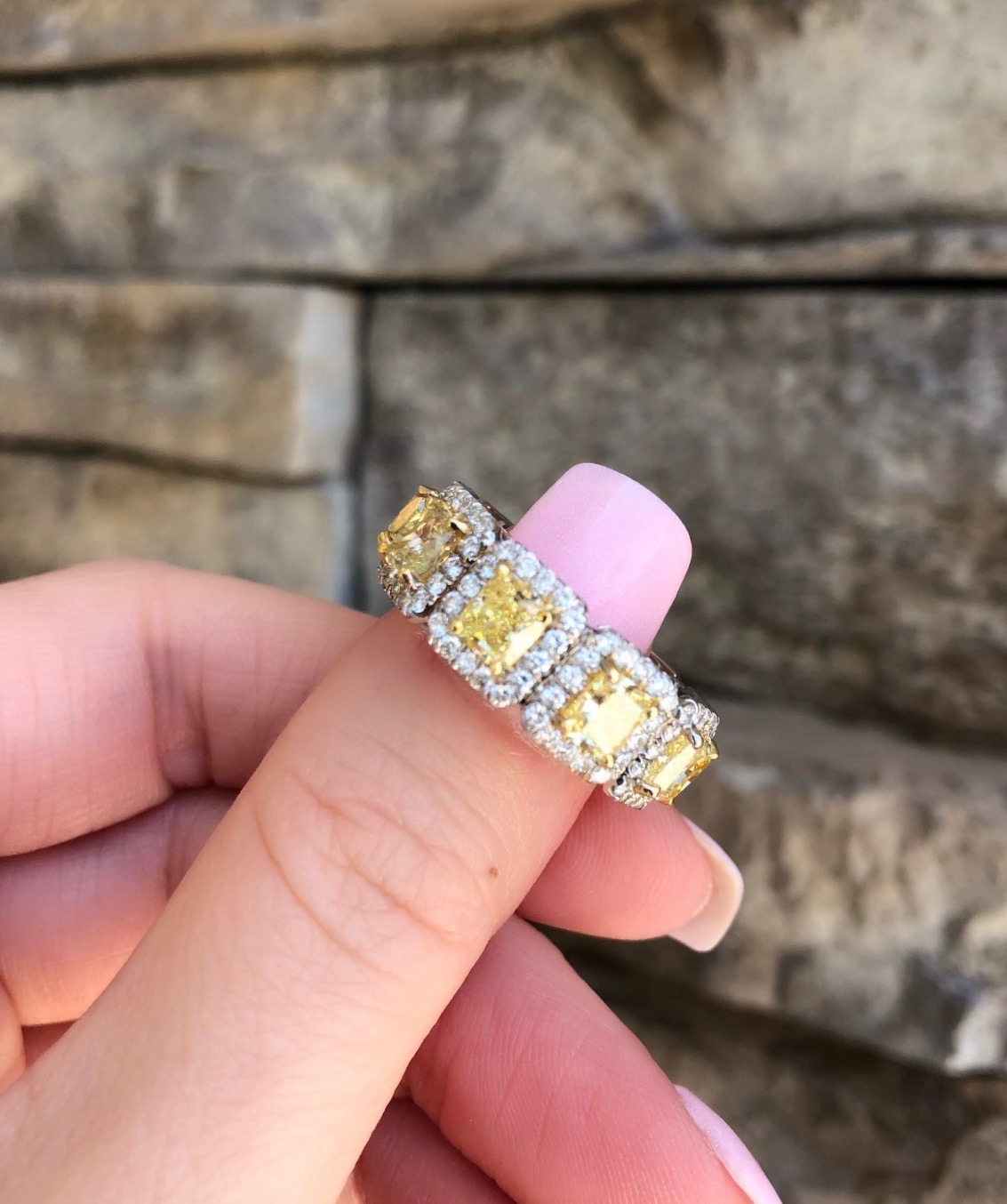 This incredible platinum 18 carat gold fancy yellow diamond ring features 10.7 carats of colorful diamond stones. These light yellow beauties pair well with some of July's blooming flowers. Not to mention the bright sun shine that you are sure to have in a July wedding. The ring is an eternity style band with 1.68 carats of brilliant white round cut accent diamonds. These are halo features surrounding each one of the 10.7 carats of fancy yellow diamonds.
Those are cut into a traditional cushion cut shape with the central geometric panel protruding from the white diamond halo. It is a robust and absolutely stunning ring sure to bring back memories of that fateful July wedding day for years and years to come. Either as a wedding band or anniversary ring or even a special jewelry piece that you keep close to your heart.
Reminiscent of some of the flowers that we will highlight below each of the fancy yellow color diamonds can bring back memories of July blooms. Whether those are yellow orchids, sunflowers or the delicate inner cups of the freesia flowers. As always white sparkling diamonds bring back memories of the splendor of the big day. Or even the soft and gentle morning dew on the flower petals. This is one incredible platinum eternity band that can be the symbol you carry through from your July wedding with you.
July wedding flowers – what to match for each
The blooms most prevalent in July have unique features that make them perfect to match with jewelry.
Freesia – these small white flowers are a classic and romantic touch for any July wedding. Absolutely perfect for a boutonniere, adding a delicate touch to your table settings or even placed in your hair, the little flowers are a staple like diamonds. These can be put with a delicate and wispy Queen Anne's lace for a touch of whimsy and movement. 
Sunflower –

the quintessential summer flower, sunflowers are the golden splash of yellow that you can count on for boho romantic weddings. A sunny sight for your July wedding these can be interpreted with yellow diamond jewelry. 

Orchid –

this small tropical flower is an exotic modern wedding bloom. Available in a wide range of colors and shapes as well including miniature, huge and patterned flowers. Any modern jewelry designs will pair well with these colorful and fragrant blooms.
In the end matching your bridal jewelry to the flowers and blooms of your July wedding is more about subtlety. Like most of the symbolic and figurative items that we carry are that way. We imbue them with a special and tender meaning. One that to an outside person without all of the full context it may not be immediately clear. It is part of the charm and the emotional attachment. That personal and private association that we can make when we look down at the symbols and tokens we choose to carry with us throughout our lives. For example a ring or bracelet, a watch or diamond that because of the intimate stories we have placed into them these objects have now brought to bear the emotions of that day. Of the love and caring from those around us. For that grand embarkment on an entirely new life adventure.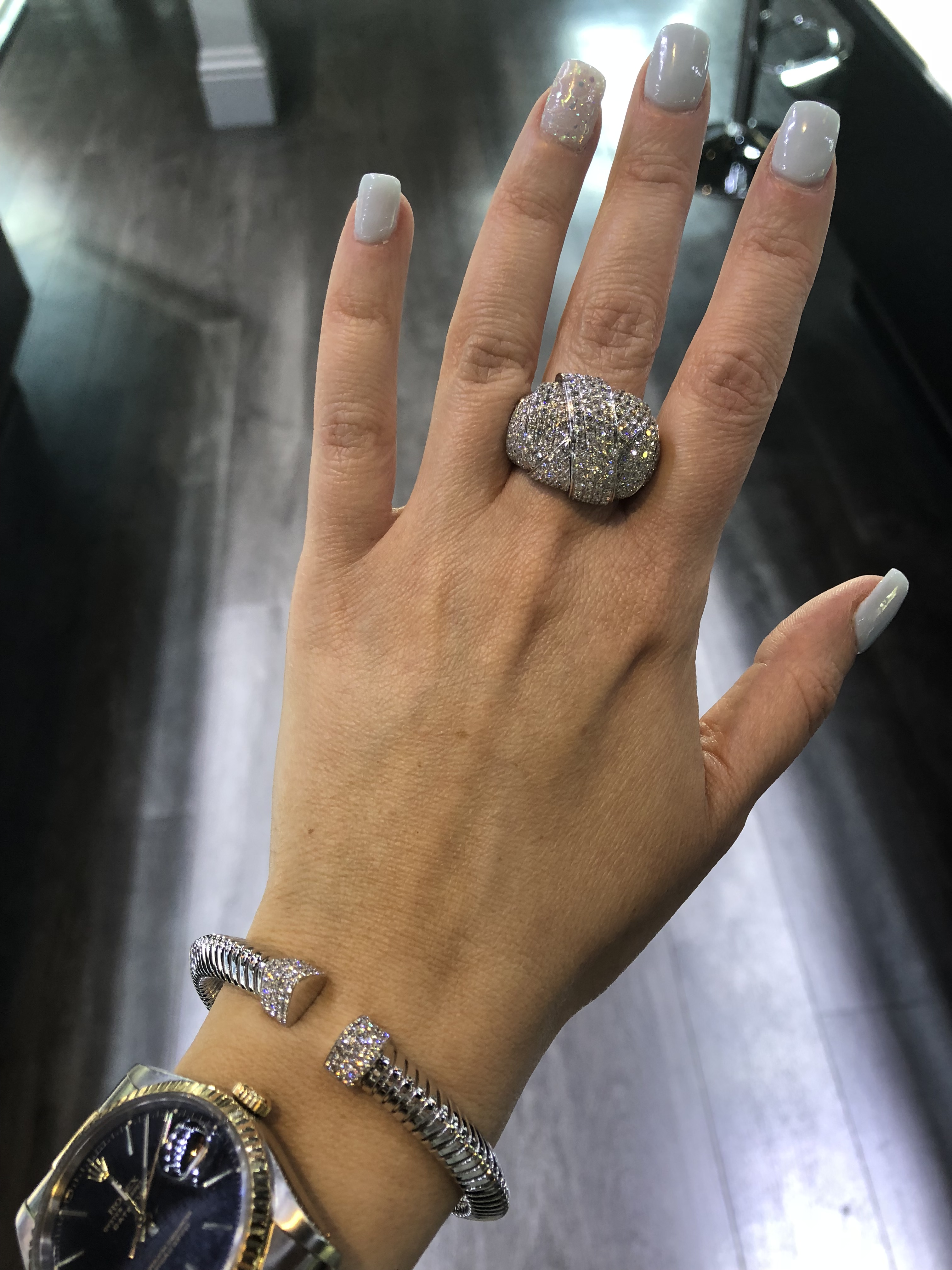 From flowers to diamonds in your July wedding 
We all think of a different flower when we think of a wedding. Furthermore when it comes to our very own wedding that gets changed even more when you begin to consider color schemes, plans and dreams that have been forming in our minds. Well the time is finally here and you have decided on a wedding in July! First of all congratulations. Now let us get down to business. Whether you have a venue decided on yet or not you can start to plan your theme and arrangements.
For flowers July happens to be a lovely time. You will not have to be flying in any peonies. Unless of course that is your absolute no negotiating dream bloom to have for your wedding. However there are quite so many beautiful blooms at the height of summer that you are spoilt for choice. Your jewelry might depend on the flower.
If you choose to go with the yellow blooms but already have a wedding band or are not interested in the more classic approach of the Platinum 18 carats Gold 10.70 carats Fancy Yellow Cushion Cut And 1.68 carats Round Brilliant Diamond Eternity Band above there are other options as well. For a real eye catching peak of summers style you might consider a ring and to be quite honest piece of jewelry that is unlike any other.
For example the butterfly yellow diamond ring below is a stunning piece. It takes the aesthetics of summer and brings them to life in an anthropomorphic jewelry piece that is delicate and flowy. It is almost ready to take flight as it lands gently on your hand. This gorgeous butterfly ring is just one example of the organic and naturalistic themes you can find in jewelry for your July wedding.
Now this is truly a stunning 18 carat two tone diamond ring. We thought we would go deeper into detail on this incredible item of jewelry. It is a 5.49 carat diamond cocktail ring that can really bring together your July wedding theme. The 4.19 carats of fancy yellow marquise cut diamonds on the top wings and the heart cut diamonds that form the body of the butterfly are G/H in color, SI in clarity. Further, the bottom half of the wings feature two large white diamonds also marquise cut. 
Surrounding all four of these marquise cut diamonds are halos of small accent round cut fancy yellow diamonds set in yellow gold. These are approximately 1.11 carats of Round Brilliant diamonds. These smaller accent diamonds are fancy yellow in color and SI in clarity. Finally, at the centre of the ring there is approximately 0.19 carats of Round Brilliant diamond. This particular diamond is a fancy pink in color and SI in clarity.
The ring overall is a combination of colorful jewels cut into marquise, round and heart shapes. It is a stunningly intricate and gorgeous ring. An eye catching 12 gram piece of jewelry it might not be the first choice for everybody and that is ok. It is after all quite a robust piece of jewelry that might not be everyone's type. There are also for example flower motif earrings and necklaces that can be worn for summer weddings that may be less of a statement piece. These can still bring back the heat of summer and remind you of all the incredible moments from your July wedding with a little less of a direct summer day relation. White diamonds for example in more traditional or classic designs are one option as well.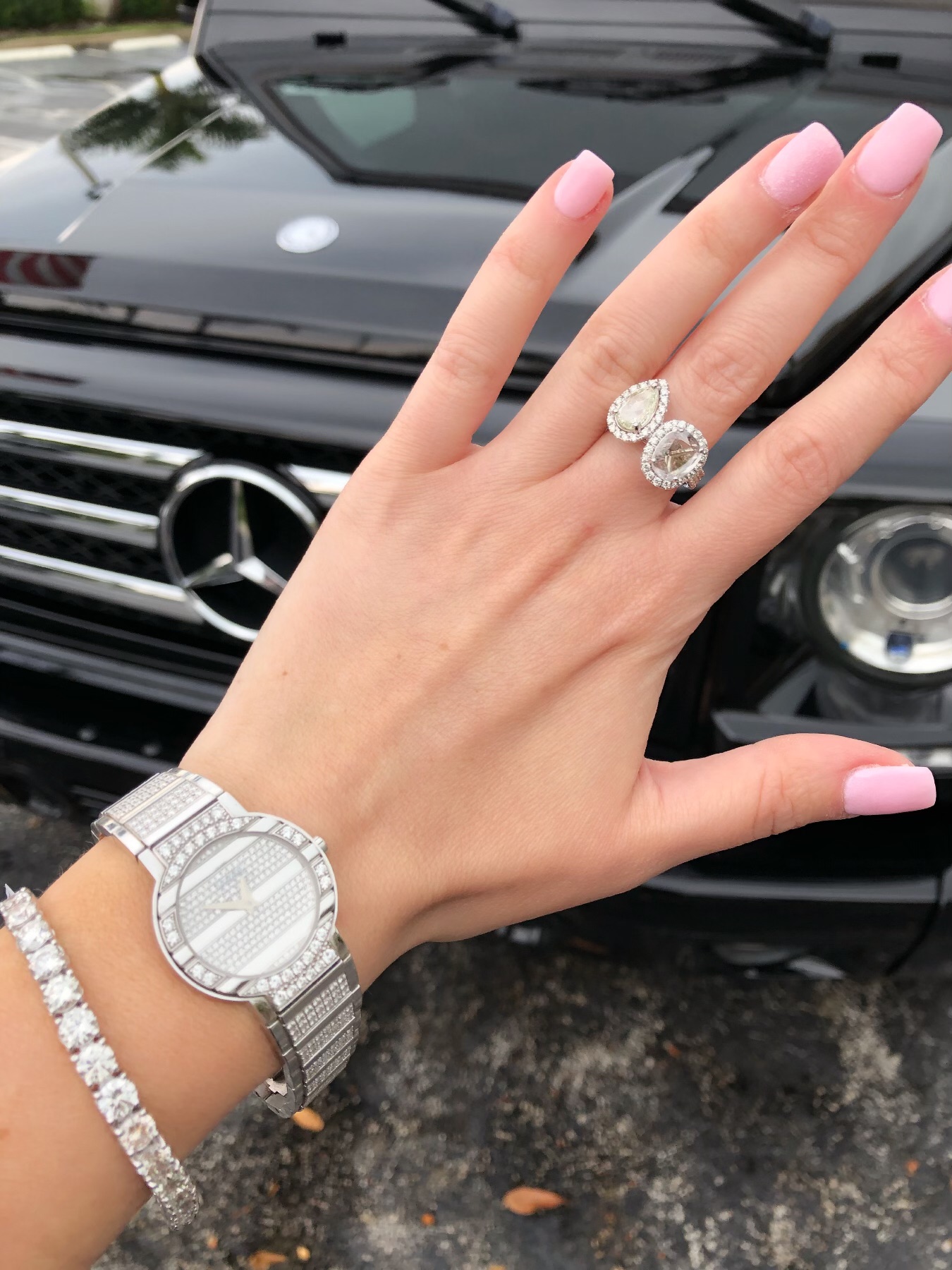 Another fantastic way to match really any of the flowers that you choose for your July wedding is with white diamonds. Whether your flowers are colorful blooms, pastel pasties or robust roses there are always diamonds to match up with. A tennis bracelet is always a classic great idea particularly if you are looking for a piece of jewelry that you can wear frequently after your wedding. Otherwise there are also fine watches. Some in intricate designs like this Piaget 18 carat gold all diamond ladies watch. It is a 25 year anniversary commemorative piece for the brand. They both are easy pieces to match whether you are doing so with your flowers or your wedding theme.
Overall they are classics and pretty iconic too. The Piaget watch is even more of a modern jewelry piece that can be worn for any occasion. The diamonds on this watch are certified to be D-G in color and IF-VVS in clarity. These can be found in the dial as well as on the bracelet. The hour markers are white gold. 
What to choose for your July wedding? 
At Diamonds by Raymond Lee we have been helping bride and grooms find the perfect jewelry pieces for their big day. Whether you and your partner are joining your lives together with a ceremony in July or any other month of the year we here at Diamonds by Raymond Lee are ready to welcome you in. With over thirty years of experience in the industry and in depth knowledge we can answer your questions. In order to help you find the ideal jewelry pieces for your bridal day. Whether that is an engagement ring or wedding band. Or if it is an anniversary commemoration or special jewelry piece for posterity. We have an enormous curated collection of individual pieces hand selected by our diamond experts. Well versed in the jewelry and precious gem industry they have a keen eye for quality and are ready to help you find the one.
The one jewelry piece that is perfect for you that is! So if you want a precious item for your July wedding let us know. You can get in touch with us below through our contact page or by dropping by. Our conveniently located stores are designed for ultimate comfort and convenience. We are here to guide you through and look for the ideal jewelry piece that you will fill with memories. The symbolism aspect of jewelry really is one of the most poignant and endearing. For an enduring jewelry piece that will hold those dear cherished memories let us help you! We offer maintenance and repair services for all jewelry as well as bespoke modification services. Reach out to us so we can begin your journey.
Location: 2801 N Federal Hwy, Boca Raton, FL 33431
Hours: Monday-Friday  11am-7pm | Saturday  10am-5pm | Sunday 12pm-5pm
Phone: (561) 623-8205
Email: in**@di******************.com