We've been receiving questions lately about Richard Mille and Patek Philippe. Essentially people are asking us to compare the two brands.
So, we decided to do this extensive Richard Mille vs Patek Philippe article to get a comparison of these iconic watchmaking companies out in the open.
First and foremost, these two brands are hard to compare. In fact, it's almost not even right to try and do so. But again, since we know this is a topic of discussion, we'd like to do our best.
First, we are going to explain the differences between Patek Philippe and Richard Mille, so you can see why we say it's hard to compare them. Then we are going attempt to compare them based on scarcity/rarity, craftsmanship, movements/complications, resale value, and price.
We think this will give those who are deciding between Richard Mille or Patek Philippe a good idea of which one suits them best, if it's not both. This article will also be interesting for any watch enthusiast who simply likes to learn about the best in the world of watchmaking.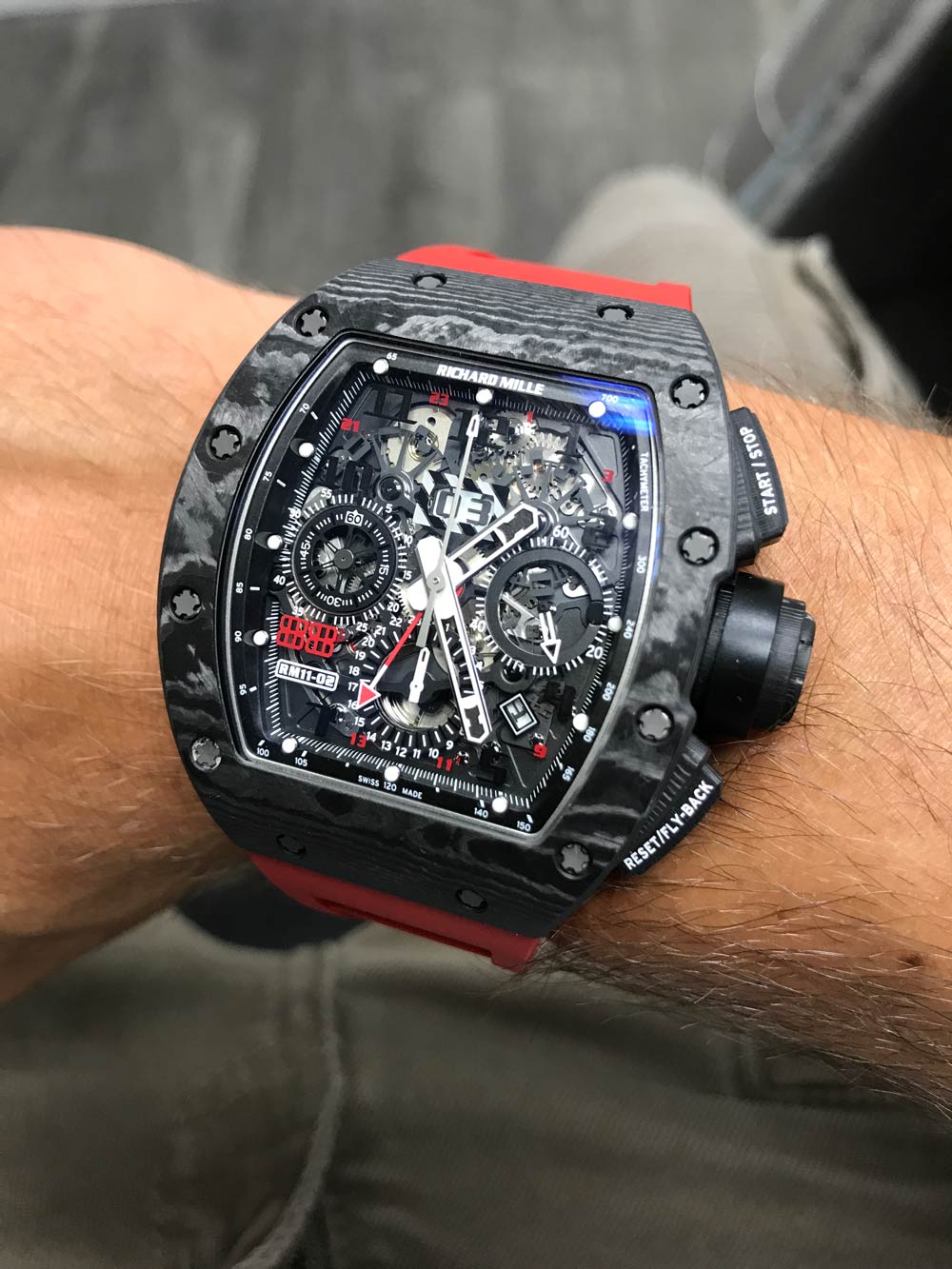 What makes Patek Philippe and Richard Mille so different?
The ideology behind a traditional brand with a long history, like Patek Philippe, and Richard Mille is completely different. Thus, you really can't appreciate the two brands in the same way, which is why we think it's kind of strange to compare them. Yet…we are still going to.
With Patek Philippe, you have a brand with centuries-old heritage. With Richard Mille, you have a brand that is less than twenty years old. The vision of a company created back in the 1800s and is still popular in modern times is going to be much different than that of an essentially brand new company.
In fact, we think Richard Mille and Patek Philippe are pretty complementary to each other. You know what they say, opposites attract.
When looking at the aspects of Patek Philippe that we love, we marvel in their classical designs, traditional ways of top-notch finishing, special crafts like engraving and guillochage. We appreciate their use of material such as steel and gold, as anything else just wouldn't make sense for such a historical brand. Moreover, it's hard to compare Patek Philippe with Richard Mille as Patek has such an astonishing vintage market that Richard Mille, of course, doesn't.
When looking at important aspects of Richard Mille, it's quite the opposite. We revel in their ultra-modern designs, provocativeness, and skeletonized faces. We expect exotic, advanced, and innovative materials.
In a sense, Richard Mille is anti-Patek.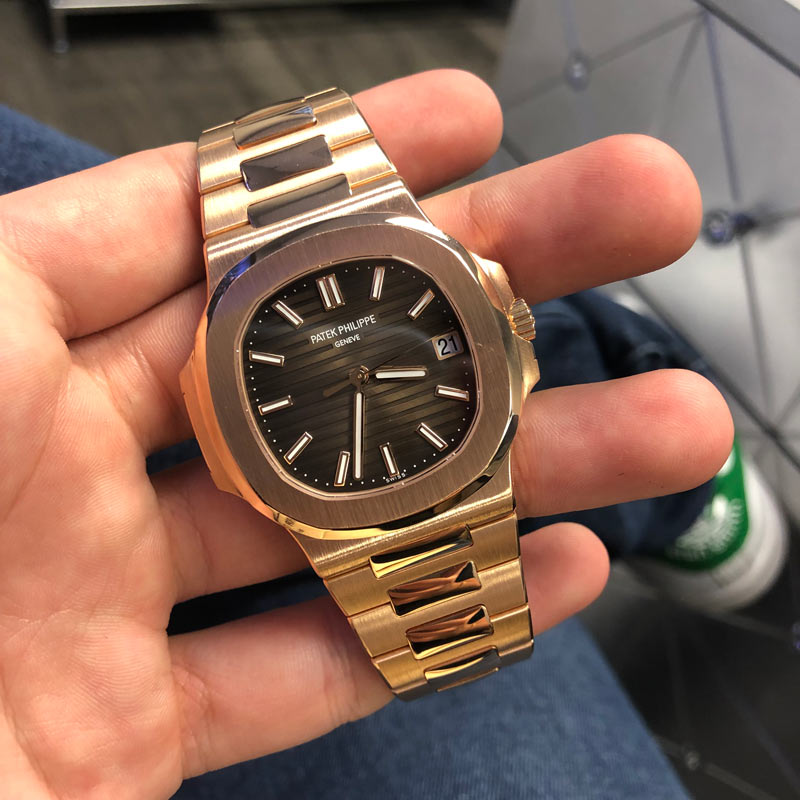 With all that said, what's very interesting is the fact that the same people who love Patek Philippe are also showing immense appreciation for Richard Mille. And when it comes to Swiss watch traditionalist, that says a lot about Richard Mille.
Richard Mille has been having tremendous success and they are one of the top-performing brands right now. What's more, they are still independent.
So, now that we got that out of the way, let's compare the two based on some of the above and other factors that may be determining factors in your decision of which watch is better, Richard Mille or Patek Philippe.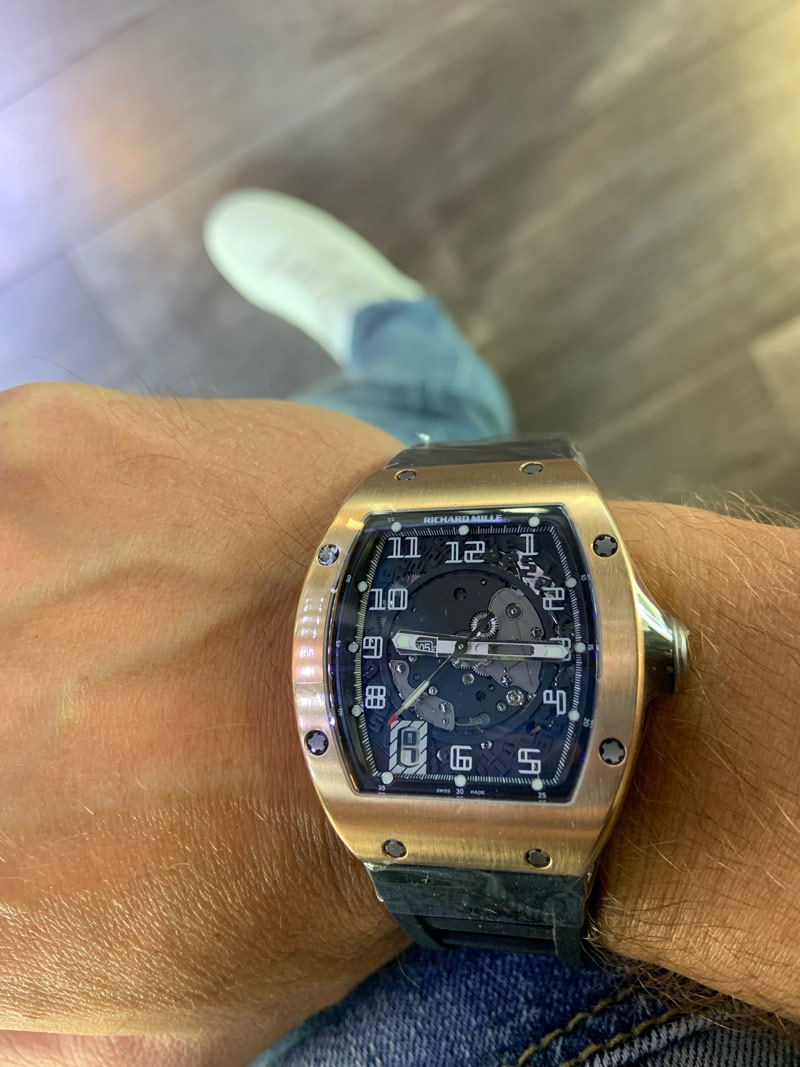 RICHARD MILLE VS PATEK PHILIPPE
With all the differences between these two brands, there are similarities that we can compare.
One major commonality between Richard Mille and Patek Philippe is they are both Statement Watches.
Owning either watch will make it very clear, very quickly, that you are someone with colossal spending power.
If two people shake hands and they are both wearing Richard Mille watches, it's called the "billionaire's handshake".
Both Patek Philippe and Richard Mille adorn the wrists of those within the most exclusive, wealthy circles.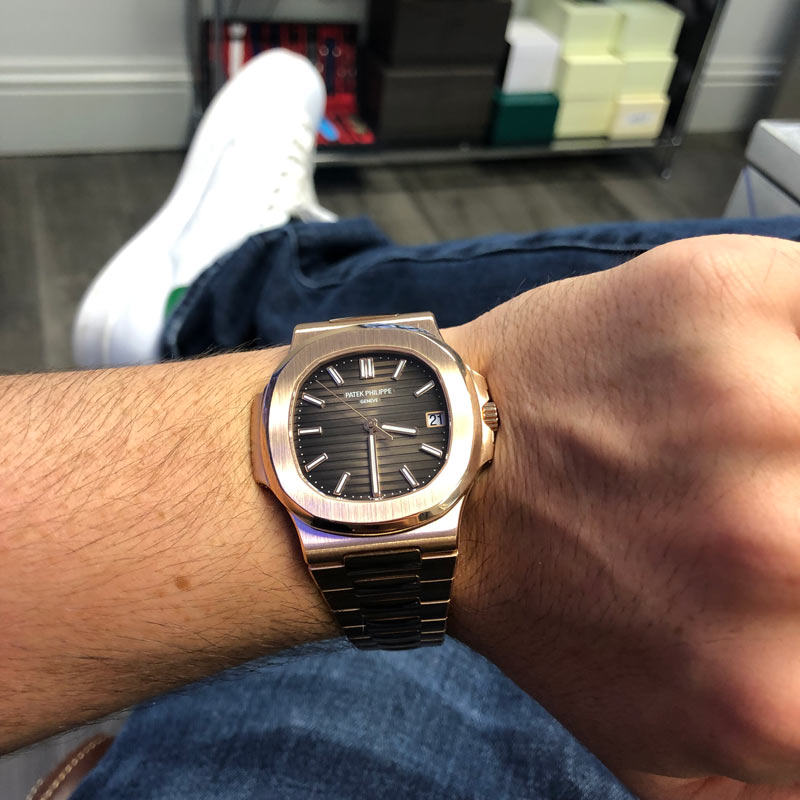 Richard Mille has reinforced their status not only with price and incredible craftsmanship, but also by working with ambassadors such as Felipe Massa (former F1 driver) and Rafael Nadal (tennis champion), among others.
As for Patek Philippe, they also have many influential ambassadors, but what's even more is that Patek has been worn by royalty for well over a hundred years.
It's pretty obvious that you are dealing with an elite member of the world when you see them wearing a Patek Philippe or Richard Mille timepiece.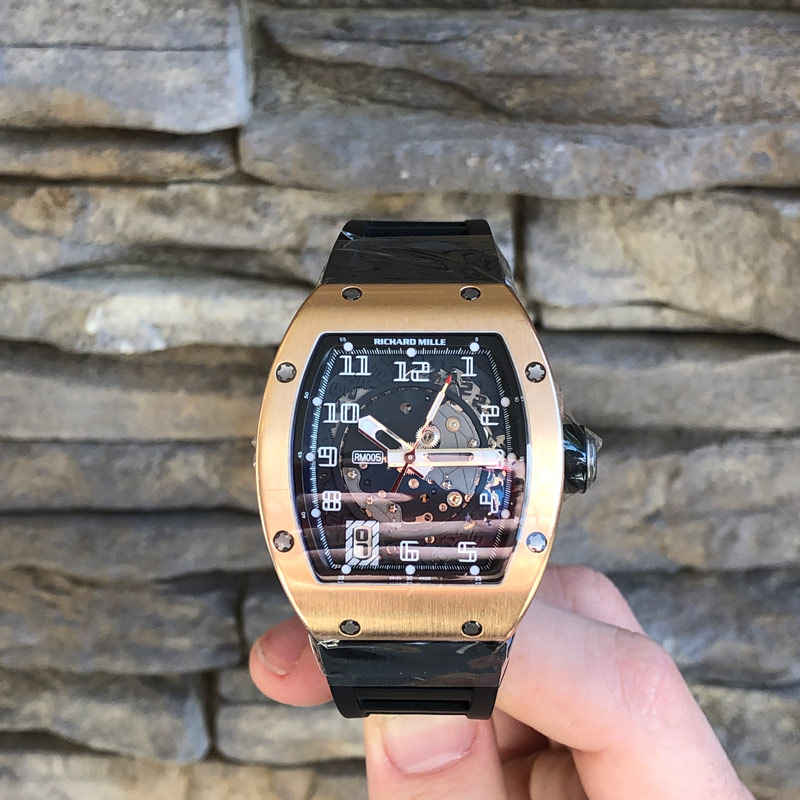 Scarcity & Rarity
Richard Mille – There are less than 5,000 Richard Mille watches made annually. Even though for a young brand that is a relatively large number, the demand for Richard Mille far exceeds the production, year in and year out. This is reflected by incredibly strong prices at auctions.
There are quite a few Richard Mille models of which only a few were ever produced. The RM52 Tourbillon Skill is exceptionally rare. There were only 6 of them produced in white ceramic and 18k pink gold.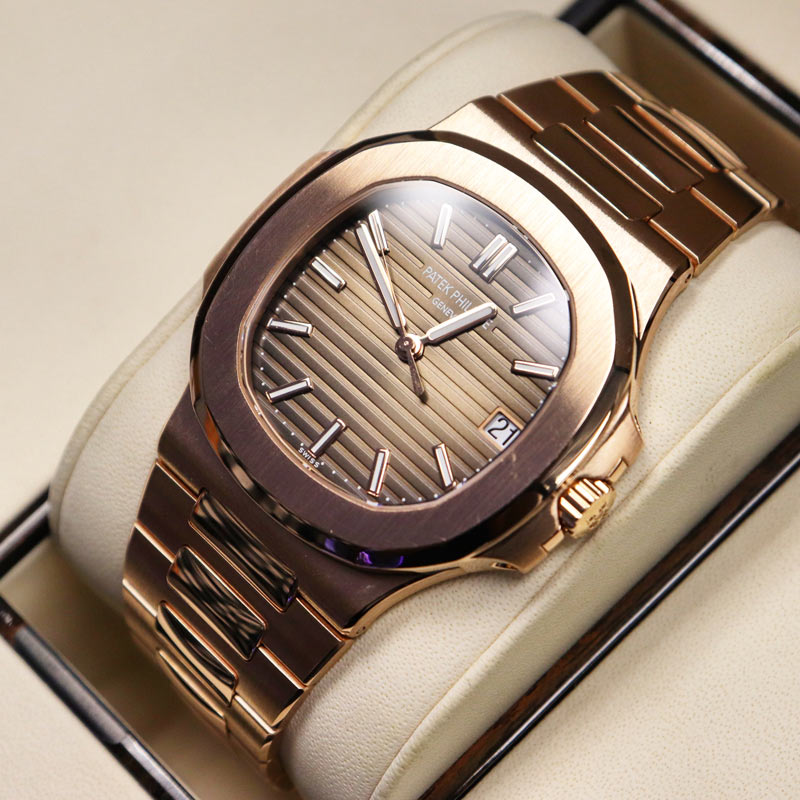 Patel Philippe – There are around 20,000 or so Patek Philippe watches produced each year. Since their founding back in 1839, they have only produced approximately 1 million watches. There are many Swiss watch brands that make that about in only one year. For reference, Rolex produces over 1 million watches per year.
Watchmakers put an enormous amount of effort into the details of Patek watches. So much so that it takes around 9 months to manufacturer a basic Patek Philippe watch, and up to two years for a more complex one. This is a major reason they are so scarce.
As with Richard Mille, there are quite a few Patek Philippe watches of which only a few were ever created or, in some cases, are still around. For instance, there are only 4 examples of the 1941 reference 1518 timepiece in stainless steel known to exist. In 2016, one of them sold for 6.8 Million Euros.
Both Richard Mille and Patek Philippe chose not to produce certain models at a considerably high rate, even if they are super popular and in high demand. This is what gives them their prestige. They are giving up quantity for the sake of quality. The market doesn't direct these two powerhouses, they direct the market.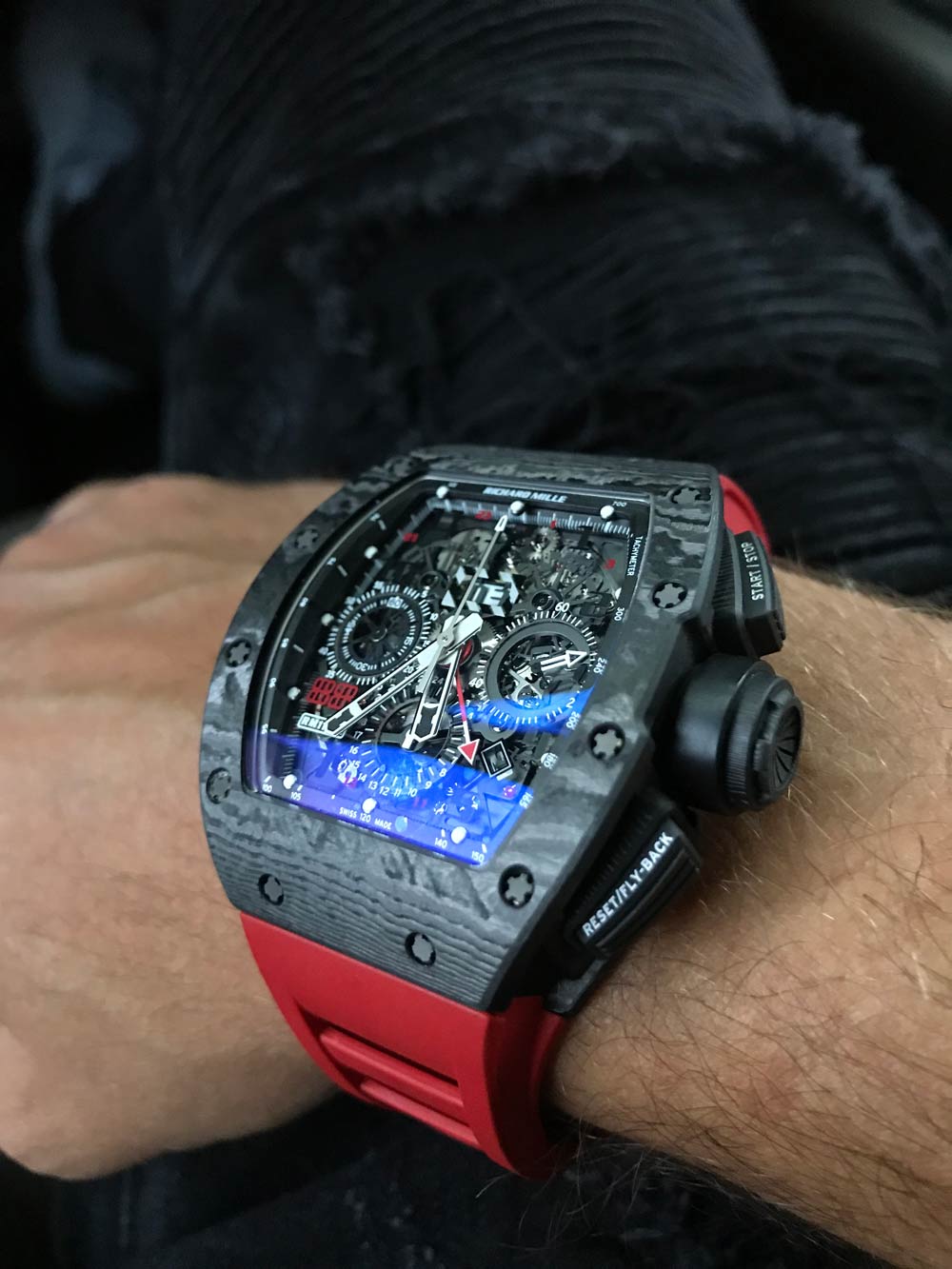 Craftsmanship & Materials
Richard Mille is all about the use of avant-garde, high-tech materials. They use case and baseplate materials that you would normally only see in Formula 1 cars, aerospace or racing yachts. We are talking about materials that are not just super advanced for watchmaking but also outside high-tech industries as well. Richard Mille uses materials and techniques never before seen in the watchmaking industry. They are one of the leading innovators, by far, when it comes to crafting modern watches.
For example, the RM009 is crafted from ALUSIC metal, which is a combination of aluminum and silicium carbide particles, forged in a rapid centrifugal furnace that bestows lightness and robust resiliency to the case. What's kind of funny is, this case doesn't have a spec of precious metal in it and it is still the most expensive case ever made.
This is what Richard Mille watches are known for, incredibly light and robust materials. Another example is the RM006 Tourbillon with a Carbon-fiber baseplate. This watch is so light it weighs just a bit more than a credit card. It's also extremely durable and can resist shocks up to 500G. Unfortunately, this watch got put to a real test when Brazilian F1 racer, Felipe Massa, crashed his car into a tire barrier in the 2009 Hungary Grand Prix. Massa suffered from serious head injuries, but his RM006 watch came out of the crash completely unscathed.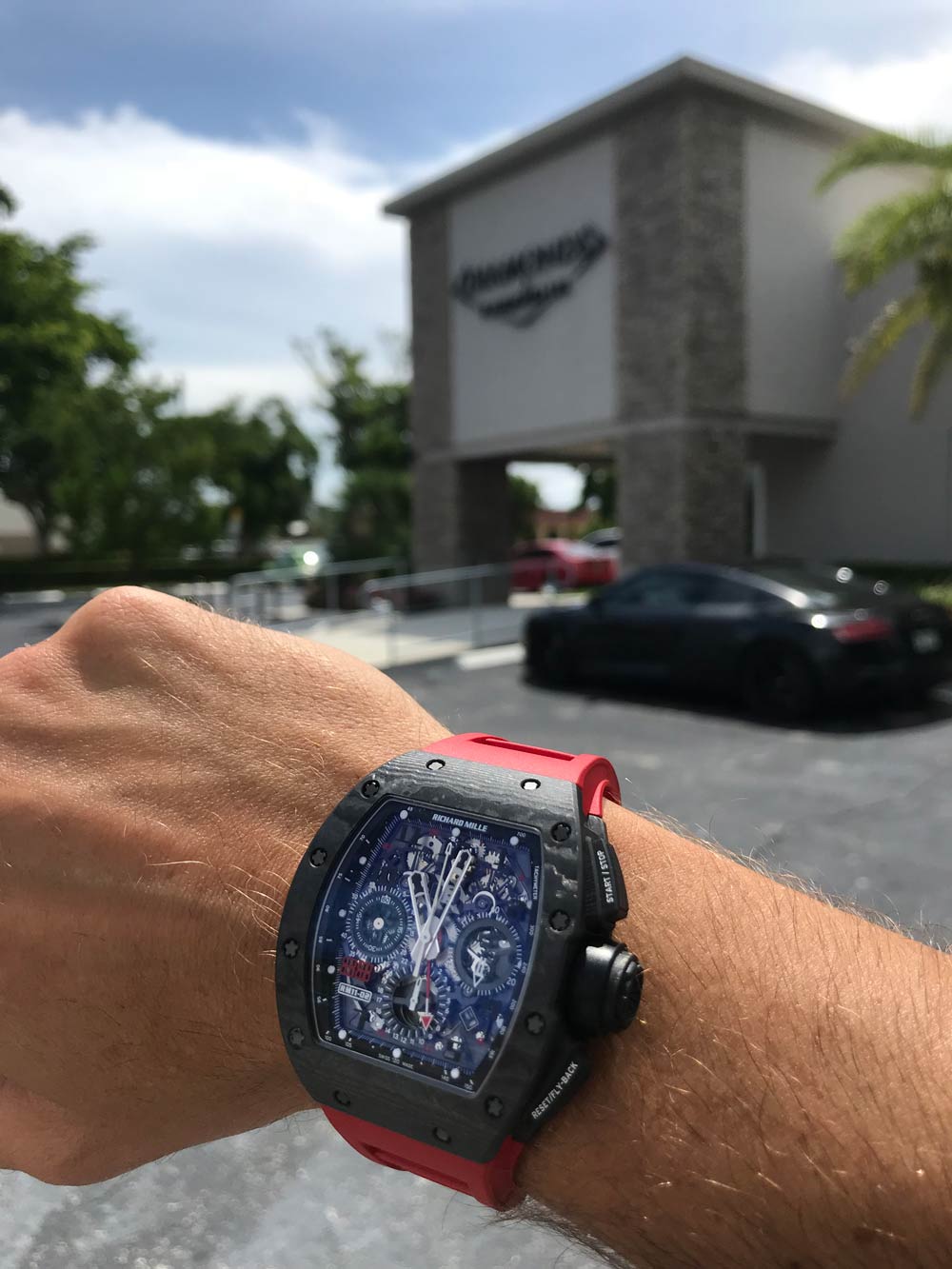 However, it is not all about materials, Richard Mille puts a lot of effort into creating the best designs as well.
They use highly innovative methods to craft their timepieces. For example, polishing flat surfaces is simple, but polishing complex curved surfaces is another story, and Richard Mille watches are all about beautiful complex curves.
The sandwich-style Richard Mille watch case is likely the most expensive and challenging watch case to produce. It has three decks (front and back bezels, and a middle section) and they are all curved. Not only is this hard to polish, but they need to fit it all together within a mere one hundredth of a millimeter to ensure no moisture or dust can get in.
Another style that Richard Mille is famous for is the tonneau design cases, and they own this look now. When you think tonneau watches, you think Richard Mille.
Lastly to keep things brief as we could go on and on about Richard Mille's innovations, let's just touch on the fact that they make incredible skeletonized dials with the use of layered sapphire crystal. When you think of Skeletonized dials, it better be Richard Mille coming to mind (sorry AP).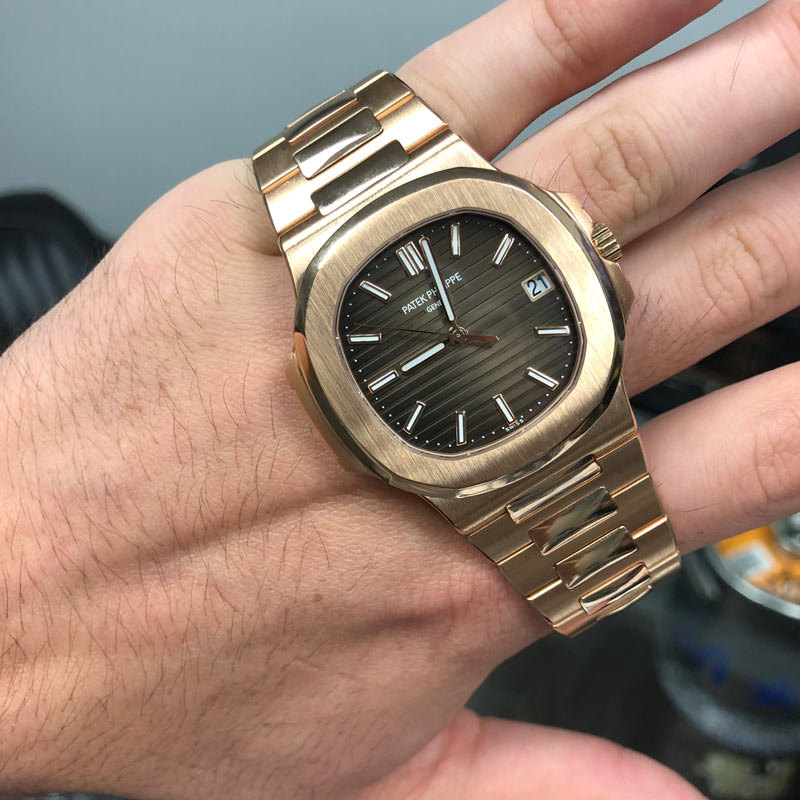 The concept and design of Patek Philippe watches takes around 3 to 5 years. Then you have another 1 to years to handcraft all the components and for assembly.
Patel Philippe hand finishes each and every individual part. This is something that makes Patek very special, as is each watch they sell as well. They hand apply decorations, like the detailed engravings or gorgeous enamel paintings. Patek Philippe watches are truly a work of art.
Their designs are elegant, sophisticated and pay homage to their heritage. Every single element of the watch is carefully thought out and crafted to perfection.
They aren't fancy, in fact, many designs are quite minimalist, but the materials and finishing are beyond superb. As soon as you look at a Patek watch, and you feel it, you immediately know you are holding something of significant value and something that's made to last a very long time.
All the materials they use are top quality. Moreover, they use all their own mixes. They improve existing materials and formulated their own, rather than use a supplier's steel or gold.
Their tagline says it all: "Begin your own tradition." and "You never actually own a Patek Philippe. You merely take care of it for the next generation."
A Patek Philippe watch is made to last. It's made to be passed down generation after generation.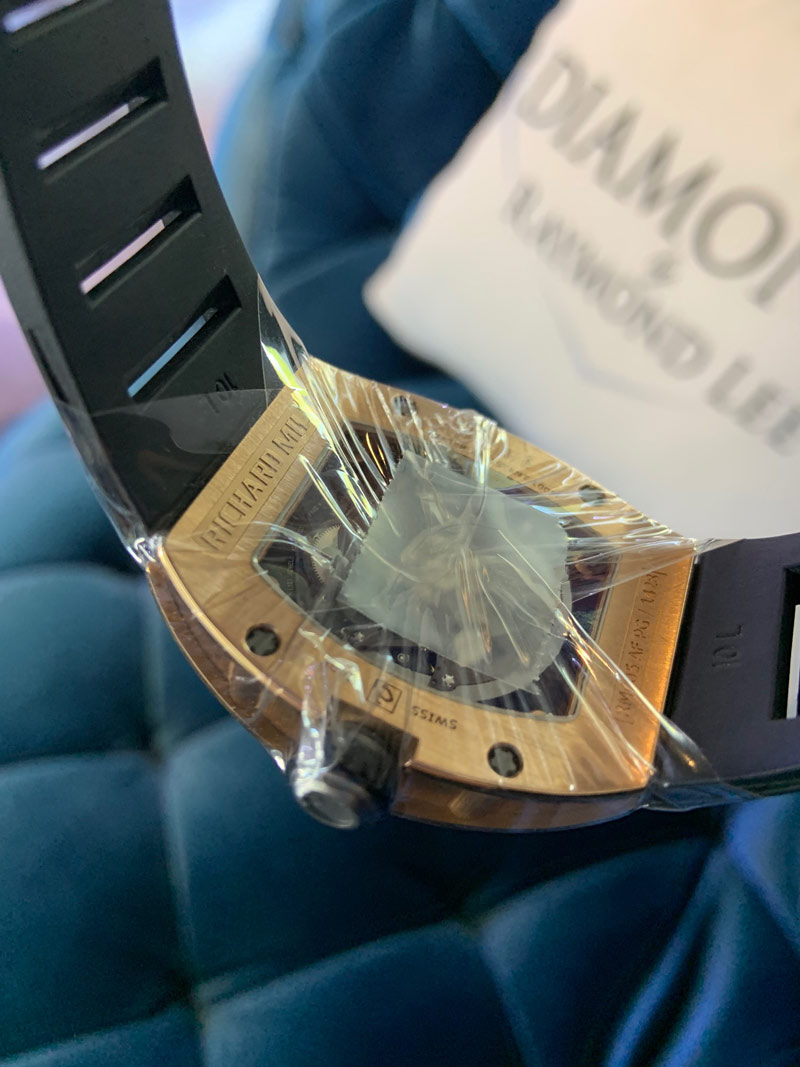 Movement & Complications
Richard Mille watches are the epitome of 21 century movements. They are movements that are not the standard and they are coated in materials new to high-end watchmaking. Richard Mille has a team of dedicated watchmakers and micro-engineers who spend years perfecting mechanisms.
They have flyback chronographs, split seconds chronographs, annual calendars, GMT functions, and more. Most Richard Millle watches have a tourbillon, which is a rotating cage that offers next-level sophistication to the escapement.
Fun fact: Audemars Piguet is a minority shareholder of RM. Audemars Piguet's Renaud et Papi was one of the technology partners for developing the most complicated movements in the Richard Mille collection, such as the tourbillons and split seconds chronographs.
There is so much more to talk about when it comes to Richard Mille movements, complications, and the materials they use to create it all, but we will save that for another post. Simply put, they make movements like Formula 1 cars make engines. And that's an analogy that Richard Mille lives by.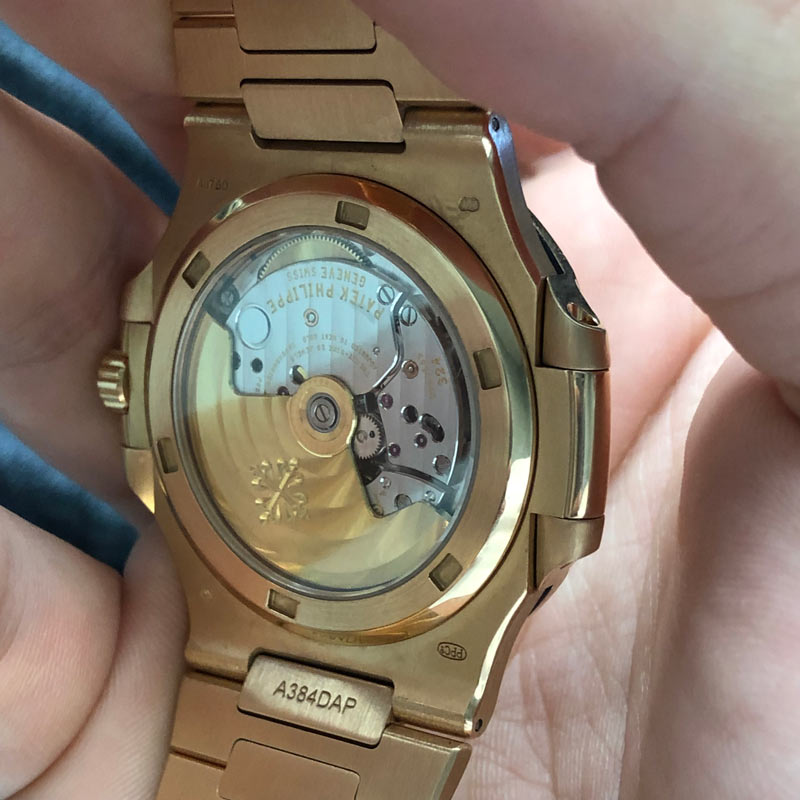 Collectors love Patek Philippe watches for not only their high quality materials and craftsmanship, but also for their movements and complications. Very much so in fact. This is one of the reasons why Patek is so immensely appreciated to this day. They use techniques that require the utmost, highest level of horology skill and understanding. There is no complication to complicated for them. They do second time zones, split seconds chronographs, essentially all complications known to watchmaking have been mastered and perfected by Patek Philippe. Some were even invented by them. Furthermore, their watches have extreme precision and unequivocal reliability.
Their most complicated watch is The Grandmaster Chime. It has 20 complications, two dials and 214 parts. It took them 100,000 man-hours to make this watch, with 60,000 of those hours spent on the movement. There is no way to create an intelligent watch like this unless you are the very best of the best…and Patek Philippe is the best of the best. They are the epitome of haute horology.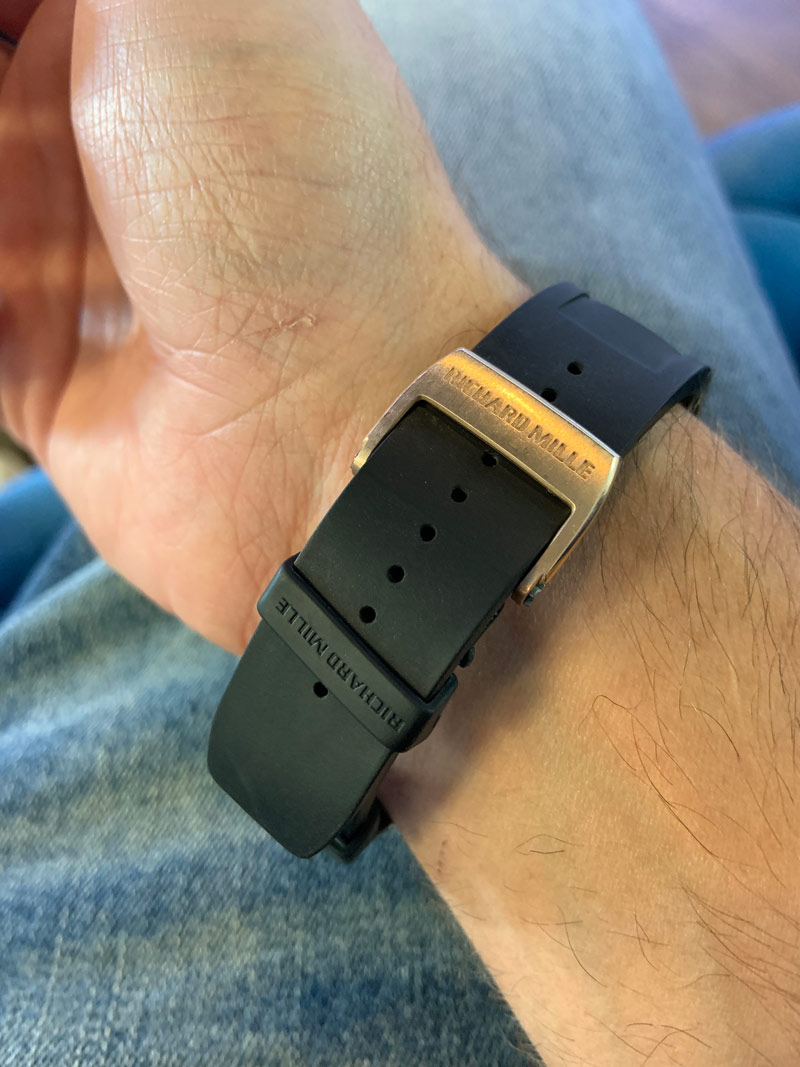 Price
Richard Mille:
For retail price, Richard Mille watches start at $80,000 and it goes up to several million dollars for the very exotic, rarer (low-production) models.
For pre-owned Richard Mille, you are not going to find anything selling for less than $30,000.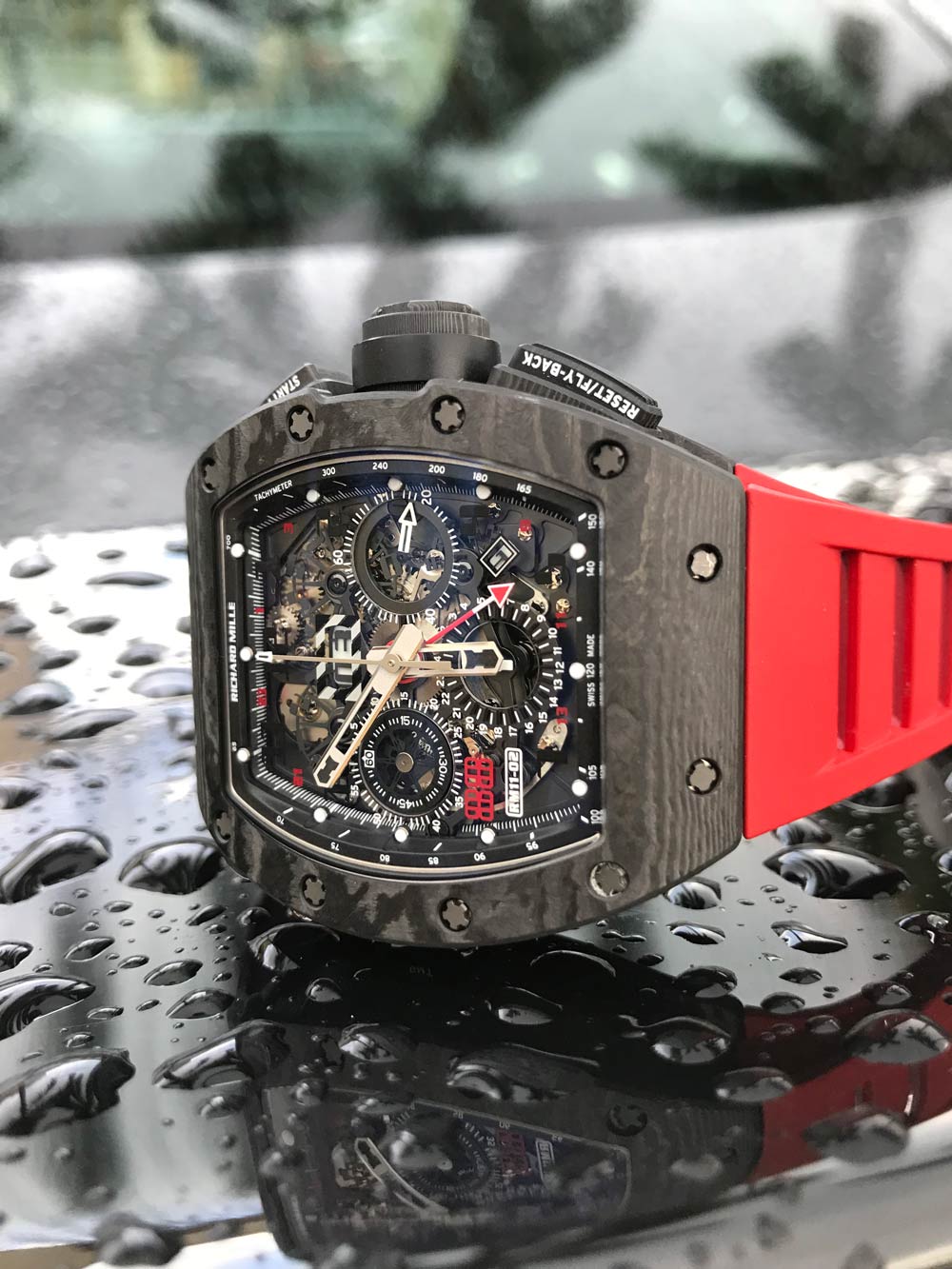 Patek Philippe:
For retail price, Patek Philippe watches start at $20,000 and it goes up to a whopping $24 million.
For pre-owned Patek Philippe watches, you can get some for as low $5,000-10,000.
Here are a couple examples of some pre-owned Patek Philippe watches that we sell (price included):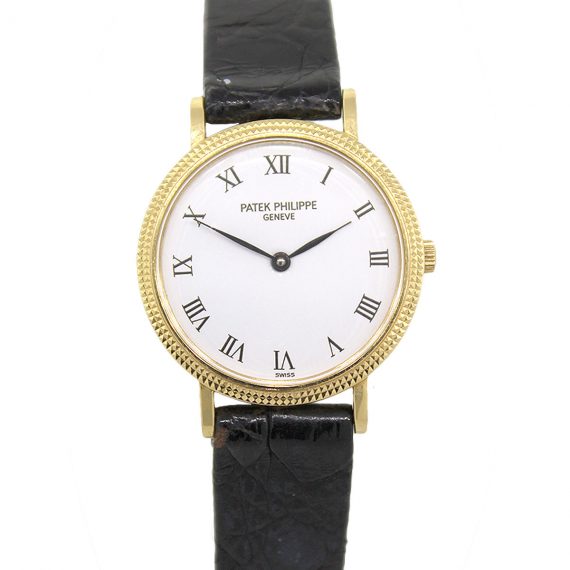 Resale value
Richard Mille watches hold their value pretty well, but not amazingly. Forbes considers Richard Mille one of the best high end watches for investment, so there's that. In any case, it really depends on what model. Richard Mille's market is so niche that it can take time to find a buyer. It's not like Rolex where you can easily sell the watch.
Patel Philippe has a very strong resale value, especially when they reach a certain age or vintage status. The price can appreciate significantly, making them almost a kind of real investment. Even pre-owned models that were new within the last 5-10 years may hold a market value that is higher than the original MSRP price tag.
All in all, when it comes to watch investments, buying pre-owned is smart as the person who bought it new took the initial hit that typically lasts for 10 years, at which point the price start to appreciate. If you buy it used and you resell it within a short period of time, you are not likely to lose much or any money at all. It's not really a good investment, but it is a safe bet nonetheless.
If you have any questions about this comparison, please leave a comment below or contact us. We'd love to hear from you.
Diamonds by Raymond Lee
If you want to come into our retail showroom in Boca Raton to see our collection of luxury Swiss watches, please feel free to drop by anytime we are open. Here is our address and opening hours.
Address – Diamond By Raymond Lee's Showroom in Boca Raton, Florida:
2801 N Federal Hwy, Boca Raton, FL 33431
Hours: Monday-Friday  11am-7pm | Saturday  10am-5pm | Sunday 12pm-5pm
About us:
Diamonds by Raymond Lee is Boca Raton's most recommended sales and service centers for watches, diamonds, and high-end jewelry. Our business is family owned and operated. We have over 30 years of experience selling fine certified luxury watches and in that time we have built an unparalleled reputation for fair, quality dealings in South Florida.
Our goal is to meet the needs of our customers at our Boca Raton retail store and online and to provide our community with the best possible experience.  We combine value, quality, and cost with the remarkable ability to meet and understand the needs of the people we serve.