Review: Rolex 116655 Yachtmaster 40 Rose Gold Oysterflex Sports Watch
A hand-on, in-depth review of the highly intriguing, ultra luxurious Yachtmaster 40 (Rolex 116655). This is the first Everose version of the Yachtmaster. The first Oysterflex Bracelet version of the Yachtmaster. And, the first Cerachrom bezel matte black version of the Yachtmaster.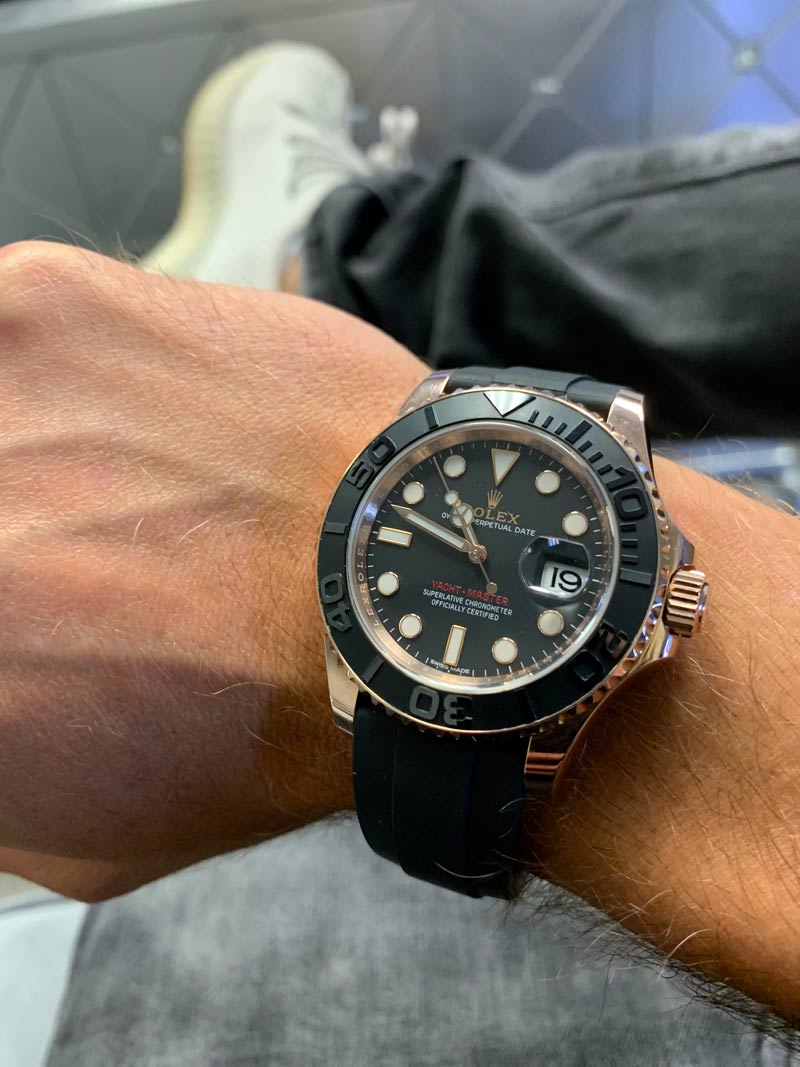 Note: The watch featured in this article is pre-owned and for sale at our showroom Diamonds by Raymond Lee in Boca Raton. You can also purchase the Rolex Yachtmaster 40 from us online as well. View the full sales listings here: Rolex 116655 Yacht Master 18k Rose Gold Black Dial On Rubber Strap Watch
Today we are reviewing the Rolex 116655 Yachtmaster 40, which was released back in 2015. This watch was a novel take on the Yachtmaster, with its unique strap and bezel and use of precious metal rather than the classic stainless steel.
It was a hit straight out of the box. It drew a lot of attention to this wonderful watch and the Yachtmaster collection as a whole.
In this article, we are going to briefly discuss the Yachtmaster collection. Then we are going to cover all of the finer details of this particular watch, digging into all of its patented creations, while also giving our personal, hands-on opinion.
So, let's begin.
The Three Highlights of This Watch
There are a few features that stand out about this Yachtmaster.
It is the first Yachtmaster to be crafted from Rolex's rose gold Everose. The case and the clasp that is, as the strap is something entirely unique.
Possibly the most special thing about this watch is the strap. It's called an Oysterflex Bracelet, and it is an entirely Rolex creation. It first appeared in 2015 (same years as this watch's release), and it is only used on certain precious metal Rolex's, such as this Yachtmaster 40. It may look like rubber, but in fact, it is a high performance black elastomer with a nickel alloy metal blade running through the center of it. The Oysterflex has impeccable stability, structure, and comfort. The Oysterflex Bracelet is super unique and cool. We will talk more about the Oysterflex later in this post.
Last, but definitely not least, the Cerachrom ceramic bezel. As with pretty much everything Rolex does, this is also a special Rolex creation. What's special about this particular bidirectional Cerachrom bezel is that it has a matte finishing rather than Rolex's typical glossy Cerachrom bezel that you see on watches like the GMT-Master II.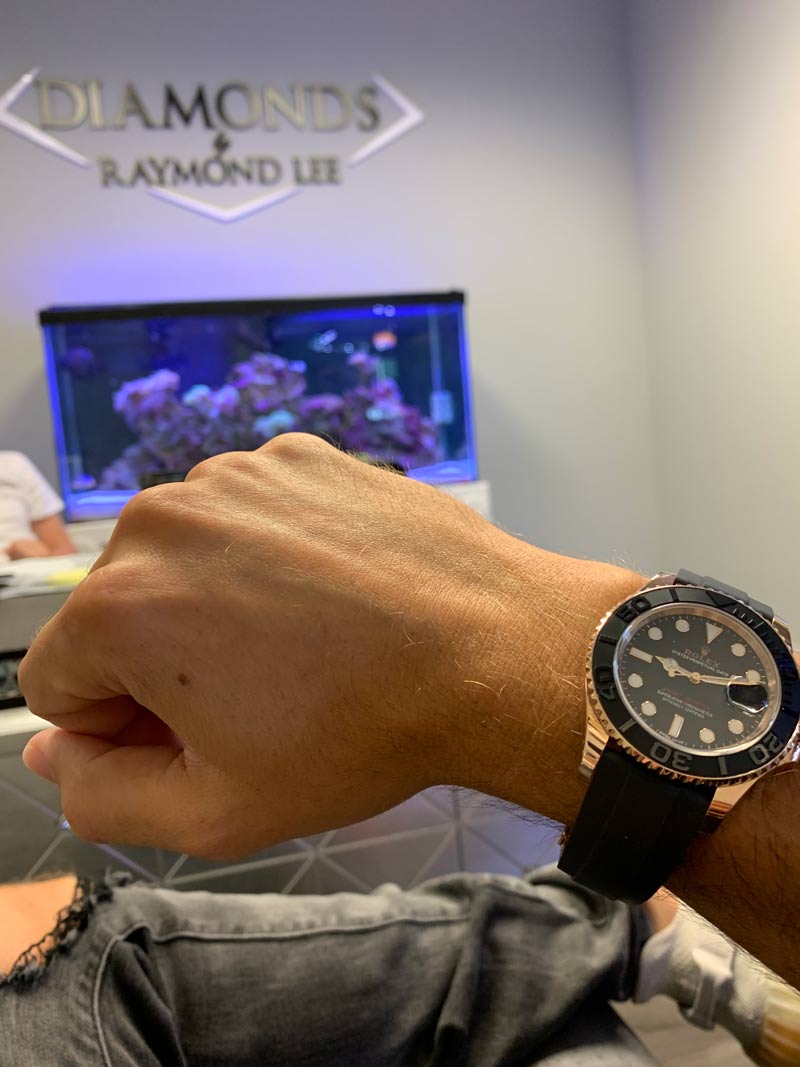 Yachtmaster History
The Yachtmaster (actually written as 'Yacht-Master') was designed to be a high end lifestyle sports watch. Although all Rolex watches are "high end", most would be considered more utilitarian, like the Submariner and GMT-Master.
As most know, and as the name suggests, the Yachtmaster was made for affluent sailors and people who own yachts. Because the watch is made for sailing the seas, all Yachtmasters use an Oyster case. So, they can have a good degree of water resistance. Moreover, Yachtmasters have a bidirectional bezel. And the Yachtmaster II also has a regatta timer for those who race on the lush, moveable surface known as the ocean.
The Yachtmaster wasn't made to be a pro diving watch or a watch for pilots. Yet it shows up in those fields by professionals who have a keen eye for the Yachtmaster.
In any case, what's more than its water resistance, bidirectional bezel, and usefulness on the ocean is the fact that the Yachtmaster was made to allure and emit style and status…the most fitting aspect of a watch for the world of yacht owners.
When you think about it, essentially every major watch manufacturer has a collection for marine or nautical use. There's Omega, Audemars Piguet, Patek Philippe, Vacheron Constantin, Seiko, Ulysee Nardin, Blancpain, IWC, Richard Mille, and more, yet none of those brands really compete with the Rolex Yachtmaster when it comes to both functionality, design and status for those who sail the world on expensive boats. The Yachtmaster is the epitome of a nautical luxury tool watch.
With all that said, surprisingly, the Yachtmaster collection has only had a relatively small (yet fierce and loyal) following of Rolex enthusiasts since its first ever creation in 1992.
That is until the Yachtmaster 40 came out.
The Yachtmaster 40 reference 116655 came out in 2015. It helped open more a lot more eyes to the Yachtmaster collection.
The 40mm size and the overall luxurious style with the matt black on Everose on matt black on matt black made this watch an instant must have. It was a rendition of the Yachtmaster that got people talking. It's like a polished man's Submariner if you will.
Personally, we absolutely love the Rolex 116655, which is why we are reviewing it today, 4 years after its release. Now, we are going to dig into all the nitty gritty details and features of this watch.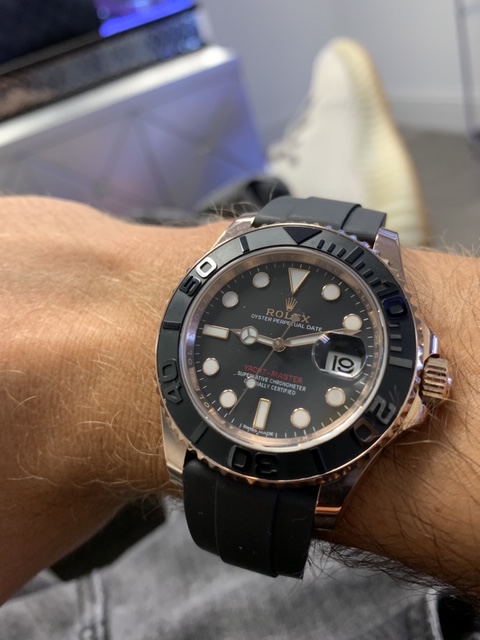 Everose Gold
As we mentioned above, Everose is Rolex's very own rose gold. It is an in-house and patented creation. Everose is a beautiful 18 ct rose gold that has a special, exclusive alloy that preserves beauty far greater than most rose gold alloys. It was first introduced in 2005, and now Rolex only uses Everose for their rose gold watches.
On this particular model, the case, crown and clasp are all carefully crafted from Rolex's precious Everose, with a finishing that is incredibly striking.
Thanks to Rolex creating one of the finest precious metal alloys the world has to offer, you can be confident that this rose gold watch won't dull or fade over time.
CASE
You probably already know this, but the Yachtmaster 40 has a traditional 40mm case size. It is an Oyster case. This one is water resistant to 100 meters (more than enough for your typical dive).
Back in 2007, Yachtmaster changed the Oyster case shape. So this one has the more sporty and modern look compared to pre-2007 Yachtmasters. Overall, Rolex has made nice refinements to the newer Yachtmaster cases and that includes this one.
Moreover, the Yachtmaster 40 has all the same reliable constructions of your normal Yachtmaster watches, such as a triple-sealed "Triplock" screw down crown and a scratch resistant sapphire crystal covering the dial with a magnified cyclops eye.
However, what's very special about the case of the Yachtmaster 40 is it is crafted from precious metal (Everose) rather than what Yachtmaster has always used in the past, which is Rolex's Oystersteel (their patented 904L stainless steel).
If you know Rolex sports watches, then you know this is special, as most references use either solid stainless steel or a blend of stainless steel and gold.
We think this was a genius move for the Yachtmaster for two reasons. One, the Yachtmaster is geared towards luxury sports lifestyle, which is different than their professional series. So, the use of precious metal is very appropriate. And two, modern sports watch buyers want precious metals, especially rose gold. The trend has become clear, and thanks to Rolex, even more so.
Bidirectional Rotatable Matte Black Bezel
It's very rare to see a matte black dial on a Rolex sports watch, and what a pleasant surprise this was when it was first released back in 2015. The matte finish allows for better legibility and the look is more aggressive than your typical slight gloss Rolex bezel.
The bezel on the Yachtmaster rotates bidirectionally and it has slightly raised 60 minute graduations that are glossy. They are precious metal graduations with a beautiful polish finishing, which makes them stand out impeccably on the matt black sand-blasted background. Even with it being black on black.
The bezel is more than just looks, though. It is a functional bezel. The bezel allows the wearer to calculate times between distances. For example, you could use it when sailing between two buoys.
And, likely the bezel's most important aspect, it is made from Cerachrom, which is Rolex's patented ceramic material. Cerachrom is extremely durable and scratch resistant. It is pretty much as scratch resistant as the sapphire crystal.
Black Dial
The Rolex 116655 pairs the matte black bezel and Everose incredibly well with the dial.
The dial is luxurious and business like. It is a matte black maxi dial, except the lume plots have an Everose surrounding and the hands are Everose with blue glowing Chromalight. Using Everose hands was a smart move, as not only does it match the case, but it also prevents tarnishing and creates an amazing identity. What's more, the hands are beautifully polished, giving it that true Rolex character and allowing for incredibly easy legibility as the hands really pop.
The dial's writing is a mixture of white and Everose, with exception of the red "YACHT-MASTER" lettering above the 6 o'clock. The red lettering was a fantastic touch, as it charmingly stands out.
All in all, it is an extremely contemporary dial, mainly crafted by hand, and completely manufactured in-house. We fell in love with it at first sight and so did the Rolex community. This is the dial the people were hoping for with the release of the Submariner, yet they got it with the Yachtmaster 40. No complaints here.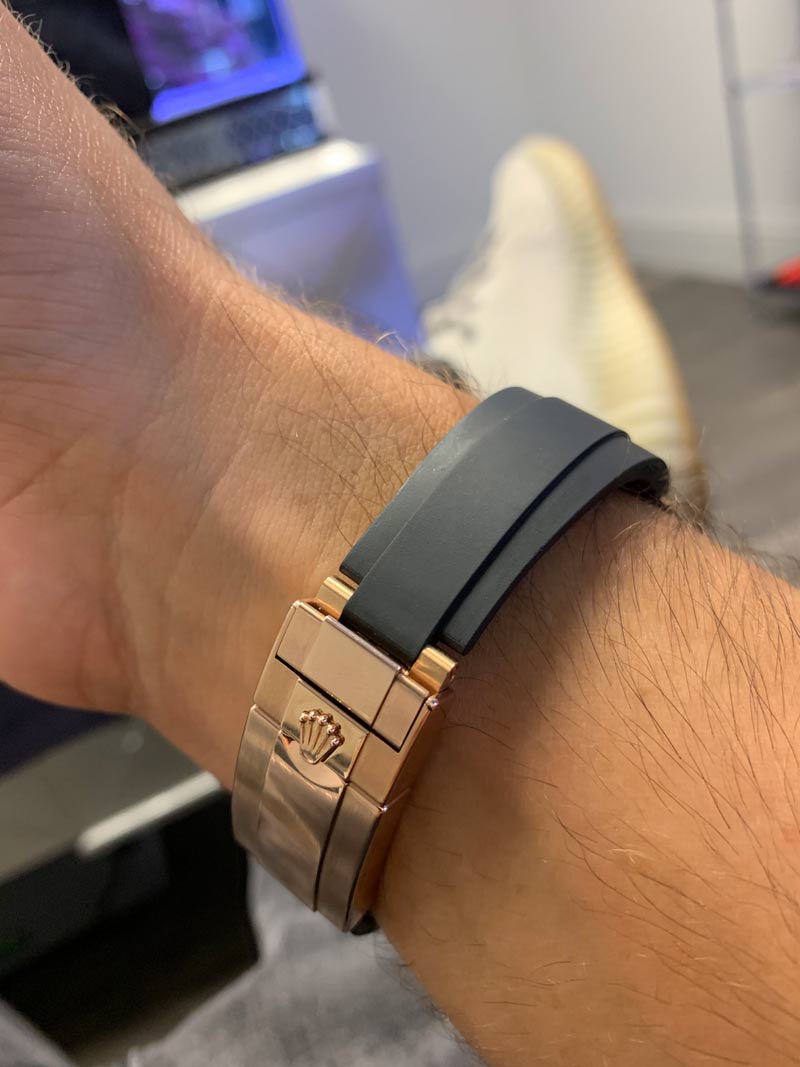 Oysterflex Bracelet
Now, the bracelet may look like a rubber strap, but in fact, it is made with a flexible titanium and nickel alloy metal blade that is overmoulded by a high-performance black elastomer, which is very resistant to environmental effects, durable, and flawlessly inert for the wearer. It has maximum comfort, as the inside of the bracelet is fixed with a longitudinal cushion system. This stabilizes the watch on the wrist and fits it in the Everose Oysterlock safety clasp perfectly.
The Oysterflex bracelet was developed and patented by Rolex. It is their sporty alternative to metal bracelets.
You won't find many Rolex watches with an Oysterflex. It was reserved for the Yachtmaster 40, a few gold Daytonas, and as of 2019, the Yachtmaster 42 white gold watch.
All in all, the Oysterflex bracelet is one of our favorite features of this watch. It's extremely supple, comfortable, and secure. It just feels great wrapped around the wrist.
However, one crucial thing to note is that there isn't much room for resizing with the Oysterflex bracelet. The Oysterlock clasp does have some micro-adjustability, but it's still important that you get the bracelet in the right size as you can't resize it. This one is perfect for a 7 inch wrist.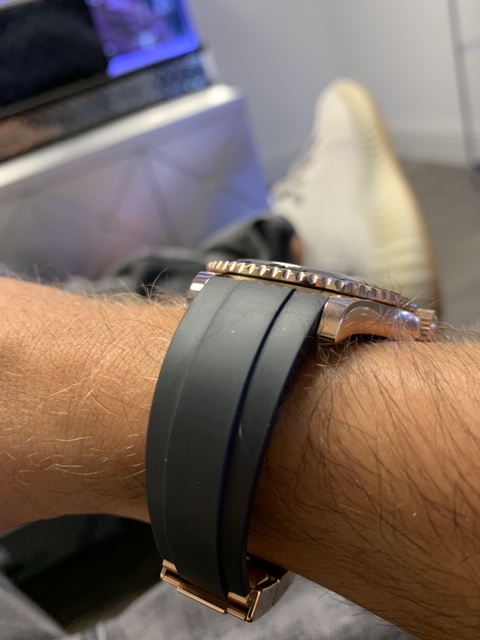 Caliber 3135 Movement
At the heart of the Rolex 116655 Yachtmaster 40 is a caliber 3135 automatic movement, which is, of course, COSC Chronometer certified. It's the same movement that you will find in the Rolex Submariner Date.
It is a tried and true movement with great shock resistance thanks to its addition of the Paramagnetic blue Parachrom hairspring (another Rolex creation).
Overall, it is a reliable movement with extreme precision. The usual for Rolex.
Where to buy a Rolex 116655 Yachtmaster 40 Everose Watch?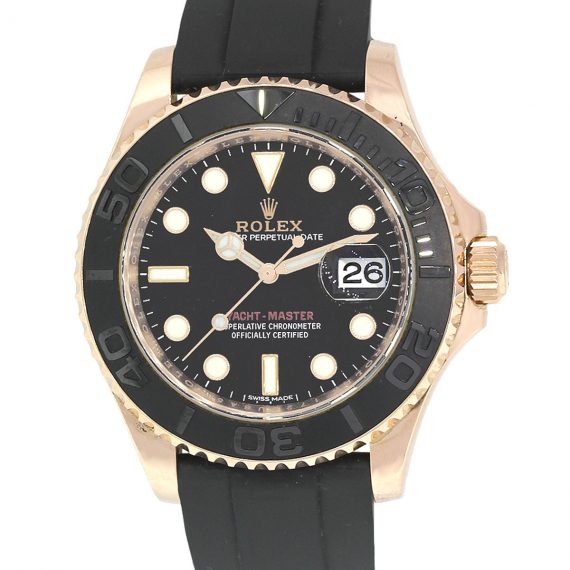 If you are serious about adding a unique, precious metal Rolex watch to your collection, this pre owned Rolex 116655 Yachtmaster 40 is the perfect watch. It is in flawless condition and it comes with Rolex's original papers and box.
You can purchase it online or at our retail showroom in Boca Raton.
Here is the full sales listing: Rolex 116655 Yacht Master 18k Rose Gold Black Dial On Rubber Strap Watch
Address – Diamond By Raymond Lee's Showroom in Boca Raton, Florida:
2801 N Federal Hwy, Boca Raton, FL 33431
About us
Diamonds by Raymond Lee is Boca Raton's most recommended sales and service centers for watches, diamonds, and high-end jewelry. We are a family business with over 30 years of experience selling fine certified luxury watches. In that time we have built an unparalleled reputation for fair, quality dealings in South Florida.
Our goal is to meet the needs of our customers at our Boca Raton retail store and online and to provide our community with the best possible experience.  We combine value, quality, and cost with the remarkable ability to meet and understand the needs of the people we serve.
We are proud to say that we have one of the largest Rolex collections in all of South Florida.
If you live in Boca Raton, please feel free to drop by our showroom anytime!
Let us know what you think of the Rolex 116655 Yachtmaster 40 featured in this article in the comment section below.