Are you considering creating a custom diamond ring?
Great. It's a smart move!
Designing your own bespoke ring is the perfect way to get the ring you've always dreamed of. Moreover, one that is flawlessly suited to you.
In this article we will go over everything you need to know about creating your own custom diamond ring, such as how to find inspiration, getting the most value, and the process behind creating a custom ring.
At Diamonds by Raymond Lee and Raymond Lee Jewelers (our two retail locations in Boca Raton), we've created countless custom rings for customers over our 30 years of being in business. 
In a world with mass produced products at large, it's our pleasure to offer something unique to our customers.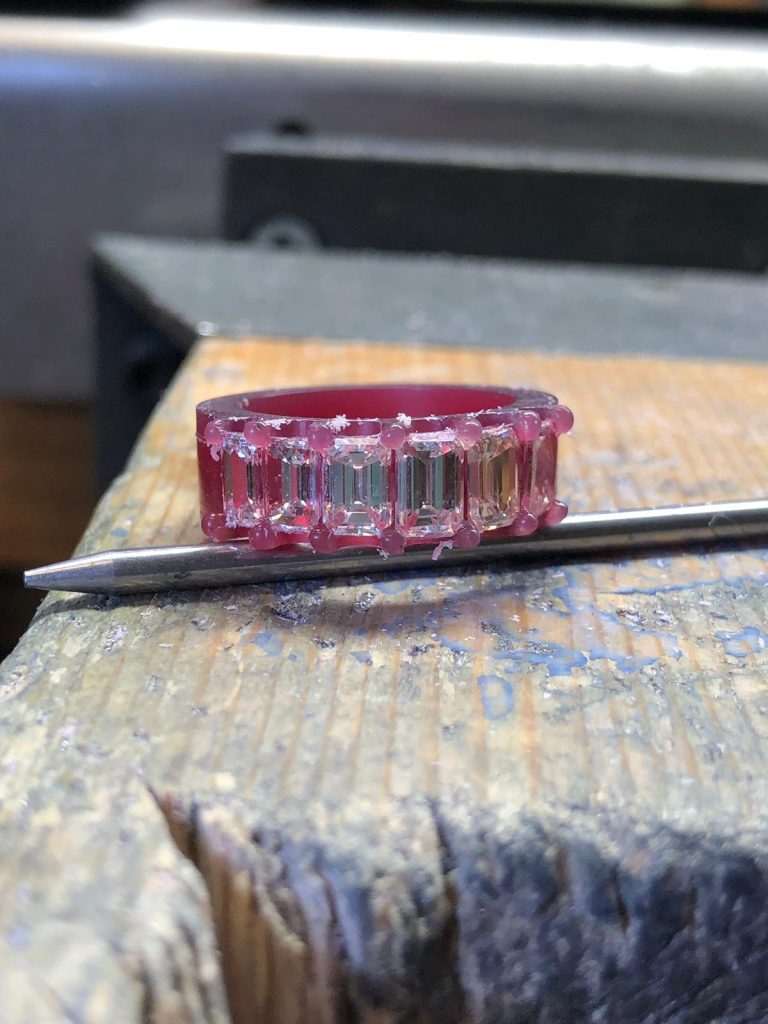 Designing a Custom Diamond Ring vs Buying an Existing Ring
So you are contemplating buying an existing ring or designing your very own diamond ring.
There are some advantages to designing a custom diamond ring that we'd like to run through.
Firstly, the process really isn't complicated so there is no need to be overwhelmed, even when designing a ring from scratch.
With a custom ring, you will be able to get diamonds and gems that are perfectly proportioned to your finger, the ring, and your liking. Furthermore, the ring will fit your finger flawlessly, so you won't have to deal with any ring resizing. Ring resizing can alter the shape of the ring, and for some existing rings, depending on the metal and the diamond setting, resizing isn't even possible.
Secondly, you will be able to add your personal taste to the ring. All you have to do is show pics of prefab rings or anything that means something to you and work with our designer to get all the elements you want into your custom ring design.
Getting Inspiration
Inspiration for a custom ring can come from anywhere.
One of the best places to get inspiration for rings is on Instagram and Pinterest. Use specific hashtags to browse the many rings that are out there in the world.
Another thing to consider is colors and motifs. Create a mood board and a color board. Look for gems or fancy color diamonds that may spark your interest. Consider your birthstone or your significant other or kid's birthstone. You also have diamond shapes and cuts, precious metals, and more to consider…
Lastly, look to vintage designs and borrow from classic pieces as vintage-styles never go out of fashion. We suggest pulling inspiration from Art-Deco, Victorian, and Art Nouveau-era rings. Those are the three most popular jewelry eras.
Above all, get creative. A custom ring is the best way to showcase your personality. With all the inspiration out there, it should be easy!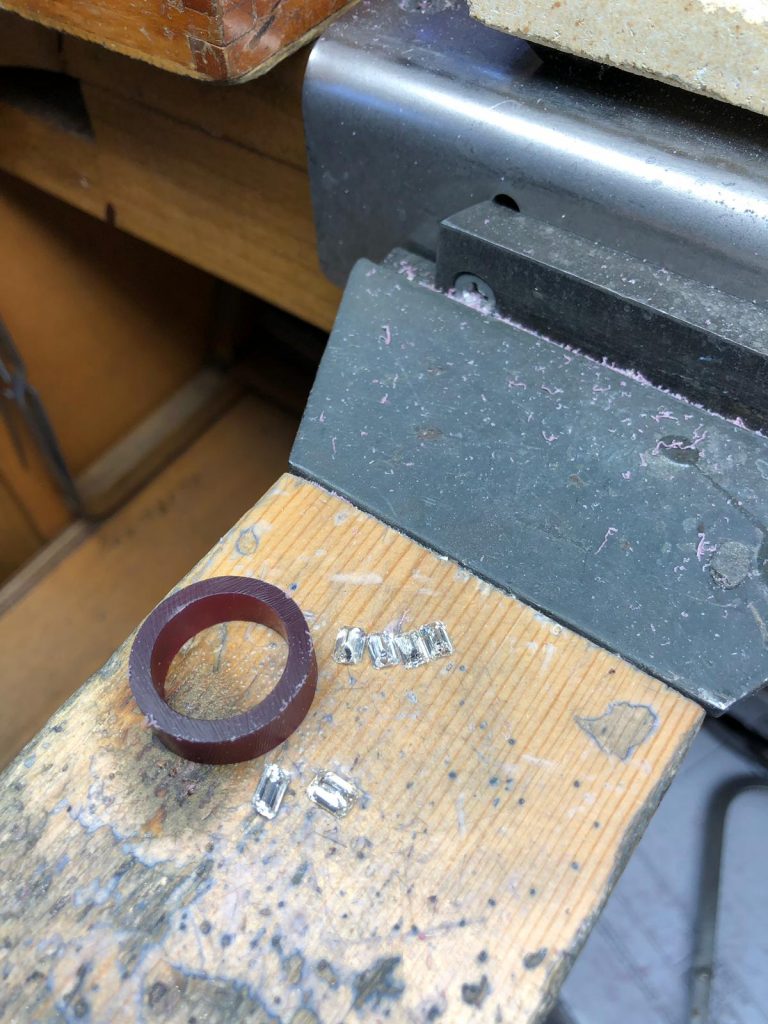 Choosing Diamonds and Gems.
A diamond is the integral piece of every ring. We suggest you choose the loose diamonds that you love and work from there. You can also choose gems or combine the two.
If you are doing the design online, request pics and videos. Comparisons of different diamonds will help you figure out which you like best.
All in all, use all the resources available to you when making your decision.
Metal Color
If you are creating a custom ring for your significant other, the best tip we can give you is to look to her jewelry box for metal inspiration. What precious metal does she have the most of? Most people have an affinity for a certain type of metal color. This will make your life easier.
If you are creating a ring for yourself, choose the metal that speaks to you. White gold, yellow gold, and platinum are obvious choices. However, rose gold can be a gorgeous alternative and it is extremely vogue. Another great option is mixing metals.
Finally, consider durability. White gold, platinum, and rose gold are the most durable, but each of those three has after-care aspects that need consideration.
Personal touches
You can make a watch more meaningful to you by engraving a special phrase.
Maybe nature has a special place in your heart. If so, you can encapsulate that in the design with a flower or butterfly halo, for example. Let our designer know what you like and we will give you the best options.
Recycling an Heirloom
Let's say you have an estate piece of jewelry that was left to you. We can remove the stones, meltdown the metal, and then reform that heirloom into a new piece that is more modern and suitable for you. This way the piece still holds meaning and you can actually wear it!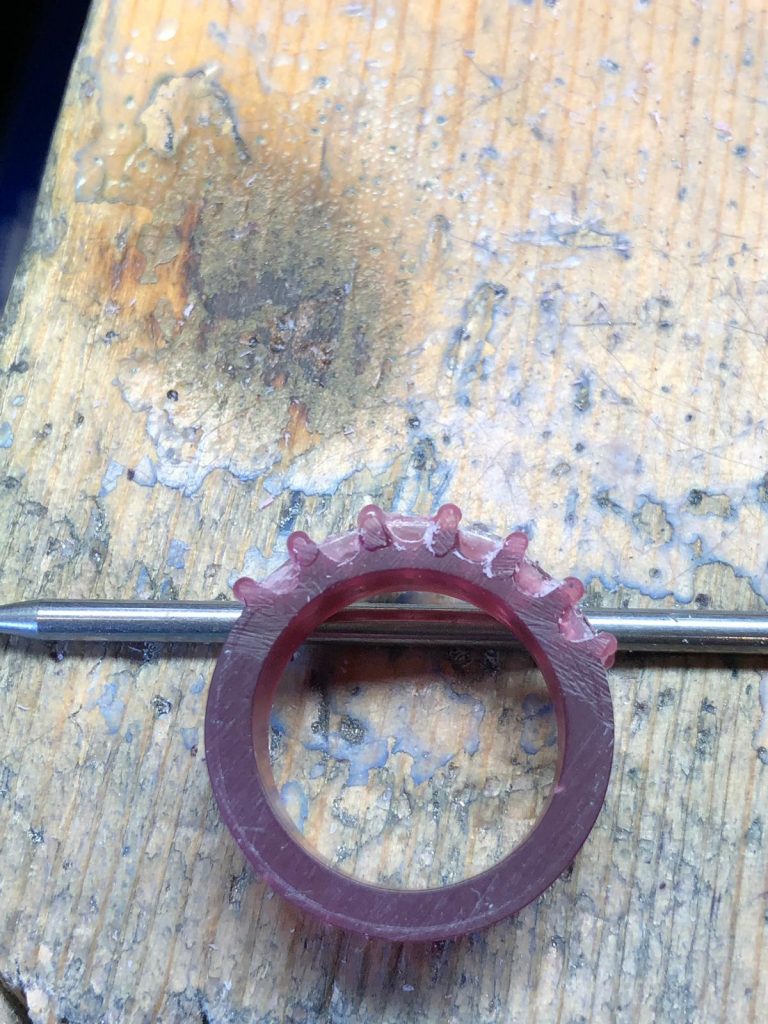 The Process For Creating a Custom Diamond Ring
After getting a good understanding of what you want, the first thing is discussing these ideas with our jeweler.
Step 1: Discuss your ideas with our jewelers
Once you share your ideas with our jeweler, we can start sketching up some designs on paper. From there, you can choose the one that calls to you.
Step 2: Computer Aided Design (CAD)
We will ask that you choose your diamonds and/or gemstones and the metal for the band.
After, we will create a CAD to finalize your vision.
We can make a CAD from any of the sketches. Moreover, our CAD has tons of features if you want to play around with it.
Step 3: Wax Model
Once we have a CAD, we will produce a wax model of it. We can add the stones to this (as seen in the pictures in this article), that way we can ensure the proportions and fit are correct and that you will love the end result.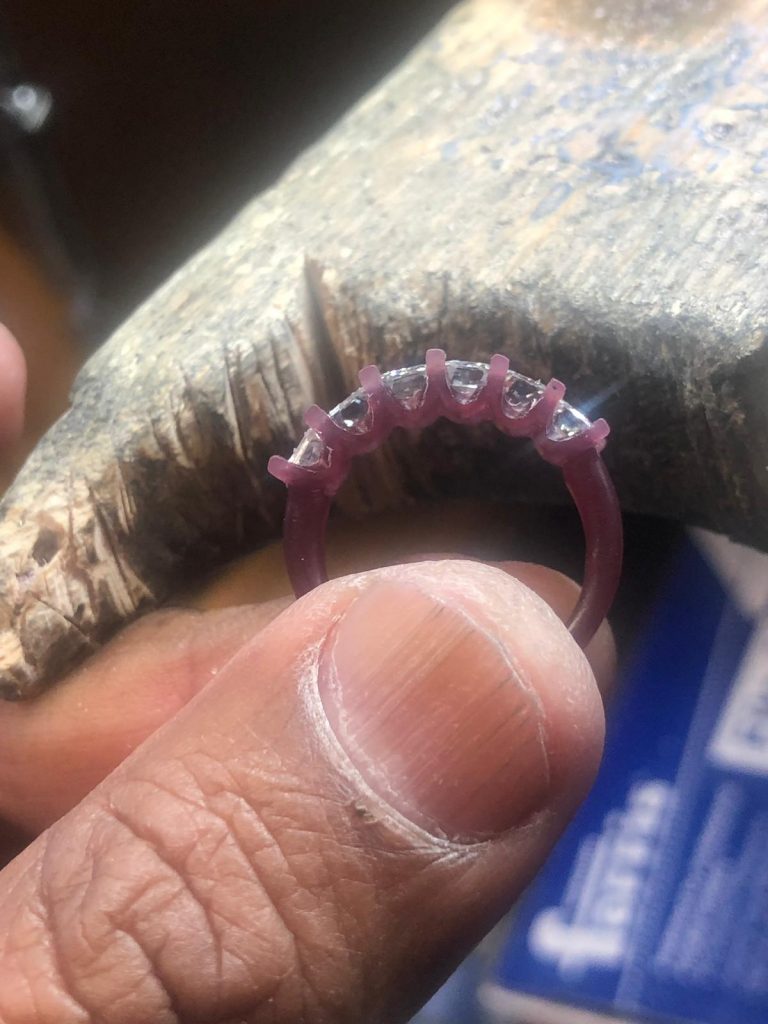 Step 4: Casting
Once the design has been approved, we cast it. For this custom ring, we cast it in platinum.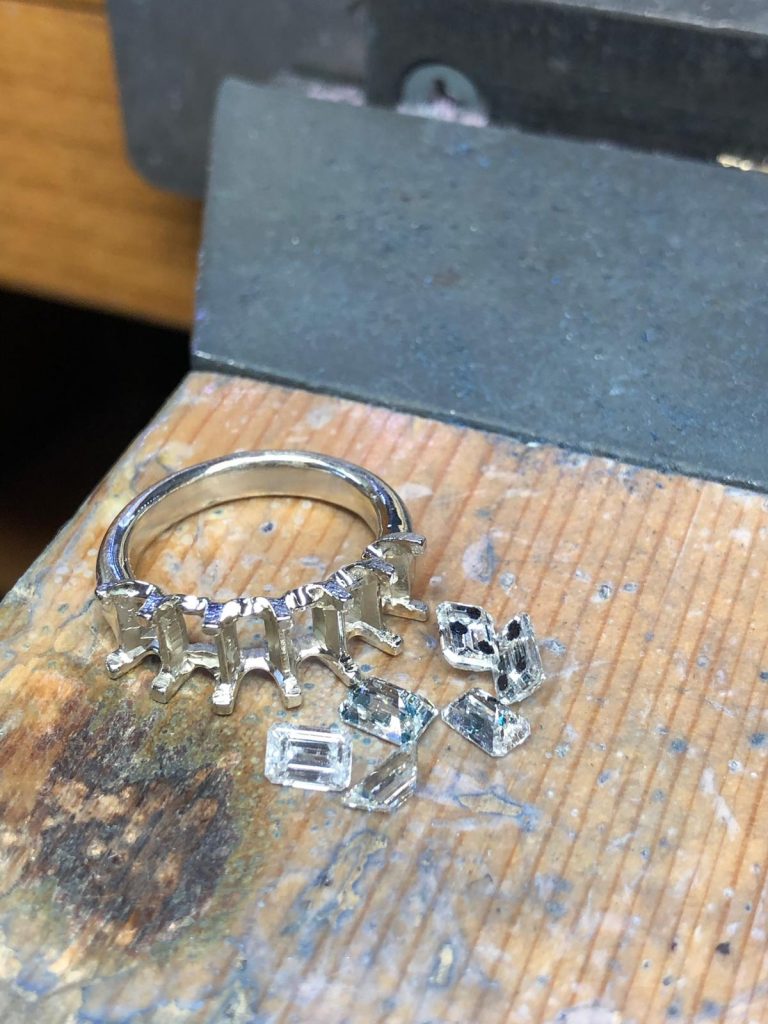 Step 5: Set Stones
Then we set the diamonds…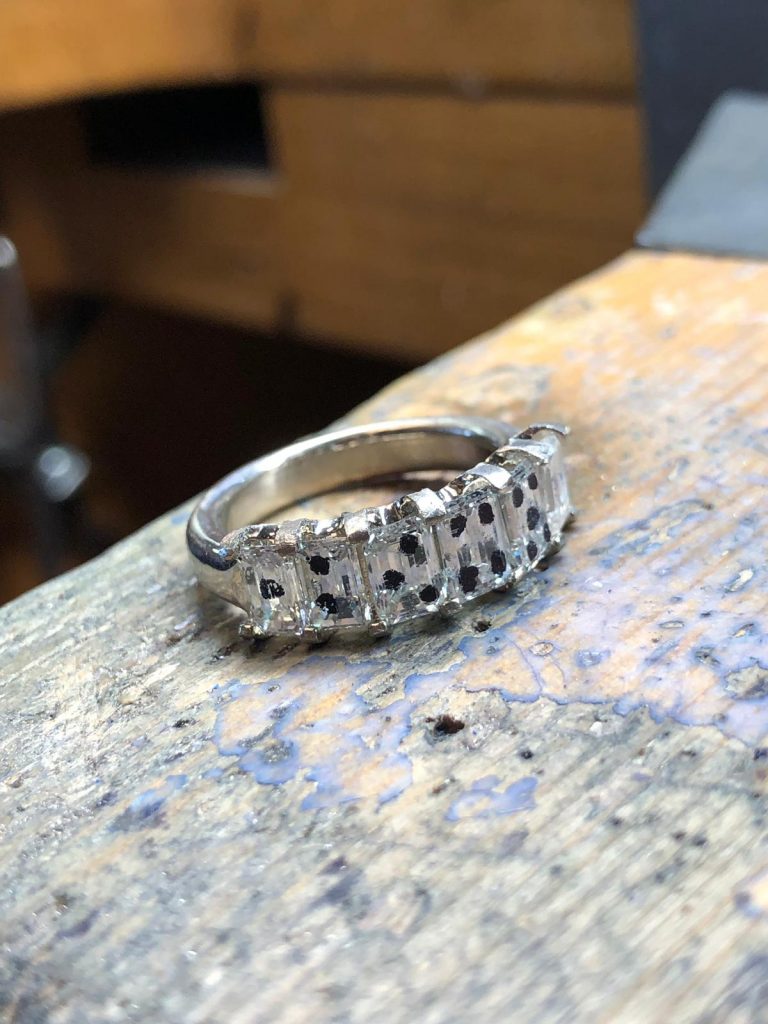 Step 6: Finishing Touches
Once the product is finished, we polish it and deliver it right to your fingertips!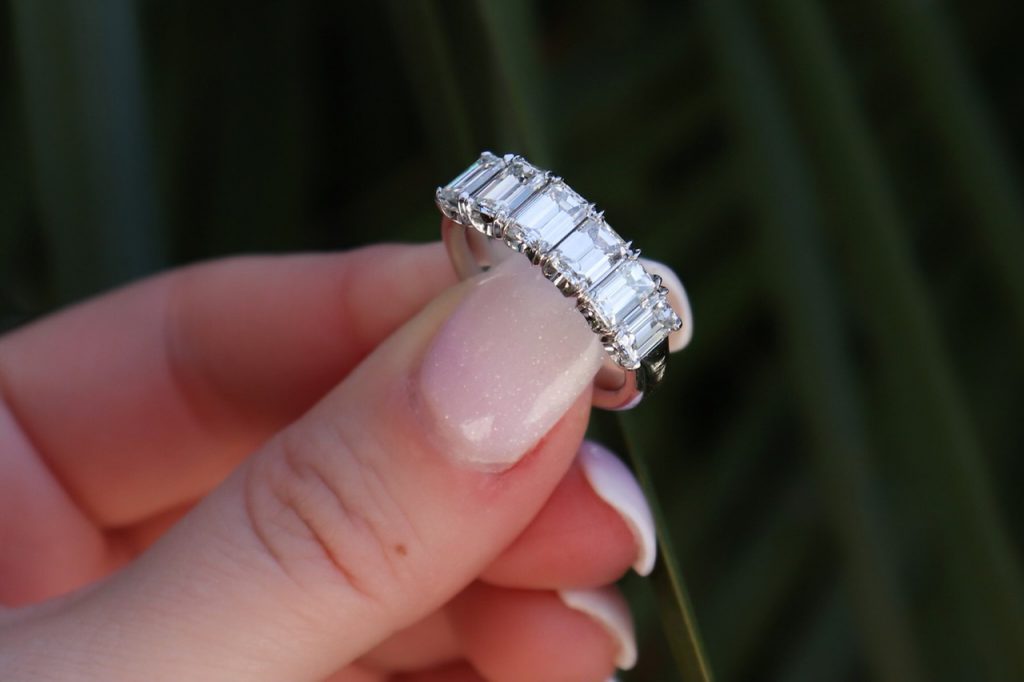 It's that simple!
How long does the whole process take?
It really depends on how the sketching and CAD process goes. If you want to keep making adjustments to the design, we will work with you until we get it to your vision of perfect. However, that will prolong the process. It's worth it, though, as you want to get it right.
On average, from start to finish, it takes around 2-3 weeks. With the design process being around 5 days and the creation of the finished piece around 10 days.
"What if I end up not liking my custom diamond ring?"
There's always a chance that you won't like it or you have a change of heart on the design. Hopefully, if this occurs, it is during the design process. Because of this, we usually recommend sleeping on a final CAD and reviewing it another day to see how you feel about it.
If you are gifting this ring to someone, there is also a chance the recipient won't be as delighted over the design as you are. So, we recommend reviewing the CAD with the person you are giving the ring to, that way you can avoid this fate.
In any case, fortunately, we can change aspects of the final creation, but it will add to the cost.
That said, if this is a concern, please discuss this with our jeweler beforehand.
Custom Diamond Ring VALUE TIPS:
Optimize your budget by compromising on diamond clarity first.
If you want to get the most sparkle and fire, go for a round brilliant excellent cut diamond. Round brilliant diamonds offer the most brilliance (after all, the name says it all). Other great options for maximum sparkle are pear-shaped diamonds, oval diamonds and princess cuts.
For the most pure, natural, timeless beauty, select a colorless diamond with a D-F color.
If you want complete peace of mind, always buy a diamond that has been GIA certified.
You can learn more about diamonds and their value by reading our guide to the 4Cs (cut, color, clarity, and carat weight).
If you have any questions regarding diamonds or other gemstones, you can always ask the jeweler you are working with at Diamonds by Raymond Lee for insights and advice.
Cost Analysis – Existing Ring vs Custom Ring
In most cases, there is a difference in cost between buying an existing ring and creating your own bespoke ring. You get what you pay for.
Many rings are sold without out diamonds, and then the person buying needs to select a loose diamond (within a range of sizes and shapes) to be set into the ring. These rings are typically mass produced and because of this are very competitively priced. The downside is, they are not very unique (considering anyone can buy them) and the ability to alter the design is very minimal.
Custom rings typically cost more than these rings, but again, you are paying for uniqueness, personality, and overall just the ability to control every detail of the ring. Custom rings give you the chance to create the ring of your dreams. A ring that you will never want to take off. So, on average they will cost more, but it's well worth the price.
That said, some diamond rings from top designers can be more expensive than a custom-made diamond ring. But this depends on the brand, rarity, and story behind it. If it was owned by someone famous in the past or it was a one of a kind piece from an iconic designer, it can be much more expensive than a custom ring.
If you have any questions on price, you can call us or come in and we can give you a general idea. We won't know for sure until we finalize the design and materials used.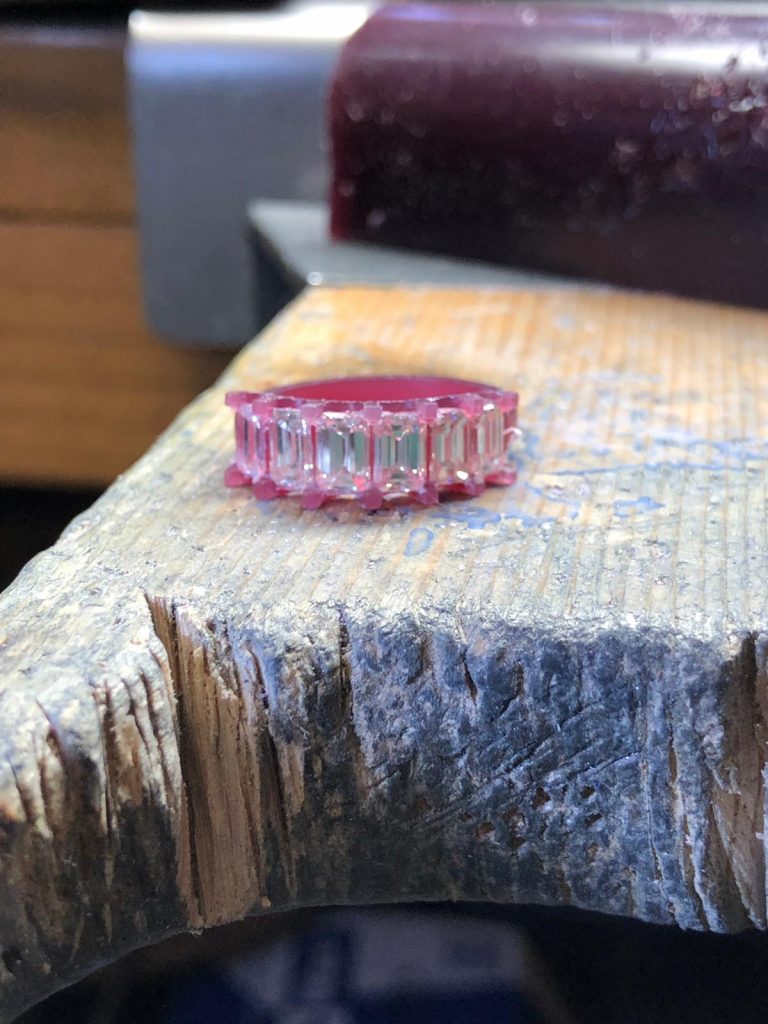 Determine Your Budget
The best way to go about pricing a custom ring is to determine how much you are willing to spend. From there, we can work with you to get all the most important details and aspects of your ring included in the design without going over your budget. This is how you can get the most bang for your buck.
At Diamonds by Raymond Lee, optimizing budgets is our forte. Working with our expert jeweler will be a breeze and he will help to minimize cost and maximize quality.
Custom Rings in Boca Raton at Diamonds by Raymond Lee & Raymond Lee Jewelers
Diamonds by Raymond Lee's ultimate goal is to help you find your creativity and originality so we can create a ring you absolutely love. A custom ring should be something you are proud of, knowing that you created it by yourself. 
You can be as involved in the designing of your custom ring as you would like, as our jeweler will work with you every step of the way to create the perfect, unique, one of a kind ring.
By fusing traditional and contemporary techniques, our custom rings are both high quality and pure originality.
All of our diamonds are ethically sourced and graded by the GIA (Gemological Institute of America) and our custom rings are completely made in-house right here at our retail showroom in Boca Raton.
Learn more about our Custom Ring Design Service.
Another custom engagement ring we made for a customer in February of 2019.
About Us
Diamonds by Raymond Lee and Raymond Lee Jewelers have been serving Boca Raton and South Florida's insatiable need for diamonds for over 30 years. Our team of diamond advisers is dedicated to assisting you in selecting the perfect engagement ring.
Our vision has always been to forge a unique, professional, and intimate vibe. We offer a shopping experience that works for all generations. We especially know what the modern jewelry buyer wants; and we keep traditions that never fade intact, such as sensibility, artistry, and craftsmanship. Furthermore, our prices are super competitive and the quality we provide is unparalleled for the price you pay.
There's a reason why Diamonds by Raymond Lee has been noted as South Florida's best diamond engagement ring retailer since 2016.
If you live in Boca Raton, please feel free to drop by our showroom anytime!
Diamond By Raymond Lee's Showroom in Boca Raton, Florida:
2801 N Federal Hwy, Boca Raton, FL 33431
Our hours of operation are:
Monday-Friday – 11 am to 7 pm
Saturday – 10 am to 5 pm
Sunday – 12 pm to 5 pm
Feel free to contact us if you have any questions about creating a custom diamond ring. We look forward to hearing from you.