Diamonds are forever, is how the saying goes. We all know these are valued precious stones and have at least a good idea of all the reasons why that might be so. However, not all of us can identify the four main characteristics of diamonds and why they are important in the process of selecting a stone. Here we go into these four criteria called the diamond 4 c's namely cut, color, clarity, and carat.
These are the diamond 4 c's you should be aware of whenever selecting a stone or comparing jewelry pieces with diamonds. Each one of the c's categorizes a certain feature of a diamond and breaks down what to look for within that c. Certain aspects are much rarer to find in diamonds than others, like color for example. As you will see below valuable and rare diamonds like colorful ones or fancy diamonds are rated on the intensity of their color.
The GIA Grading Scale
Here we are using the GIA diamond grading scale. The GIA is the Gemological Institute of America. They were established in 1931 and are primarily concerned with protecting the public through gemological research and grading services among others. They developed the GIA grading scale to rate diamonds on the four critical c's named above. These are cut, color, clarity, and carat.
We at Raymond Lee Jewelers use the GIA certificates for a large number of our jewelry and especially in our diamond search for bespoke or custom jewelry designs. These certificates ensure that the gems we use are the highest quality and therefore carry the highest value for our customers. At every step of the way, particularly on your big day, we aim to offer complete and superior service along with a unique and ample curated collection. We invite you to come to visit us in person to view our offerings.
The Cut of the Diamond
There are a few key indicators of a diamond's cut. These include the different parts of the diamond that are cut in, how well they are cut and how they affect the finalized diamond's properties. We started off with the cut as the very first c as it is the most complex and difficult to grade from all the others. Also, it really sets the stage for the other c's as they are quite heavily dependent on the cut of the diamond. The cut will define a diamond's value like nothing else. Since round diamonds are the most common cut we will refer to the grading system for round diamonds. Now the three key features of a diamond's cut are the brightness, fire or internal color reflection, and sparkle.
Meanwhile, the cut of certain diamonds for shape is purely based on preference. Engagement ring center stone cuts, in particular, have shifted tendencies over time. Modern couples have tended to prefer emerald or even pear cut diamonds to the traditional round or cushion cut stones. The princess cut diamond has also been rather popular among couples. Now, none of these can be compared in terms of cut value based on their shape but rather on the criteria discussed above. The most important thing to remember is that the cut of the diamond will dictate the diamond's ability to interact with light. Further, the light is what creates the oh so coveted sparkle of diamonds.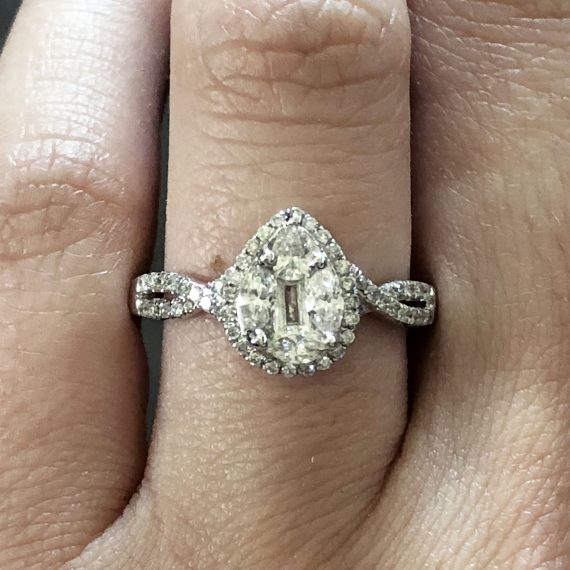 First, is an 18k white gold engagement ring with a pear cut diamond. This ring not only has a unique ribbon style band it also has a halo feature. The band and halo are also glittering with accent diamonds. These unique features further the uniqueness of the mosaic pear cut center diamond.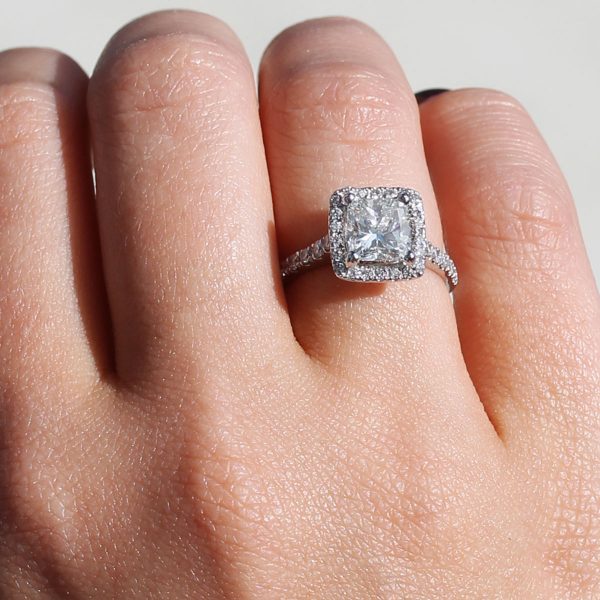 Second, is another white gold ring this time a 14k one with a 1.51 carat cushion cut diamond engagement ring. This diamond ring is GIA certified and includes the official certificate from the Institute. Also, this ring has accent diamonds along the band and in the halo feature. It is sure to sparkle from every angle.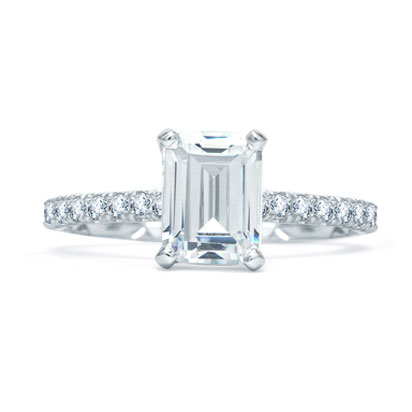 Next, is a designer engagement ring setting from A. Jaffe. This ring features an emerald cut diamond that is approximately 0.45 carats. This uniquely shaped cut is very modern and has become quite popular over the years. It is very different from the traditional round brilliant cut diamond and therefore produces a very different effect.
The Color of the Diamond
White diamonds are the most common and well known of all the diamond colors. These are generally used in most jewelry items. A pure diamond is the one with the very least amount of color. This color cannot really be seen with the naked eye. That is why trained professionals at organizations like the Gemological Institute of America use controlled settings and tests to ensure the quality of a diamond's color. The color of a diamond is so subtle that they magnify up to 10x. 
In fact, white diamonds are noted and prized for their lack of color. These are graded on a scale from D to Z, D being the preferred colorless grade. This distinction between diamonds can make a huge difference in the perceived quality and value of the stone and therefore the jewelry piece it is a part of. It is important to note that although lower color graded diamonds may seem yellow they are not considered colored diamonds.
The term colored or fancy diamonds applies exclusively to diamonds that are a color more or other than yellow or brown. For example, pink diamonds or fancy yellow diamonds. The fancy yellow diamonds, for instance, are a deeper color than your Z graded stones. Below we have some unique jewelry pieces featuring fancy yellow diamonds. These are rare and not in any way considered a low graded diamond.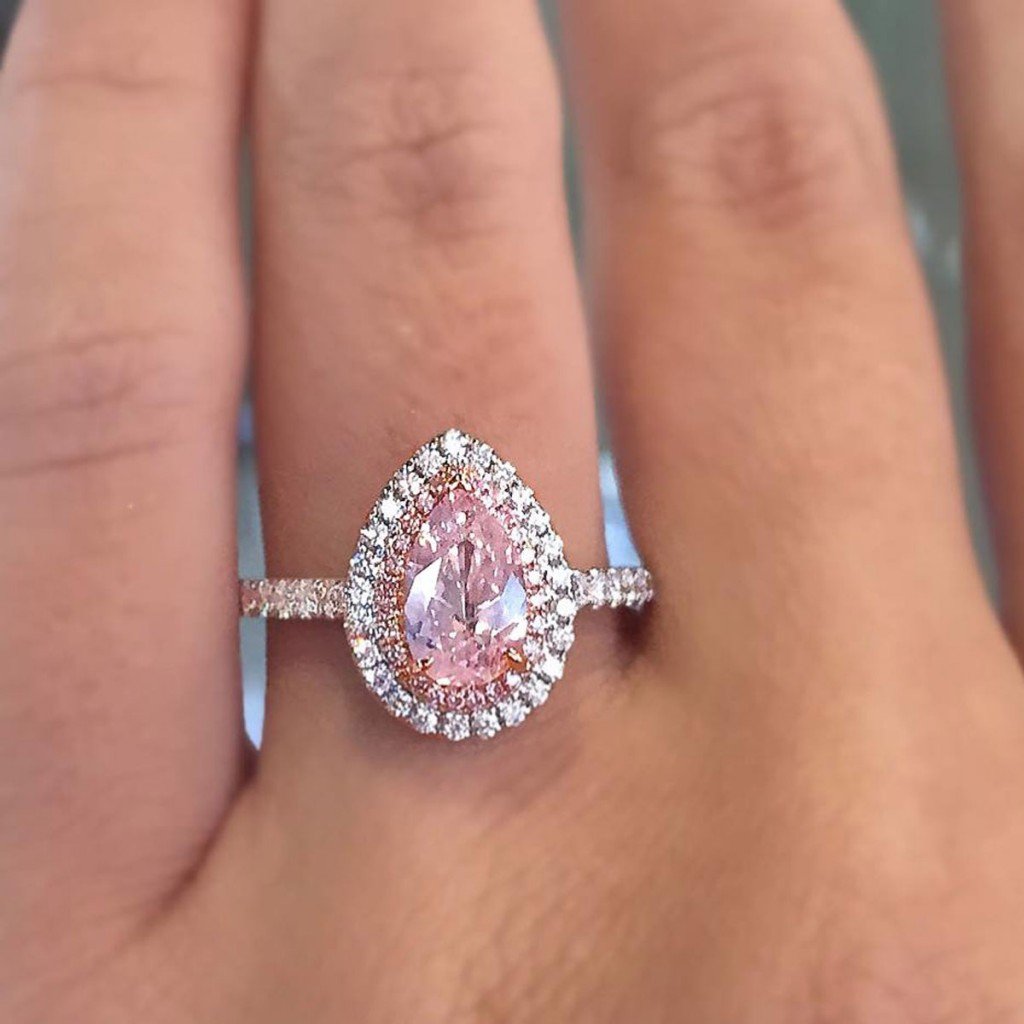 First, is an 18k white gold engagement ring. This one features a GIA certified 1.01 carat pink pear shape cut diamond. The halo and band accent diamonds further the unique colored diamond's brilliance. Furthermore, there is a small pink accent diamond inner halo. These accent diamonds are in rose gold. Further accentuating the center stone. 
Next, is a platinum and 18k gold ring. It features a 5.91 carat fancy yellow diamond cut in a pear shape. Also this ring has approximately 1.09 carat round brilliant accent diamonds. These diamonds form a halo around the center stone. They are also all along the band. This is an incredible ring with a very high carat weight. The central yellow stone is in yellow gold to complement its color.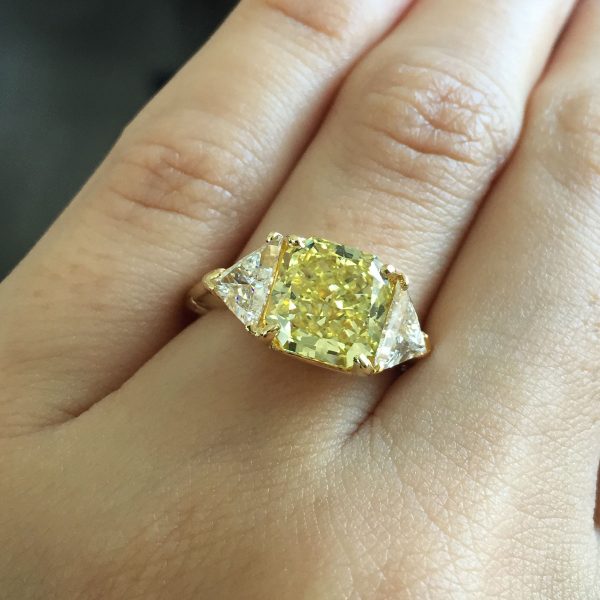 Finally is a 14k yellow gold ring featuring a 3.8 carat natural fancy yellow diamond that is GIA certified. Two trillion white diamonds flank the fancy yellow diamond further accentuating its brilliance. This is a unique and geometric engagement ring. The yellow gold setting also ensures the colored diamond remains the central piece of attention. 
The Clarity of the Diamond
Next in the four c's is the clarity of the diamond. Now the clarity is highly dependent on the cut of the stone as we saw above. The diamond clarity is measured by the absence of blemishes or imperfections in the stone. Since natural diamonds are formed under an incredible amount of pressure and heat packing carbon tightly there can sometimes be imperfections. These imperfections are also called blemishes. There are six categories in the GIA clarity scale. Further divided into a total of 11 specific grades these specify how many blemishes or inclusions are present and how difficult they are to see.
The Carat Weight of the Diamond
This is the standard for weighing diamonds and is most commonly the most prized of all features. The carat weight of a precious stone can be subdivided into 100 "points". Further, each one of these points weigh 2 miligrams. This is where you get 1.5 carat diamonds or smaller measurements like 0.28 carats. Smaller measurements are particularly important when discussing accent diamonds. Each accent diamond may be rather small but all together you can give an approximate total weight that more or less equates to the value and price of the stone.
It is important to note that although the carats are directly related to the diamond's weight many people refer to a diamond's carats as relative to their size. There is a correlation between carat weight and size, however, carats do not represent the diamond's size but its weight.
Furthermore, the GIA measures a diamond's carat weight from 0.01 to 15. This of course will vary depending on the stone in question and if it is the weight of the brute or uncut diamond this can change drastically. Here are some of the heavier engagement rings and wedding bands available in our collection to give you an idea of how far ranging carat weights can be. Furthermore, below that is a bit about our diamond search feature. This high power feature is available on our site to help you find the ideal diamond. It can be very broad or hyper specific depending on where you are with your search. Read below to find out more.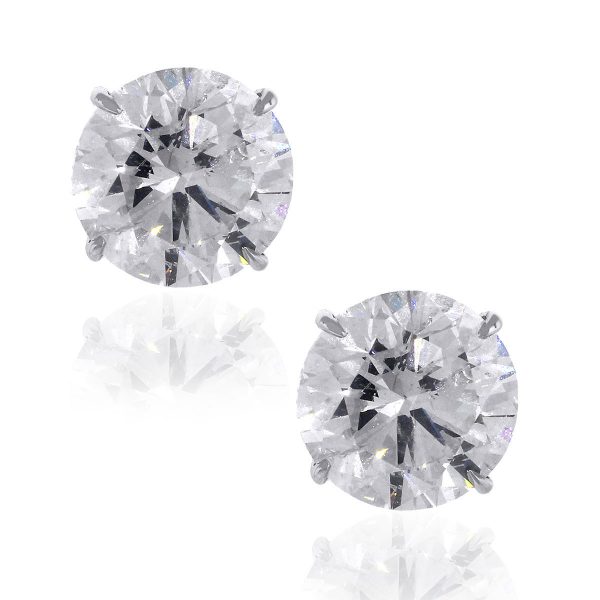 Now some stunning diamond earrings set in 14k white gold. These stud earrings feature 15.17 carat round brilliant diamonds. They are white gold to further the white diamond's clarity and color, or lack thereof. The classical style goes with any fashion style. This is a timeless piece of jewelry that you can pass down between generations.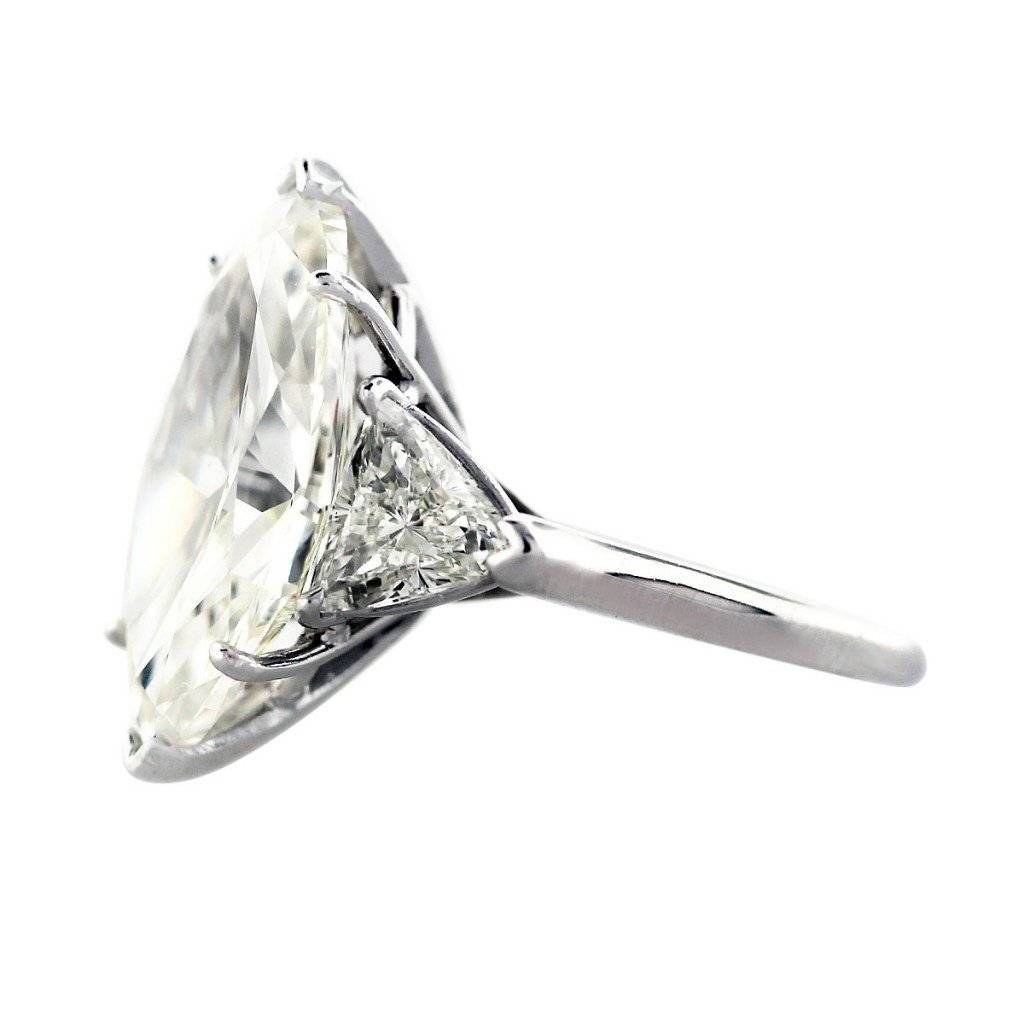 Next a 10 carat marquise cut diamond engagement ring. This ring is also GIA certified. It has a very unique Marquise cut diamond. It is rare to find an engagement ring in this shape. There are also two trillion accent diamonds on each side of the center stone. These add to the brightness and glamour of this ring.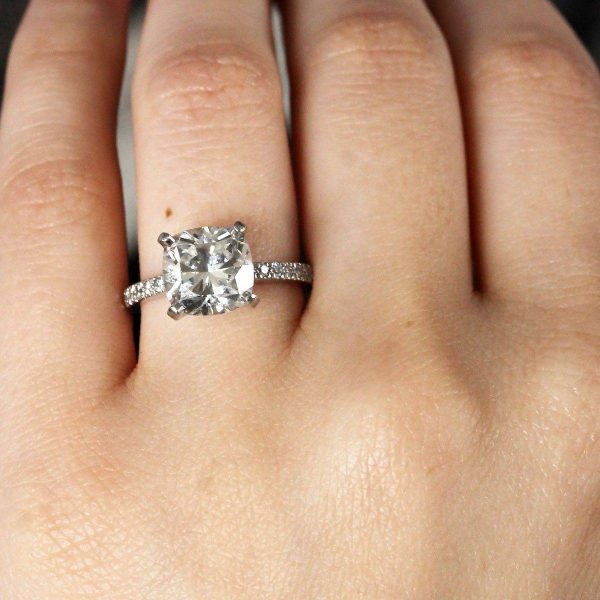 Finally a true masterpiece. This is a platinum designer engagement ring from Tiffany & Co. It comes with a novo square cushion cut diamond as the center stone. there are accent diamonds all along the band extending the large center stone's glamour. Tiffany & Co. is a world renowned brand well known for their bridal jewelry. This ring fits perfectly with stackable wedding and anniversary bands as well. 
Diamond Search
Finally we have a unique and useful tool for our customers. As a helpful tool for finding the perfect diamond, we included the diamond search function in our website. This tool searches through our records for a gem of your preference. You can select the diamond cut you prefer, and browse. There is functionality so that you can search for the most specific gem.
We source only the finest and highest quality materials and precious stones. Further, using the diamond search tool you can see exactly how we have selected our stones. We labeled and organized all of the diamonds in this database according to the GIA scale. All you have to do is select the grade of the four c's and the program will show you available gems.  You can play around with the settings and margins by moving the sliders and adjusting the shape or certificate/lab. Also, the diamond search feature includes prices so you can filter those by their prices as well. 
The best way to get to know this tool is to try it out yourself, you can do so here.