Richard Mille RM11-02 Jet Black Limited Edition Watch Review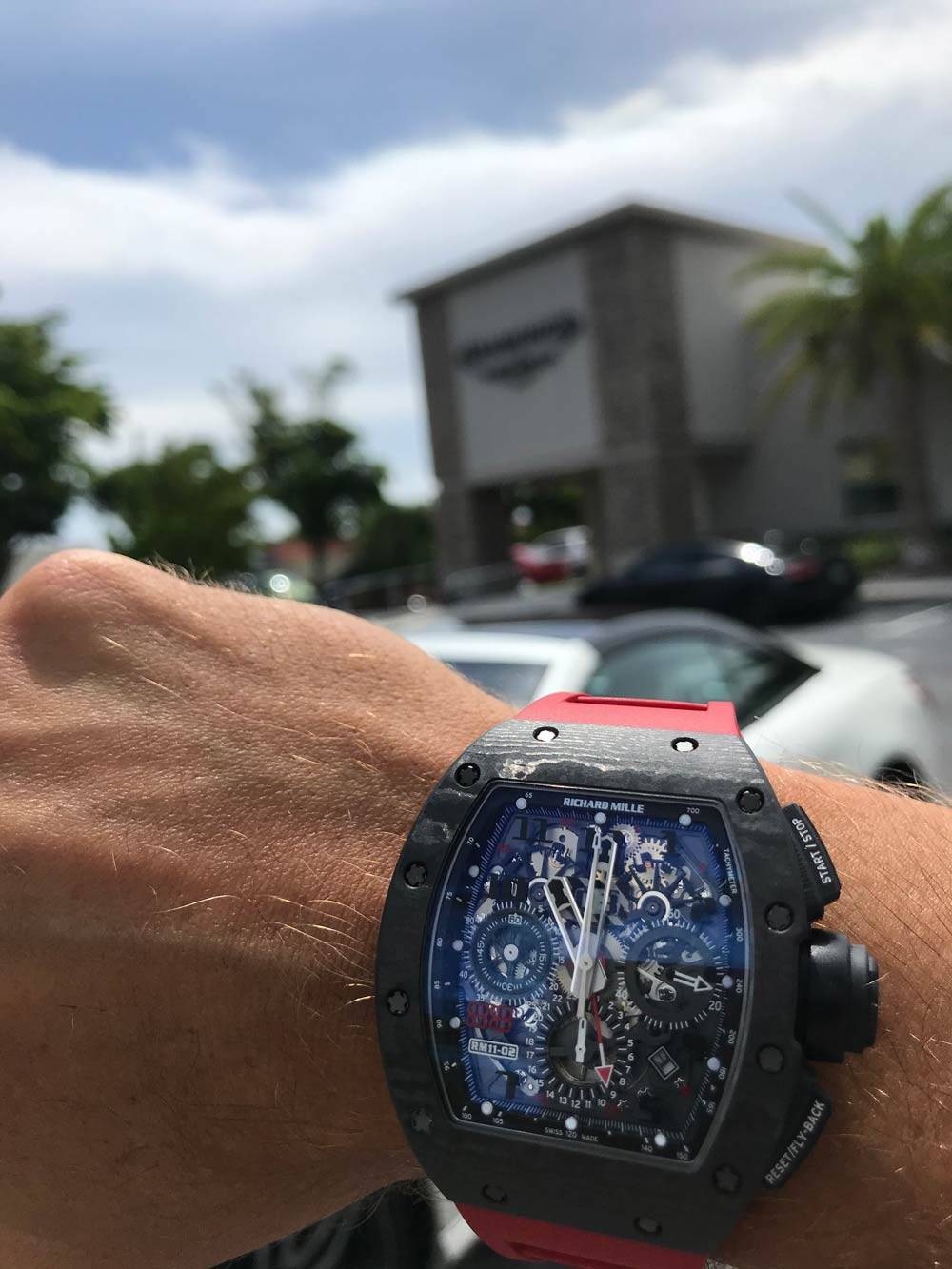 Introducing the new Richard Mille RM11-02 Jet Black Dual Time Zone Flyback Chronograph Limited Edition Men's Watch.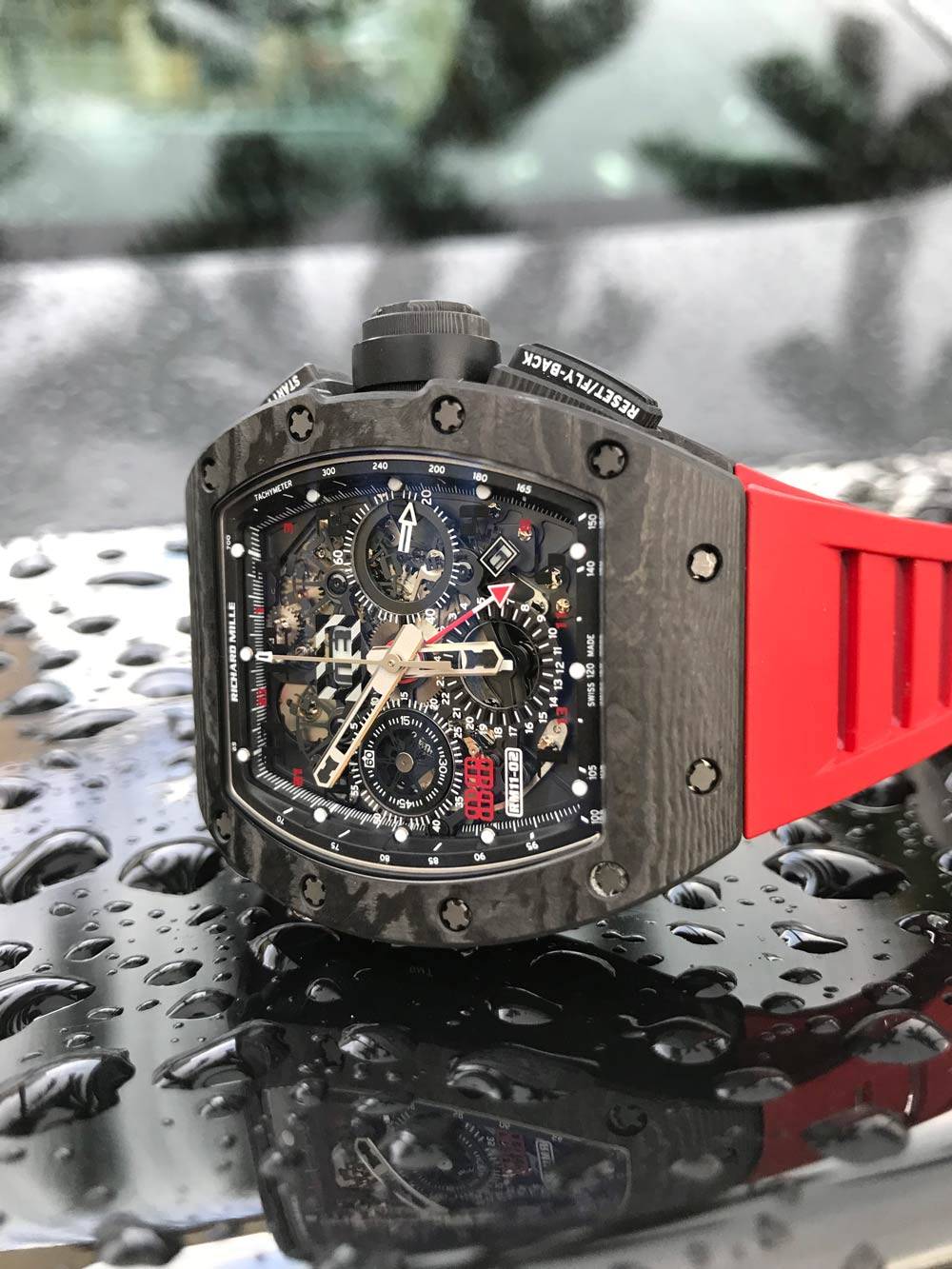 In this article, we will present you with everything you need to know about the Richard Mille RM11 02 limited edition watch. We have real life, hands-on experience and pictures of a Richard Mille Red Strap RM 11 02 Jet Black, NTPT Carbon Case, Flyback Chronograph Dual Time Zone, Limited Edition men's watch…Now, try to say that ten times fast.
We are going to go into detail about the Richard Mille RM 11-02 limited edition dial, case and strap, movement, size and fitting, and technical specifications, in addition to the Richard Mille Watch Limited Edition price.
Furthermore, we discuss a common question "Why are Richard Mille watches expensive?" along with a Richard Mille price list, which goes from a Richard Mille starting price all the way up to the most expensive Richard Mille watch.
We hope you enjoy this personal, hands-on Richard Mille RM 11-02 watch review.
Grab a tissue to wipe the drool away, and for the ballers reading this, get your Blackcard and watch contacts ready because this expensive luxury watch is one for the book of greatest timepieces in history…and it's not easy to find.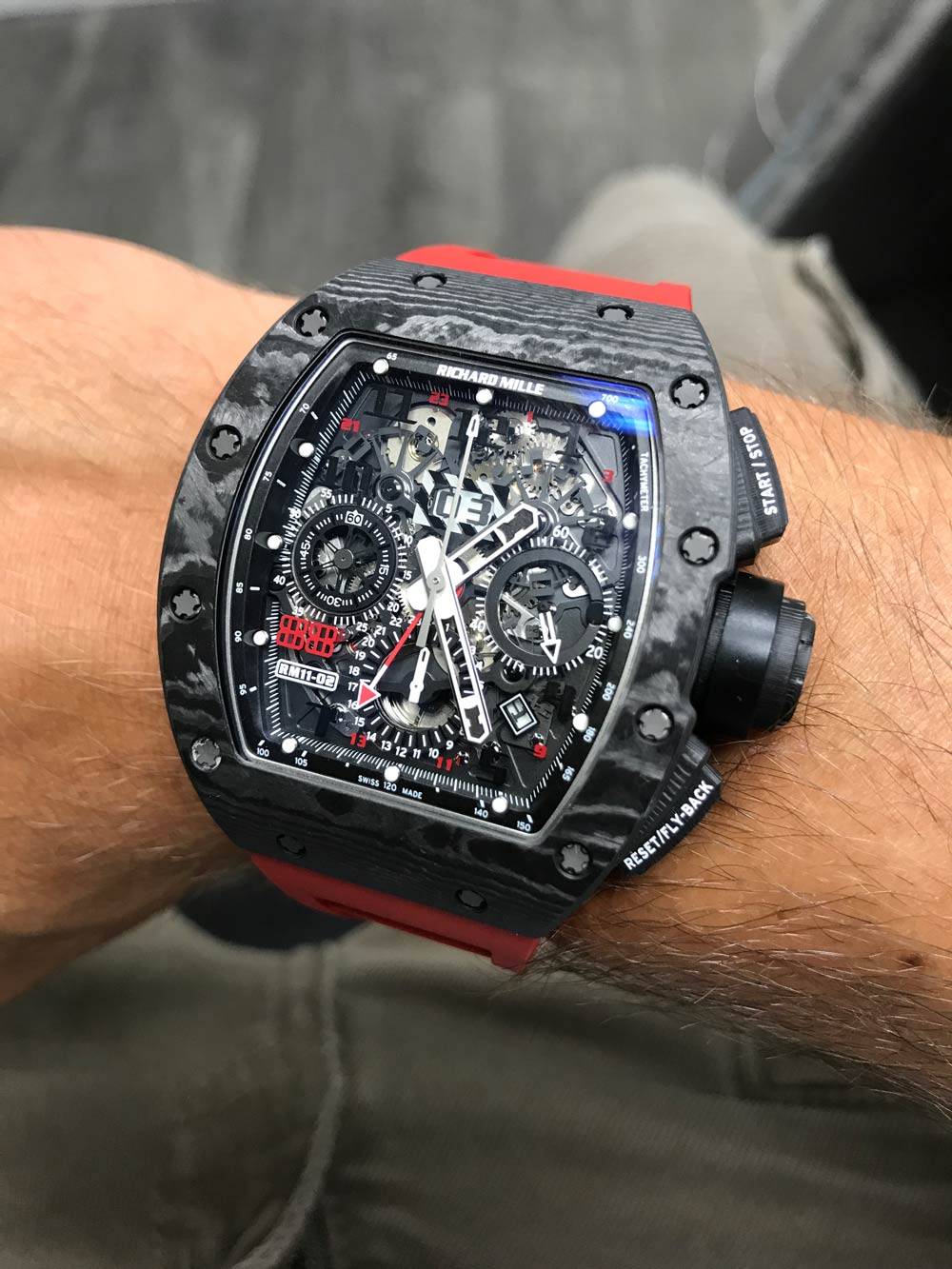 Overview of the Richard Mille RM 11-02
The Richard Mille RM 11-02 Jet Black is a watch connoisseur's most satisfying, advantageous, and provocative accomplice for their wrist. The case powerfully declares itself thanks to its pronounced NTPT carbon material, which Richard Mille first released in 2013. Since then, NTPT carbon has rapidly become one of Richard Mille's top utilized materials.
For those who don't know what NTPT is, it stands for North Thin Ply Technology and it's an innovative material that was developed for racing yachts' sails. NTPT is lightweight and super resistant, so much so that even Formula 1 car chassis' have been employing it for the past five seasons.
The Richard Mille Flyback Chronograph is a travelers' soul mate. It has an annual calendar, 60-minute countdown timer, and GMT function which is tracked by a faithful red hand on the dial and set by a black carbon pusher at its 9 o'clock. This Richard Mille mens watch has been drawing attention since it was released exclusively to the Americas in 2016. It is an extremely rare watch with a total production of only 88 pieces.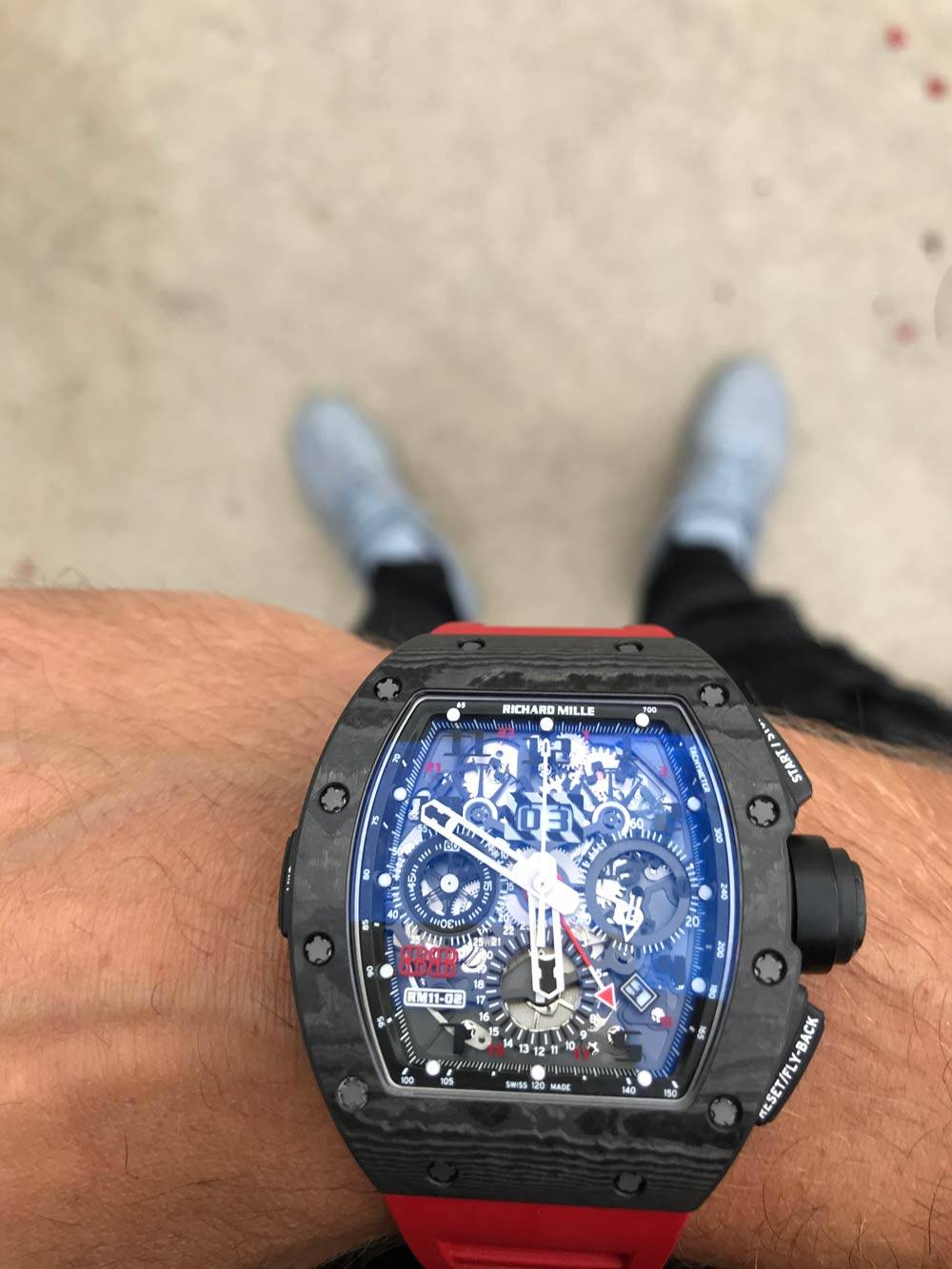 Limited Edition Richard Mille RM 11-02's Dial
The dial has a skeletonized look due to the application of a gaunt sapphire crystal dial, therefore allowing the incredible PVD-treated titanium movement to be completely visible on the dial.
Even though it can be slightly complex in regards to readability, it's off the charts looks wise. With that being said, you should have no trouble quickly getting used to all of its features. The Richard Mille RM 11-02 Jet Black Flyback Chronograph watch offers purposeful functions that can be crucial to the lifestyle of modern-day travelers.
The following features may be complicated for some yet essential for others:
24-hour flyback chronograph at its 6 o'clock.
Yearly calendar with a large date at its 12 o'clock.
Month indicator at its 5 o'clock.
60-minute countdown timer
GMT pusher on the left caseband.
UTC element for another time zone.
No one said "essentials" had to be simple.
For an exclusive finishing touch, there's a red '88' on the bottom left of the dial to emphasize and remind people just how limited this special edition watch is.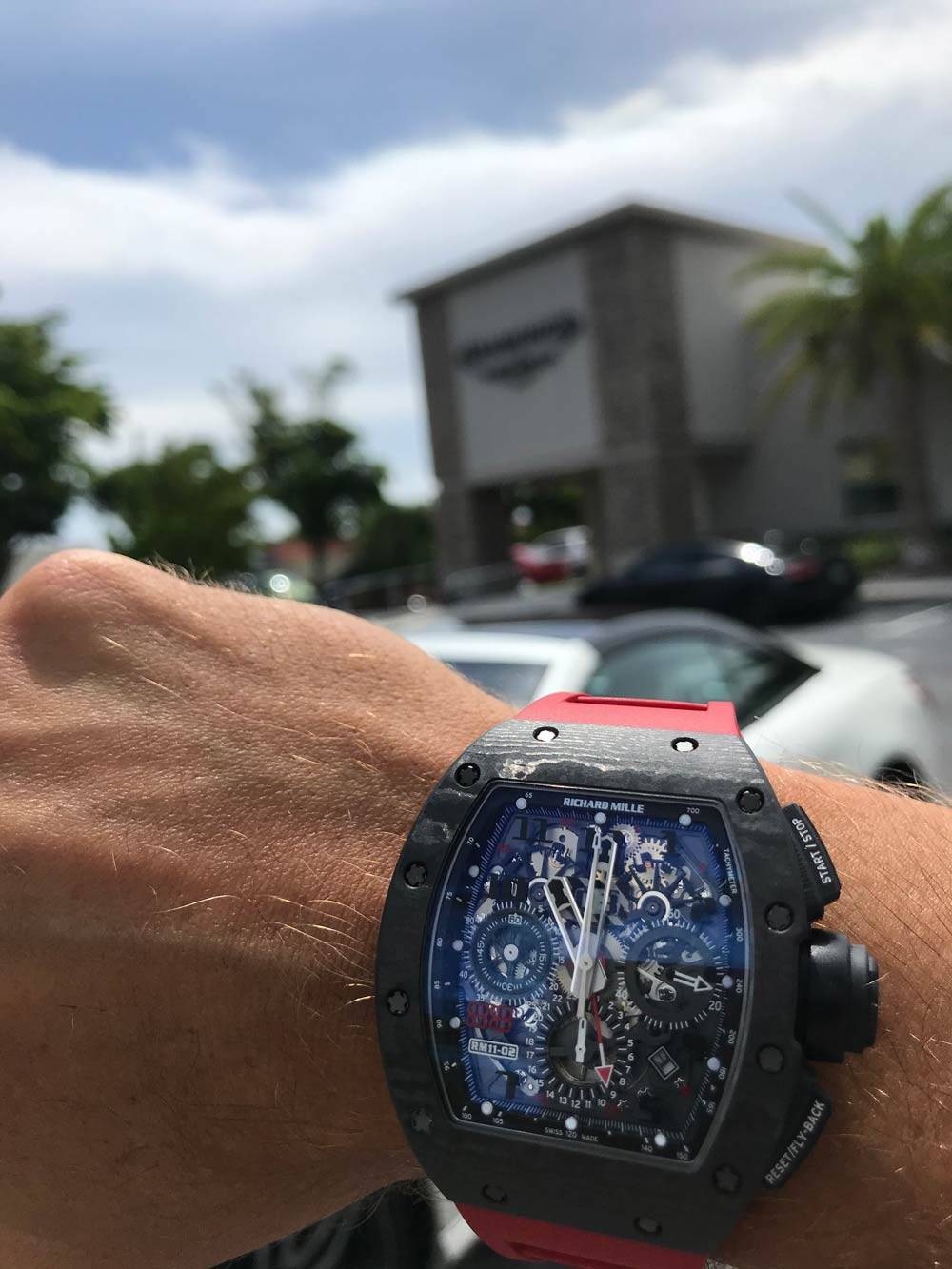 Richard Mille Red Strap & Case
The case alone was a topic of serious consideration and research & development for a whole year. In terms of the production of the case itself, there are 68 unique stamping operations, which contain three main pieces: The bezel, middle section, and case back.
To be able to fit a large winding mechanism that contains a rotor with variable geometry, Richard Mille had to significantly increase the size of the case from older models like the RM 004 and RM 008. This allowed them to create a new design for flyback chronograph, which is an automatic version of previous designs.
The RM 11-02 has an unmistakable tonneau shaped tripartite case made completely of black NTPT carbon, featuring a classic, enlarged pullout crown with a black O-ring and carbon pusher at its 9 o'clock on the caseband, which is used to set the second time zone.
It has a uniquely crafted and engraved pusher (plus chronograph start & stop and reset functions at its 2 and 5 o'clock), which is perfectly aligned with the overall essence of the RM 011 collections. It'll remind you of a racecars pedal surface with its elegantly carved lines.
This Richard Mille limited edition watch is fitted with a classic vented red strap made of rubber and it uses a titanium DLC-coated double folding clasp which will keep it intact forever.
Size:
50.0mm from lug to lug.
42.7mm wide
16.22mm thick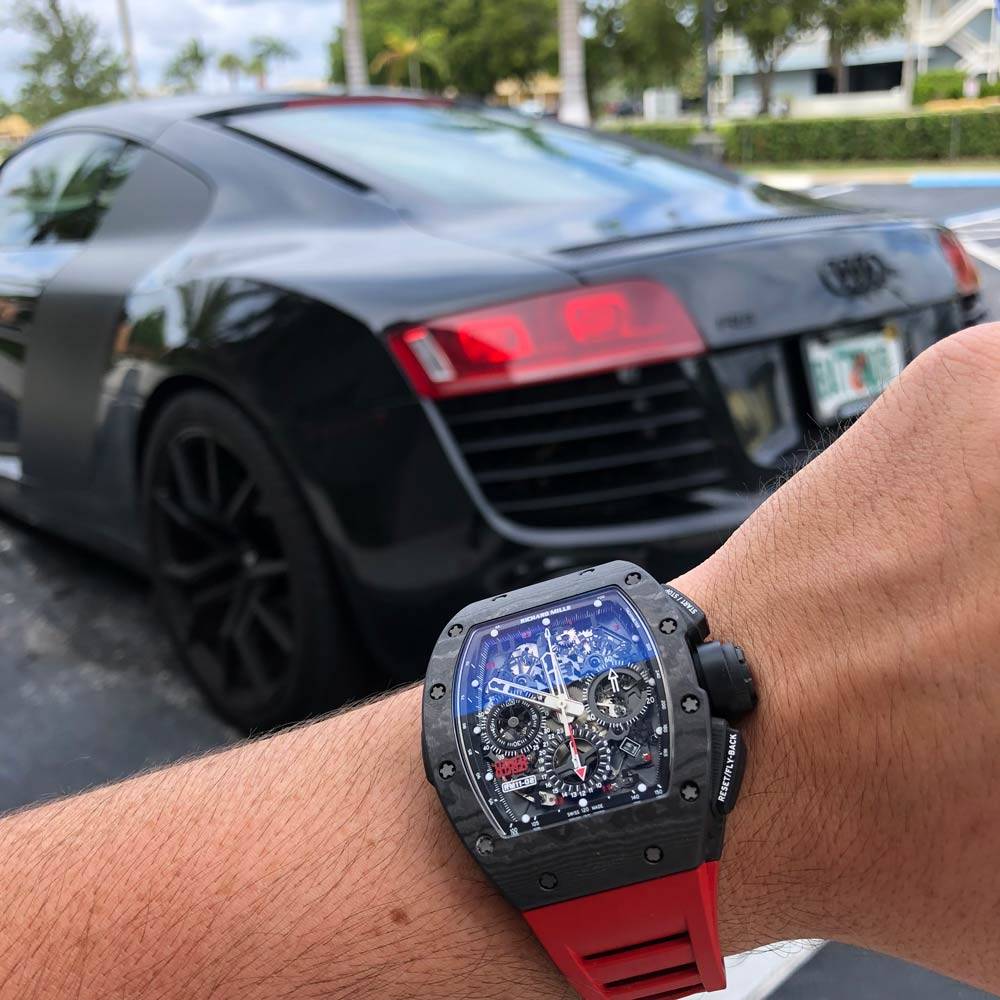 The RM 11-02 Movement: Richard Mille's first Flyback Chronograph.
The Richard Mille team independently created this 88-piece limited edition watch's heartbeat, and it's called RMAC2 automatic movement. The RM 11-02 watch offers hours, minutes, and seconds, as well as a flyback chronograph, 60-minute countdown timer, 12-hour totalizer, dual time zone, annual calendar, and oversized date and month, all thanks to the skeletonized automatic winding movement which contains adaptable rotor geometry. What more could you ask for?
The Richard Mille RM 11-02 Flyback Chronograph Dual Time Zone Jet Black Limited Edition watch has a 38-jewel automatic movement that provides a power supply of 50+ hours and the movement can be seen entirely from the display cases back.
What is a flyback chronograph and how does it work?
A chronograph watch has a stopwatch function in addition to its regular time telling mechanism. You can recognize a chronograph by looking at the small dials on the face, which will display an elapsed time during its chronograph (aka time marking) mode. Put simply, it's a type of stopwatch within a wristwatch.
A flyback chronograph itself is like any chronograph, except it has the added benefit that you don't have to stop it in order to reset it. This means that in practice, you can have the chronograph going and if you want to do a new timing, instead of having to stop and then reset you can simply just press one button and it goes back to zero and starts again. Since it flies back in place instantly and starts counting from zero again, they call it a 'flyback' chronograph.
It's really a great function but it's an extra complication in terms of making it compared with a standard chronograph. The flyback mechanism itself can be fit into an automatic chronograph or a manual wind.
Throughout history, it has been a particularly great tool for combat or as a military type application where you need accuracy and instant resetting while concentrating on the task at hand.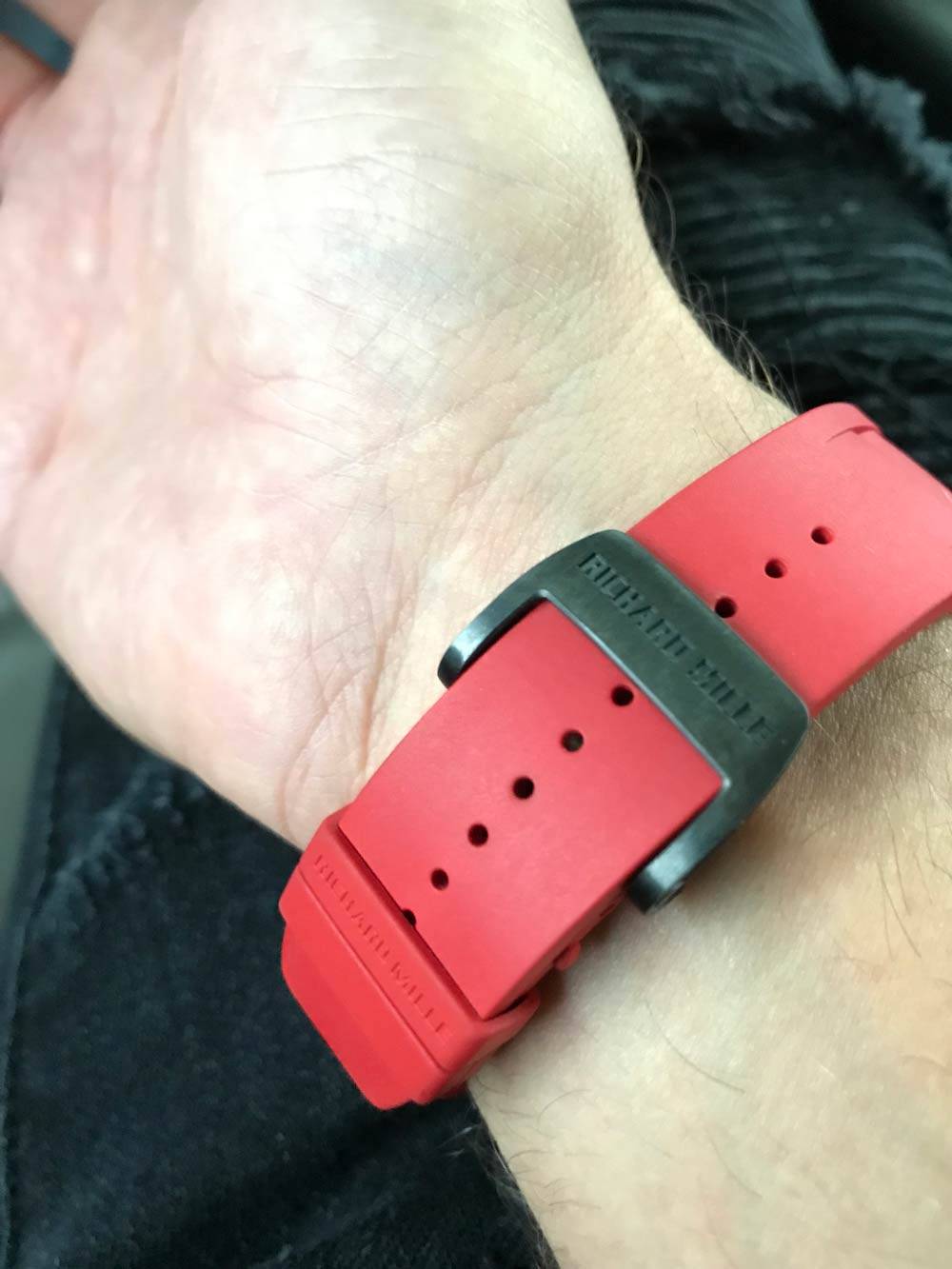 Richard Mille wrist watch size and presence.
On the wrist, the Richard Mille RM 11-02 Jet Black is true to its size. When donning the RM 011 02, your wrist will command a presence that one would expect with a high price tag as such (which we will get to below). The red strap matches the red accents within the case impeccably. Not to mention, the watch is extremely comfortable to wear.
The Richard Mille RM 11-02 Flyback Chronograph Dual Time Zone Jet Black Limited Edition watch will hit every mark that a watch lover could ask for.
Richard Mille RM 11-02 Limited Edition Technical Specifications
Main features:
The balance wheel in the RM 11 02 serves as the pinnacle of watch innovation. It uses variable inertia, a type of free sprung balance, which guarantees the most reliability during exposure to shock and when being subjected to movement disassembly and assembly. Therefore it has much greater chronometric reactions throughout time.
The RM 011 02 regulator index is eradicated and it can be adjusted more accurately and repeatedly due to four tiny adjustable weights precisely on the balance.
It uses a double barrel system that allows for improvement of torque stabilization over a greater period of time.
More Features:
Movement dimensions: 32.75 x 30.30 mm
Thickness: 6.35 mm
Jewels: 62
Balance: Glucydur, 4 arms, moment of inertia 4.8 mg•cm2, angle of lift 53º
Frequency: 28,800 vph (4 Hz)
Index assembly: Triovis N°2
Stem with three positions: manual winding, date, hand-setting.
Barrel arbor: in AP 20 steel
Balance spring: ELINVAR
Shock protection: INCABLOC 908.22.211.100 (transparent)
Escapement wheel jewels: Rubifix (transparent)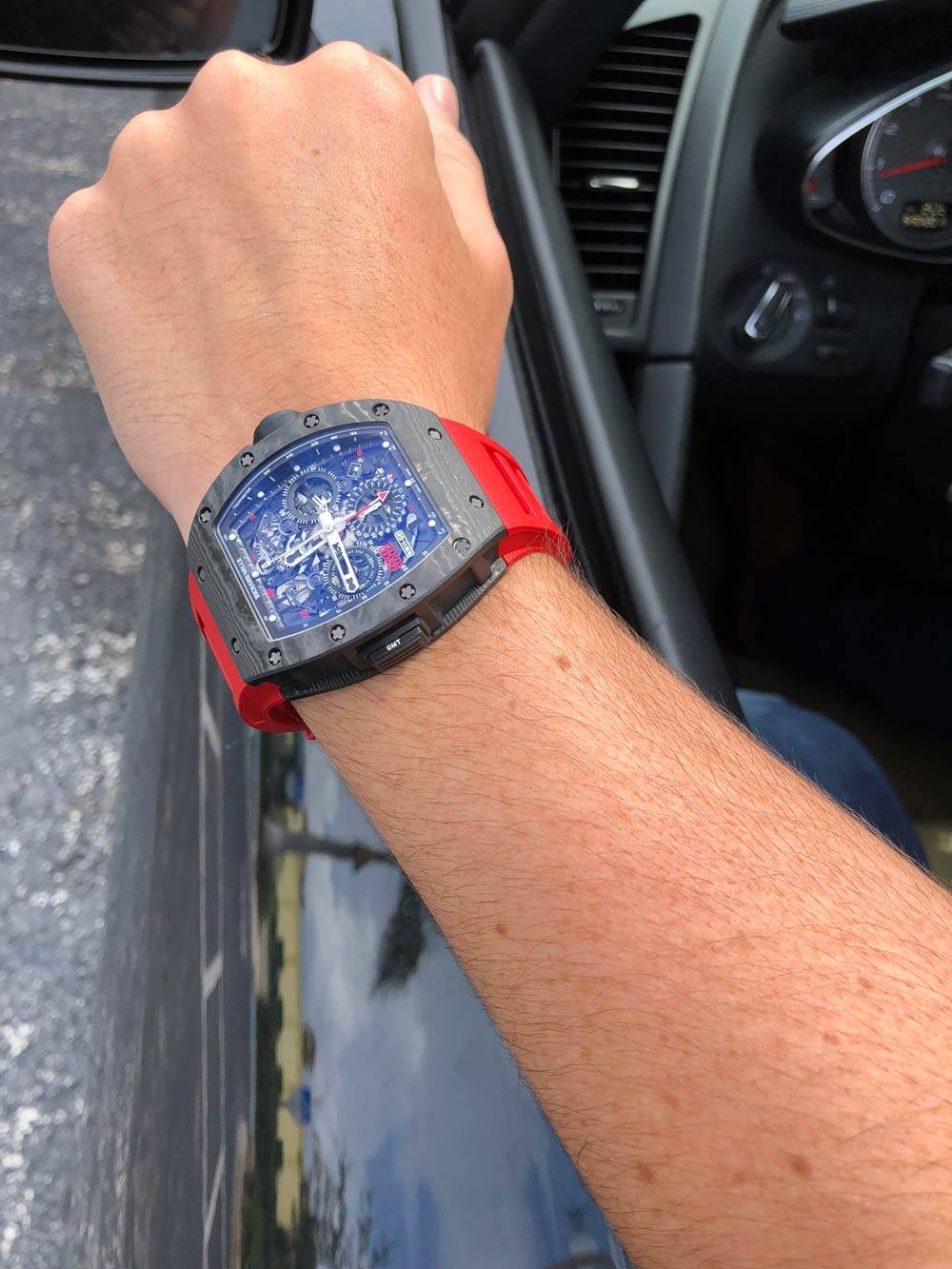 Richard Mille RM11 Price
This Richard Mille watch limited edition price is a whopping $180,000 USD brand new. A Richard Mille pre-owned watch, like pictured in this article, can go for significantly less but it still wears a very heavy price tag as Richard Mille second hand watches retain a lot of value. Richard Mille Watches are an asset, which is why buying one can be a good investment. 
Richard Mille Price Range
A Richard Mille starting price is around $80k USD and it increases from there up to 2 million dollars for the most exotic timepieces in the Richard Mille watch collection. Richard Mille has put out an array of watches that check in at over a million dollars, while the average price for a Richard Mille Tourbillion watch ranges from $500-800k. These are mind-boggling prices by even luxury watch standards. So a common question people an often ask is, "why are Richard Mille watches expensive".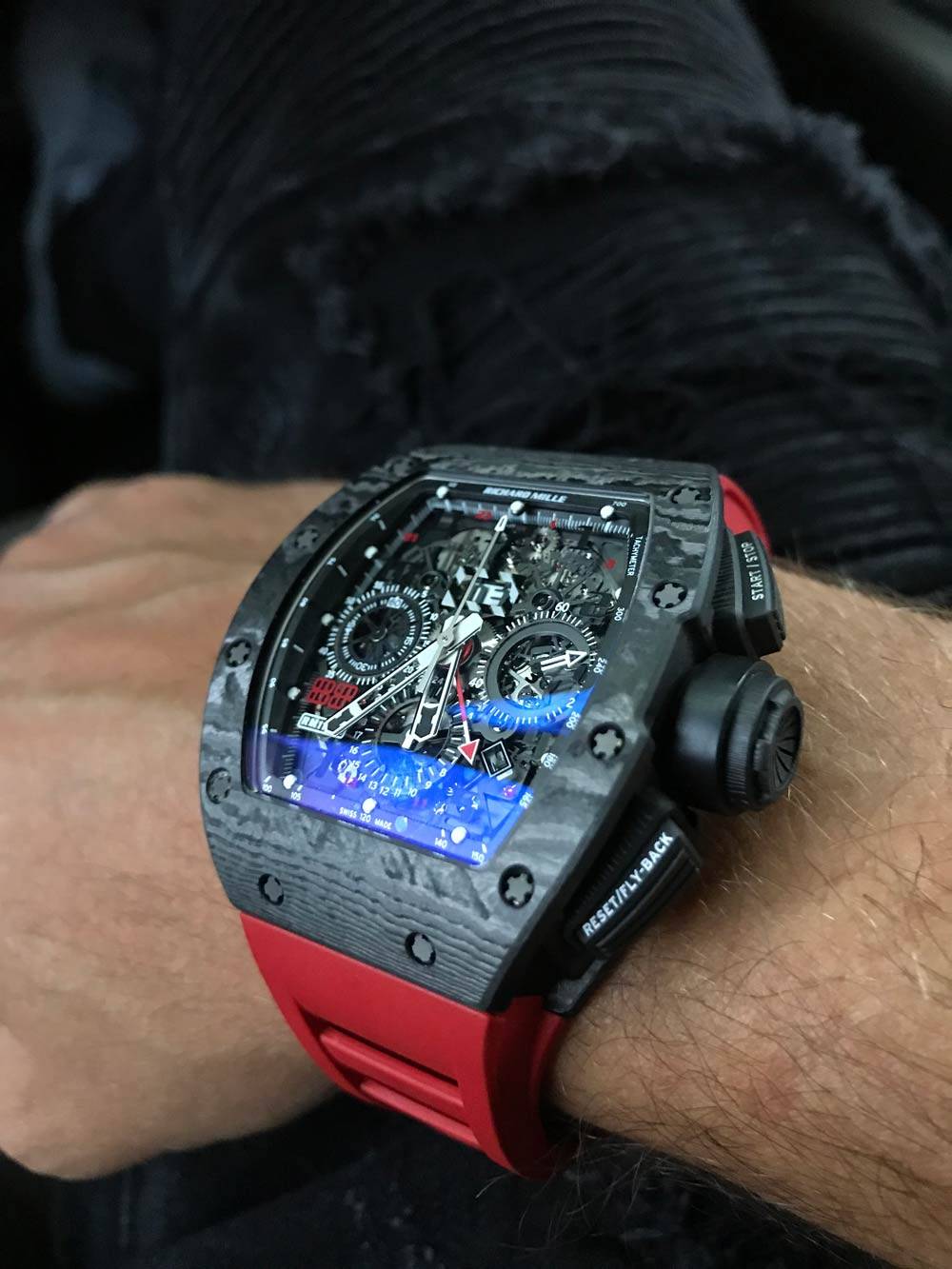 Why are Richard Mille watches so expensive?
To simplify the reason, buying a Richard Mille watch grants you access to an exclusive club. Few are part of this exclusive club, but many would like to be. Nonetheless, Richard Mille watches really do offer more than any other watch in terms of technology and design.
Here are a few quantifiable reasons why Richard Mille watches are expensive:
21st-century movements (no one is more innovative in this area than the Richard Mille brand).
The watches are made like Formula 1 cars (the similarities are uncanny and it was done purposely by using the same cutting-edge materials with exemplary mechanisms).
Extremely limited productions.
Richard Mille Brand Concept
Richard Mille, the founder of Richard Mille, has a love for motorsports, especially Formula 1. Formula 1 was an elemental part of the development of the brand. He wanted to create timepieces in a way that the best car manufacturers produced racing cars. This meant entirely forgoing any concern of cost in determination to produce a watch with techniques and materials that would be the most advanced in the industry.
We can all likely agree that the performance of a car and a watch is a bit different. Nevertheless, the concept applies pretty much perfectly to luxury watches. Watches are meant to last more than a lifetime. They are literally items that are past down from generation to generation. Can we say the same about cars?
So, making luxury watches in the most innovative way is advantageous to any watch brand. This concept is why Richard Mille is where he is at today. It is the reason why he can place such a heavy sticker price on a watch. A watch that most people could only dream of pulling the sticker off.
Here is a quote from Richard Mille himself (a man who is as integral to his brand as any founder of a company could possibly be):
"I want people who see my watches to go, 'Wow!' And the more they look at them, the more they go into it, the more I want them to say, 'Wow!' I work on a razor blade between gimmickry and amazement."
~ Richard Mille
The Richard Mille brand combines luxury designs with pure dazzlement in an unparalleled way. Richard Mille watches stand out from any crowd, declaring, "I'm special and I know it". Even people who don't know much about high-end watches will feel its unwavering appeal. Without a doubt, the Richard Mille brand will be a household name for centuries to come.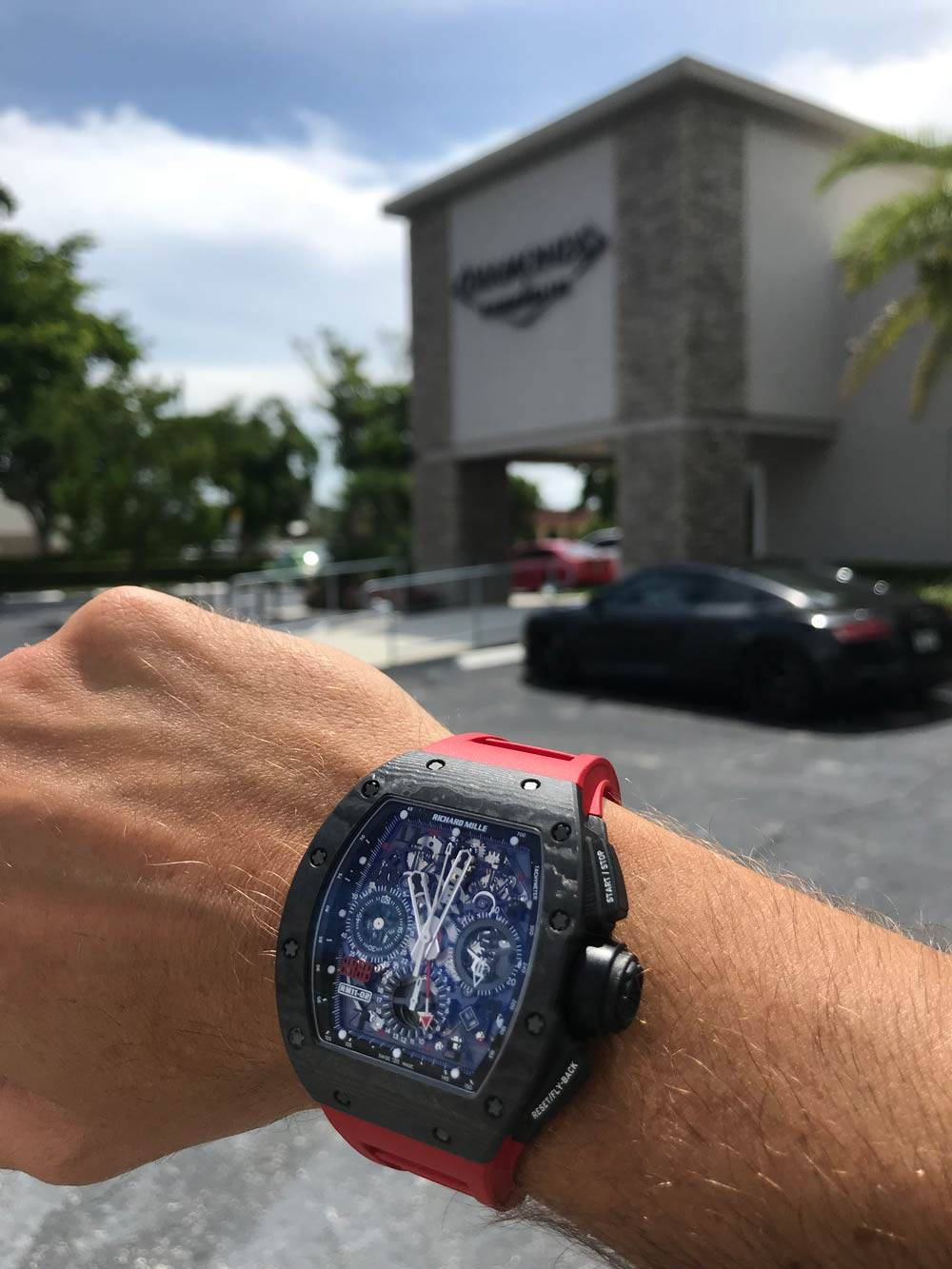 Most Expensive Richard Mille Watch:
The most expensive Richard Mille watch is the new RM 56-02 Tourbillon Sapphire, which is priced at over $2 million, featuring a case crafted from sapphire. This is the most sophisticated, extremely lightweight tourbillon timepiece in the history of timepieces.
Richard Mille Watches Price List Over 1 Million Dollars:
Richard Mille Tourbillon RM 56-02 Sapphire: $ 2Million. …
RM 56-01: $ 1.85 Million. …
Panda Panda RM 026-1: $1,592,919 Million.
Red Skull RM 52-01: $1,413,040 Million. …
Richard Mille RM 031: $1,159,295 Million.
Meteorite Watch RM-018: $1 Million.
We hope you liked our Richard Mille watch review by Diamonds by Raymond Lee in Boca Raton.
Diamonds by Raymond Lee is a high-end retail jewelry store located in Boca Raton. We have been buying and selling luxury watches, gold and diamond jewelry, and more for over 30 years. This Richard Mille RM 11-02 was just sold at our retail store in South Florida a few weeks ago. So, we thought it would be interesting to feature this Richard Mille Limited Edition watch on our blog.
If you'd like to stay updated on the latest and greatest luxury watches that Diamonds by Raymond Lee has to offer, please fill out the contact form below. We will be sure to email you with only the most important updates. Such as new, limited edition watches in stock and other featured articles like this one.