Something about the summer heat has men ready to accessorize. Perhaps a lack of fabric coverage by the way of sleeves, or shirts in general, requires the guys to express their fashion sense through channels other than clothes. Enter man-jewelry. The right men's accessories can add the perfect layer of cool to any guy's ensemble. The perfectly chosen watch accents a perfectly tailored suit. Or bathing suit. Rings are often more sentimental, whether the gent is rocking his wedding band or a family heirloom. Or maybe just a fantastic ring he picked up on a trip around the world. Earrings, when worn, are typically limited to diamond studs (the bigger the better, we always say.) Neckwear can get dicey, with some guys afraid to make a bold statement with a rosary, pendant, or just a luxe gold chain. But when it comes to bracelets for men, they're an accessory every guy can wear. The hottest trends in bracelets for men vary seasonally, with the more bohemian, nautical and rustic elements coming out to play in summer – as opposed to a more tailored look in fall and a more formal style for winter's many social occasions. This summer, we're obsessed with these looks – many of which are extremely budget friendly.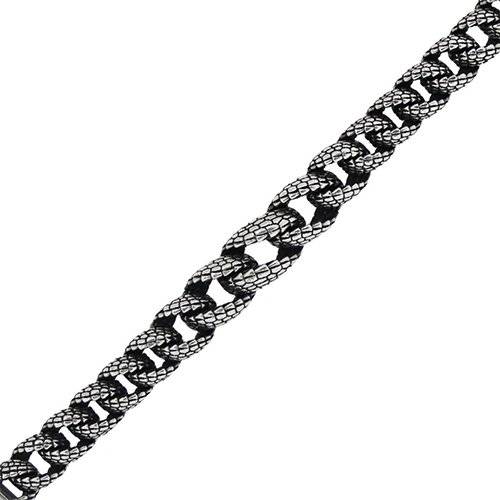 First up we have the blackened silver look. This patina is so hot right now, it adds flash without being over the top. Scott Kay's Art of Man collection combines the classic link bracelet with contemporary texture. This pebbled engraved link bracelet is the perfect every day piece, and an ideal foundation for layering fun, inexpensive bracelets.
Coordinate jewelry is one of the fastest growing trends. It's sentimental without being cheesy, and the secret meaning behind the coordinates make for excellent conversation starters or a sweetly shared inside message.  Ideas for coordinates include: where you were born, married, met your spouse, your children's birthplace,  and more. It's manly in an explorer-type way, and even more so in warm, brushed copper and leather.
Another summer-perfect mens bracelet – also in leather – is an actor-inspired piece. The soft woven leather looks rustic and manly, like it's been naturally weathered along with its brass anchor clasp.
Finally, we have a unisex trend. Beaded bracelets – especially raw wood – have been trending hard for women since late spring. Mens bracelets have always included the bead bracelet staple, but this summer they borrow the matte motif for an edgier look. This matte black onyx bead bracelet is fantastic (and would look even better paired with the Scott Kay bracelet.)
Related articles