Genius Jewelry Packing Tips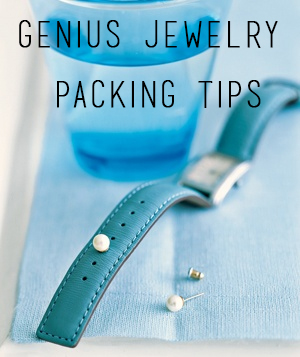 Happy Friday and Happy Labor Day weekend readers! While the weather here won't cool off for, you know, ever the rest of the country is saying a long and drawn out goodbye to summer 2013. It seems like May was yesterday kicking off the season with Memorial Day, but here we are already, just itching to break the no white after labor day rule. Sidebar – we live in Florida. In Palm Beach county. Wearing white is acceptable 365 days a year (but if it's between the hours of of 12-3pm May through August bring an umbrella to avoid a Girls Gone Wild situation).
While we live in a dreamy vacation destination, we're just as eager to get away this weekend as the rest of the country! Whether you're celebrating the last weekend of summer with a trip to the lake, mountains, Caribbean (bring us) or a quick jaunt down to the Keys, it's the perfect opportunity to brush up on your packing skills.
We admire that flight attendant on Pinterest who can pack 18 months worth of clothes into a carry on, but let's be real: we need options. And one of the easiest ways to make a wardrobe super versatile is with jewelry (duh). Lightweight and conversation starting, nothing makes a vacation ensemble like some well chosen accessories; with a vast collection and a serious love affair with gems and jewels though, we never know which whim will strike us that day, so it's best to bring the whole gang. Plus it physically hurts to leave behind Hermes bangles, it's like choosing your favorite child to take on vacay. With so many baubles to cram into our Damier duffels, some strategizing is necessary.
Enter our go-to genius jewelry packing tips and tricks. Highly unoriginal, mostly cobbled together from our favorite bloggers and Martha, but tried, true and guaranteed to never lose an Anita Ko stud. Get packing and bon voyage!
Earrings
Leave it to Real Simple to come up with this brilliant way to save space and guard your studs. Simply pop your favorite earrings into the holes of a leather watch strap. We recommend this one.
Necklace
For your favorite necklaces, avoid tangles and knots (which can lead to broken chains – and nothing dampens a getaway like emergency jewelry repair) thread your delicate necklaces through a drinking straw, clasp, and tuck into tissue paper or your jewelry roll.
Rings
Packing your rings in a pill box is the perfect way to keep your smaller cocktail rings organized. Your bigger dinner rings will be fine in the "ring" pouch of your jewelry roll, but your favorite stacking rings are in danger of being damaged if they're left to their own devices in your luggage. Put them in isolation in a small pillbox, bonus points if you pre-plan them and adhere to the schedule.
Bracelets and Watches
Our favorite tip for packing your favorite bracelets, bangles and watches? Don't. Have an arm party, the more the merrier. If you're rocking costume pieces just remember to take them off if you go through TSA, and you wouldn't want to pack your watch anyways (its box is the only safe place and that's a bulky add on).
Of course, if you've got no luggage restrictions or space constraints, our most favorite way to pack our jewels is in a dedicated, fabulous jewelry trunk a la Goyard:
Related articles